Free My Favorite Things Worksheet
Wanting to get to know your kids better? Then you are going to love this my favorite things worksheet.
This engaging and interactive first day of school worksheet will have your students excitedly sharing their favorite person, sports, food, animals, books, and vacation spots.
These 2 free worksheets are aimed at students in 2nd grade – 5th grade but can be adapted for younger or older children.
Get ready to kick off the school year with a fun-filled exploration of your student's unique interests and preferences!
**There may be affiliate links in this post. You can read my full disclosure at the bottom of the page.**
How to use the my favorites worksheet
These my favorites worksheets are free to print but are for personal and classroom use only. Scroll to the bottom of the post and add your email address to get the pdf file.
The my favorite things worksheets can be a fun and engaging activity for both classroom and homeschool settings. Here's a suggested approach on how to use it:
Introduction:

Begin by explaining the purpose of the activity, which is to explore and share each student's favorite things.
Emphasize that there are no right or wrong answers, and encourage students to express their personal preferences.

Worksheet Distribution:

Hand out the worksheet to each student.
Ensure that each student has a pen or pencil for writing and coloring pens for drawing.

Individual Completion:

Give students sufficient time to complete the worksheet on their own.
Encourage them to think about their favorites and be creative in their responses and drawings.

Sharing and Discussion:

Once students have finished, create a sharing and discussion session.
Ask volunteers to share one or more of their favorite things from the worksheet.
Encourage students to explain why they chose those particular favorites, fostering communication and self-expression.

Group Activities:

Divide students into pairs or small groups and have them discuss their favorite things from the worksheet.
Encourage them to find similarities and differences among their preferences.
They can take turns asking questions about each other's favorites to promote interaction and conversation.

Extension Activities:

Consider additional activities based on the worksheet, such as:

Creating a collage or poster showcasing their favorite things.
Writing short paragraphs or essays explaining why they chose certain favorites.
Presenting a short presentation on one or more favorite things.
Crayola Back To School Supplies Set (80ct), Crayons, Markers & Colored Pencils, Teacher Supplies, Kindergarten & Elementary School [Amazon Exclusive]
100 Pack Colored Sentence Strips for Teacher Supplies, Classroom, Lined Paper Borders for Writing Words (5 Colors, 3 x 24 in)
Scotch Thermal Laminating Pouches Premium Quality, 5 Mil Thick for Extra Protection, 100 Pack Letter Size Laminating Sheets, Our Most Durable Lamination Pouch, 8.9 x 11.4 inches, Clear (TP5854-100)
Officemate PVC Free Color Coated Paper Clips, 450 Per Tub Office Paper Clamp (97229)
Crayola Construction Paper – 480ct (2 Pack), Bulk School Supplies For Kids, Classroom Supplies for Preschool, Elementary, Great for Arts & Crafts
14 Pack Lined Sticky Notes Bright Ruled Post Stickies, Post Sticky Notes 4×6 and Sticky Notes 3×3, Strong Adhesive Self-Stick Notes for Office, Home, School, Meeting (LJ004)
The kids can personalize it even further by coloring in the heading as you can see below.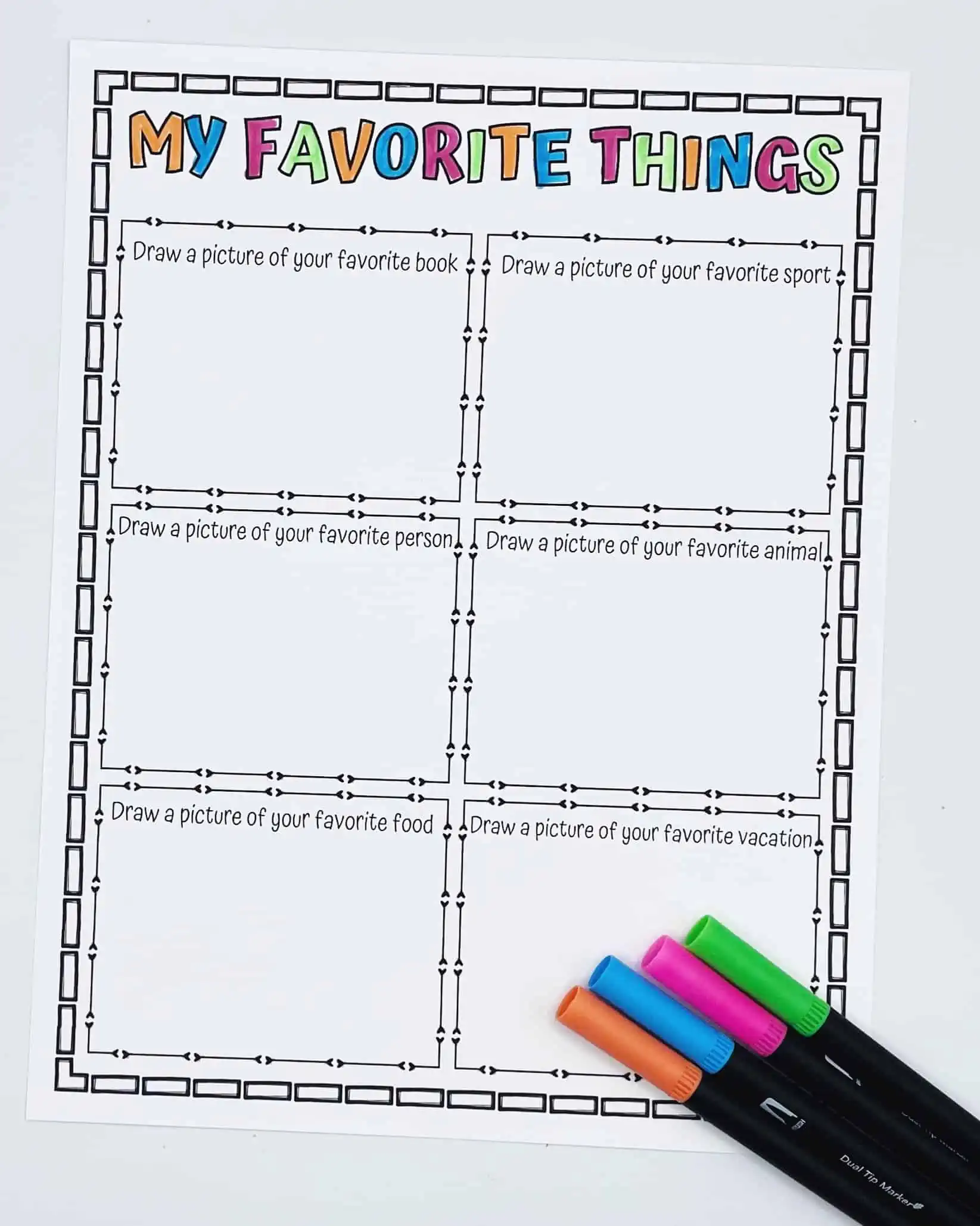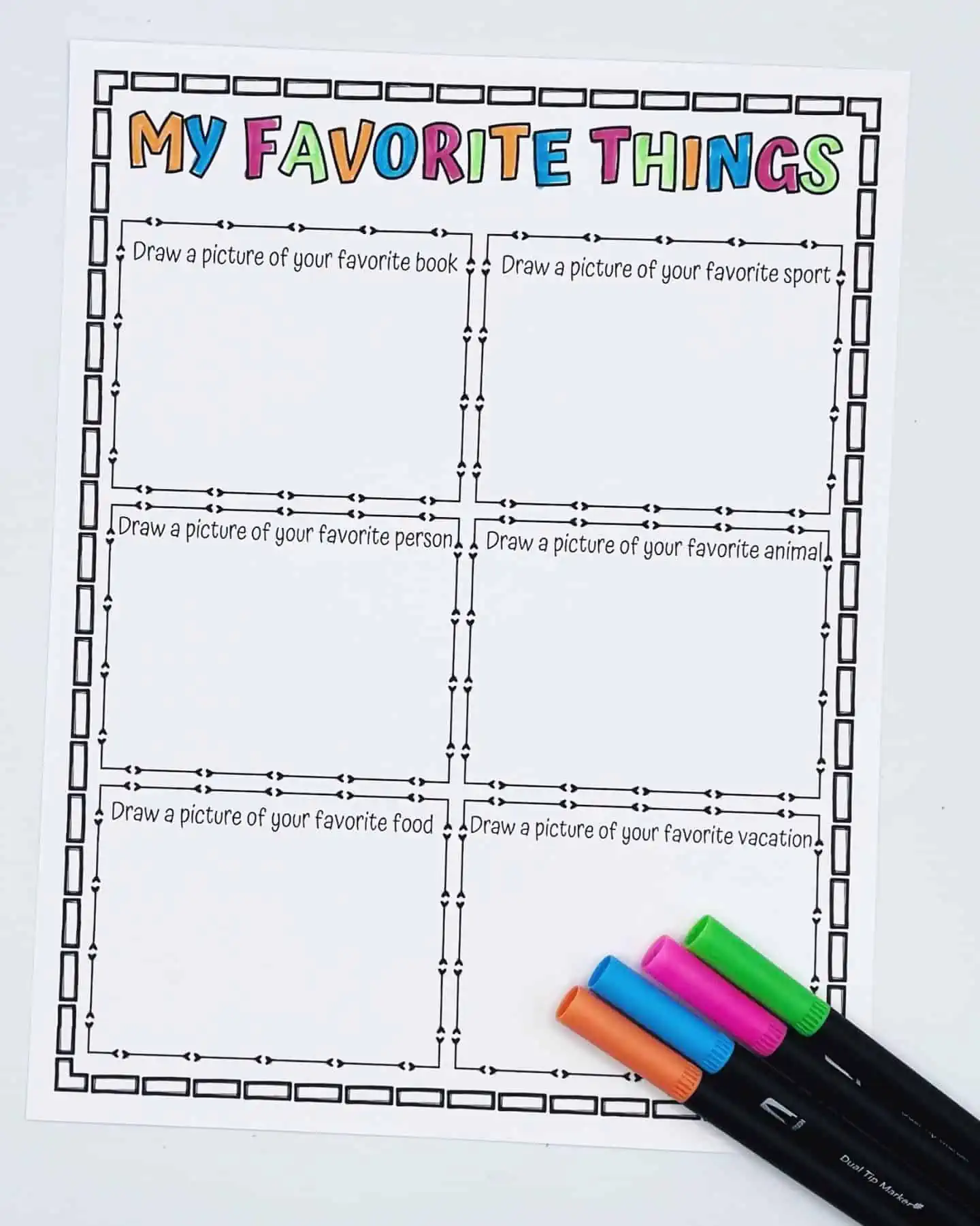 A few of my favorite things worksheet
There are 2 pages to download, one is for writing the answers and the other is for drawing the answers. You can either use both or just one.
The questions are:
My favorite book is….. and I like it because
My favorite sport is….. and I like it because
My favorite person is….. and I like them because
My favorite animal is….. and I like them because
My favorite food is…..and I like it because
My favorite vacation was…..and I liked it because
or the children can draw the answers on the second sheet.
The children can still color in the heading on the written answer sheet.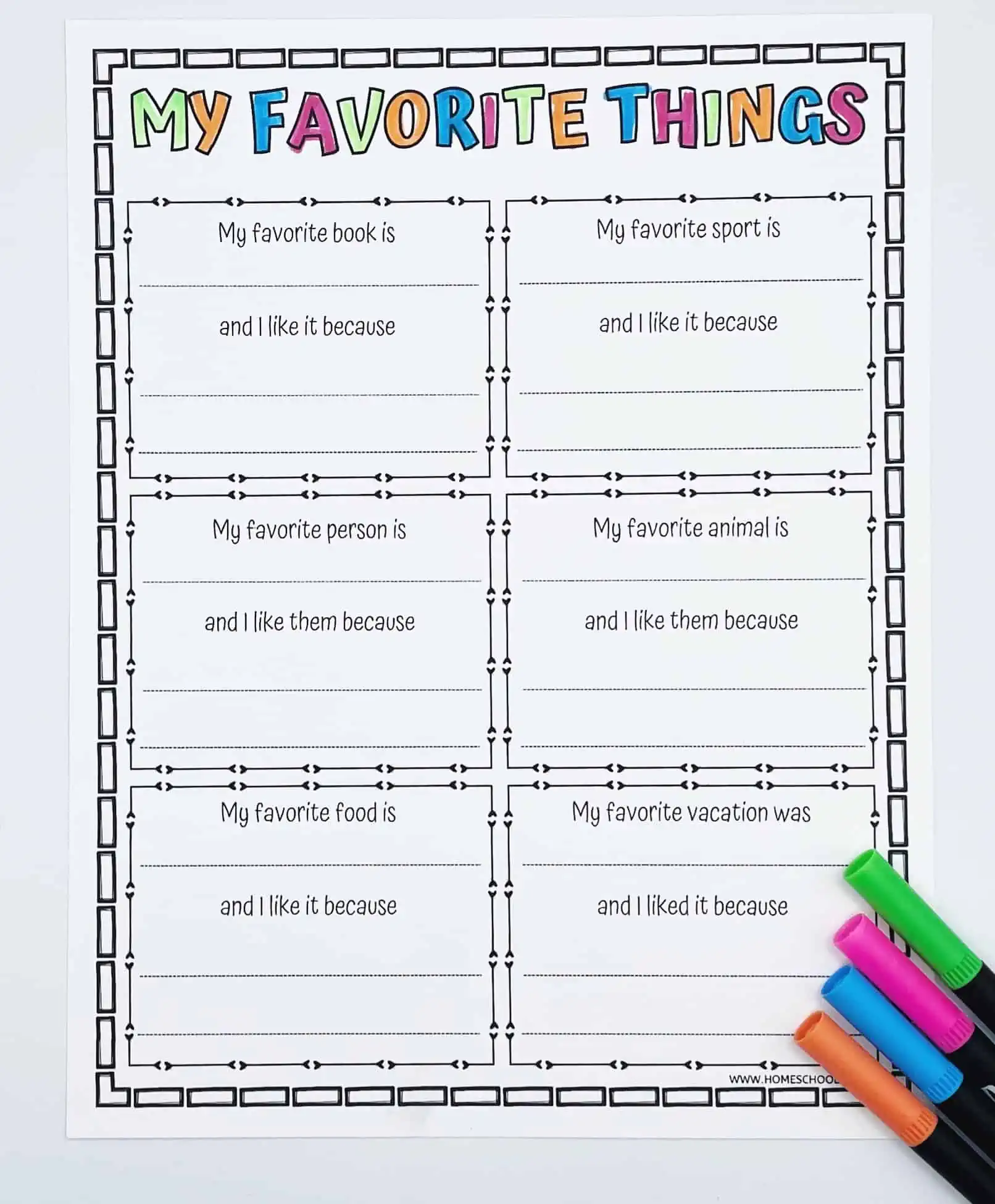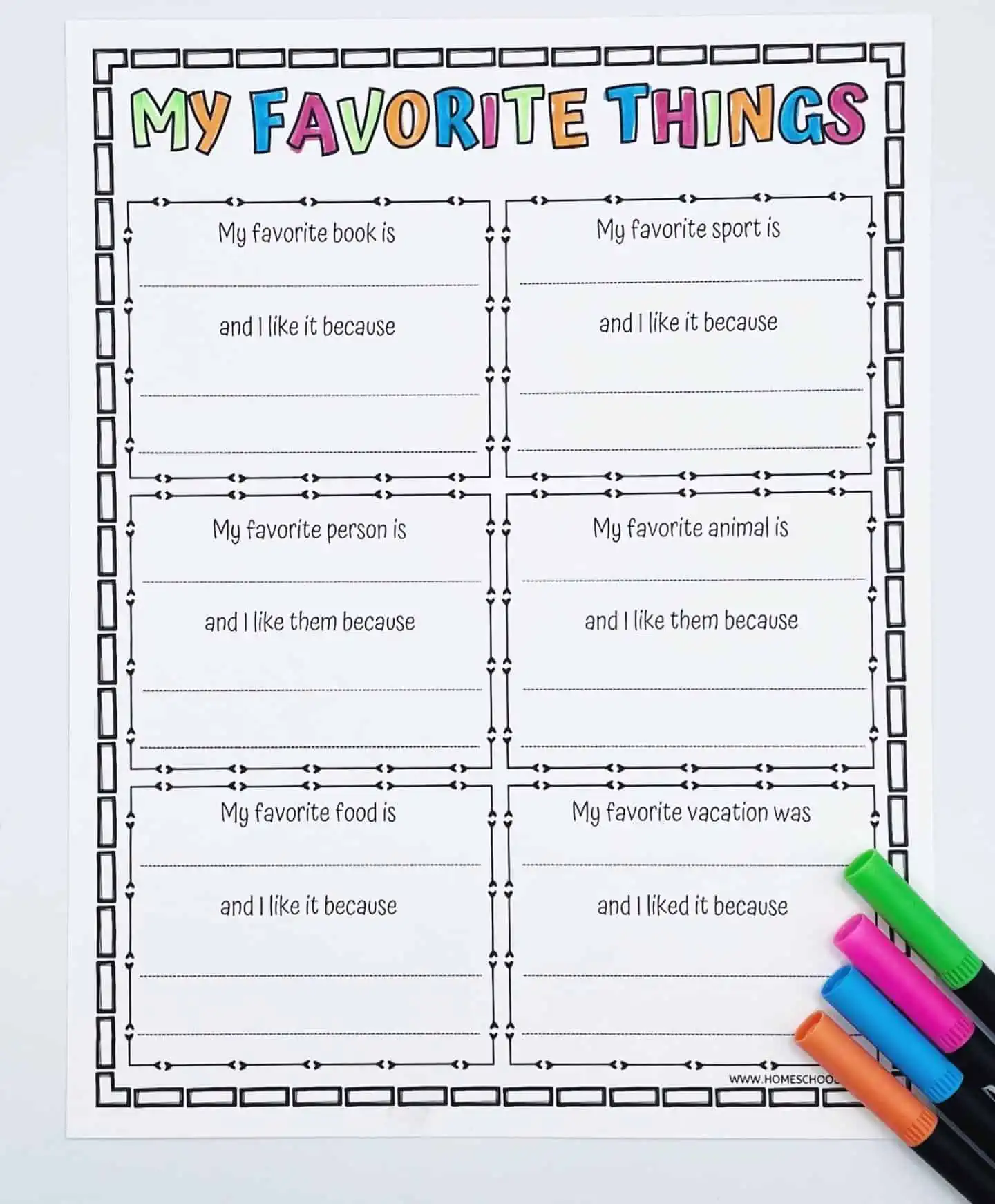 Other first day back to school printables
The first day of school should be fun so why not carry on the day with some more fun first day of homeschool printables:
These are all great ice breakers for both the students and the teachers on the first day back.
Tips for downloading the free files
Below is a blue cloud with an arrow pointing downward. Underneath that is a large sign-up box where you need to add your name and email address, and press I NEED THIS NOW!
Within minutes you will be sent the free PDF directly to your email address, so you can print it out and start using it immediately.
Sometimes emails get a little wonky, so if you can't see it, please check your spam folder where I am sure it is hiding.
Download the free my favorite things printables
Make sure you choose the correct paper size and click on the shrink to fit button. All of our free printables for kids work better when printed on cardstock (this is the one we use and love.)
Last Updated on 2 October 2023 by homeschoolof1