Free Bill of Rights for Kids Coloring Pages
These free Bill of Rights for kids coloring pages are perfect for kids in grades K-5.
Written by James Madison in 1789, there were originally 12 amendments. By the time it was ratified (approved) by Congress on December 15th, 1791 there were only 10. These 10 amendments are now called the Bill of Rights.
There are currently 27 amendments to the constitution. I will list the others below if you are interested.
When the kids have colored these 10 in I recommend using them as Bill of Rights posters and hanging them on the wall. That is a great way for them to remember all 10 amendments.
You will also enjoy our free Bill of Rights word search with 17 important vocabulary words to learn and find.
These can be used along with our 13 free government worksheets, what is the …… judicial system, executive branch for example. Also, our free George Washington Worksheets are perfect for younger children. These George Washington activity sheets are great for lower elementary-aged children.
We love creating free kids coloring pages, and we either use them as a supplement for a lesson we are studying or to calm the mood! Coloring is a great way for them to refocus and relax.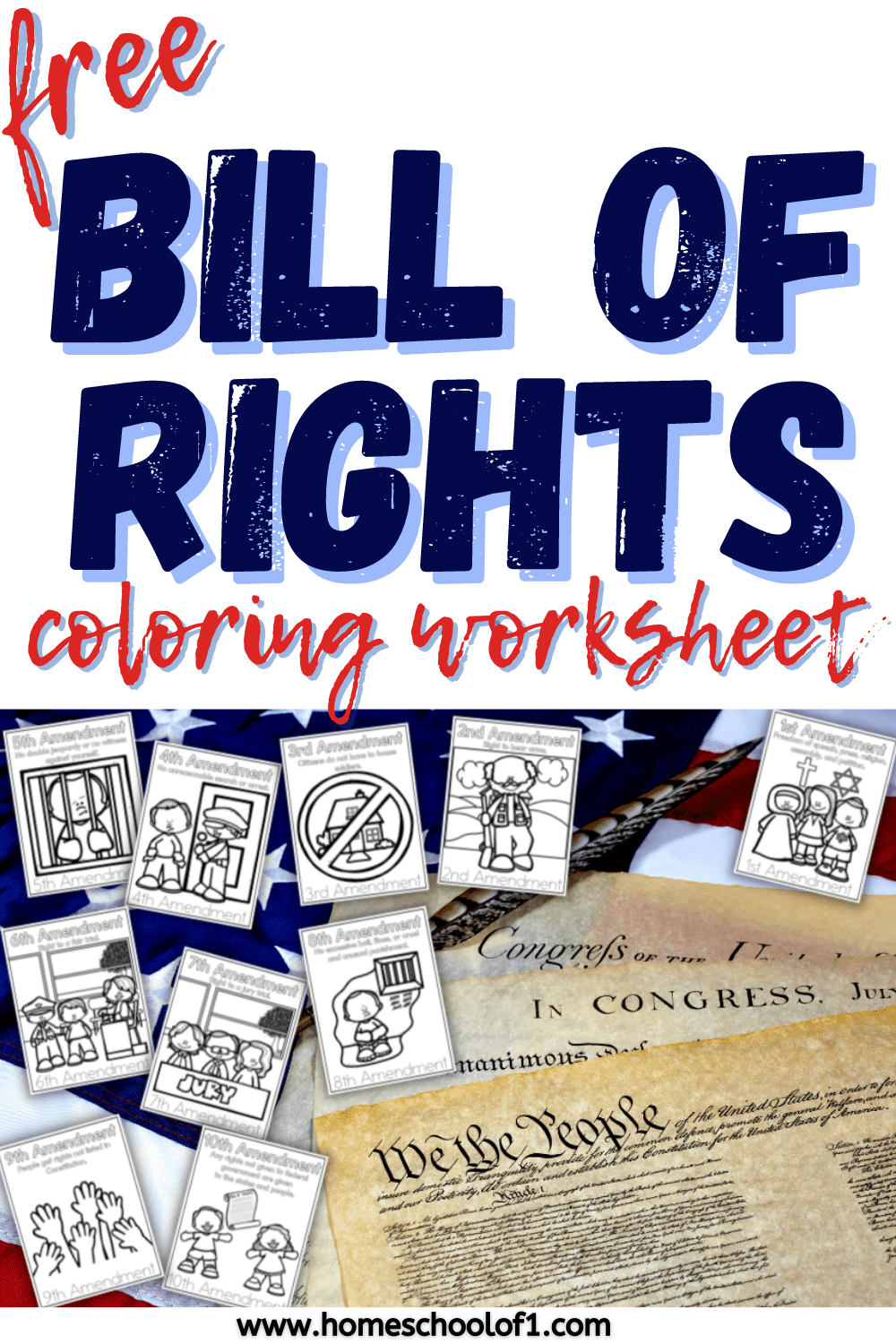 **There may be affiliate links in this post. You can read my full disclosure at the bottom of the page.**
Bill of Rights Coloring Sheets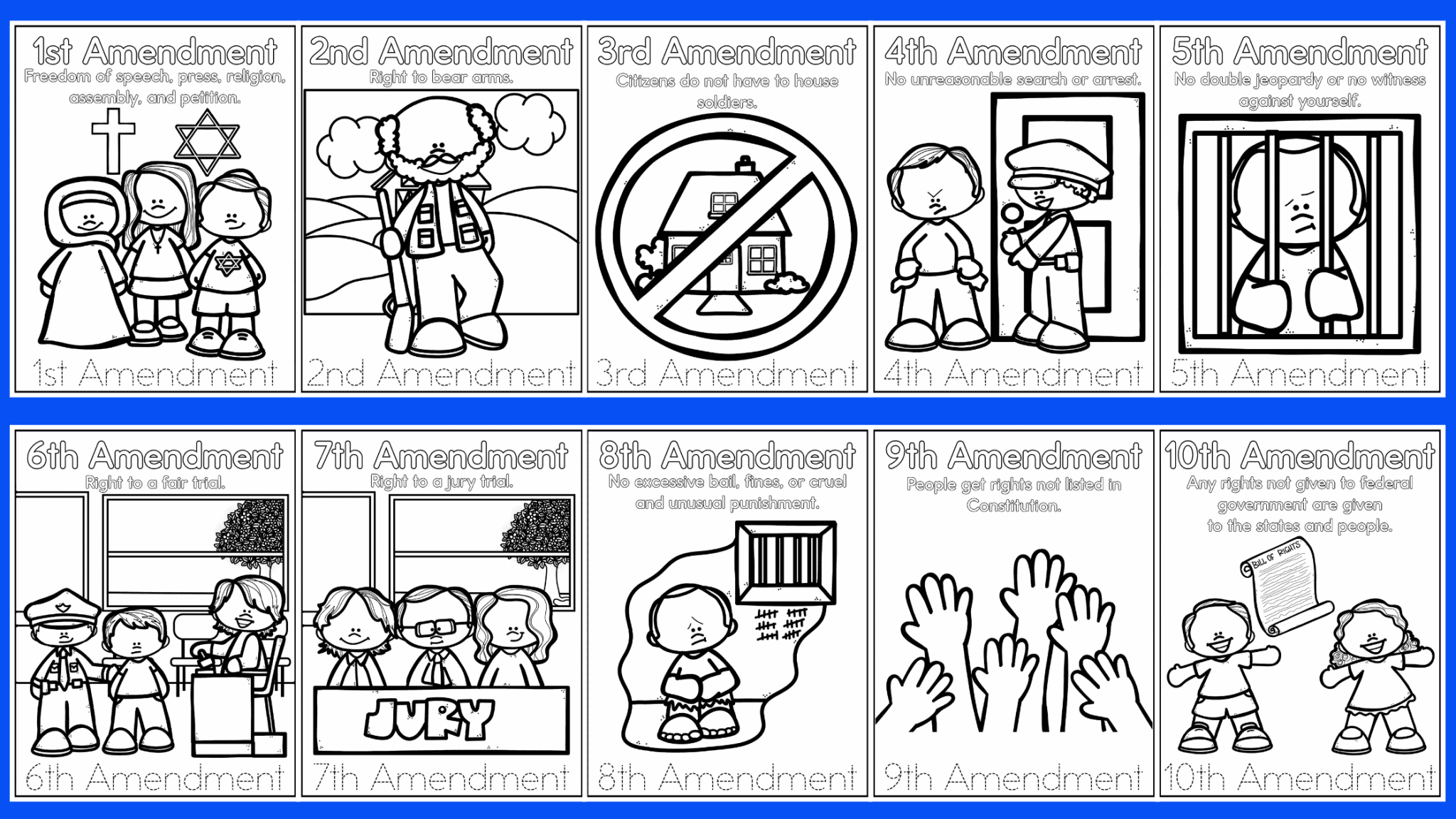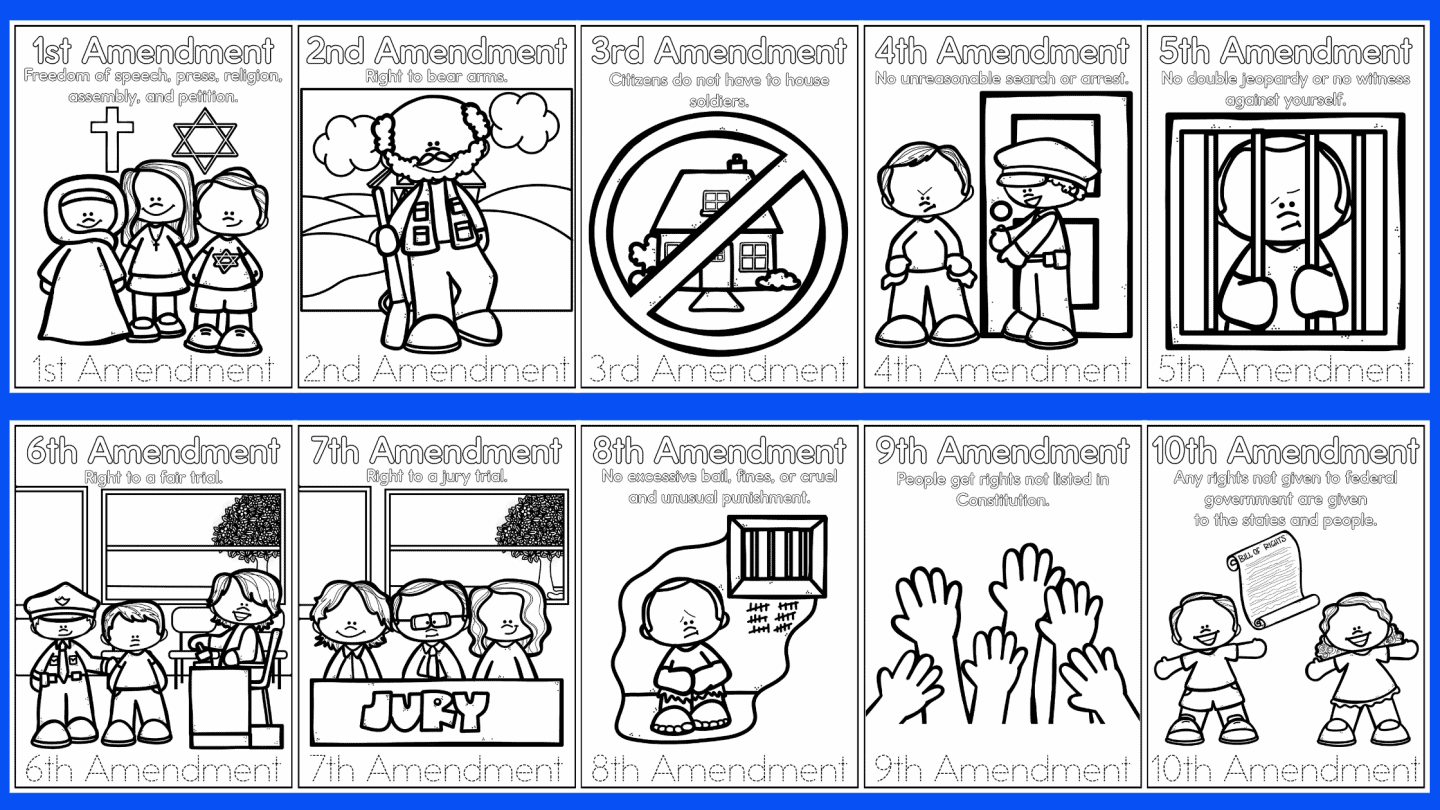 The first 10 amendments as listed below were agreed upon in 1791 and are collectively called the Bill of Rights.
Print out all 10 Bill of Rights posters and get the kids to color them in while learning what each of the 10 amendments are.
1st Amendment – Freedom of speech, press, religion, assembly, and petition.
2nd Amendment – Right to bear arms.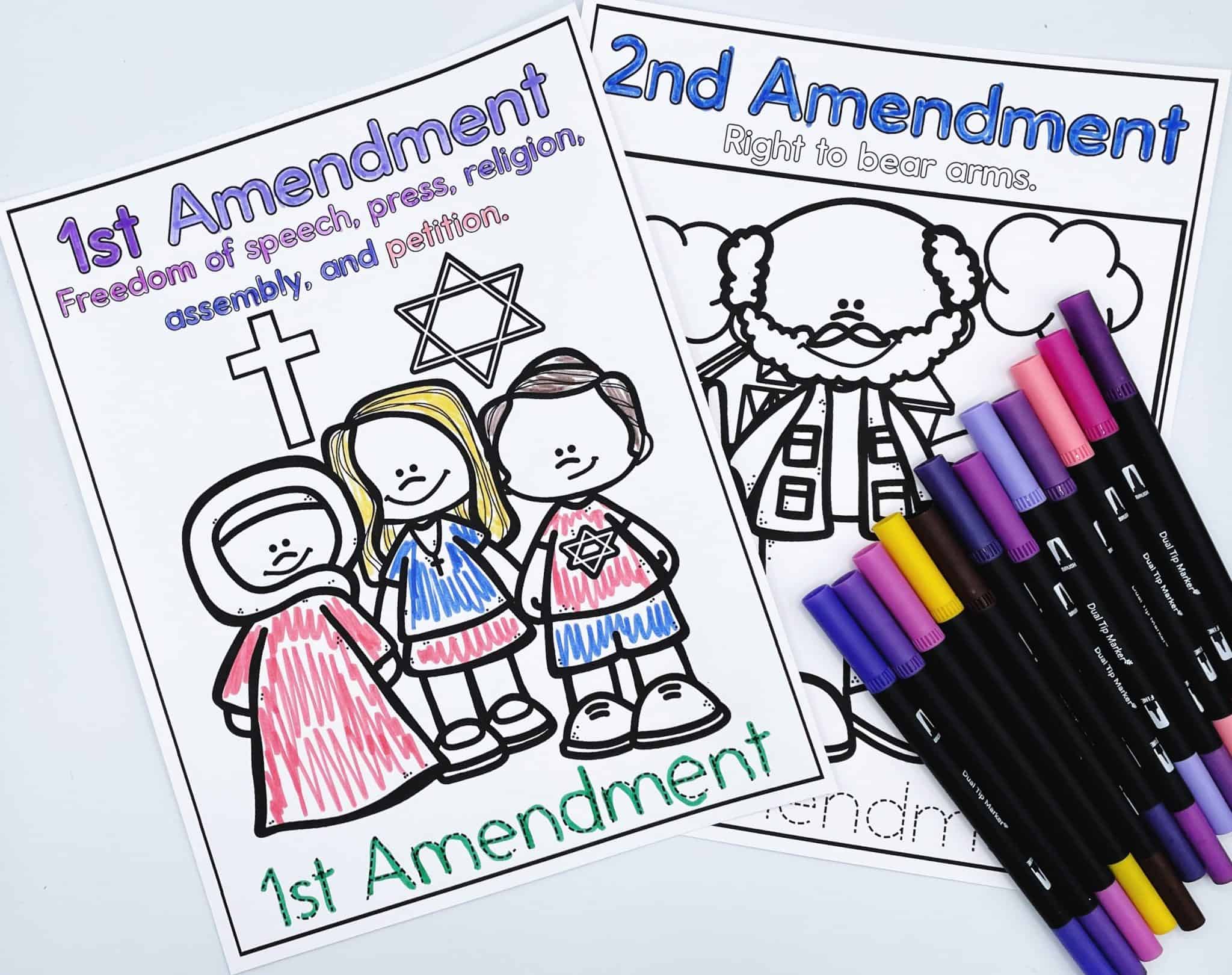 3rd Amendment – Citizens do not have to house soldiers.
4th Amendment – No unreasonable search or arrest.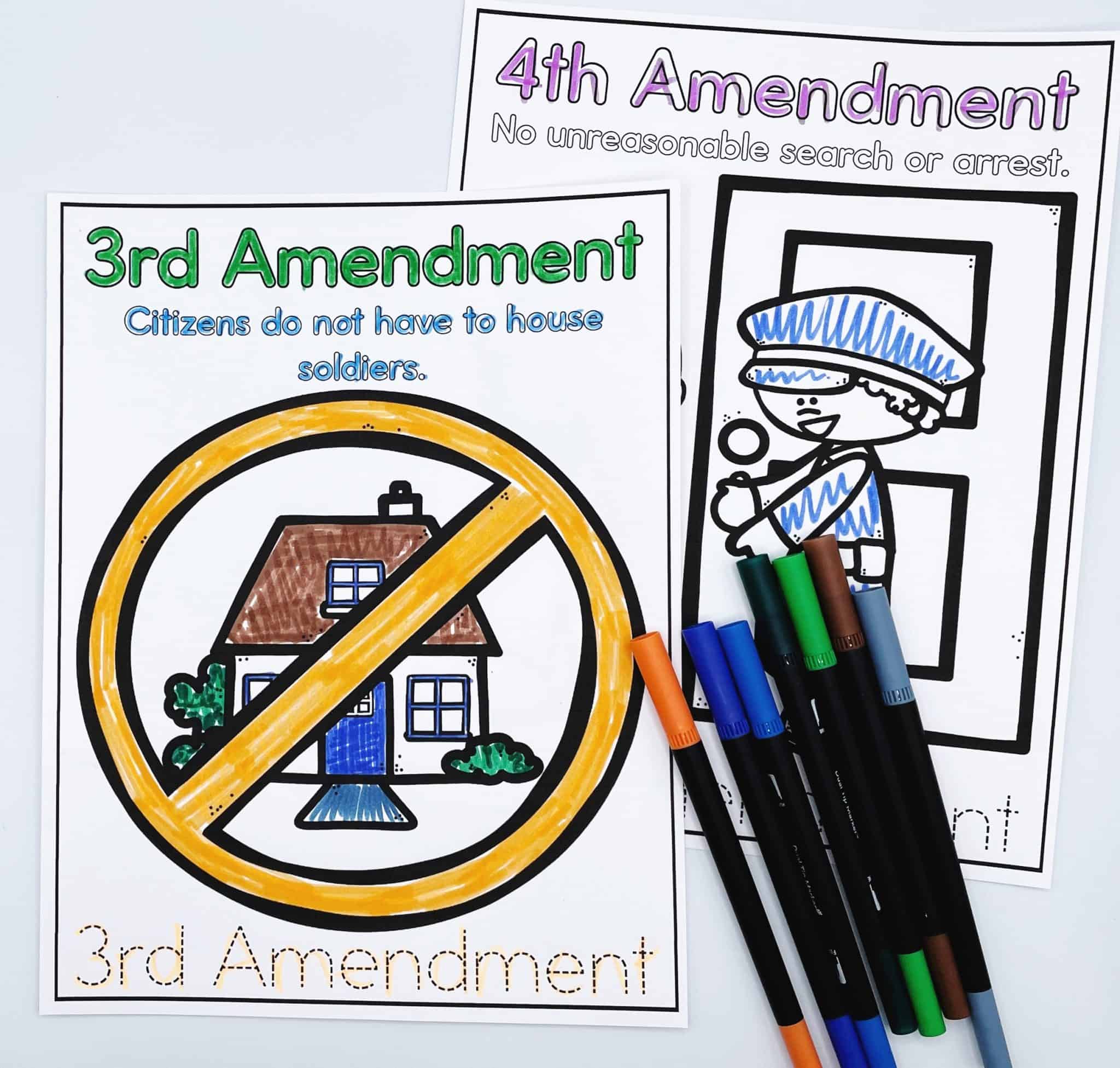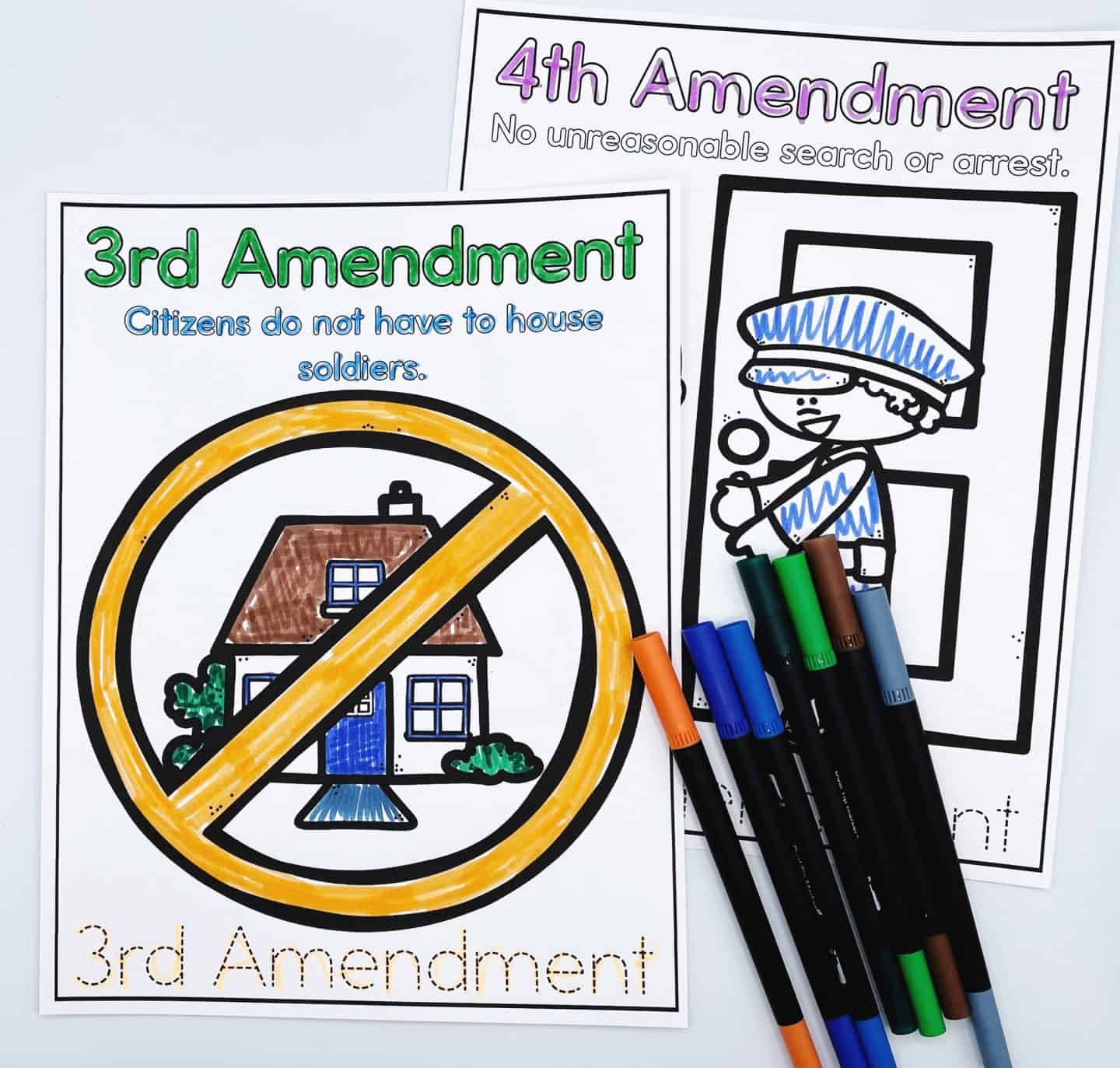 5th Amendment – No double jeopardy or no witness against yourself.
6th Amendment – Right to a fair trial.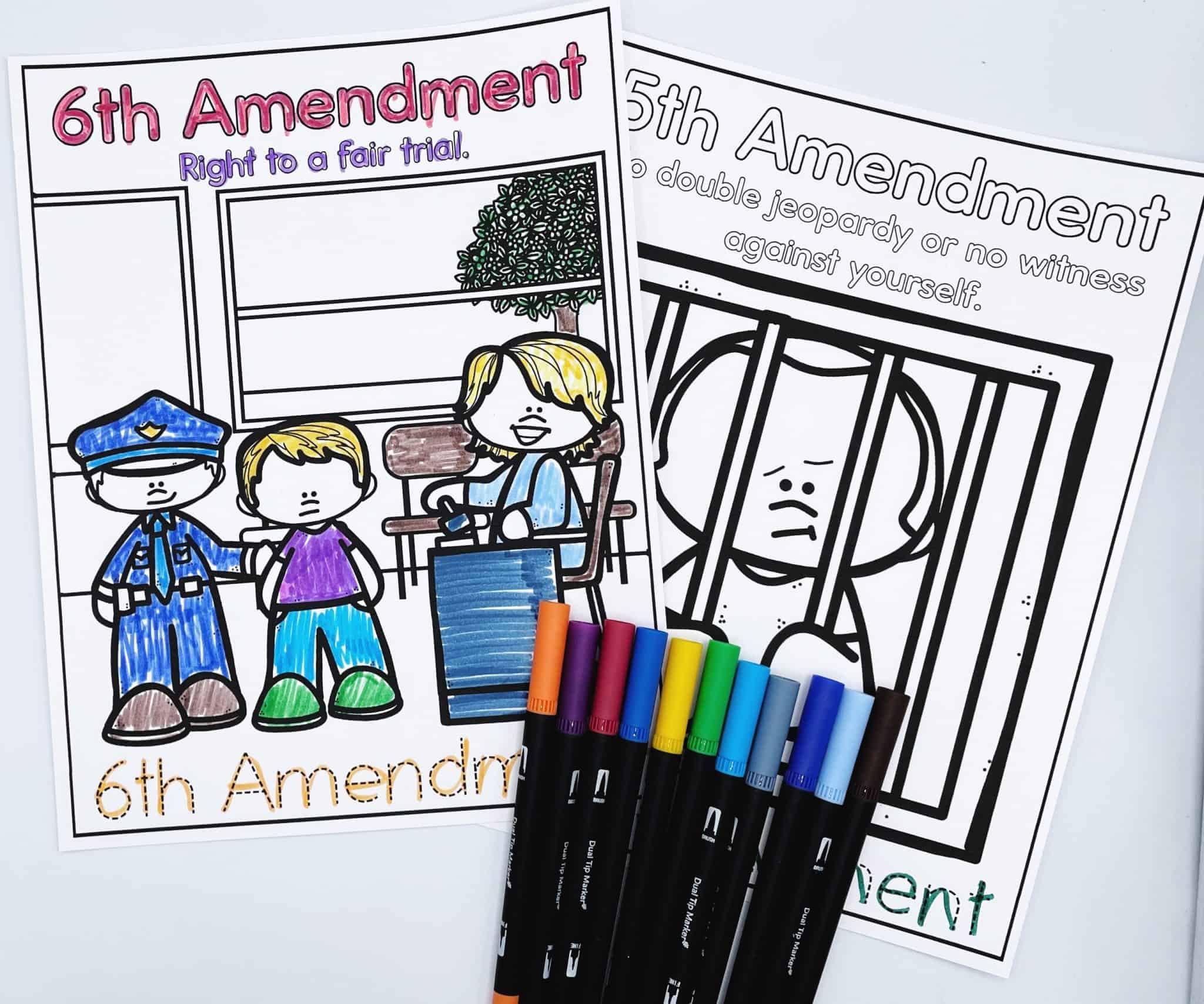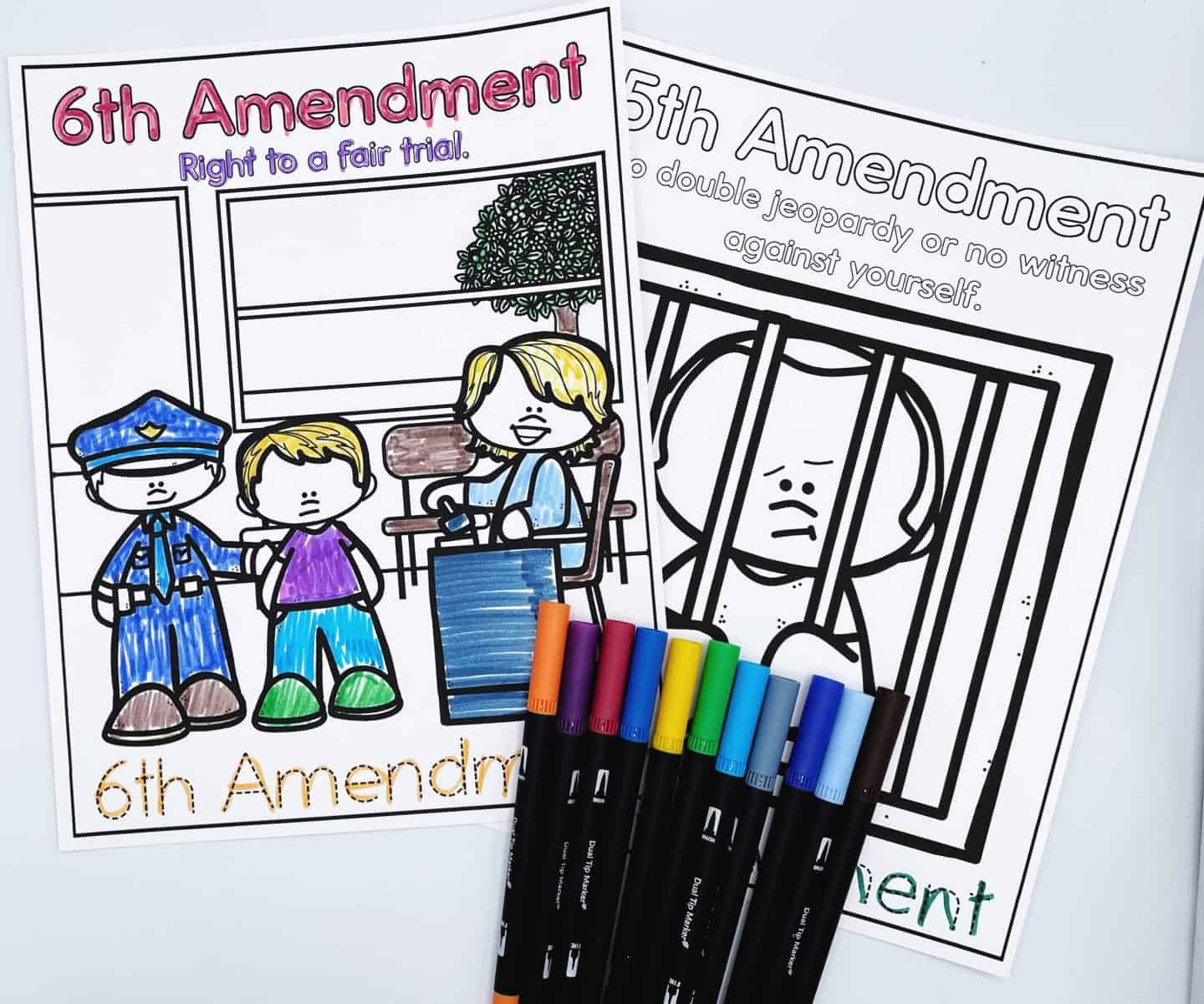 7th Amendment – Right to a jury trial.
8th Amendment – No excessive bail, fines, or cruel and unusual punishment.
For more homeschool civics curriculum resources check out our favorites.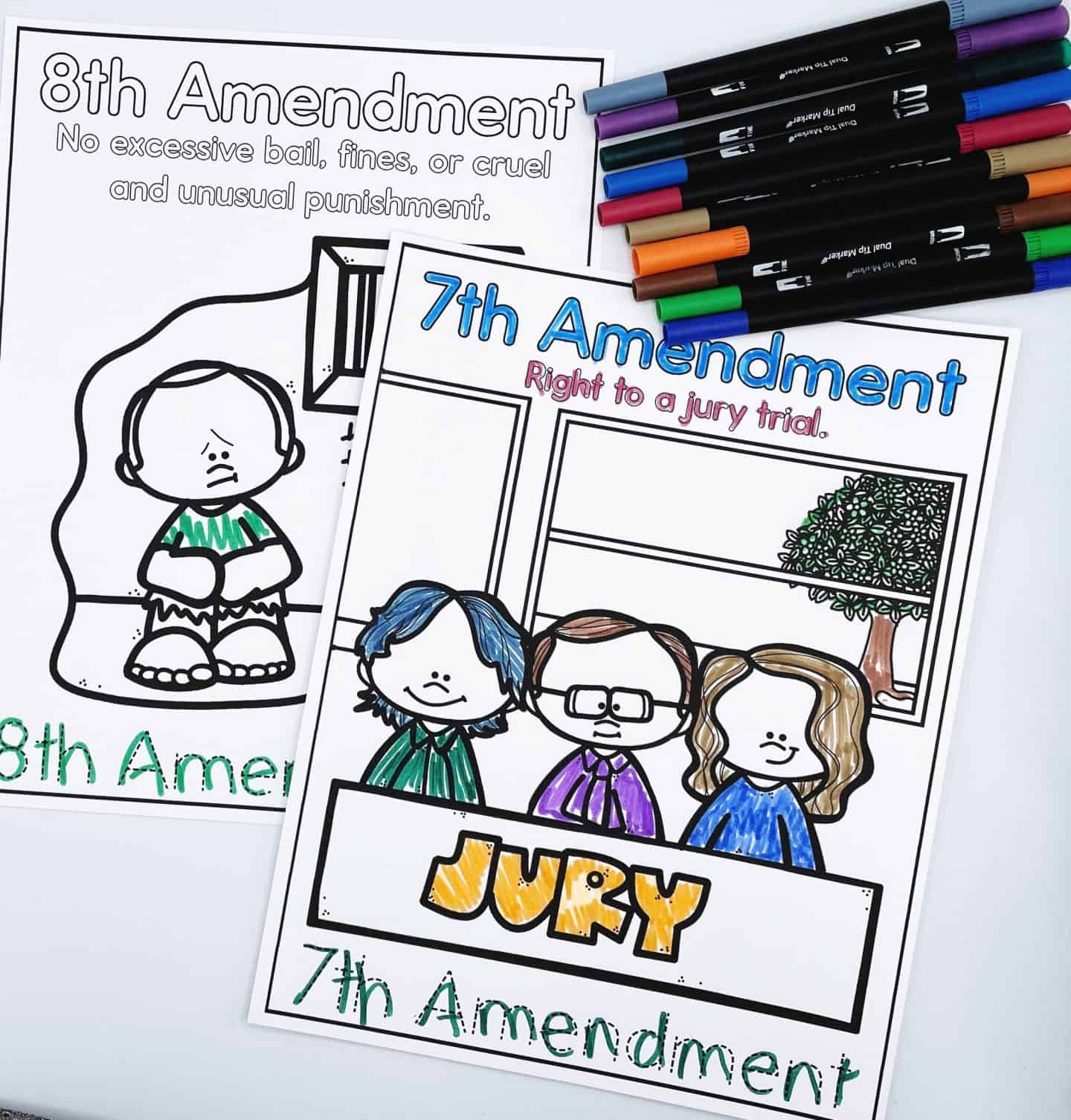 9th Amendment – People get rights not listed in Constitution.
10th Amendment – Any rights not given to federal government are given to the states and people.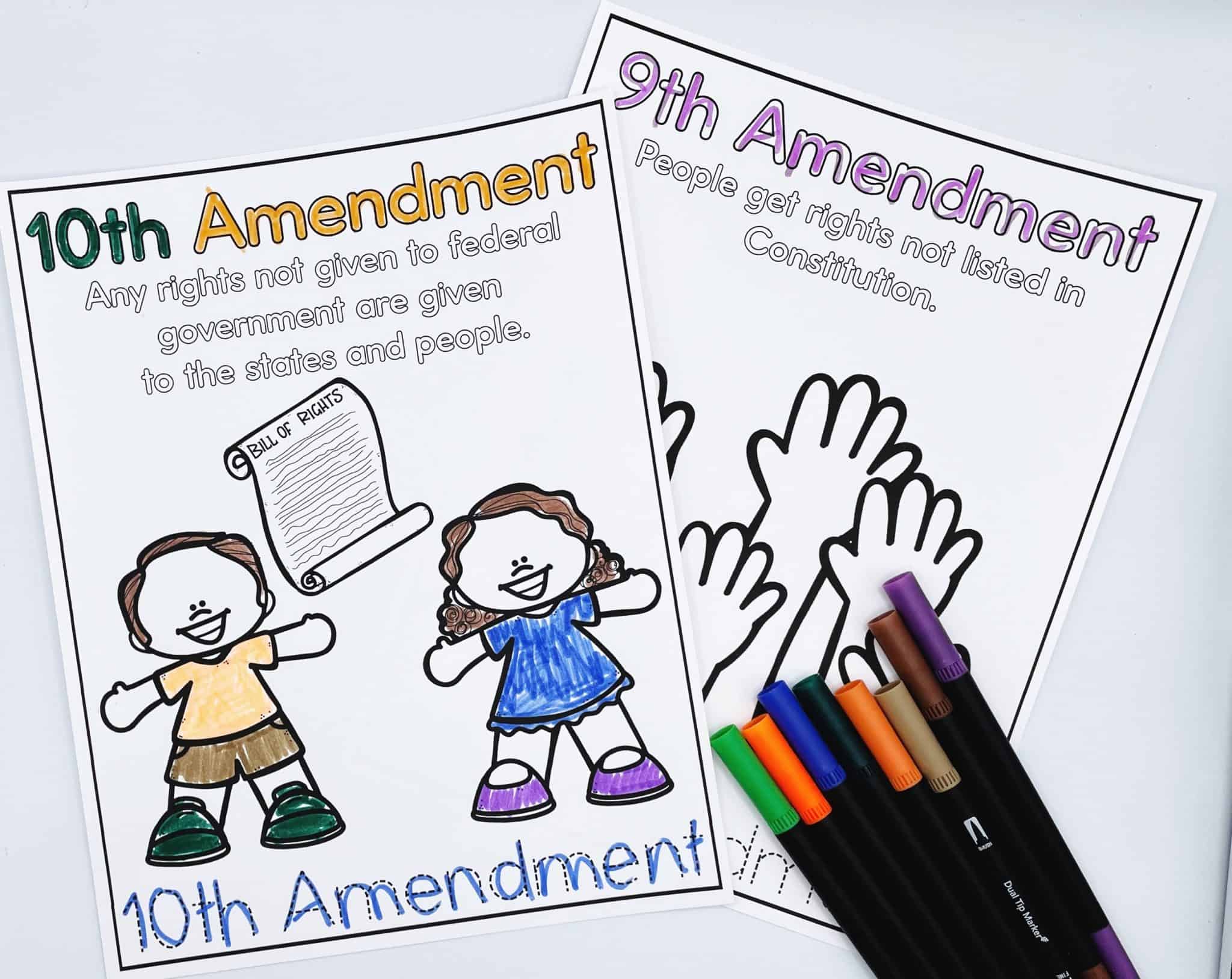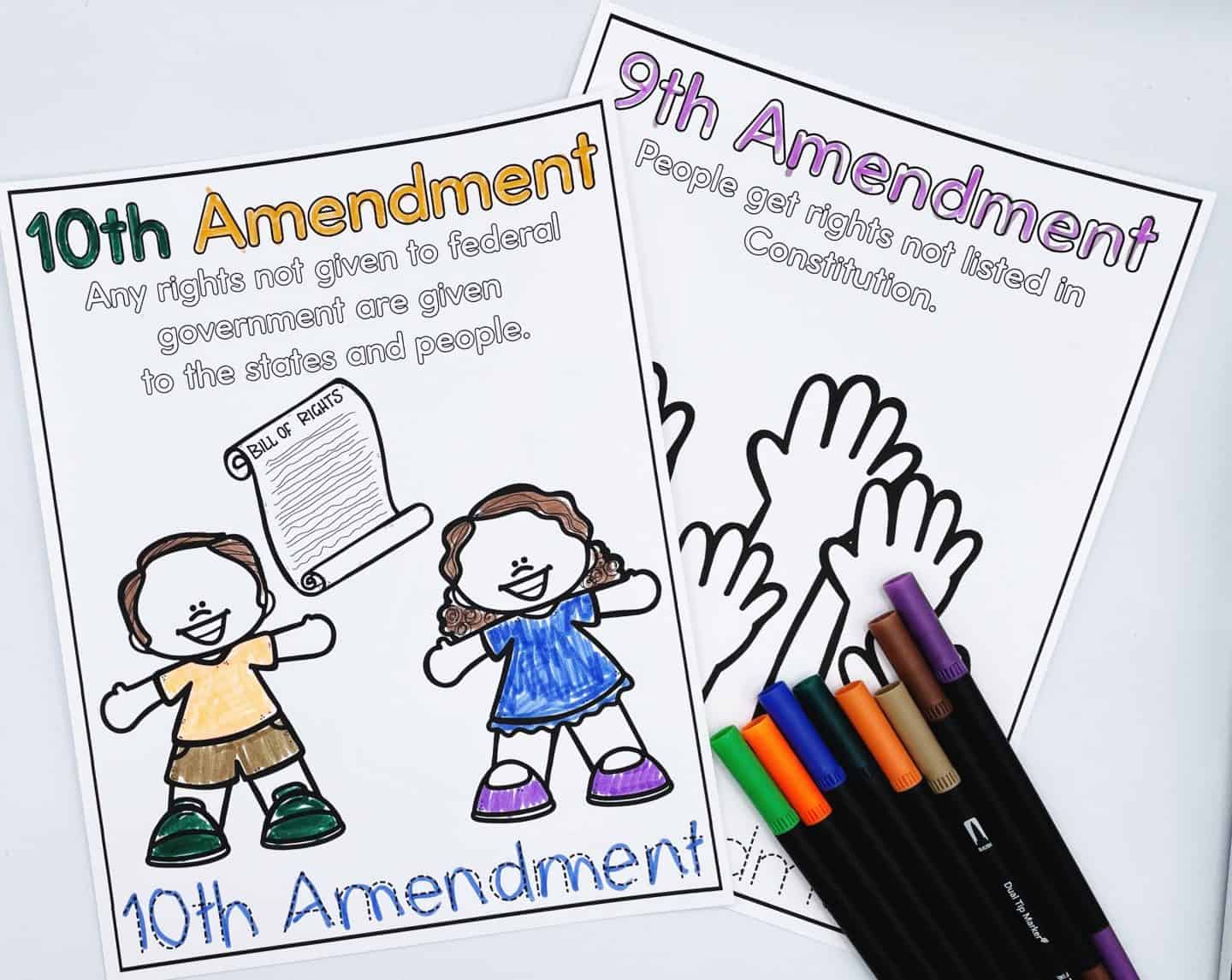 What are the other Amendments to the Constitution?
11th Amendment – Lawsuits against States (1868)
12th Amendment – Presidential elections
13th Amendment – Slavery & involuntary servitude (1865)
14th Amendment – Due process and equal protection
15th Amendment – Racial equality (1870)
16th Amendment – Income tax
17th Amendment – Election of US Senators
18th Amendment – Prohibition (1919)
19th Amendment – Women's Right to Vote (1920)
20th Amendment – Presidential succession
21st Amendment – Repeal of prohibition (1933)
22nd Amendment – Presidential term limits
23rd Amendment – Including District of Columbia in Presidential Elections (1960)
24th Amendment – Abolition of poll taxes
25th Amendment – Presidential vacancy, disability, and inability (1967)
26th Amendment – Change in voting age, lowered it to 18 (1971)
27th Amendment – Limits of pay for Congress (originally proposed in 1789 but only ratified in 1992)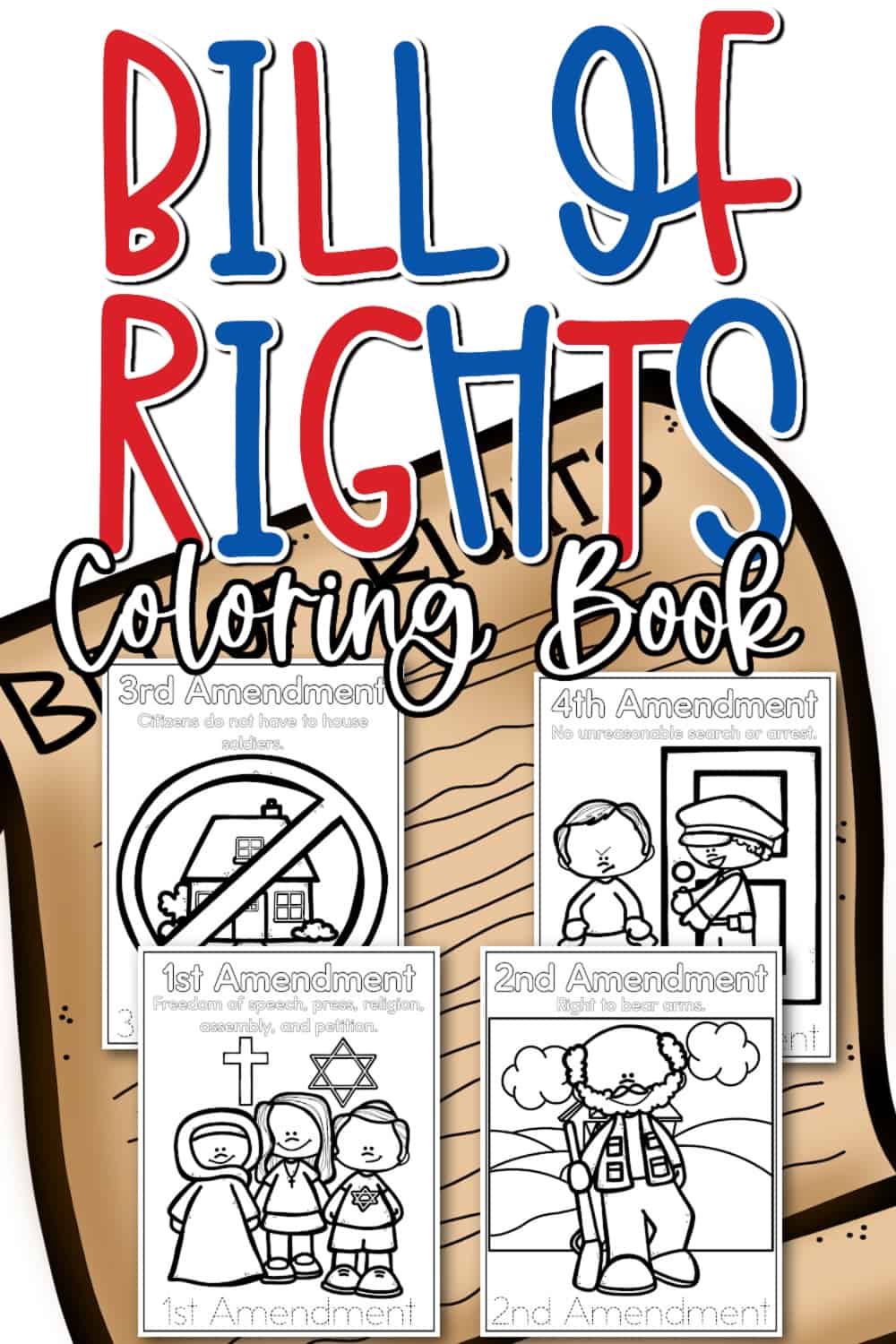 Government Worksheets
For a small fee, you can download all of our government worksheets. There are 136 pages included in this download including:
The Constitution (10 pages)
History of the Flag (12 pages)
Supreme Court (15 pages)
Statue of Liberty (8 pages)
Franklin D. Roosevelt (10 pages)
Abraham Lincoln (11 pages)
Pledge of Allegiance (6 pages)
Founding Fathers (9 pages)
Thomas Jefferson (5 pages)
Government Worksheets (13 pages)
Bill of Rights (10 pages)
George Washington (13 pages)
Benjamin Franklin (4 pages)
Declaration of Independence (10 pages)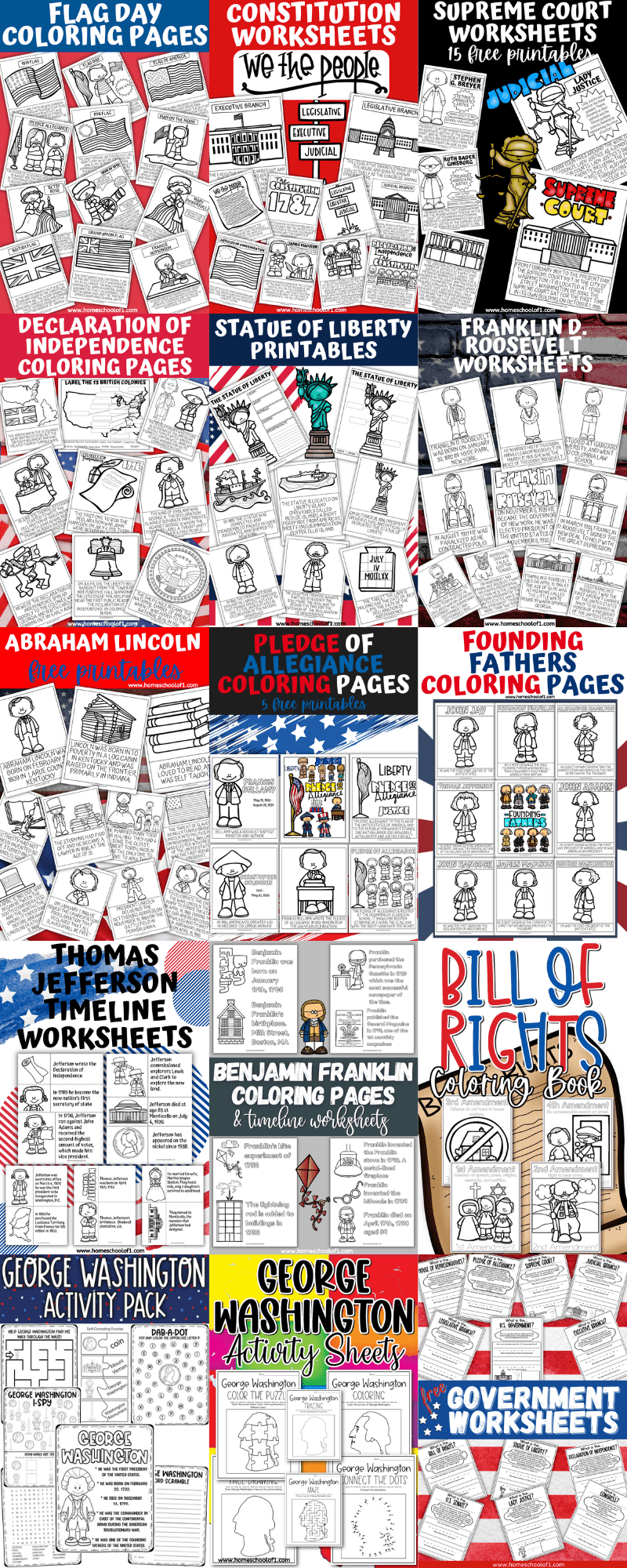 Download the free Bill of Rights Coloring Pages
Make sure you choose the correct paper size and click on the shrink to fit button. All of our free printables work better when printed on cardstock (this is the one we use and love.)
If you are looking for a high school government curriculum we highly recommend Principles and Precepts of Government.
Last Updated on 24 January 2023 by homeschoolof1