First Day Of School Crowns Printable (free)
Have fun on the first day back to school with our free first day of school crowns printable.
These first day of school worksheets are a great icebreaker in the classroom, but they can also be enjoyed in your homeschool.
Can you believe it's almost time to hit the books again? The summer days are winding down, but don't worry, because we've got something totally cool to make your first day of school extra special, printable crowns.
These crowns are seriously off-the-charts fun! We've got not one, but two templates to choose from.
The first one lets the kids write their name and age, and the second the kids need to color in the school supplies. It's like a party on their head, celebrating the start of a new school year!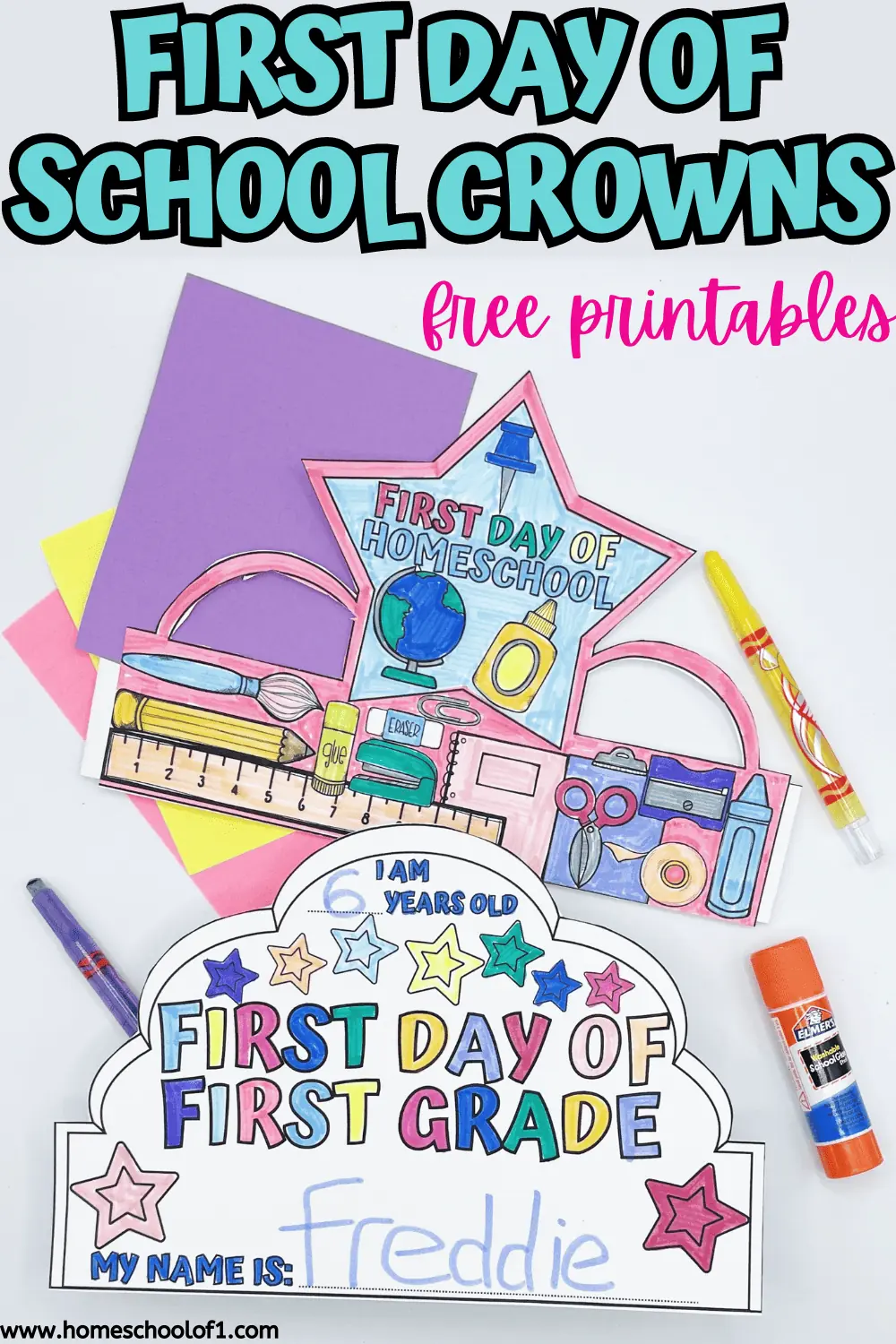 **There may be affiliate links in this post. You can read my full disclosure at the bottom of the page.**
How to use the printable crowns for school
These first day of homeschool printables are free to print but are for personal and classroom use only. Scroll to the bottom of the post and add your email address to get the pdf file.
These can be printed on copy paper, but I highly recommend you use cardstock, or make it more colorful and print on colored paper.
If you are working with students in kindergarten or below I highly recommended you cut the templates out before you want the students to fill them out. But 1st and 2nd graders can save you the time and do it themselves.
Depending on which template you choose the kids will either write their name and age, or they will color in school supplies.
I have also included the headband extenders which you can staple or glue to attach. But sentence strips will work just as well, especially as you don't have to cut them out!
There are 15 pages to download (1 of them is the headband extender). There is one of the following for each of the designs.
First day of school
First day of preschool
First day of pre-k
First day of kindergarten
First day of first grade
First day of second grade
First day of homeschool.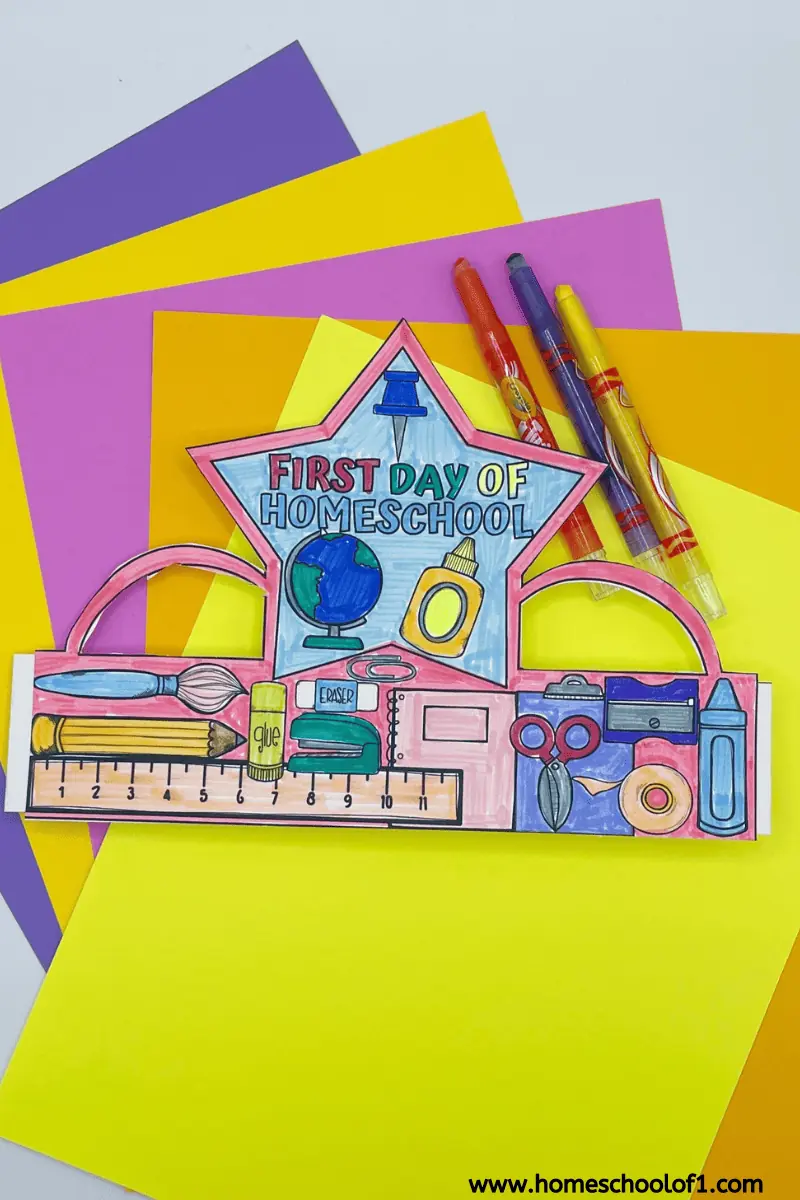 Get the kids excited about their first day of kindergarten
Is your child getting anxious about their first day of school? It's totally normal, in fact for us it was me who was worried and not my son!
So to get him ready (I mean me!) we decided to read as many books about it before he headed off. These are some of our favorites:
On the First Day of Kindergarten follows the journey of a young child as they navigate the excitement and nervousness of their very first day of school. Highlighting the importance of making new friends and embracing new experiences.
In The Best Seat in Kindergarten a charming story unfolds as a young child discovers the perfect spot to sit in their kindergarten classroom. Through this delightful tale, kids learn about the joy of finding their own special place and the magic that unfolds when they feel comfortable and included.
The Berenstain Bears go to School takes readers on an adventure with brother and sister bear as they embark on their first day of school. This book is full of lovable characters and relatable moments that will help your kiddo feel excited and more at ease about starting their own journey.
The Night Before Kindergarten is a super awesome book that captures all the fun and anticipation of the night before the big day. With its catchy rhythm and awesome illustrations, it's the perfect read to relax both moms and kids. Reminding them that starting kindergarten is an amazing adventure to be celebrated.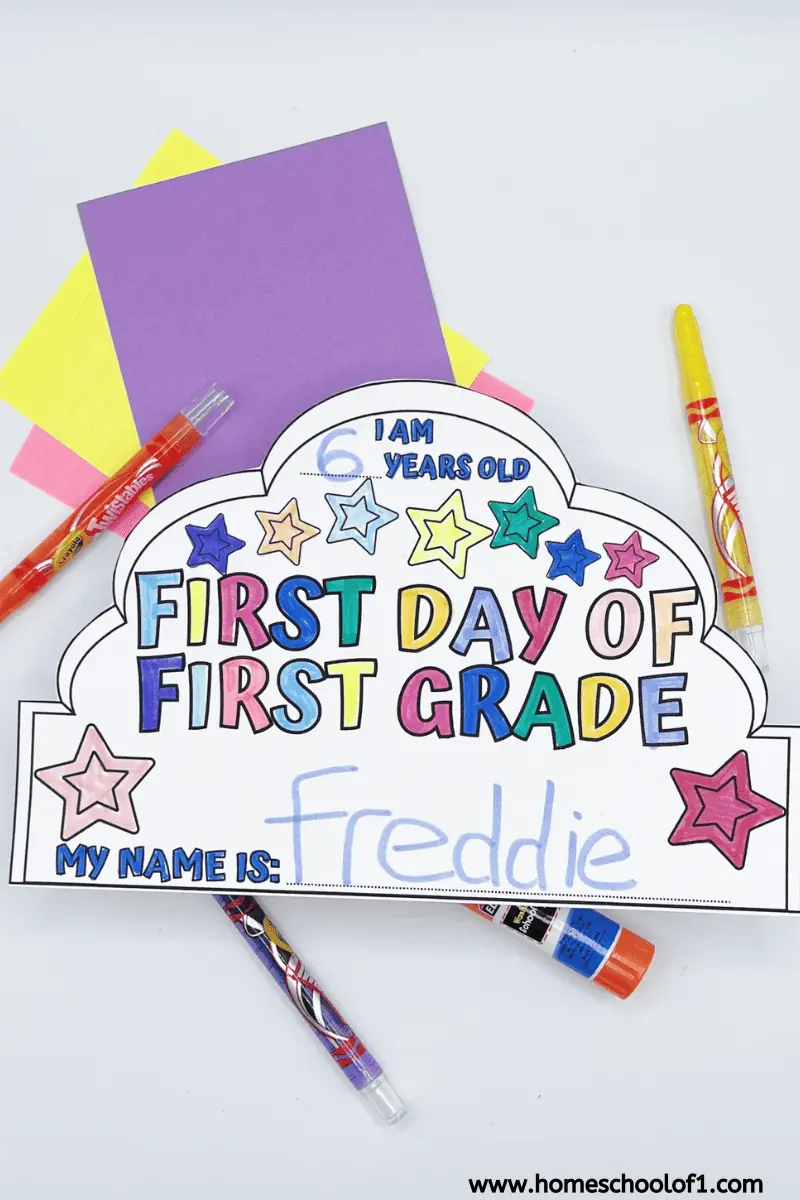 Other first day of school ideas
When the kids have completed their back to school crowns, carry on the fun with the following first day of school activities: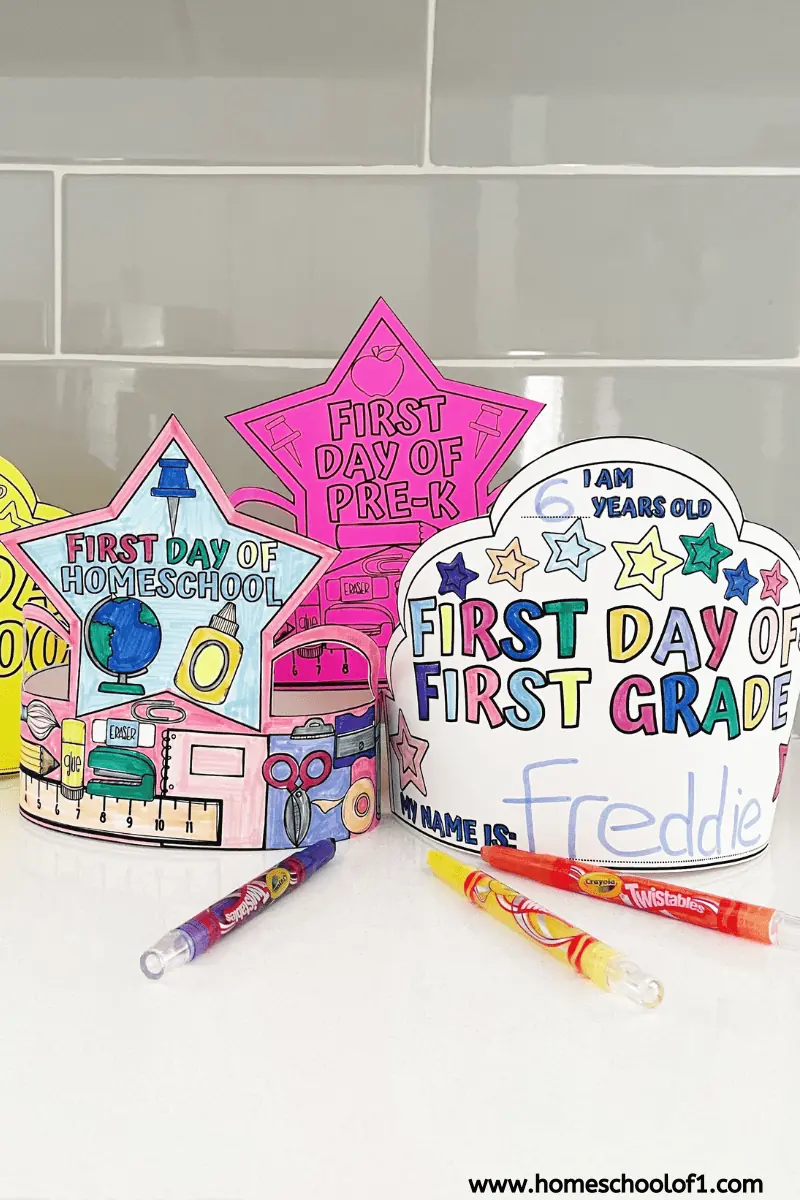 Save a huge amount of time and grab this printable and 8 other activities with our first day of school activities bundle.
Why get the kids to create a first day of school printable crown?
There are so many reasons adding a crown to your first day of school is a great idea.
Wearing a crown that they have personally designed instills a sense of pride and self-assurance in your little ones. As they wear their unique creations, they will radiate a newfound confidence, ready to conquer the challenges of the day ahead.
These magnificent crowns act as conversation starters, effortlessly breaking the ice and forging connections.
Crafting their own crown allows children to showcase their individuality and creative flair.
They are an amazing keepsake that moms will cherish forever.
The process of creating these crowns is an engaging and immersive activity that fosters fine motor skills, hand-eye coordination, and artistic development.
Tips for downloading the free files
Below is a blue cloud with an arrow pointing downward. Underneath that is a large sign-up box where you need to add your name and email address, and press I NEED THIS NOW!
Within minutes you will be sent the free PDF directly to your email address, so you can print it out and start using it immediately.
Sometimes emails get a little wonky, so if you can't see it, please check your spam folder where I am sure it is hiding.
Download the free first day of school headband crowns
Make sure you choose the correct paper size and click on the shrink to fit button. All of our free printables for kids work better when printed on cardstock (this is the one we use and love.)
Last Updated on 2 October 2023 by homeschoolof1