8 Free Grandparents Day Printables
With National Grandparents Day coming up on September 10th (or October 1st in the UK) I wanted to share our free Grandparents Day printables with you.
There is nothing better than a grandparent receiving a handmade coloring page, or craft. It is way more thoughtful than a shop-bought card, or gift. These holiday activities for kids are a great way to show grandma and grandad how much they mean to you.
In these free Grandparents Day printables, you will receive coloring pages, all about my grandma and grandad, and 2 grandparent's day handprint crafts.
You can pick and choose what printables you use, or spoil the grandparents with all of them!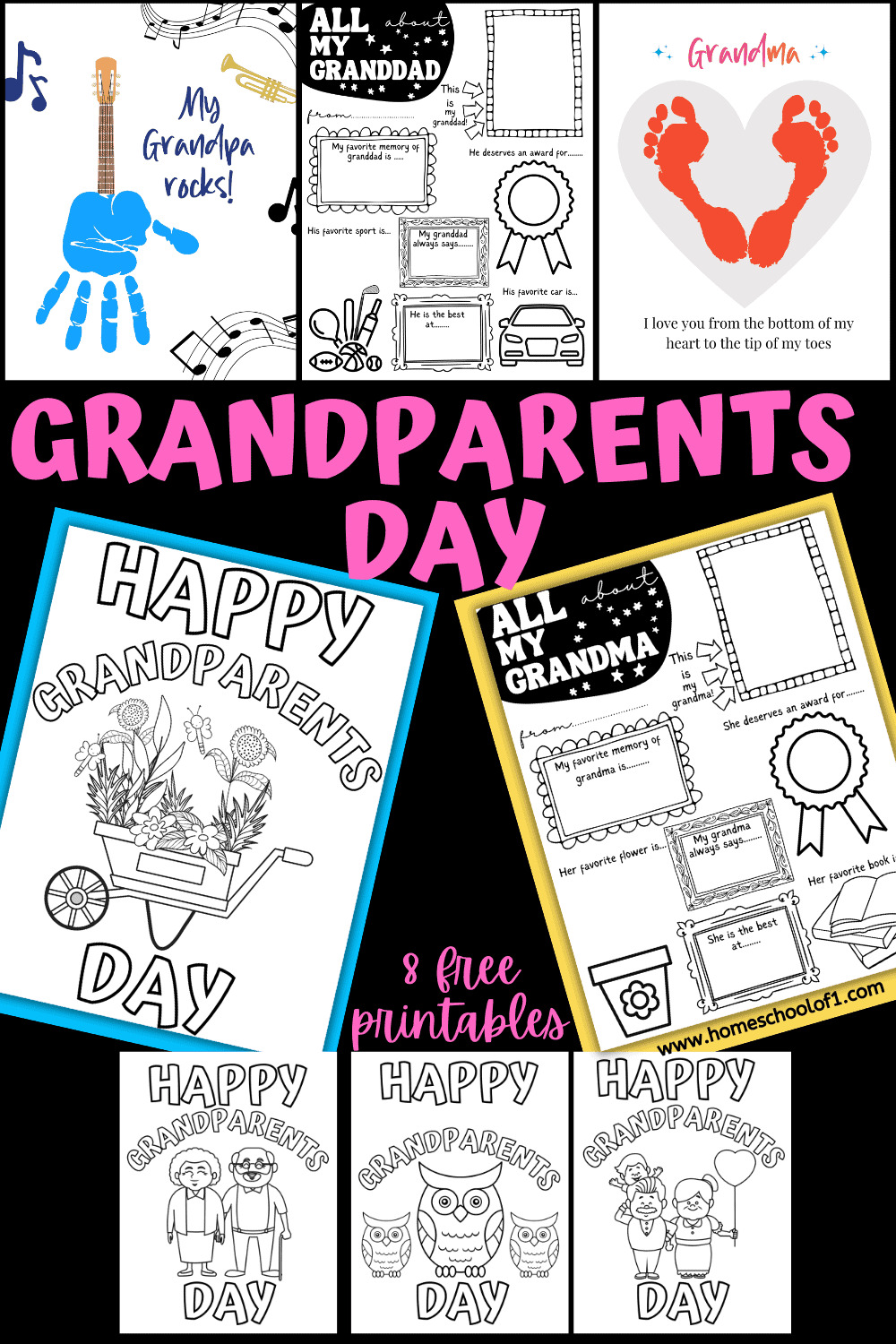 **There may be affiliate links in this post. You can read my full disclosure at the bottom of the page.**
Grandparents Day Worksheets
Grandparents Day is a special occasion that provides an opportunity for children and their grandparents to bond and celebrate their unique relationship.
If you're looking for creative ways to engage your children or students in honoring their grandparents, these Grandparents Day activities and worksheets are perfect.
Supplies needed:
Before diving into these heartwarming activities, gather the necessary supplies:
washable paints (these are the ones we use for all of our handprint crafts)
Wipes!! It helps to have these handy so you don't make a complete mess of your table!
How to use the free Grandparents Day printables:
To get started, download and print out the free Grandparents Day templates provided below.
These templates are designed to fit on eight full pages of 8.5″ x 11″ paper, so ensure that your printer settings are adjusted accordingly.
These grandparents' worksheets are free to print but are for personal and classroom use only. Scroll to the bottom of the post and add your email address to get the pdf file.
We prefer to print all of our printables on cardstock but normal printer paper will work too.
Kate & Milo Me and My Grandma Picture
Grandpa Gifts from grandkids, Side by Side or
Grandparents Day! (Step into Reading)
Grandparents' Day
Grandparent's Day Handprint Craft
One of the standout activities is the grandparent's day handprint craft. These crafts come in two versions, one for grandma and one for grandpa.
The grandma one works best with footprints, but you can of course use handprints.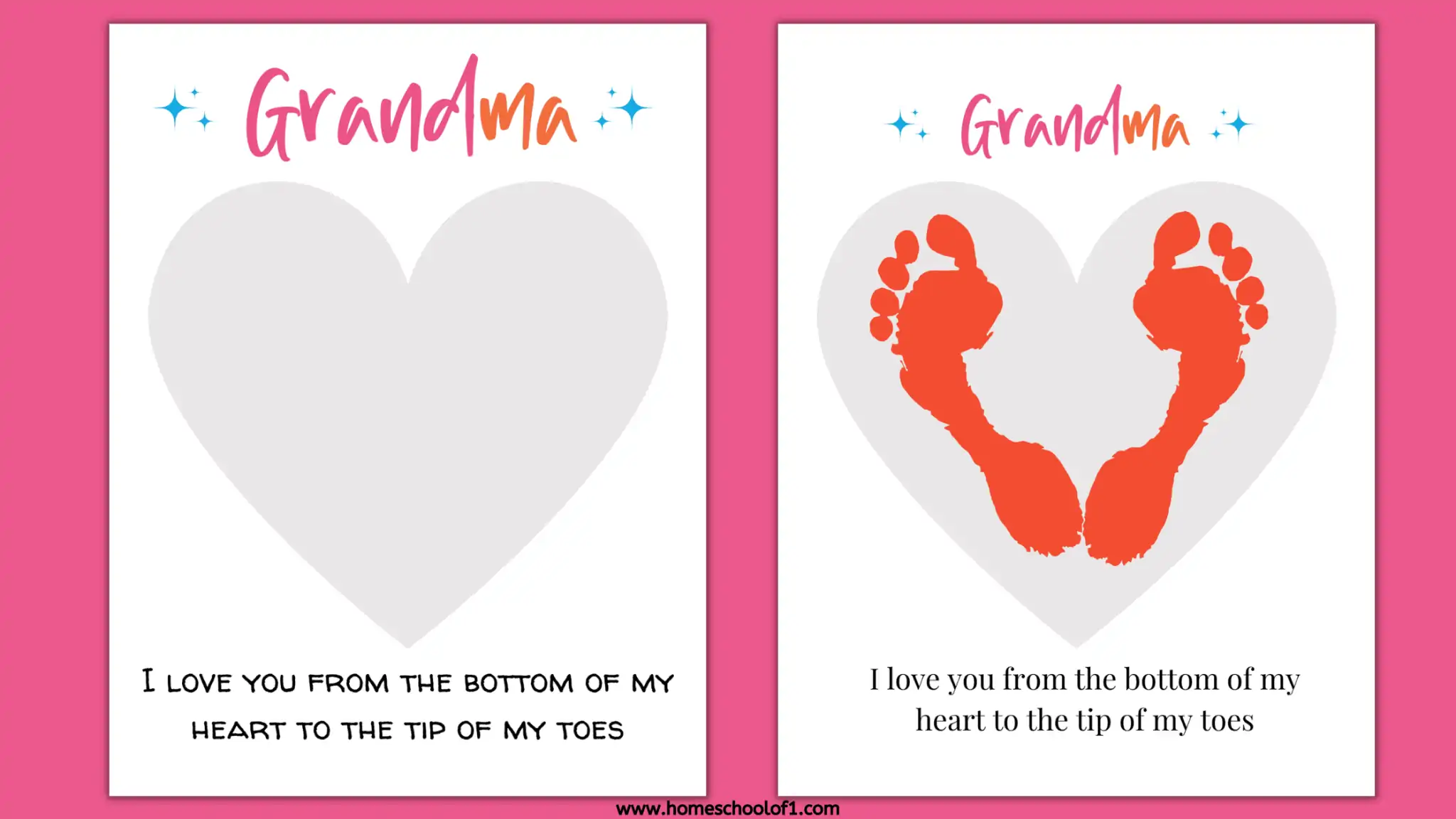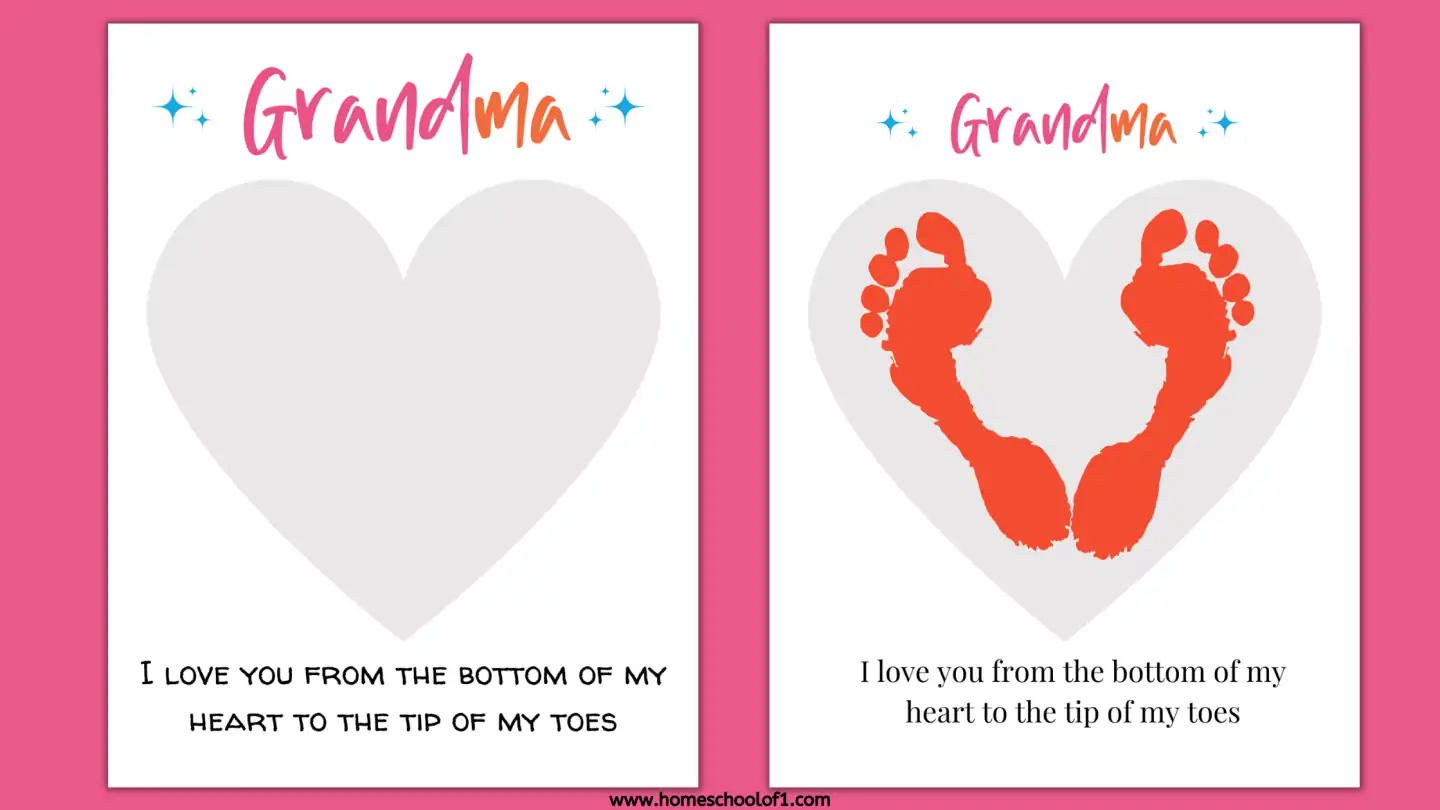 With the my grandpa rocks handprint, all you need to do is paint one of the kids' hands and place their hand with their fingers pointing down.
This makes a really cute guitar that grandpa will love.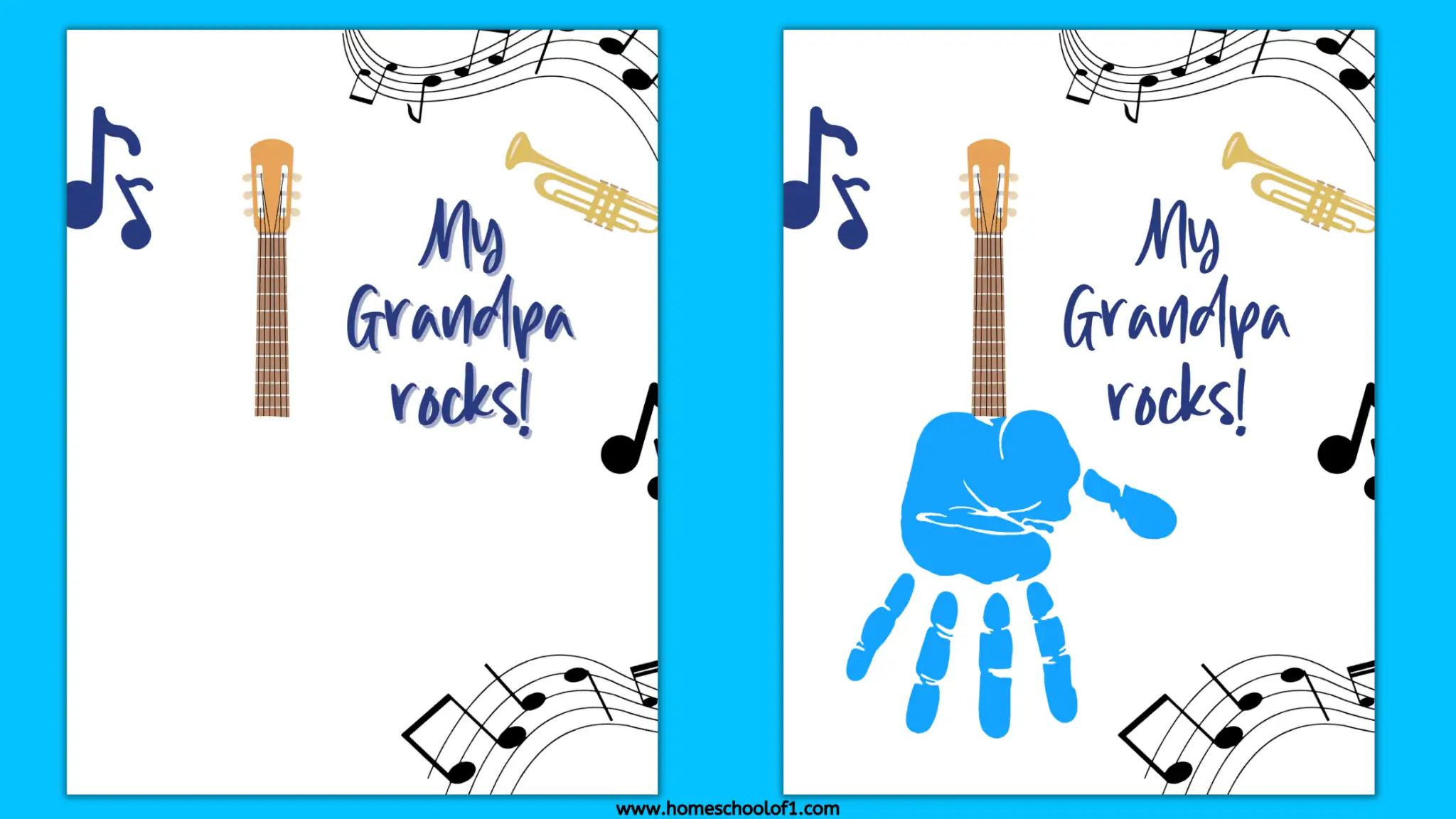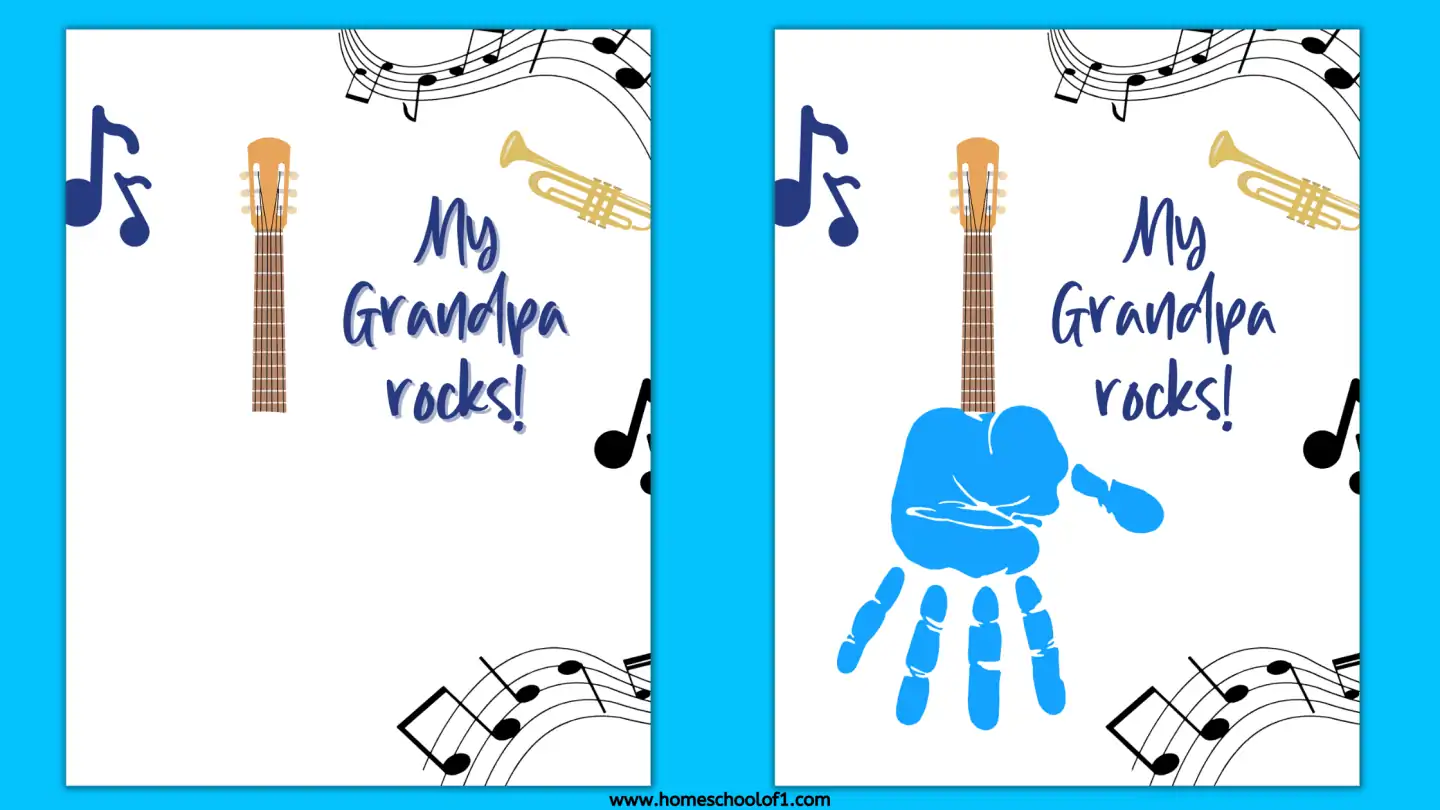 For another option I also love this I'm as lucky as can bee, the best grandparents belong to me.
Grandparents Day Coloring Pages
Let your children's artistic abilities shine with a Grandparents Day card to color in. They all have Happy Grandparents Day on the front plus 4 different images.
With four different designs to choose from, kids can use coloring pens, crayons, or colored pencils to bring these pages to life.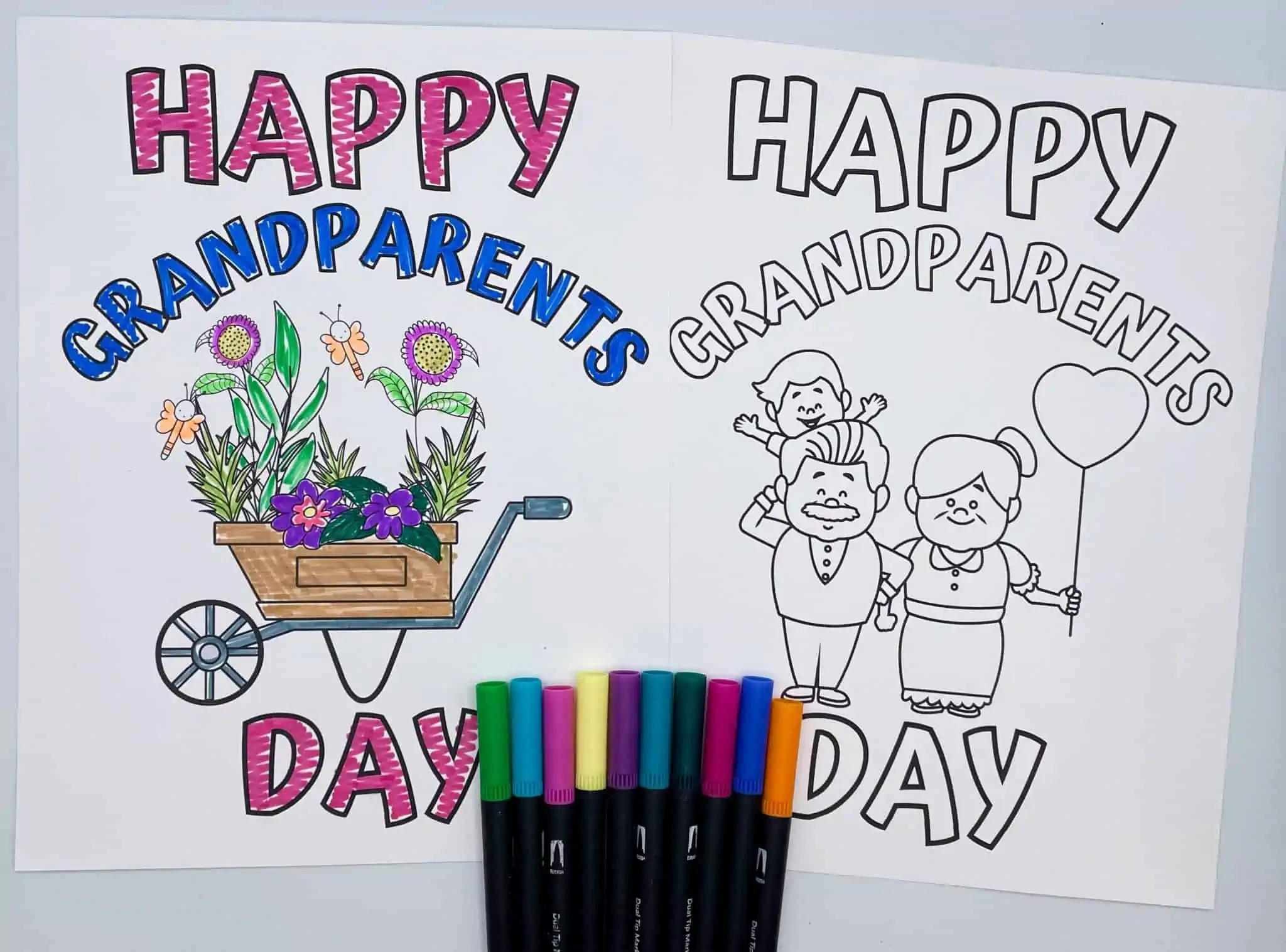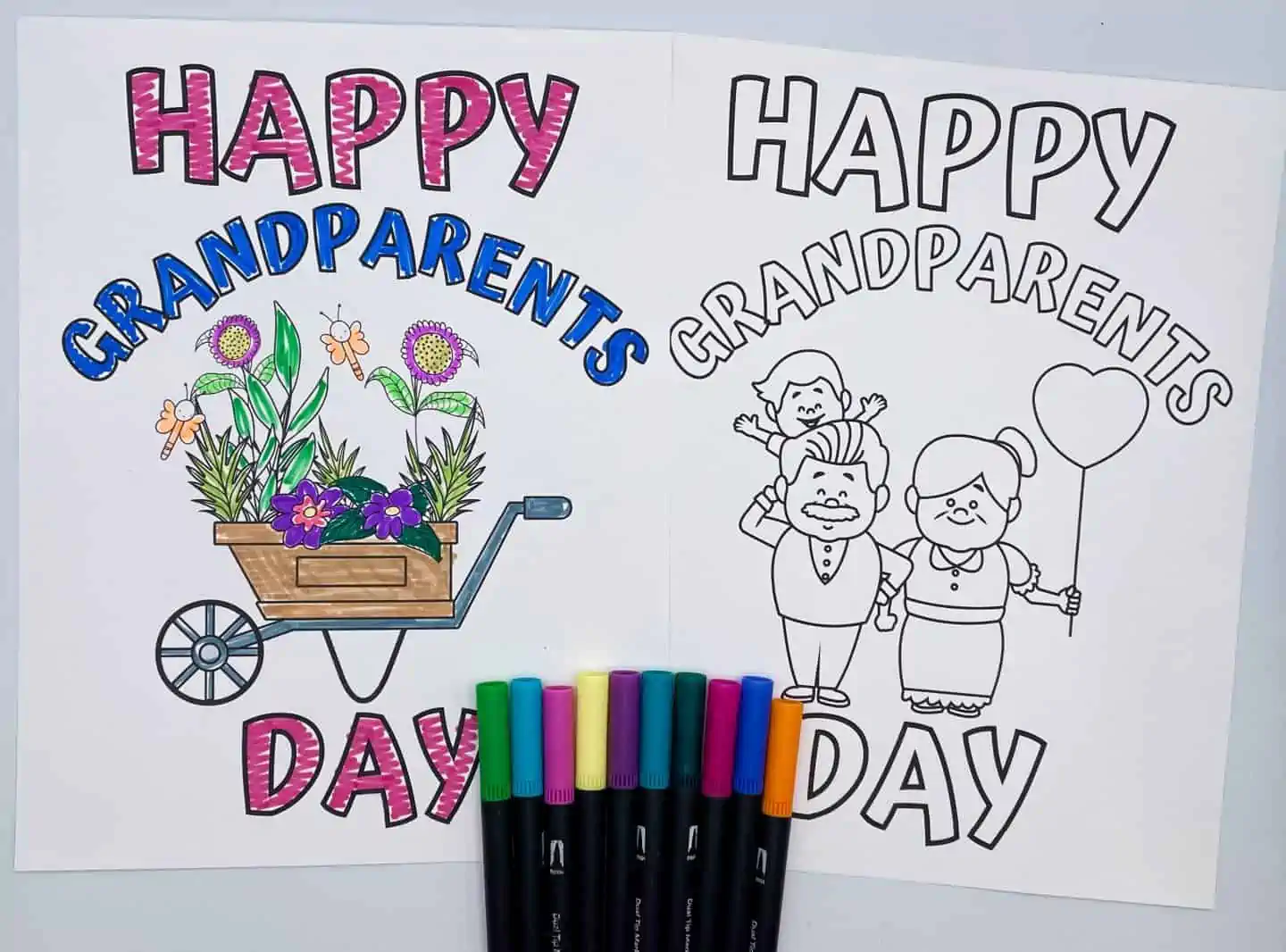 Whether they choose to color all four designs or focus on their favorites, the coloring pages offer a relaxing and enjoyable activity that can be shared with grandparents.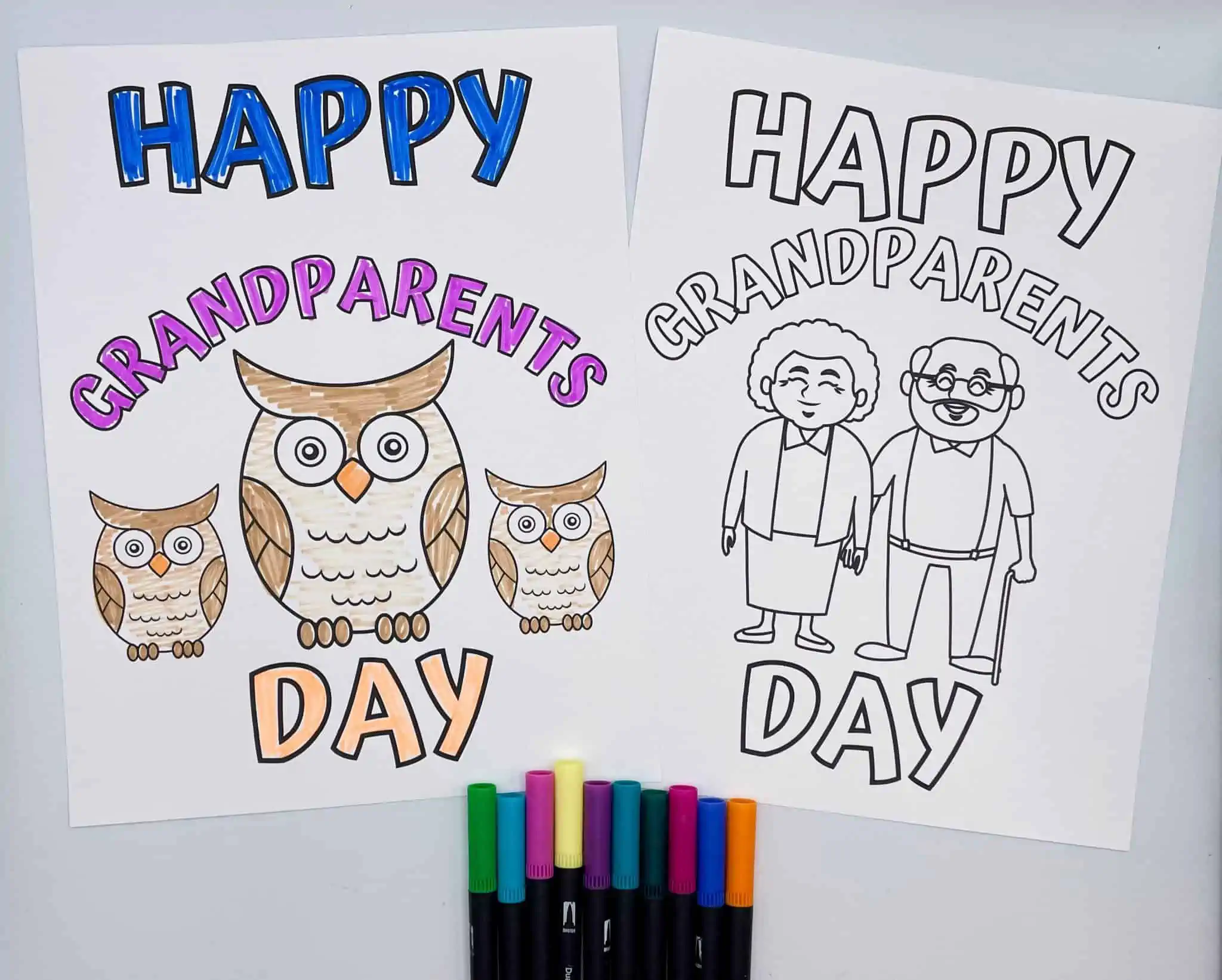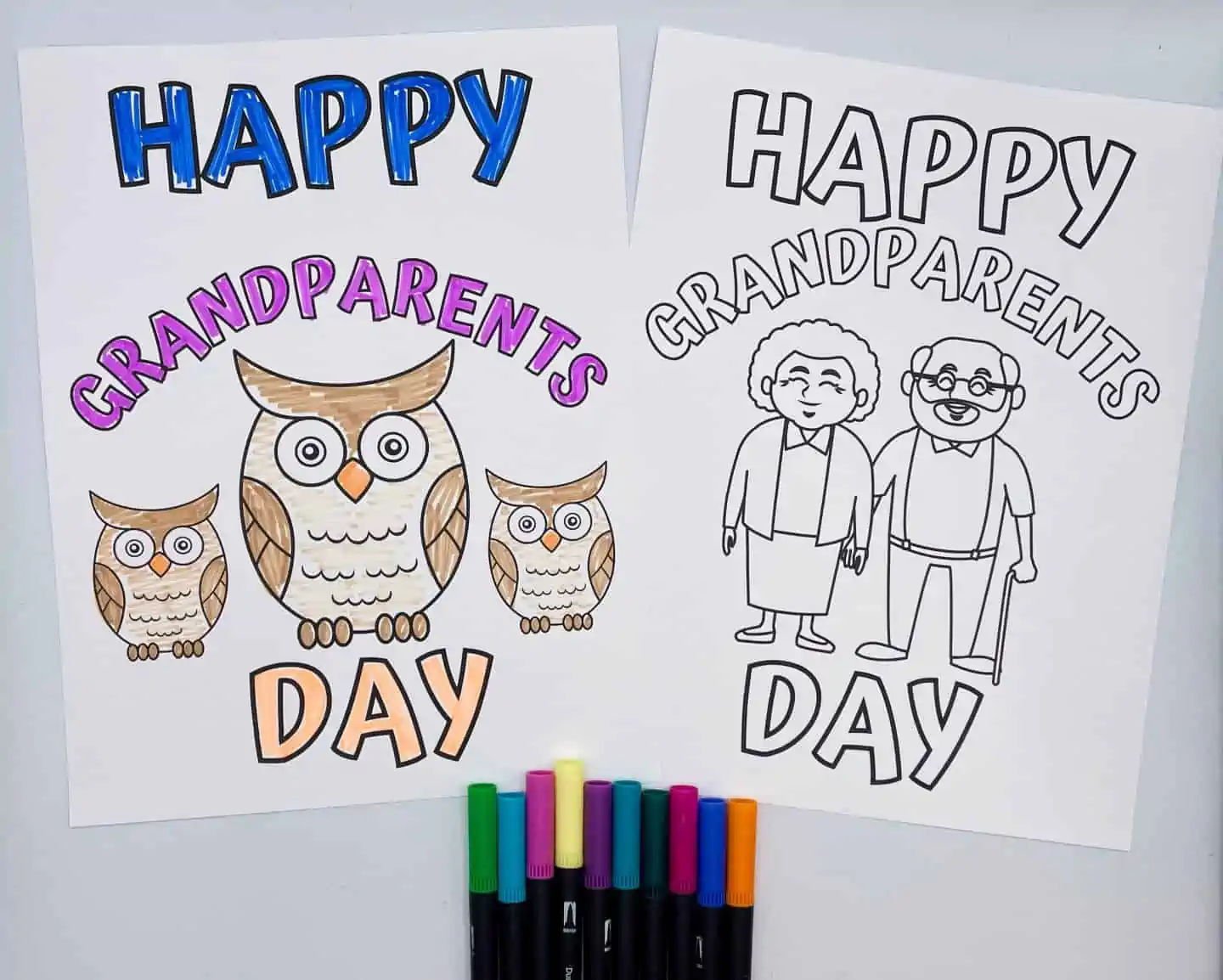 All About My Grandma Printable
The All About My Grandparent printables are a fantastic way for children to express their feelings and thoughts about their grandparents.
Each printable features spaces for coloring, drawing, and answering questions.
This is my grandma! A space to draw a picture of grandma
My grandma always says…..
Her favorite flower is, and a space to draw the flower out of the plant pot
My favorite memory of grandma is…..
She deserves an award for…..
She is the best at……
Her favorite book is…..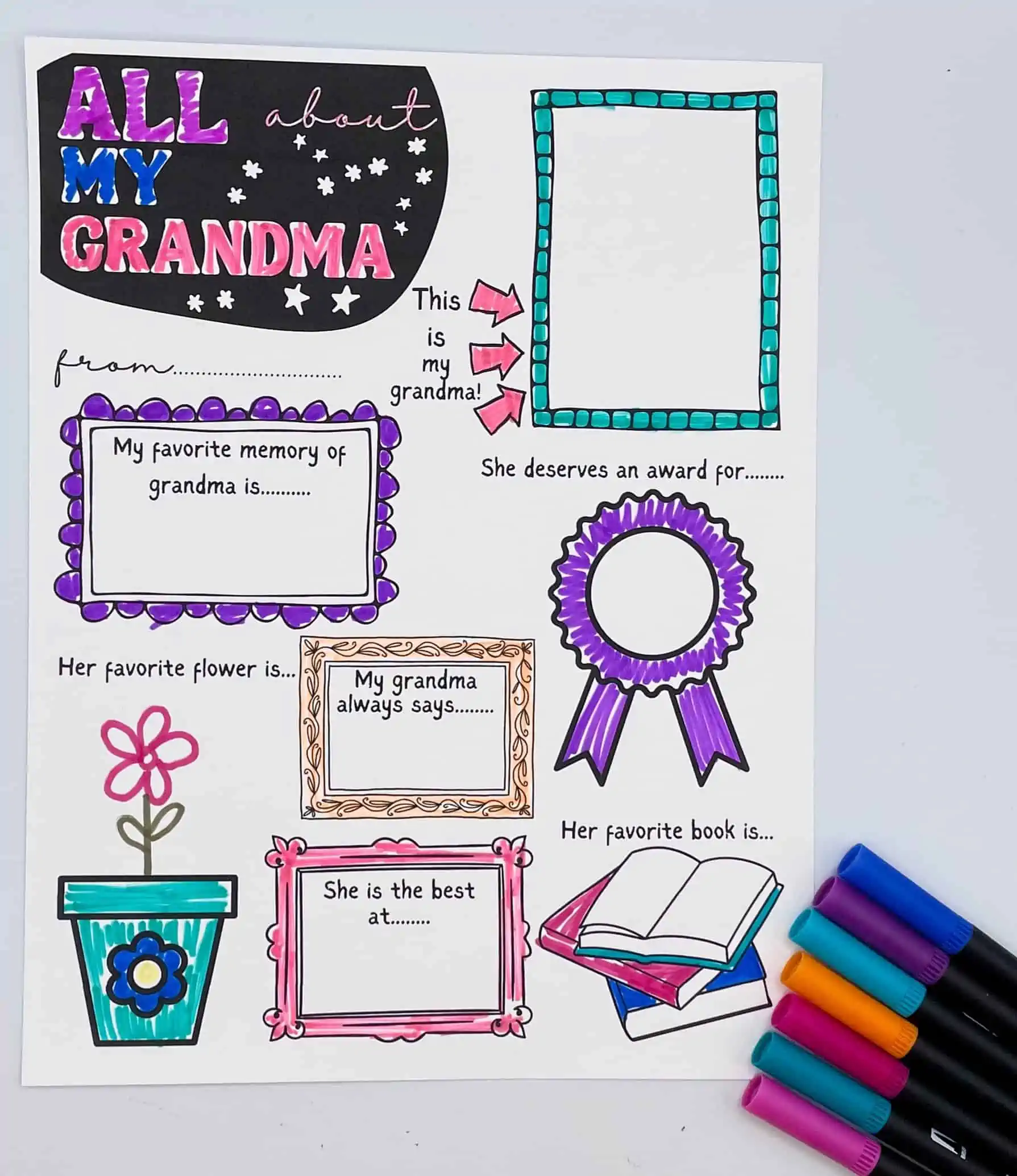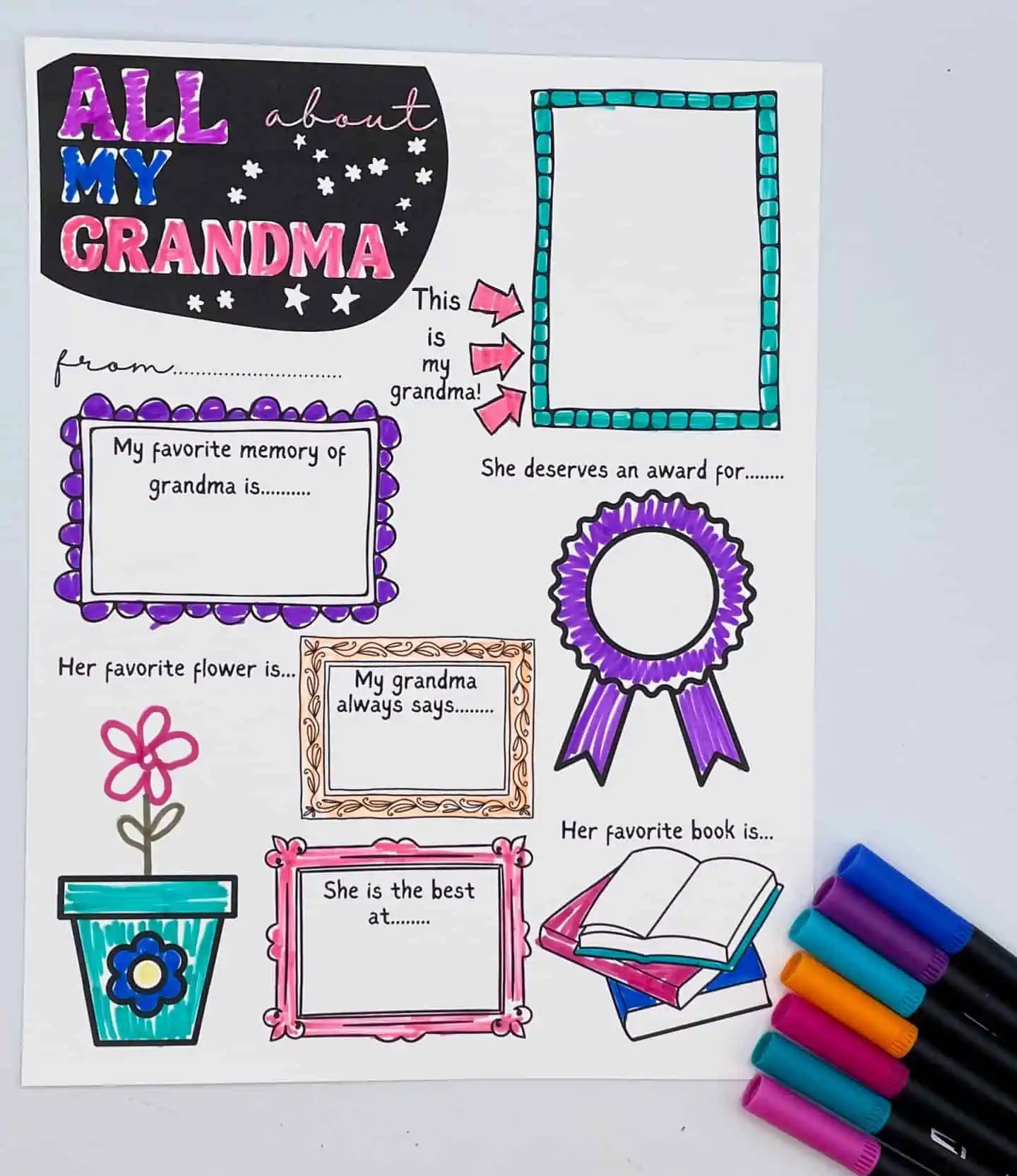 These printables not only encourage creativity but also foster meaningful conversations between generations. They serve as keepsakes that can be treasured for years to come.
All About My Granddad Printable
There is plenty to color in on this all about my granddad printable as well as some super cute questions:
This is my granddad! A space to draw a picture of granddad
My granddad always says…..
His favorite sport is….
My favorite memory of granddad is…..
He deserves an award for…..
He is the best at……
His favorite car is…..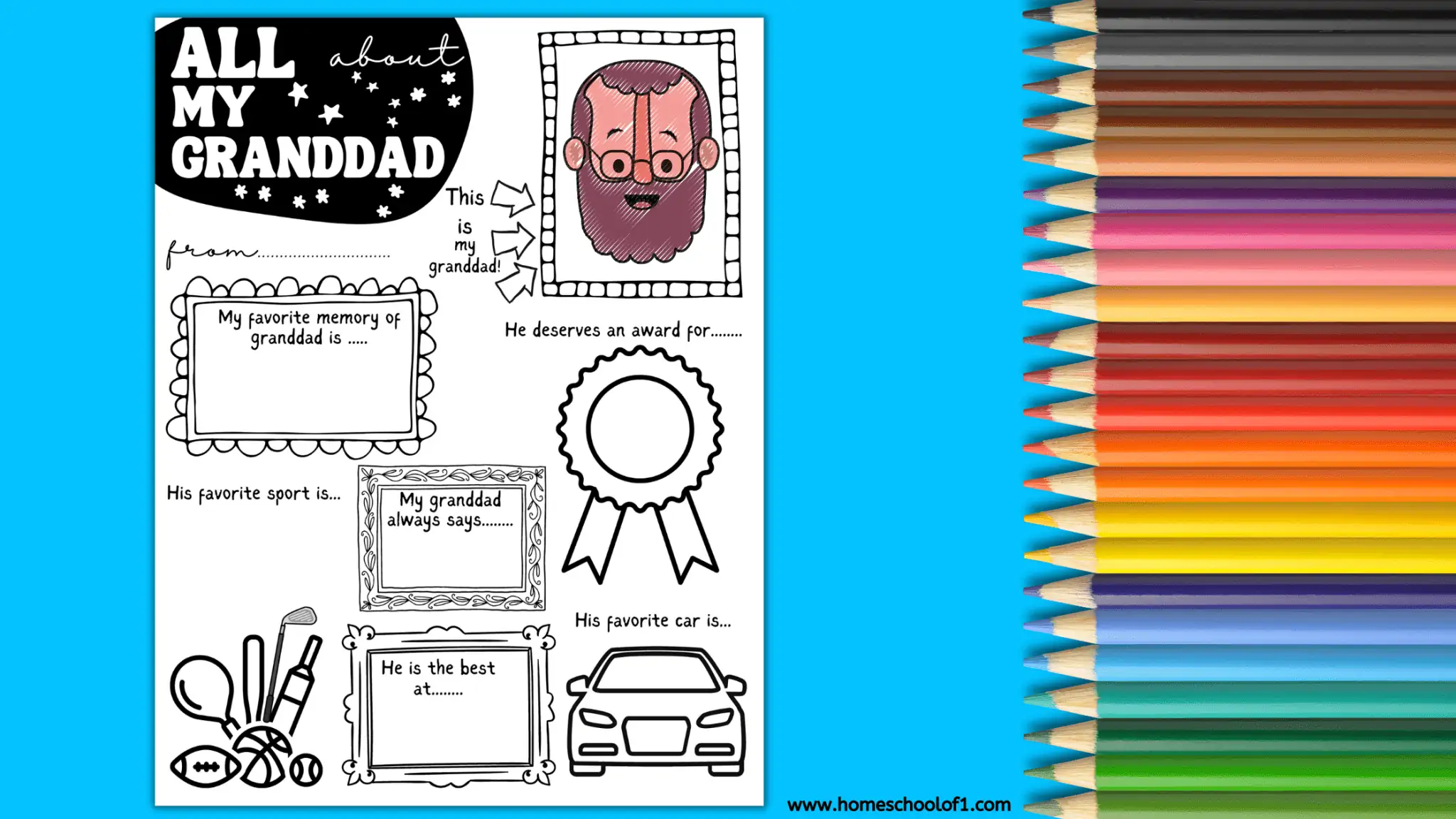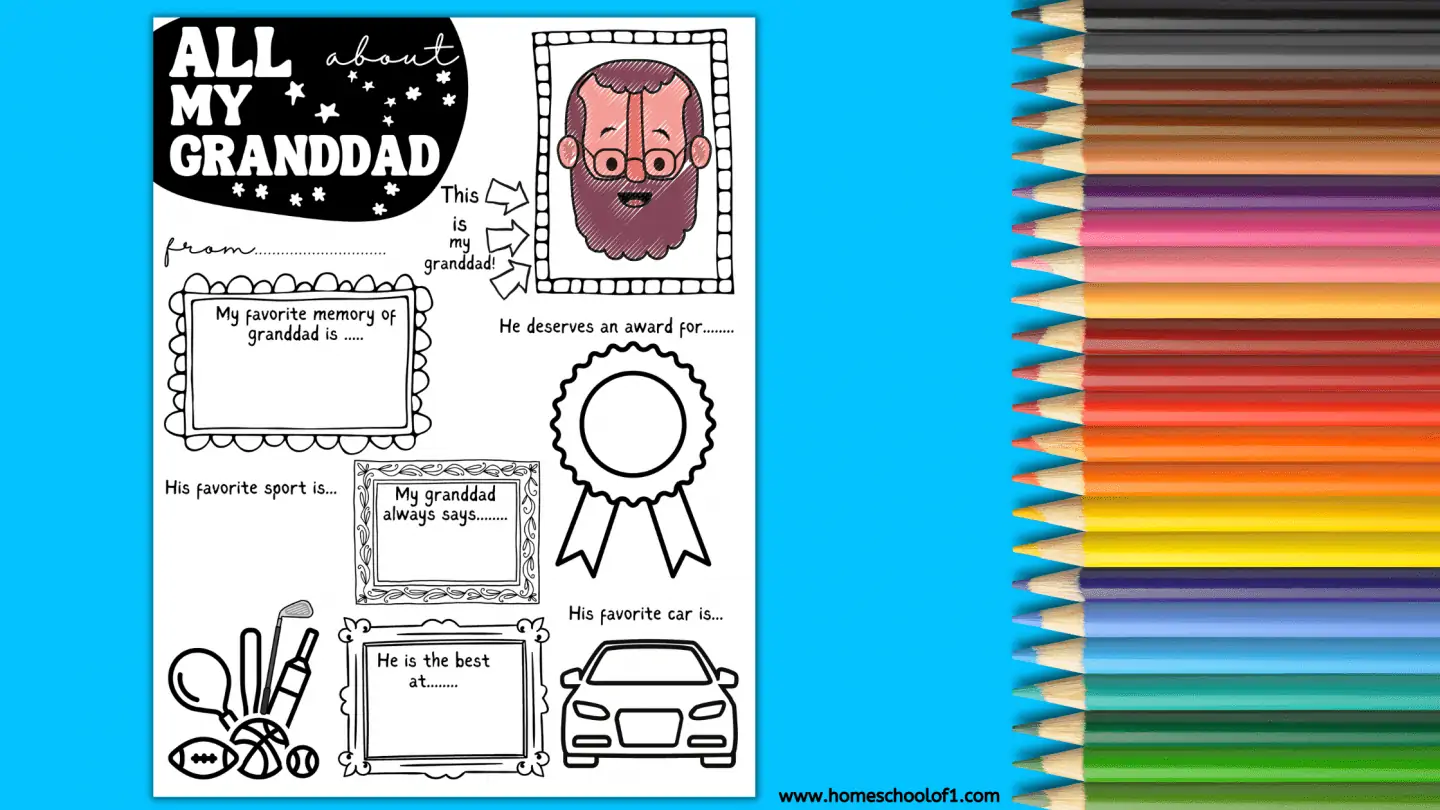 If you are looking for fun questions to ask your grandparents then these are great. A perfect way to spend Grandparents Day.
Tips for downloading the free files
Below you will see a large sign-up box where you need to add your name and email address, and press I NEED THIS NOW!
Within minutes you will be sent the free PDF directly to your email address, so you can print it out and start using it immediately.
Sometimes emails get a little wonky, so if you can't see it, please check your spam folder where I am sure it is hiding.
Download Free Grandparents Day Printables
Make sure you choose the correct paper size and click on the shrink to fit button. All of our free printables for kids work better when printed on cardstock (this is the one we use and love.)
All about my parent's resources
You will also enjoy our other free worksheets:
Last Updated on 2 October 2023 by homeschoolof1