Greek Gods Family Tree Printable & Coloring Pages (Free)
We have been enjoying studying Greek mythology so I wanted to create a free Greek Gods family tree and coloring pages for you to enjoy.
Included in this Greek Gods family tree bundle are 15 pages including:
Greek Gods family tree completed
Greek God's family tree with blanks
12 Greek Gods coloring pages with descriptions and their symbols.
Greek Gods small images to cut out and add to the family tree
You are going to love all of our homeschool printables we have over 200 free worksheets.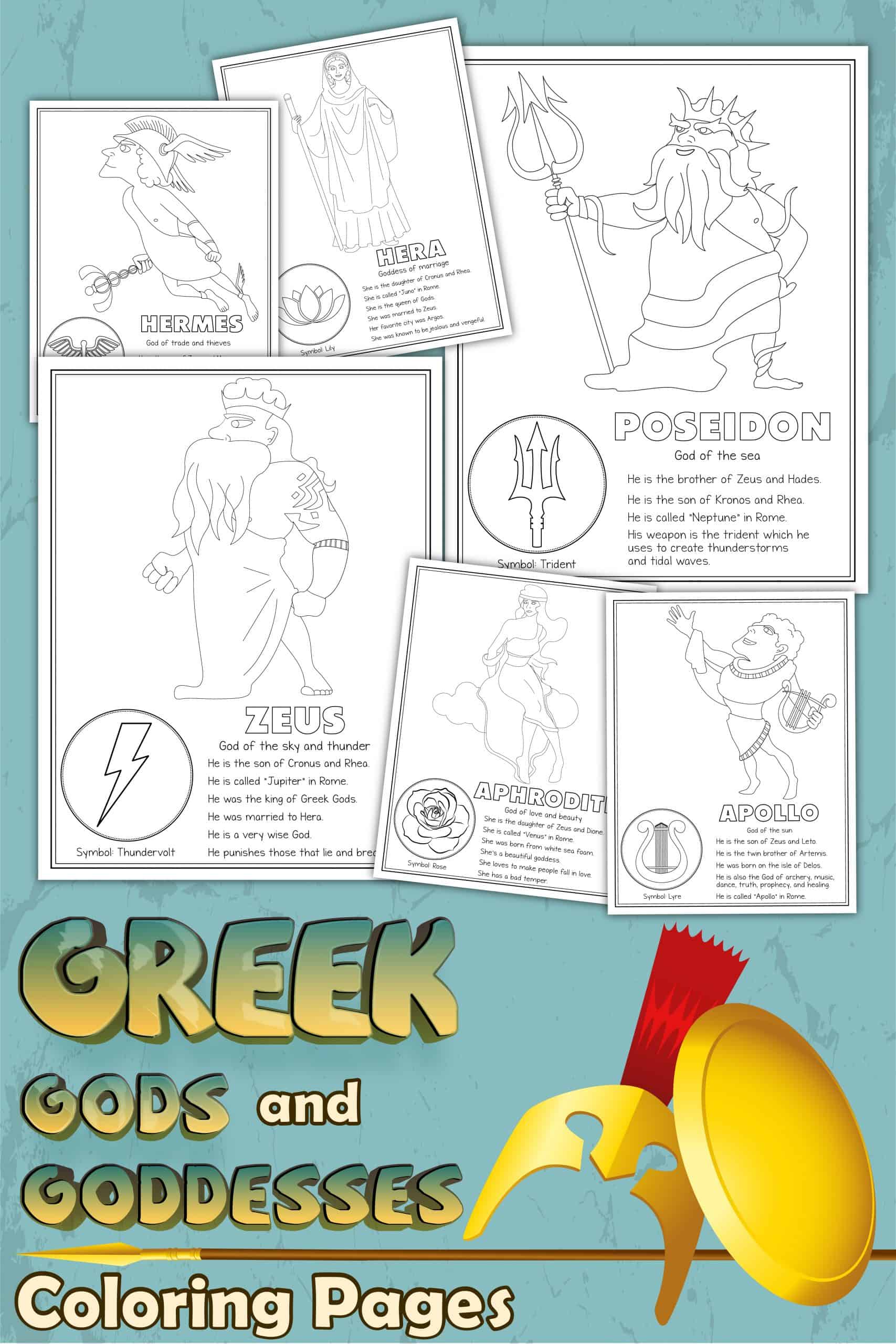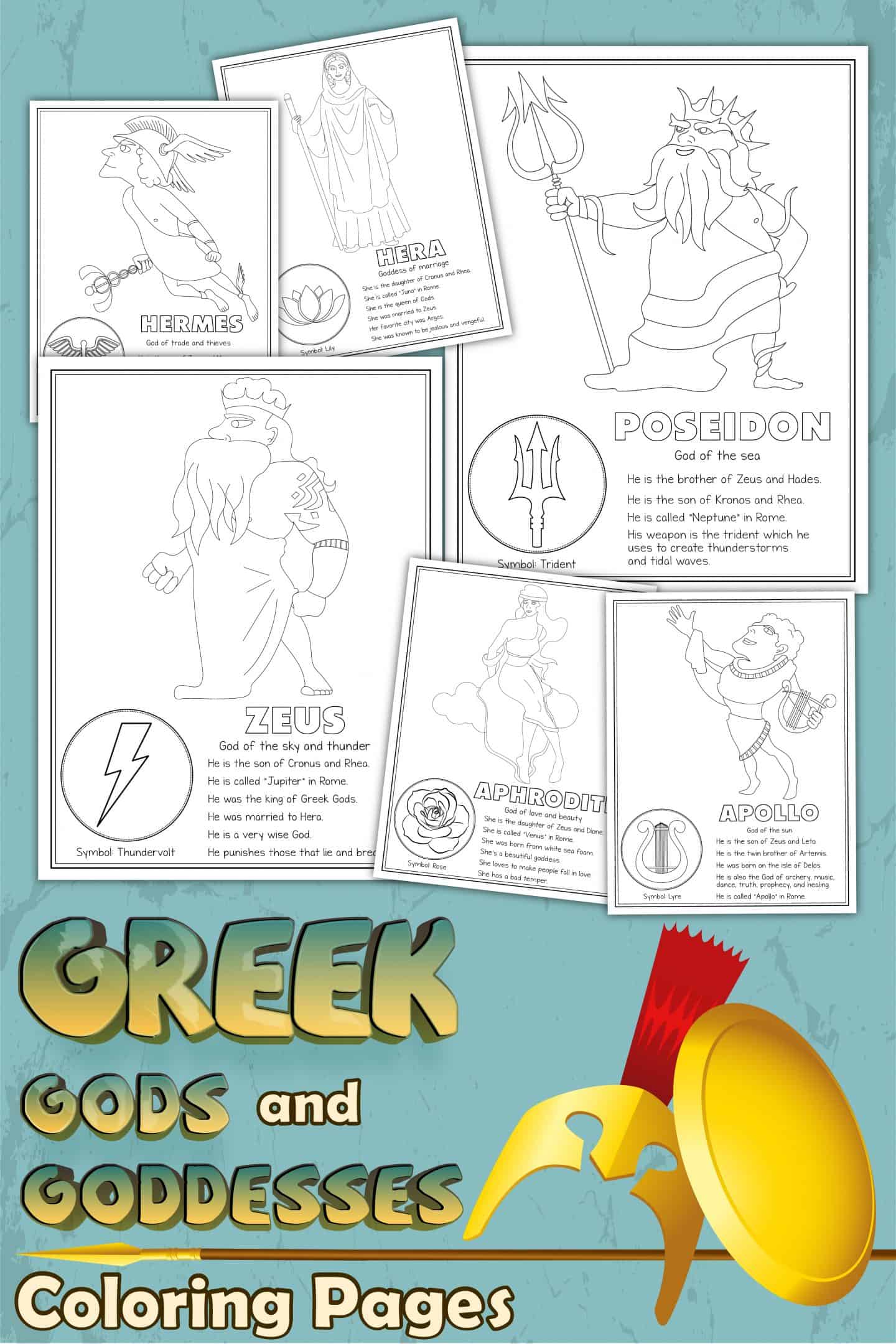 **There may be affiliate links in this post. If you make a purchase (after clicking one of my affiliate links) I'll earn some coffee money, which I promise to drink while supporting your journey. You do not pay a higher price. You can read my full disclosure at the bottom of the page.**
Greek Gods Family Tree
I have included a blank Greek Gods family tree in the download with the images so the kids can fill it out in the correct order.
Download the free Greek Gods download below.
Print out all 15 pages – these are sized to fit perfectly on letter-sized paper (11 x 8.5 – portrait) but if you are printing on A4 make sure you shrink to fit and they will print perfectly.
Paper or Card – the printables work better on cardstock (this is the one we use), however, normal printer paper will work too.
The Greek Gods family tree is over 3 pages. One completed family tree (you can use to check the child's work), one blank family tree, and 1 page with the 12 Greek Gods on for you to cut out (we use this paper cutter), these fit perfectly in the blank spaces on the family tree.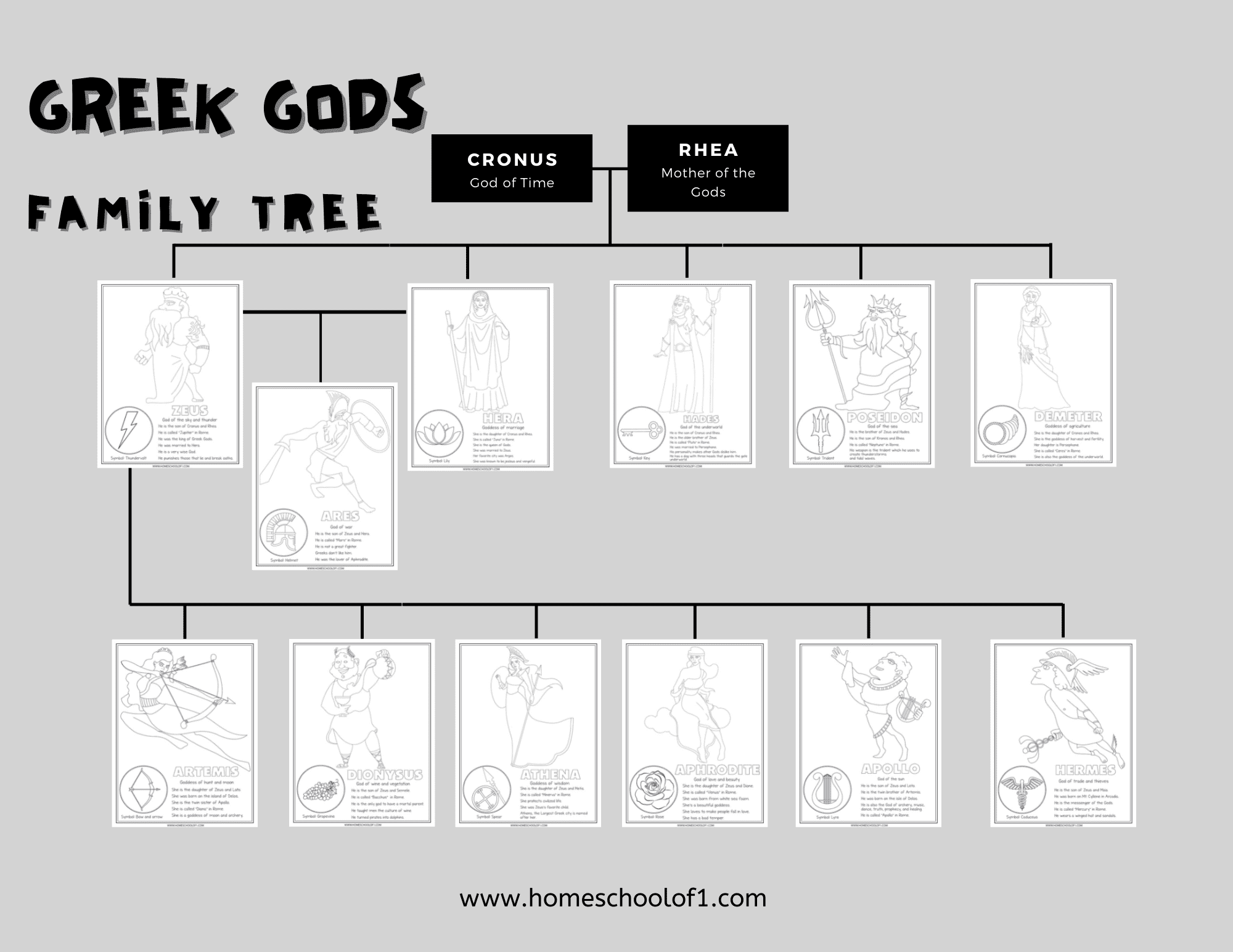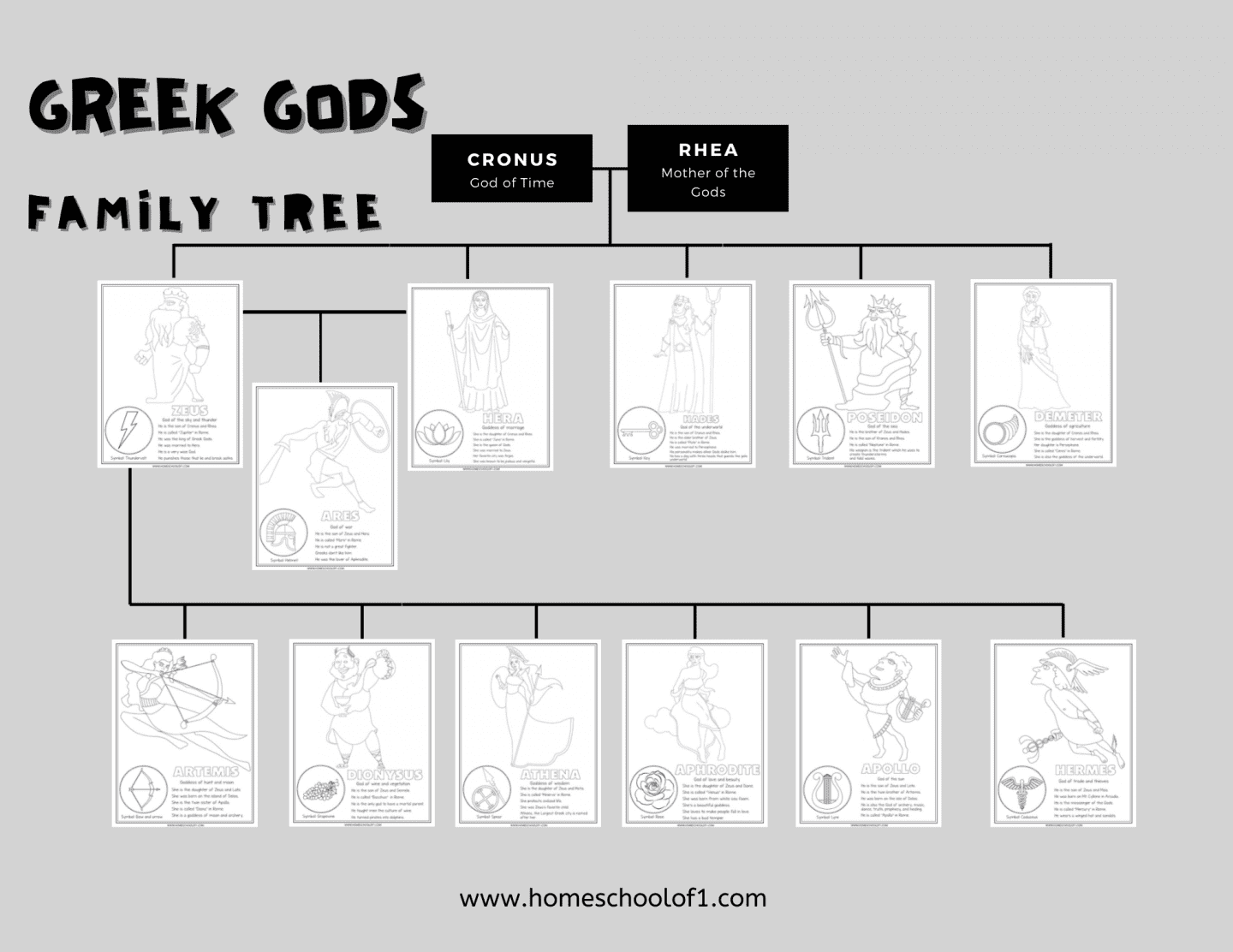 Get the children to look through their books, or the internet (or read on the Greek coloring pages) and place them in the correct space on the Greek Gods family tree.
Grab the coloring pens (these dual-tipped ones are the ones we use and love) to start coloring in the Greek Gods and Goddesses coloring pages. These print out on one per page.
I think you will also enjoy our free Greek Mythology word search.
Greek Gods Coloring Pages
The 12 Greek and Goddess' names and powers can be seen below. The first name is the Greek name, and the second name in parenthesis is their Roman name.
Zeus (Jupiter) is the God of the sky & thunder. Married his sister Hera, and was the King of the Gods.
Hera (Juno) Goddess of marriage and is the Queen of the Gods.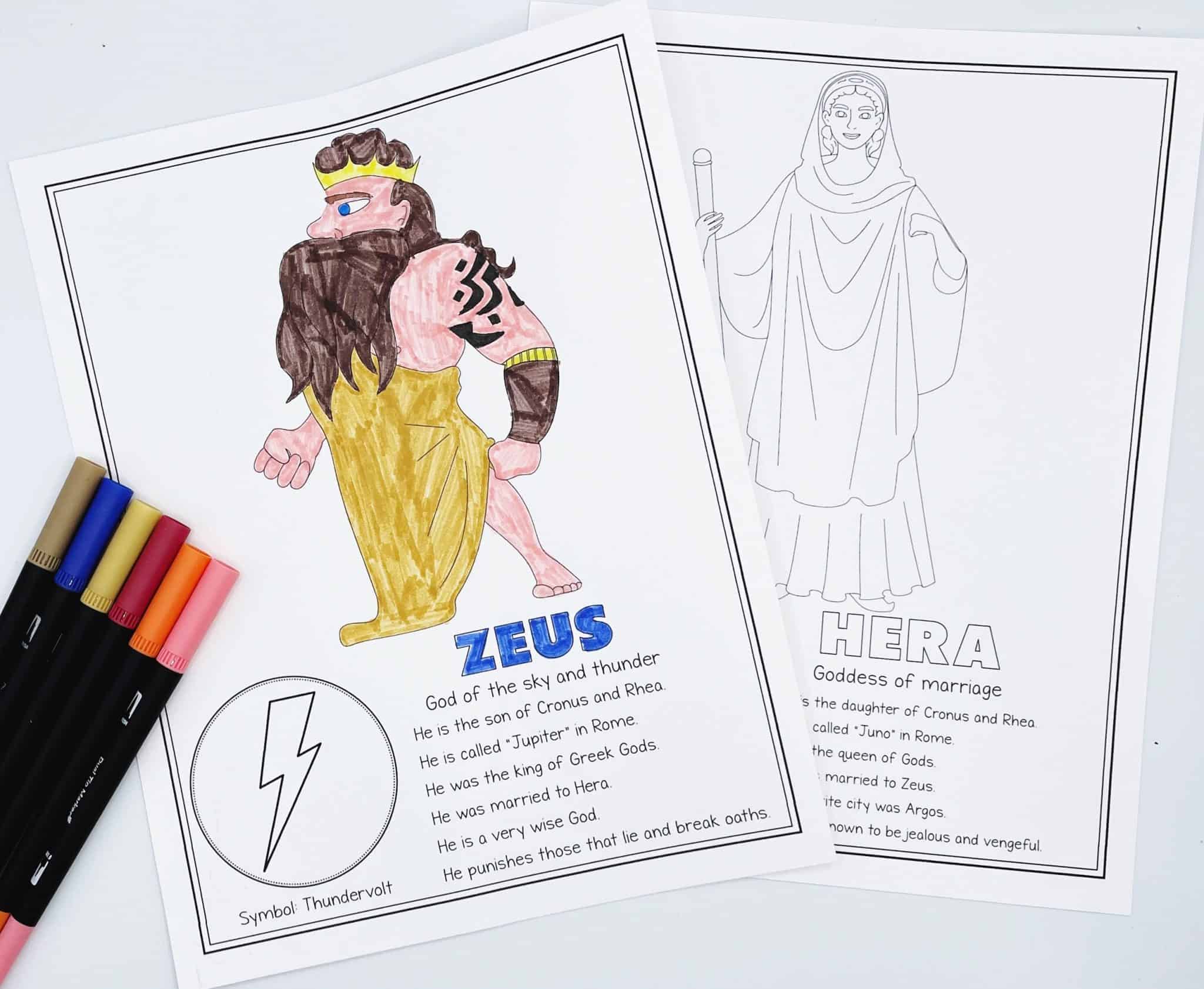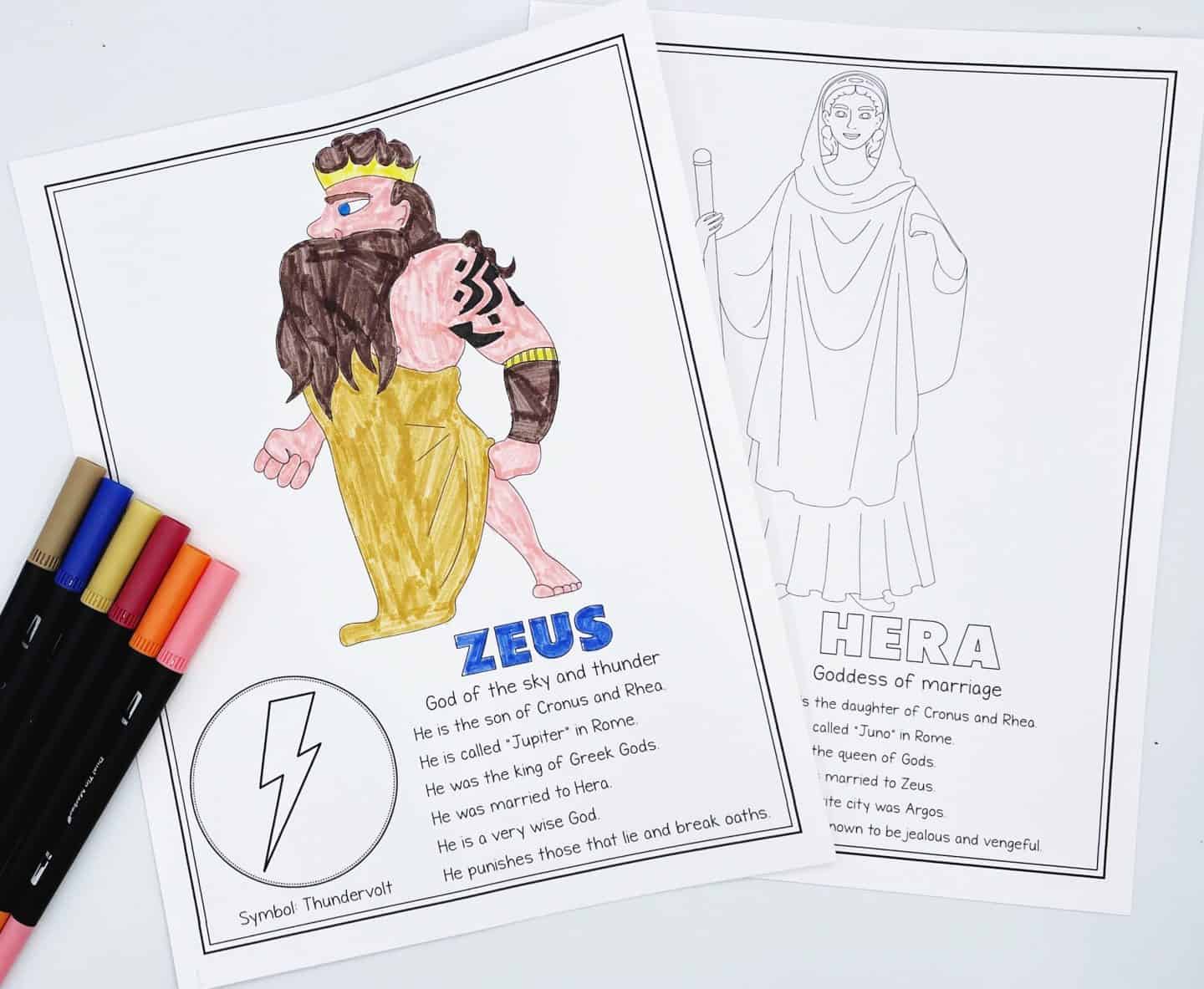 Poseidon (Neptune) God of the sea.
Athena (Minerva) Goddess of Wisdom is the daughter of Zeus.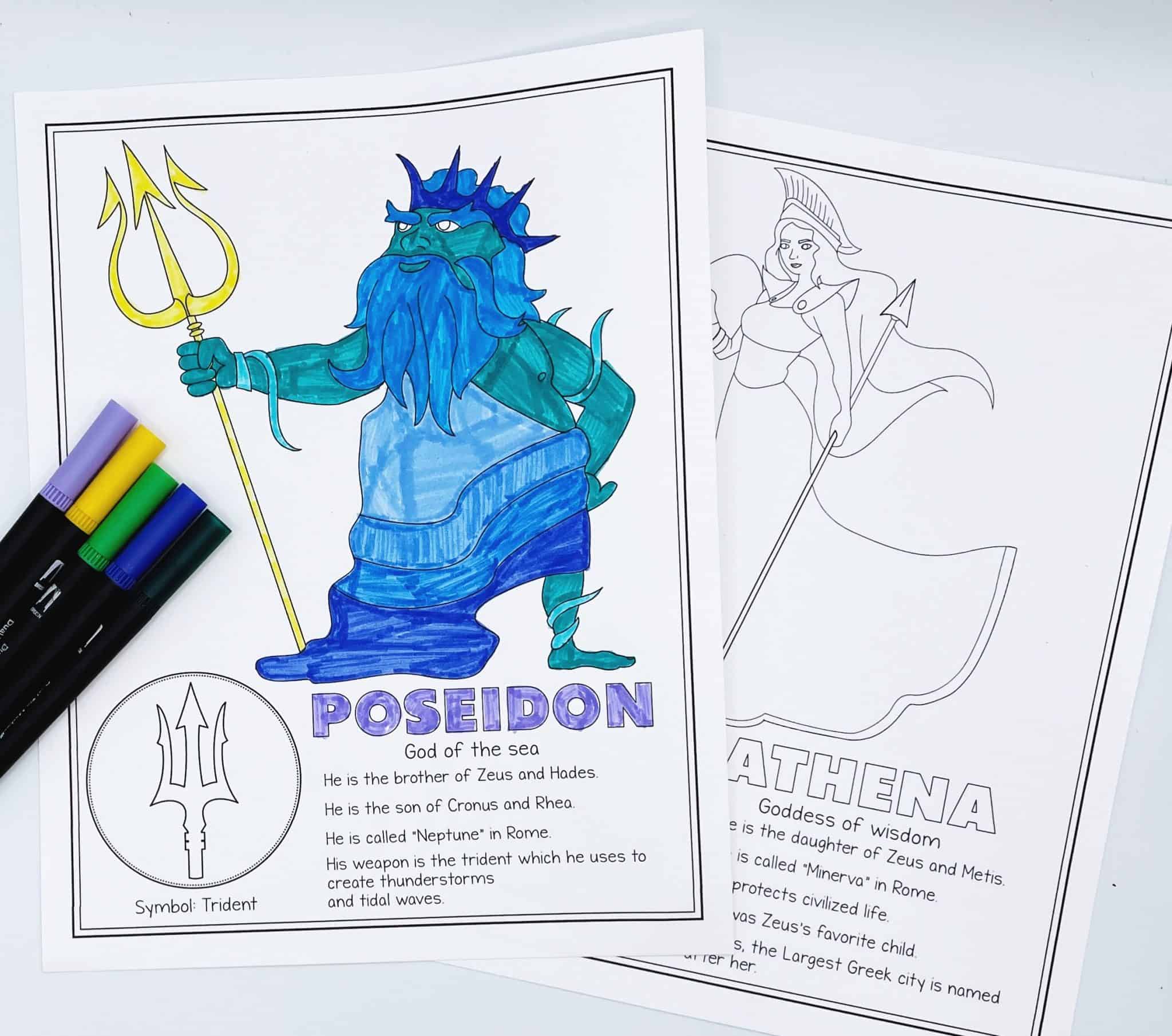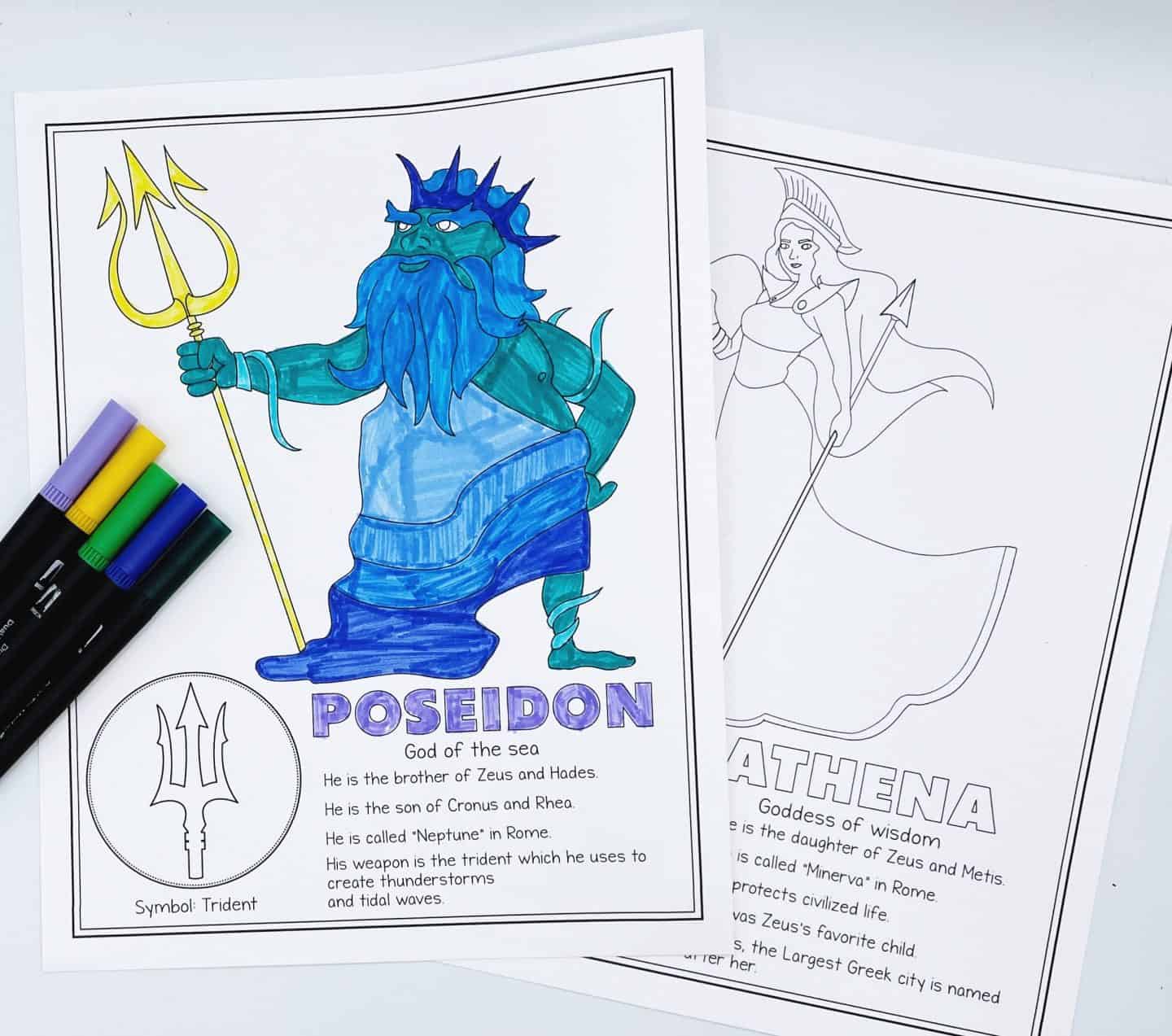 Demeter (Ceres) Goddess of Agriculture.
Artemis (Diana) Goddess of hunt & moon, the twin sister of Apollo, and daughter of Zeus.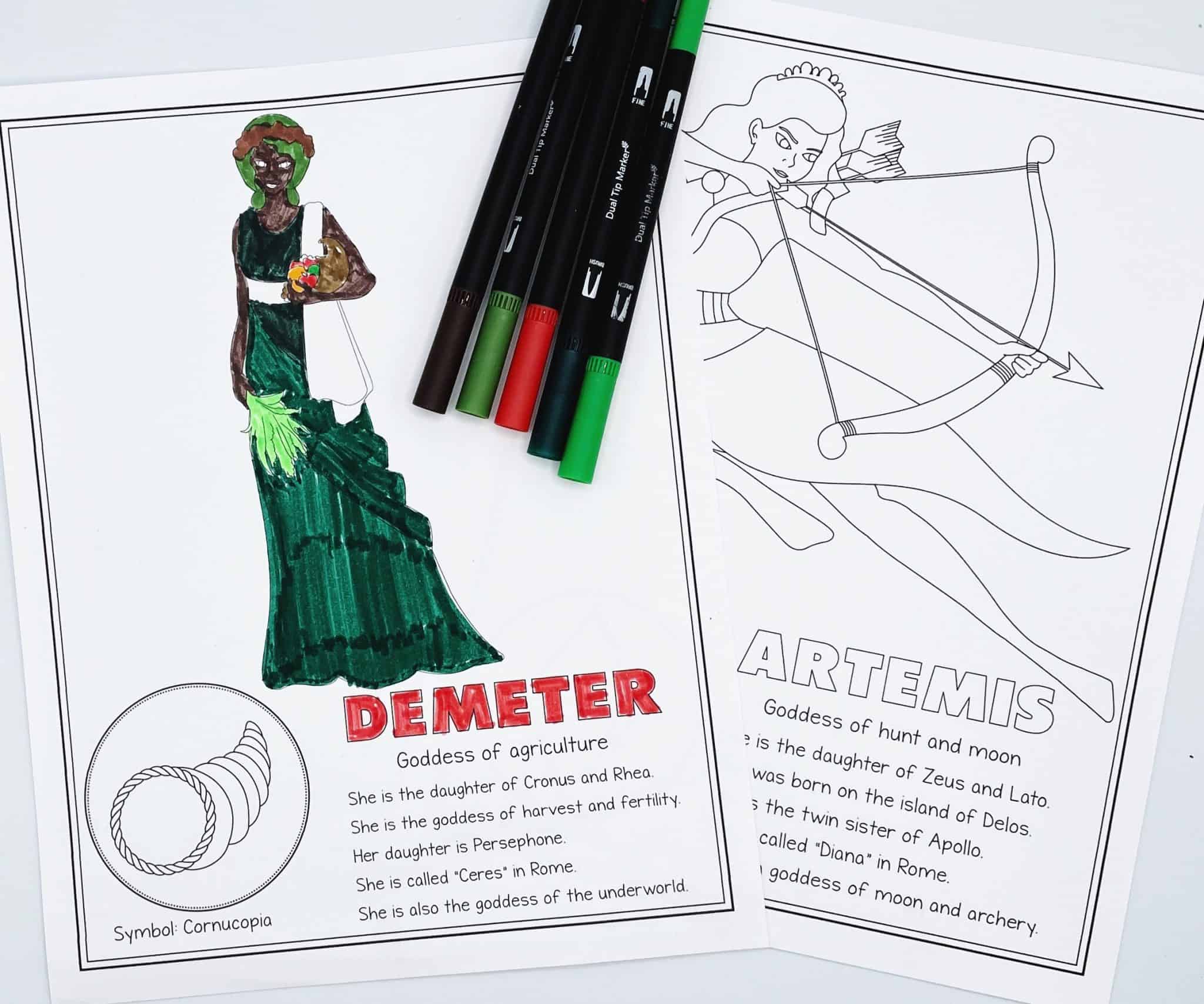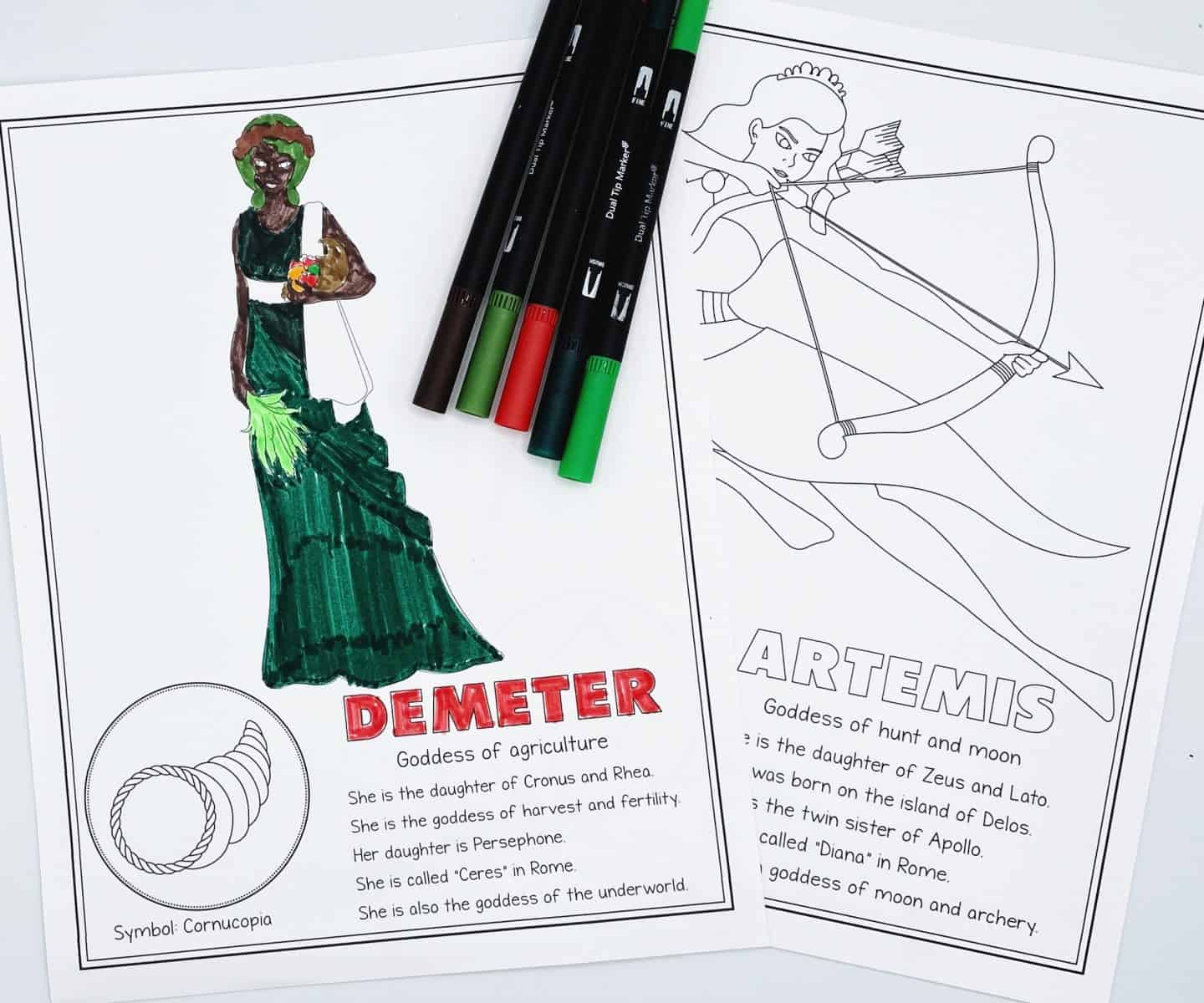 Hades (Pluto) God of the Underworld is the older brother of Zeus.
Hermes (Mercury) God of trade & thieves is the son of Zeus.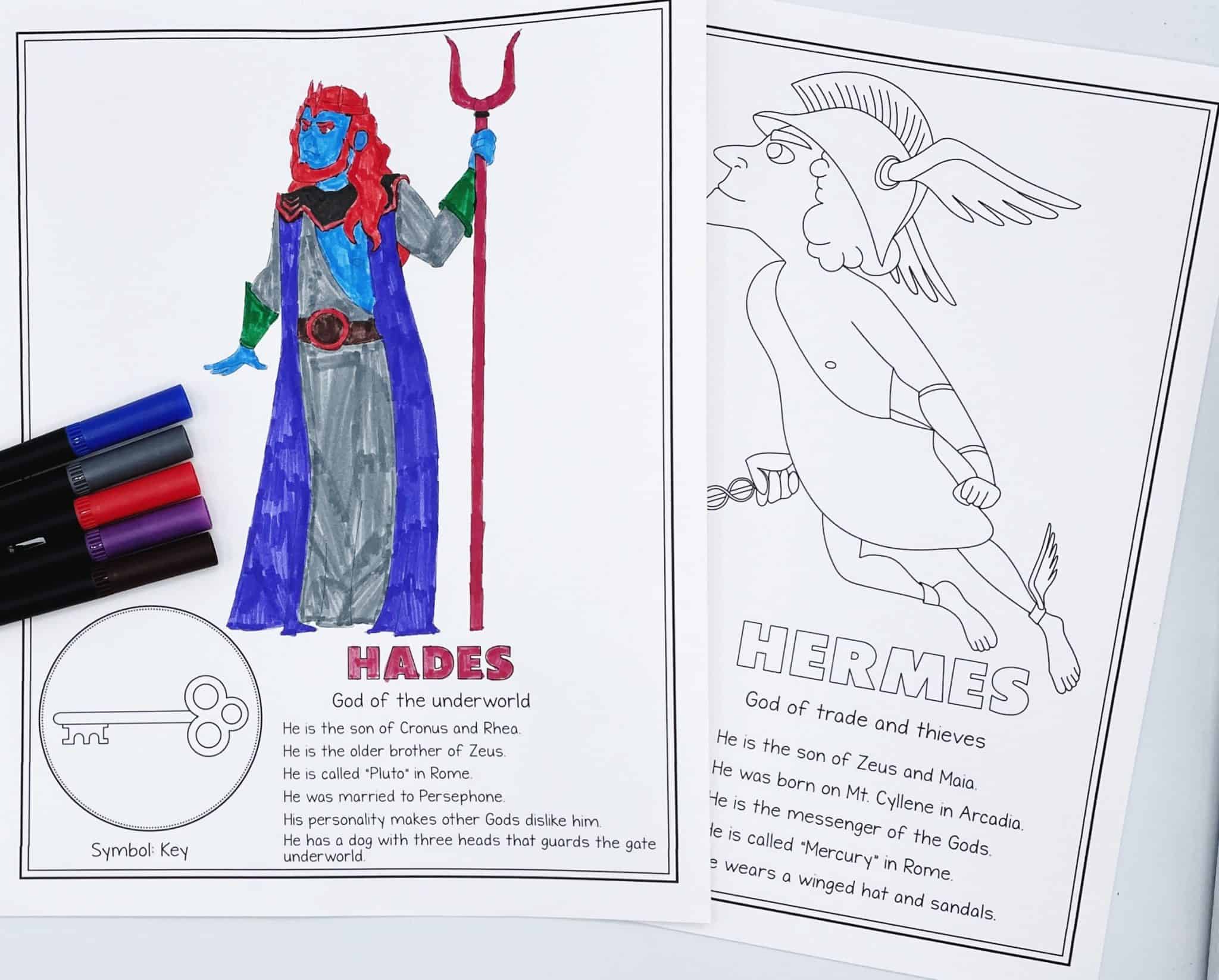 Apollo (Apollo) God of the sun, the twin brother of Artemis, and son of Zeus.
Dionysus (Bacchus) God of wine & vegetation is the son of Zeus.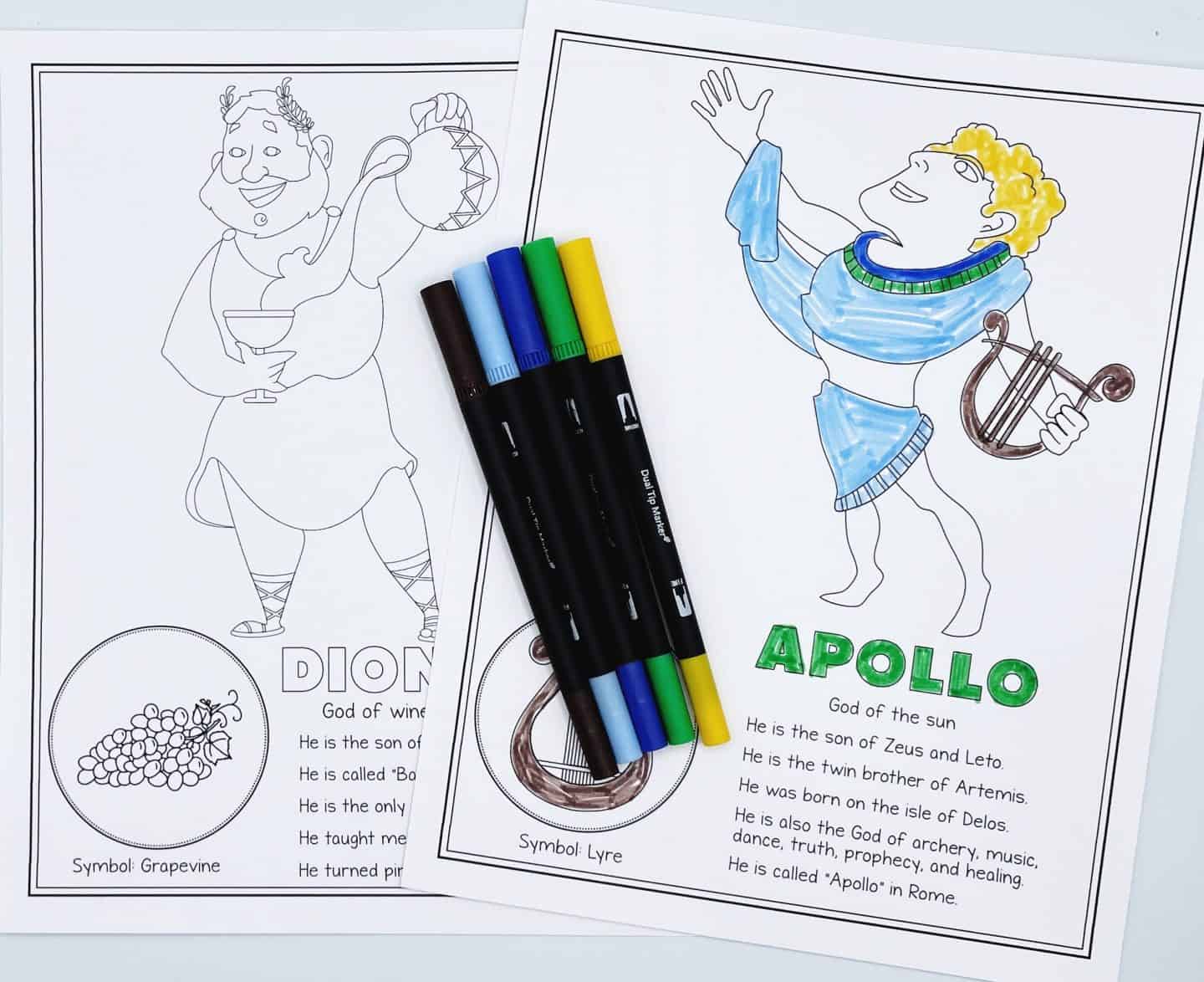 Ares (Mars) God of War is the son of Zeus and Hera.
Aphrodite (Venus) Goddess of love & beauty is the daughter of Zeus.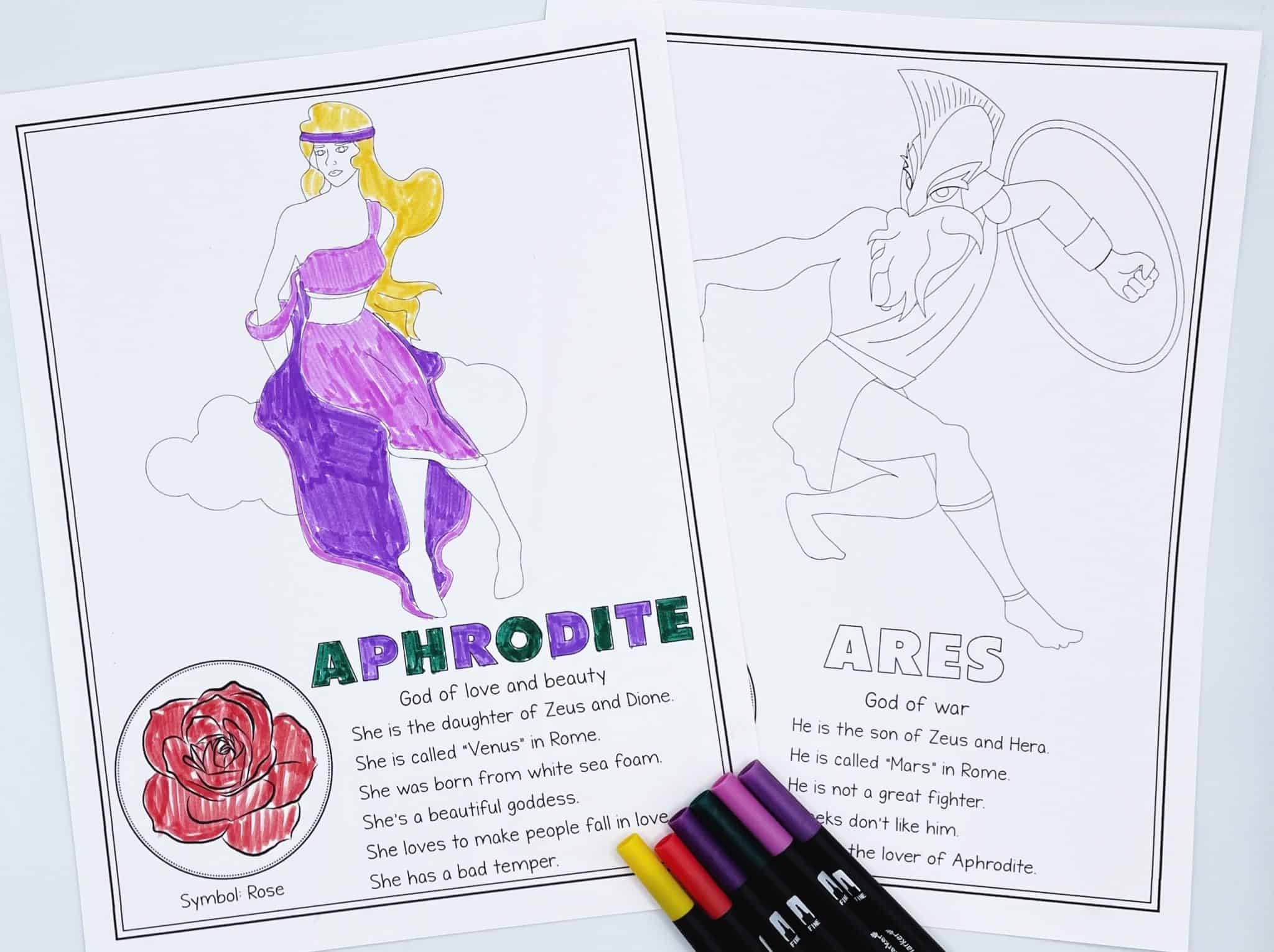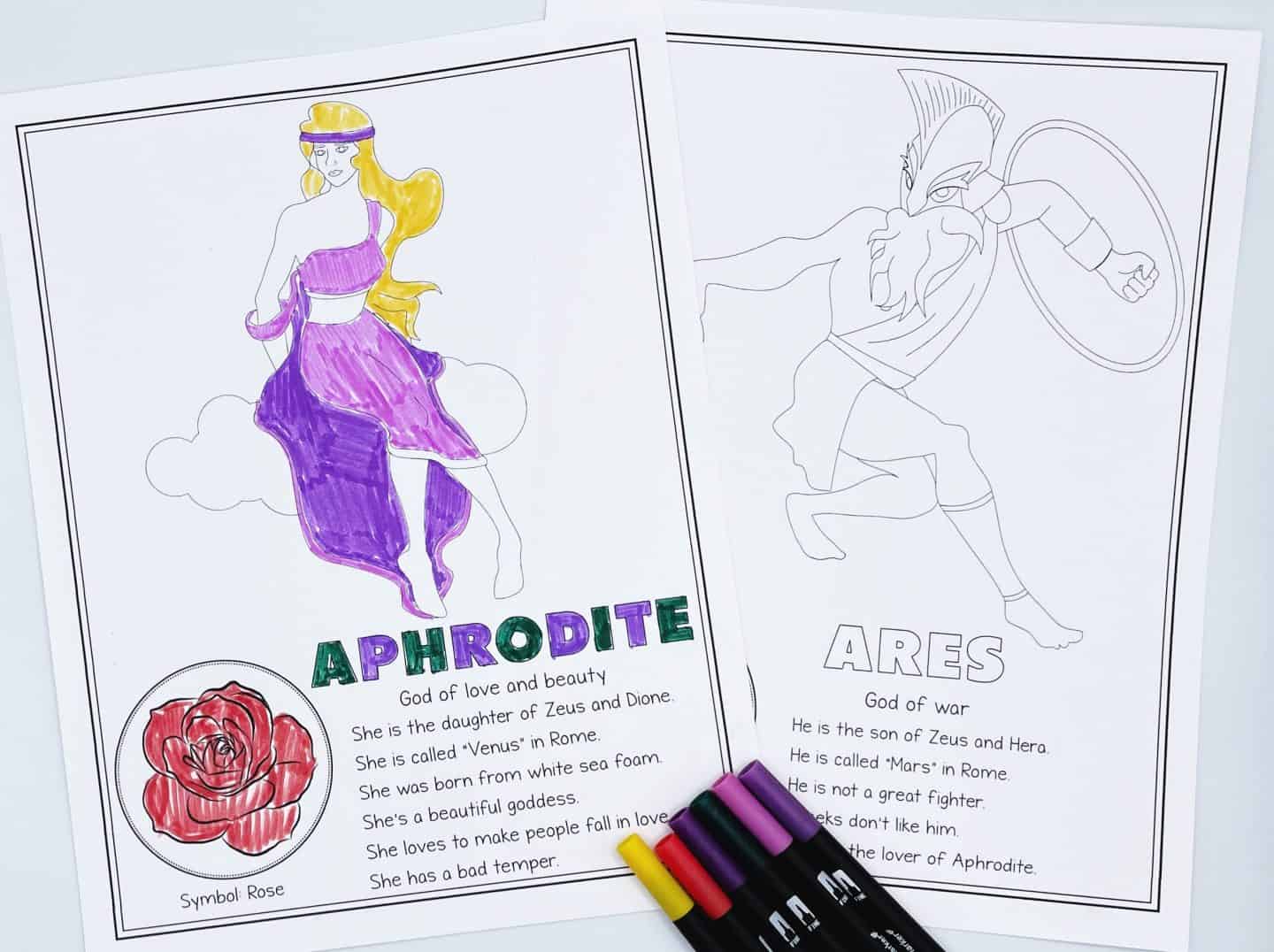 For even more resources on Greek mythology I highly recommend these books: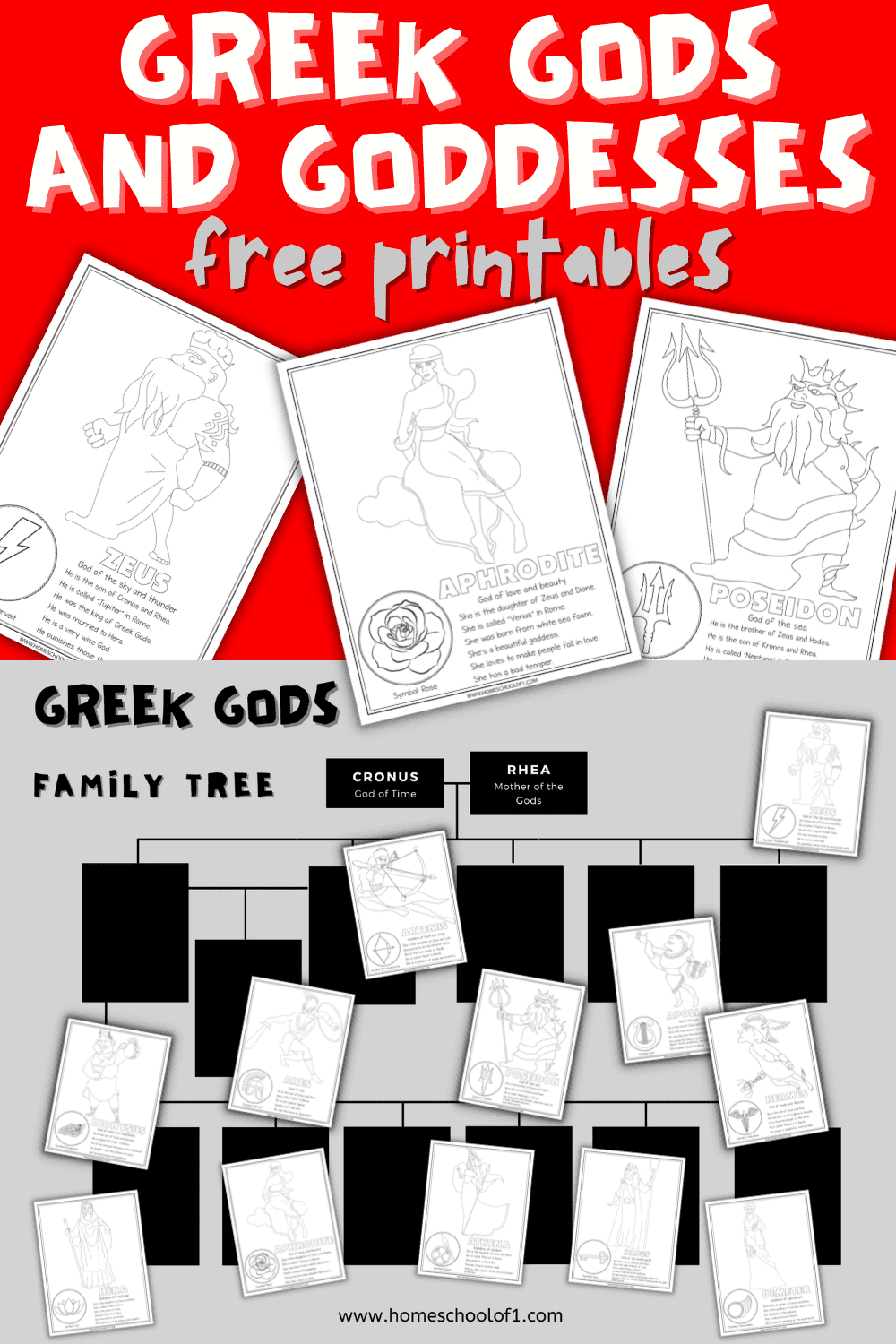 Greek Gods Family Tree Printable
Make sure you choose the correct paper size and click on the shrink to fit button. All of our printables work better when printed on cardstock (this is the one we use and love.)
For more homeschool fun check out our other free printables here.
I think you will also enjoy our free periods in English literature a timeline printable.
Last Updated on 20 September 2022 by homeschoolof1