7 Free Labor Day Coloring Pages
Let's get coloring in this Labor Day with our 7 free Labor Day coloring pages.
Labor Day is celebrated on the first Monday in September. It is a day when we recognize the labor movement and it became a federal holiday in 1894.
These holiday activities for kids are great for the classroom or at home.
**There may be affiliate links in this post. You can read my full disclosure at the bottom of the page.**
Have fun on Labor Day with these free coloring sheets
The kids are going to enjoy coloring in these Labor Day images.
We love creating free kids coloring pages, and we either use them as a supplement for a lesson we are studying or to calm the mood! Coloring is a great way for them to refocus and relax, and great for improving fine motor skills.
Print out the coloring pages below, it will print out on three full pages. Make sure to check the printer settings.
These Labor Day coloring pages are free to print but are for personal and classroom use only. Scroll to the bottom of the post and add your email address to get the pdf file.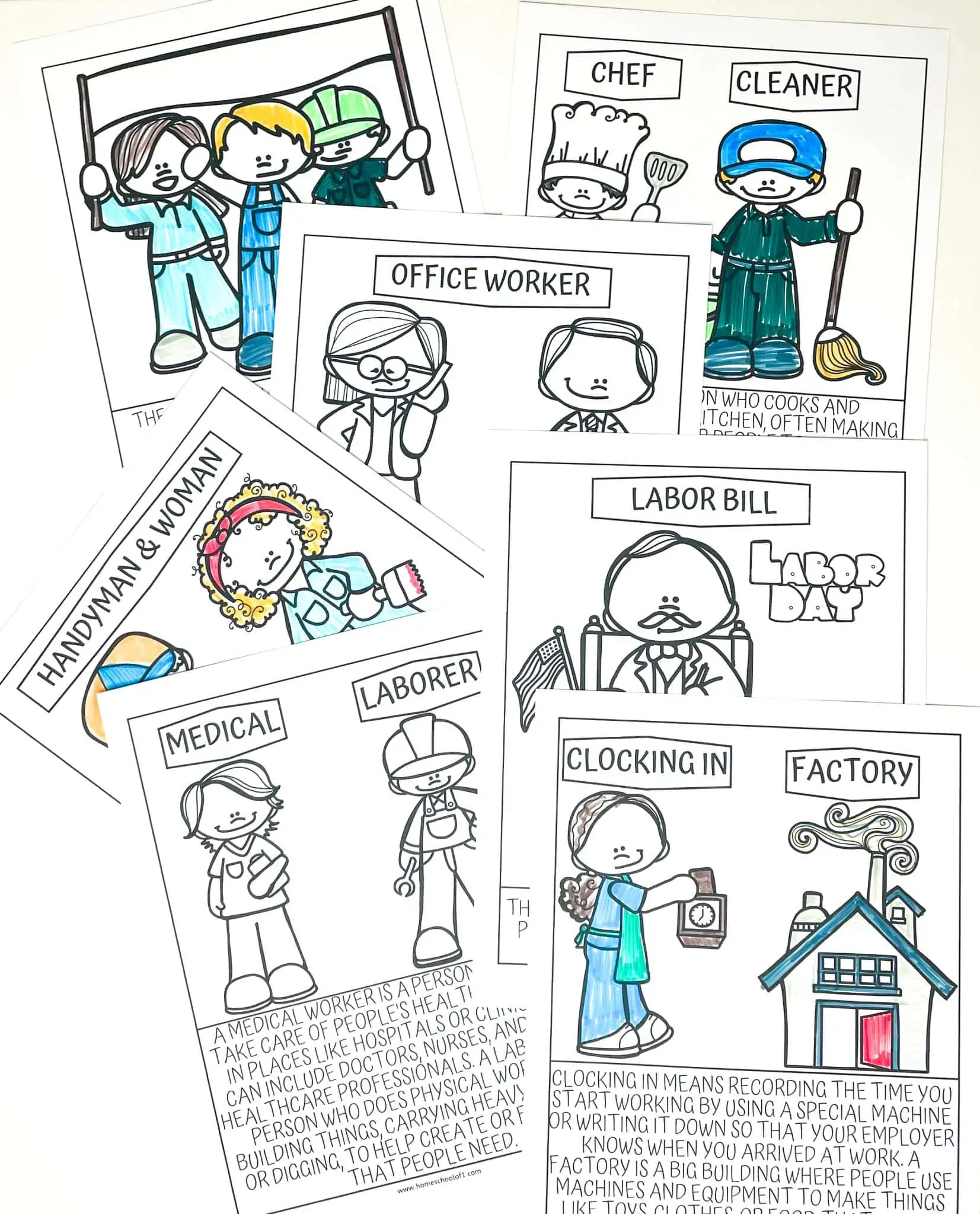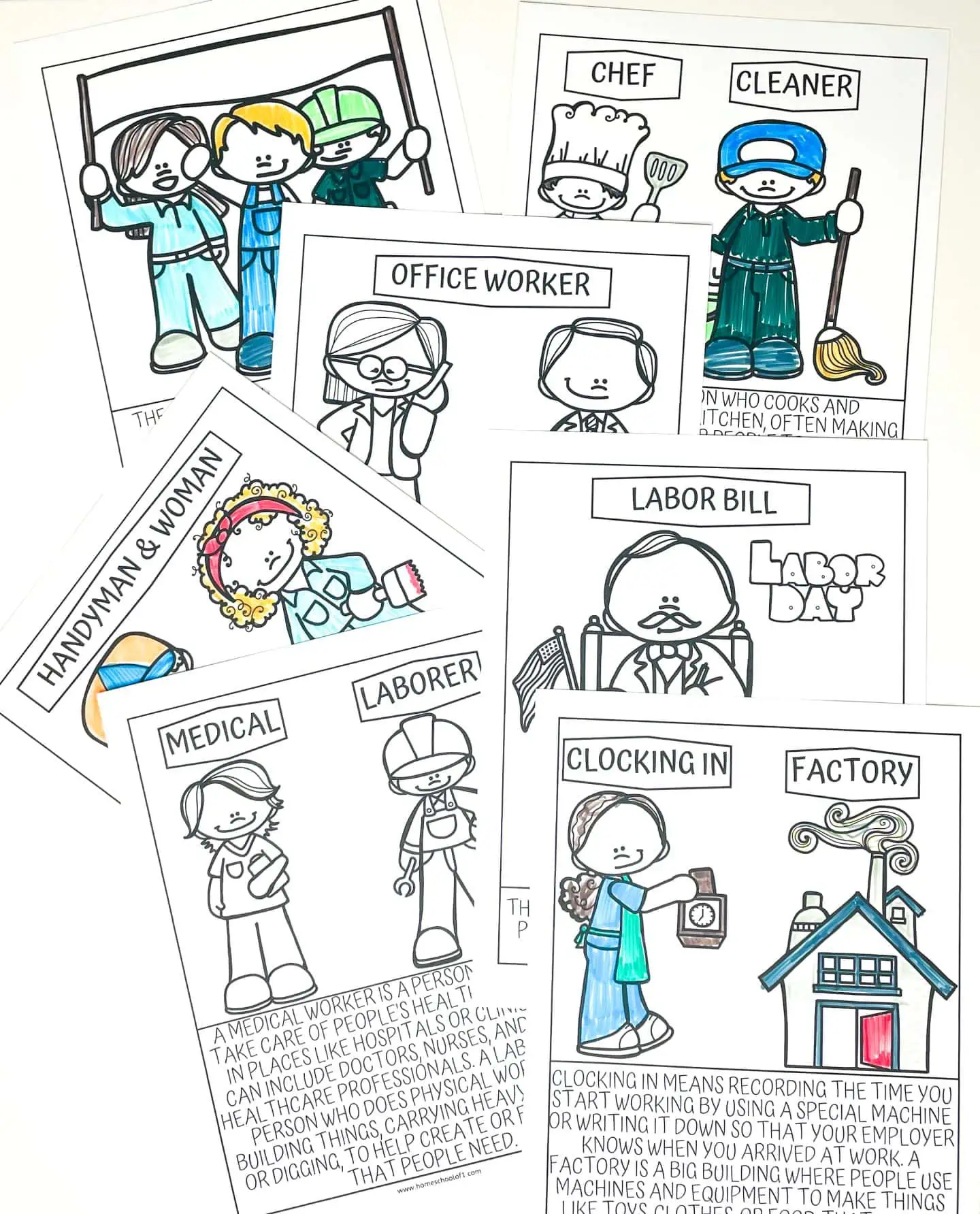 Things Kids Should Know About Labor Day: Educational Children's Book about Labor Day (Holiday Books For Kids)
What is Labor Day?: An Educational and Fun Coloring and Activity Book for Kids 5-10
Happy Labor Day : A Labor Day sroty Book for Children which encourages kids to celebrate and enjoy Labor Day: story book for kids ages 4-8 with 26 pages 8.5
Who Started the Labor Day Celebration? Holiday Book for Kids Children's Holiday Books
Labor Day (National Holidays)
Labor Day Adventure
You can of course print this on normal printer paper, but with all of our crafts, they always look better on cardstock.
This free coloring set includes 7 pages:
The origins of Labor Day in the United States date back to the late 19th century when the labor movement was fighting for workers' rights and fair working conditions. Including the eight-hour workday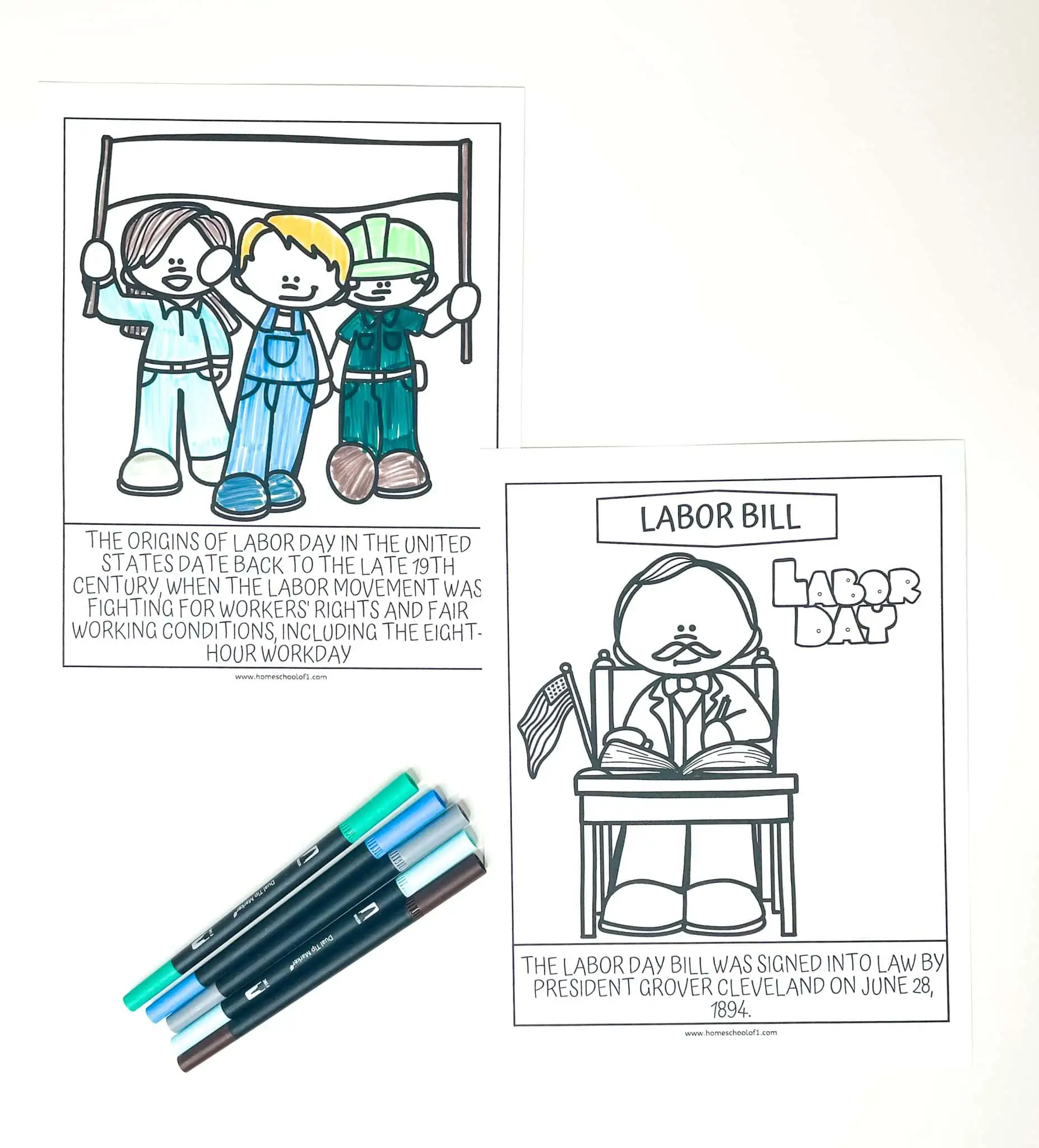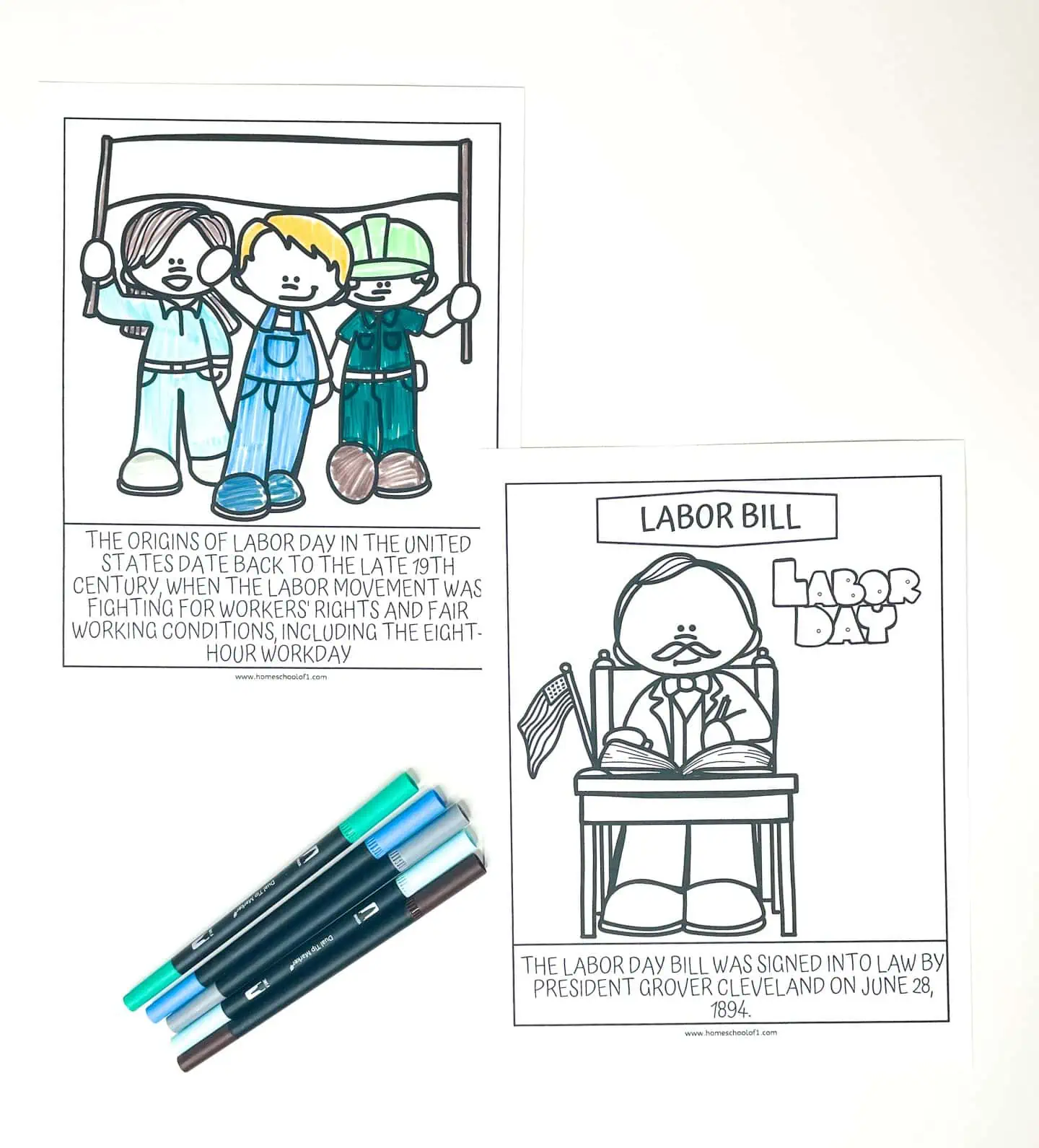 The Labor Day bill was signed into law by President Grover Cleveland on June 28, 1894.
If you are looking for more Presidential activities you will love our free Presidents Day coloring pages.
Careers coloring pages
A chef is a person who cooks and prepares food in a kitchen, often making delicious meals for people to enjoy.
A cleaner is a person who helps keep places clean by dusting, mopping, and wiping down surfaces. So that the place looks and feels nice.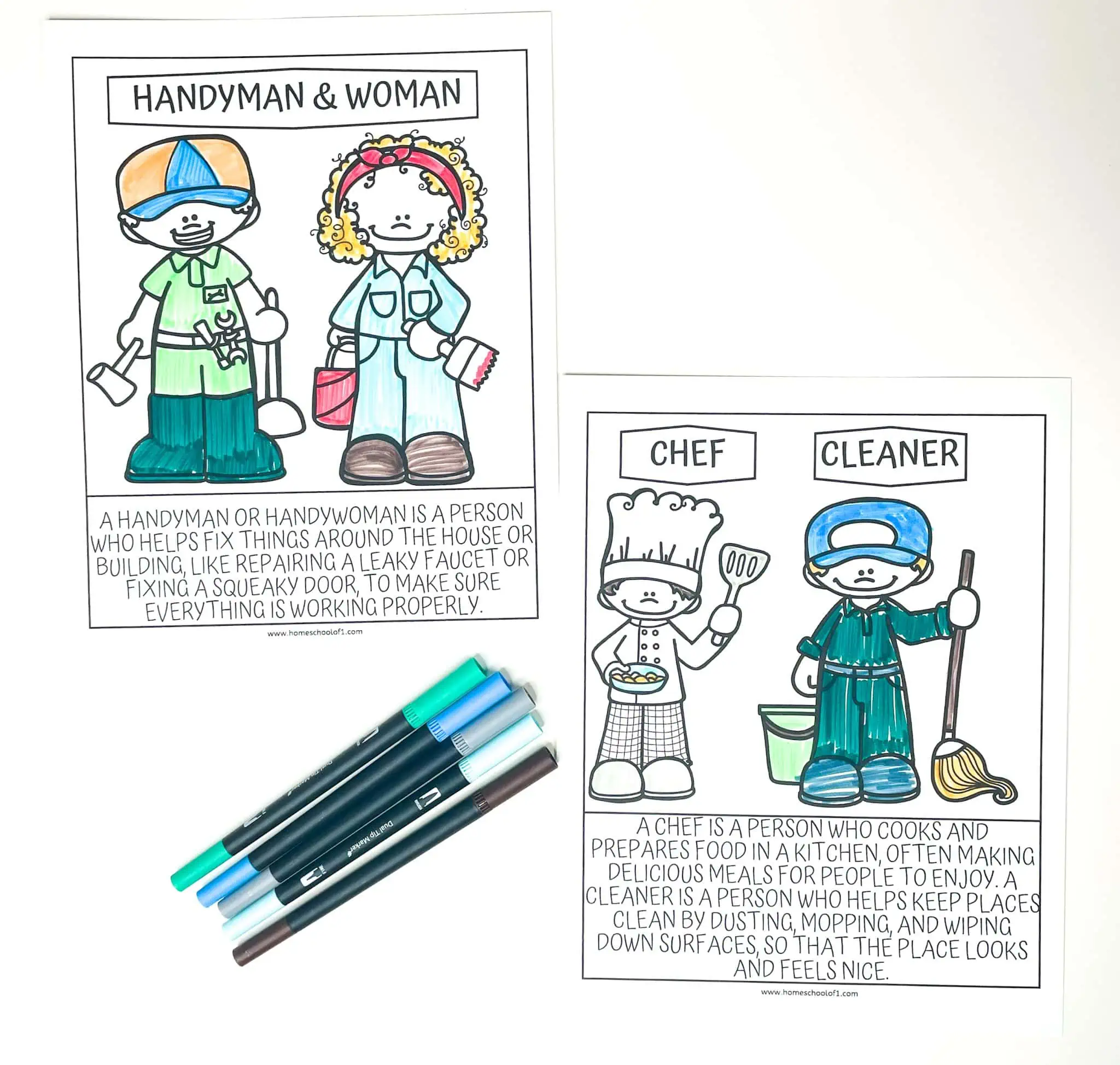 A handyman or handywoman is a person who helps fix things around the house or building. Like repairing a leaky faucet or fixing a squeaky door, to make sure everything is working properly.
A medical worker is a person who helps take care of people's health. By working in places like hospitals or clinics. And can include doctors, nurses, and other healthcare professionals.
A laborer is a person who does physical work. Like building things, carrying heavy objects, or digging, to help create or fix things that people need.
An office worker is a person who works in a building called an office. And does tasks like answering phones, typing on a computer, and helping other people who work there.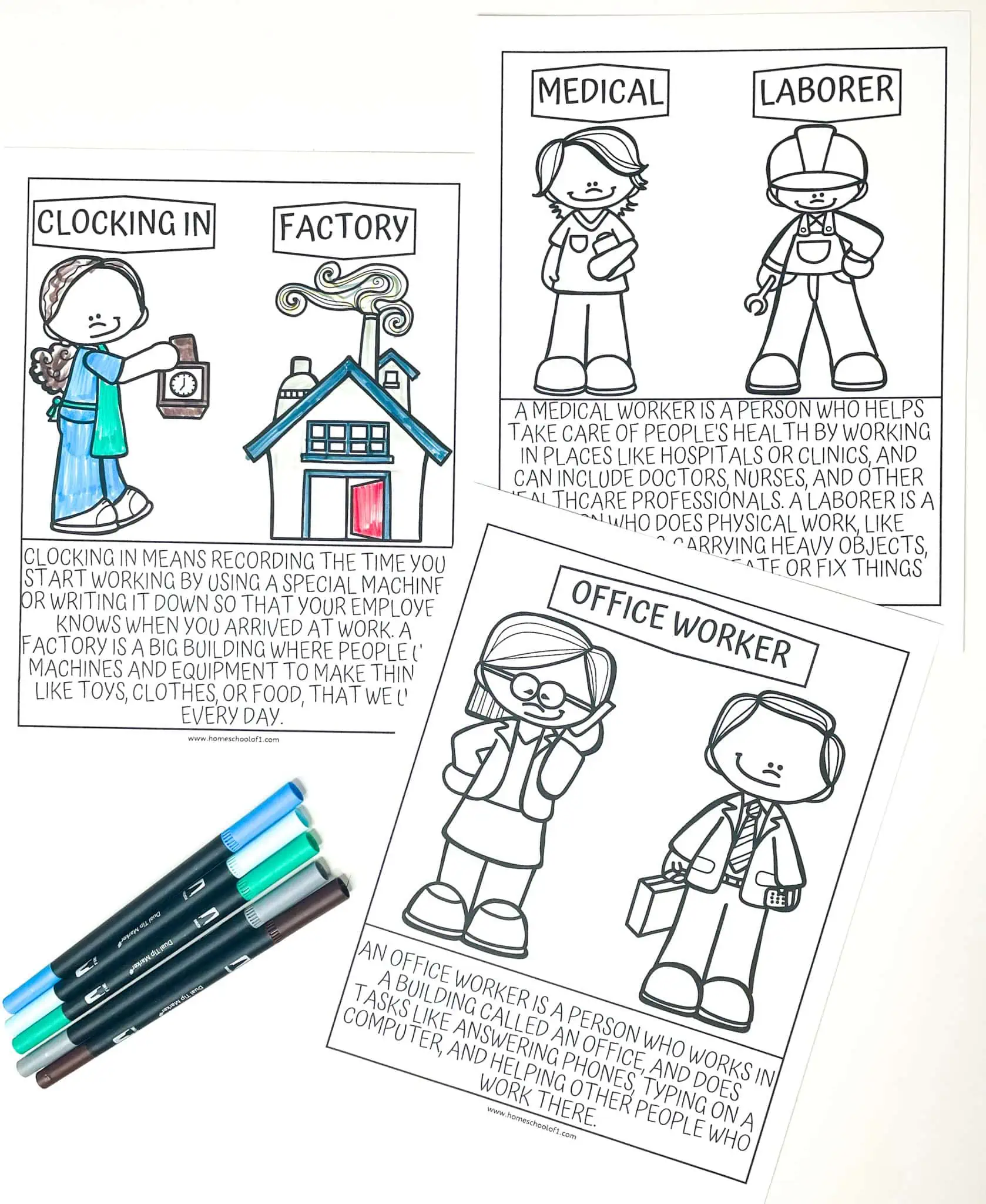 Clocking in means recording the time you start working by using a special machine or writing it down. So that your employer knows when you arrived at work.
A factory is a big building where people use machines and equipment to make things like toys, clothes, or food, that we use every day.
Vocabulary words relating to Labor Day for kids
Here are some vocabulary words that are commonly associated with Labor Day:
Workers. People who engage in physical or mental labor in order to produce goods or provide services.
Union. An organization of workers formed to protect and promote their rights and interests, often through collective bargaining with employers.
Strike. A work stoppage organized by workers in order to put pressure on employers to meet their demands.
Protest. A public demonstration of dissent or disapproval, often organized by workers or labor organizations.
Rally. A public gathering of people for a common purpose, such as to support a labor cause or celebrate Labor Day.
Fair labor standards. Laws that establish a minimum wage, overtime pay, child labor standards, and other protections for workers.
Benefits. Perks, such as health insurance, retirement plans, paid time off, and other forms of compensation that employers may offer to attract and retain workers.
Work-life balance. The balance between work and personal life, and the efforts made to ensure that work does not overwhelm other aspects of a person's life.
Occupational safety and health. The efforts made to ensure that workers are safe and healthy while on the job, including regulations on workplace hazards, injury reporting, and worker training.
Other fun holidays in September:
Download the Labor Day coloring pages free printable
Make sure you choose the correct paper size and click on the shrink to fit button. All of our free printables for kids work better when printed on cardstock (this is the one we use and love.)
Last Updated on 30 August 2023 by homeschoolof1