11 Free Scottish Coloring Pages for Kids
Get ready to uncover the captivating world of Scotland through 11 mesmerizing Scottish coloring pages that blend artistic expression and cultural learning.
From the historic Edinburgh Castle to the legendary Loch Ness, each coloring page tells a unique story of Scotland's charm.
These free kids coloring pages offer an exciting and educational way to engage young minds. While exploring the fascinating world of Scotland's culture, history, and natural beauty.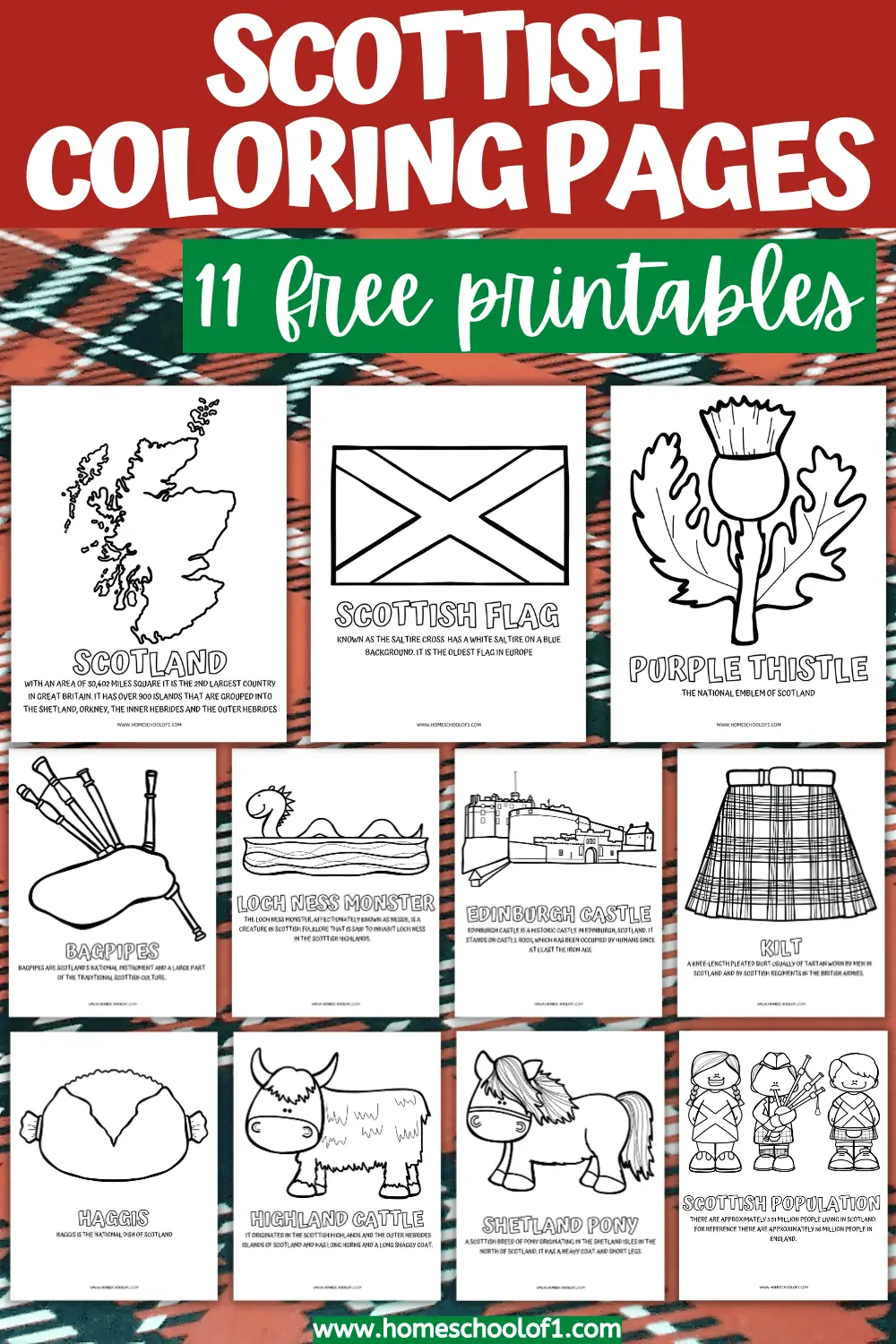 **There may be affiliate links in this post. You can read my full disclosure at the bottom of the page.**
Interesting facts about Scotland
Scotland is responsible for some groundbreaking inventions. The telephone was invented by Alexander Graham Bell, who was born in Edinburgh. And let's not forget about the discovery of penicillin by Sir Alexander Fleming, which revolutionized medicine!
While English is the main language, Scotland also has its own unique languages. Scots Gaelic is one of them and is spoken in certain areas, particularly in the Highlands and the Western Isles. It's a Celtic language with a rich history.
Scotland is home to one of the oldest trees in the world – the Fortingall Yew. This ancient tree, estimated to be around 5,000 years old, stands in the village of Fortingall and has witnessed countless generations.
Beyond haggis, Scotland offers a range of delectable treats. Shortbread, a buttery and crumbly cookie, originates from here. Additionally, Scotland boasts some of the finest salmon in the world due to its pristine waters.
cotland is dotted with numerous breathtaking lochs (lakes), each with its own charm. Loch Lomond is not only the largest freshwater loch in Great Britain but is also known for its mesmerizing beauty. Loch Ness, famous for its elusive monster Nessie, is also the second-deepest loch in Scotland, holding more freshwater than all the lakes in England and Wales combined.
Scottish Colouring Pages
Download all 11 Scottish coloring pages at the end of this post and learn about Scottish traditions. You can also add them to your St Andrew's Day activities in November.
Print out the coloring pages below, it will print out on eleven full pages. Make sure to check the printer settings.
You can of course print this on normal printer paper, but with all of our crafts, they always look better on cardstock.
This free coloring set includes 11 pages:
Map of Scotland. It has an area of 30.4k miles and is the 2nd largest country in Great Britain. It has over 900 islands that are grouped into the Shetland, Orkney, the Inner Hebrides, and the Outer Hebrides.
The Scottish flag coloring page is known as the saltire cross. It has a white saltire on a blue background. This is the oldest flag in Europe.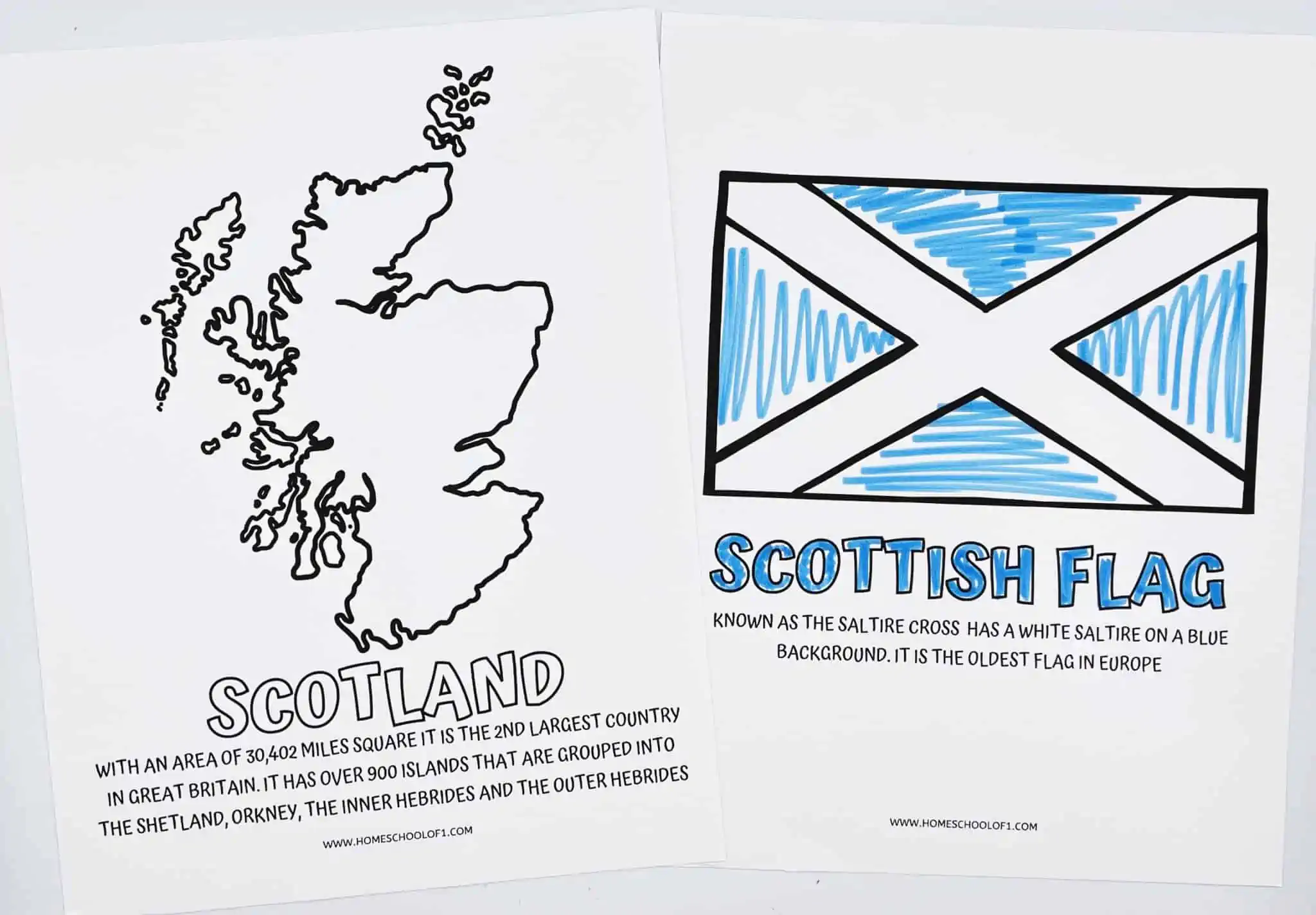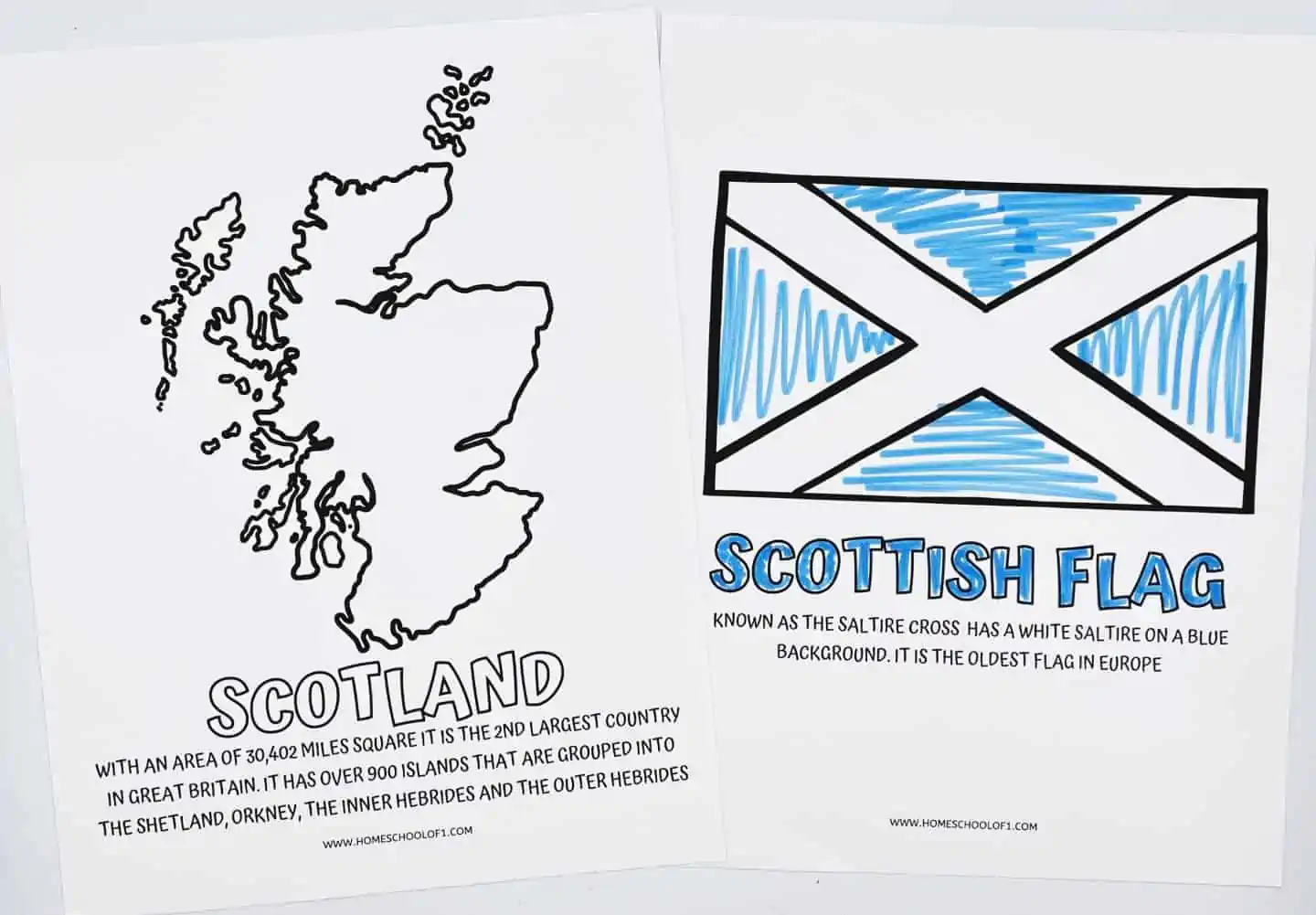 The purple thistle is the national emblem of Scotland.
Edinburgh Castle is a historic castle. It stands on castle rock, which has been occupied by humans since at least the iron age.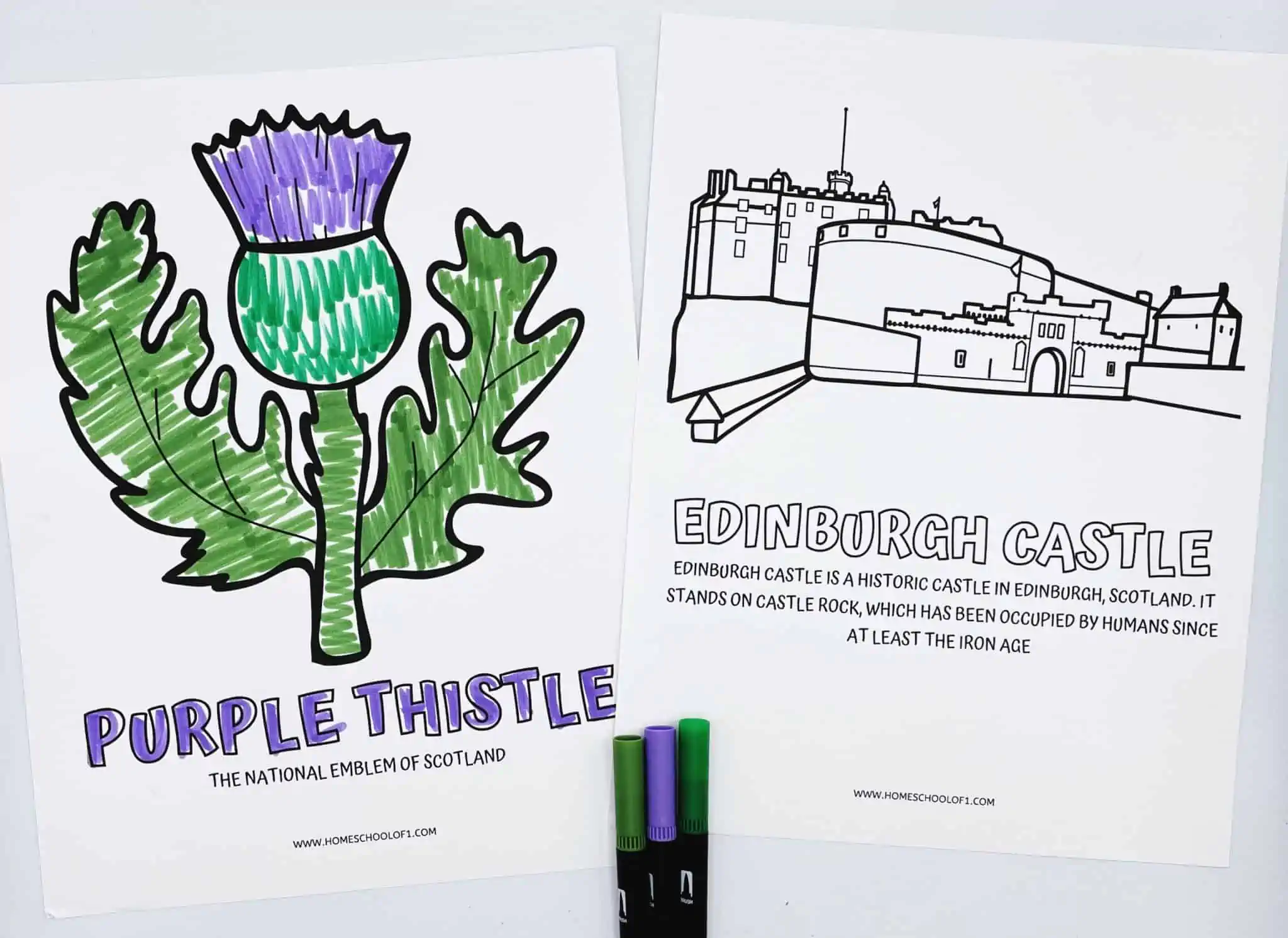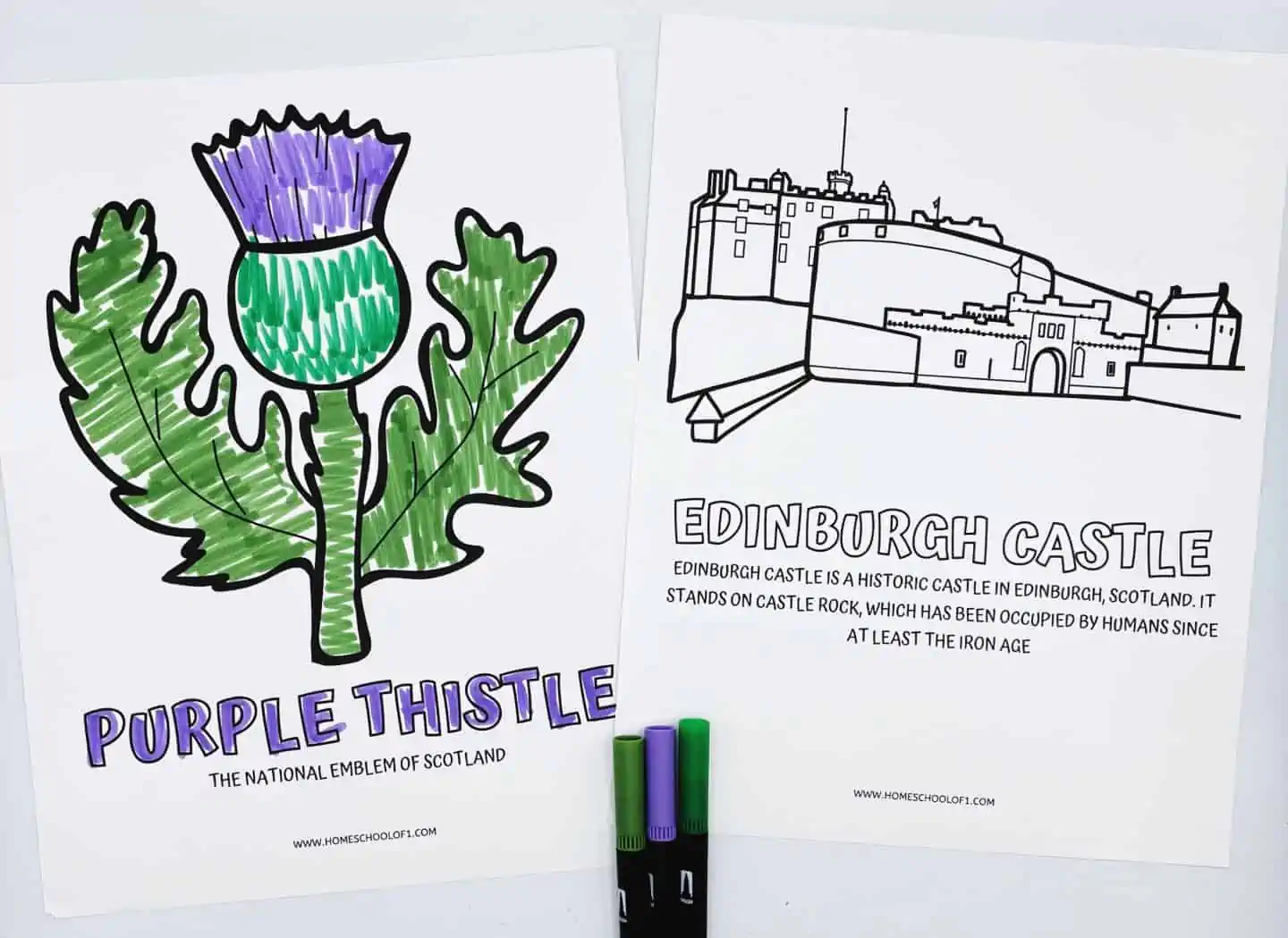 The bagpipes are Scotland's national instrument and a large part of Scottish culture.
The kilt is a knee-length pleated skirt usually of tartan worn by men in Scotland and by Scottish regiments in the British armies.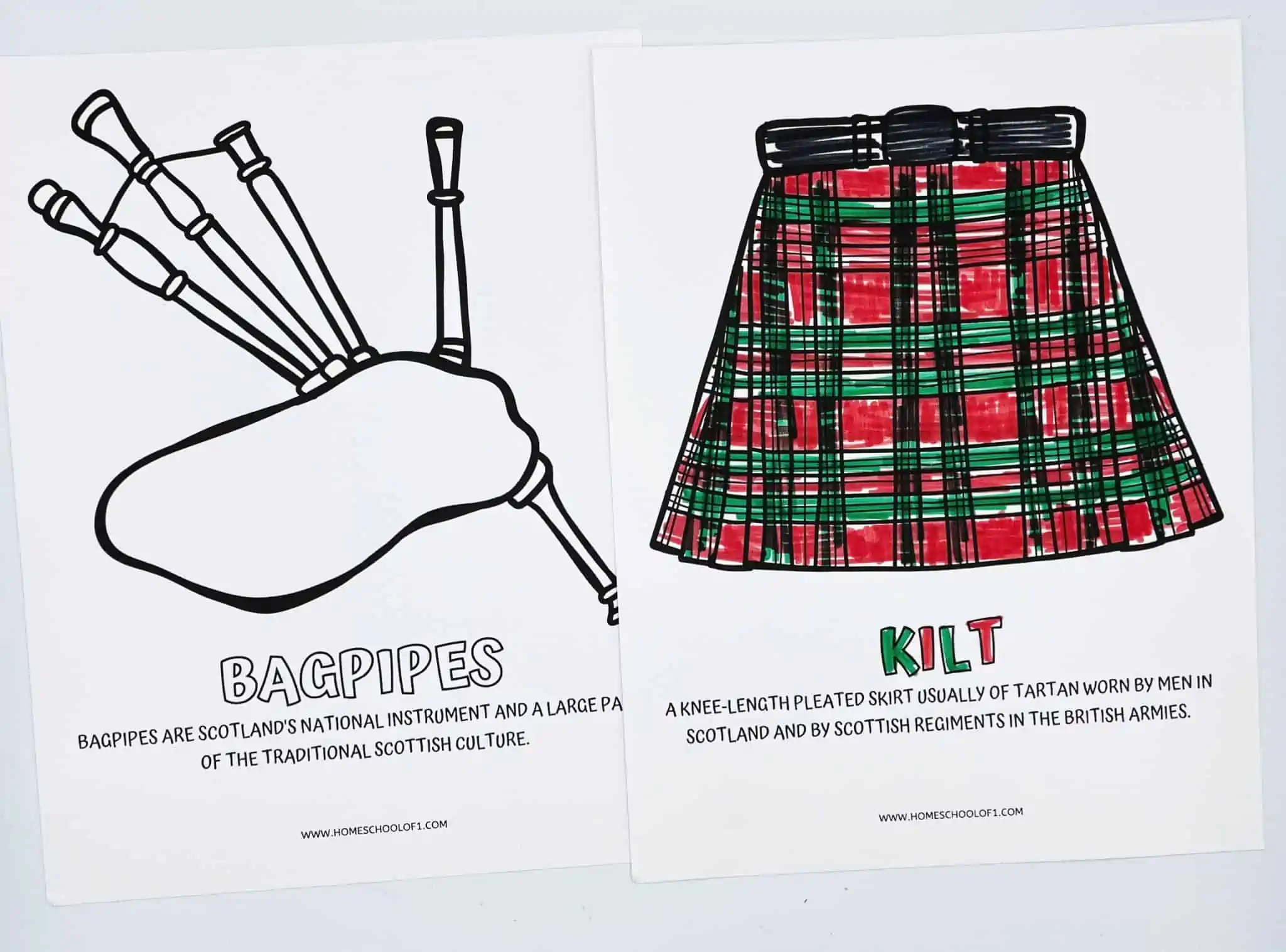 The Shetland pony is a breed of pony that originates in the Shetland Isles of North Scotland. It has a heavy coat and short legs.
The highland cattle originate in the Scottish Highlands and the Outer Hebrides, they have long horns and a long shaggy coat.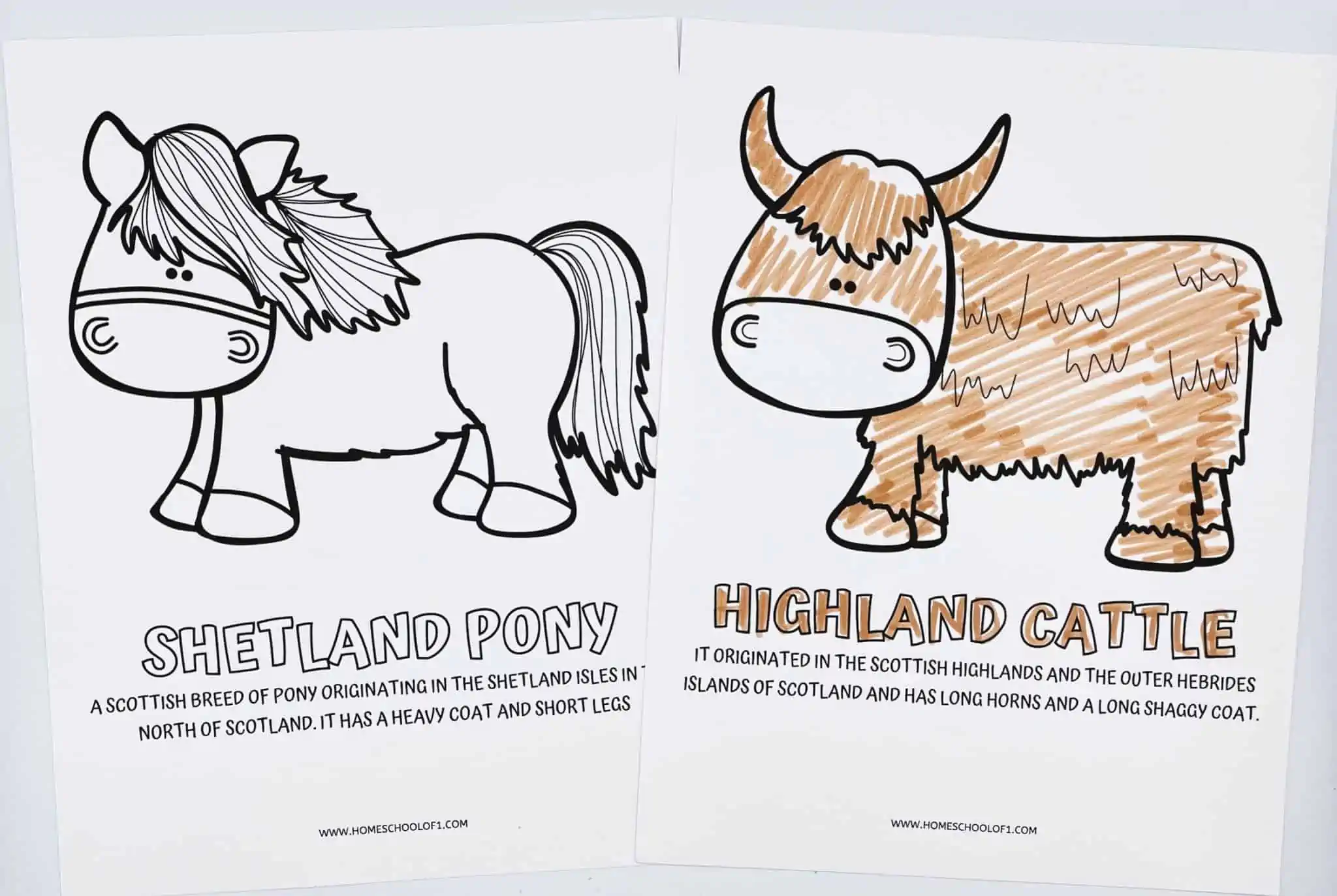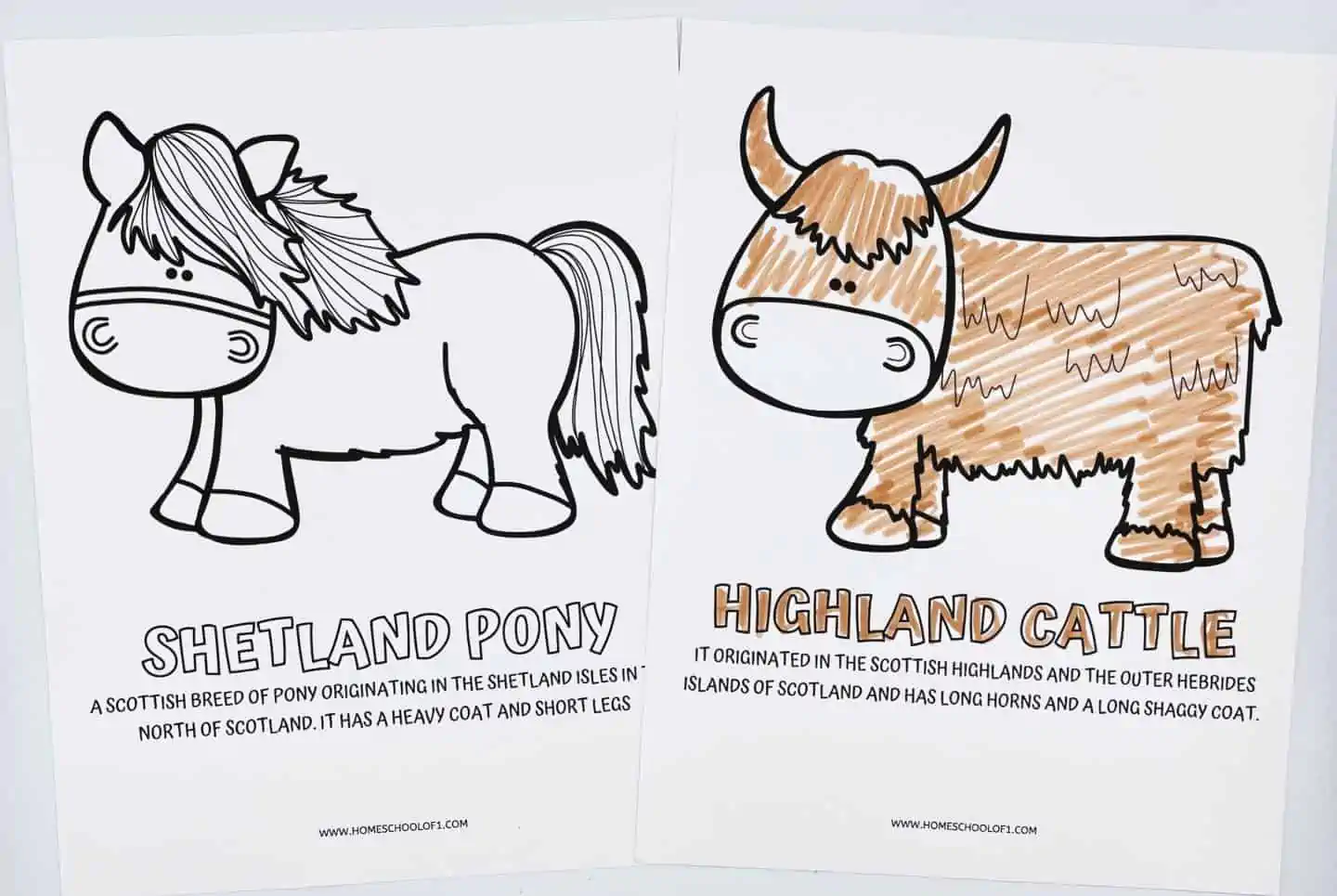 The haggis is the national dish of Scotland.
The Scottish population is approximately 5.51 million. For reference, there are approximately 56 million people in England.
The Loch Ness monster, affectionately known as Nessie, is a creature in Scottish folklore that is said to inhabit Loch Ness in the Scottish Highlands.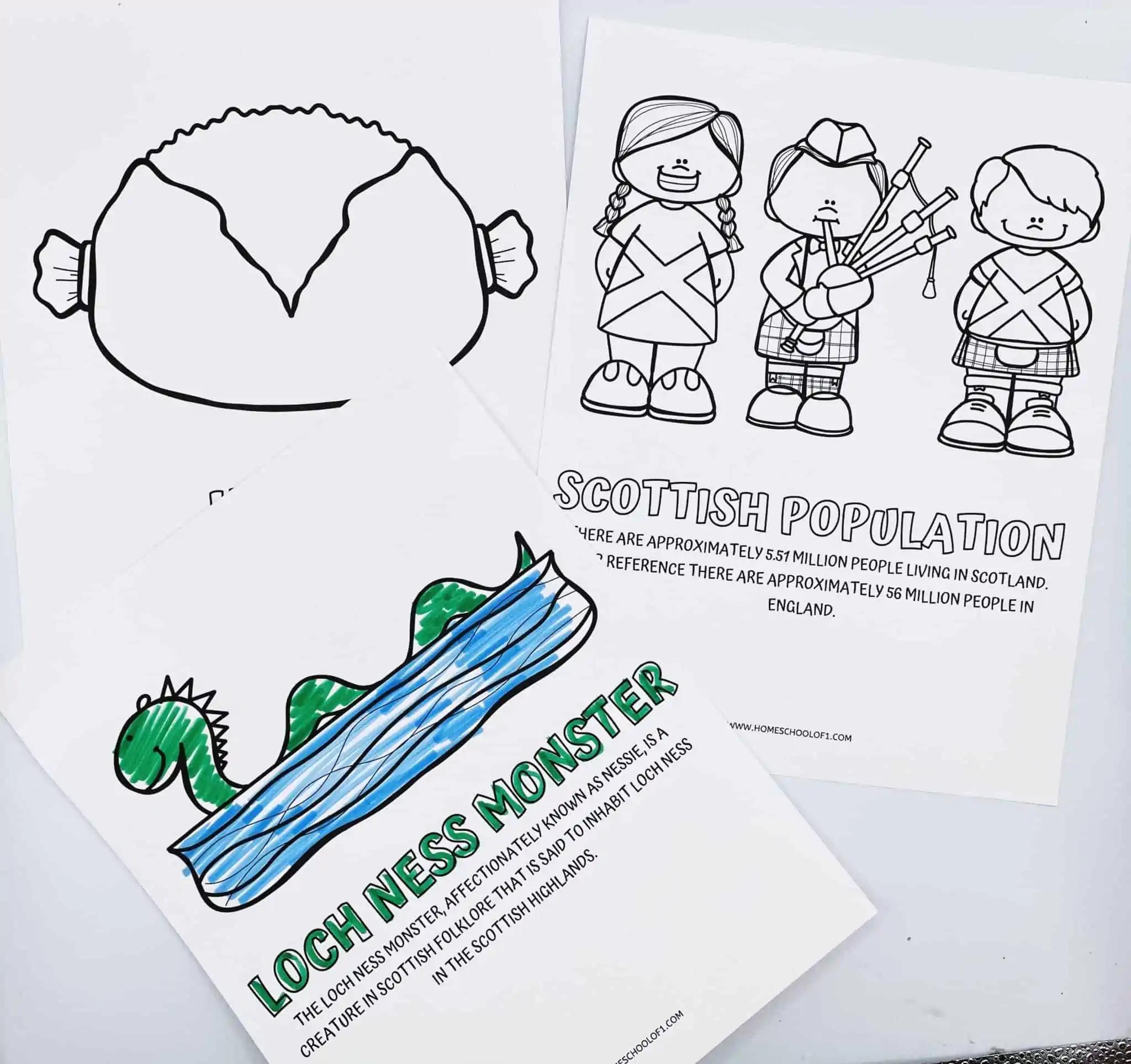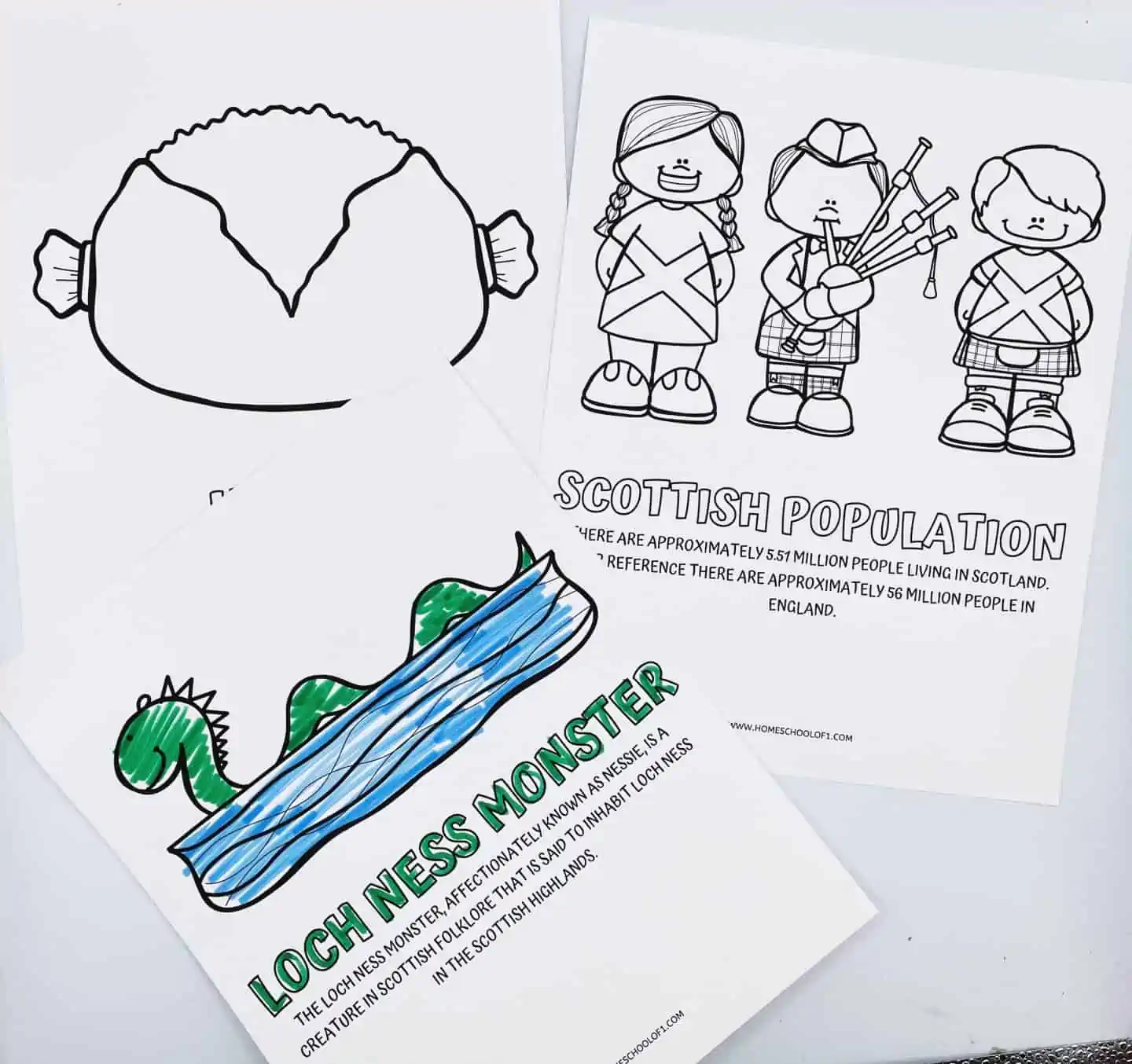 Books about Scotland for kids
Treat the kids to a new book and learn even more about the beauties fo Scotland with these book lists for kids:
Edinburgh Castle for Kids: Fun Facts and Amazing Activities. Delve into the world of Scotland's iconic fortress with engaging facts and interactive activities, as young readers explore the history and significance of Edinburgh Castle in an educational and entertaining way.
Good Night Scotland. This charming bedtime book takes young readers on a delightful journey through Scotland's landmarks, culture, and natural wonders, making it the perfect way to say goodnight while fostering an early appreciation for Scotland's beauty.
Scottish Year: Twelve Months in the Life of Scotland's Kids. Offering a captivating insight into Scotland's seasonal changes and traditions, this book invites readers to follow a year in the lives of Scottish children, celebrating the country's culture, festivals, and everyday experiences.
Tips for downloading the free files
Below is a blue cloud with an arrow pointing downward. Underneath that is a large sign-up box where you need to add your name and email address, and press I NEED THIS NOW!
Within minutes you will be sent the free PDF directly to your email address, so you can print it out and start using it immediately.
Sometimes emails get a little wonky, so if you can't see it, please check your spam folder where I am sure it is hiding.
Download the free Scotland coloring pages
These worksheets are free to print but are for personal or classroom use only.
Make sure you choose the correct paper size and click on the shrink to fit button. All of our free printables for kids work better when printed on cardstock (this is the one we use and love.)
Last Updated on 2 October 2023 by homeschoolof1