23 Best Toys for 6 Year Old Boys
Get ready to dive into a world of excitement and adventure with our handpicked selection of toys for 6 year old boys!
Are you on the hunt for the perfect toys to keep your energetic 6 year old boys entertained and engaged?
Look no further. We've got a fantastic lineup of toys that are sure to put a smile on their faces and spark their imagination.
The best Christmas gifts for boys are ones that cater to their interests and provide opportunities for both fun and learning.
Whether they're building, racing, imagining, or exploring, these toys will contribute to their overall development in exciting and meaningful ways.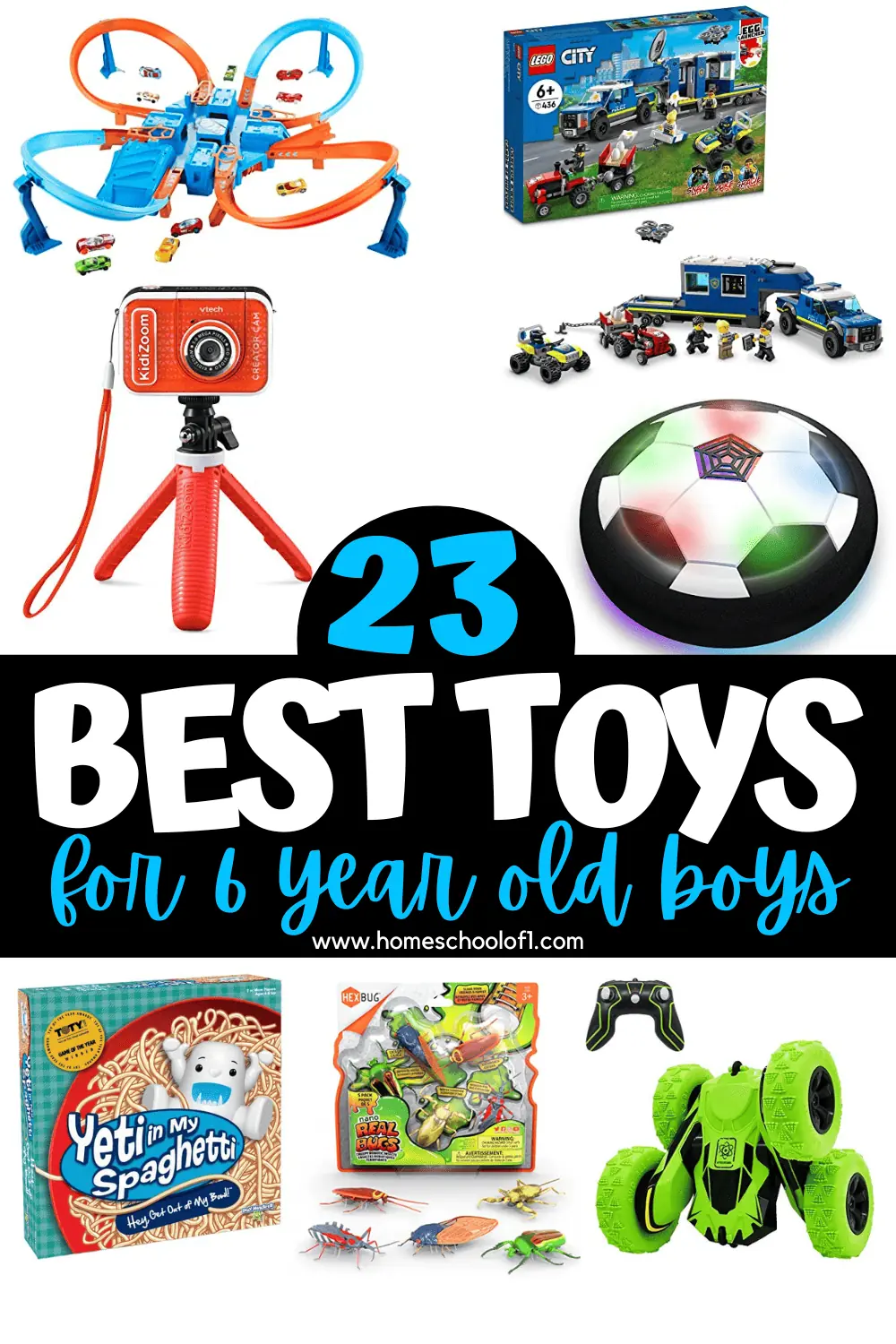 **There may be affiliate links in this post. You can read my full disclosure at the bottom of the page.**
Top 10 Toys for 6 year old Boys
Discover the ultimate lineup of engaging toys that make perfect gifts for 6 year old boys! From the limitless creativity of LEGO sets to the thrill of robots.
These toys promise boundless fun and learning. Watch as your young ones immerse themselves in imaginative play, problem-solving, and active adventures with these top 10 picks:
Additional boy toys for 6 year old
Experience a world of imaginative play and learning with a diverse range of engaging toys ideal for 6 year old boys.
From dynamic remote control cars to creative building sets and interactive educational tools, these toys offer endless fun and developmental opportunities.
Experience the thrill of non-stop action with the Threeking RC Stunt Car. This remarkable remote-controlled car flips, rotates, and drives on both sides, delivering an exhilarating 360-degree adventure. Its vibrant green design adds to the excitement as young racers master its versatile maneuvers.
Embark on a prehistoric journey with the Monopoly Junior Dinosaur Edition Board Game. Tailored for young adventurers aged 6 and up, this Amazon Exclusive offers a delightful twist on the classic game. Explore a world of fun with dino-themed tokens and properties, engaging 2-4 players in entertaining and educational gameplay.
Unleash your child's inner filmmaker with the VTech KidiZoom Creator Cam. In a vibrant red design, this creative gadget allows budding directors to record videos and capture photos with ease. Packed with exciting features, it encourages imaginative storytelling and nurtures your young one's artistic talents.
Ignite curiosity and hands-on learning with this science kit. Offering a treasure trove of DIY STEM toys, these educational toys inspire kids aged 6-10 to explore the wonders of science and engineering. Perfect as birthday gifts, these kits engage boys and girls alike in interactive learning adventures.
Delve into the world of dinosaurs. These projection toys captivate the imagination of 6 year old boys, combining fascination with educational elements.
Unleash your child's creativity with the Magna Tiles Construction Set. A pioneer in magnetic building, this 100-piece set offers endless possibilities for imaginative construction.
Engaging kids in tactile exploration and spatial learning, it's the ultimate magnetic building brand.
Foster a global perspective with the Educational Globe, Orboot Earth. This interactive AR world globe introduces children aged 4-10 to over 1000 facts and 400 wonders of the world.
Without borders or names, it encourages learning through exploration and discovery, making it a stellar STEM toy gift.
Elevate playtime with the LED Hover Soccer Ball. Perfect for indoor and outdoor fun, this air-powered training ball is a fantastic birthday gift for kids aged 3 to 12.
Combining soccer and a hovering twist, it ensures active play and endless enjoyment for boys in various age groups.
Delve into the fascinating world of insects with the HEXBUG Nano Real Bugs. These sensory toys, suitable for kids and even cats, offer a unique STEM-inspired play experience.
Get ready for hilarious gameplay with Yeti In My Spaghetti. This silly game challenges 2+ players to carefully remove strands of spaghetti without letting the yeti fall into the bowl. A lighthearted way to encourage fine motor skills and friendly competition.
Ignite imaginative outdoor play with the LEGO City Police Mobile Command Truck Toy.
This set, perfect for kids aged 6 and up, includes a truck, prison trailer, drone, tractor, ATV, and 4 minifigures. Let kids dive into creative law enforcement scenarios and construct their own summer adventures.
Experience high speed excitement with the Hot Wheels Criss Cross Crash Track Set. This 1:64 scale vehicle track set is powered by a motorized booster. Watch as cars collide in a thrilling display of crashes and stunts, providing endless entertainment for car enthusiasts of all ages.
Nurture problem-solving skills with the Dinosaur Jigsaw Puzzle. With 100 unique pieces, this educational toy engages young minds in a fun and rewarding challenge.
Additional gifts for six year olds
For even more present ideas for boys: