Free Fall Alphabet Worksheets (Color, Write & Trace)
Welcome to the enchanting world of fall alphabet worksheets for preschoolers and kindergarteners.
As the leaves change and the air turns crisp, our carefully crafted worksheets provide a delightful opportunity for young learners to explore the alphabet while embracing the beauty and spirit of the fall season.
Join us on a journey of educational discovery, where each letter becomes a stepping stone to both literacy and the wonders of autumn.
These holiday activities for kids are not only educational they will put you in the holiday spirit.
**There may be affiliate links in this post. You can read my full disclosure at the bottom of the page.**
Educational benefits of using alphabet worksheets with preschoolers
Using fall alphabet preschool worksheets that include coloring, tracing, and writing can have many educational benefits for preschoolers and kindergartners.
These worksheets offer a fun and engaging way for children to practice letter recognition, formation, and phonics skills.
The coloring activities help with fine motor skills and hand-eye coordination, while the tracing and writing activities encourage proper letter formation and handwriting development.
Through these fun learning activities, children can improve their literacy skills and develop a love for learning.
Additionally, using colorful and themed worksheets such as fall alphabet activity sheets can make learning more enjoyable and memorable for young learners.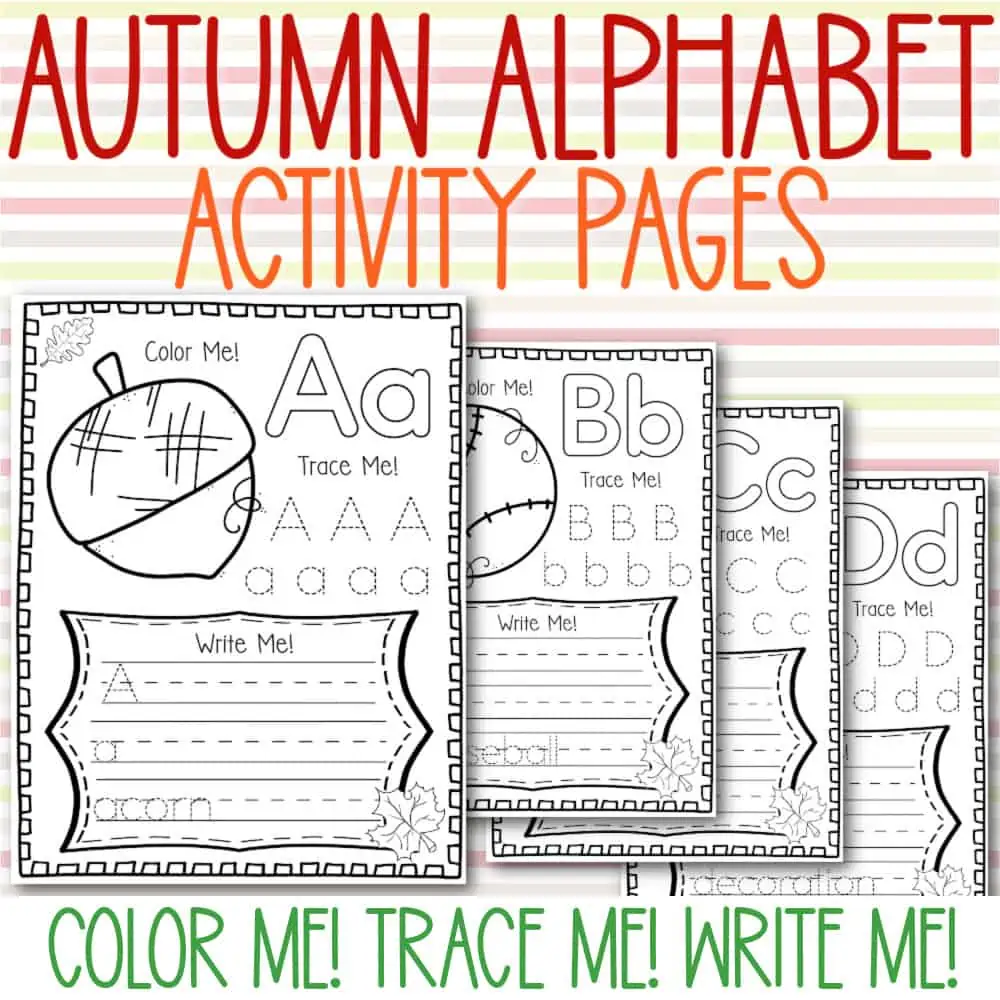 Fall Alphabet Activities
These free autumn alphabet activity pages are free to print but are for personal use or classroom use only. Scroll to the end of the post to get the pdf file.
These fall learning activities are such a fun way to learn the alphabet. These will help children with letter recognition and letter identification.
Each page has a fall picture to color in of the beginning sound of each letter.
If you are looking for more coloring fun check out our free fall coloring pages.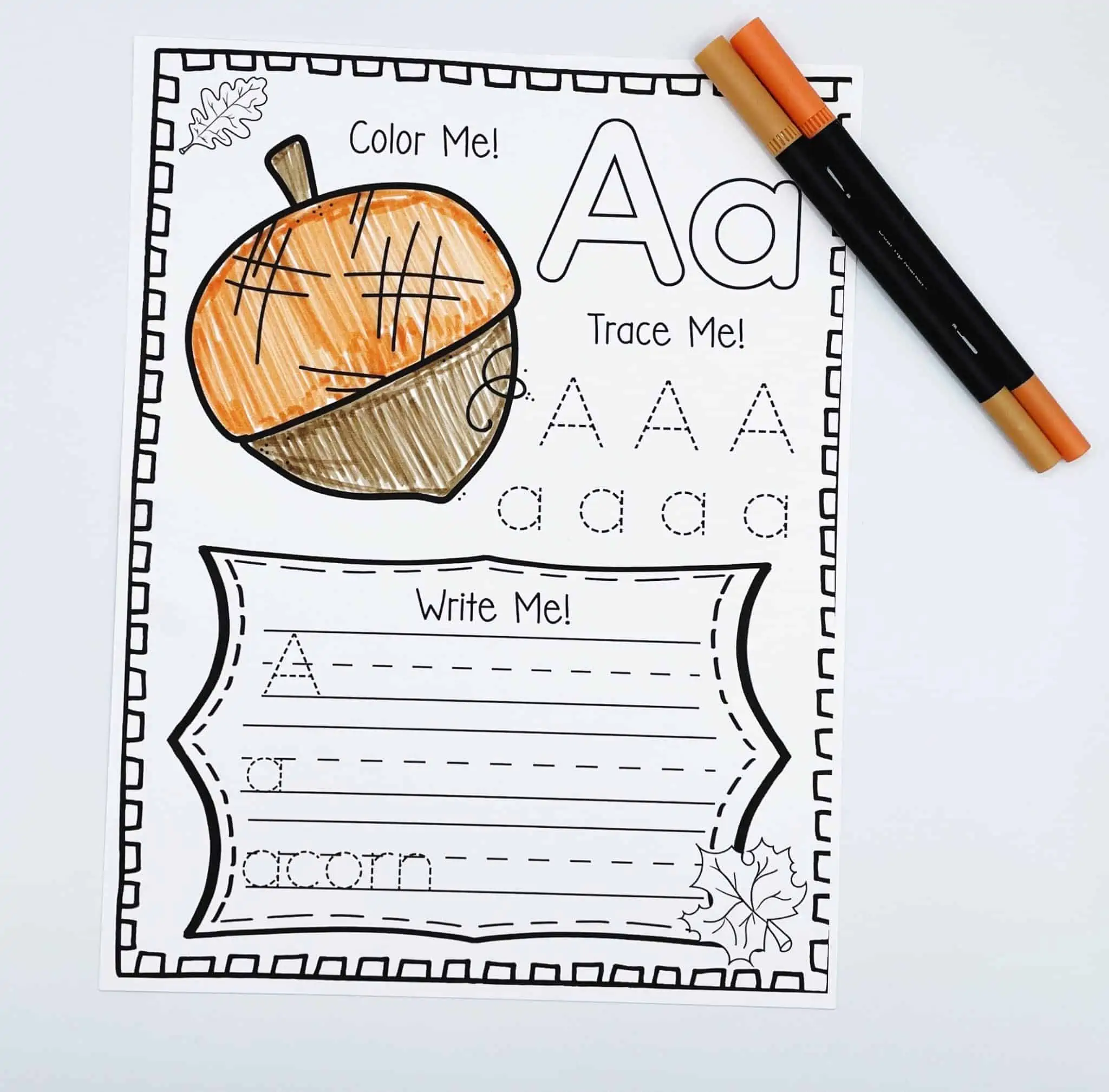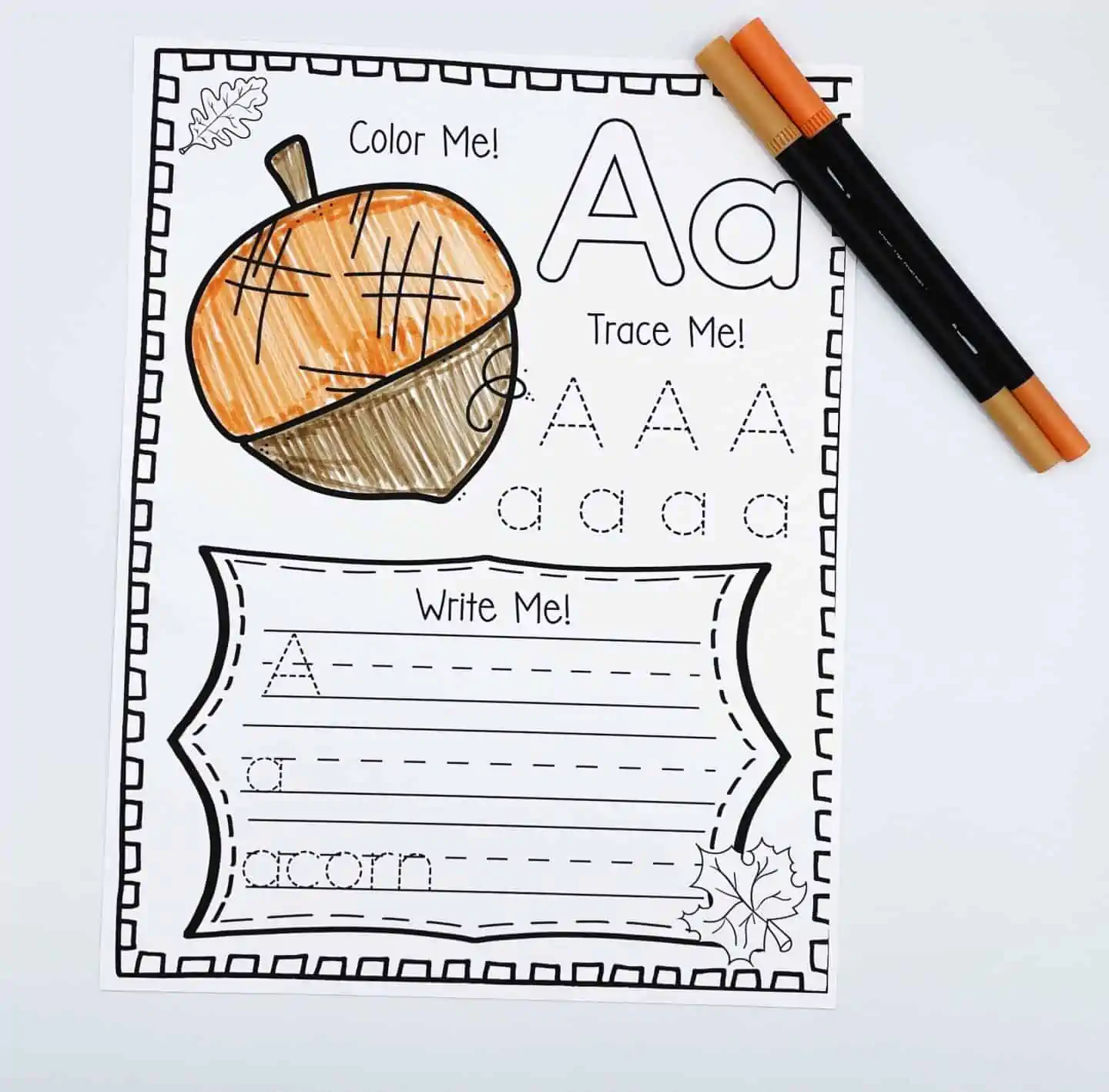 You can color in each of the letters, the uppercase letter, and the lowercase letter.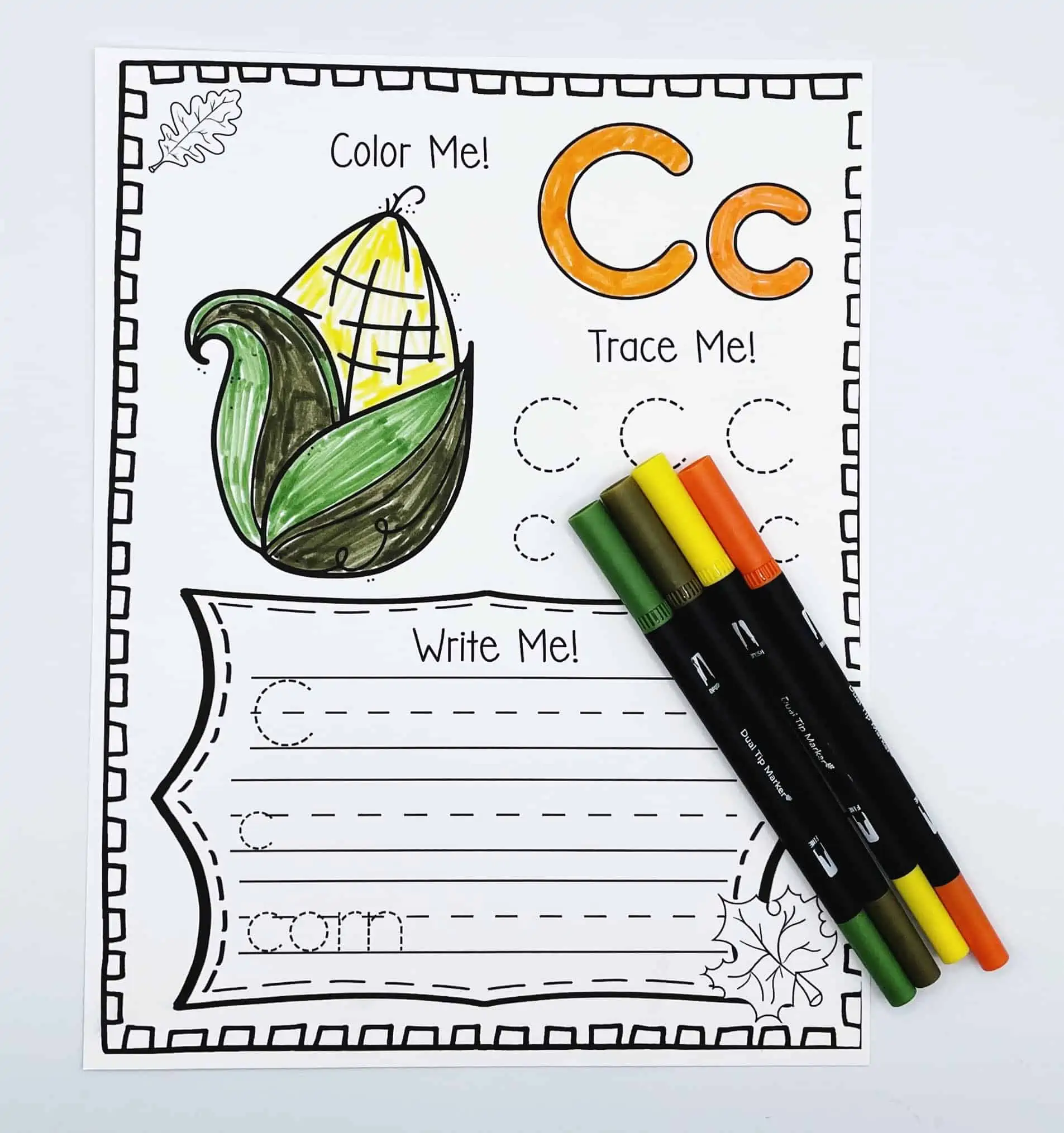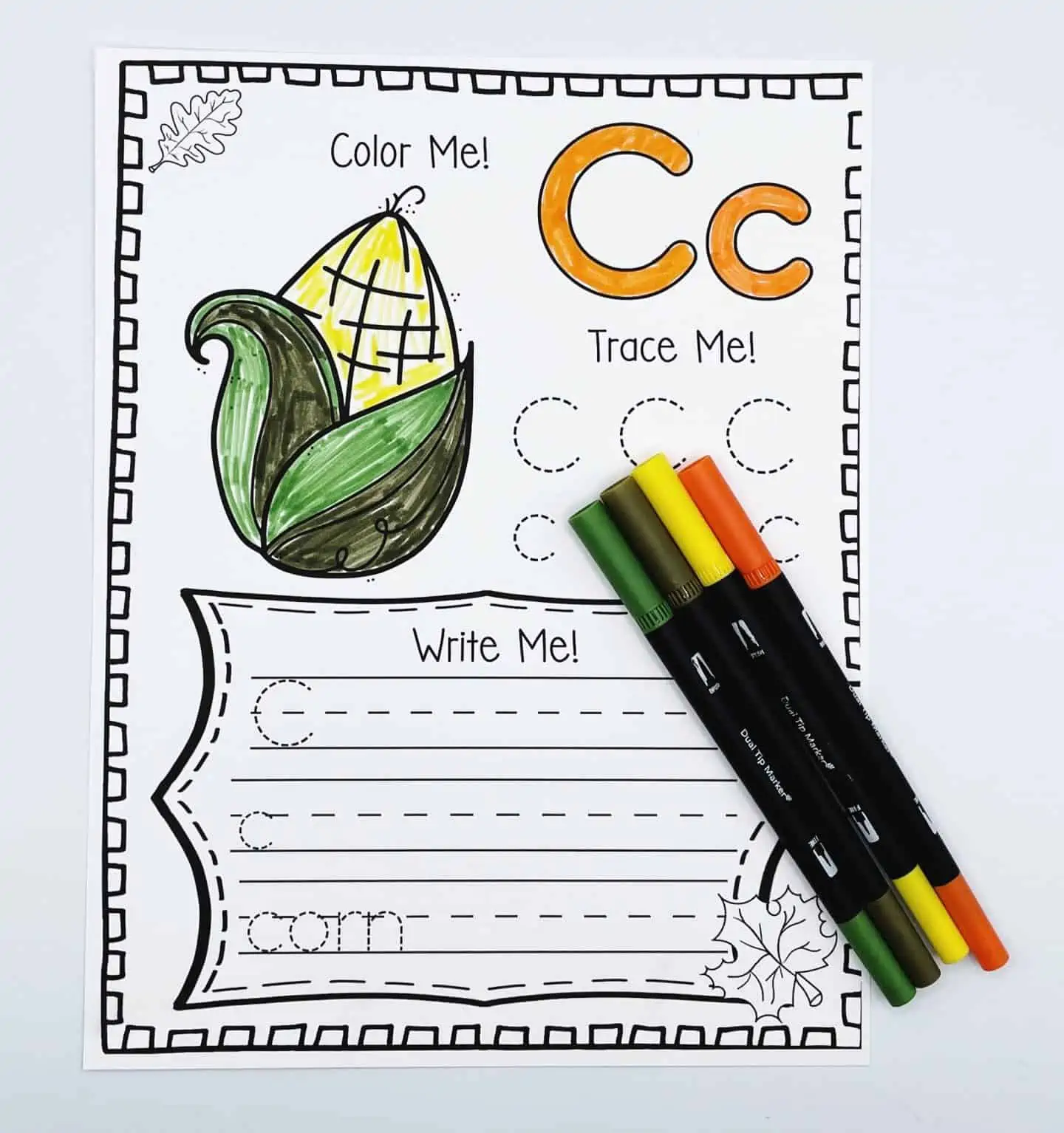 Chicka Chicka ABC
AlphaOops!: The Day Z Went First
I Spy Letters
Eating the Alphabet
School Zone – Get Ready Flash Cards Alphabet & Numbers 2 Pack – Ages 4 to 6, Preschool to Kindergarten, ABCs, Uppercase and Lowercase Letters, Numbers 1-100, Counting, and More
Briarpatch |The World of Eric Carle ABC/123 2-Sided Floor Puzzle, Multi
Practice letter tracing of both the upper and lower case letters.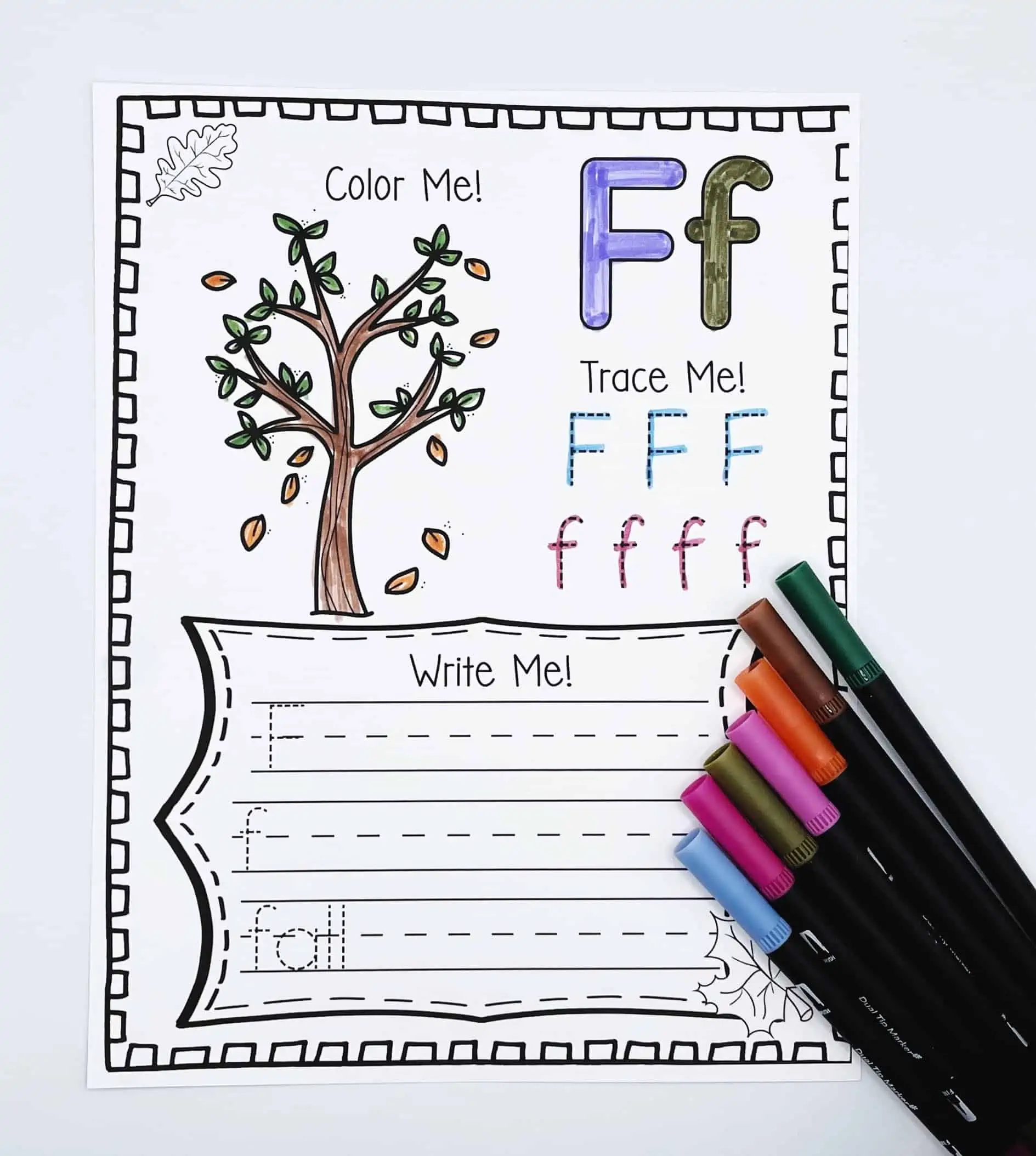 Then move on to alphabet handwriting practice. With the uppercase letter first.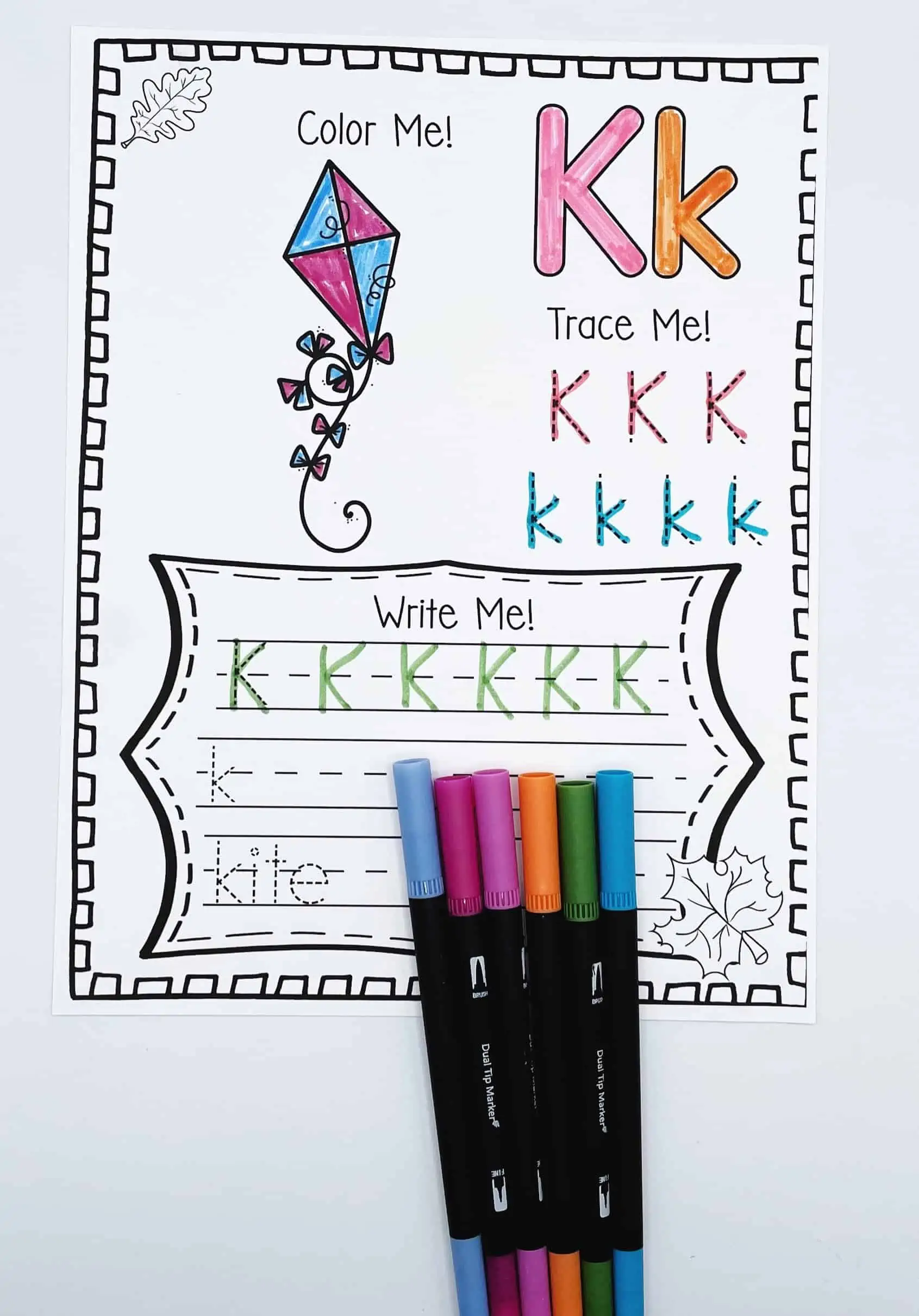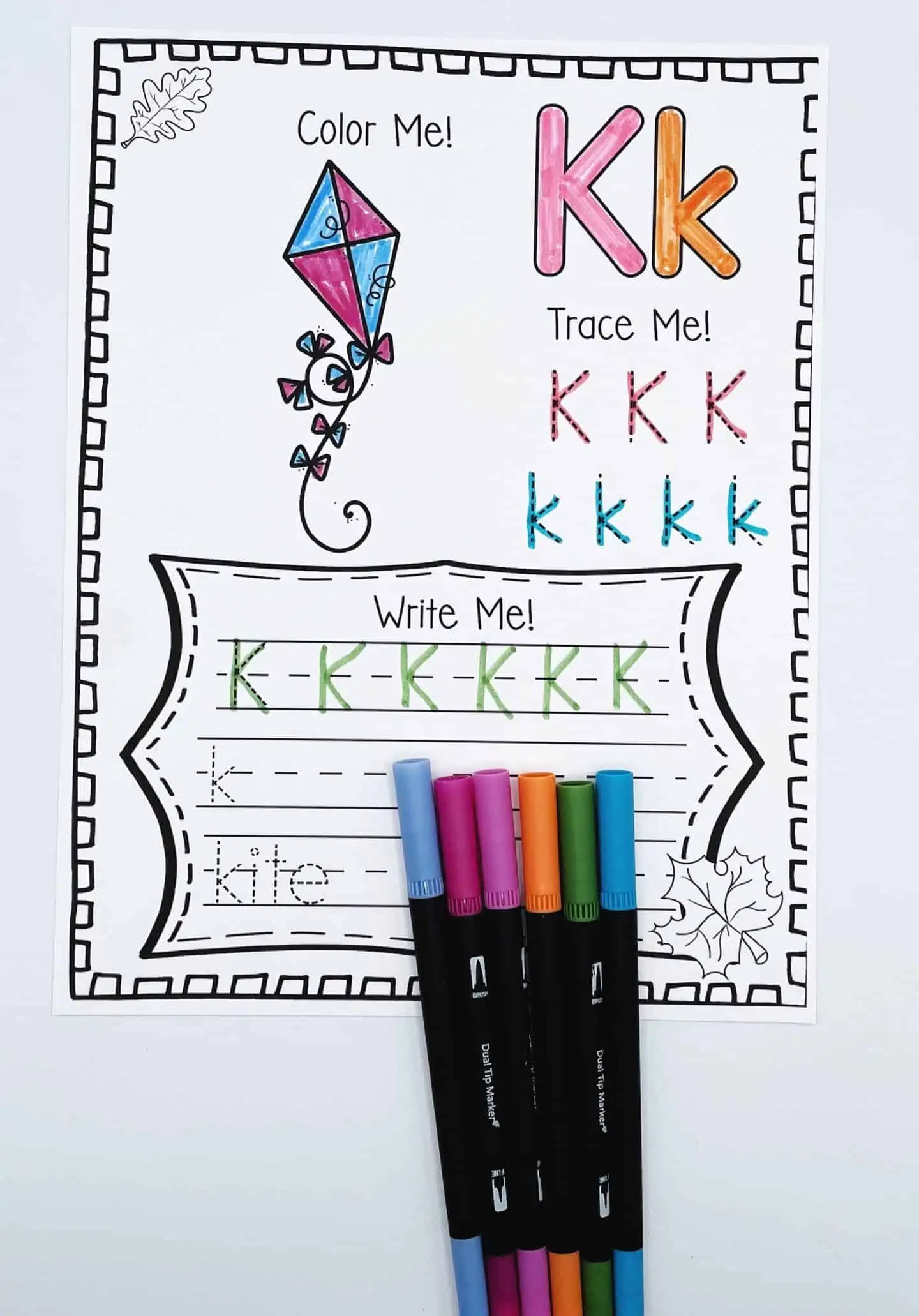 Then move on to practicing how to write the lowercase letter.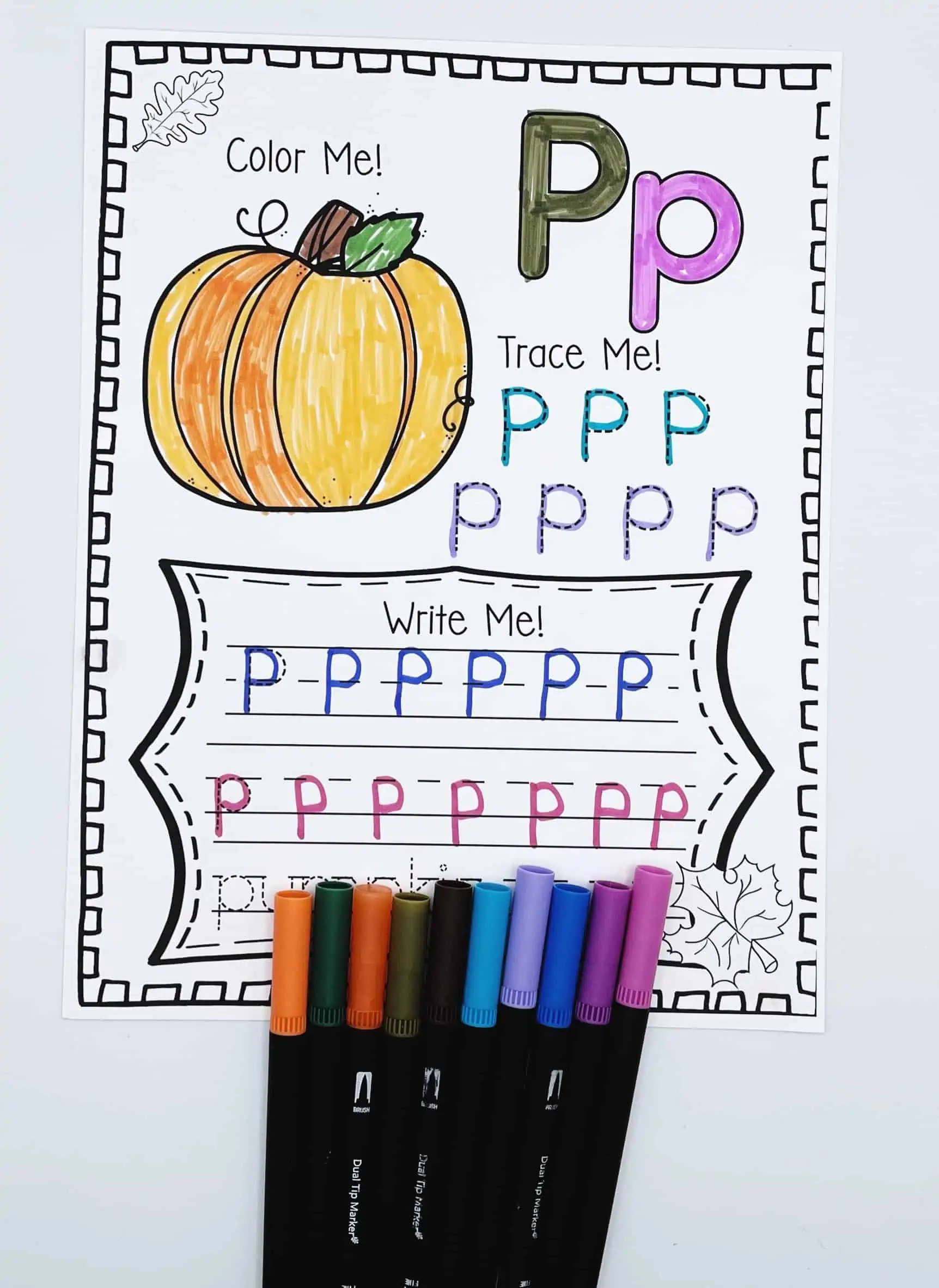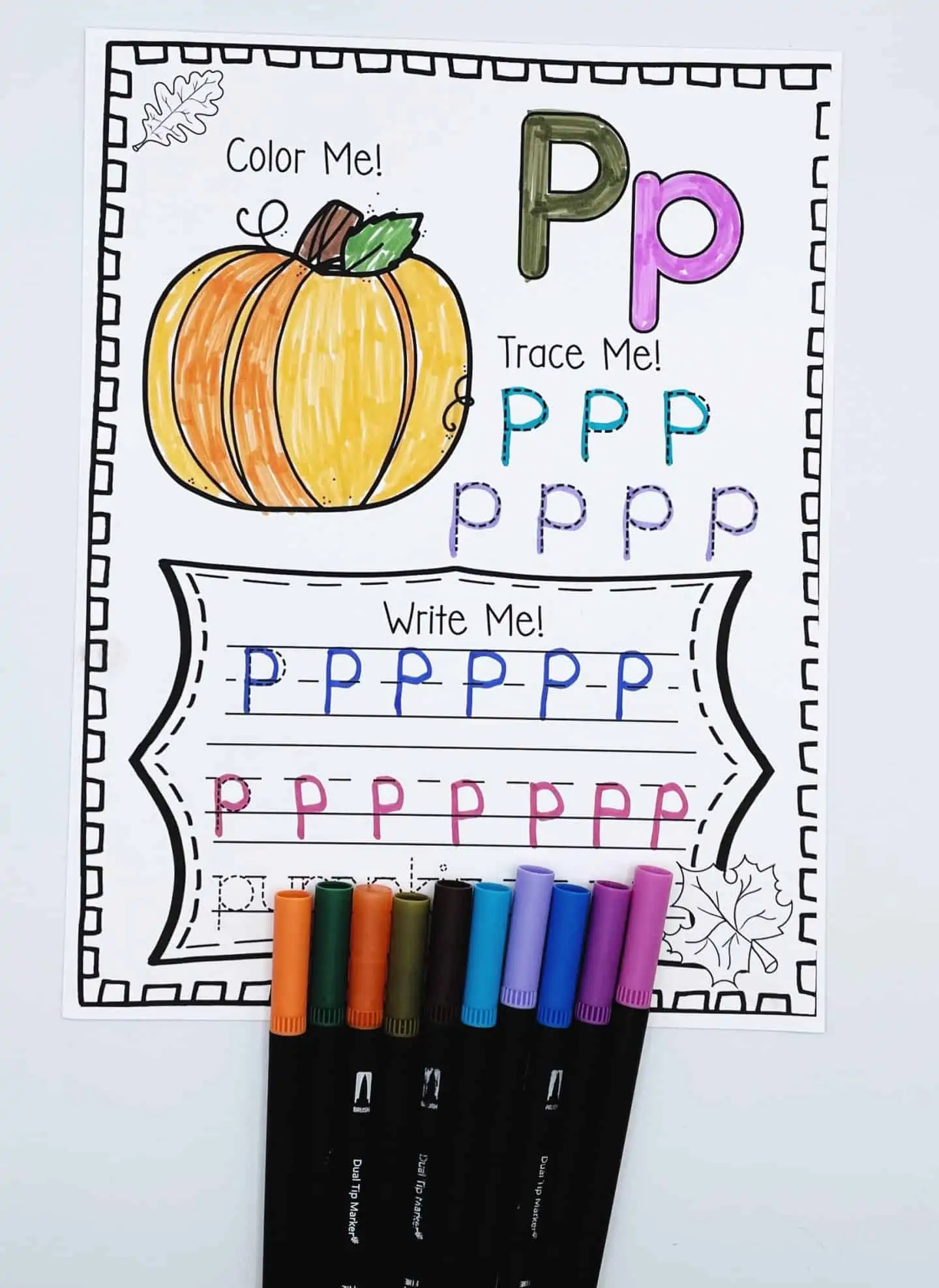 Then the children will move on to letter tracing the word that begins with that letter.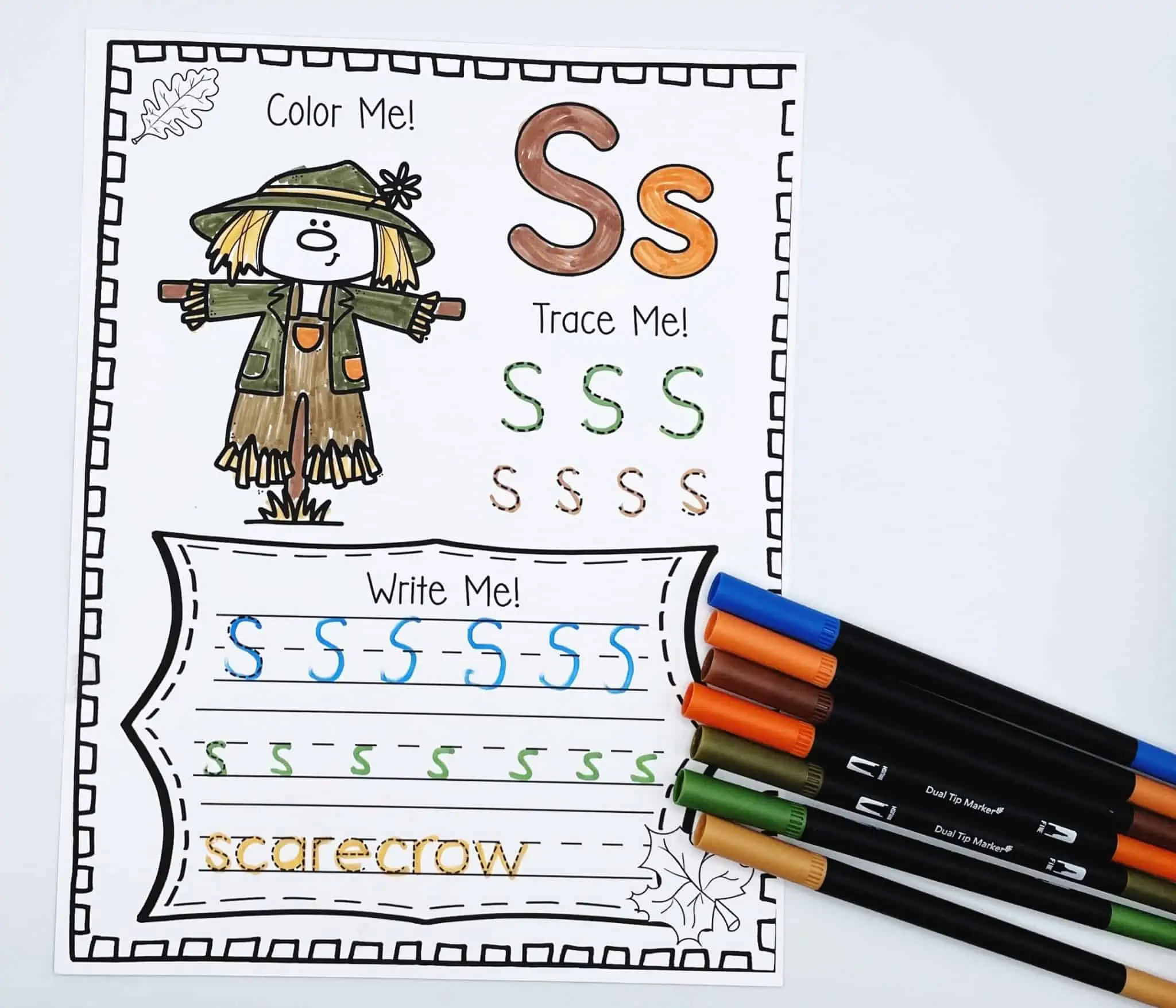 You can also color the leaves around the edge of each page.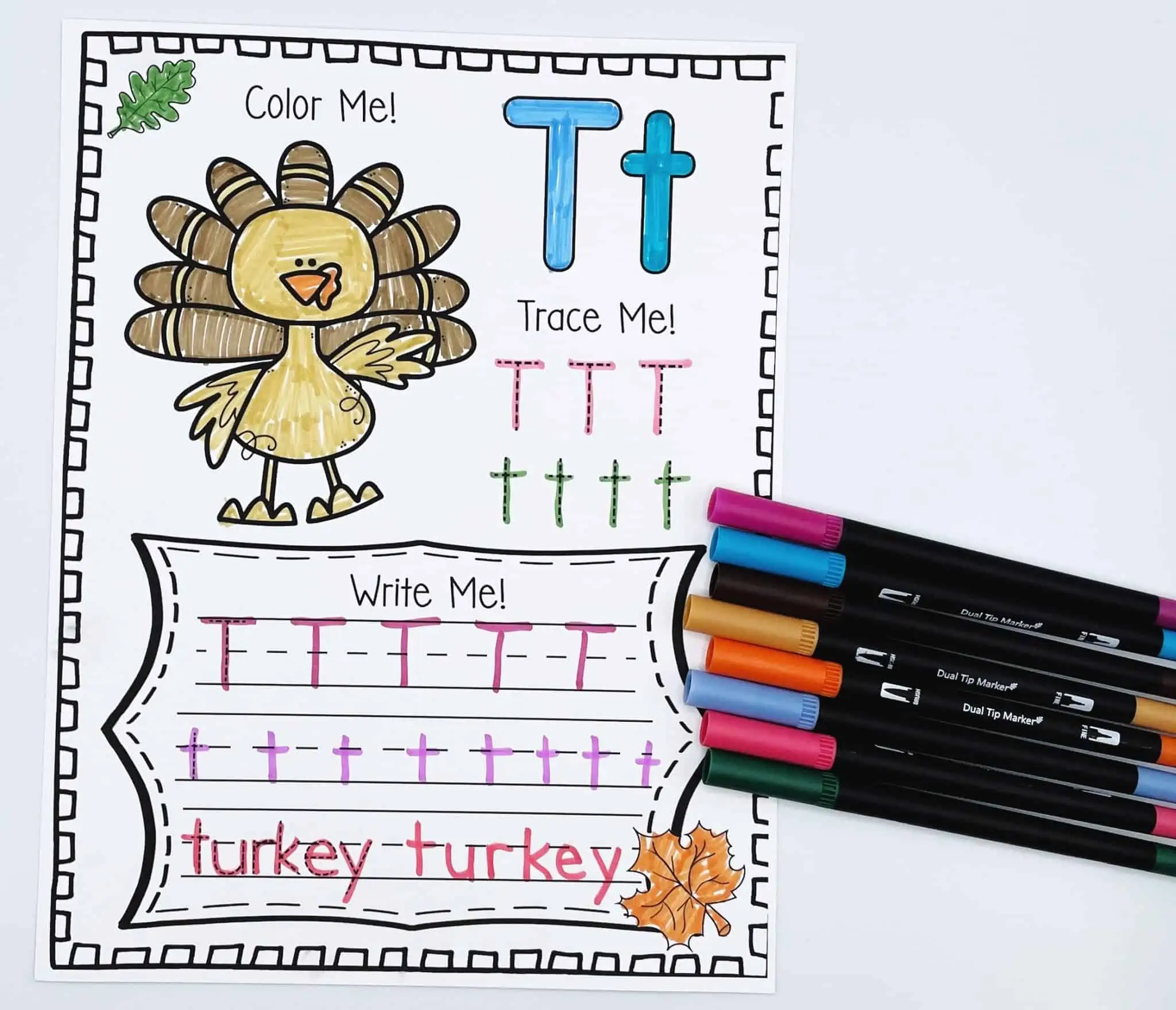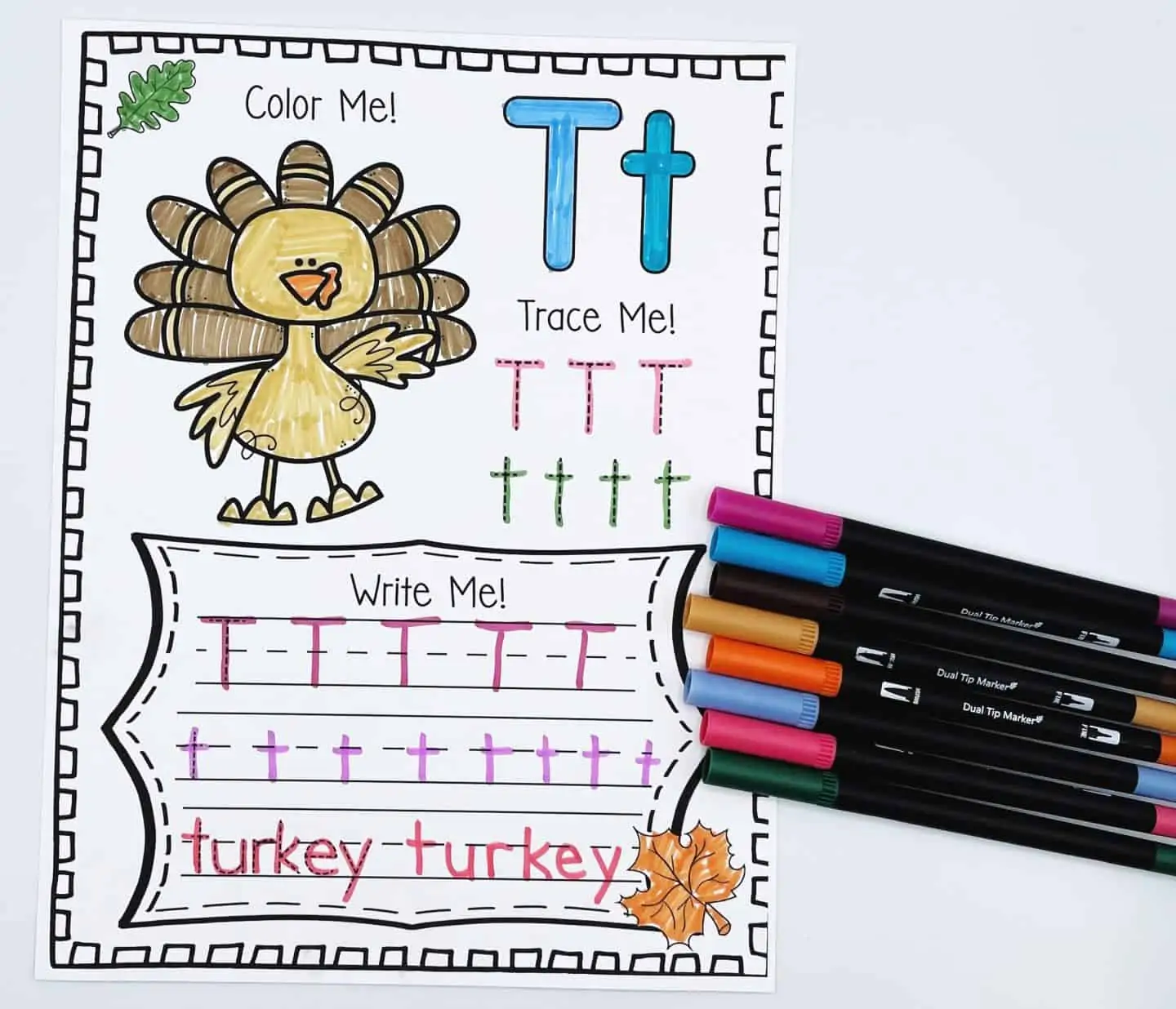 The kids can also color the border around the page if they finish early.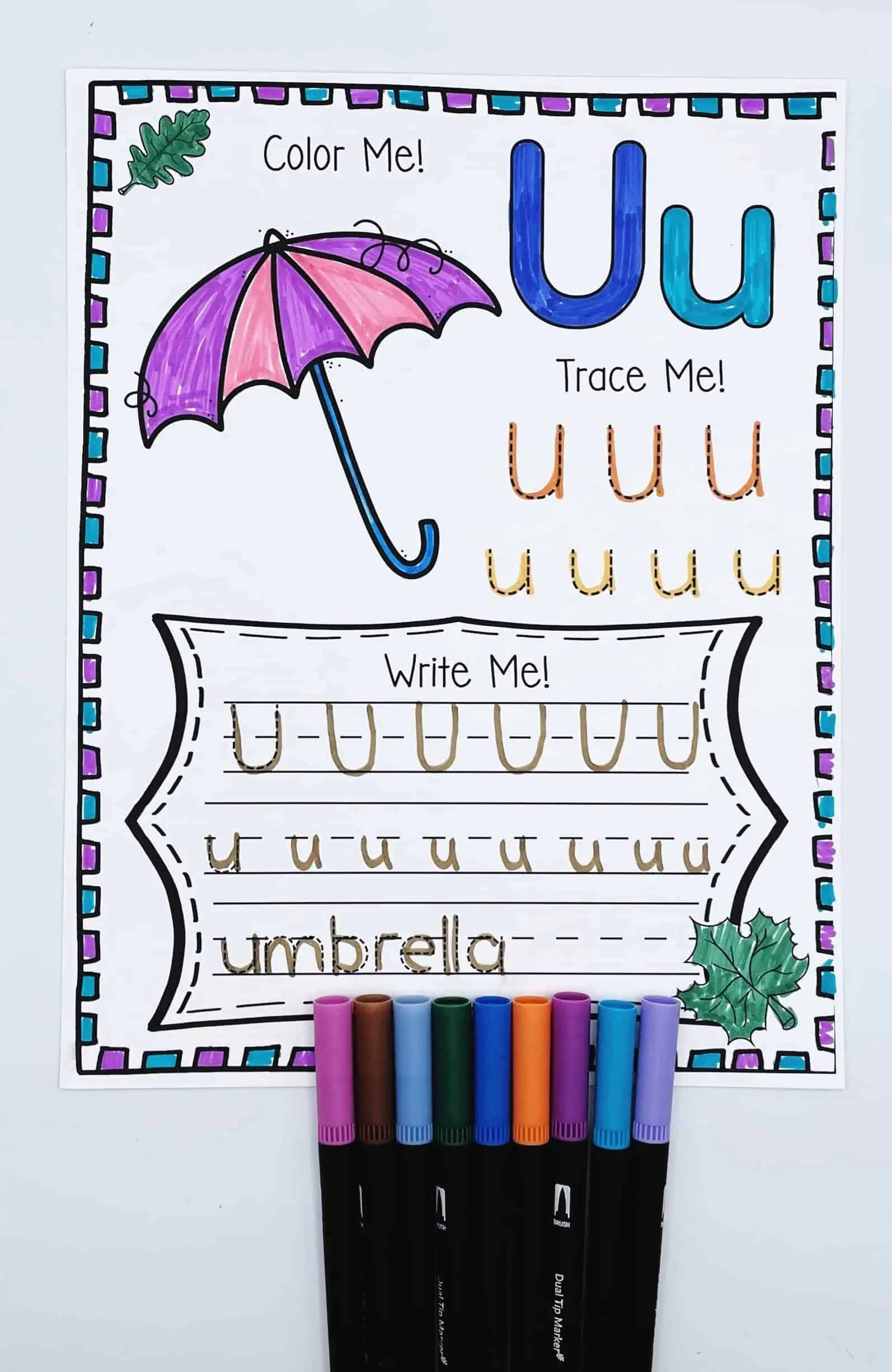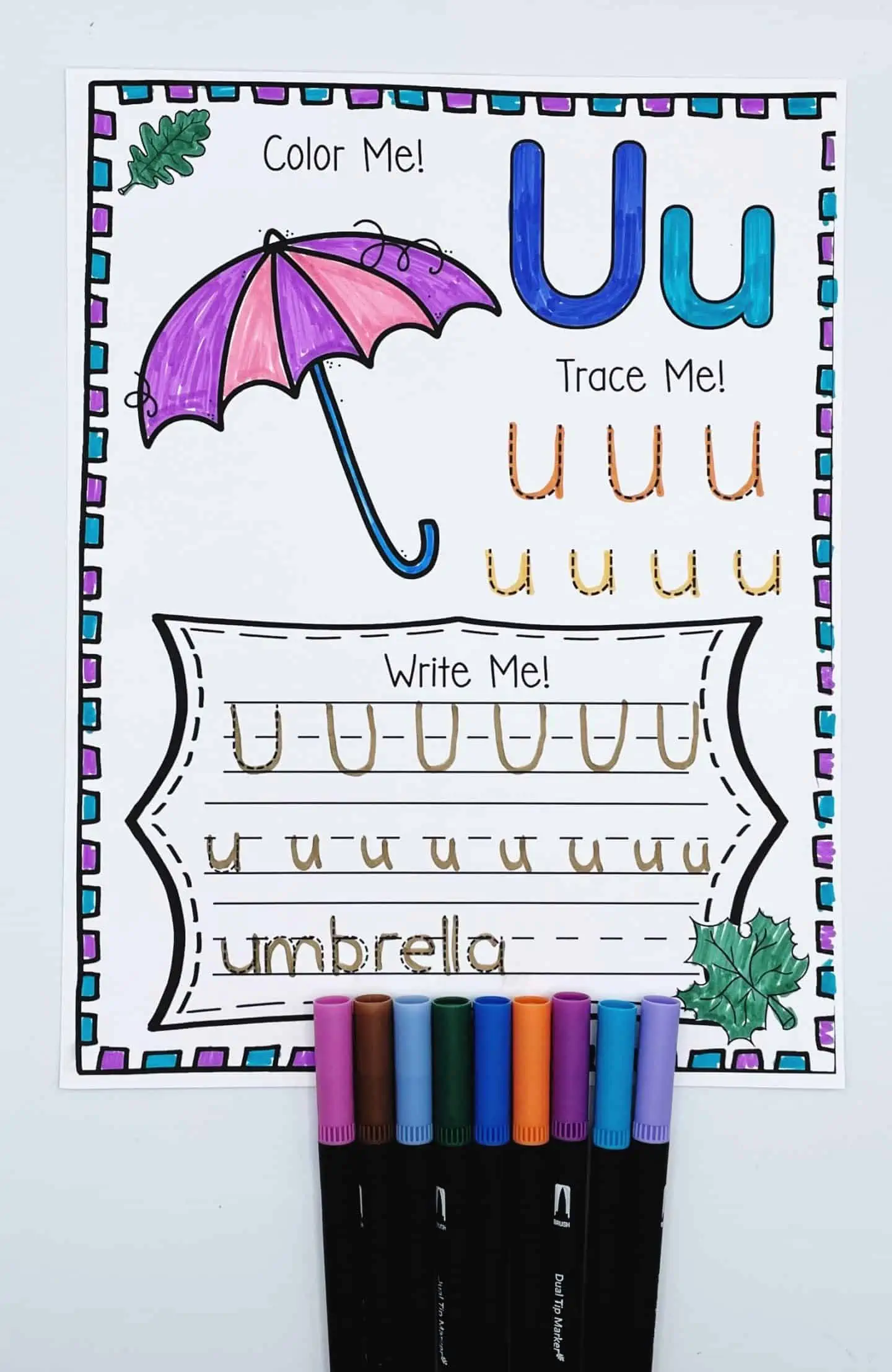 Fall Alphabet Words
A is for acorn (a is also for apple, check out our free a is for apple handprint)
B is for baseball
C is for corn
D is for decoration
E is for eggplant
F is for fall
G is for gourd
H is for hay
I is for inside
J is for jam
K is for kite
L is for leaf
M is for maize
N is for nuts
O is for orchard
P is for pumpkin
Q is for quilt
R is for raincoat
S is for scarecrow
T is for turkey
U is for umbrella
V is for vote
W is for wind
X is for equinox
Y is for yam
Z is for zinnia
Other alphabet learning worksheets
Continue learning the alphabet with these free printables: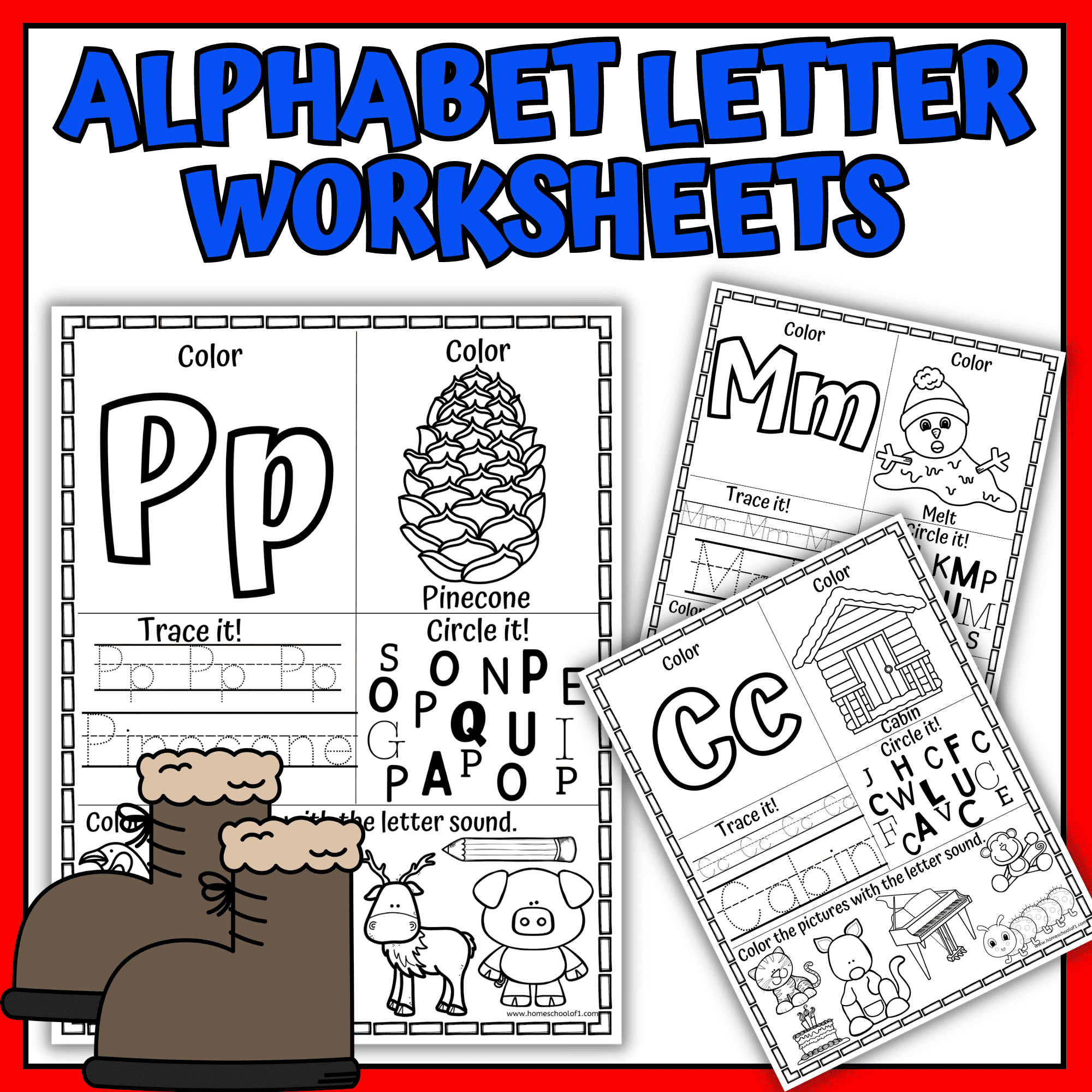 Winter alphabet worksheets
Alphabet coloring pages & handprint bundle
Pirate alphabet worksheets
Other fall activities for kindergarten
Enhance the holiday season for kindergarteners with these engaging and free activities:
Enjoy festive entertainment with a free fall bingo printable, adding a dash of excitement to gatherings.
Unleash creativity with fall coloring pages, allowing kids to bring autumnal scenes to life with their artistic touch.
Embark on an outdoor adventure with a fall scavenger hunt, fostering exploration and observation skills.
Explore the intricate details of leaf coloring pages that highlight their unique beauty.
Add a personalized touch to reading materials with fall bookmarks to color, infusing joy into reading sessions.
Engage young minds with Halloween spot the difference challenges, promoting visual discrimination.
Promote mathematical skills with Halloween counting worksheets, combining fun with valuable math practice.
With these diverse activities, you're sure to create a memorable and enriching holiday experience for kindergarteners.
Download the free fall alphabet kindergarten worksheets
Make sure you choose the correct paper size and click on the shrink to fit button. All of our free printables for kids work better when printed on cardstock (this is the one we use and love.)
Put away the core curriculum and have fun with these Thanksgiving homeschool activities.
Last Updated on 27 August 2023 by homeschoolof1