Fall Scattergories Free Printable Boards
Are you in search of the perfect activity to bring joy and entertainment during this holiday season? Look no further, because our fall scattergories game boards have got you covered!
As the leaves change their hues and the air turns crisp, it's the ideal time to gather family and friends for a playful challenge. Our fall scattergories printables offer not one, but four exciting game boards that will keep everyone engaged and smiling.
Picture this: laughter fills the air as loved ones huddle together, racing against time to brainstorm creative words that fit the given categories. It's a wonderful opportunity for bonding, creating lasting memories, and celebrating the joy of the season.
But that's not all, these holiday scattergories have a sneaky surprise in store! While the kids have a blast, their minds will be exercising and expanding as they think on their feet. Coming up with clever solutions and unique perspectives.
So, step away from the holiday hustle, and embrace the spirit of togetherness with our autumn scattergories. Whether it's a festive family gathering or a fun-filled friends' night, these game boards are sure to add that extra sparkle to your holiday celebrations.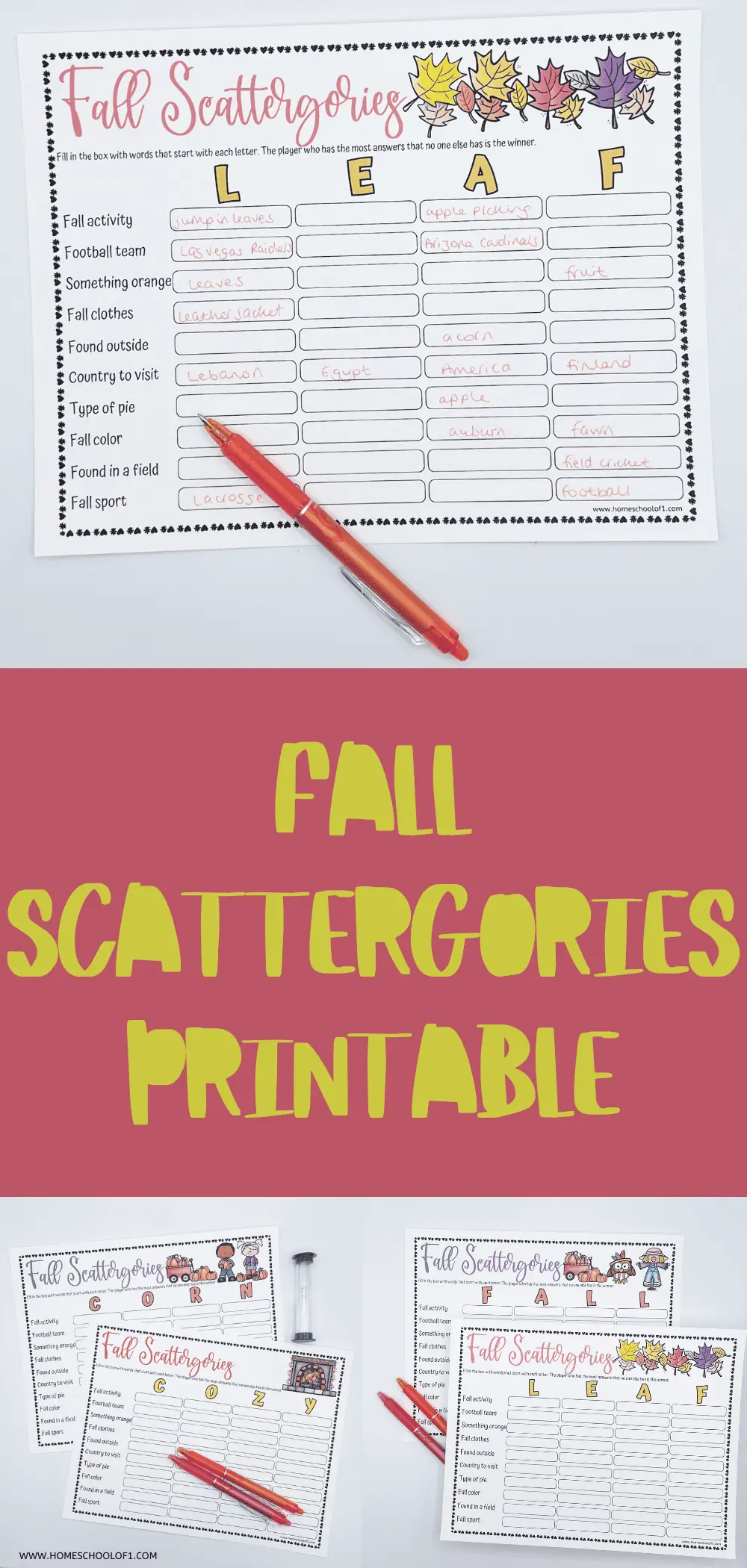 **There may be affiliate links in this post. You can read my full disclosure at the bottom of the page.**
What is the game scattergories?
Scattergories is a super fun and fast-paced word game that will test your creativity and quick thinking.
The game revolves around a series of intriguing categories such as "football team," "country to visit," or "fall clothes." Your mission? Come up with words that begin with a specific letter and fit each category, all within a limited time frame.
But here's the twist: you can't repeat answers! The more unique your words, the higher your score. Get ready to put on your thinking cap and unleash your vocabulary prowess as the timer keeps you on your toes!
Suitable for all ages, Scattergories is the perfect way to create lasting memories and enjoy quality time with your friends and family. Whether you're planning a game night, hosting a lively party, or simply seeking to add some excitement to any gathering, Scattergories promises endless laughter and friendly competition for everyone involved.
Upwords, The Game of Quick Stacking & Word Hacking with Stackable Letter Tiles | Word Games | Board Games for Kids 8-12 | Family Games for Ages 8+
BLANK SLATE™ – The Game Where Great Minds Think Alike | Fun Family Friendly Word Association Party Game, 3 to 8 players
Wordle The Party Game for 2-4 Players, Official Wordle Board Game Inspired by New York Times, Games for Ages 14+, Word Games
USAOPOLY TAPPLE® Word Game | Fast-Paced Family Board Game | Choose a Category & Race Against The Timer to be The Last Player | Learning Game Great for All Ages
Hasbro Gaming Boggle Classic Game
Quiddler — Card Game — Make Short Words With Cards to Win — For Family Game Nights — Ages 8+
Have fun with Scattergories this fall
You don't need the original Scattergories game to have fun with this word game.
We've got you covered with four fantastic free fall scattergories printables that will keep the fun flowing all season long.
To access the download link, simply look below. In case you don't receive the email within 5 minutes, don't forget to check your junk folder, it might be hiding in there!
Remember, these printables are exclusively for personal or classroom use, and they come at absolutely no cost to you. To get started, scroll down to the bottom of the page and access the pdf file.
Once you have your printables ready, make sure to print them on four full pages. Take a quick look at your printer settings for the best results. While regular printer paper works just fine for easy writing, if you're aiming for a professional touch, consider using cardstock.
Now, gather your favorite pens, get those creative juices flowing, and fill out the boards with gusto! Get ready to have a blast with fall scattergories, the ultimate seasonal entertainment!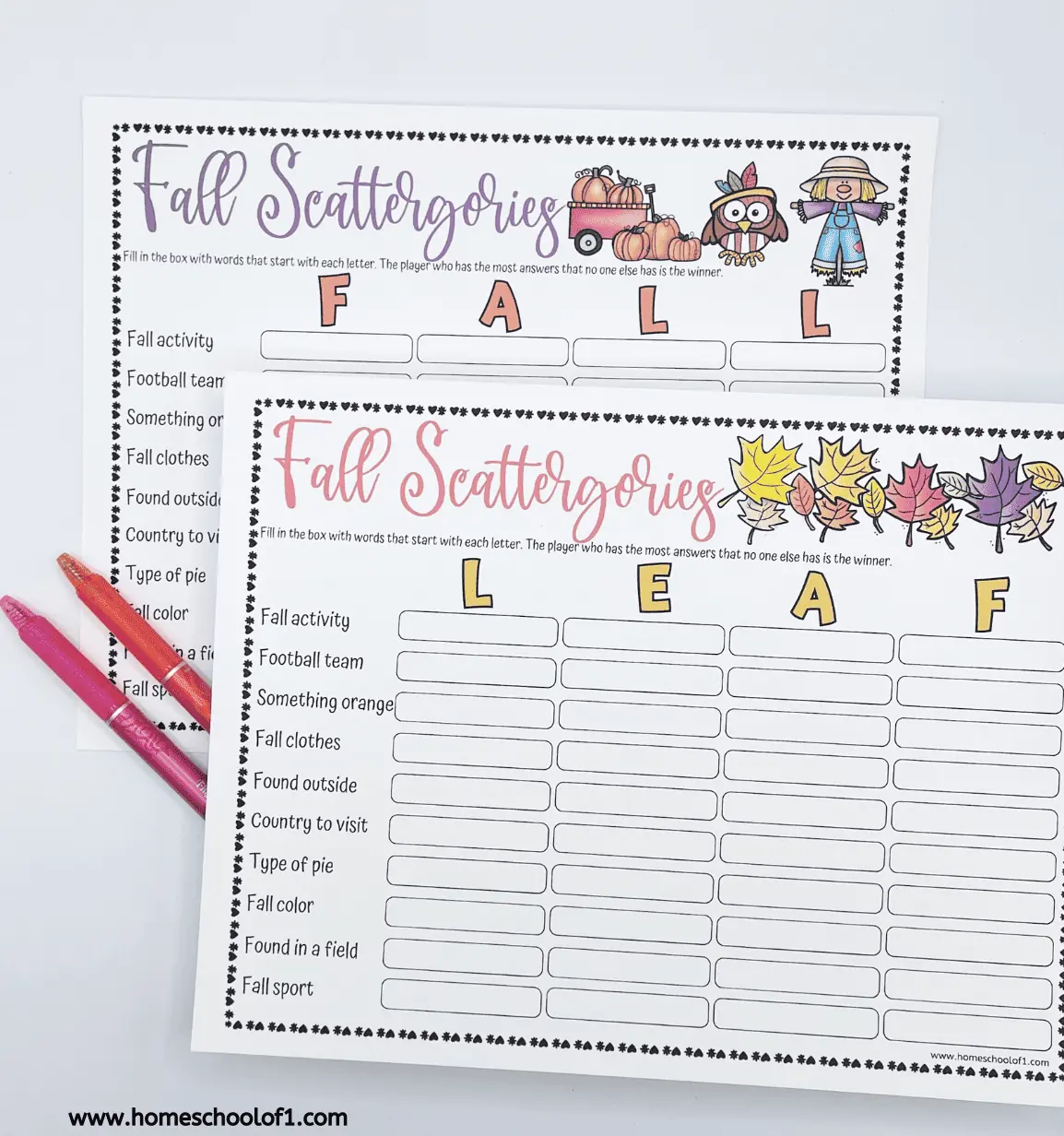 Included in the download are the four fall scattergory boards with the following letters at the top:
All of the boards have the same categories:
Fall activity
Football team
Something orange
Fall clothes
Found outside
Country to visit
Type of pie
Fall color
Found in a field
Fall sport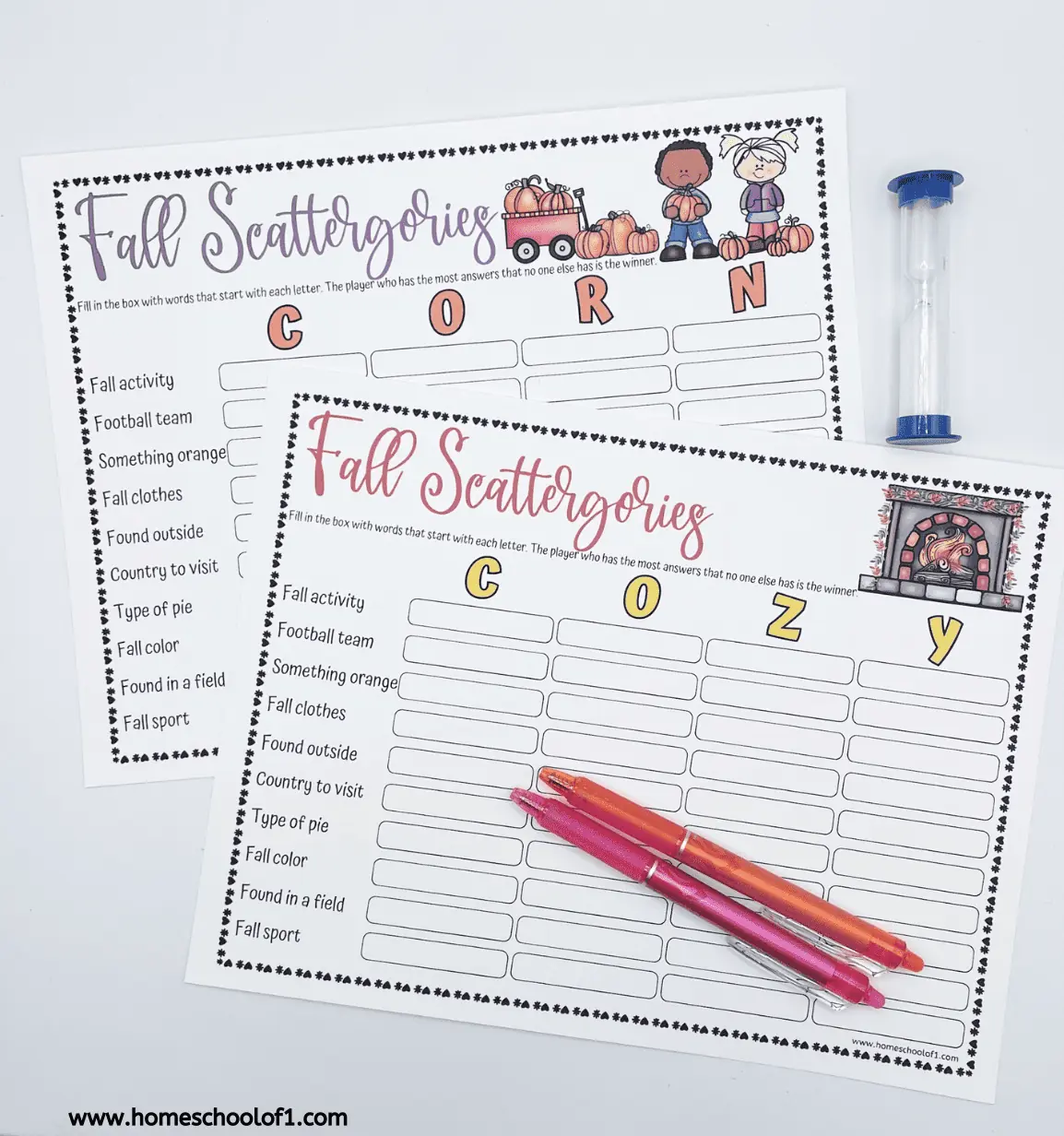 Beginner's Guide: How to Master the Word Game Scattergories!
If you're new to the exciting world of Scattergories, here's a quick rundown of how to play this exhilarating game. The objective is simple: complete a category list by providing answers that all start with the same letter. And to spice things up, you'll earn bonus points for having unique answers that no one else at the table comes up with.
The ultimate goal? Score as many points as possible to claim victory and be crowned the Scattergories champion!
In the official game, a 20-sided die with various letters determines the starting letter for each category list answer. But fear not, even without the official set, we've got you covered! Included in this guide are four printable boards for you and your family to enjoy. Simply print one for each family member, and let the wordplay adventure begin!
No need to worry about the 20-sided die either, as we've thought ahead. Each board comes with a designated letter at the top, making it easy to kick off your creative brainstorming sessions.
So, gather your family, friends, or anyone eager for wordplay fun, and dive into the exciting world of Scattergories. With these simple guidelines and printable boards, you're all set for a memorable and enjoyable game night! Let the laughter and friendly competition take center stage. Happy playing!
Guide to Playing Scattergories with Younger Players
Hey there, ready to dive into Scattergories fun with the younger ones? Don't worry, we've got some tips to keep it lighthearted and full of giggles!
First things first, forget about rushing! Time is relative, and with these little champs, we're ditching the timer. Who needs stress when we can have relaxed and joyful playtime, right?
Next up, let's team up! Pair those young wordsmiths with older siblings or even cool parents. It's like forming a super squad of word wizards, they'll have a blast working together!
Now, we all know letters can be tricky, especially for our tiny thinkers. No worries, though! If they're stuck on finding words that start with the letter, let them be detectives and hunt down words with that sneaky letter hidden inside. It's like a word treasure hunt!
More autumn activities
For even more free fall printable activities you will love these:
Engage in a fun-filled game with free fall bingo printable.
Embark on an outdoor adventure with a delightful fall scavenger hunt.
Unleash creativity with intricate fall coloring pages, capturing the essence of the season's colors.
Elevate learning with fall alphabet worksheets infused with the spirit of autumn.
Celebrate the changing leaves with artistic leaf coloring pages.
Add a personalized touch to reading with charming fall bookmarks to color.
Engage in these delightful activities and make the most of the autumn season's charm and creativity.
Tips for downloading the free files
Below is a blue cloud with an arrow pointing downward. Underneath that is a large sign-up box where you need to add your name and email address, and press I NEED THIS NOW!
Within minutes you will be sent the free PDF directly to your email address, so you can print it out and start using it immediately.
Sometimes emails get a little wonky, so if you can't see it, please check your spam folder where I am sure it is hiding.
Download the free printable fall scattergories boards
Feel free to print out as many as you wish, just make sure you have lots of fun.
Make sure you choose the correct paper size and click on the shrink to fit button. All of our free printables for kids work better when printed on cardstock (this is the one we use and love.)
Additional Fall Games
Roll and color fall dice game from Darcy & Brian
Outdoor family games for the fall from Homeschool Preschool
Last Updated on 2 October 2023 by homeschoolof1