71 Free Color by Number Printable Worksheets
Are you on the lookout for engaging activities that are not only fun but also educational? These free color by number printable worksheets are what you need!
Unleash creativity and fun with these fun free kids coloring pages.
We've got all sorts of cool stuff for your kiddos to color!
We've got cute animals, plus some awesome themed sheets for Pi Day, Thanksgiving, and Christmas.
Each worksheet encourages color recognition, hand-eye coordination, and concentration. All while having a blast!
The best part?
These worksheets are absolutely free!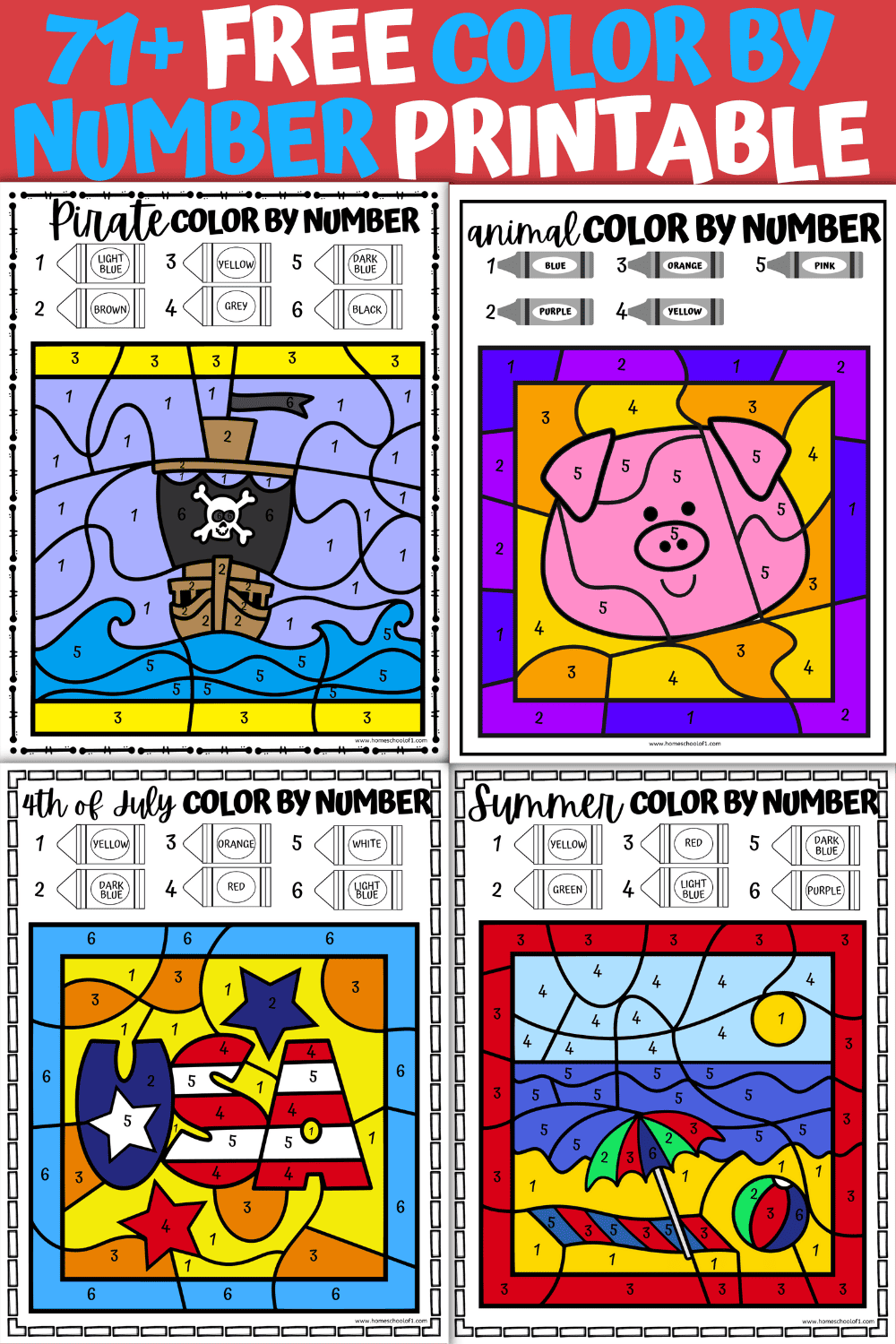 **There may be affiliate links in this post. You can read my full disclosure at the bottom of the page.**
What are the benefits of using color by number printables?
Using color-by-number printables offers several benefits for children. Here are some of the advantages of incorporating these fun and engaging activities into your routine:
Color-by-number printables help kids develop skills like color recognition and counting.
They improve hand-eye coordination and fine motor skills.
These activities teach kids to concentrate and pay attention to detail.
Kids get to express their creativity by choosing different colors and adding personal touches.
Coloring in general is relaxing and can reduce stress and anxiety.
Color-by-number printables make learning fun by reinforcing educational concepts.
They can be used for bonding time between parents and kids or as interactive classroom activities.
Crayola colored pencils, Pack of 2, Multi
Crayola Silly Scents Twistables Crayons, 12 Count, Coloring Supplies, Gift for Kids
Neenah White Index Cardstock, 300 Sheets, 110 lb/199 gsm, 94 Brightness, 8.5
Dual Markers Brush Pens, 36 Fine Point Art Marker, Double Tip Colored Pen for Adult Coloring Hand Lettering Writing Planner
Shuttle Art Dot Markers, 20 Colors Washable Markers for Toddlers,Bingo Daubers Supplies Kids Preschool Children, Non Toxic Water-Based
Crayola Ultimate Crayon Box Collection (152ct), Bulk Kids Crayon Caddy, Classic & Glitter Crayons, Gifts, Ages 3+
How can color by number printables improve fine motor skills?
Color by number printables can play a significant role in improving fine motor skills among preschoolers and kindergartners. Here's how they can specifically benefit children in this age group:
Color by number worksheets encourages children to hold and manipulate coloring tools, such as crayons or markers. This helps them refine their pencil grasp, transitioning from a fist grip to a more mature tripod grip, which is essential for future writing and drawing tasks.
Coloring within the designated areas requires children to exert controlled pressure on the coloring tools. This helps develop hand strength and control, allowing them to achieve more precise and controlled movements.
Matching the numbers with the corresponding colors promotes hand-eye coordination. Children learn to visually track the numbers and accurately apply the corresponding colors, improving the connection between their visual perception and hand movements.
Engaging in coloring activities allows children to practice and refine their fine motor skills. The repetitive motions involved in coloring help develop the small muscles in their hands and fingers, enhancing their control and dexterity.
Color by number activities encourage children to color within specific boundaries, shapes, or areas. This promotes spatial awareness as they learn to recognize and differentiate between different sections, enhancing their understanding of shapes, sizes, and spatial relationships.
Completing a color by number printable requires concentration and sustained attention. Engaging in these activities helps children develop focus and attention skills, which are essential for learning and other classroom activities.
The fine motor skills developed through color by number printables provide a solid foundation for handwriting readiness. The activities help children strengthen the muscles necessary for holding a pencil and controlling their movements, setting them up for success in future writing tasks.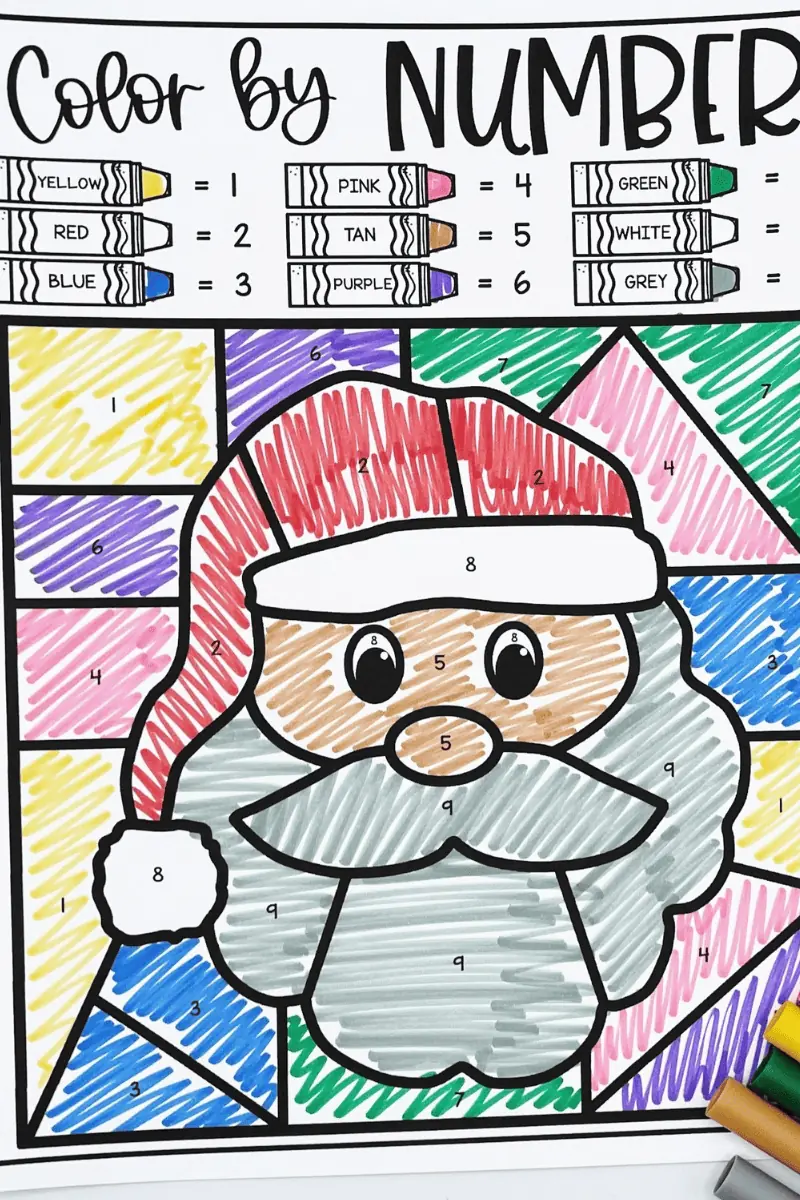 Free color by number coloring pages
Download the free coloring pages aimed at preschoolers and kindergartners by clicking on the set you want.
Scroll to the bottom of that page and download them for free. Or save time and download them all now for a small fee.
Other Preschool Worksheets
If you are looking for even more fun worksheets you are going to love:
Last Updated on 30 June 2023 by homeschoolof1