7 New Years Color by Number Free Printables
When it comes to New Year's Eve activities for kids, the quest for holiday fun never ends. To add a creative twist to your celebrations, we've got a fantastic suggestion: indulge in free New Year's color by number printables that are sure to delight.
We've curated a collection of 7 distinct New Year's Eve color by number pages.
These engaging printables offer an excellent opportunity for kids to express their artistic side while experiencing the joy of anticipation for the upcoming year.
As they bring to life images related to New Year's festivities using a color code, you'll find that these activities have the wonderful ability to captivate their attention for hours on end.
Print out these delightful color by number pages and watch as the kids dive into a world of imagination, color, and excitement.
This is the perfect way to infuse your New Year's Eve celebration with creativity and joy.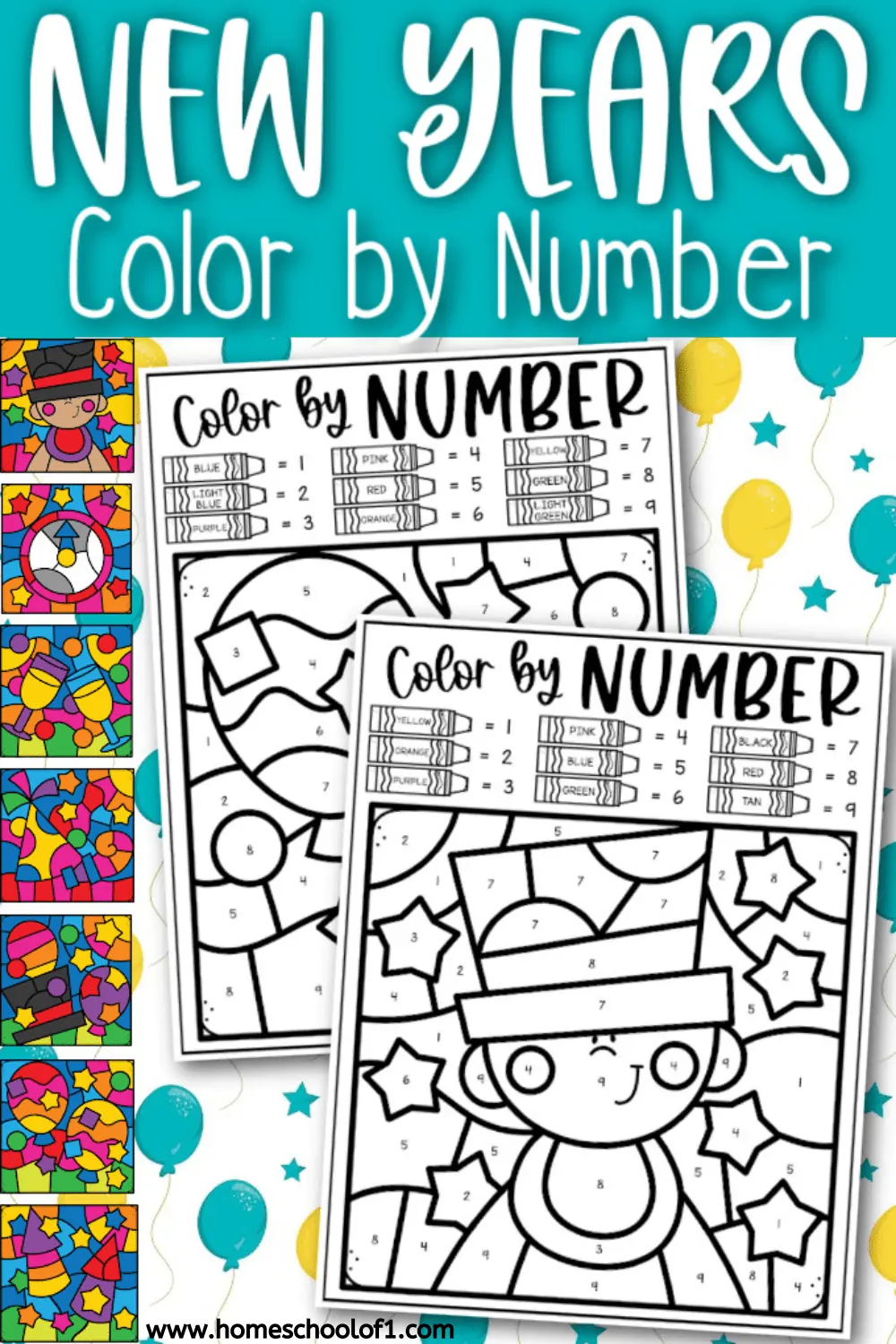 **There may be affiliate links in this post. You can read my full disclosure at the bottom of the page.**
What are the benefits of using color by number worksheets?
We love color by number printable worksheets in our home as it instantly calms the whole house down! When the kids are super hyper, especially around the holidays. Coloring is a great way for them to refocus and relax.
Color by number printables can be a great way for moms or teachers to engage their kids in a fun and educational activity.
Some benefits of using color-by-number printables include:
Color-by-number printables require children to pay attention to the numbers and colors on the page, which can help develop their hand-eye coordination.
They require kids to focus on the task at hand, which can help improve their concentration and attention span.
Although color-by-number printables provide a specific outline to follow, kids can still use their creativity to choose colors and add their own personal touches.
They can help kids learn numbers and colors, as well as improve their counting skills.
Coloring can be a calming activity for both children and adults, and can help reduce stress and anxiety.
Coloring requires the use of small muscles in the hands, fingers, and wrists, which helps to develop and strengthen these muscles. This can have a positive impact on a child's ability to write, draw, and perform other fine motor skills.
Crayola colored pencils, Pack of 2, Multi
Crayola Silly Scents Twistables Crayons, 12 Count, Coloring Supplies, Gift for Kids
Neenah White Index Cardstock, 300 Sheets, 110 lb/199 gsm, 94 Brightness, 8.5
Dual Markers Brush Pens, 36 Fine Point Art Marker, Double Tip Colored Pen for Adult Coloring Hand Lettering Writing Planner
Shuttle Art Dot Markers, 20 Colors Washable Markers for Toddlers,Bingo Daubers Supplies Kids Preschool Children, Non Toxic Water-Based
Crayola Ultimate Crayon Box Collection (152ct), Bulk Kids Crayon Caddy, Classic & Glitter Crayons, Gifts, Ages 3+
New Years Eve Color By Number
There are 7 pages included in this free New Years color by number printable.
You will need 9 different coloring pens or crayons to complete this activity. I highly recommend these dual tipped pens that we use (there are 72 different color pens included and a carry case to keep them all together.)
Two of the images include balloons, stars, and hats.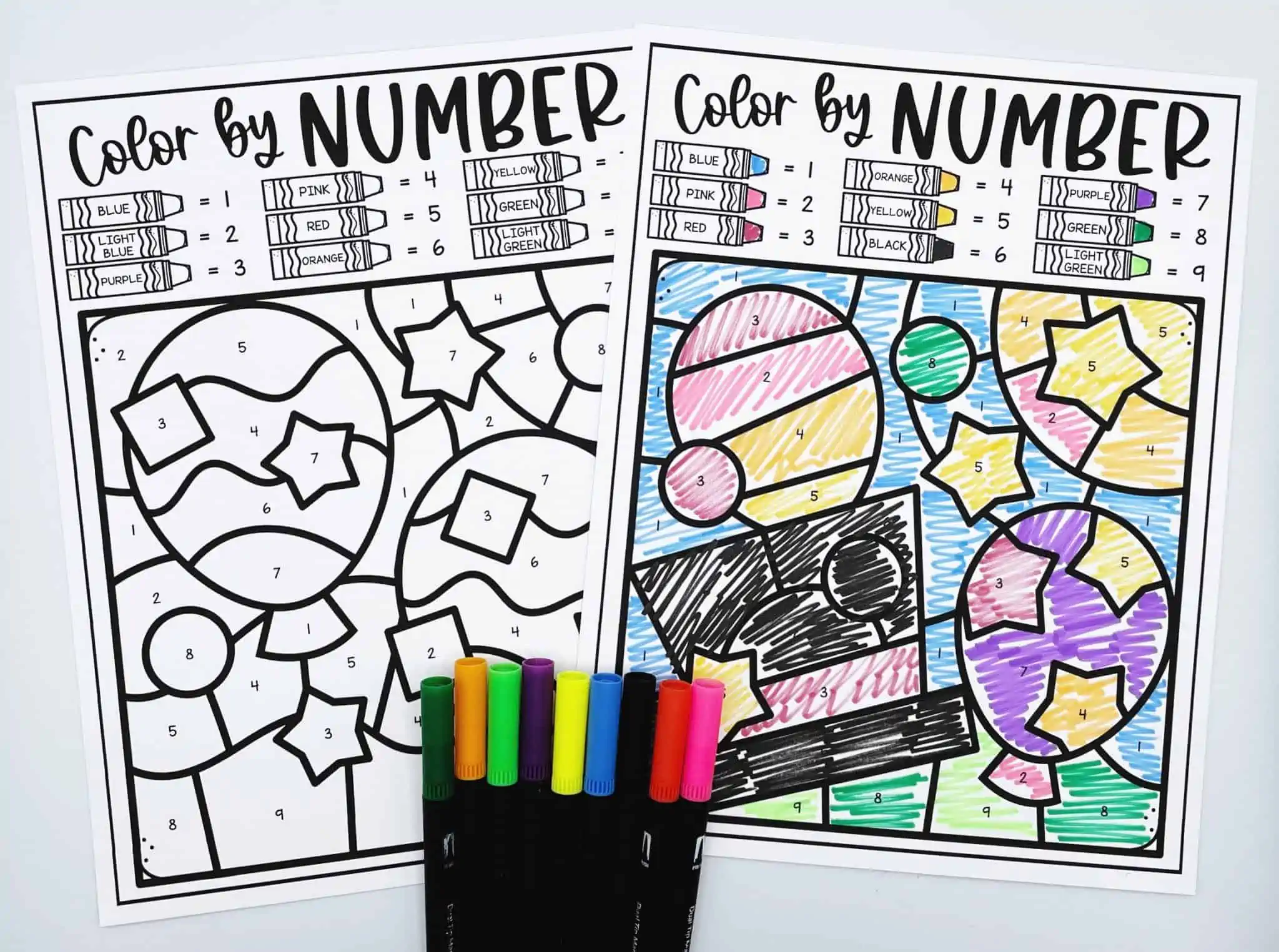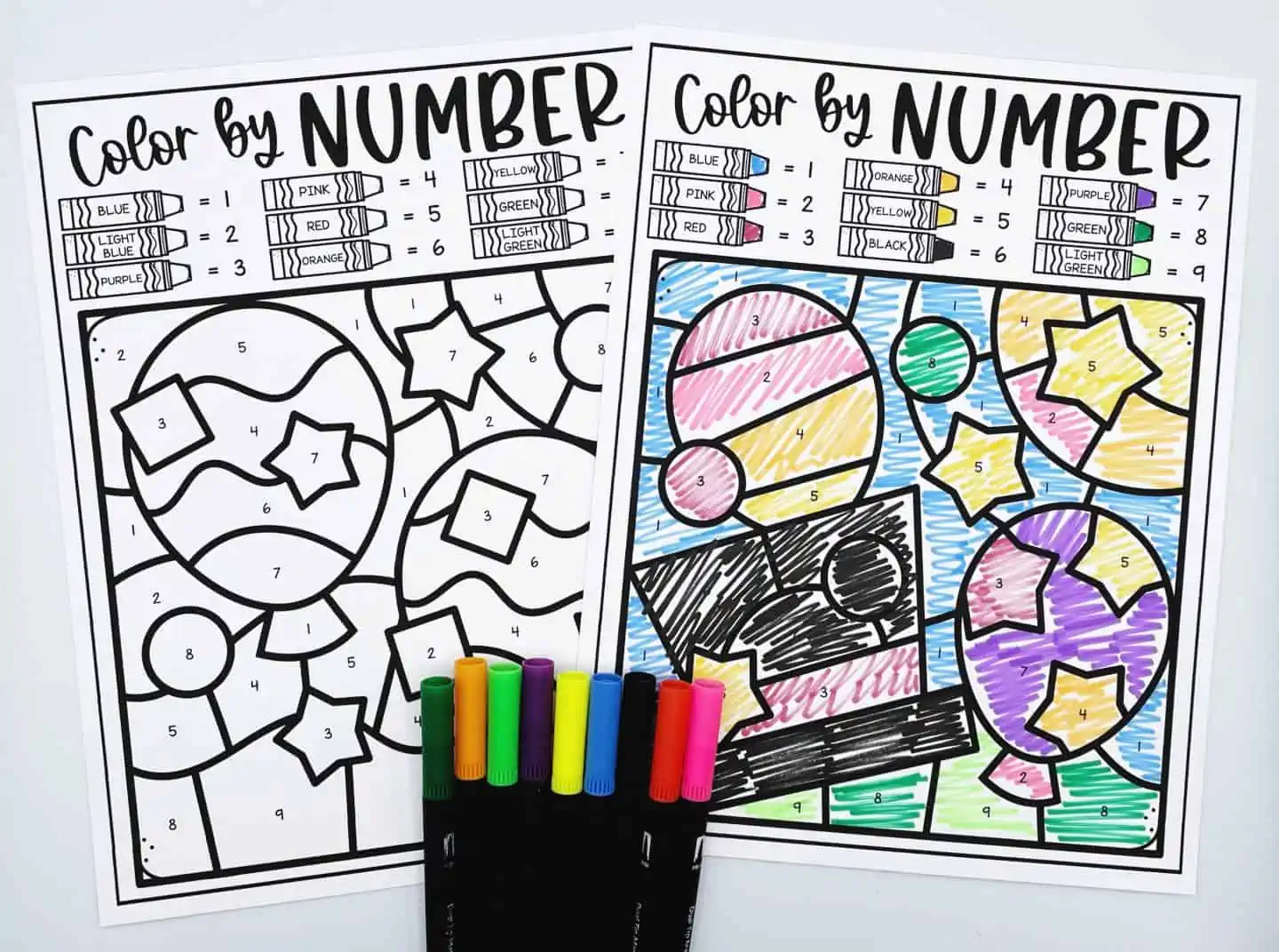 One image includes 2 glasses of champagne toasting.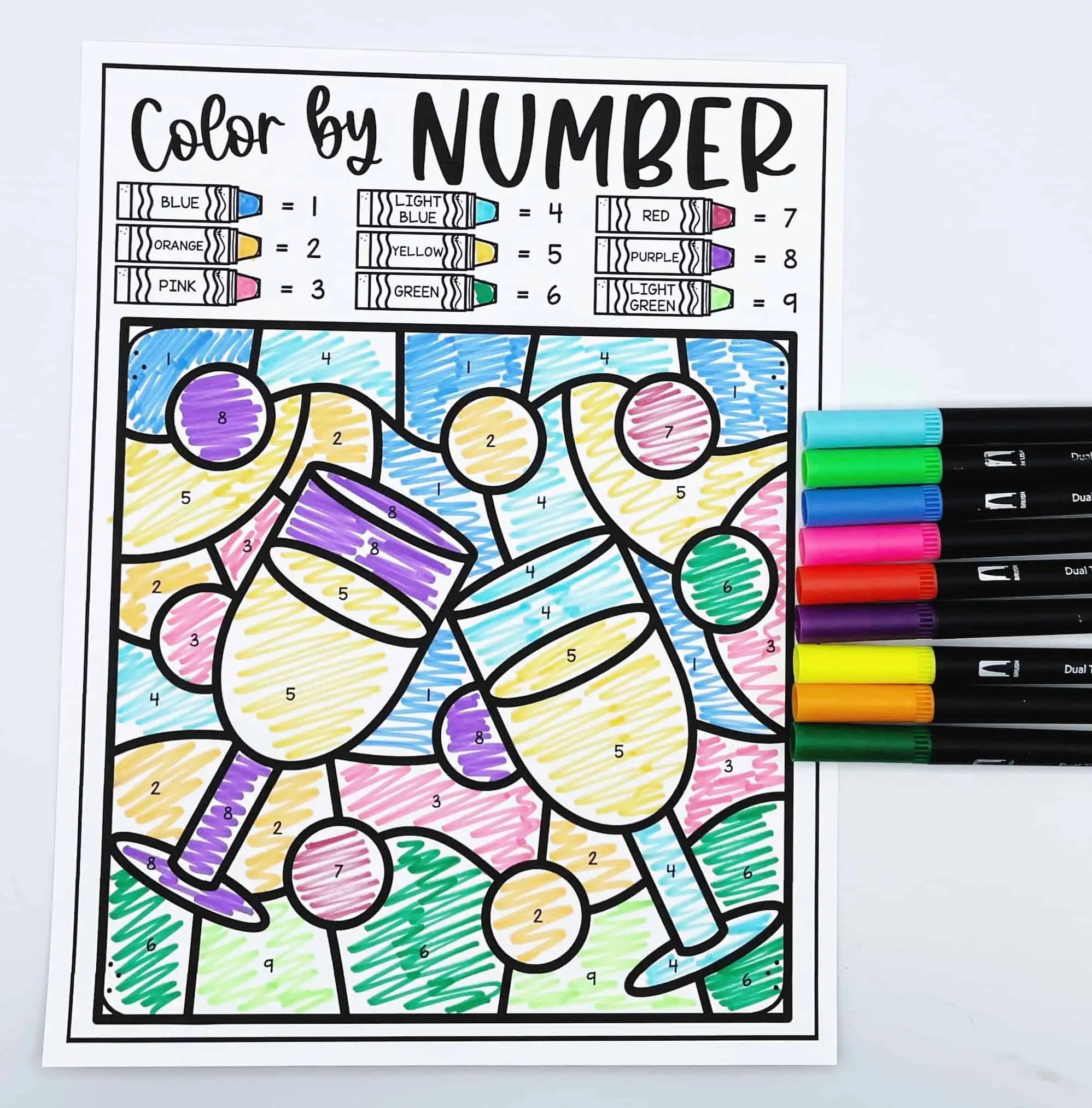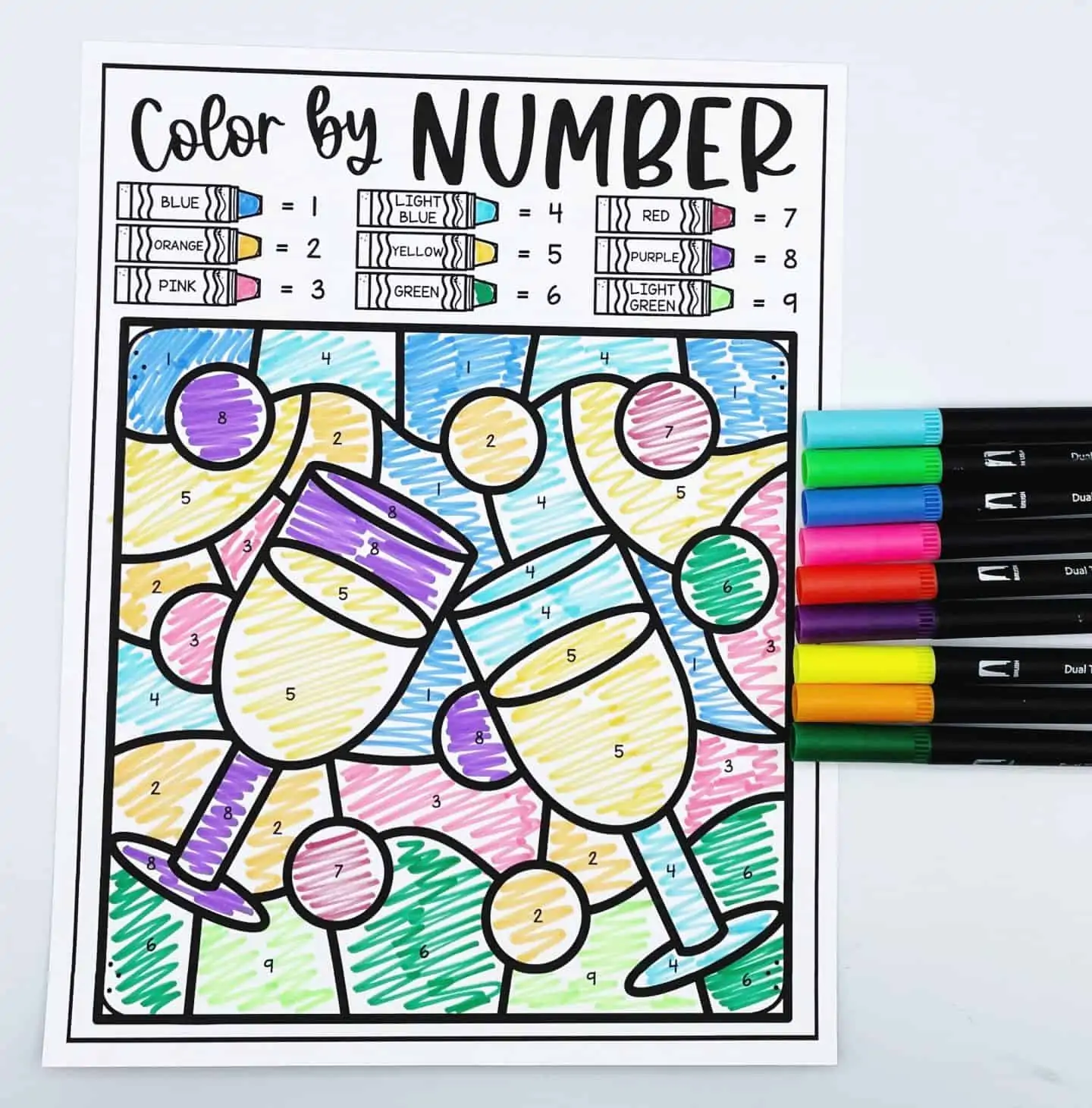 These two images include party poppers, rockets, and stars.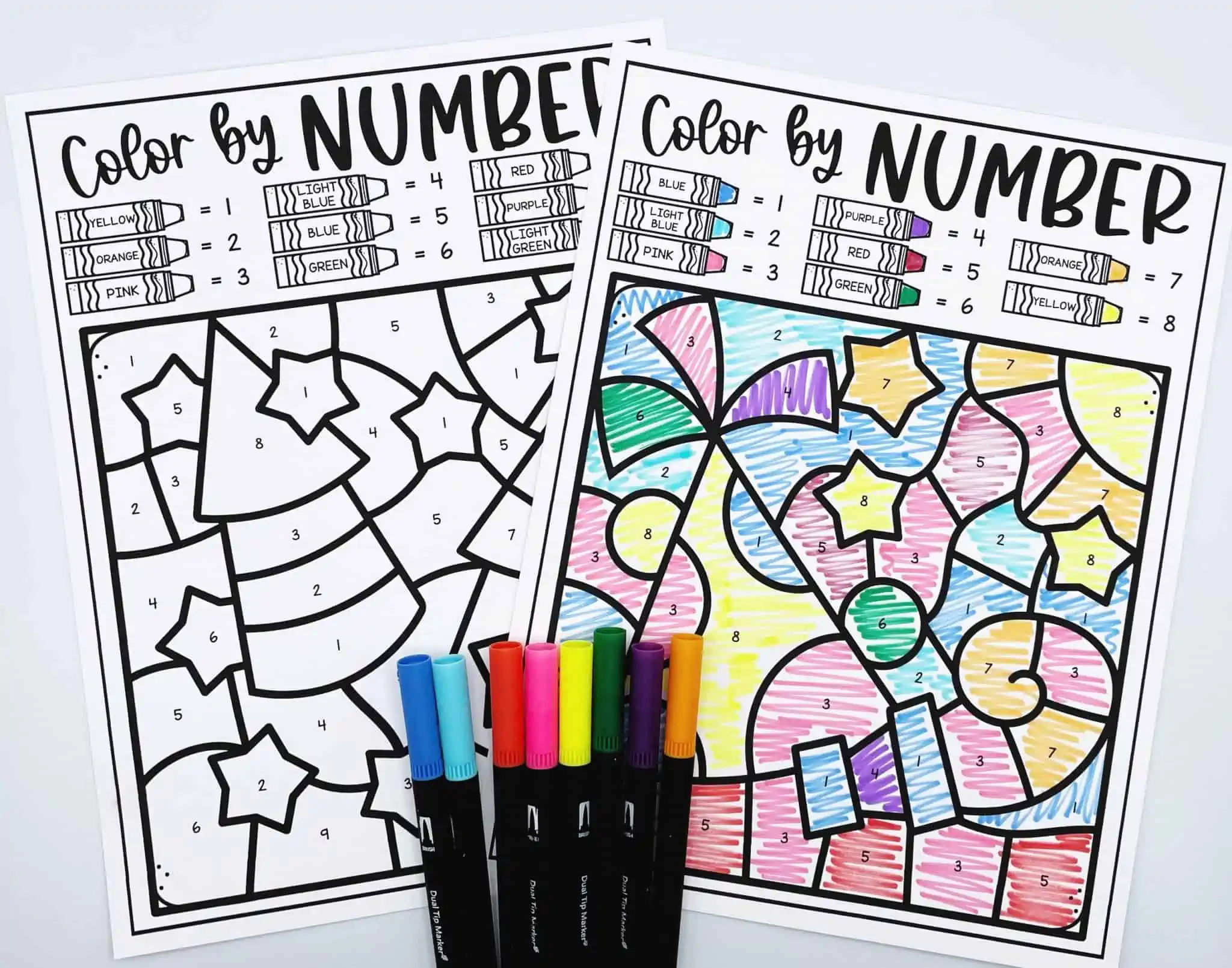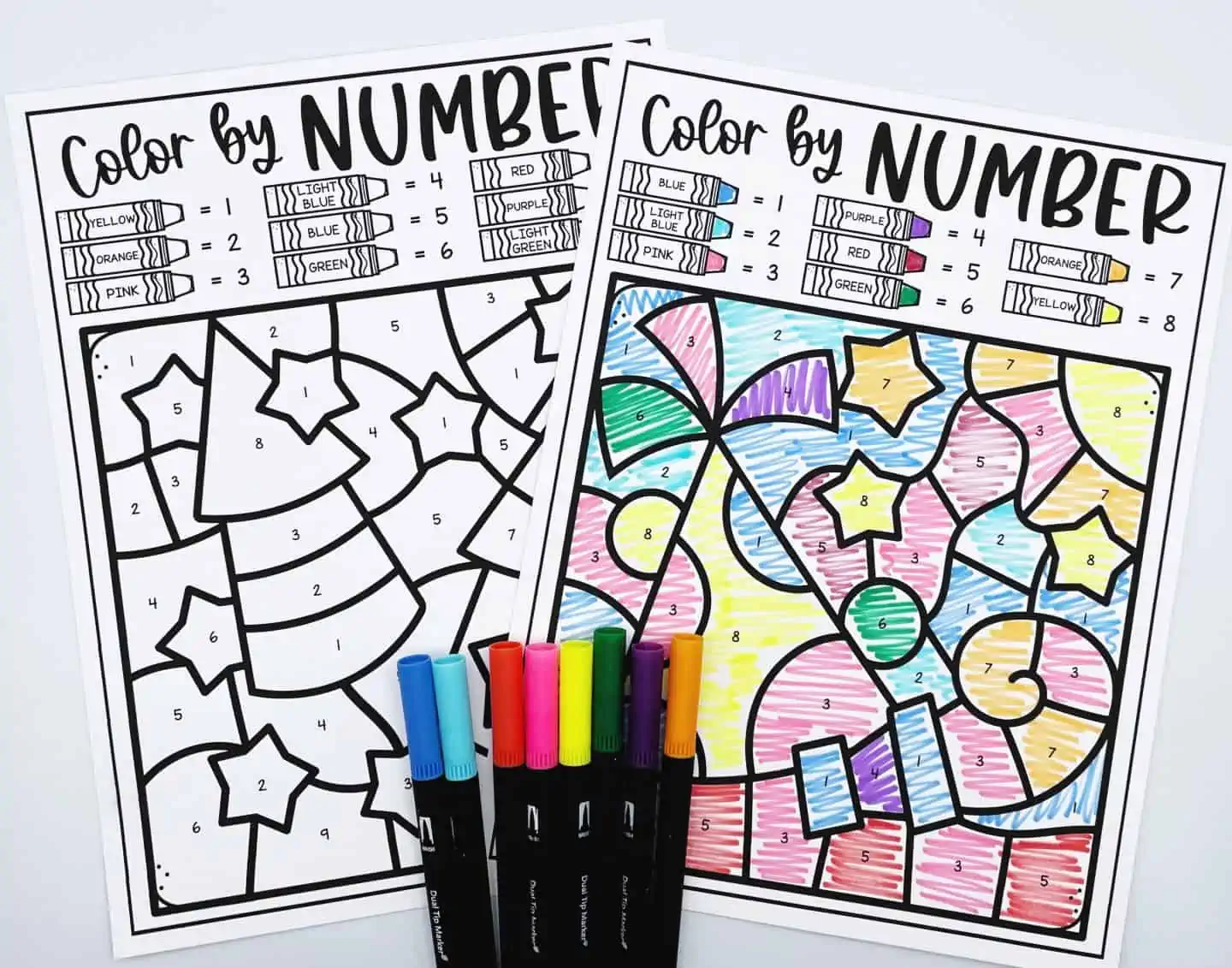 The last two pages include a clock pointing at midnight and someone celebrating the start of the New Year.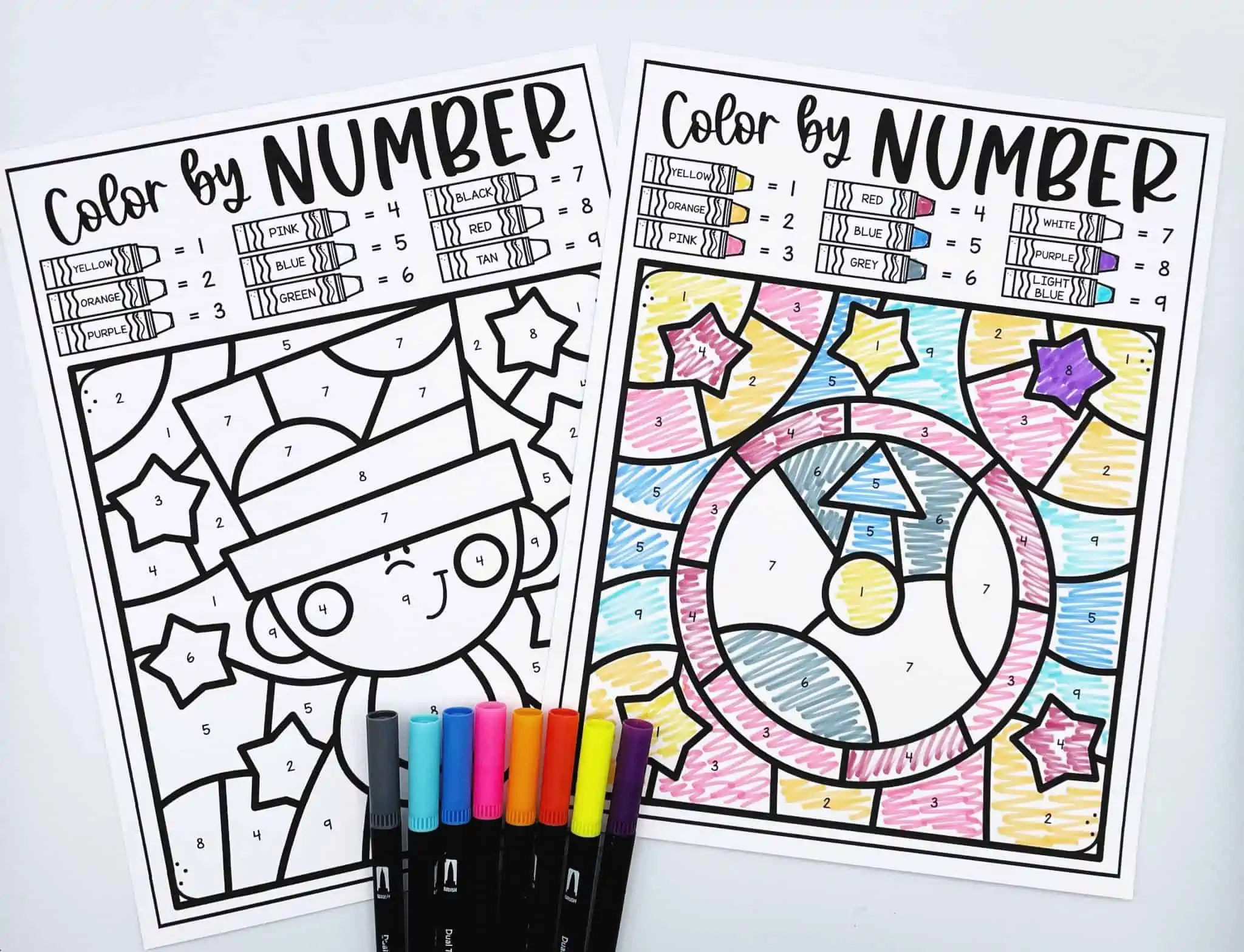 Other New Year's Eve ideas
Expand your New Year's Eve festivities with a variety of engaging ideas:
Add a lively twist to your celebration with a New Year's Eve bingo printable, perfect for family and friends to enjoy together.
Craft a memorable New Year's Eve with kid's-friendly ideas that ensure a delightful time for the little ones.
Embark on a thrilling New Year's Eve scavenger hunt, infusing your gathering with excitement and adventure.
Embrace personal growth with free New Year's resolution printables, guiding you to set meaningful goals for the upcoming year.
Challenge your word skills with a New Years word search, a fun and educational way to welcome the new year.
Engage in a spirited game of New Year's scattergories, testing your quick thinking and creativity with friends and family.
Explore cultural diversity with Chinese zodiac coloring pages, offering a creative insight into the ancient tradition.
With these diverse activities, your New Year's Eve celebration will be filled with laughter, learning, and memorable moments for everyone involved.
Download the Free New Years Color By Number Worksheets
Make sure you choose the correct paper size and click on the shrink to fit button. All of our free printables for kids work better when printed on cardstock (this is the one we use and love.)
Last Updated on 21 August 2023 by homeschoolof1