Juneteenth Coloring Pages – 6 Free Color By Number
Let's celebrate Juneteenth this year, with our free Juneteenth coloring pages.
Juneteenth is a celebration held on June 19th and commemorates the emancipation of enslaved people in the US.
Included are 6 free Juneteenth coloring pages that are a great way to talk to kids about this historic day.
We absolutely love creating free kids coloring pages, and we either use them as a supplement for a lesson we are studying or just to calm the mood! Coloring is a great way for them to refocus and relax.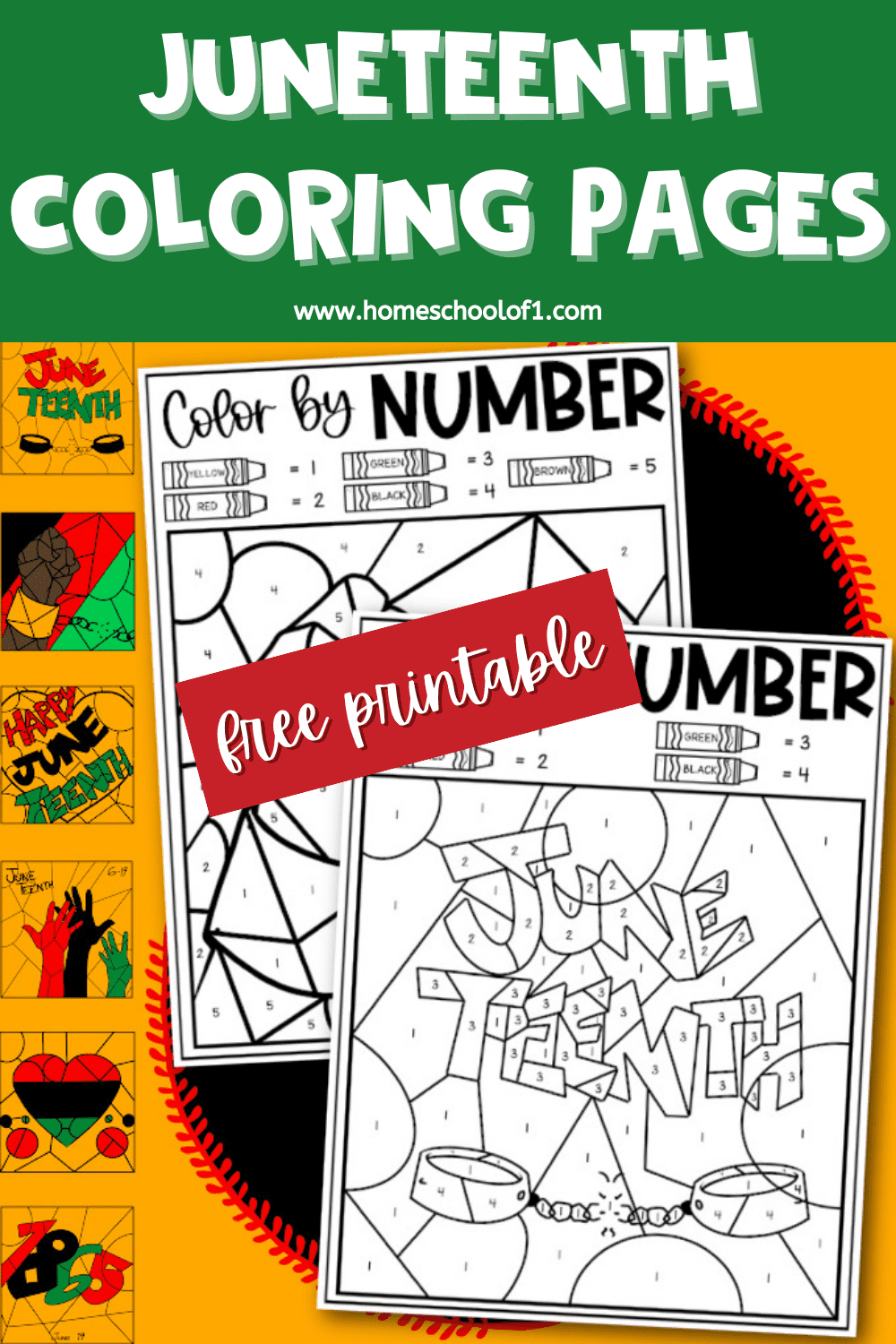 **There may be affiliate links in this post. If you make a purchase (after clicking one of my affiliate links) I'll earn some coffee money, which I promise to drink while supporting your journey. You do not pay a higher price. You can read my full disclosure at the bottom of the page.**
Juneteenth Color by Number
There are 6 pages included in these free Juneteenth coloring pages.
You will need 5 different coloring pens or crayons to complete this activity. I highly recommend these dual tipped pens that we use (there are 72 different color pens included and a carry case to keep them all together.)
Raise hands for Juneteenth color by number page.
Breaking chains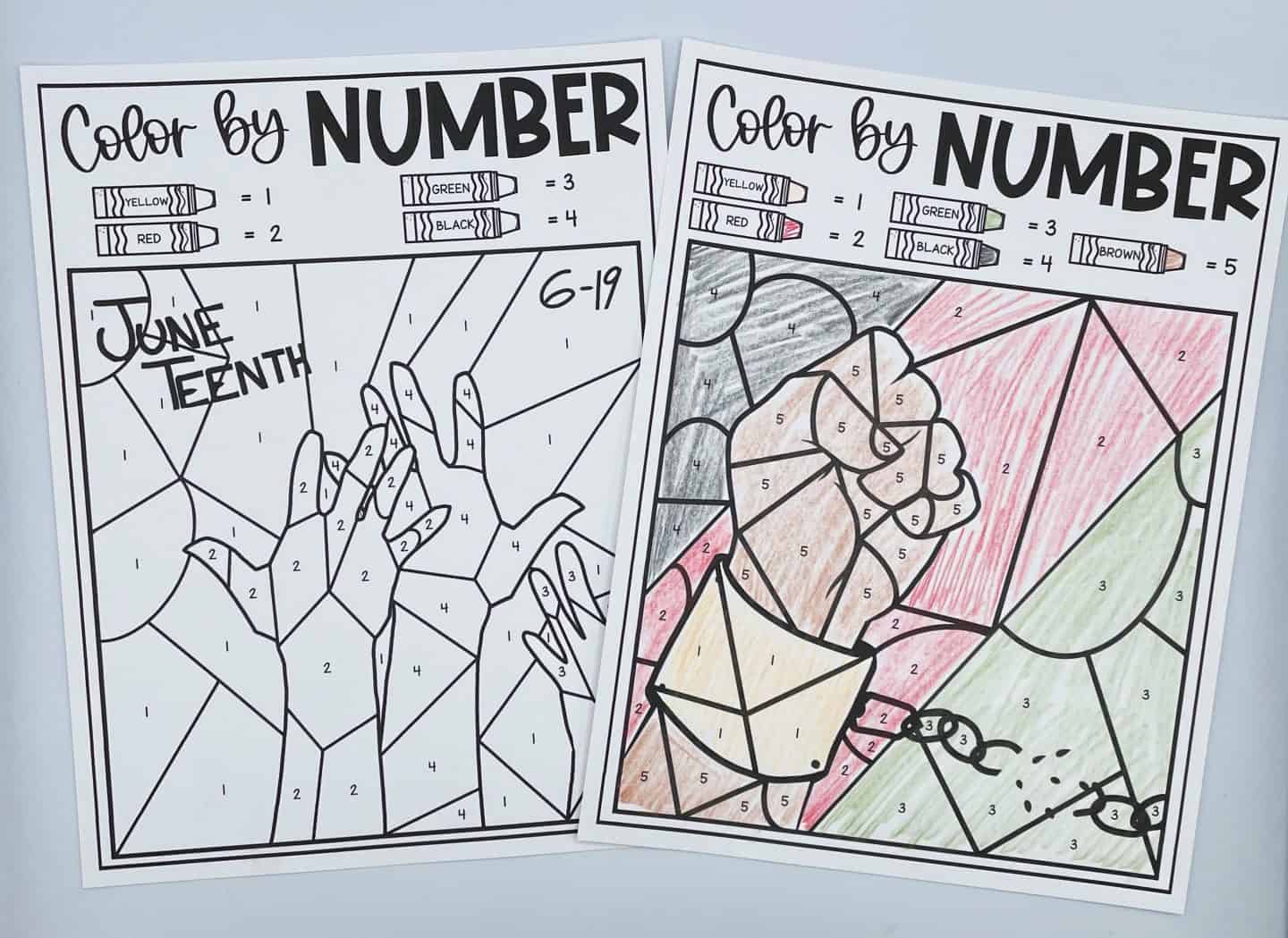 Juneteenth coloring page with broken chains.
1865 is the year that marks the anniversary of the announcement of General Order No. 3 by Union Army General Gordon Granger, proclaiming freedom for enslaved people in Texas.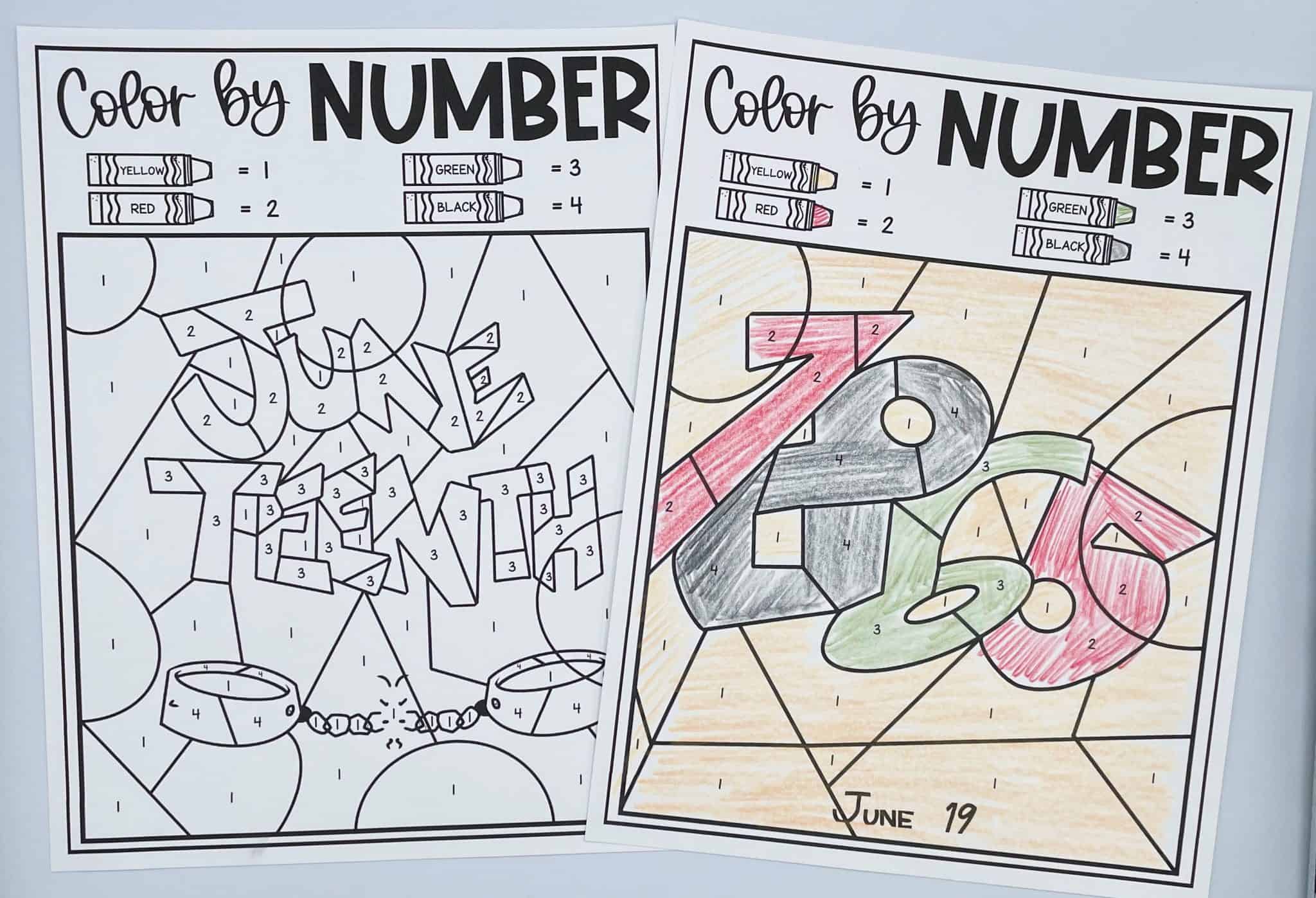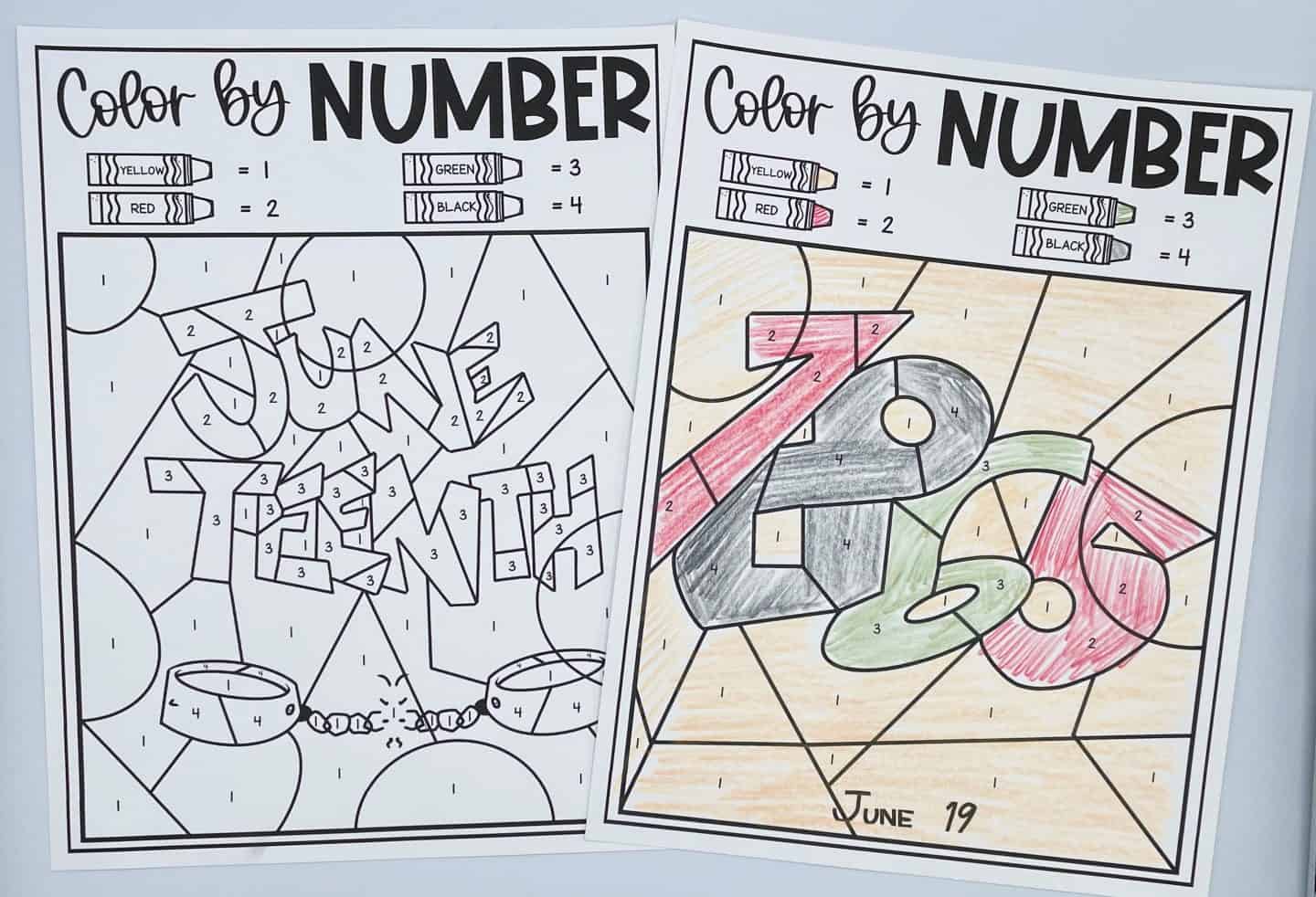 Heart to celebrate Juneteenth
Happy Juneteenth color by number page.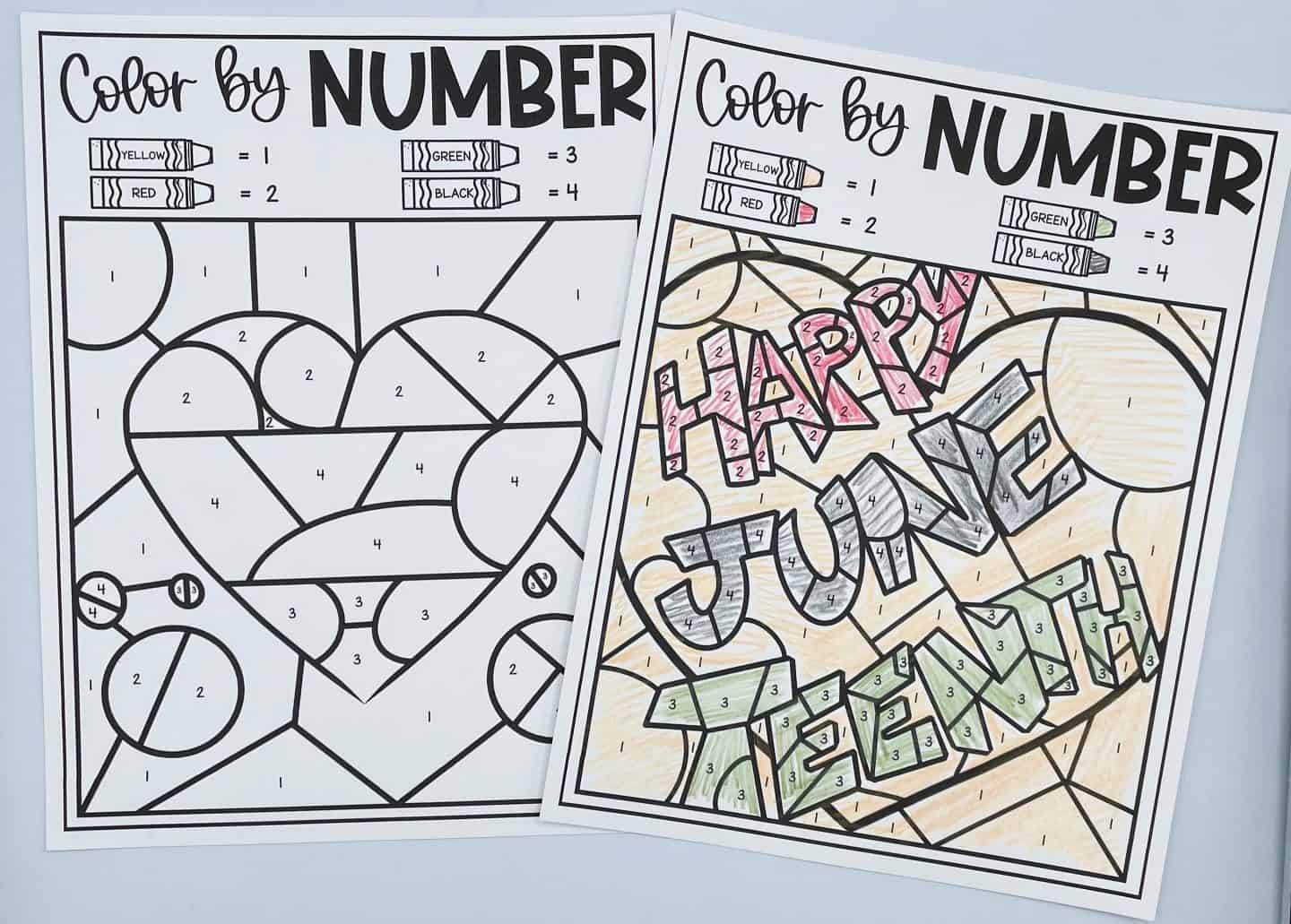 What is Juneteenth?
Juneteenth is a holiday celebrated on the 19th of June to commemorate the emancipation of enslaved people in the US. The holiday was first celebrated in Texas in 1980, where on that date in 1865, in the aftermath of the Civil War, slaves were declared free under the terms of the 1862 Emancipation Proclamation.
But only in 2021 was Juneteenth declared a US National holiday.
Juneteenth Books
Free Printable Juneteenth Coloring Pages
Make sure you choose the correct paper size and click on the shrink to fit button. All of our free printables work better when printed on cardstock (this is the one we use and love.)
I think you will also enjoy:
Last Updated on 12 November 2022 by homeschoolof1