Color by Number Turkey Free Printable
Get ready for a fun November with our color by number turkey free printable!
It's a great activity for preschoolers, whether they're in school or waiting for Thanksgiving dinner.
These Thanksgiving activities for kids are all about having fun while also learning.
They help kids get better at using their hands and recognizing numbers.
Plus, they make the holiday season more colorful and exciting.
So, let's jump into the world of turkeys, numbers, and holiday happiness. It's a fantastic way to make November super special for the kids.
**There may be affiliate links in this post. You can read my full disclosure at the bottom of the page.**
What are the benefits of using color by number worksheets?
Color by number activities offer a multitude of educational advantages for children that extend far beyond the realm of mere entertainment. These are the most useful benefits:
Color by number exercises require precision and attention to detail, making them excellent tools for enhancing fine motor skills. As children color within the designated areas, they refine their hand control, leading to improved dexterity. This not only aids in coloring but also in other essential tasks, such as writing, drawing, and even basic self-care routines like buttoning a shirt or tying shoelaces.
Coordinating hand movements with visual input is a crucial skill that children need to develop. Color by number activities demand this coordination as children must accurately apply colors to match the numbers. Practicing hand-eye coordination at an early age lays a strong foundation for future tasks like sports, playing musical instruments, and other activities requiring precision.
Color by number provides an engaging way for children to learn and reinforce number recognition. As they connect numbers with colors, they subconsciously absorb numerical concepts. Improving their ability to recognize and understand numbers both in and out of the classroom.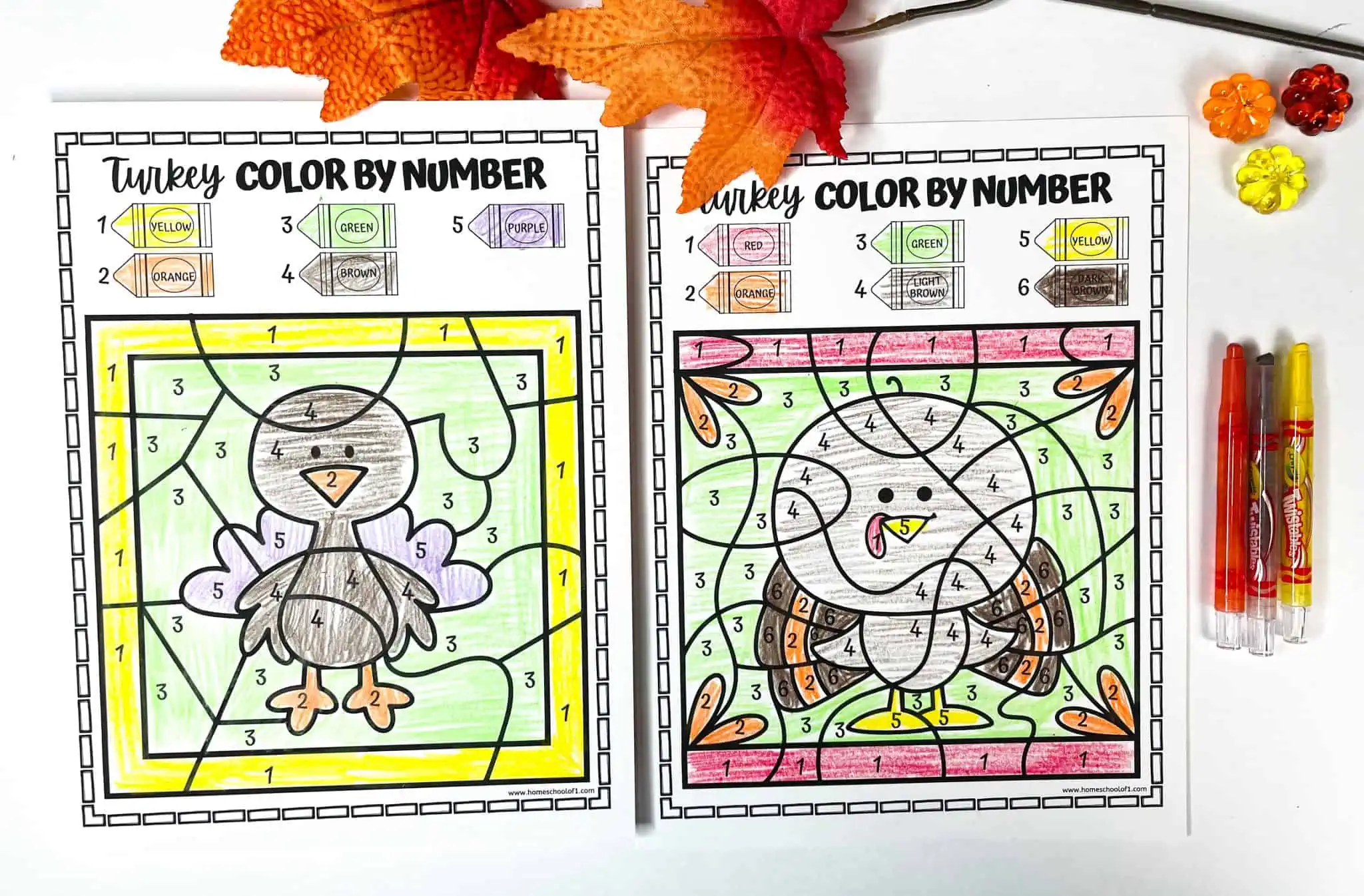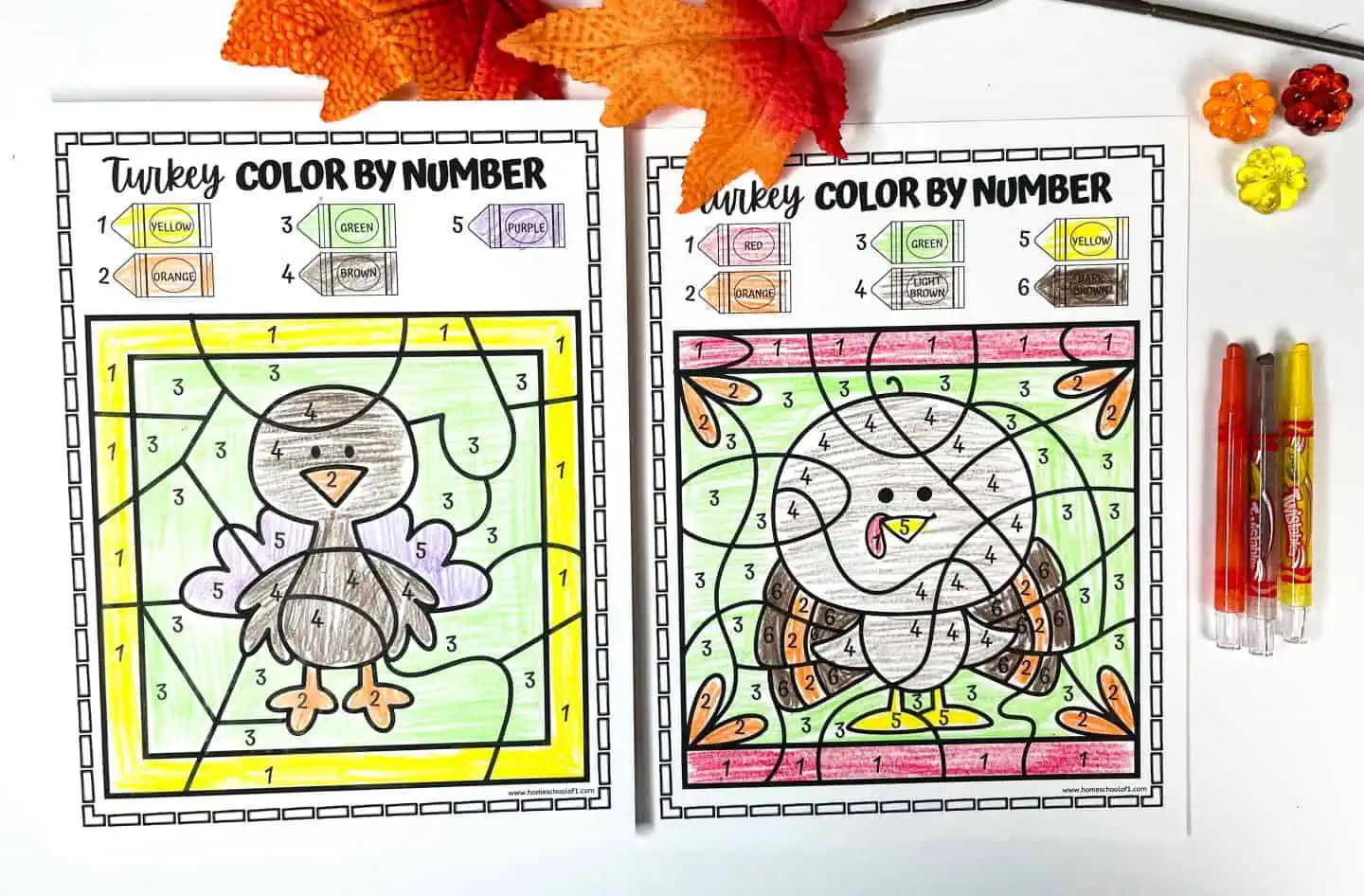 Turkey color by number
There are two color by number printable turkeys for you to download. They are free for personal use and classroom use only. Scroll to the bottom of the page for access to the pdf file.
To bring the turkeys to life, you'll need the following colors:
Red
Orange
Yellow
Green
Purple
Dark brown
Light brown
The first turkey to color requires only 5 simple colors, and is perfect for younger children. It is a picture of a simple turkey.
The second turkey needs 6 colors, but it is much more detailed than the first.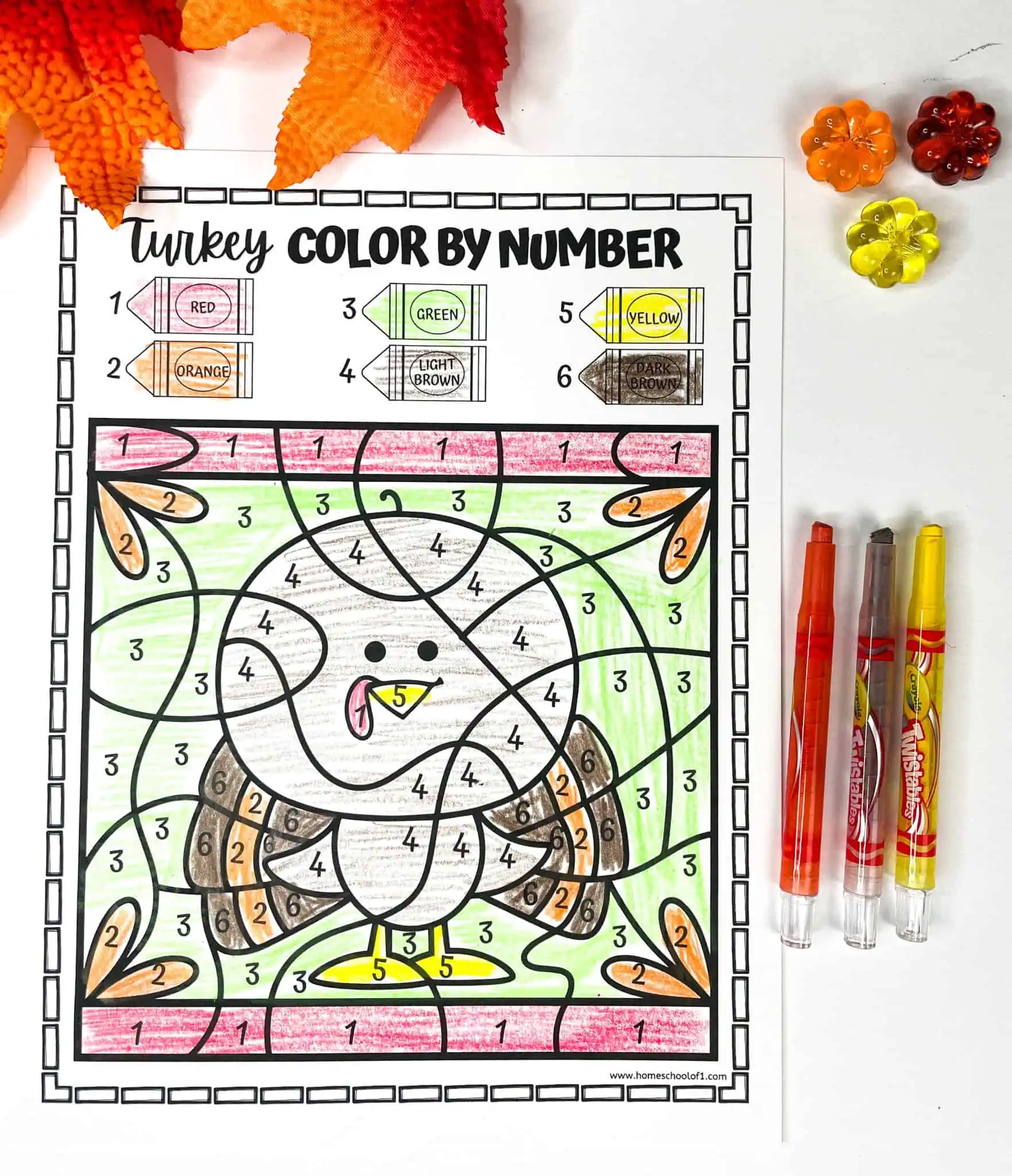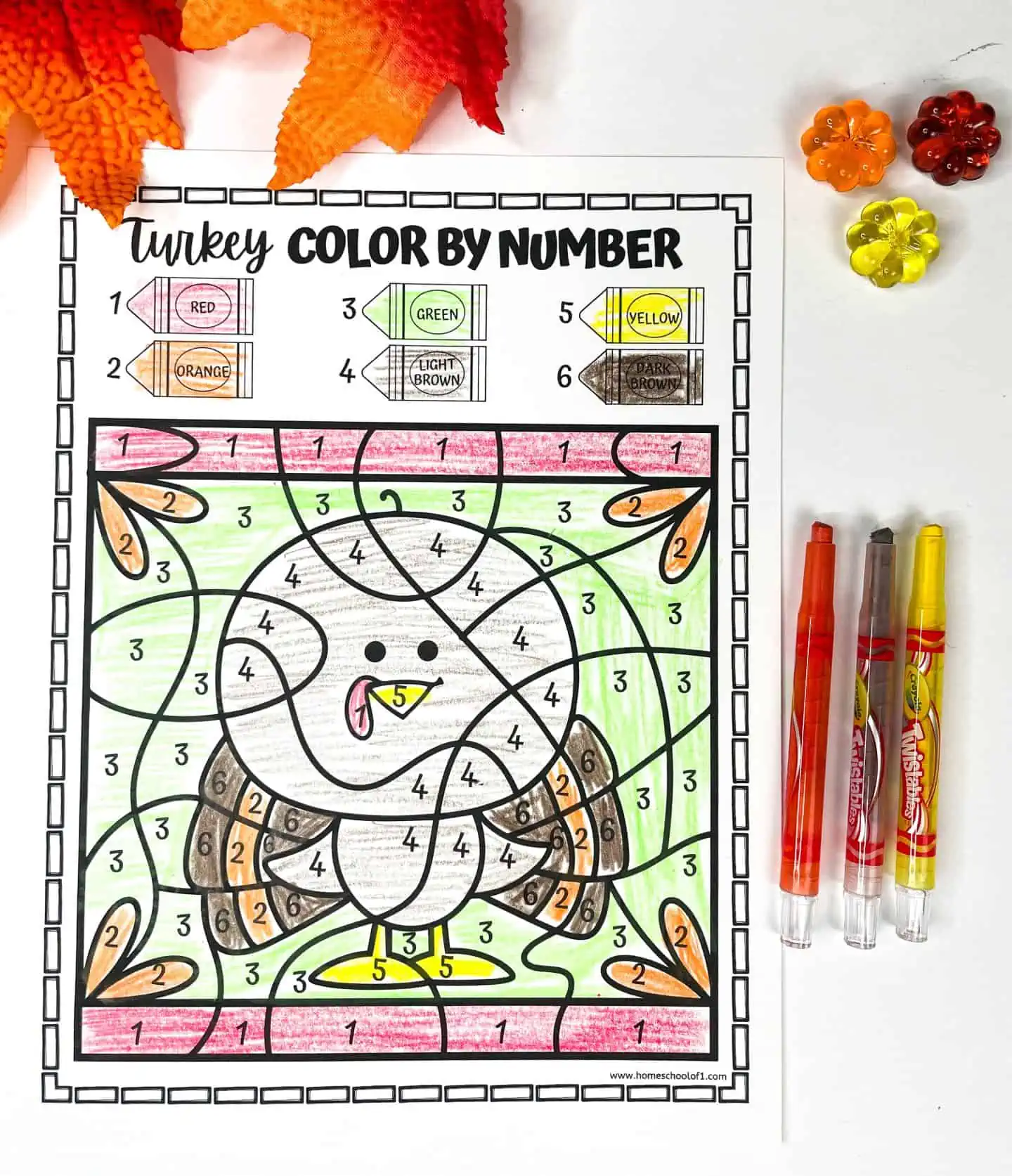 Tips for a successful turkey color by number experience:
Before you begin, take a moment to organize your coloring materials. Lay out the colors you'll need, and encourage your young artists to familiarize themselves with each shade.
If you have a mix of ages or skill levels, consider starting with the simpler, 5-color turkey. It's a great way to introduce younger children to the joy of coloring by numbers and boost their confidence.
While the color-by-number concept provides structure, don't be afraid to encourage creativity. For example, after completing the color-coded areas, children can add their own unique patterns or backgrounds to make the turkey truly their own.
While coloring, discuss the numbers and colors you're using. This can be a fun opportunity to reinforce number recognition and basic color names.
After your turkeys are complete, consider displaying them or sharing them with friends and family. It's a fantastic way for children to showcase their artistic talents and the fruits of their coloring efforts.
Since there are two turkeys available, why not try both? The second turkey, with its greater detail, can challenge older children and provide a more intricate coloring experience.
Most importantly, remember that the process is just as important as the outcome. Color by number activities can be a wonderful bonding experience for parents, teachers, and children. Share stories, laughter, and quality time as you color together.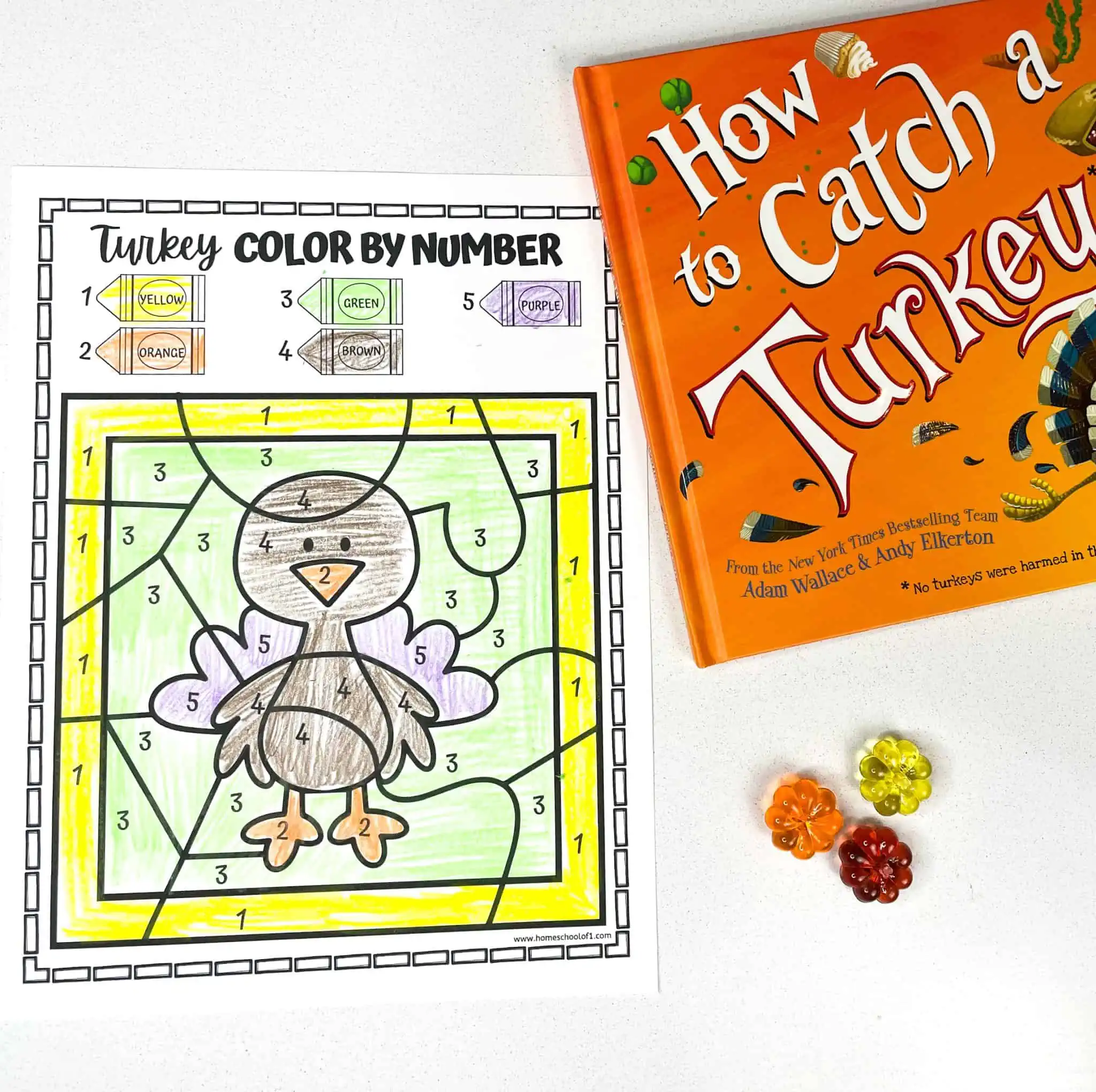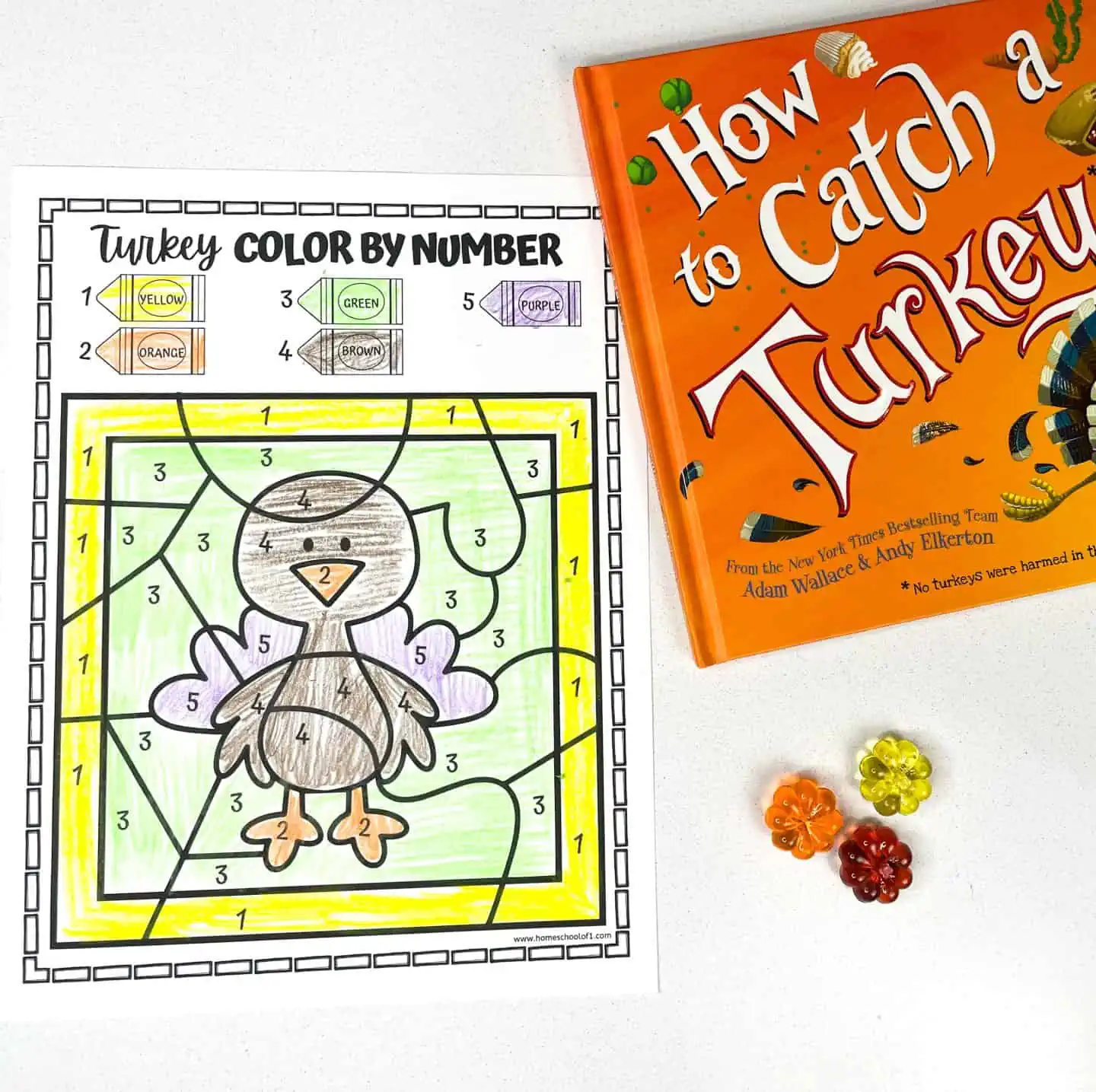 You will also love our free Thanksgiving color by number printables.
Books about turkeys for preschoolers
When the children have finished their coloring why not get the kids together and read a story about a turkey? These are our favorite turkey books:
10 Fat Turkeys is a delightful and humorous picture book that preschoolers will adore. It features a group of comical turkeys who get into various amusing predicaments, such as riding bikes and doing cartwheels, as they try to avoid Thanksgiving fate. The book is perfect for introducing young children to counting, rhyming, and the concept of Thanksgiving in a fun and entertaining way.
How to Catch A Turkey is a playful and imaginative book that takes preschoolers on a journey as they learn about the clever plans children devise to catch a turkey before Thanksgiving. The book is filled with vibrant illustrations and creative strategies. Making it a perfect choice for young readers who enjoy interactive and adventurous stories.
In Turkey Trouble young readers are introduced to a turkey who is trying to avoid being the main dish at Thanksgiving dinner. Turkey comes up with a series of hilarious disguises in an attempt to outsmart the farmer. This book is a heartwarming and humorous tale that teaches children about the importance of quick thinking and resourcefulness.
You will also enjoy our parts of a turkey worksheet.
Additional fall activities for preschoolers
Tips for downloading the free files
Below you will see a large sign-up box where you need to add your name and email address, and press I NEED THIS NOW!
Within minutes you will be sent the free PDF directly to your email address, so you can print it out and start using it immediately.
Sometimes emails get a little wonky, so if you can't see it, please check your spam folder where I am sure it is hiding.
Download the free color by number Thanksgiving turkey
Make sure you choose the correct paper size and click on the shrink to fit button. All of our free printables for kids work better when printed on cardstock (this is the one we use and love.)