9 Free Pirate Color by Number Worksheets
Ahoy, mateys! Calling all adventurous moms and little swashbucklers! If you're on the lookout for an exciting and immersive activity to keep your kids entertained this summer, look no further than these free pirate color by number pages.
Trust me, there's nothing quite like the thrill of coloring your way through pirate ships, hidden treasures, and daring adventures on the high seas.
Not only will these fun pirate color by number printable pages ignite your child's imagination. But they'll also provide a much-needed brain break from the daily grind.
So, grab your crayons, hoist the Jolly Roger, and join me on an unforgettable coloring voyage!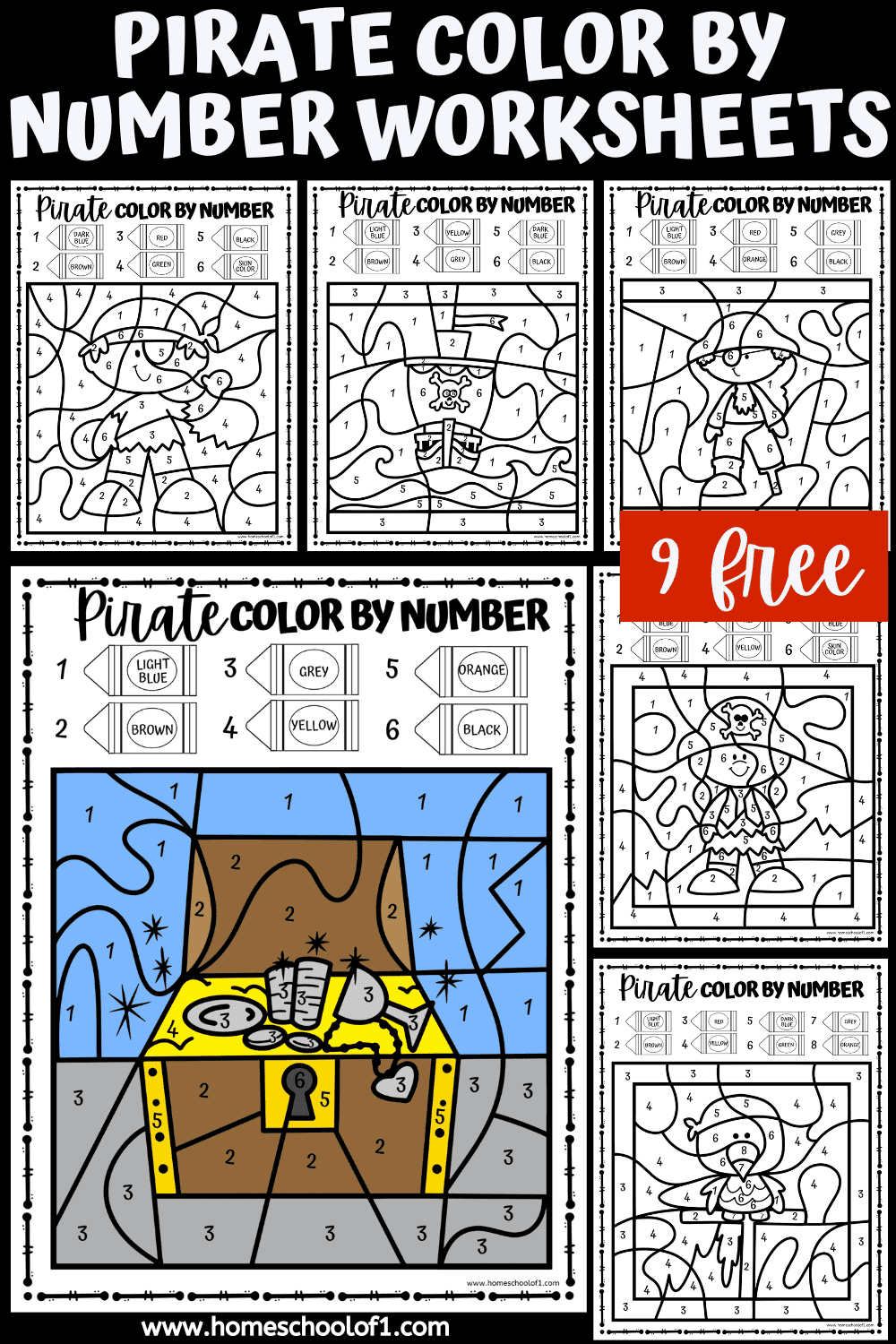 As a mom who loves unleashing the inner pirate in my little one, I couldn't resist creating these free kids coloring pages just for you.
**There may be affiliate links in this post. You can read my full disclosure at the bottom of the page.**
Pirate Color by Number Preschool Math Worksheets
There are 9 pirate coloring pages included in this download.
These pirate themed color by number pages are free to print but are for personal or classroom use only. Scroll to the bottom of the page to get the pdf file.
These free printables are not only a blast for kids but also an excellent way to enhance their fine motor skills. As they carefully color within the lines, improving their hand-eye coordination and dexterity.
Supplies Needed:
Crayola colored pencils, Pack of 2, Multi
Crayola Silly Scents Twistables Crayons, 12 Count, Coloring Supplies, Gift for Kids
Neenah White Index Cardstock, 300 Sheets, 110 lb/199 gsm, 94 Brightness, 8.5
Dual Markers Brush Pens, 36 Fine Point Art Marker, Double Tip Colored Pen for Adult Coloring Hand Lettering Writing Planner
Shuttle Art Dot Markers, 20 Colors Washable Markers for Toddlers,Bingo Daubers Supplies Kids Preschool Children, Non Toxic Water-Based
Crayola Ultimate Crayon Box Collection (152ct), Bulk Kids Crayon Caddy, Classic & Glitter Crayons, Gifts, Ages 3+
How to use the color-by-number printable:
Print out the worksheets below, they will print out on 9 full pages. Make sure to check the printer settings.
You will need 10 different coloring pens or crayons to complete this activity.
There is a color code at the top of each page. But to complete all 9 pages you will need the following 10 different colors:
light blue
dark blue
red
skin color
grey
yellow
orange
light brown
dark brown
green
Treasure Chest Color By Number
Have fun coloring in the pirate treasure with 6 different colors, light blue, brown, grey, orange, yellow, and black.
Missing Treasure Color by number
Color in the treasure map with only 4 colors, green, dark blue, light brown, and red.
Why not have your own treasure hunt after this with our free scavenger hunt printables?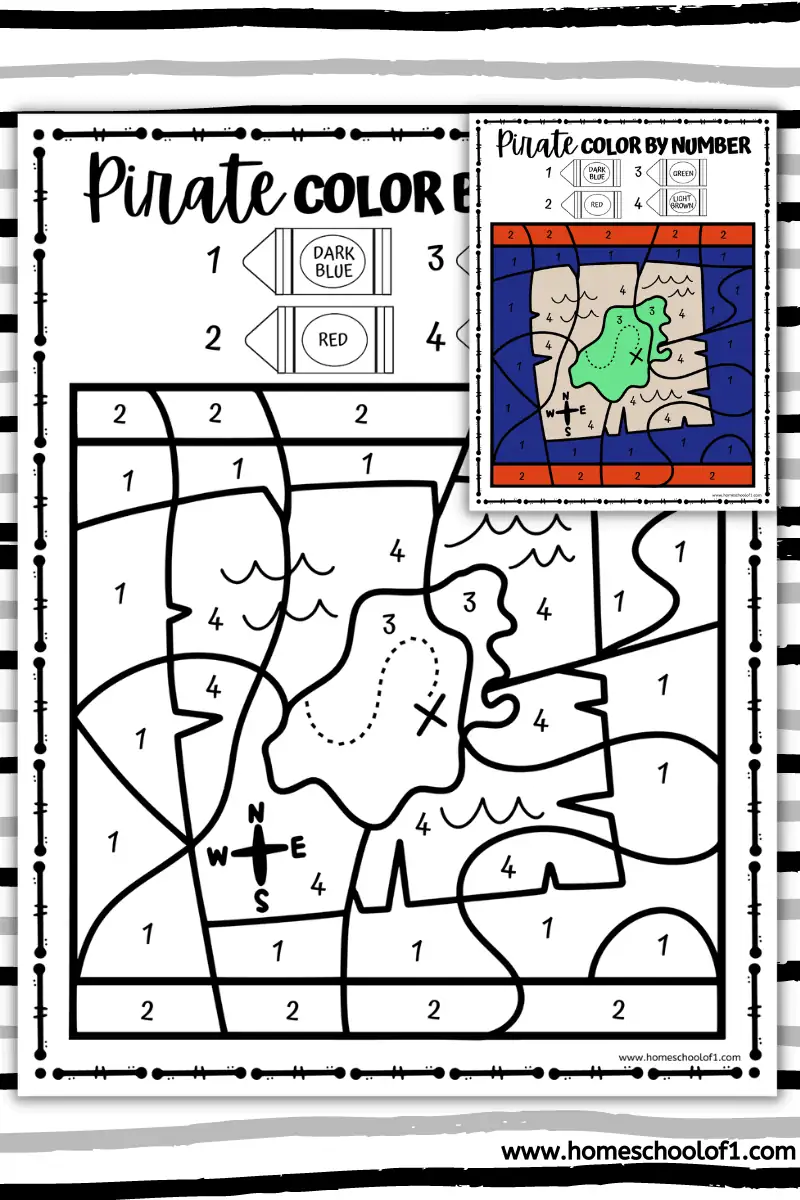 Pirate Girl Coloring Page
Have fun coloring in a pirate girl, using light blue, brown, red, yellow, dark blue, and skin color crayons.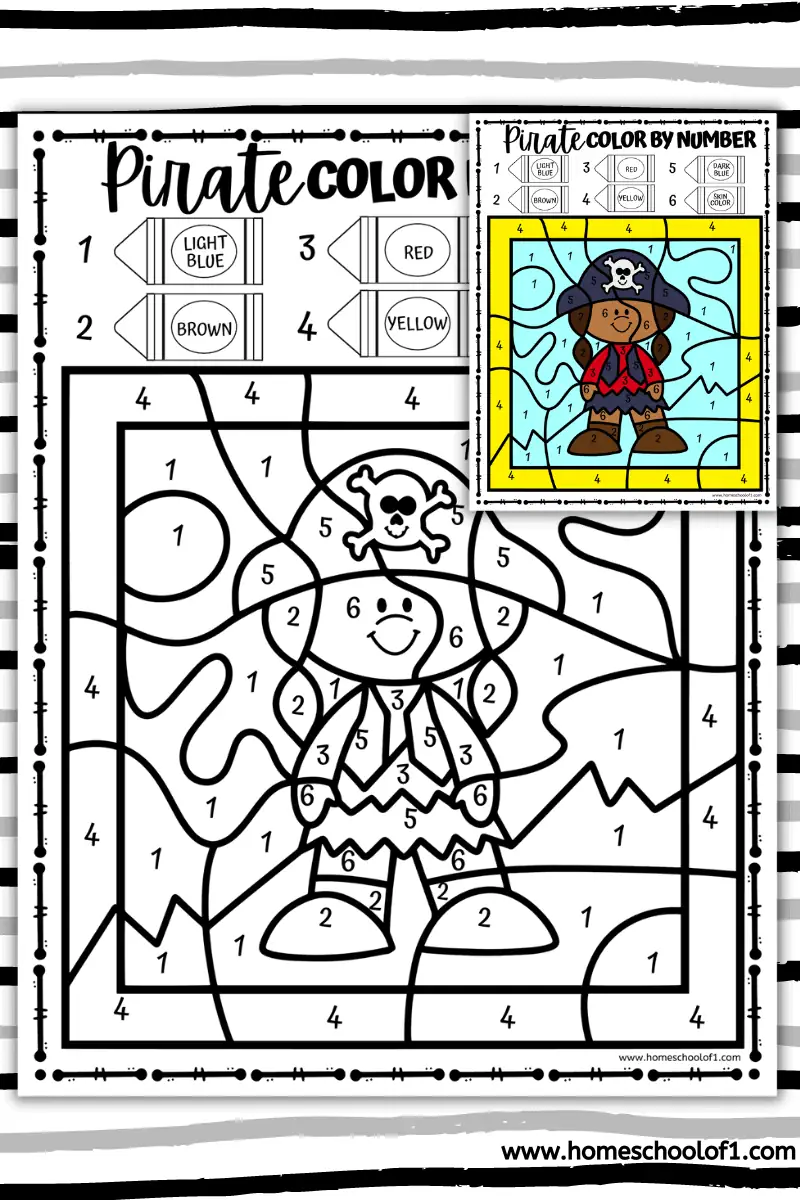 Pirate Boys Color By Number
There are 2 different boy pirates to color in, one with a missing leg and an eye patch, and the other just with an eye patch.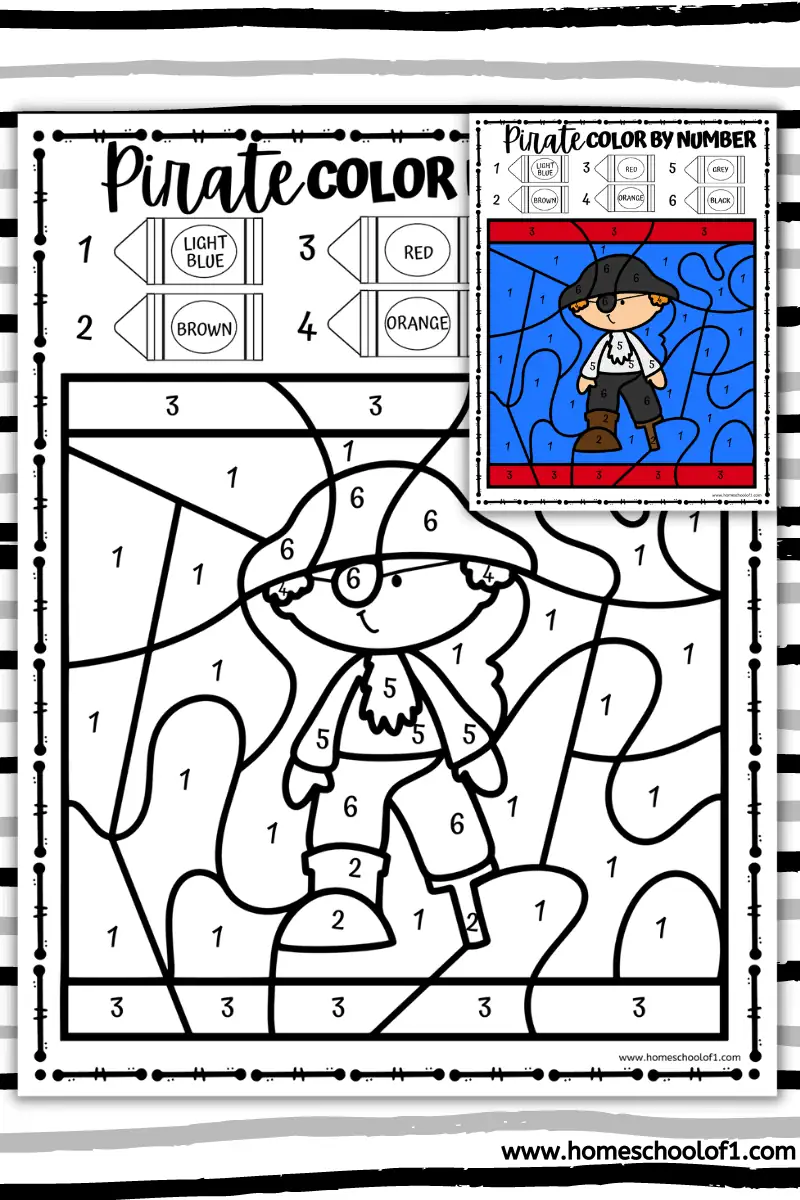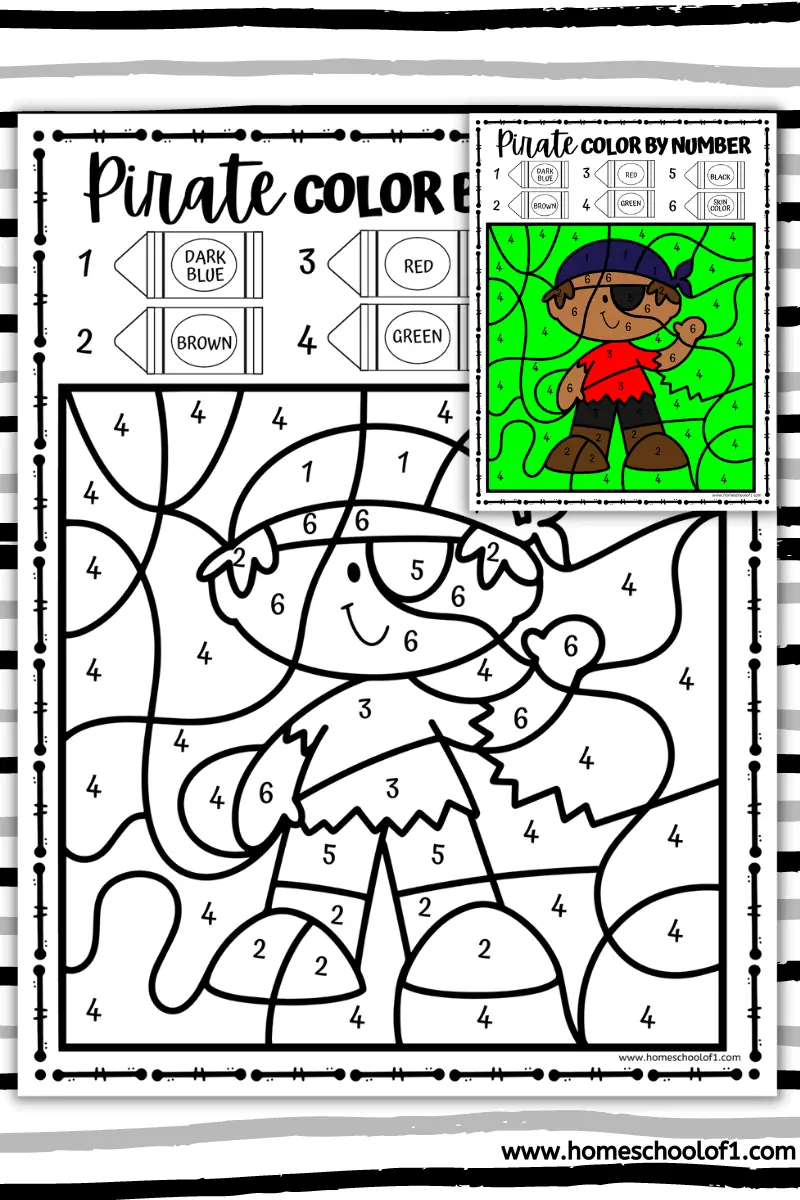 Parrot Color by Number
Color in the parrot with 8 different colors, red, yellow, light blue, green, orange, grey, brown, and dark blue.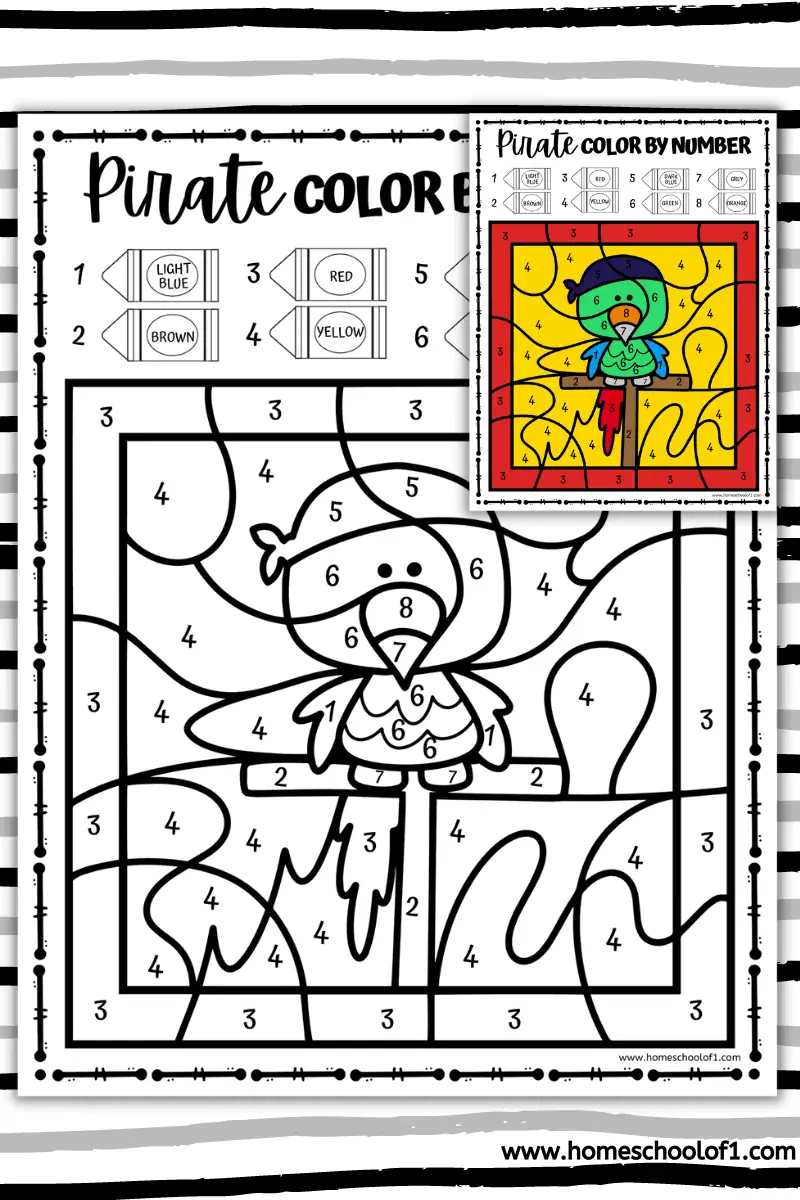 Treasure Island Color By Number
Use six colors to identify a treasure island with a shark swimming near the coast.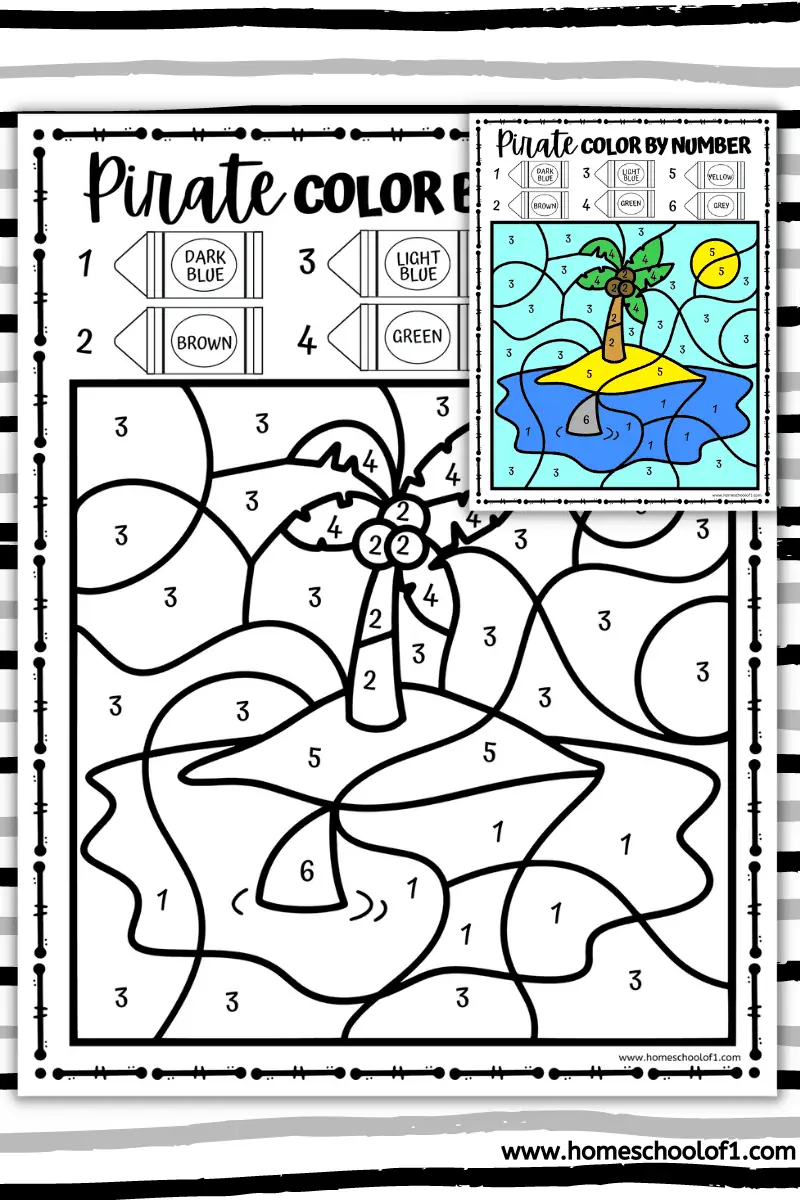 Pirate Ship Color by Number
Color in two different pirate ships with these fun coloring pages.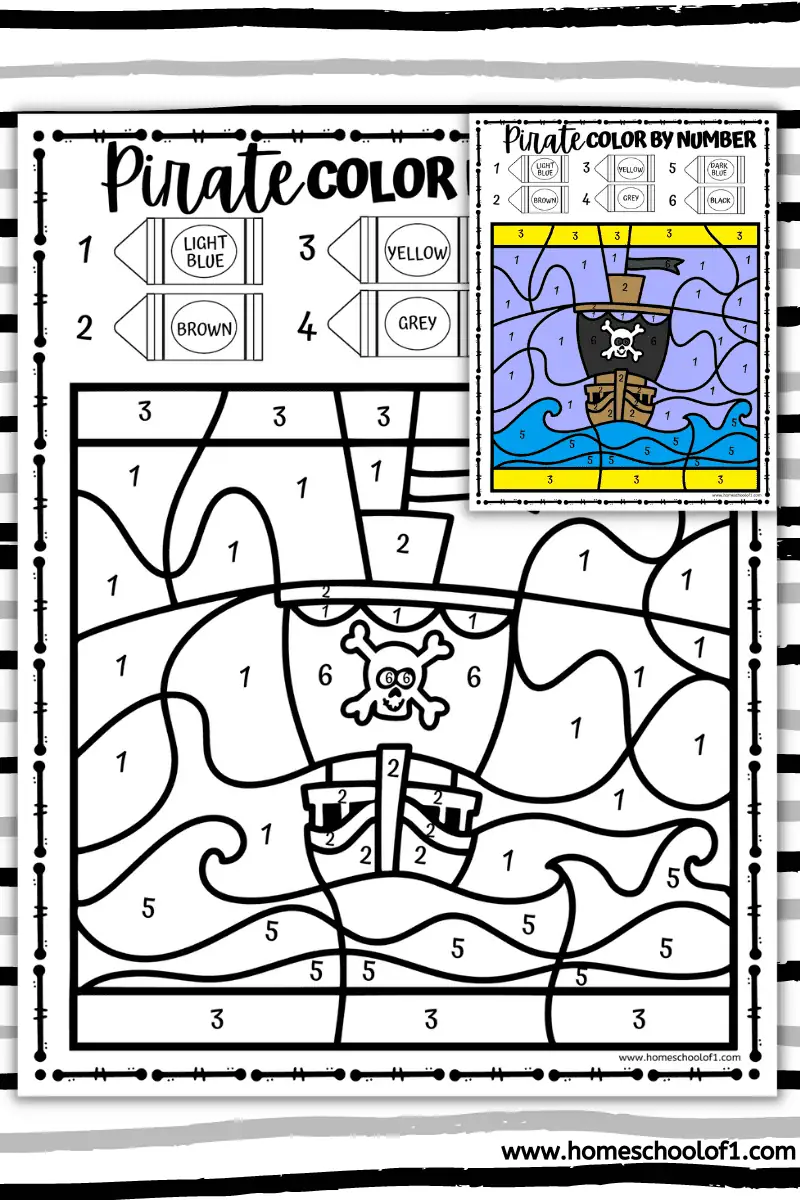 Other pirate printables you will love
If you are looking for even more fun Talk Like a Pirate Day activities you will love these: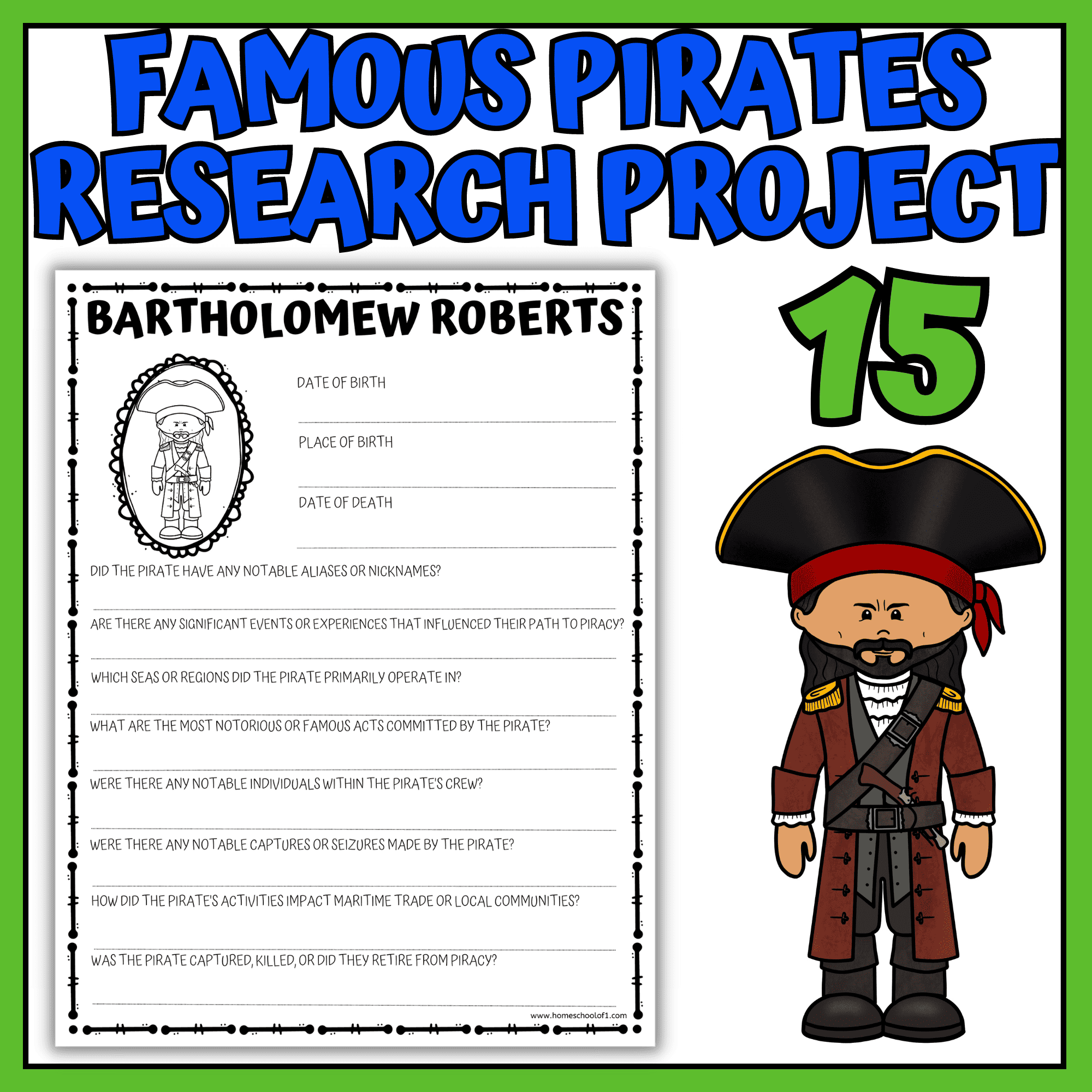 Pirate Research Worksheets

Pirate alphabet worksheets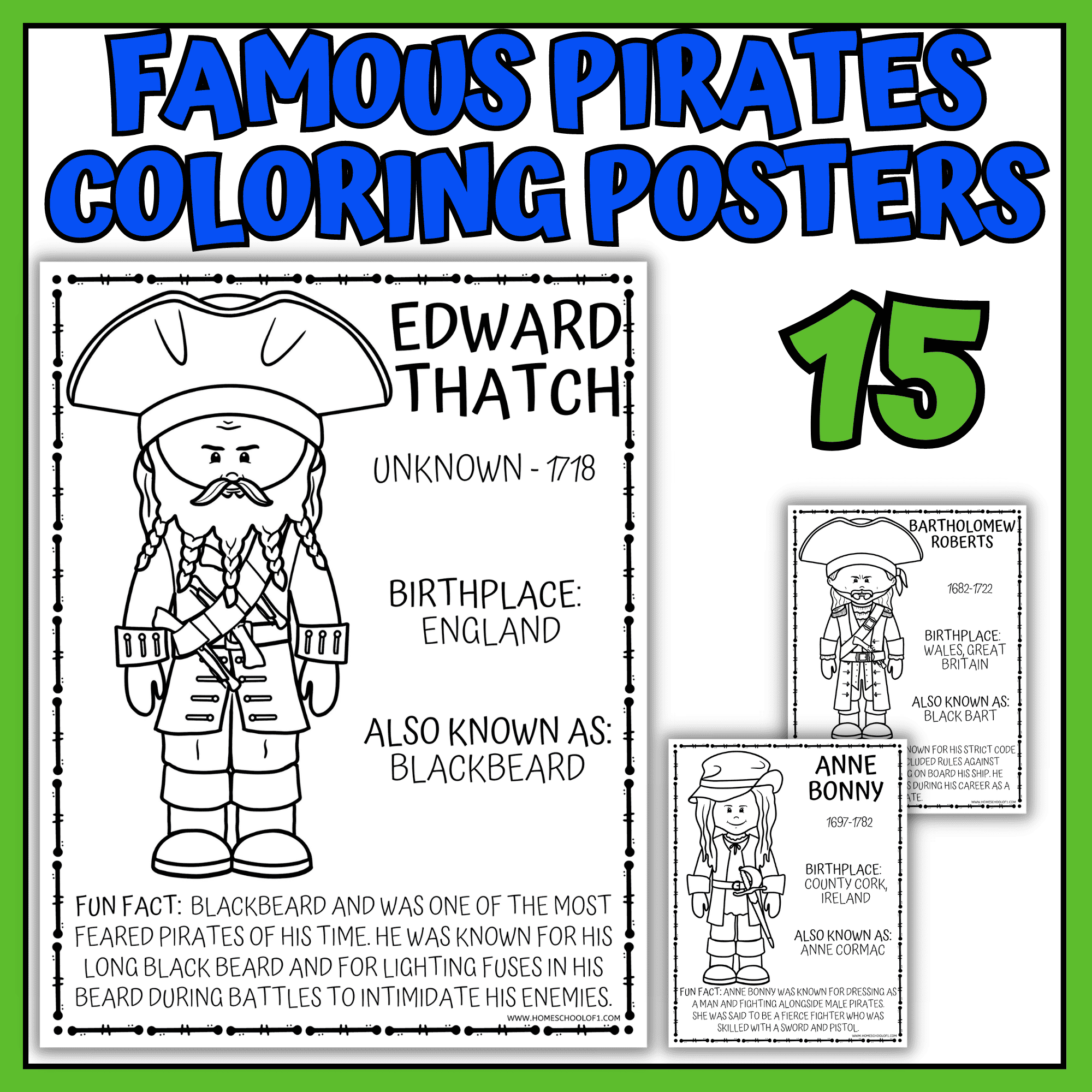 Famous pirate coloring pages

Pirate Books for Preschoolers
We always add a new book to any study, and these are our favorite pirate books for kids:
Pirates Love Underpants. Prepare to be tickled by this hilarious tale of pirates and underpants. You'll meet a lively bunch of pirates who are obsessed with, you guessed it, underpants! From polka dots to stripes, they search the seven seas for the finest booty of all: underwear! This wacky and whimsical story will have your little ones giggling and setting sail on a silly adventure they won't soon forget.
Shiver Me Letters: A Pirate ABC. Arr, it's time to learn your ABCs with the help of some courageous pirates! Each letter is accompanied by a clever pirate-themed rhyme, introducing little buccaneers to new words and sounds. From A for anchor to Z for zesty, this delightful book teaches the alphabet in a swashbuckling way that will have your little learners hooked from beginning to end.
Goodnight Pirate. The perfect bedtime story to send your little pirates off to dreamland. Join the brave pirate crew as they wind down their high-sea adventures and prepare for a restful sleep. From stowing the treasure to saying goodnight to their trusty parrot, this gentle and soothing tale will help your preschoolers settle down and drift off to dream of buried treasure and grand pirate escapades.
Pirate Boy. Join a young boy as he embarks on an imaginative journey to become a pirate. Through vibrant illustrations and engaging storytelling, your little ones will sail alongside the young protagonist as he navigates through storms, discovers hidden treasure, and encounters friendly sea creatures. This charming tale encourages young readers to embrace their creativity and allows them to experience the thrill of a pirate's life without leaving the comfort of their own imaginations.
Tips for downloading the free files
Below is a blue cloud with an arrow pointing downward. Underneath that is a large sign-up box where you need to add your name and email address, and press I NEED THIS NOW!
Within minutes you will be sent the free PDF directly to your email address, so you can print it out and start using it immediately.
Sometimes emails get a little wonky, so if you can't see it, please check your spam folder where I am sure it is hiding.
Download the free Pirate Color By Number Worksheets
Make sure you choose the correct paper size and click on the shrink to fit button. All of our free printables for kids work better when printed on cardstock (this is the one we use and love.)
Last Updated on 2 October 2023 by homeschoolof1