9 Free Back to School Color by Number Worksheets
If you're searching for an exciting activity to kick off the first day back at school, look no further than the back to school color by number extravaganza! Get ready to dive into a world of vibrant colors and educational fun.
These first day of school worksheets are so much fun, and will definitely start the school year off with a bang.
Prepare to embark on a marvelous journey of creativity and knowledge. With these captivating school-themed color by number worksheets, you'll discover a delightful way to engage your artistic talents while reinforcing important concepts for the classroom.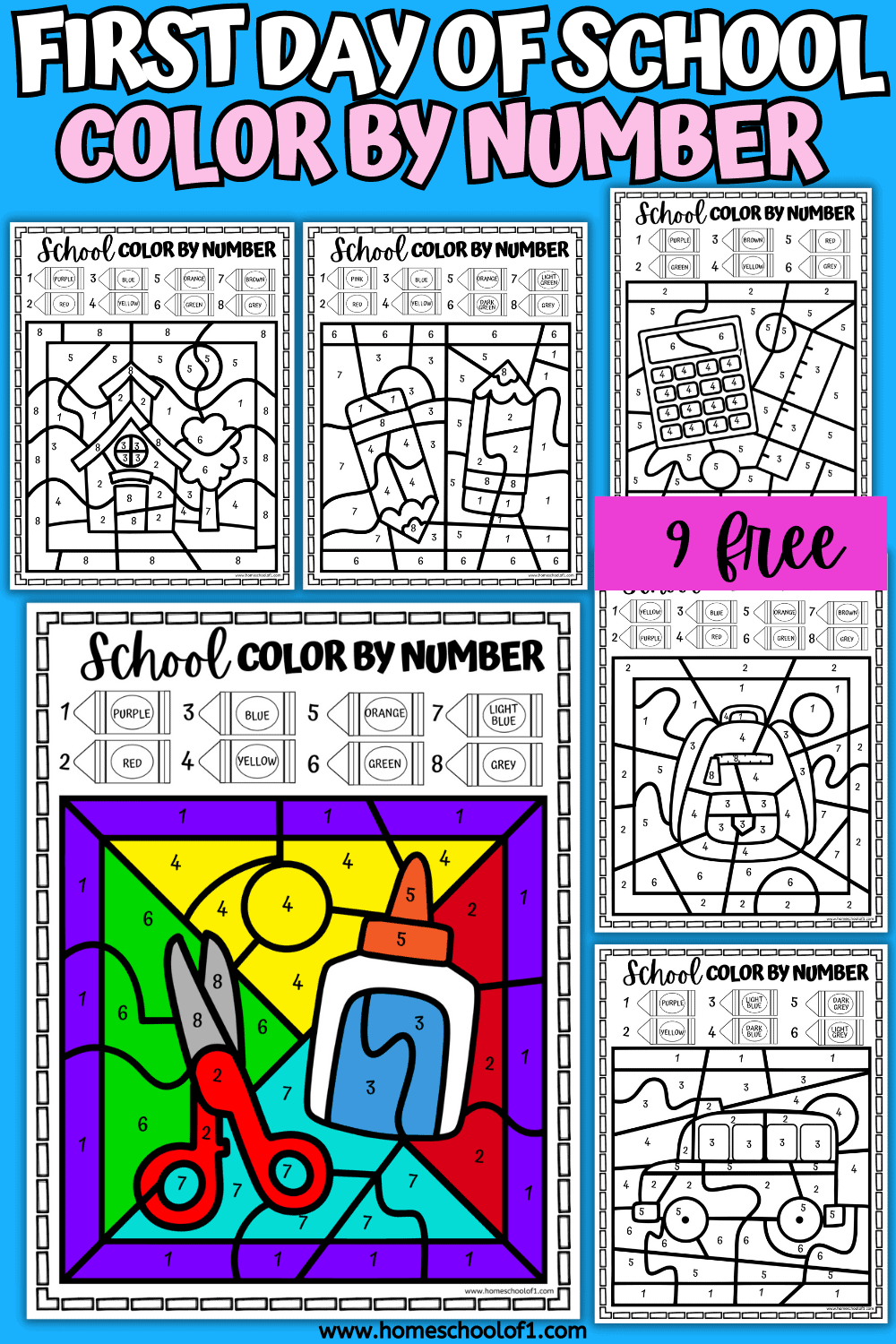 **There may be affiliate links in this post. You can read my full disclosure at the bottom of the page.**
Back to School Color by Number Preschool Math Worksheets
Not only will these fun first day of school color by number printable pages ignite your child's imagination. But they'll also provide a much needed brain break from the normal first day stress.
There are 9 school coloring pages included in this download.
These school themed color by number pages are free to print but are for personal or classroom use only. Scroll to the bottom of the page to get the pdf file.
These free printables are not only a blast for kids but also an excellent way to enhance their fine motor skills. As they carefully color within the lines, improving their hand-eye coordination and dexterity.
Crayola colored pencils, Pack of 2, Multi
Crayola Silly Scents Twistables Crayons, 12 Count, Coloring Supplies, Gift for Kids
Neenah White Index Cardstock, 300 Sheets, 110 lb/199 gsm, 94 Brightness, 8.5
Dual Markers Brush Pens, 36 Fine Point Art Marker, Double Tip Colored Pen for Adult Coloring Hand Lettering Writing Planner
Shuttle Art Dot Markers, 20 Colors Washable Markers for Toddlers,Bingo Daubers Supplies Kids Preschool Children, Non Toxic Water-Based
Crayola Ultimate Crayon Box Collection (152ct), Bulk Kids Crayon Caddy, Classic & Glitter Crayons, Gifts, Ages 3+
How to use the color by code printable:
Print out the worksheets below, they will print out on 9 full pages. Make sure to check the printer settings.
You will need 10 different coloring pens or crayons to complete this activity.
There is a color code at the top of each page. But to complete all 9 pages you will need the following 10 different colors:
light blue
dark blue
red
pink
grey
yellow
orange
brown
purple
green
School Color By Number
Have fun coloring in a picture of a school with 6 different colors.
School Bus Color by Number
Color in the yellow school bus with 6 different colors.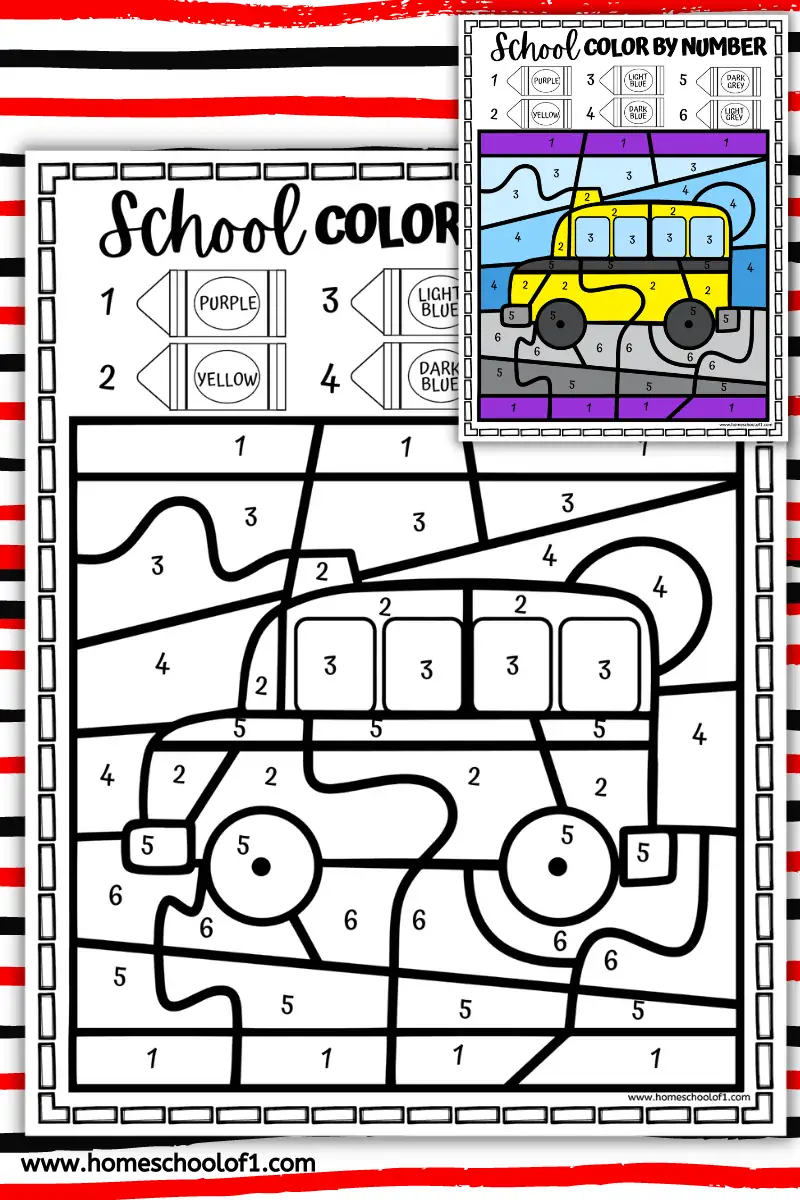 School supplies color by code
Have fun coloring in the school supplies with 8 different colors.
Crayons Color By Number
There are 2 different crayons color by number pages using 8 different colors.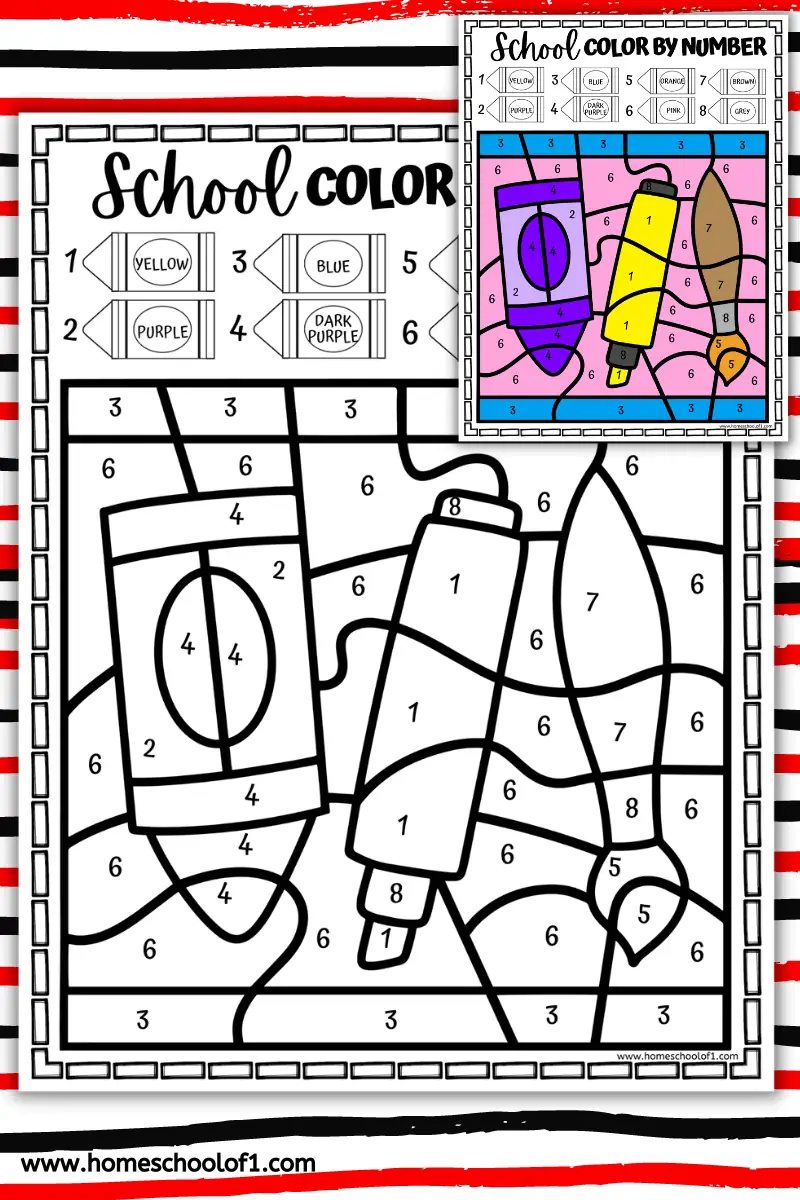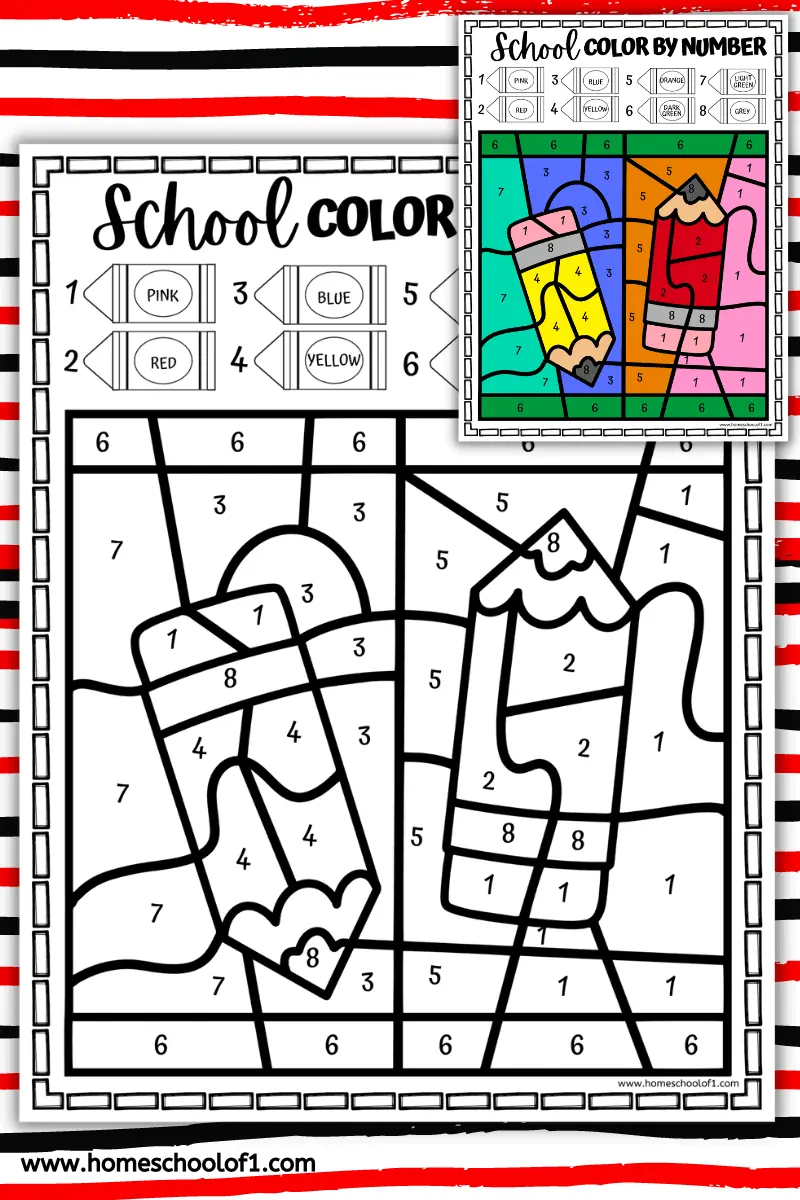 Calculator Color by Number
Color in the calculator and ruler with 8 different colors.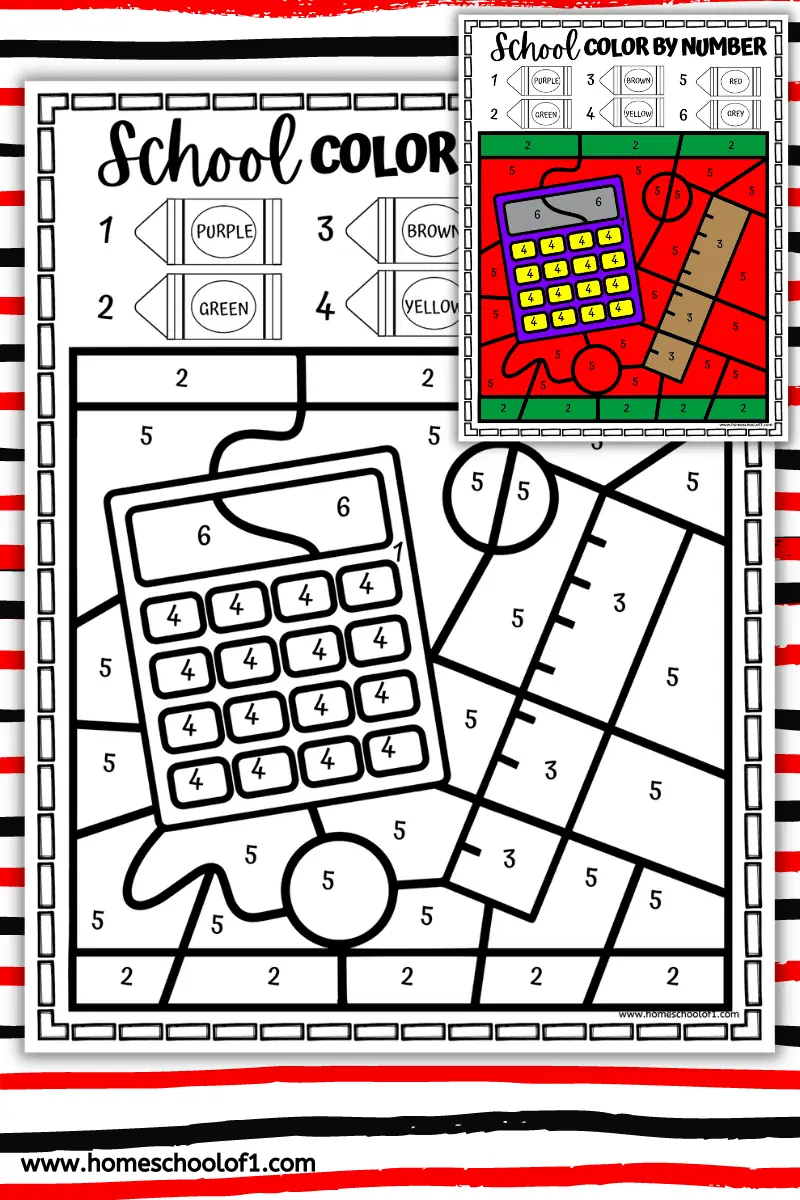 School Back Pack Color by Number
Use eight colors to identify the school back pack.
School color by code
These 2 pages include a coloring page of books and a clipboard. The kids will need 8 different colors to make the colorful images.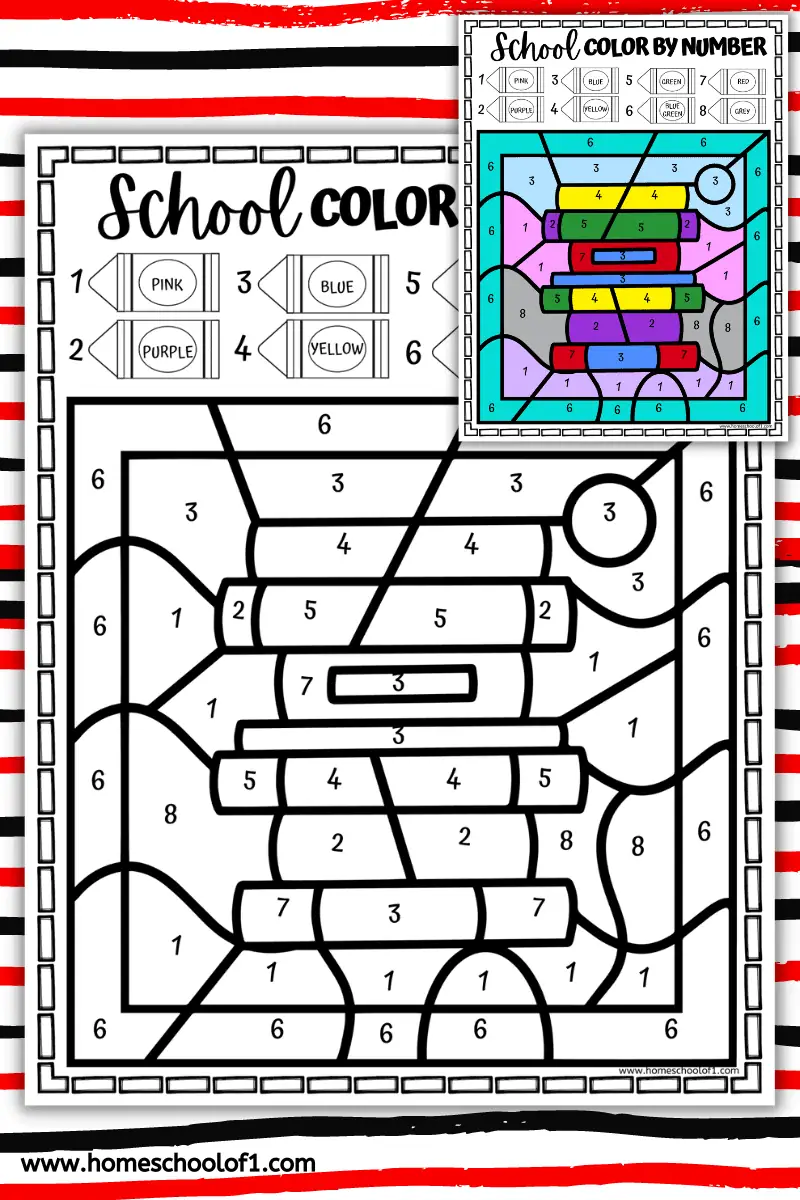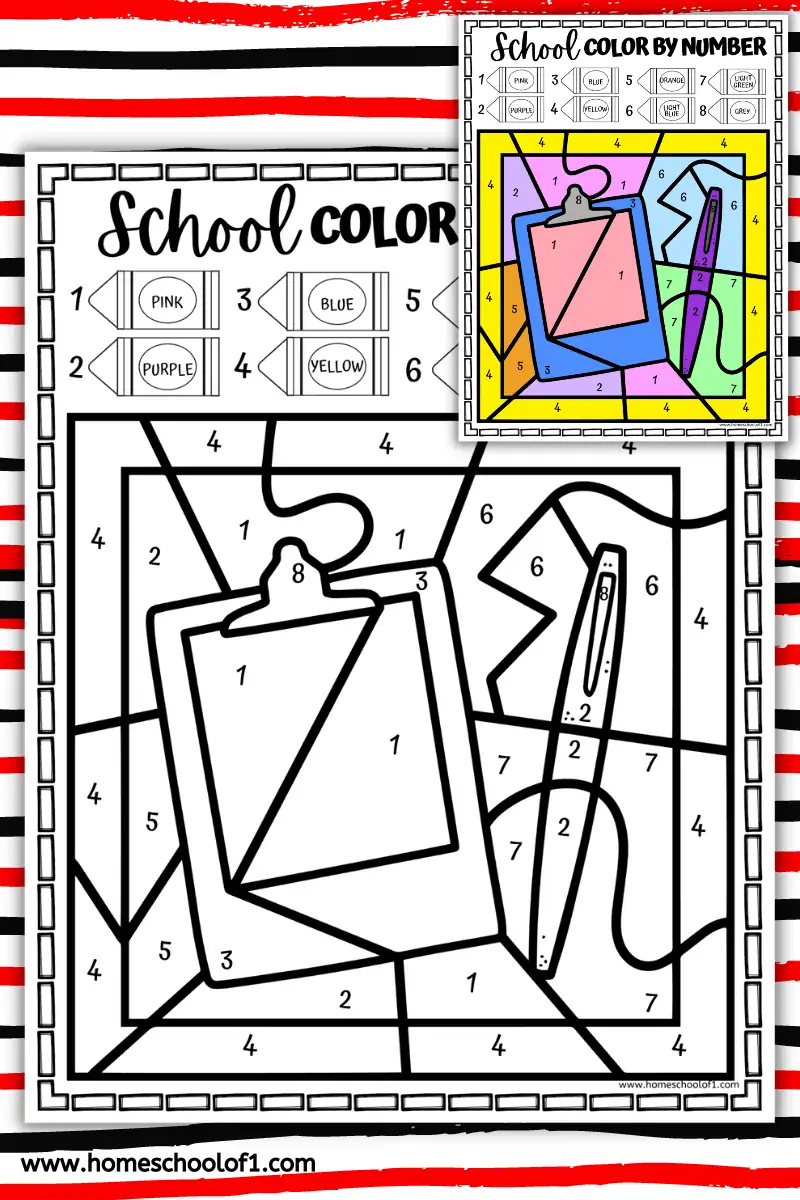 Other first day of school activities you will love
Have even more fun on the first week of school with some of our other favorite activities:
First Day of School Read Alouds
First day of school read alouds set the stage for a positive and engaging classroom experience. Fostering excitement, connection, and a love for learning right from the start. These make great back to school gifts for kids.
First Day Jitters is a touching book that offers reassurance and support to students as they begin a new school year. Through a heartfelt letter, the teacher addresses common worries and shares excitement, creating a comforting atmosphere for both students and parents.
A Letter From Your Teacher. This relatable and humorous story takes an unexpected twist, reminding readers that even teachers can have jitters, but the excitement of a new beginning makes it all worthwhile.
My Mouth Is A Volcano explores the concept of self-control in a lively and relatable manner. Louis, a young boy with a habit of interrupting, learns valuable lessons about listening and respecting others' turns to speak. This engaging read highlights the importance of mindful communication and consideration for others in a classroom setting.
Tips for downloading the free files
Below is a blue cloud with an arrow pointing downward. Underneath that is a large sign-up box where you need to add your name and email address, and press I NEED THIS NOW!
Within minutes you will be sent the free PDF directly to your email address, so you can print it out and start using it immediately.
Sometimes emails get a little wonky, so if you can't see it, please check your spam folder where I am sure it is hiding.
Download the free Back to School Color By Number Worksheets
Make sure you choose the correct paper size and click on the shrink to fit button. All of our free printables for kids work better when printed on cardstock (this is the one we use and love.)
Last Updated on 2 October 2023 by homeschoolof1