9 Free 4th of July Color By Number Printables
The sun, the BBQs, the fireworks—it's the perfect time to come together and celebrate our nation's independence. If you are looking for a fun activity for the kids look no further than our free 4th of July color by number worksheets.
These color by number printable worksheets are a great way to keep the kids calm this fourth of July!
As a mom, I'm always on the lookout for fun holiday activities for kids that keep them entertained while giving them a much-needed brain break from all the screen time. And you know what activity has been a total game-changer in our household? Coloring!
I can't emphasize enough how amazing coloring is for kids (and even for us adults). It's not just about filling in the lines; it's about unlocking creativity, enhancing focus, and, most importantly, having loads of fun.
So, grab your crayons, markers, or colored pencils and get ready to enjoy some quality family time while honoring the red, white, and blue.
Trust me, these printables will keep your kiddos happily engaged while you catch a break and maybe even join in on the coloring action yourself.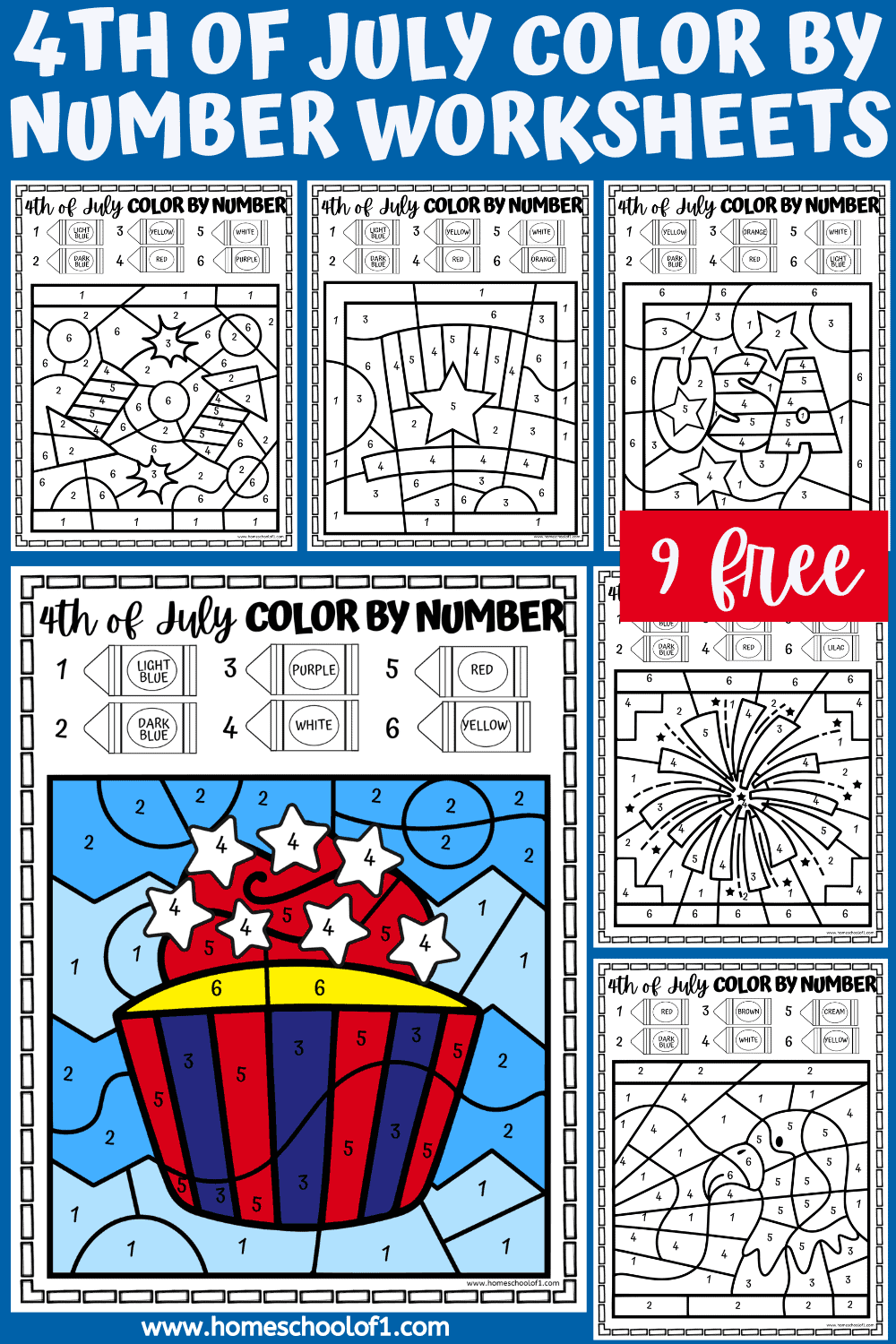 **There may be affiliate links in this post. You can read my full disclosure at the bottom of the page.**
4th of July Color by Number Kindergarten Worksheets
There are 9 pages included in this free Fourth of July color by number printable worksheets.
These free 4th of July color by number printables are not only a blast for kids but also an excellent way to enhance their fine motor skills. As they carefully color within the lines, improving their hand-eye coordination and dexterity.
Supplies Needed:
How to use the color-by-number printable:
Print out the patriotic printables below, they will print out on 9 full pages. Make sure to check the printer settings.
These color by number worksheets are free to print but are for personal use or classroom use only. Scroll to the end of the post to get the pdf file.
You will need 10 different coloring pens or crayons to complete this activity.
There is a color code at the top of each page. But to complete all 9 pages you will need the following 10 different colors:
light blue
dark blue
red
purple
lilac
cream
yellow
orange
brown
green
USA Color By Number
Have fun coloring in the words USA on a blue frame, with yellow and orange swirls. You will need six colors, yellow, dark blue, light blue, orange, red, and white.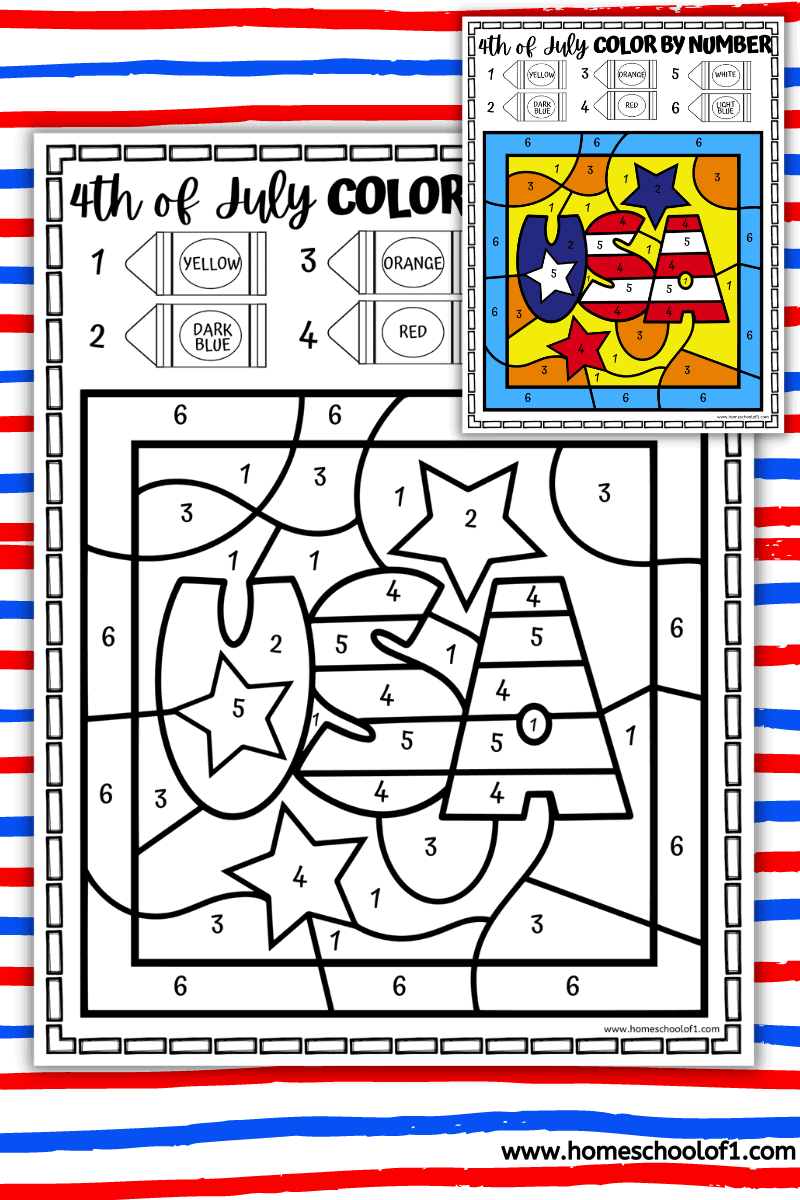 American Flag Color by number
Color in the flag of the United States with 6 different colors, green, light blue, dark blue, red, white, and yellow.
You can learn more about the flag with our free Flag Day worksheets.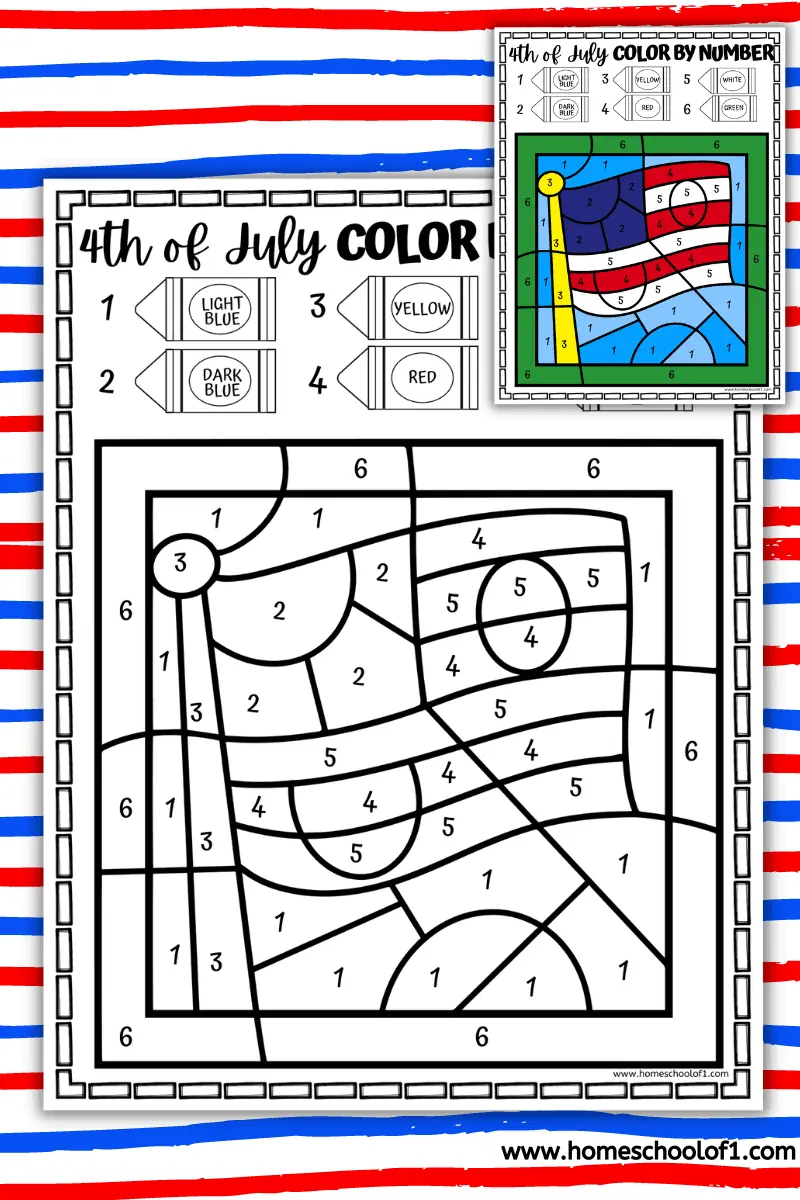 Hat Color By Number
Color in Uncle Sam's hat with red, white, and blue. Plus use the background of yellow, orange, and light blue to make it stand out.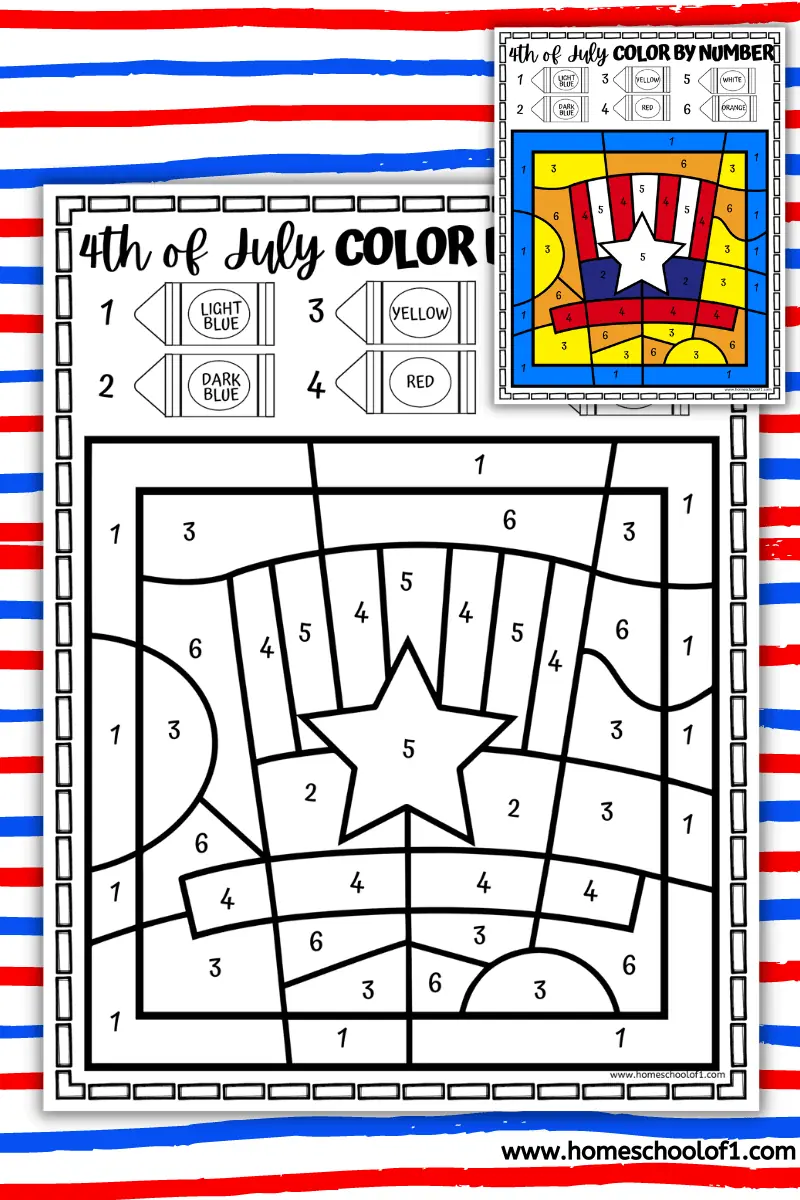 Fireworks Color By Number
There are 2 different fireworks color by number pages where you will need red, blue, and white, plus purple, light blue, yellow, and lilac.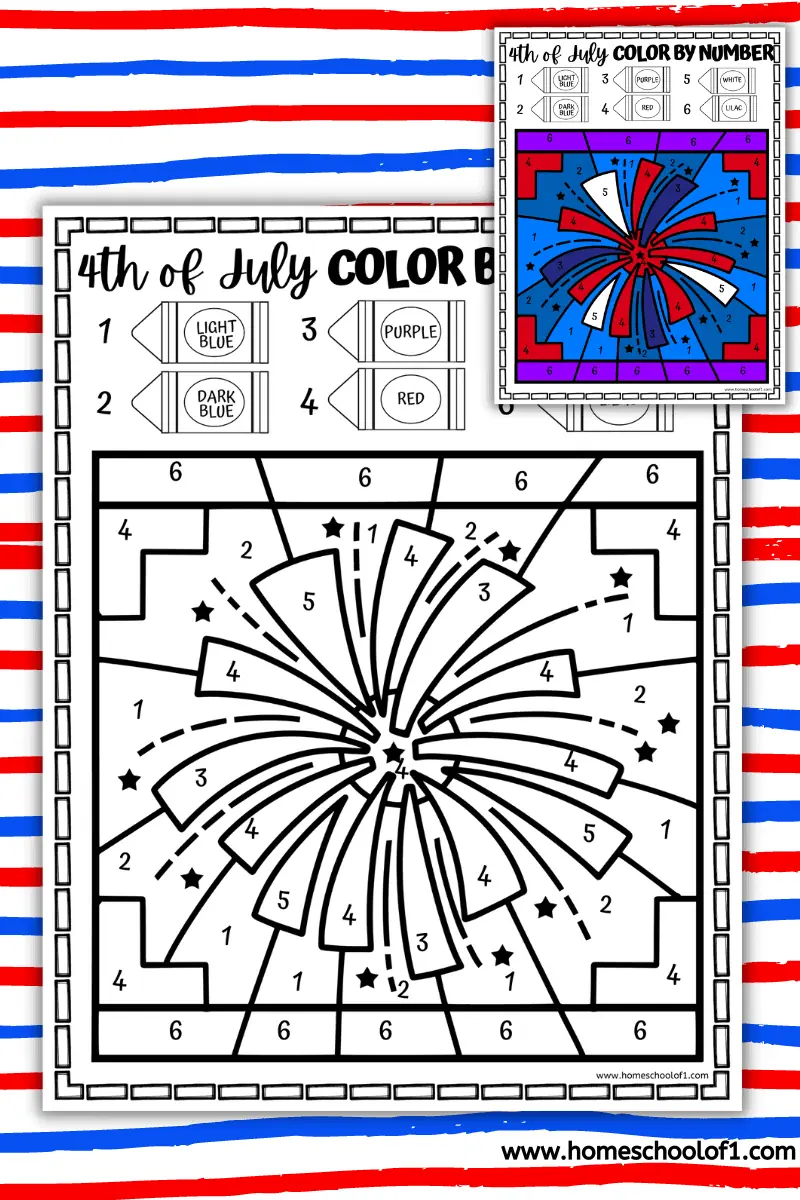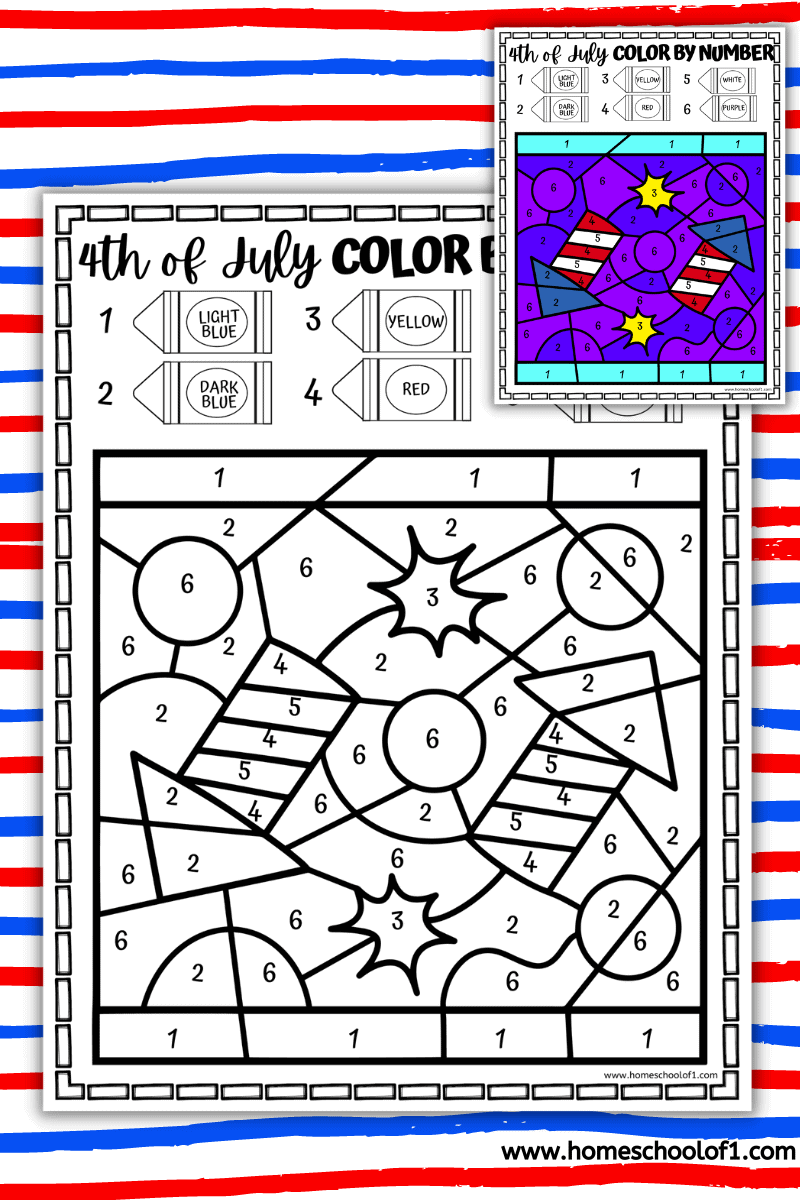 Eagle Color by Number
Color in the American bald eagle with red, blue, white, brown, cream, and yellow.
Cupcake Color By Number
This patriotic cupcake looks so delicious! You will need of course red, blue, and white, plus yellow, purple and dark blue.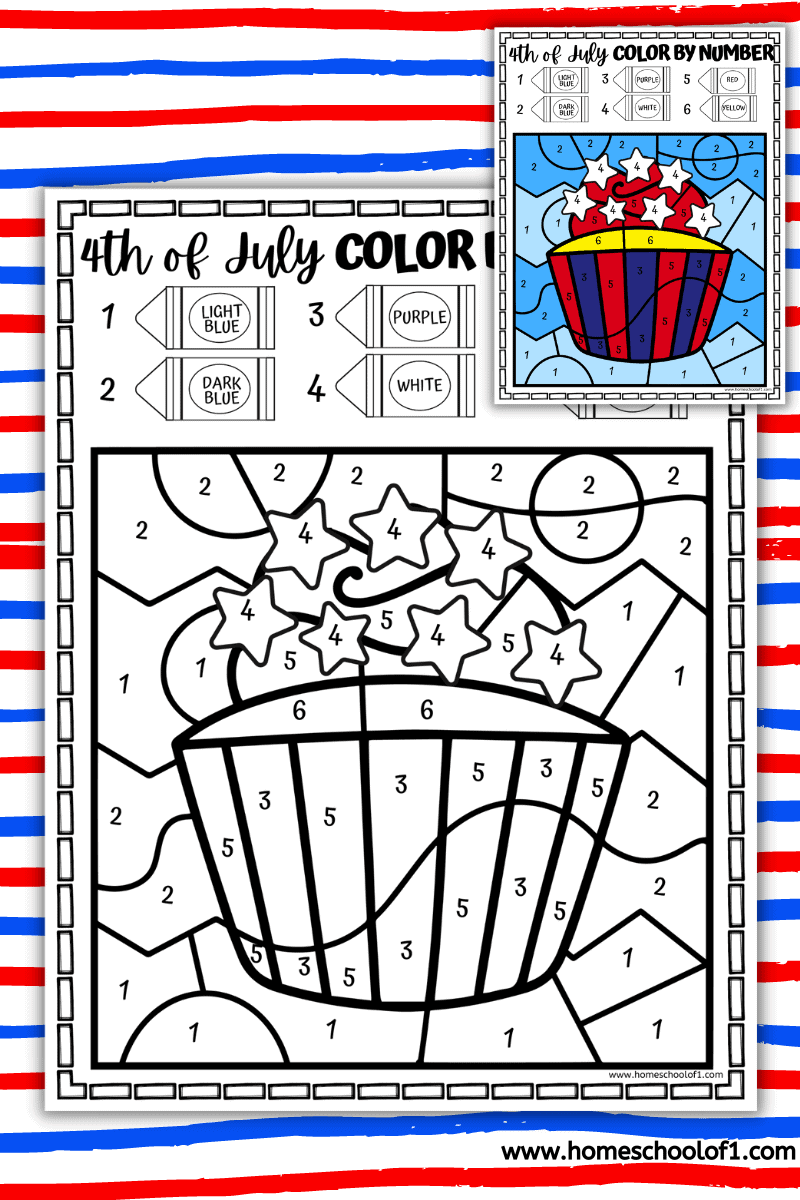 Independence Day Party Color by Number
These two are great if you are having a 4th of July party, as they feature stars, balloons, and bunting.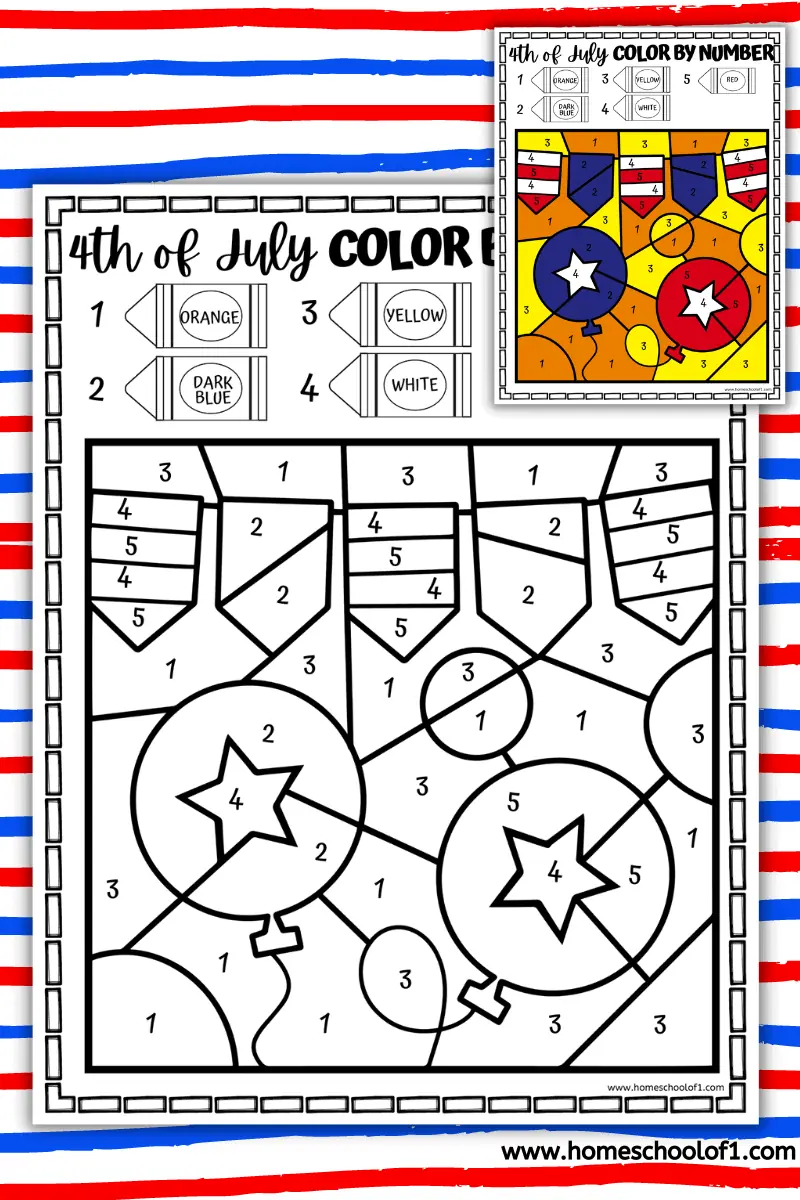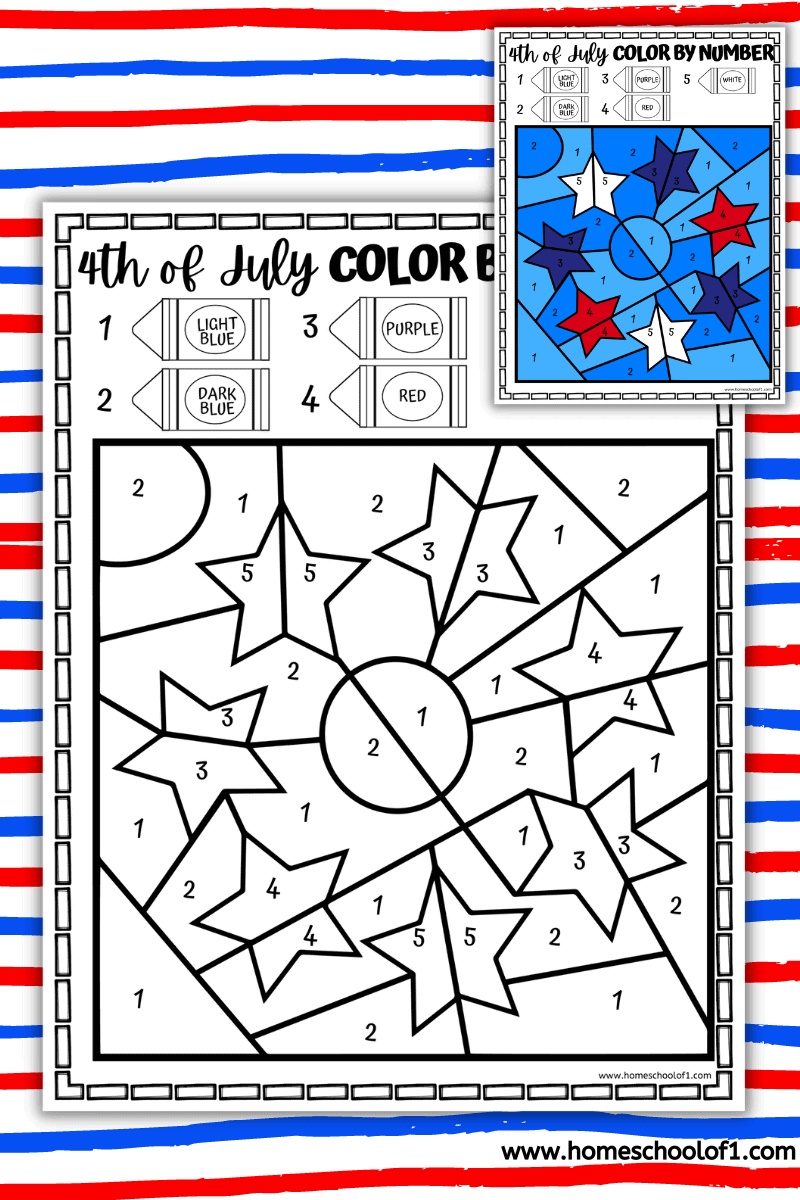 Other patriotic printables you will love
If you are looking for even more fun on Independence Day you will love these free activities:
Why not also add new 4th of July books preschool kids will love this year?
Tips for downloading the free files
Below you will see a large sign-up box where you need to add your name and email address, and press I NEED THIS NOW!
Within minutes you will be sent the free PDF directly to your email address, so you can print it out and start using it immediately.
Sometimes emails get a little wonky, so if you can't see it, please check your spam folder where I am sure it is hiding.
Download the free Independence Day Color By Number Worksheets
Make sure you choose the correct paper size and click on the shrink to fit button. All of our free printables for kids work better when printed on cardstock (this is the one we use and love.)
Last Updated on 19 October 2023 by homeschoolof1