Chicken Worksheets for Preschoolers (free printables)
Have fun with the kids with these free chicken worksheets for preschoolers.
These free homeschool printables can also be used with pre-kindergarten and kindergarten students.
Enjoy learning fun new literacy skills, counting skills, and the alphabet with these 6 free worksheets.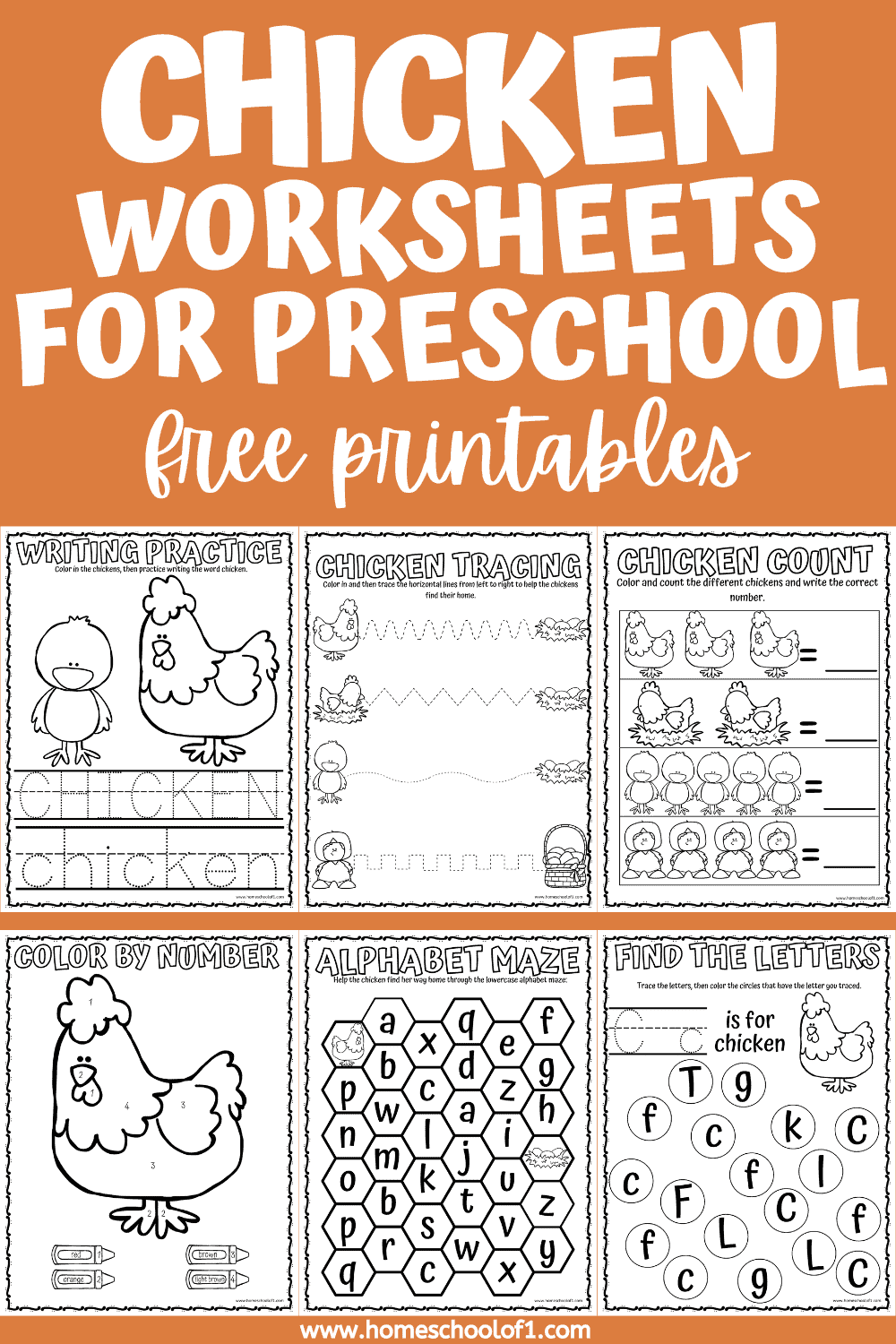 **There may be affiliate links in this post. You can read my full disclosure at the bottom of the page.**
Free printable chicken worksheets
These chicken printable worksheets are free to print but are for personal or classroom use only. Scroll to the bottom of the page to get the pdf file.
There are 12 pages to download, six in black and white so the kids can enjoy coloring the pictures (and you can save ink!), and six in color.
Chicken theme writing practice
Start by having your child color in the chicken, and then practice writing the word chicken in both lowercase and uppercase letters.
Not only will this activity help your child develop their fine motor skills, but it's also a great introduction to language and literacy.
By tracing and copying letters on the worksheets, your preschooler can recognize and learn the shapes and sounds of letters, which are fundamental elements of language and literacy.
Plus, as they improve their hand-eye coordination and strengthen the muscles in their fingers and hands, they'll be better equipped for tasks like writing and drawing.
These worksheets are fantastic for boosting your child's learning and development. Plus they're also a fun and engaging way to introduce them to the world of letters and words.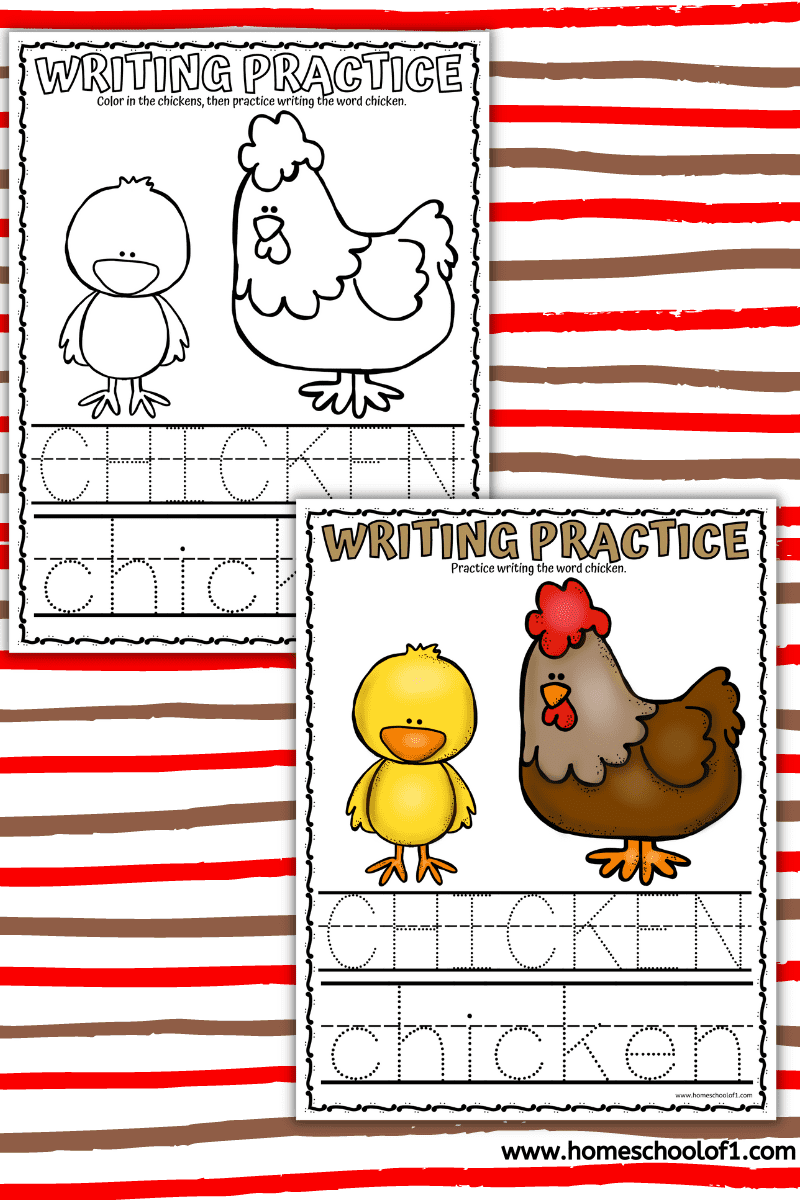 Find the letter C is for chicken
Your child can start by coloring in the chicken, then trace both the upper case and lower case letter C, and finally color in all the circles with the same letters.
These find-the-letter worksheets help preschoolers differentiate between various shapes and sizes of letters, which is an essential skill for reading and writing.
But these worksheets do more than just develop visual discrimination skills. They also make learning about letters more interactive and engaging for kids. Your preschooler can actively search for the letters they need, like little letter detectives on a fun and exciting treasure hunt!
Continue the learning with these free printable alphabet worksheets.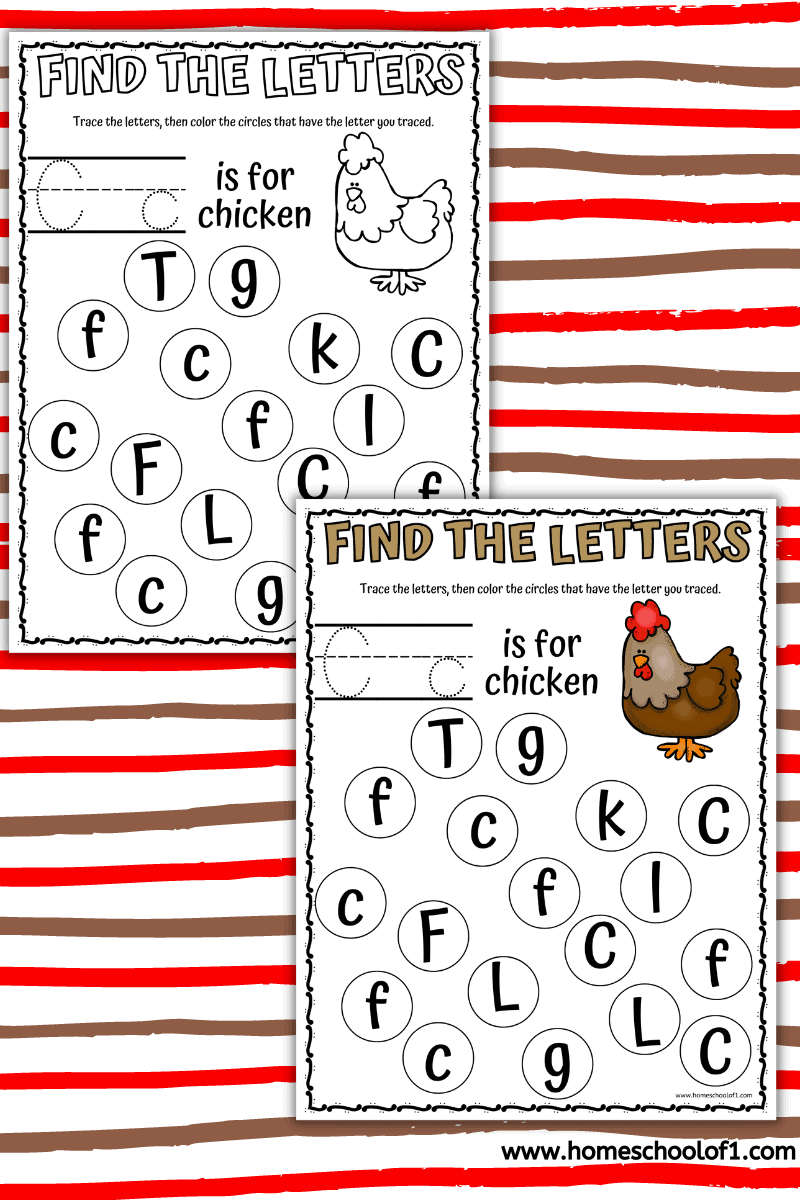 Alphabet maze
Starting with the chicken, your child can help her get back home to the nest by coloring in the correct path from A to Z.
But that's not all – completing this maze can also improve your child's fine motor skills. By coloring in each letter along the way, your preschooler can enhance their hand-eye coordination and strengthen the muscles in their hands and fingers.
And the benefits don't stop there. Solving an alphabet maze can also enhance your child's spatial awareness and cognitive skills.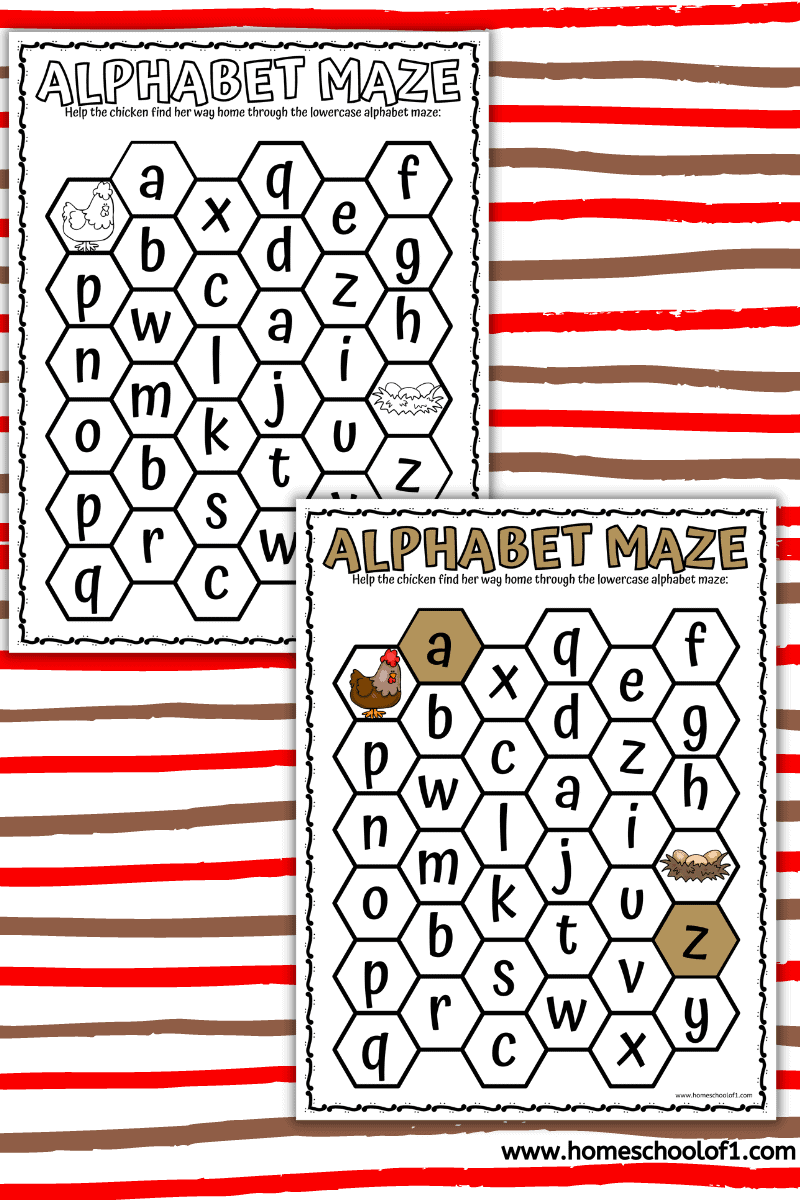 Chicken math worksheets
The kids will love this chicken counting worksheet. They can color in the chicken (if you use the black and white option) and then count up to 5 chickens, and write the correct number.
These amazing worksheets offer lots of advantages for your preschooler's development and learning.
By counting the number of chickens on the page your preschoolers can practice and reinforce their ability to count up to the number 5.
You will also enjoy our fun missing numbers 1-20 worksheet.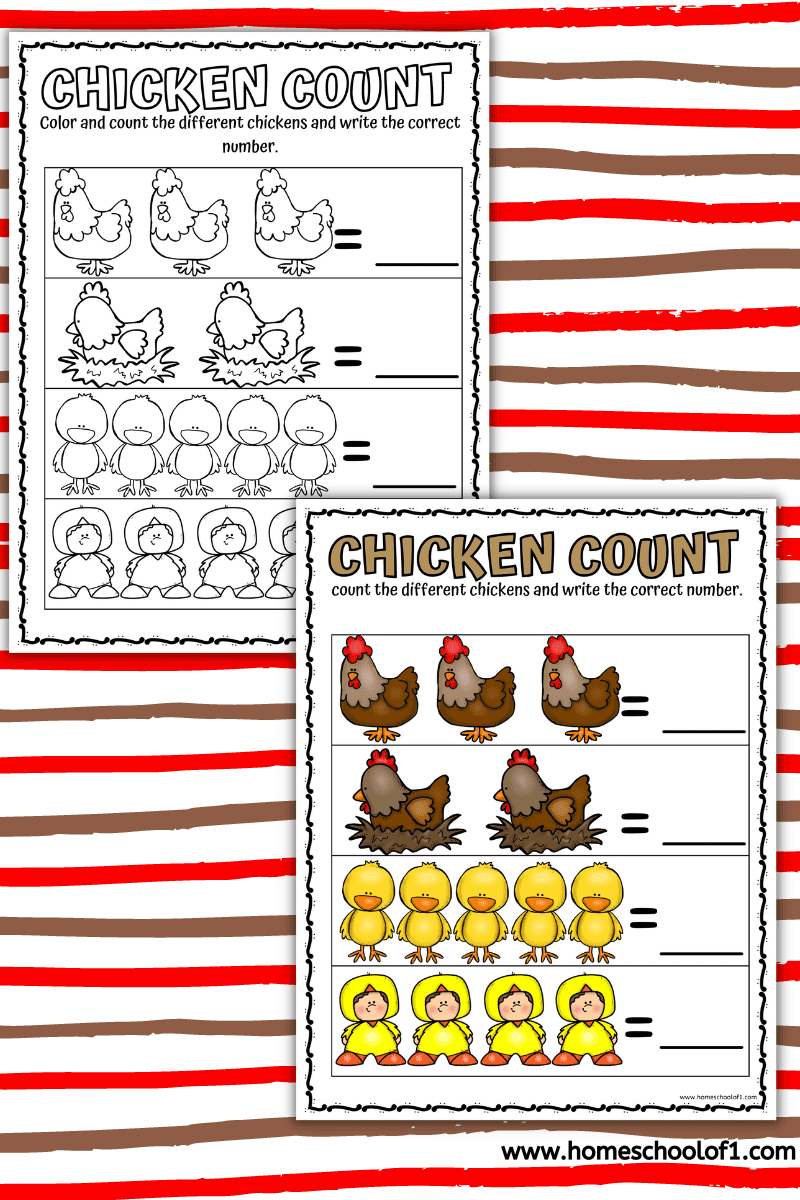 Chicken tracing worksheet
This activity is a great way to engage your child's creativity while also enhancing their fine motor skills.
By coloring in the four different chickens and their homes (or the Easter basket!), and then tracing the zigzag lines, your child can improve their hand-eye coordination and develop the muscles in their hands and fingers.
In addition to being an enjoyable activity, this worksheet can also help your child learn basic shapes and patterns.
Practicing tracing lines and curves can boost their pre-writing skills, developing the necessary motor skills and muscle memory needed for writing letters and numbers in the future.
With these engaging worksheets, your little one can have fun while learning important skills that will benefit them for years to come. It's a win-win situation for both you and your child!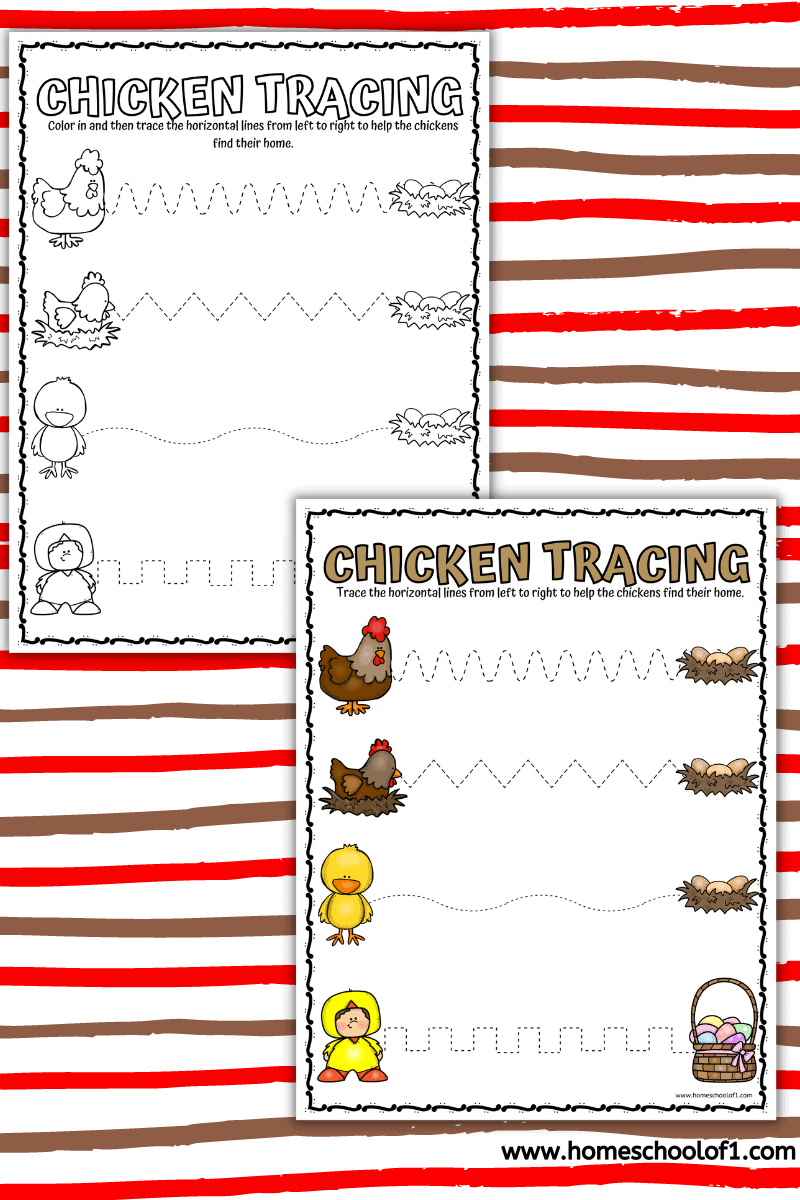 Chicken color by number
There are only 4 colors needed for this chicken coloring page. Brown, light brown, orange, and red.
The colored version shows the three colors as well as the word for the color. The black-and-white version only has the written word for the color. I recommend coloring the crayons in the correct color before handing them out.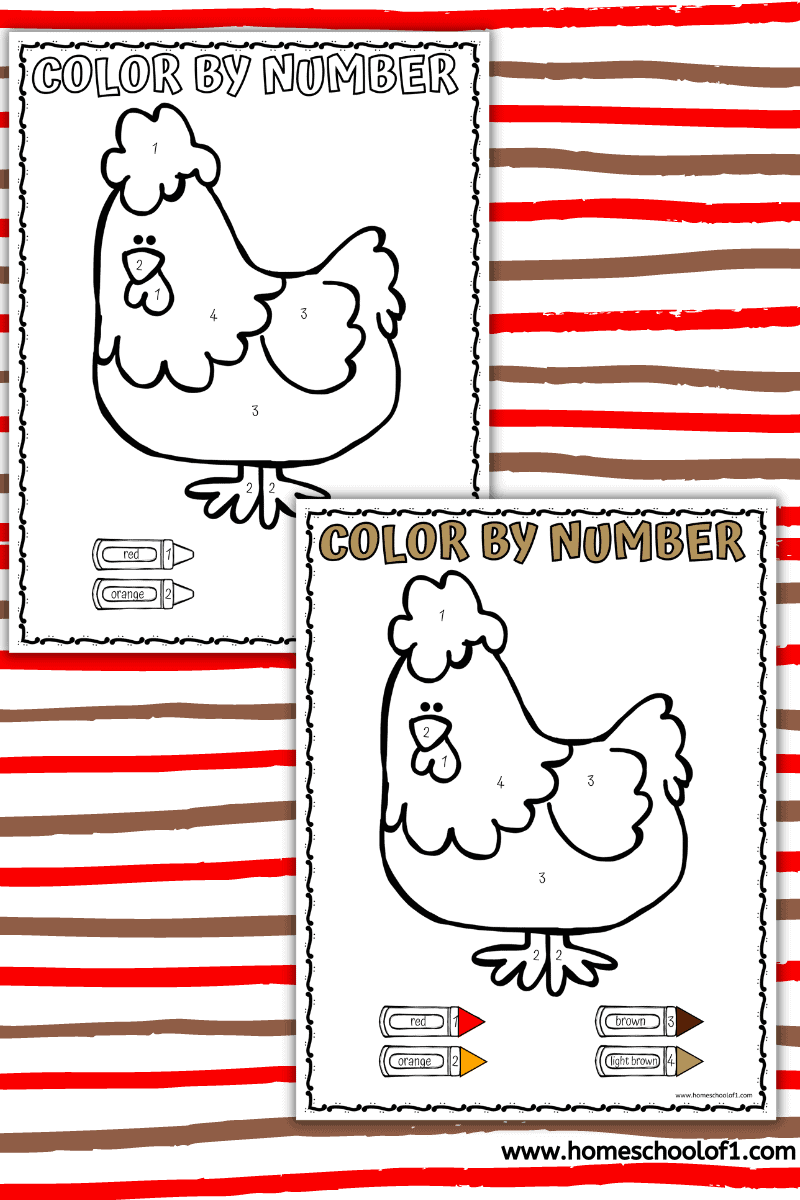 Chicken books for preschool
We absolutely love reading in our home, these are our favorite chicken books for preschoolers:
All Things Chickens For Kids is a fun and informative book that introduces preschoolers to the world of chickens. They'll learn about different breeds of chickens, how they hatch from eggs, and what they eat. The book also includes colorful illustrations that will capture their attention and keep them engaged.
My Chickens Lay Eggs is a delightful story that teaches young children about where eggs come from. The book follows a little girl as she learns how to take care of her chickens and gather their eggs. It's a great way to introduce preschoolers to the concept of farm-to-table and the importance of caring for animals.
How Many Chickens Are on the Farm is an engaging and colorful book that helps preschoolers learn to count. They'll practice counting chickens, eggs, and other farm animals as they explore the farm. The book is designed to be interactive, so children can count along and practice their numbers.
Where Do Chicks Come From? is an educational book that teaches preschoolers about the life cycle of a chicken. They'll learn how eggs are fertilized, how chicks develop inside the egg, and how they eventually hatch. The book is filled with bright illustrations and simple language that makes it easy for young children to understand. It's a great way to introduce them to the wonders of nature and the miracle of life.
Other free letter C activities
If you are looking for even more letter C activities you will love these:
Tips for downloading the free files
Below is a blue cloud with an arrow pointing downward. Underneath that is a large sign-up box where you need to add your name and email address, and press I NEED THIS NOW!
Within minutes you will be sent the free PDF directly to your email address, so you can print it out and start using it immediately.
Sometimes emails get a little wonky, so if you can't see it, please check your spam folder where I am sure it is hiding.
Download the free preschool chicken printables
Make sure you choose the correct paper size and click on the shrink to fit button. All of our free printables for kids work better when printed on cardstock (this is the one we use and love.)
Last Updated on 2 October 2023 by homeschoolof1