Free First Grade Writing Prompts Printables
Welcome to a world of imagination and creativity with our fun first grade writing prompts printables!
This fun collection of 8 printable writing prompts for kids will encourage your young learners to explore their writing skills while having fun along the way.
Each prompt is thoughtfully crafted to inspire creativity and critical thinking. What's more, they come with interactive elements, allowing children to personalize their prompts by adding their artistic touch.
At Homeschool of 1, we understand the importance of making learning enjoyable and engaging. That's why we've designed these writing prompts to not only foster creativity and critical thinking. But also to develop essential writing skills in a way that feels like play, not work.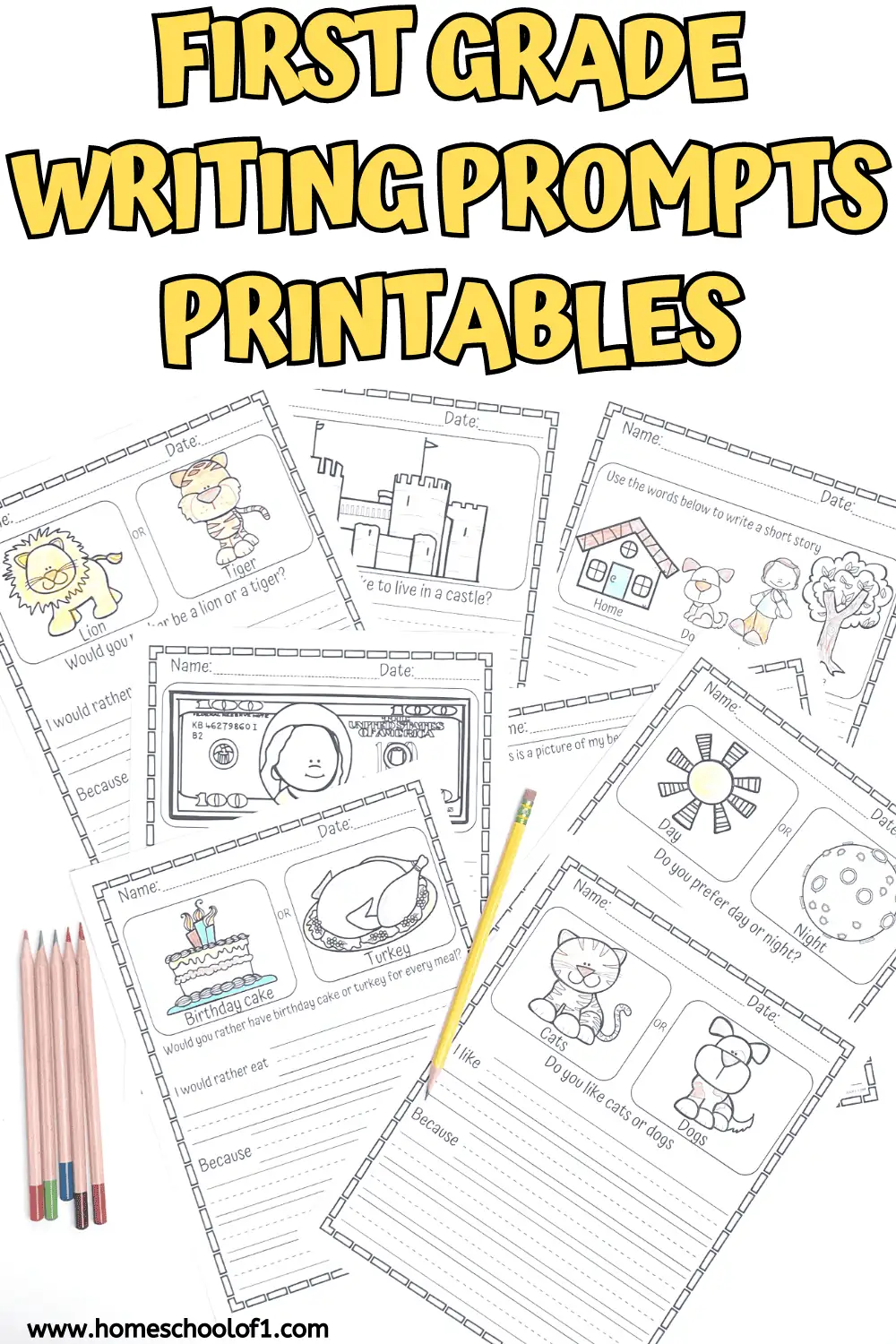 **There may be affiliate links in this post. You can read my full disclosure at the bottom of the page.**
Printable Writing Prompts for First Grade Students
This collection of printable writing prompts offers 8 engaging and fun topics for first grade students to explore their creativity. Each prompt features an interactive element, as the children are encouraged to color in the prompts to make them their own.
The 8 printable writing prompts include:
Would you rather be a lion or a tiger?
Would you rather have birthday cake or turkey for every meal?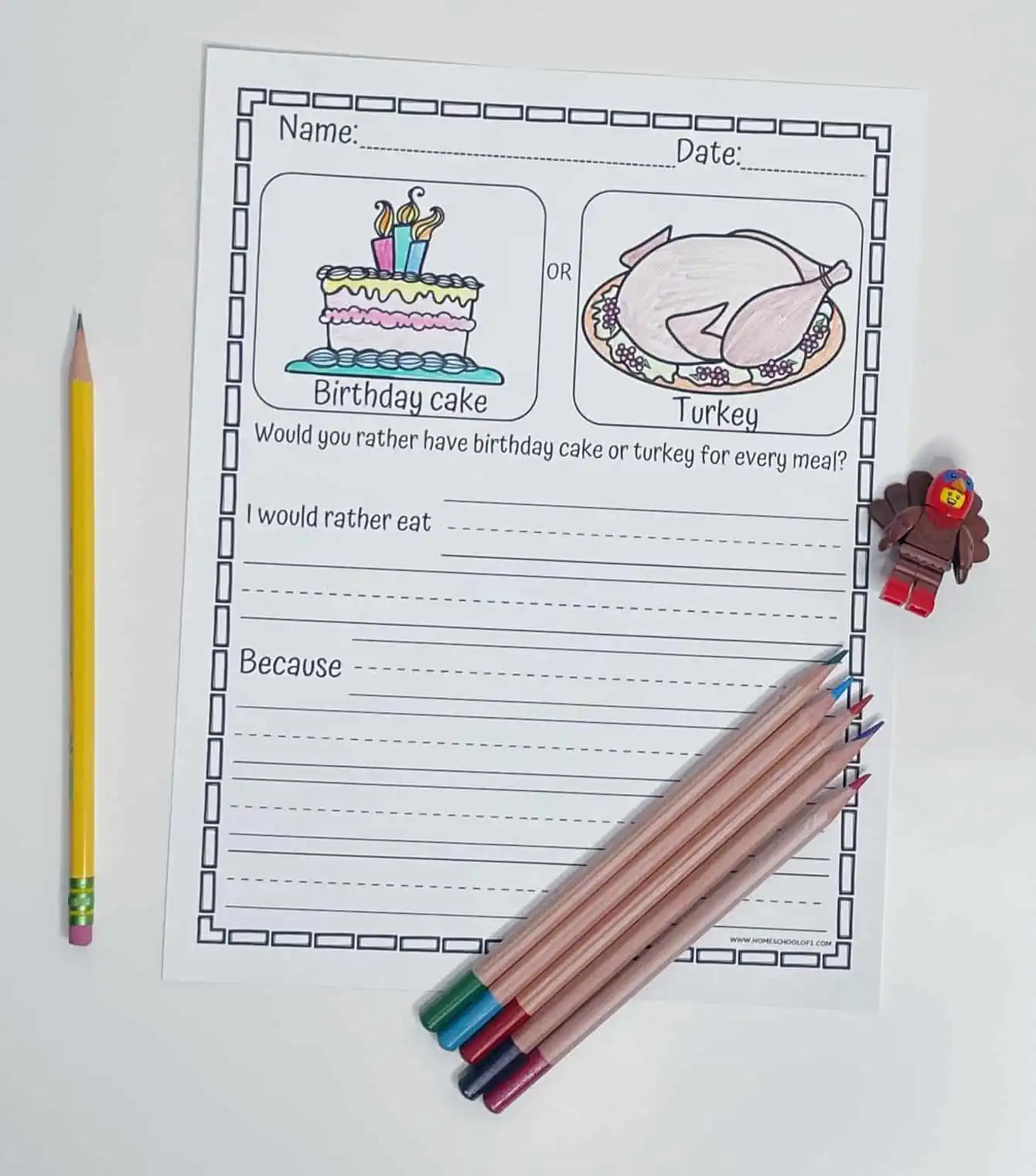 Do you prefer day or night?
This is my best friend, where the children can draw a picture of their friend, and then write their name and why they are their best friend.
If I had $100.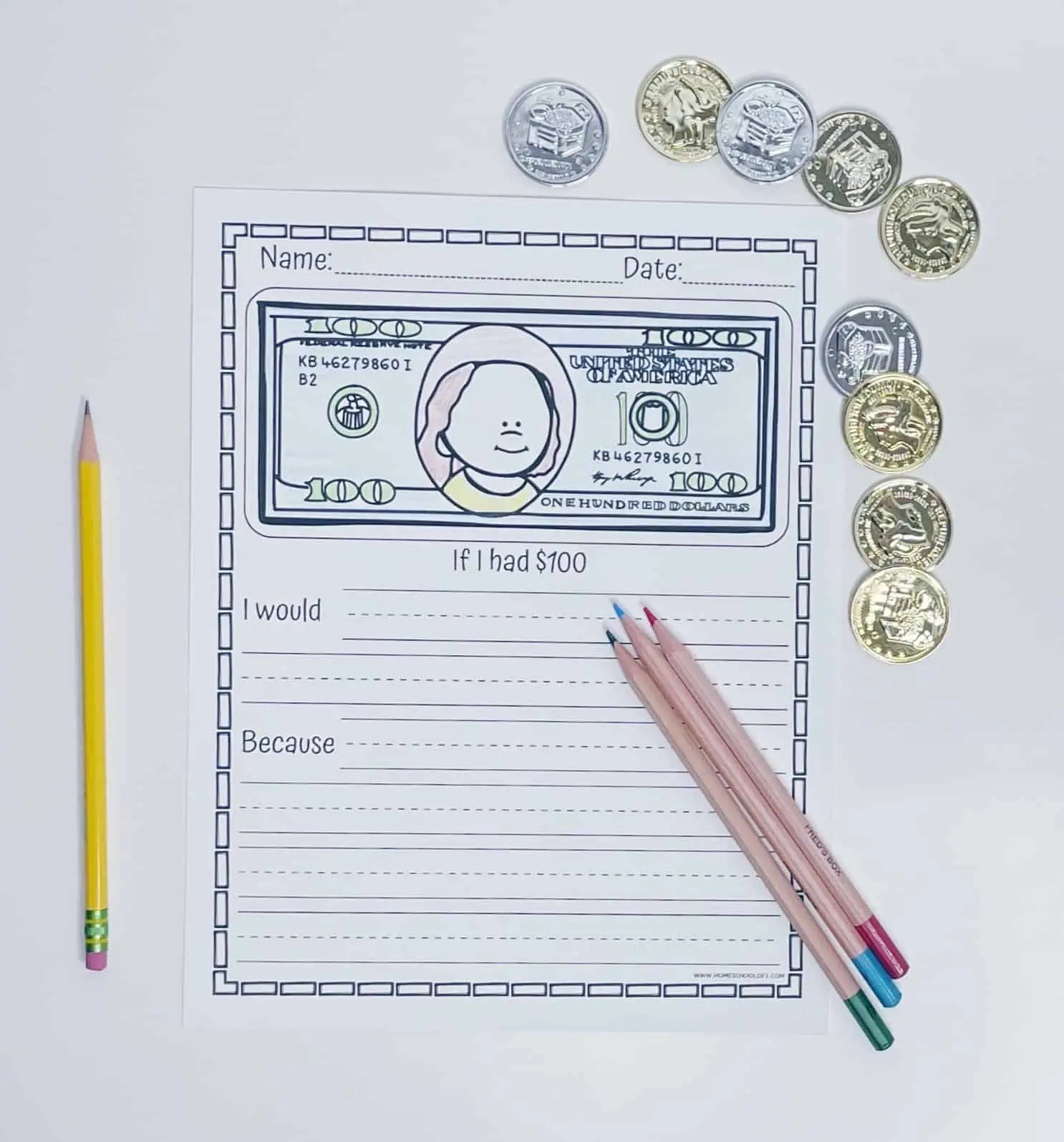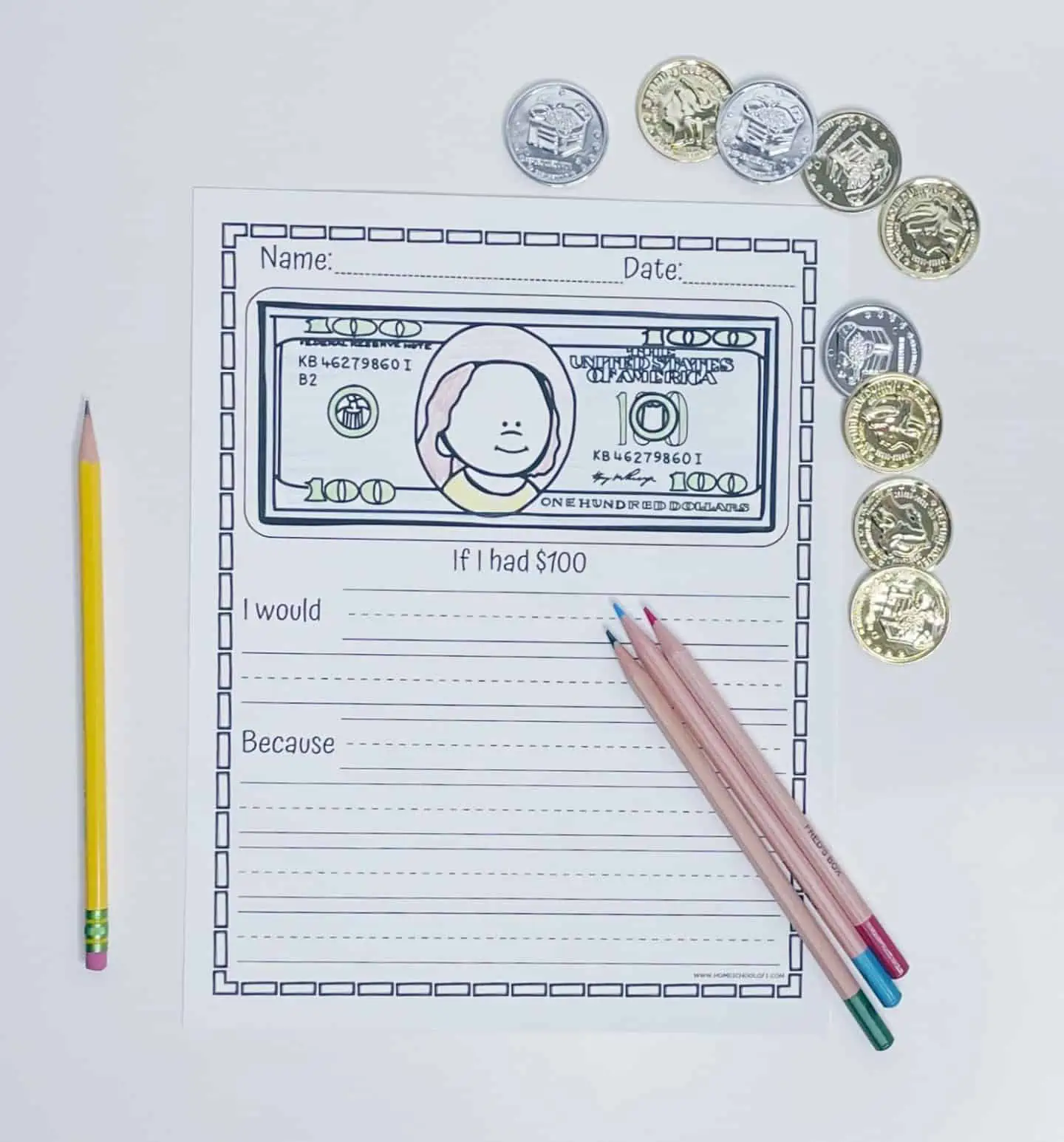 Do you like cats or dogs?
What would it be to live in a castle?
Use the 4 words to write a short story, home, dog, walk, and tree.
These prompts are designed to spark imagination and develop writing skills in first-grade students in an enjoyable and creative way.
100 Pack Colored Sentence Strips for Teacher Supplies, Classroom, Lined Paper Borders for Writing Words (5 Colors, 3 x 24 in)
The Writing Teacher's Activity-a-Day: 180 Reproducible Prompts and Quick-Writes for the Secondary Classroom
Lined Sticky Notes 3×3 Sticky Notes with Lines Self-Stick Notes Bright Color 4 Pads 90 Sheets/Pad (Pastel)
X-ACTO Pencil Sharpener, School Pro Electric Pencil Sharpener, With Six Size Dial, XL Shavings Bin, Black, 1 Count
Scotch Thermal Laminator and Pouch Bundle, 2 Roller System, Laminate up to 9
How to use the printable writing prompts
Using the first-grade writing prompt printables is a straightforward and enjoyable process. Here's a step-by-step guide on how to make the most of these prompts with your first-grade students:
Start by printing out the writing prompts on paper or cardstock. Ensure each child has their own copy to work with.
Offer a variety of coloring materials such as crayons, colored pencils, or markers.
Present the writing prompts to the students one by one. Read each prompt aloud and explain the instructions clearly to ensure everyone understands the task.
For creative writing prompts like "If I had $100" or "What would it be to live in a castle," encourage the children to use their imagination freely and think outside the box.
For prompts like "Do you like cats or dogs?" or "Would you rather have birthday cake or turkey for every meal?" encourage the children to share their preferences and reasons for their choices.
After coloring the prompts, provide writing materials such as pencils or crayons, and allow the children to write their responses or stories. For prompts with a drawing component, have them draw the corresponding pictures as well.
Offer support and guidance as needed. Assist students who may struggle with writing or need help formulating their thoughts. Encourage them to express themselves freely and praise their efforts.
After completing the prompts, give students the opportunity to share their work with the class if they feel comfortable doing so. Encourage positive feedback and discussions about the different responses.
Remember that the primary goal is to make writing a fun and enjoyable experience for first grade students. By using these writing prompts, you can foster their creativity, critical thinking, and writing skills while encouraging them to express themselves confidently.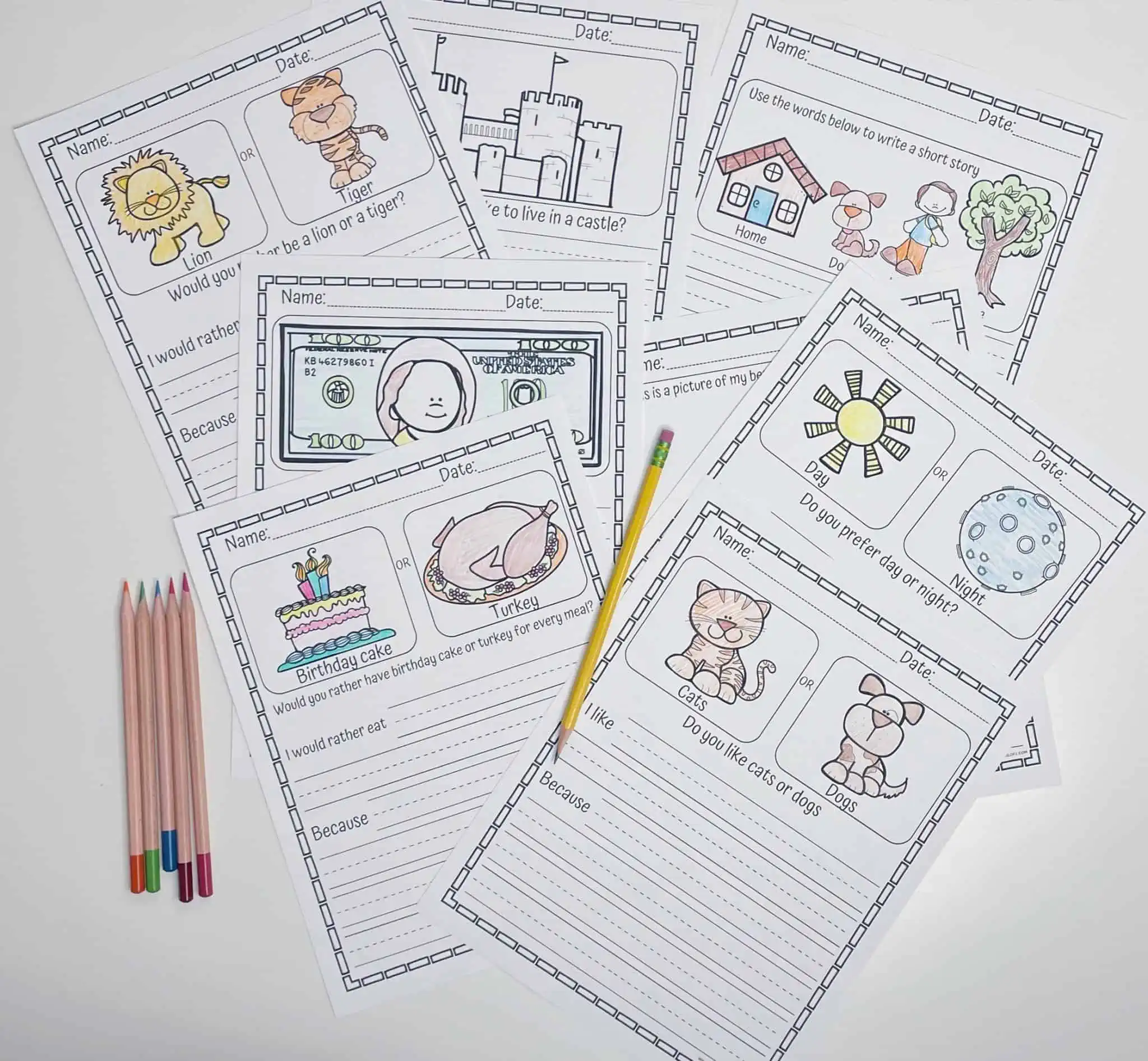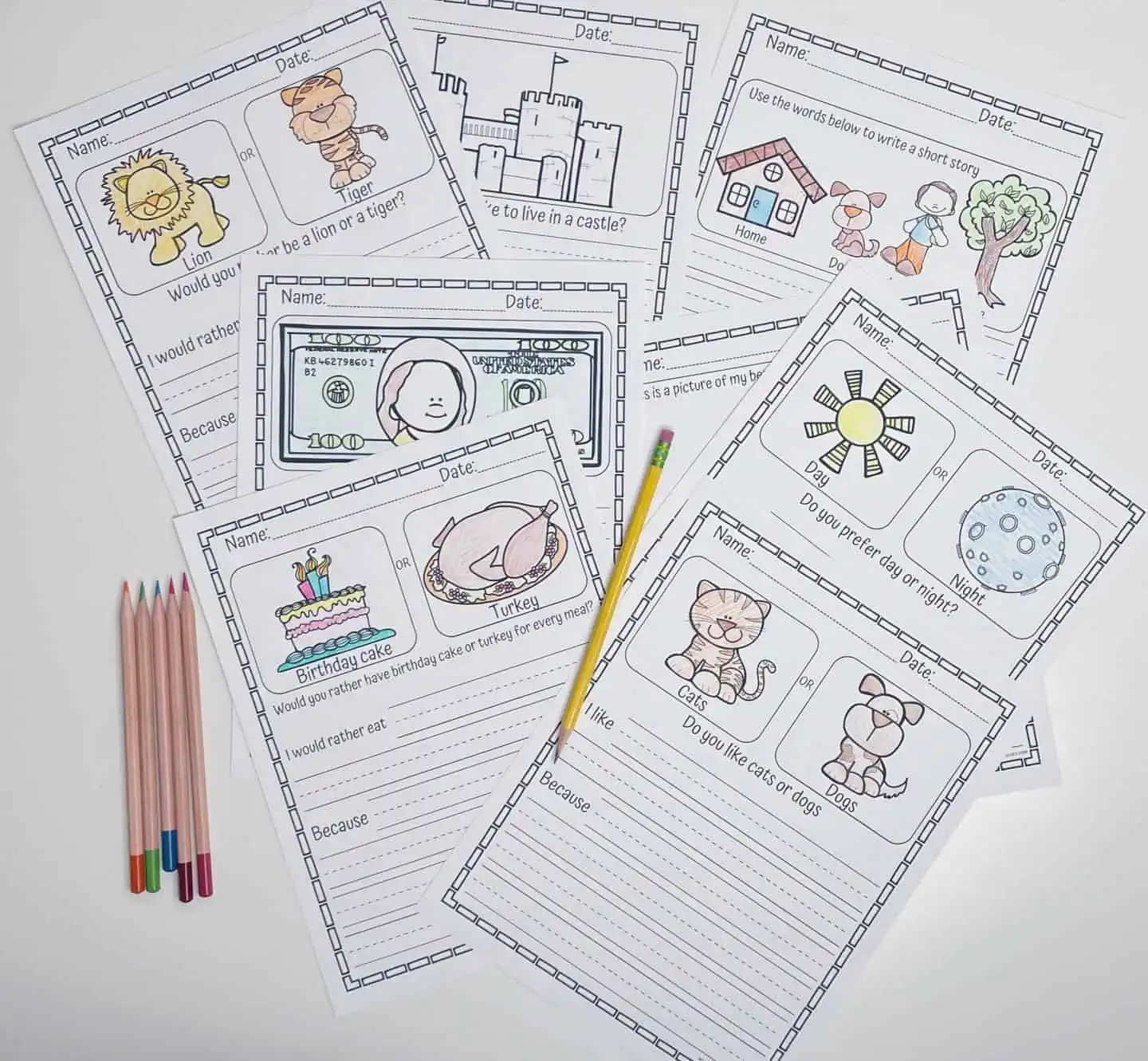 What skills will children learn with these writing prompts?
The writing prompts mentioned above can help first grade students develop a variety of skills:
Each prompt encourages children to use their imagination to come up with unique and creative ideas for their stories and responses.
When asked to choose between options or express preferences, students are prompted to think critically and make decisions based on their reasoning.
Coloring in the prompts requires the use of fine motor skills, which is important for developing hand-eye coordination and dexterity.
Through writing responses to the prompts, students practice forming letters, words, and sentences, which aids in improving their writing skills.
Writing about different topics and discussing preferences helps in expanding their vocabulary and sentence structure.
When describing their best friend or writing a short story, students work on expressing their thoughts and ideas clearly.
Many prompts involve creating stories or scenarios, which fosters imaginative thinking and storytelling abilities.
Some prompts, like "If I had $100," require students to think about how they would spend the money, promoting problem-solving skills.
The prompt where students draw a picture of their best friend allows them to convey ideas through visuals, complementing their writing.
Writing about their best friend or expressing preferences can help children reflect on their feelings and relationships.
Composing a short story or response requires organizing thoughts logically and structuring sentences and paragraphs appropriately.
Colored Masking Tape, Rainbow Colors Painters Tape Colorful Craft Art Paper Tape for Kids Labeling Arts Crafts DIY Decorative Coding Decoration Teaching Supplies, 10 Rolls, 1 Inch Wide x 10.9Yards
Evan-Moor Writing Fabulous Sentences & Paragraphs, Grades 4-6, Homeschool & Classroom Workbook, Activities, Main Ideas, Topic Sentences, Figurative Language, Descriptive Details, Writing Skills
Bertiveny Teacher Stamps for Grading Classroom?Parent Signature Teacher Self-Inking Stamp Set Stamps for Homework Teacher Supplies with 8 pcs
Classroom Timers for Teachers Kids Large Magnetic Digital Timer 2 Pack
Kindergarten/Preschool Handwriting Workbook- Alphabet & Number Tracing Writing Paper with Lines, Learning Tools for Age 2/3/4/5 Year Old Kids/Boys/Girls, ABC Learning for Toddler, Homeschool Supplies
INFUN Dry Erase Pockets – 30 Pack?Oversized Reusable Dry Erase Sleeves, Multicolored Dry Erase Pocket Sleeves with 30 Markers 4 Eraser 3 Metal Rings for Classroom Organization & Teaching Supplies
Overall, these writing prompts provide a well-rounded learning experience. Covering cognitive, motor, linguistic, and emotional aspects. Making writing a fun and rewarding activity for first-grade students.
Tips for downloading the free files
Below is a blue cloud with an arrow pointing downward. Underneath that is a large sign-up box where you need to add your name and email address, and press I NEED THIS NOW!
Within minutes you will be sent the free PDF directly to your email address, so you can print it out and start using it immediately.
Sometimes emails get a little wonky, so if you can't see it, please check your spam folder where I am sure it is hiding.
Download the 1st grade writing prompts
These worksheets are free to print but are for personal or classroom use only.
Make sure you choose the correct paper size and click on the shrink to fit button. All of our free printables for kids work better when printed on cardstock (this is the one we use and love.)
Last Updated on 2 October 2023 by homeschoolof1