Free Earth Day Activities for Elementary Students
If you are looking for Earth Day activities for elementary students you are in the right place.
These holiday activities for kids are perfect for the month of April, or any time you are studying the environment.
Earth Day is celebrated around the world on April 22nd and is the perfect time to talk to kids about the planet and how to look after it.
Carry on reading for our free Earth Day printables you can use with your elementary aged kids.
**There may be affiliate links in this post. You can read my full disclosure at the bottom of the page.**
Interesting Facts about Earth Day for Young Kids

Earth Day is like a birthday party for our planet! It's celebrated every year on April 22nd to remind us to take care of the Earth, just like we care for our friends and family.
The very first Earth Day happened in 1970. People all around the world joined together to show how much they love and want to protect our beautiful planet.
On Earth Day, many people plant trees. Trees help clean the air we breathe and give homes to animals. Imagine Earth as a big puzzle, and each tree is a piece that makes it healthier and more complete!
Earth Day teaches us to be superheroes for the planet by reducing the things we use, reusing what we can (like turning a cereal box into a craft), and recycling materials like paper, plastic, and glass so they can be made into new things.
Earth Day is a time to think about all the animals that share our planet. From cute pandas to giant whales, every animal plays a special role in our world. On this day, we learn to be kind to animals and their homes, just like we'd want others to be kind to us and our homes.
I Am Earth: An Earth Day Book for Kids (I Am Learning: Educational Series for Kids)
Our Planet! There's No Place Like Earth (Our Universe, 6)
What a Waste: Trash, Recycling, and Protecting our Planet (Protect the Planet)
One Earth
Compost Stew: An A to Z Recipe for the Earth
How to Help the Earth-by the Lorax (Dr. Seuss) (Step into Reading)
Earth Day Books for Elementary Aged Kids
We love reading in our homeschool and have books all around our home. These are the best Earth Day books for kids in elementary grades that we have either read in the past or have had recommended:
Earth Ninja: A Children's Book About Recycling, Reducing, and Reusing introduces young readers to a clever ninja who teaches them the importance of taking care of the planet by recycling, reducing waste, and reusing items in creative ways.
What a Waste: Trash, Recycling, and Protecting our Planet engages elementary kids by exploring the world of waste management, and recycling. And how small actions can make a big impact in protecting our planet's environment.
One Plastic Bag tells the inspiring true story of Isatou Ceesay. A Gambian woman who transforms her community by turning discarded plastic bags into beautiful woven purses. Emphasizing the power of innovation and environmental responsibility.
I am Earth takes young readers on a journey through Earth's history. From its formation to the present day. Fostering a deep connection to our planet and inspiring a sense of stewardship.
Earth! My First 4.54 Billion Years presents Earth as a personified character. Sharing its own "autobiography" with elementary readers. Conveying essential lessons about our planet's natural history and the need to care for it.
Free Earth Day Printables & Activities
Have fun with the kids on Earth Day with these free printables and fun crafts that will keep them busy for hours.
These are a great way to learn about the planet and the importance of recycling while having fun.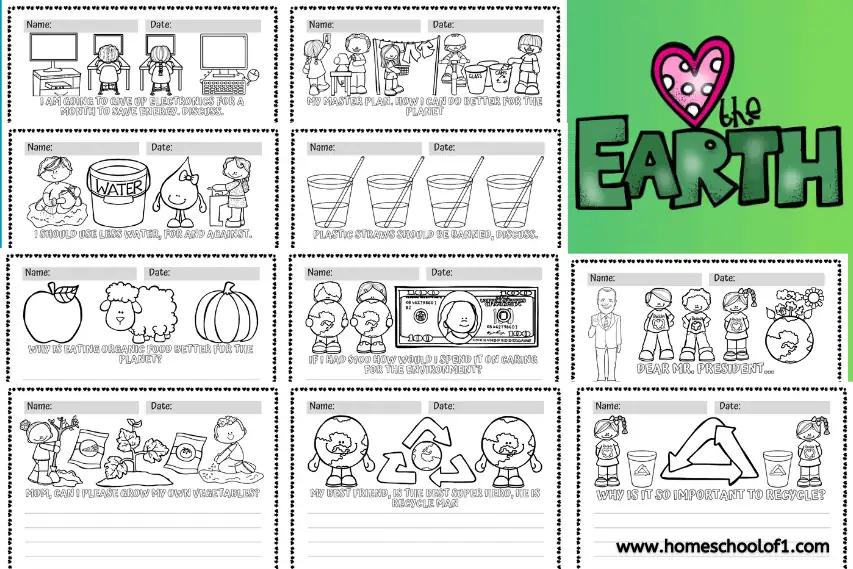 Last Updated on 3 September 2023 by homeschoolof1