Free Father's Day Printables & Gift Ideas
If you are looking for free Father's Day printables then you are going to love these.
These holiday activities for kids are perfect to help celebrate all of the dads out there.
Father's Day is celebrated on the third Sunday in June both in America and the UK (where my Dad lives.)
Treating Dad doesn't have to be expensive. Download our free Father's Day printables and show him how much he is loved and appreciated.
These are broken down into Father's Day free printables and then gift ideas for dad.
Here you will find all the dad-related posts on my site! We are constantly updating our posts, so scroll down and see what we currently have.
Make sure you save (and pin) this post for later, and definitely keep checking back as I am always adding new content.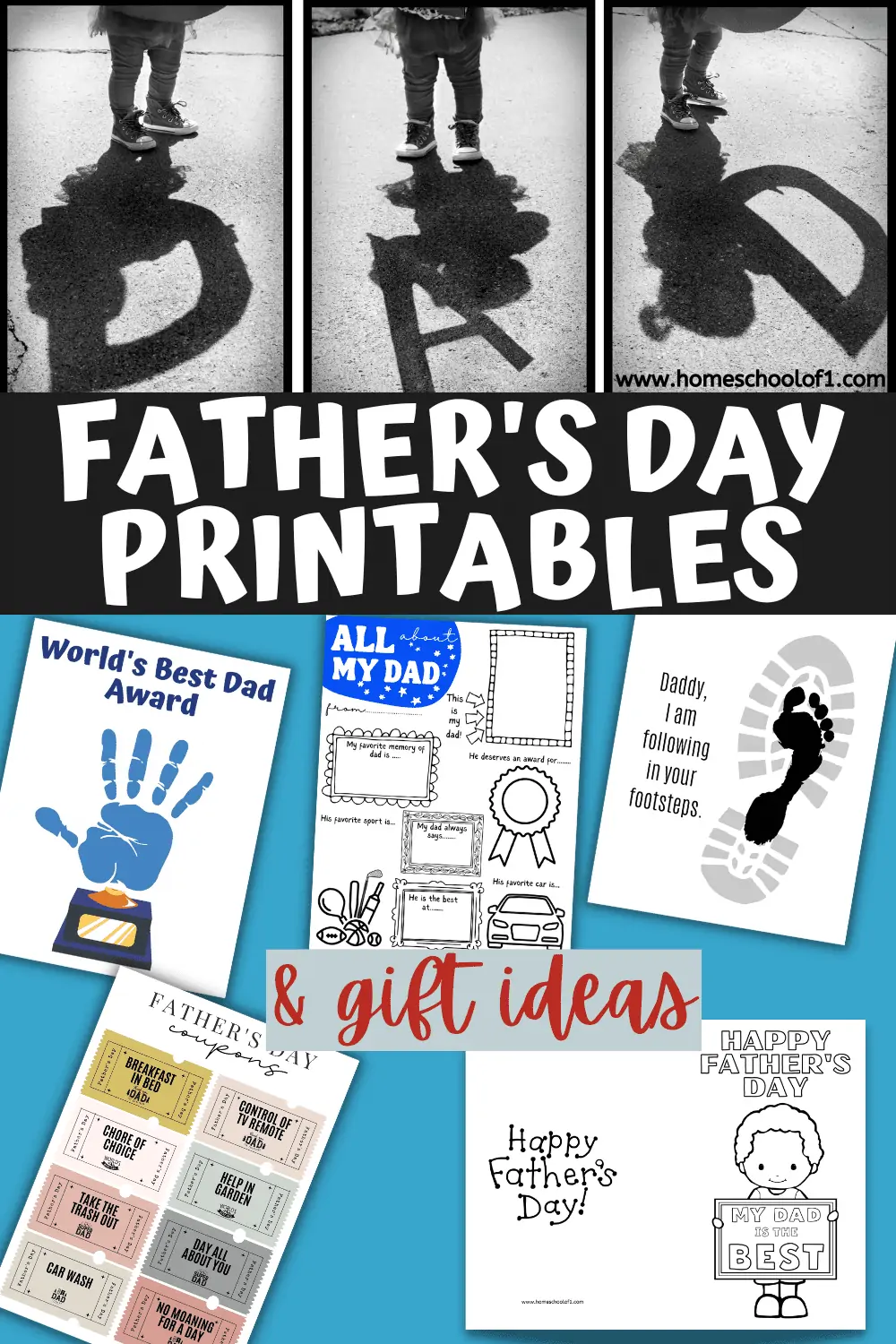 **There may be affiliate links in this post. You can read my full disclosure at the bottom of the page.**
How can I make my Father's Day special on a budget?
Father's Day is just around the corner, and what better way to show appreciation to the superhero in your life than by spending quality time together?
You don't need to break the bank to make Dad feel special.
There are plenty of fun cost-free activities that you and your little ones can enjoy, creating lasting memories that will warm Dad's heart.
Transform your backyard into a mini camping haven for an unforgettable Father's Day experience. Pitch a tent, set up sleeping bags, and gather around a cozy bonfire. Dad and the kids can share stories, roast marshmallows, and stargaze together.
Encourage your children's creativity by helping them craft a personalized gift for Dad. Whether it's a homemade card or a coupon booklet, these heartfelt creations will be cherished by Dad for years to come. You will find the free Father's Day printables below!
Nature has a way of bringing people closer together, so why not plan a leisurely walk with Dad? Explore a nearby park, nature trail, or even just the neighborhood.
Turn your living room into a cozy cinema for a Father's Day movie marathon. Ask Dad to pick his favorite films, gather blankets and pillows, and create a snack buffet with popcorn, homemade treats, and refreshing beverages.
Get ready for some friendly competition with a family game day! Dust off Dad's favorite board games for kids, play cards, or even set up a scavenger hunt around the house.
Free Father's Day Printables
Looking for free printables to celebrate Father's Day?
We've got you covered!
From adorable handprint crafts to printable cards and coupons, you'll find everything you need to make Dad feel extra special.
Plus, don't forget to check out our fun word search and word scramble activities, as well as printables to celebrate Grandad.
Get ready for some creative and heartfelt celebrations without breaking the bank!
Father's Day gift ideas
Struggling to find the perfect Father's Day gift?
Don't worry, we've got you covered with affordable and thoughtful ideas that Dad will love.
Whether he's the man who seems to have everything or you're on a tight budget, our gift suggestions will help you find something unique and special to show your appreciation.
From personalized mugs to DIY photo albums, you'll find creative ways to make Father's Day extra memorable without breaking the bank.
What are some fun facts for Father's Day?
Father's Day was inspired by Mother's Day's success.
President Nixon made Father's Day official in 1972.
The most popular gift is a tie.
Father's Day is celebrated worldwide.
The youngest father was 9 years old.
Father's Day has a big economic impact.
It honors father figures, not just biological fathers.
The most children recorded were 69.
According to data from phone companies, Father's Day holds the record for the most phone calls made in a day.
There are approximately 75 million dads in the world.
Last Updated on 2 June 2023 by homeschoolof1