29+ Free Scavenger Hunt Printables For Every Occasion
We absolutely love scavenger hunts and treasure hunts in our home. So I wanted to share our absolute favorite scavenger hunt printables we have to offer on Homeschool of 1.
The reason we love scavenger hunts is that they are so easy to organize, and the whole family can get involved and have fun.
All of the scavenger hunts and treasure hunts included on this page are from Homeschool of One, so you don't need to subscribe to multiple email lists! I have created them all just for you.
There are two different types of hunts included in this post. The first list is a traditional scavenger hunt and the second list is rhyming treasure hunt clues.
There is a mix of indoor and outdoor scavenger hunt printables that you and the kids are going to love.
We have a scavenger hunt or a treasure hunt for every holiday and every occasion. But if we don't have what you are looking for just email me and I will make it for you.
Check out all of our other free printables to see what else we have.
This post will be updated regularly as we add new scavenger hunt printables. There are currently 29 different hunts for you to print out for free.
**There may be affiliate links in this post. You can read my full disclosure at the bottom of the page.**
Have the best fun exploring with our free scavenger hunt printables.
These all print out on letterhead paper, and we definitely prefer printing them on cardstock (and even better if you laminate them so they last for years to come!).
Outdoor Scavenger Hunts
We enjoy outside scavenger hunts the most as it means we are getting fresh air, and exploring as we play. These are all the best free outdoor scavenger hunts we have.
Outdoor Easter Egg Hunt
Have fun outside with our free garden easter egg hunt.
Easter photo scavenger hunt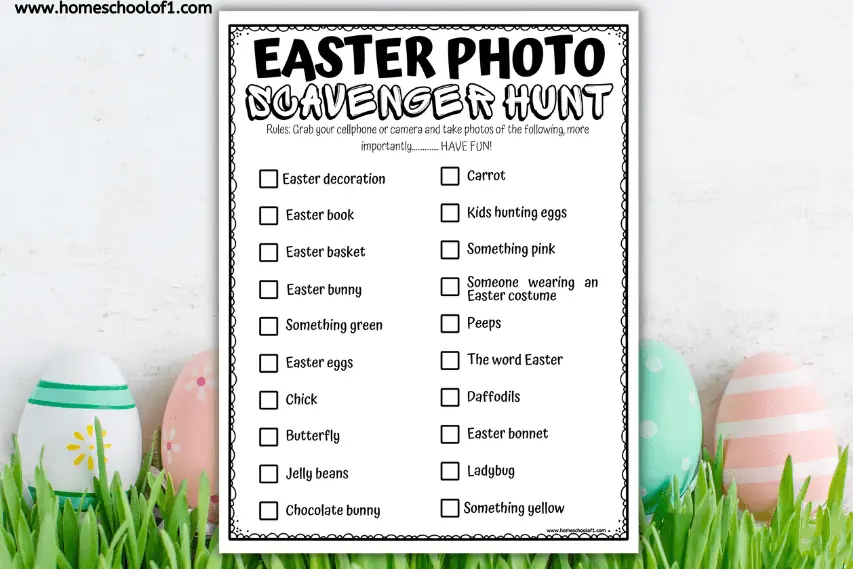 Don't leave the teens out this Easter, download our free Easter photo scavenger hunt and let them enjoy it too.
Neighborhood Scavenger Hunt
Get the kids out and about exploring where you live with our free neighborhood scavenger hunt.
Garden Scavenger Hunt
Have fun in the garden with this free garden scavenger hunt, it is a great way to explore nature in your own backyard.
Earth Day Scavenger Hunt
Celebrate the planet with our free Earth Day scavenger hunt printable.
Tree Scavenger Hunt
This tree scavenger hunt printable is a perfect activity to celebrate Arbor Day.
Road Trip Bingo
This free printable road trip bingo is slightly different. But you have to spot the items on your road trip. You can play it like a scavenger hunt by just marking off the items you see.
Camping Scavenger Hunt
Going camping with the kids this year? No worries print out a few camping scavenger hunt printables and you will be the most popular campers on the campsite!
Beach Scavenger Hunt
Heading to the beach this summer? If so print out our free beach scavenger hunt and have fun exploring.
Butterfly Scavenger Hunt
Are you learning about butterflies or heading to a butterfly farm? If so you are going to love our butterfly scavenger hunt printable included in our life cycle of a butterfly worksheets.
Zoo Scavenger Hunt
If you are going to the zoo print out our 2 zoo scavenger hunt printables and see if the kids can find all of the animals.
4th of July Scavenger Hunt
Celebrate Independence Day with the kids with our free 4th of July scavenger hunt.
Halloween Photo Scavenger Hunt
Have fun with the older kids this Halloween with our free Halloween photo scavenger hunt for teens and tweens.
Thanksgiving Photo Scavenger Hunt
Have fun with your teens with our free Thanksgiving photo scavenger hunt. Grab your cellphone and try and take as many photos as you can of the items listed in the time given.
Christmas Photo Scavenger Hunt
Have fun with your older children this holiday with our free Christmas photo scavenger hunt.
Indoor Scavenger Hunts
Don't let the rain stop you have a scavenger hunt. These are the best indoor scavenger hunts we have, and two of them are perfect for homeschoolers.
Book Scavenger Hunt
We love to read in our homeschool and this book scavenger hunt is a great way to make reading and going to the library more fun,
Homeschool Scavenger Hunt
A great back-to-school activity is our free homeschool scavenger hunt, can be used in the classroom too.
Pi Day Scavenger Hunt
Search high and low for 15 fun objects all beginning with the letters PI.
Mother's Day Scavenger Hunt
Spend some quality time with mom with our free Mothers Day scavenger hunt printable.
New Year's Eve Scavenger Hunt
Have fun with the kids this New Year's Eve with our free New Years Eve scavenger hunt.
Indoor Treasure Hunt Clues
These are rhyming clues that need to be hidden in order for the children to find a present at the end of the treasure hunt.
Birthday Scavenger Hunt
Hide the kid's birthday gifts this year by having a really fun birthday scavenger hunt.
Valentines Treasure Hunt
Love is in the air! Hide these 12 Valentine's Day scavenger hunt clues around the house for the kids and/or adults to find. Leave a nice little gift with the last clue.
St Patricks Day Treasure Hunt
The Leprechaun's have been up to no good again and have hidden these St Patricks Day scavenger hunt clues around the house. There are 12 clues to find, and all clues can be hidden inside the house.
Easter Treasure Hunt Clues
Let the Easter bunny hide these rhyming Easter scavenger hunt clues around the house.
Star Wars Treasure Hunt
May the force be with you! Hide these Star Wars scavenger hunt clues around the house, perfect for Star Wars Day.
Halloween Treasure Hunt
Is this a trick or a treat? Hide the Halloween treasure hunt clues around the house and lead them to their candy,
Thanksgiving Treasure Hunt
There are 12 Thanksgiving scavenger hunt rhyming clues to hide around the house. These clues are not numbered so you can hide them in whatever order you want.
Elf on the Shelf Treasure Hunt
This Elf on the Shelf scavenger hunt is a great game to play. Leave the clues hiding around the house for the children to find where the Elf has landed.
Christmas Treasure Hunt
Hide the Christmas presents this year with our free Christmas treasure hunt clues. There are 12 rhyming clues to hide around the house.
What are the best Treasure Hunt Gifts?
You absolutely do not need to give a gift at the end of the treasure hunt or scavenger hunt. Maybe just some candy would work well, but if you wanted to give a small gift these are our favorite ones we have used in the past.
Escape Room Ideas for Older Kids
If you have older children they might prefer our free escape room puzzle ideas, and our:
Last Updated on 11 March 2023 by homeschoolof1