The Best St Patricks Day Activities
St Patricks Day is celebrated on March 17th, however, the celebrations normally take place the weekend that is closest to this date.
Here you will find the best St Patricks Day activities, books, homeschool ideas, and more.
As we homeschool year-round check out all of the other holiday fun we have.
If you are looking for the other Patron Saints of the UK check out our posts on:
The St Patrick's Day activities are broken down into the following sections:
St Patrick's Day educational activities
St Patrick's Day fun activities
Make sure you save (and pin) this post for later, and definitely keep checking back as I am always adding new content.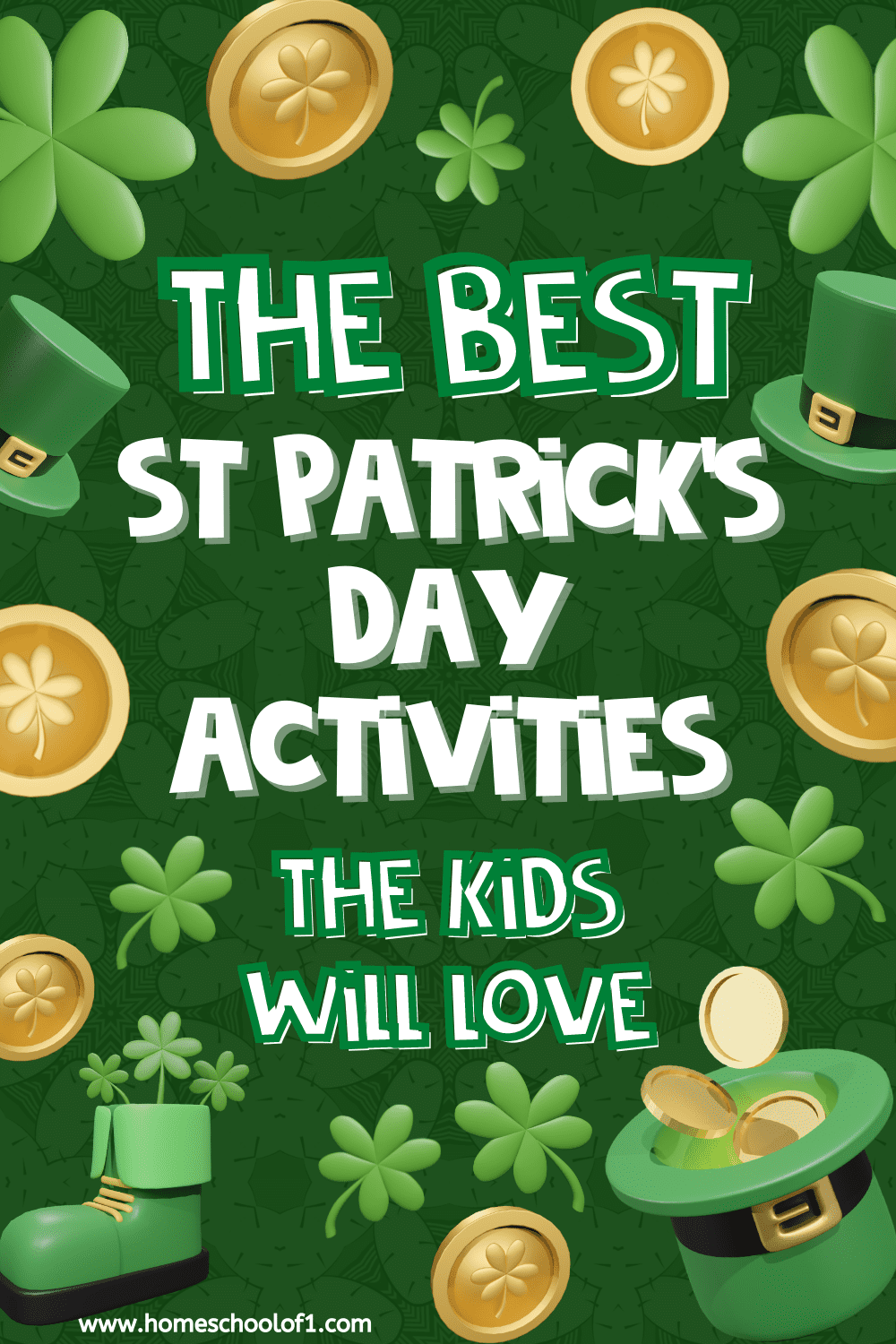 **There may be affiliate links in this post. If you make a purchase (after clicking one of my affiliate links) I'll earn some coffee money, which I promise to drink while supporting your journey. You do not pay a higher price. You can read my full disclosure at the bottom of the page.**
St Patrick's Day Educational Activities
Have fun either at school or in homeschool with our educational St Patrick's Day activities for kids aged 3-14.
There are 15 vocabulary words to find in our free St Patricks Day word search. The kids need to search forwards, backwards, up, down, and diagonally to find these words!
St Patrick's Day is a great excuse to get the kids writing! As such I have created these free St Patrick's Day writing prompts for you to have fun with.
These are the best St Patricks Day books for kids that can be used both as read alouds or for independent reading.
Photo Credit: techiehomeschoolmom.com
Learn about St Patrick's Day with this interactive internet-based mini-series.
Photo Credit: www.etsy.com
St. Patrick's Day Green Trivia Game
Photo Credit: www.etsy.com
Immerse your children in a feast of learning with poetry, hymns, scripture, and artwork. This is perfect for celebrating St. Patrick's Day or any time throughout the year!
Photo Credit: www.etsy.com
Your students will love these lucky cereal marshmallow math & more activities. They are the perfect St. Patrick's Day math activities for kindergarten, pre-k, and preschool!
St Patrick's Day Fun Activities
Have fun with the kids this St Patrick's Day.
We LOVE treasure hunts in our home! I don't care how old the kids are, I am sure we will still be playing this into the teenage years! Download our free St Patrick's Day scavenger hunt clues and hide them around the house.
Are you tired of the kids being bored at the dining table while you are busy making dinner? You are not alone!! These St Patrick's Day activity placemats to color are the answer you have been looking for.
These free St Patrick's Day bingo boards are perfect either for school or at home with friends and family.
Coloring is so calming, we use coloring as a way to reduce stress and regroup every day of the year. But these free St Patrick's Day coloring pages are perfect to use in March.
Photo Credit: www.etsy.com
Create the perfect Leprechaun trap with this DIY kit! Complete with a rainbow road, enticing sign, and a pot of gold nestled inside a decorated enclosure, this leprechaun trap will be sure to enhance your child's imagination and make for a fun holiday tradition full of magic and wonder!
Photo Credit: www.etsy.com
This St Patrick's Day printable bundle can be enjoyed with both kids and adults.
St Patricks Day Pinterest
Last Updated on 10 July 2022 by homeschoolof1