Best Free Homeschool Printables (Over 250 Worksheets)
As we all know homeschooling can be expensive. My mission at Homeschool Of 1 is to create as many free resources as possible. We currently have over 250 free homeschool printables for kids most of which are educational.
Add any (or all) free homeschool printables to your homeschool curriculum, or add to your lesson plan.
We also have over 75 free kids coloring pages which are not included below.
These printable activities make learning fun and definitely not boring. If kids are just doing the same workbooks every day, they will become bored very quickly.
Make sure you save (and pin) this post for later, and definitely keep checking back as I am always adding new printables.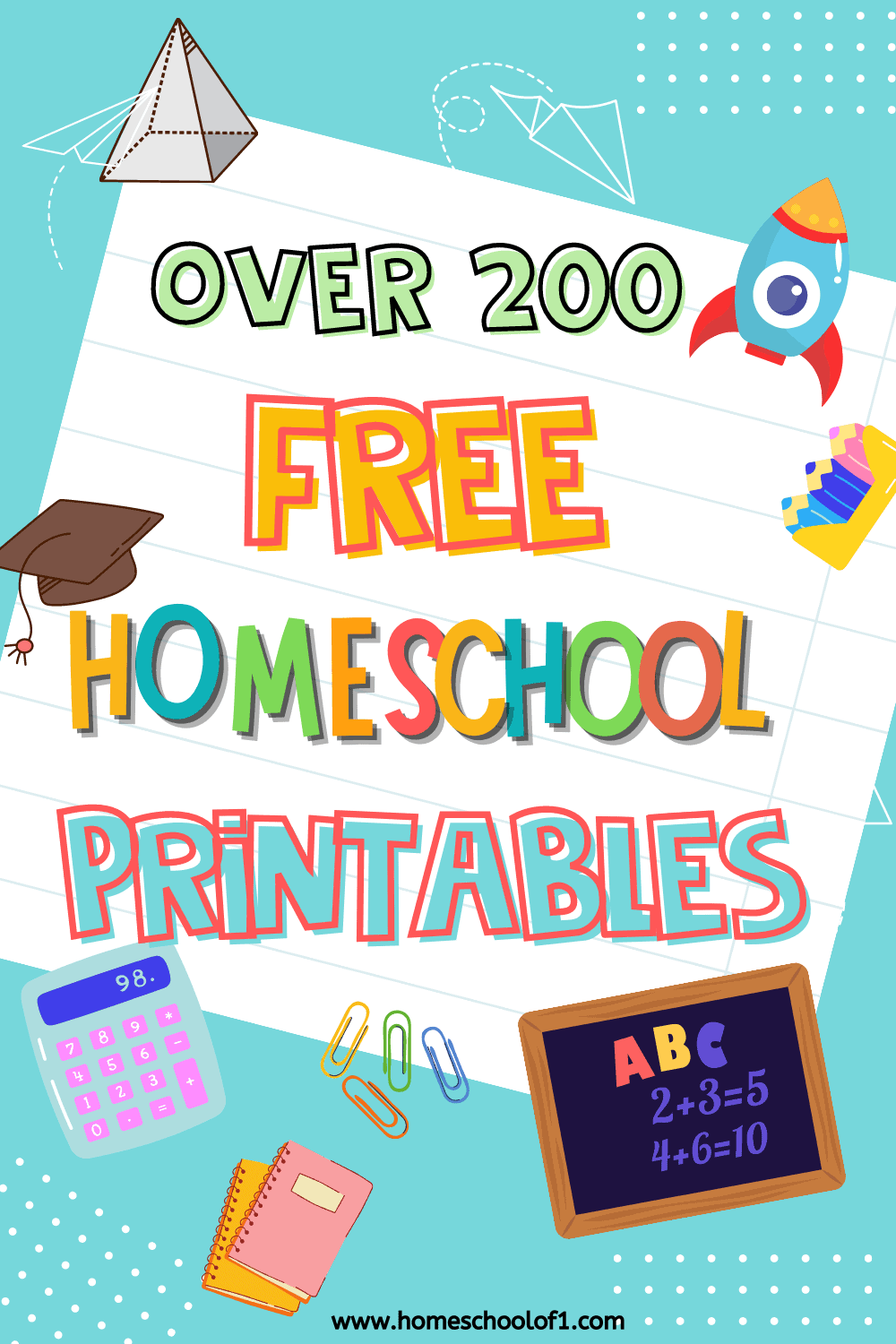 **There may be affiliate links in this post. You can read my full disclosure at the bottom of the page.**
Free Educational Worksheets
Boost learning fun with our free educational printables, perfect for both the classroom and homeschool.
From exploring the Bill of Rights to learning about the phases of the moon, these free printables will make learning fun and interactive for kids of all ages.
Get ready to level up your educational adventures
Free Homeschool Planners
Looking for a way to stay organized and conquer your homeschooling journey like a boss?
From keeping track of lessons and schedules to managing assignments and goals. These planners are your secret weapon to homeschooling success.
American Government Worksheets
Get ready to unleash your inner artist with Bill of Rights coloring pages and sharpen your detective skills with a Bill of Rights word search.
From government worksheets to Supreme Court insights, Constitution coloring pages to Declaration of Independence explorations, and even Pledge of Allegiance and Flag Day worksheets. These printables will make learning about the American government a blast!
Get your red, white, and blue pencils ready!
American President and Founding Fathers
Step into the shoes of great leaders with our collection of engaging resources on American Presidents and Founding Fathers!
Let the presidential adventures begin!
Geography Printables
Prepare for an exciting journey through our geography printables.
From Statue of Liberty worksheets to Asia, North America, and Europe worksheets, we've got something for everyone.
Dive into state facts, explore American landmarks, and unleash your creativity with the United States and Ukraine coloring pages.
Learning has never been this fun!
Alphabet Worksheets
These alphabet printables offer a world of letters and fun.
From developing fine motor skills and creativity with handprint art to strengthening letter recognition and focus through coloring pages, these activities have it all.
With themed activities for different seasons and an emphasis on language development and early literacy skills, the kids will learn their ABCs in no time.
Preschool Worksheets
Ignite your child's curiosity and love for learning with our collection of engaging free preschool printables.
Book Printables
Calling all bookworms and literature lovers!
Immerse yourself in the captivating world of books with our book related printables.
From reading logs to book reports and fun activities like scavenger hunts and book bingo. These printables offer endless opportunities to enhance your kids reading experience.
Greek Mythology Printables
Prepare to embark on an epic journey through Greek Mythology.
Explore the intricate connections of the gods with the Greek Gods family tree, test your knowledge with a challenging word search, and unravel the mysteries with a thrilling word scramble.
Free Science Printables
Engage your brain with free printable science worksheets and challenge yourself with a body systems word search or phases of the moon word search.
For our little learners, we have preschool weather worksheets and captivating planet coloring pages.
Free Math Printables
Get ready for some math fun with our free math worksheets!
From order of operations and sudoku puzzles to Pi Day activities. There's something for everyone.
Language Arts Printables
Encourage the kids to write with these free writing prompts, there is at least one for every holiday.
Financial Literacy Printables
Get the kids to learn financial literacy early with these free money printables.
Sign Language Worksheets
Have fun with ASL and fine art with these fun coloring pages.
High School Printables
We will be adding more high school printables over the coming months.
Seasonal Educational Printables
See what educational holiday activities for kids we have, there is something for every holiday though!
Last Updated on 2 June 2023 by homeschoolof1