Star Wars Day Activities & Free Printables
The force is strong in our home. My son is Star Wars obsessed! We have put together our favorite Star Wars Day activities and free printables that you are going to love on May 4th.
Here you will find all the Star Wars-related posts on my site! We are constantly updating our posts, so scroll down and see what we currently have.
Make sure you save (and pin) this post for later, and definitely keep checking back as I am always adding new content.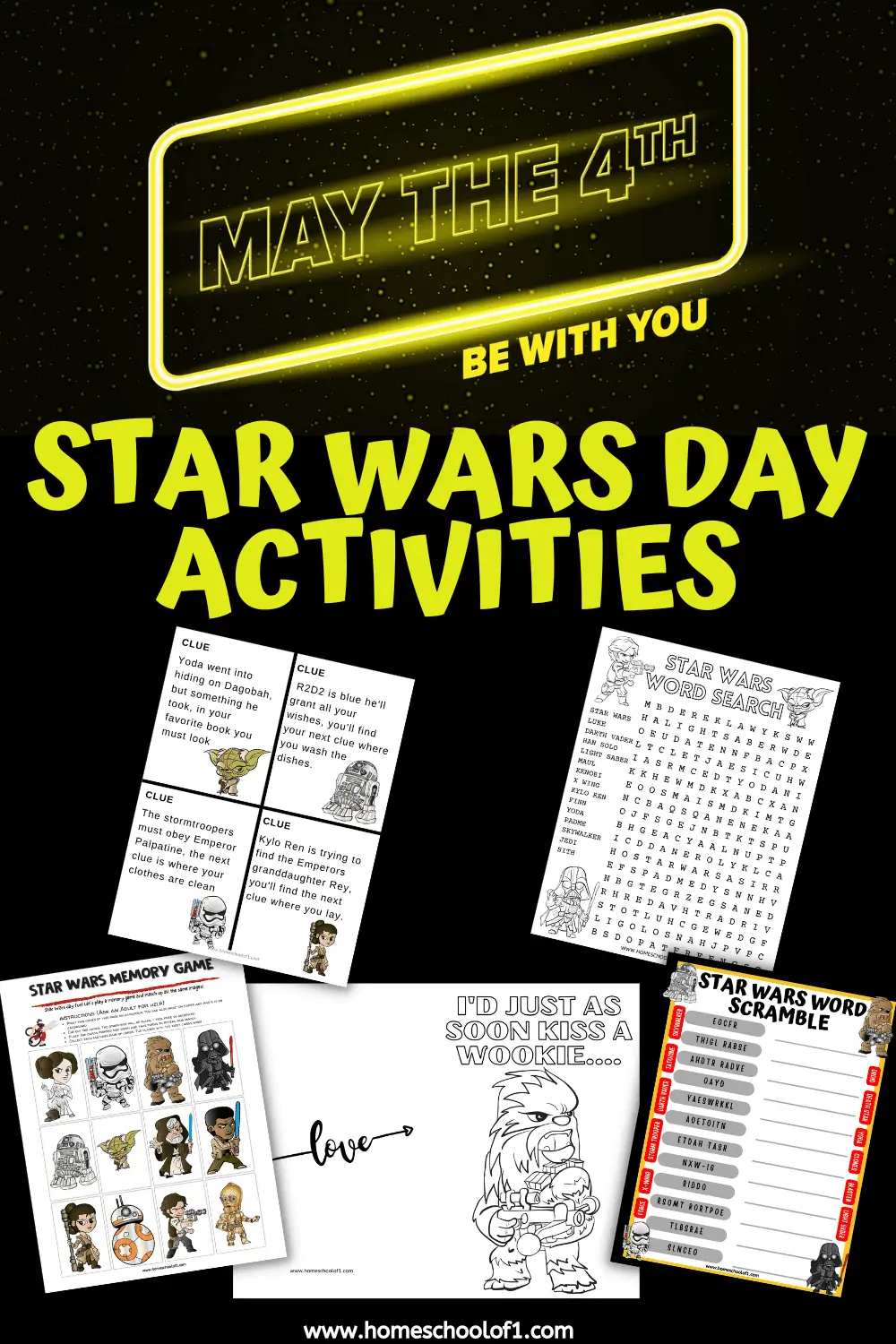 **There may be affiliate links in this post. You can read my full disclosure at the bottom of the page.**
Star Wars Day Free Printables
If you are looking for something fun to do on May the fourth you are going to love these printables. There is something for everyone from games to educational word puzzles.
Download these 12 rhyming clues and hide them around your home and let the kids find them. This is a perfect game to play on Star Wars Day or whenever the force is strong!
Looking for a fun birthday, Christmas, or even Valentine's Day card for your Star Wars fan? Download our 8 free Star Wars coloring cards and give them a real treat.
Great for younger kids download these Star Wars cards and play a matching game with their favorite Star Wars characters.
Encourage the kids to write a story with these fun Star Wars themed writing prompts.
We love word scrambles in our homeschool, and these are perfect for kids of all ages. The harder one with no clues is really only for extreme Star Wars fans!
Word searches can be enjoyed both in the classroom and at home and are a fun brain break activity. This Star Wars one will impress the kids!
Star Wars Day Activities
Have fun with the kids on Star Wars Day with these fun activities.
If you are teaching elementary aged students and are looking for something a little more fun than normal you are going to love these educational Star Wars activities!
Last Updated on 14 March 2023 by homeschoolof1