The Best Valentine's Day Activities for Kids
Are you ready for some heart filled fun? Check out all of the Valentine's Day posts on Homeschool of One! Scroll on down to see what I have! As always I will be adding more free printables and holiday fun activities in the coming weeks and months.
If you homeschool as we do, or your kids go to school, you can have loads of fun with the kids in February.
Other February fun holidays include:
The Valentine's Day activities are broken down into the following sections:
Valentine's Day gifts for kids
Valentine's Day fun printables
Valentine's Day homeschool activities
Make sure you save (and pin) this post for later, and definitely keep checking back as I am always adding new content.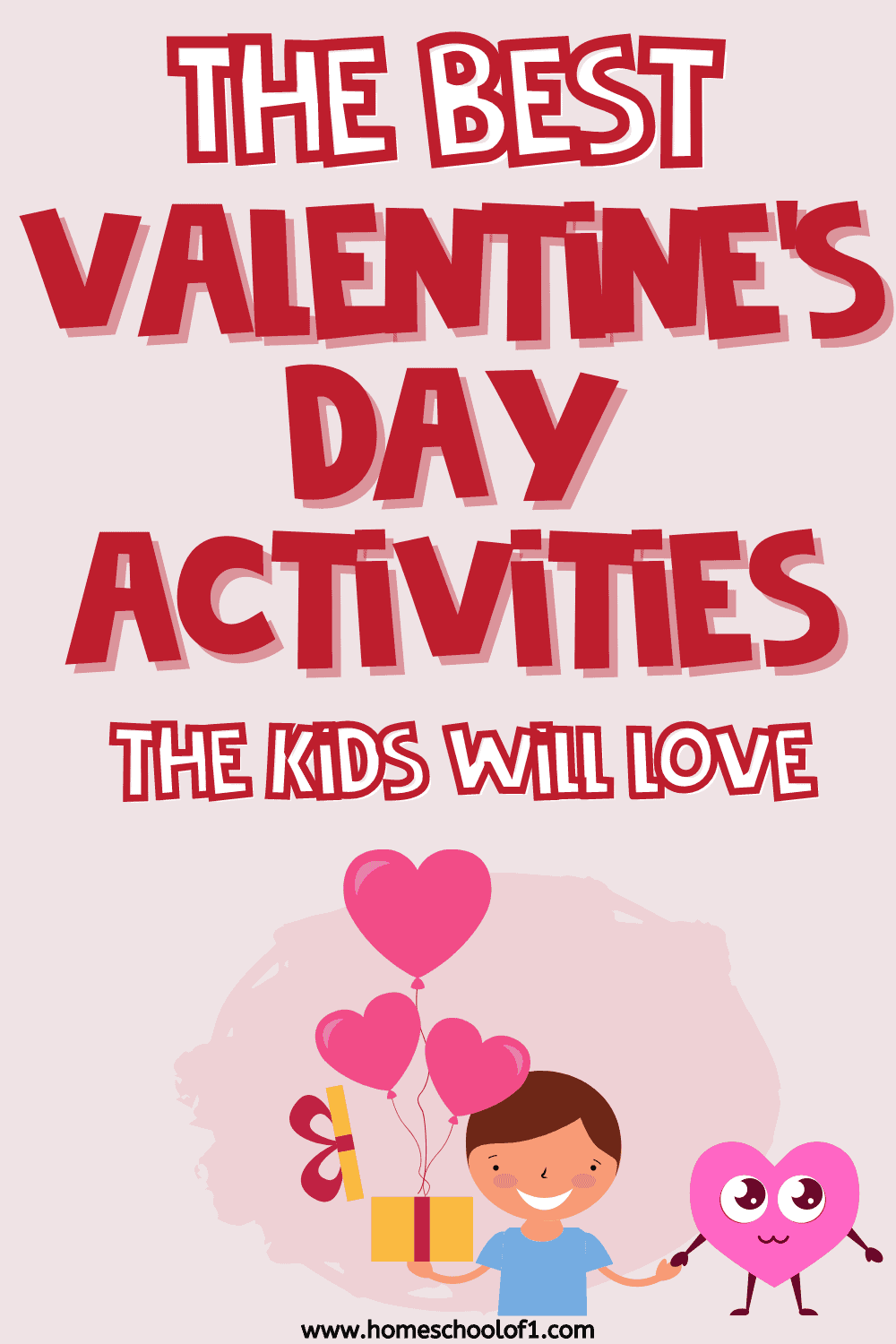 **There may be affiliate links in this post. If you make a purchase (after clicking one of my affiliate links) I'll earn some coffee money, which I promise to drink while supporting your journey. You do not pay a higher price. You can read my full disclosure at the bottom of the page.**
Valentine's Day Gifts
Valentine's Day gifts for kids, perfect for both school friends and teens.
Long are the days of getting hundreds of Valentine's gifts for the classroom and the teachers. But now the kids are teens doesn't mean us parents are off the hook! Check out our favorite Valentine's gifts for teens to help.
Whether your boy loves all things Valentine's Day or like mine can't wait for it to be over, here are our top Valentine's Day gifts for boys (as hate it or not they still expect a present!!).
Valentine's Day Fun for Kids
Free Valentine's Day printables for the kids.
We LOVE treasure hunts in our home! I don't care how old the kids are, I am sure we will still be playing this into the teenage years! Download our free Valentine's Day scavenger hunt clues and hide them around the house.
Create some wonderful memories with the kids and download our free templates.
These Valentine Handprint Crafts for Preschoolers make a great gift for moms and dads this Valentine's Day.
Bingo! Valentine bingo is a great game to play with younger children.
Have fun this Valentine's Day with our free Valentine's Day matching game.
Encourage the kids to send a heartfelt Valentines Day card this year with our free printable Valentine's Day cards to color
Download our 6 free Valentine's bookmarks to color. This is a great activity for kids that they can either keep, or give as lovely gifts.
We love to color as it calms everything down! These 4 printable Valentines coloring pages are a great way for the kids to relax and .refocus.
Photo Credit: www.etsy.com
Add even more fun to this Valentine's day with this 22-page activity bundle! The set includes 10 activities and 12 unique coloring pages. Activities include a word search, three mazes, a word scramble, a crossword puzzle, two "let's draw" pages, squares, and tic-tac-toe. Perfect for classroom parties, work events, neighborhood gatherings, and more!
Valentine's Day Homeschool
Have fun at school (or homeschool like us!) with our fun educational Valentine's Day activities.
You don't need to homeschool to enjoy our educational Valentine's Day activities, there really is something for everyone.
There are over 30 largely free resources to learn about the history of Valentine's Day and how to incorporate the day into fun educational activities.
Have fun this Valentine's Day with this free word search printable.
Have fun learning the alphabet with these super cute Valentines Day alphabet worksheets.
Photo Credit: www.etsy.com
These Valentine's Day Candy Heart Math & More activities are the perfect conversation heart math activities for 3rd, 4th, and 5th grade! 
Valentine's Day Board on Pinterest
Last Updated on 23 November 2022 by homeschoolof1