25+ Best Gifts For 13 Year Old Boys in 2023
Are you at the dreaded teenage years for gift giving? I know it is so hard knowing what to get them, especially boys! But don't worry I have you covered with our best gifts for 13 year old boys that they will love.
My son has his birthday and Christmas 2 days apart and since January has been giving me gift ideas for his 13th birthday!
So I am super confident you are going to find the absolute best Christmas gifts for boys who are now teenagers.
There is a gift here for all budgets and they are split into gaming, educational, and sporting gifts.
If you are looking for countdown to Christmas ideas you should check out our favorite advent calendar for teen boys.
I have also included our top 10 gifts for 13 year old boys. Some of these are so new they are pre-order only. However, they are all guaranteed to be delivered before Christmas.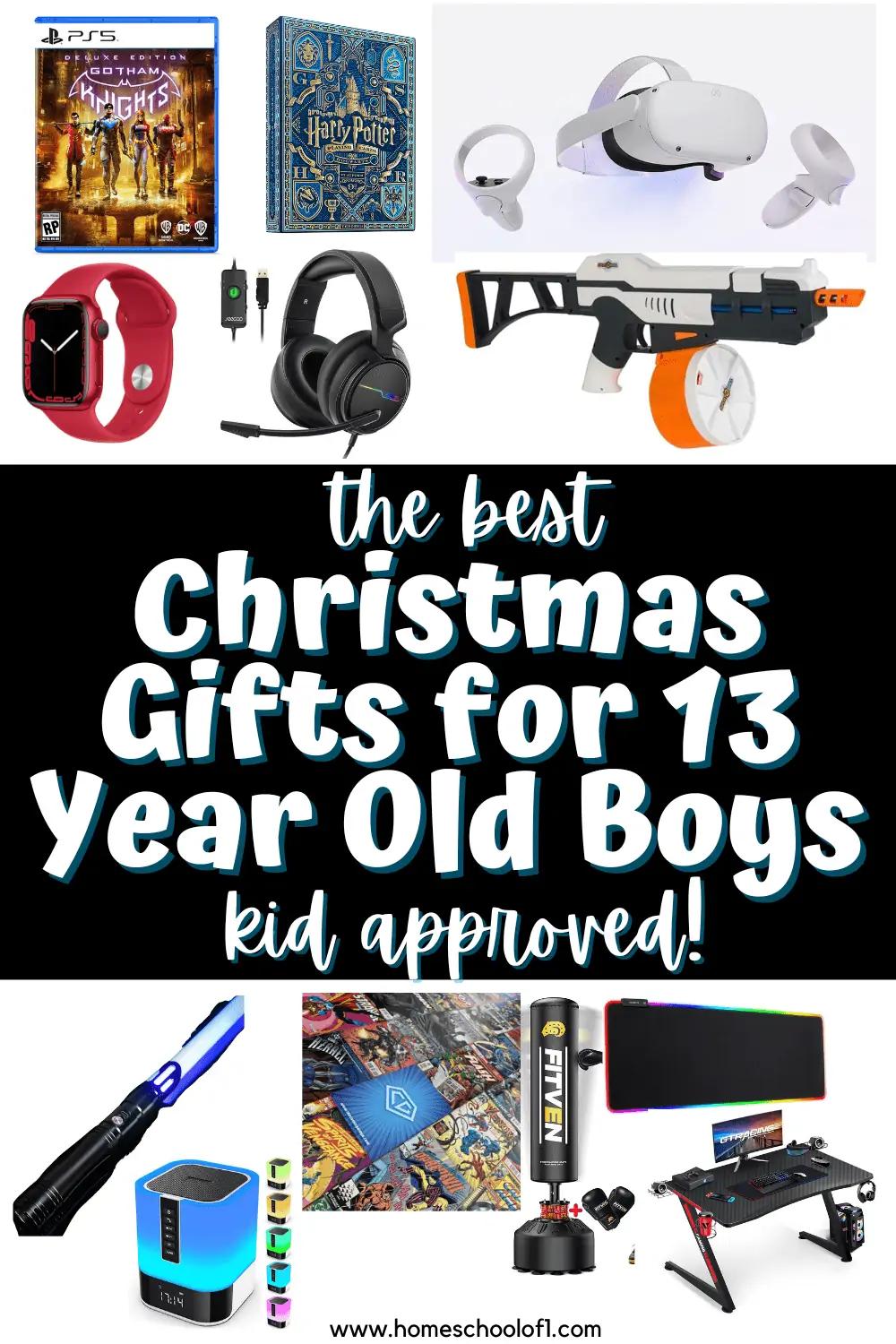 **There may be affiliate links in this post. You can read my full disclosure at the bottom of the page.**
Gift Ideas for 13 Year Old Boys
Boys at this age are so hard to buy for, but I have put together the top 10 gifts that they are going to love.
But if you can't find the perfect gift there keep scrolling as I have listed ALL of the top gift ideas for 13 year old boys.
Best Gifts for 13 Year Old Boy
The top 10 best gifts for 13 year old boys are:
If you are looking for a unique gift this year check out our favorite personalized gifts for teen boys too.
Gaming Gifts for 13 Year Old Boys
13 year old boys are a different beast now even compared to 10 years ago. Gaming is such an important part of their lives, whether it is Minecraft, Lego games, or virtual reality.
But one thing they all seem to have in common is that they ALL GAME, one way or another.
Below I have added the best of the best gaming gifts for 13 year old boys including games, headsets, and even monitors.
LEGO Star Wars: The Skywalker Saga
Oculus Quest 2 — Advanced All-In-One Virtual Reality Headset
Apple I Watch is a great way to "monitor" the kid's location if they don't have their phones with them!
Computer Monitor / TV – This is a great gift for any gamer! Or indeed any kid who likes to game, watch tv or is homeschooled.
Wireless Charging Station – This 3-in-1 charging station is perfect, it can sit by their bed (or in our case downstairs!), and keeps everything together.
Gaming Mouse Pad XL and lights up! As we homeschool he loves using this when he does his schoolwork too! If you want to make it even more special, get a personalized gaming mouse pad here.
Gaming Table is also something we have, that we also highly recommend.
Gaming Headset so they can talk to their friends online.
If you are looking for less screen time though any of these party card games for teenagers will be a great gift.
Educational Gift Ideas for 13 Year Old Boys
As we homeschool, and my 13 year old son loves books we always add educational gifts. Now, don't get me wrong they are still fun gifts.
But is Lego really educational? Absolutely! Comics, are they really educational? Absolutely! So when I say educational, I of course don't mean boring!
Lego (don't be fooled by the 18 age rating, these are definitely suitable for a 13 year old.)
Over 125 gifts for Lego lovers that are not Lego sets!
Check out our favorite books for 13 year old boys, you are sure to find something they will like.
Sport Gift Ideas for 13 Year Old Boys
If you are looking for sports gift ideas for 13 year olds then look no further. For even more sports gifts for boys check out our top 25.
SplatRball is a battery-operated water bead gel ball blaster.
Boys survival gear is a great box to have for any budding fishermen or campers.
Free standing punch bag gets rid of any extra energy with this punch bag.
Indoor Basketball Hoop – If you have a basketball fan, this indoor basketball hoop is the best gift idea. Check out 26 of our other favorite basketball gifts for boys.
Waterproof Action Camera – this can be attached to a bike or a helmet, or just carried. It takes some pretty cool underwater pictures too!
Personalized basketball Custom airbrushing on full-size basketball – this item includes the ball painted with a simple design and colors, you can pick your style and can include a name or nickname, each piece is uniquely made for you!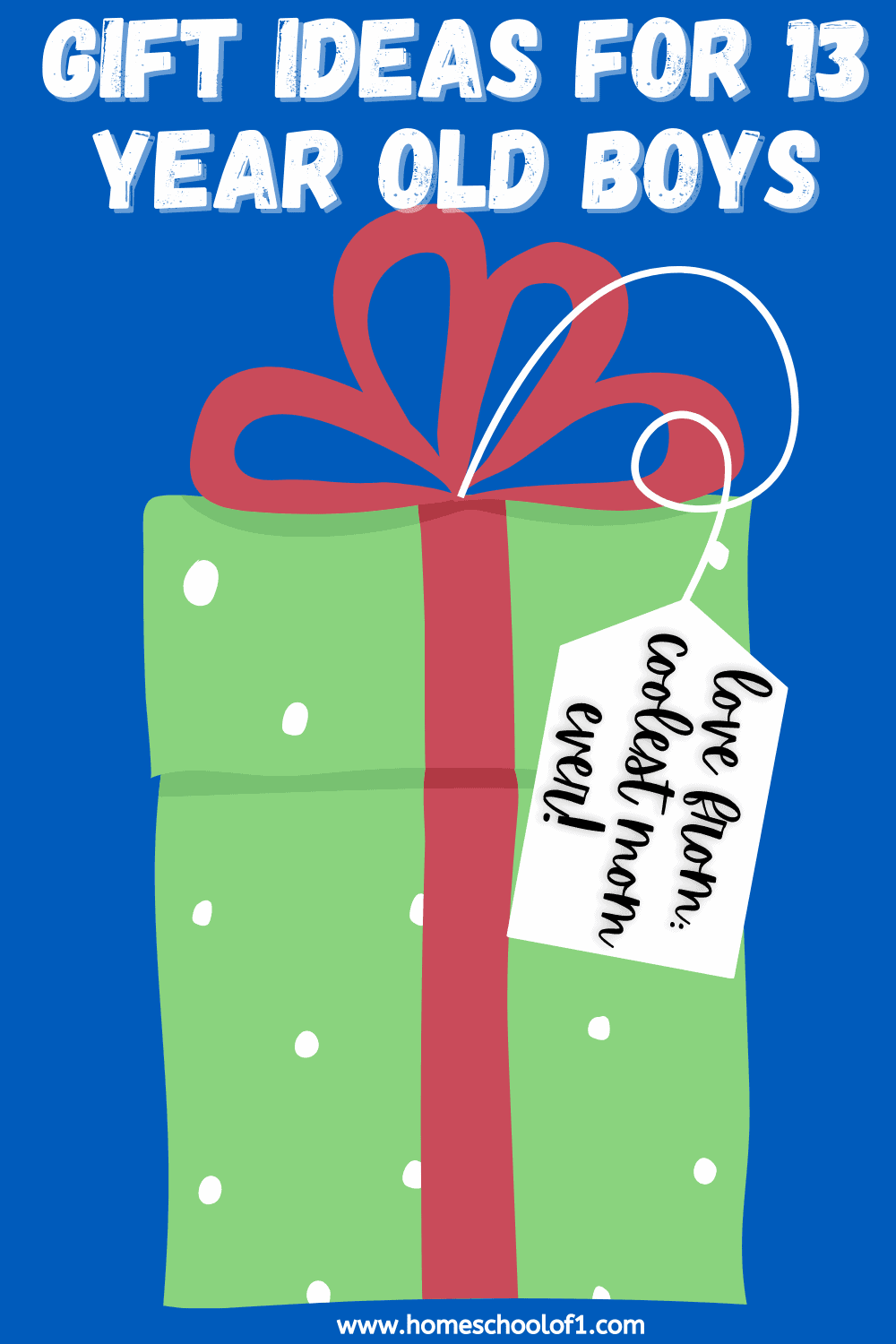 Last Updated on 23 January 2023 by homeschoolof1