8 Free Hanukkah Coloring Pages
Hanukkah is a Jewish holiday celebrated over 8 days. Also called the Festival of Lights. The kids will love learning about this holiday with our free Hanukkah coloring pages.
This year it is celebrated between December 7th and ends on December 15th, 2023. However, it changes every year, Hanukkah is always on the 25th day of Kislev in the Hebrew calendar, but it always occurs between the end of November and some time in December.
As we always like to learn about fun holidays in our homeschool (any excuse to pause the core curriculum!) I have shared with you some fun Hanukkah activities we will be doing.
We love creating free kids coloring pages, and we either use them as a supplement for a lesson we are studying or to calm the mood! Coloring is a great way for them to refocus and relax, and great for improving fine motor skills.
You will also enjoy our free Hanukkah memory game printable.
Carry on reading to download our free Hanukka story and coloring pages.
**There may be affiliate links in this post. You can read my full disclosure at the bottom of the page.**
Hanukkah Activity Sheets
The kids are going to enjoy coloring in our printable Hanukkah story.
Print out the coloring pages below, it will print out on eight full pages. Make sure to check the printer settings.
These Hanukkah coloring pages are free to print but are for personal and classroom use only. Scroll to the bottom of the post and add your email address to get the pdf file.
Printable Hanukkah Story for Kids
This free printable Hanukkah story is a great way to explain Hanukkah to kids while they have fun coloring in the Jewish images.
The story talks of the Maccabees and their fight for freedom. The first image to color in is the Israel flag as that is where the Maccabees were from. Judae is a mountainous area around the city of Jerusalem.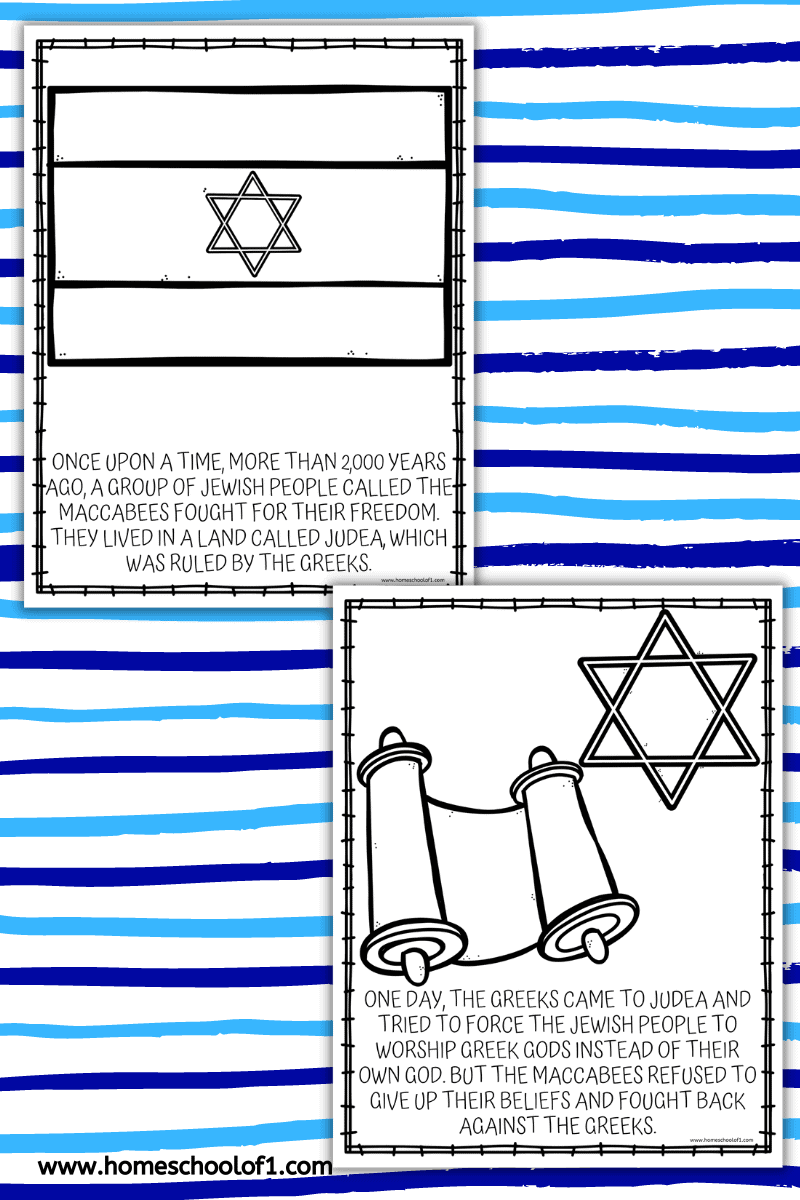 The Greeks wanted the Jewish people to worship their Greek Gods instead of their own God. But the Maccabees fought back and won.
You will also enjoy our Greek Gods family tree coloring pages.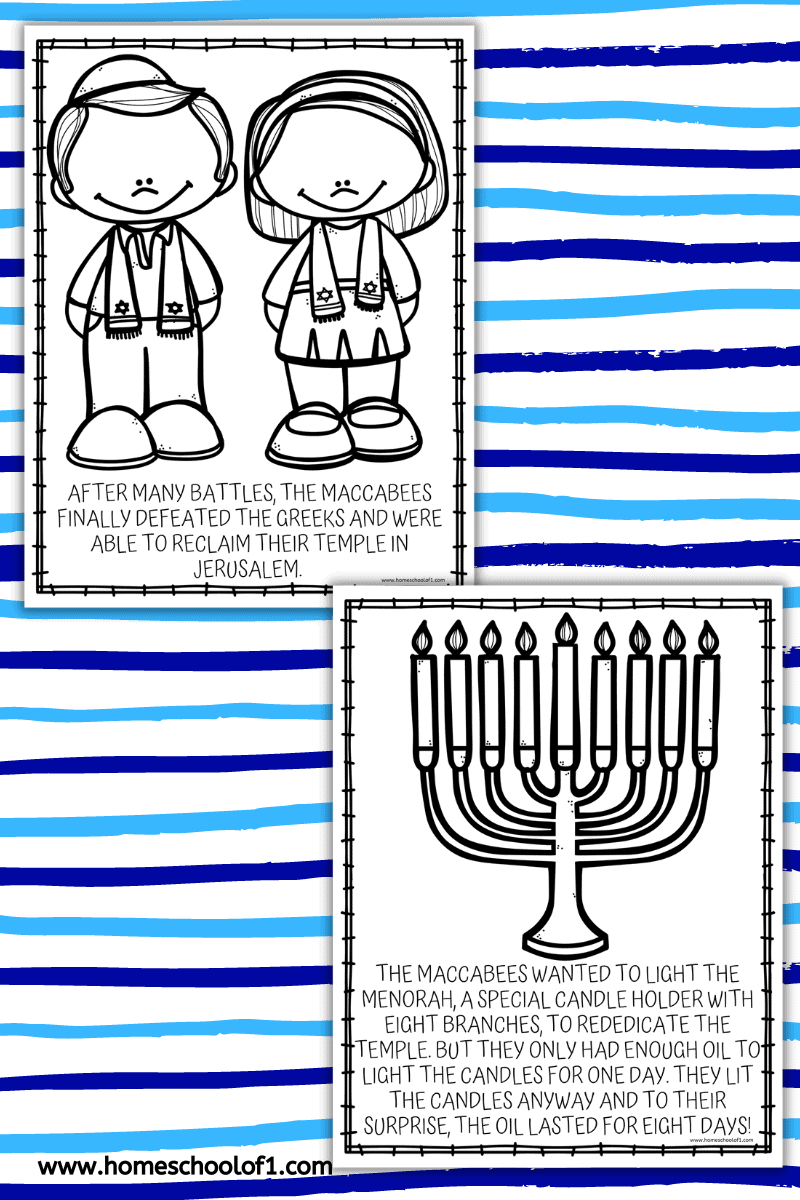 The Jewish people went to light the menorah, a candle with 8 branches. But they only had enough oil to light it for 1 day. To their surprise, the oil lasted 8 days.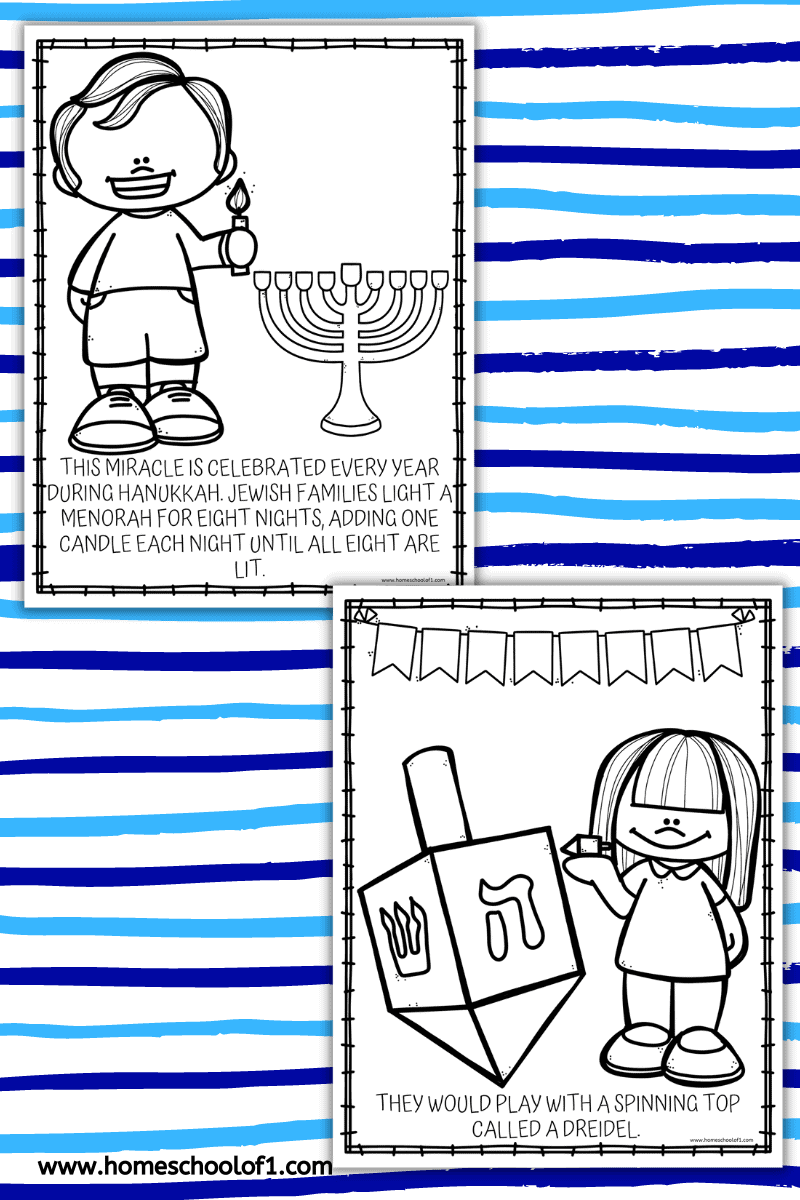 The miracle is celebrated every year in the Jewish faith. Where families would add and light one candle every night until all 8 are lit.
Children would play with dreidels. These are small four-sided spinning tops with a Hebrew letter on each side.
Families would get together and eat potato pancakes, called latkes, and jelly donuts called sufganiyot.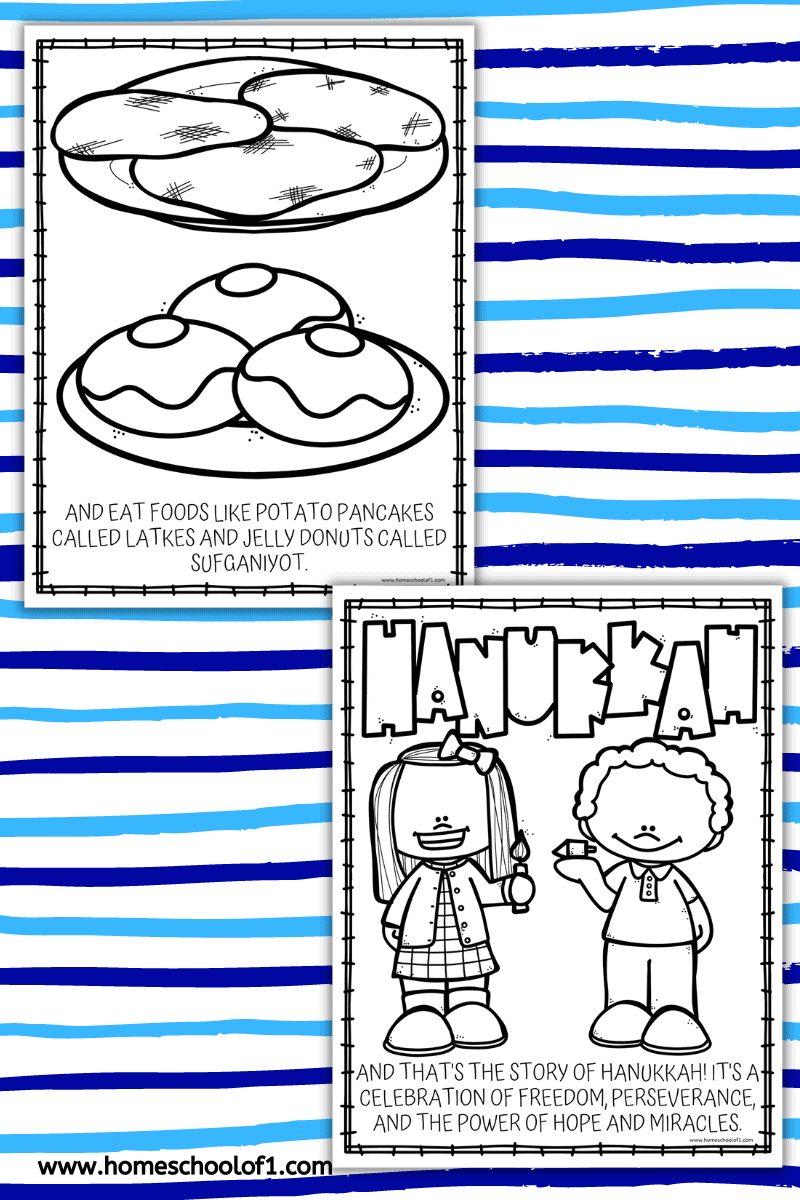 Hanukkah is celebrated for 8 days sometime in November or December. Happy Hanukkah!
Hanukkah Activities for Kids
When the kids have had fun with our coloring pages, why not spend a bit more time having fun with Hanukkah?
I have added a mixture of games, books, and worksheets that the kids are going to love.
Hanukkah party games printable bundle with word searches, would you rather, scavenger hunt, and much more.
If you don't already have a set of dreidels I highly recommend getting some. The kids will spend hours spinning them and they are so much fun to play with.
We love read alouds in our homeschool and the Night Before Hanukkah is our favorite for this holiday.
Hanukkah bingo – let's play. This is a great game for kids of all ages, and perfect for school and homeschool (especially if you have multiple children.)
Matching activities with Jewish words and pictures.
Hanukkah activity placemats keep the kids entertained at the dining table.
Dreidel Craft, learn all about the history of the dreidel while creating your own.
Hanukkah project is a great school project to learn all about the Jewish holiday.
This fun dreidel spinning art activity is great for messy play.
Hetty's Hanukkah' is a great free way to introduce the Jewish celebration.
Download the free Chanukah Coloring Pages
Make sure you choose the correct paper size and click on the shrink to fit button. All of our free printables for kids work better when printed on cardstock (this is the one we use and love.)
Last Updated on 5 June 2023 by homeschoolof1