Free Juneteenth Word Scramble Printable
Are you looking to add some fun to your celebrations on June 19th? If so you are going to love our free Juneteenth word scramble.
Juneteenth is all about celebrating the end of slavery and the freedom of African Americans in the United States. It's a time for reflection, learning, and coming together as one big family.
These free printable holiday activities for kids are a great way to celebrate June 19th.
We have created an easier and harder version of this Juneteenth word scramble, perfect for upper elementary and middle school kids.
There are 12 Juneteenth words to unscramble and to help out I have included the answers in the download.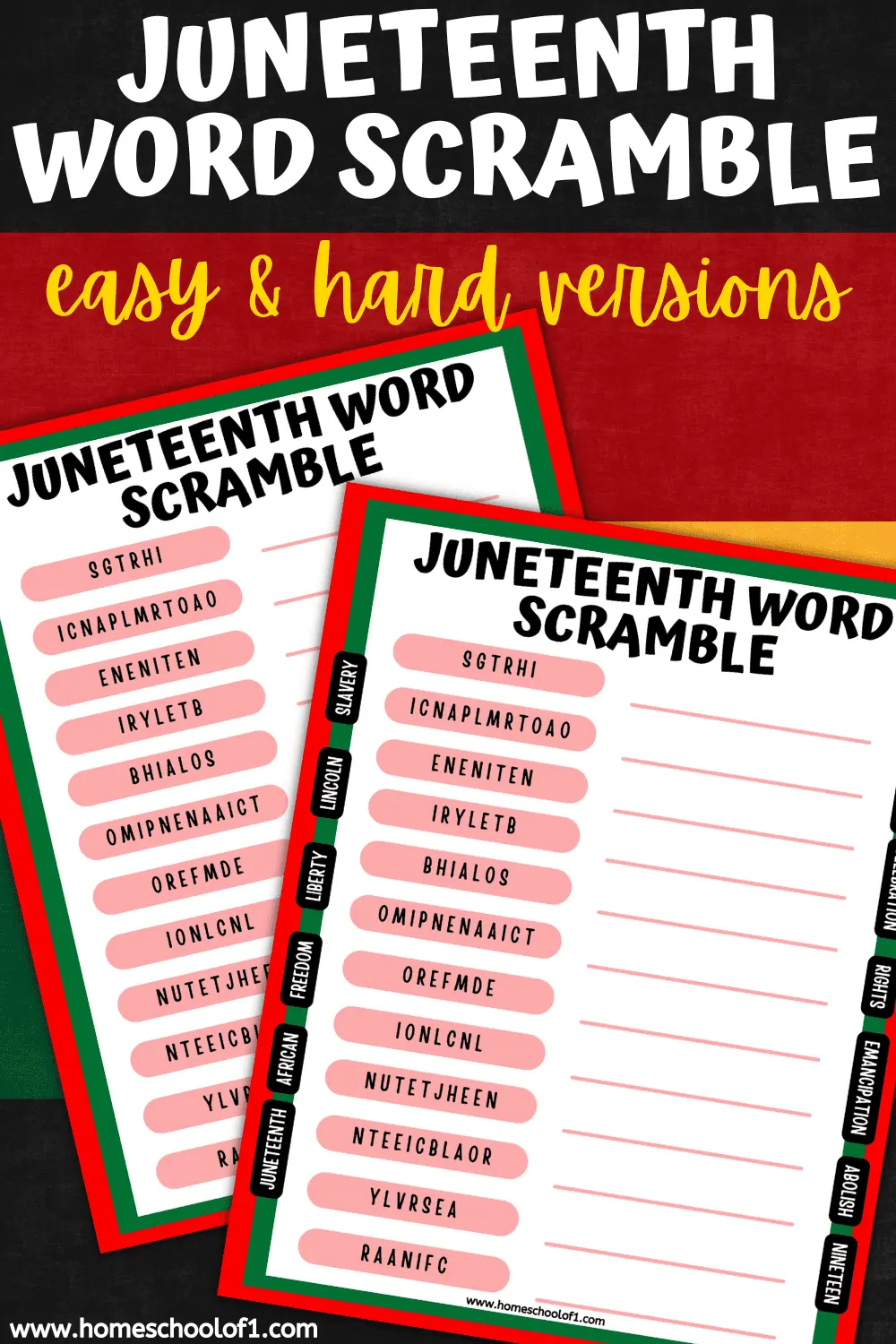 **There may be affiliate links in this post. You can read my full disclosure at the bottom of the page.**
These free word scramble printables are perfect for Juneteenth either for the classroom, or homeschool.
Unscramble the Juneteenth Words
This Juneteenth word scramble is a great game for elementary kids all the way up to adults. I have added two versions of the word game.
One has no clues at all, and one has the actual words around the side of the puzzle to make it easier for younger kids.
Print off as many copies as you need and just have fun. Let me know in the comments what your hardest word was.
The first sheet is the easiest word scramble. They both have 12 words to find, but this version below has the answers written in black around the sides. This will make it much easier for younger children.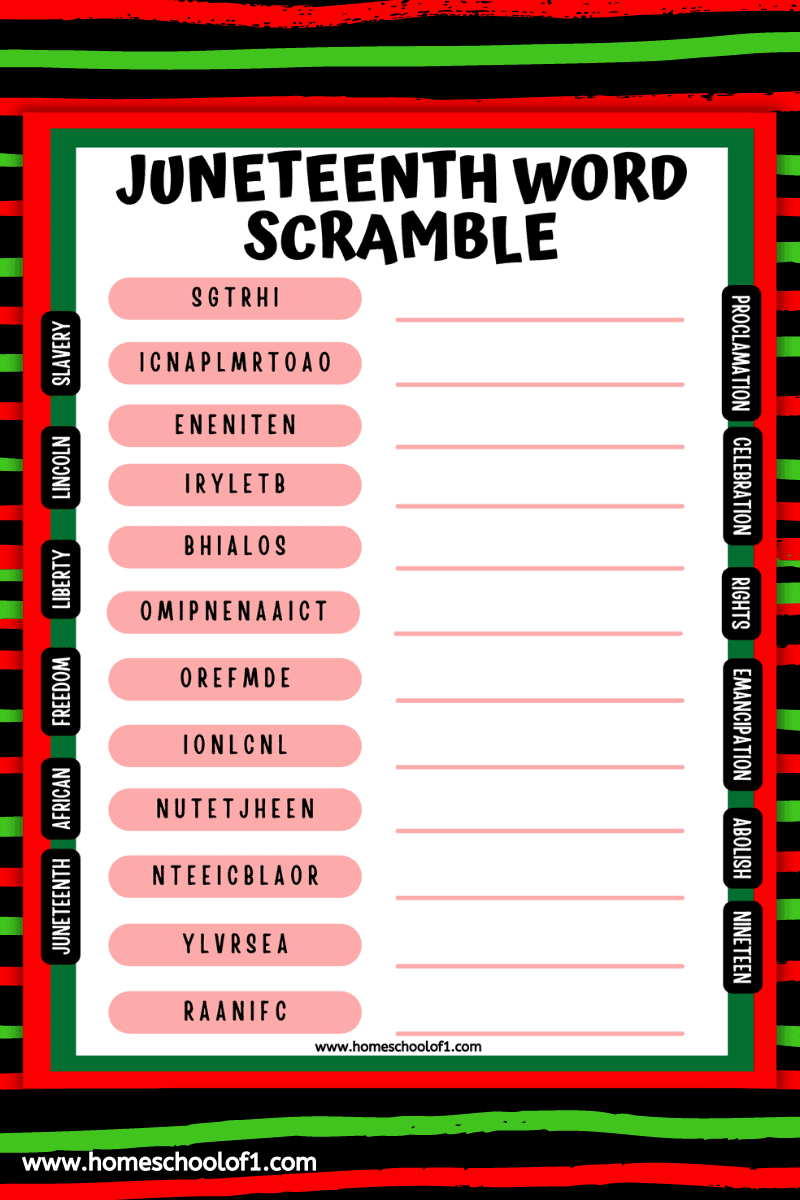 The second word scramble is much harder.
There are no answers at all, so the children have to try and unscramble the words.
The only clue is, all of the words are related to Juneteenth!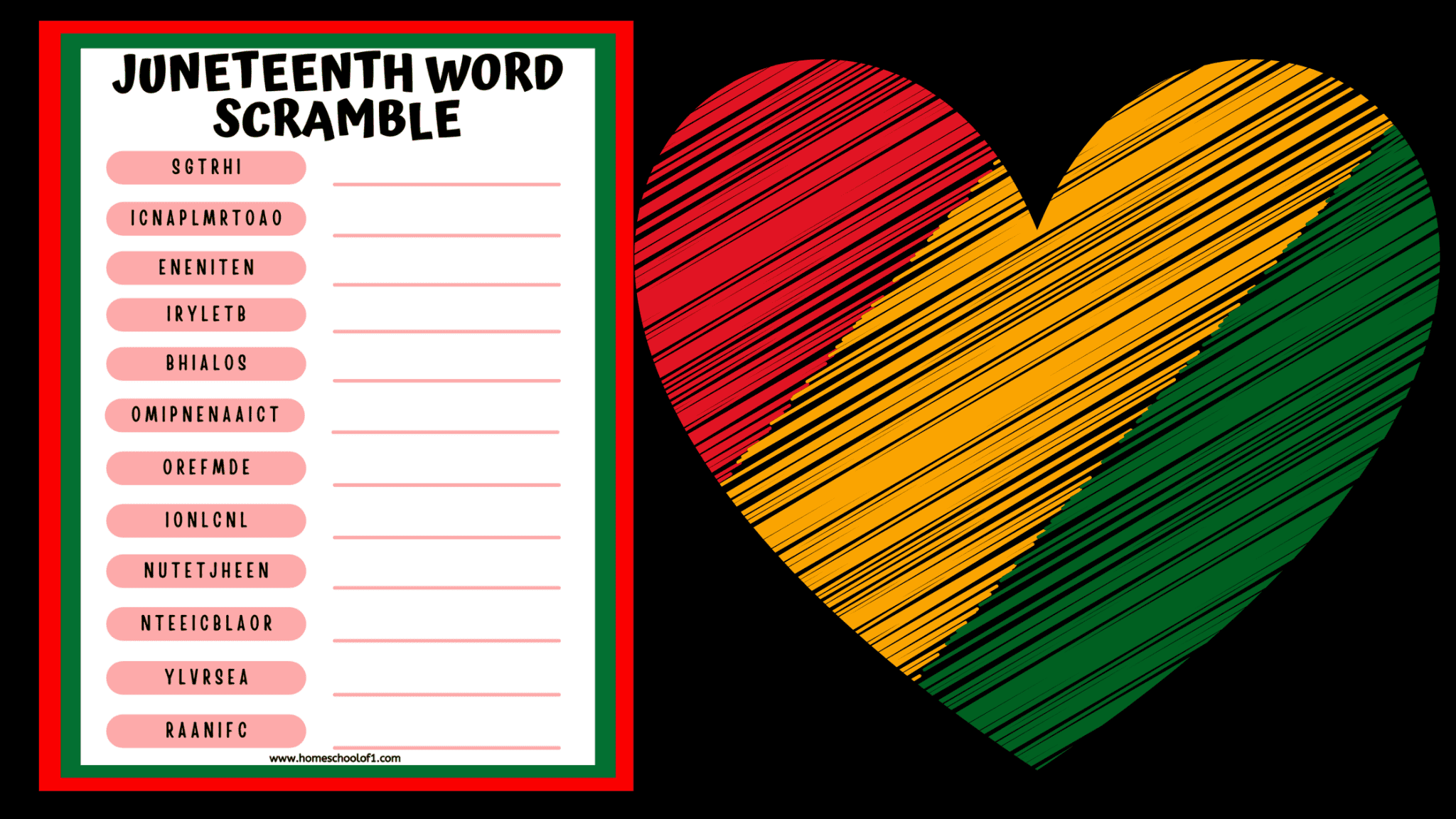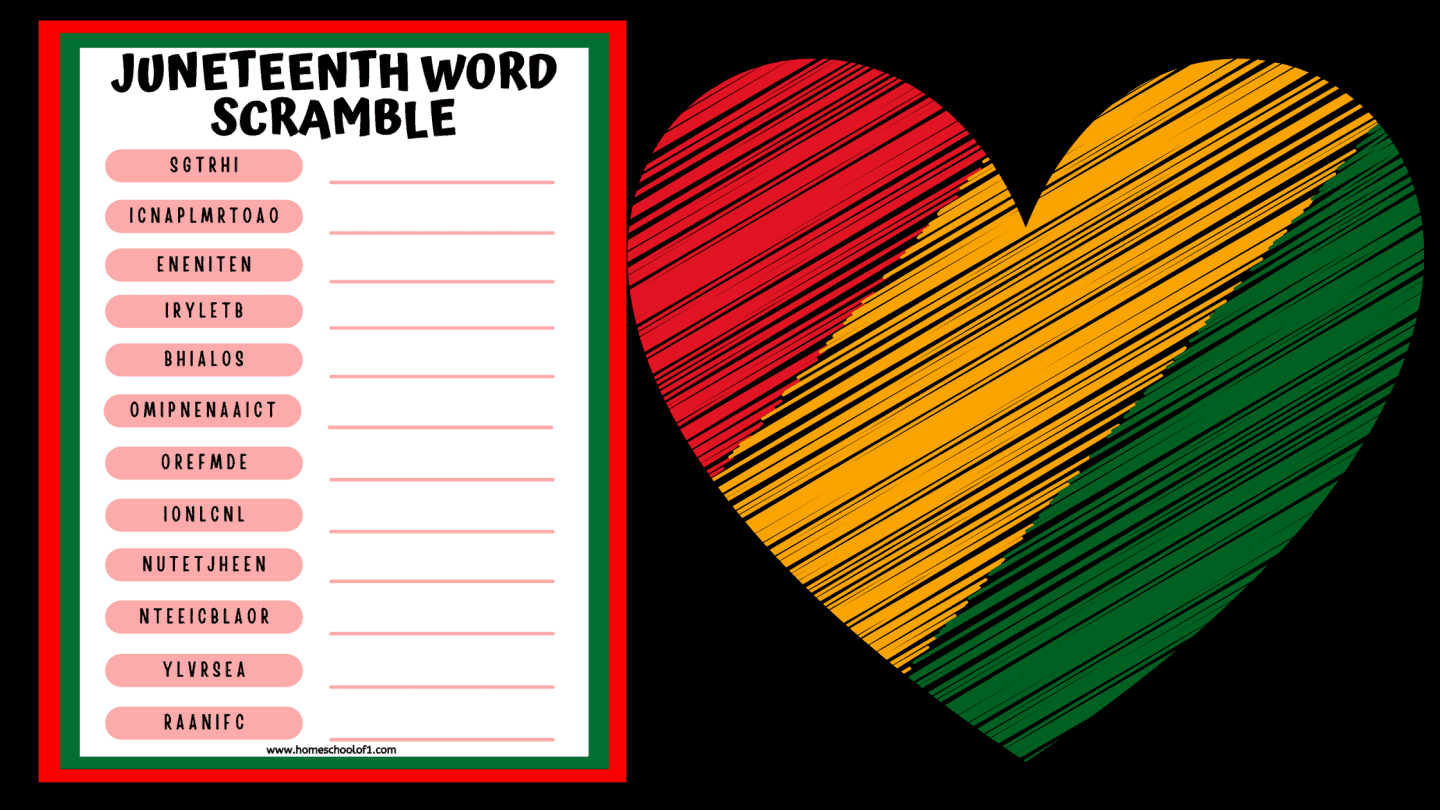 Juneteenth Word Scramble Answers
The 12 words to find are: (I have included an answer sheet with the download.)
Juneteenth
African
Freedom
Liberty
Lincoln
Slavery
Proclamation
Celebration
Rights
Emancipation
Abolish
Nineteen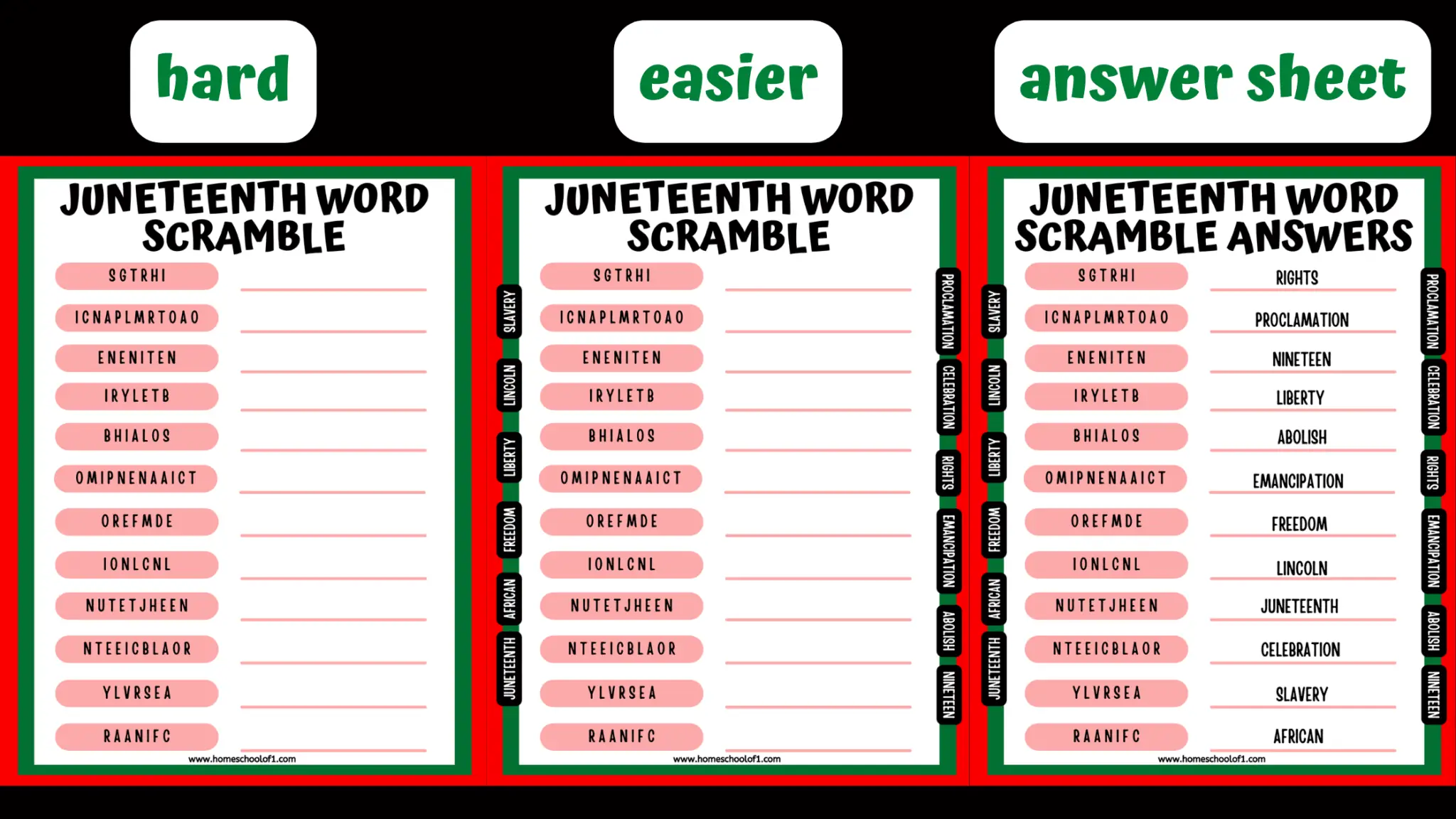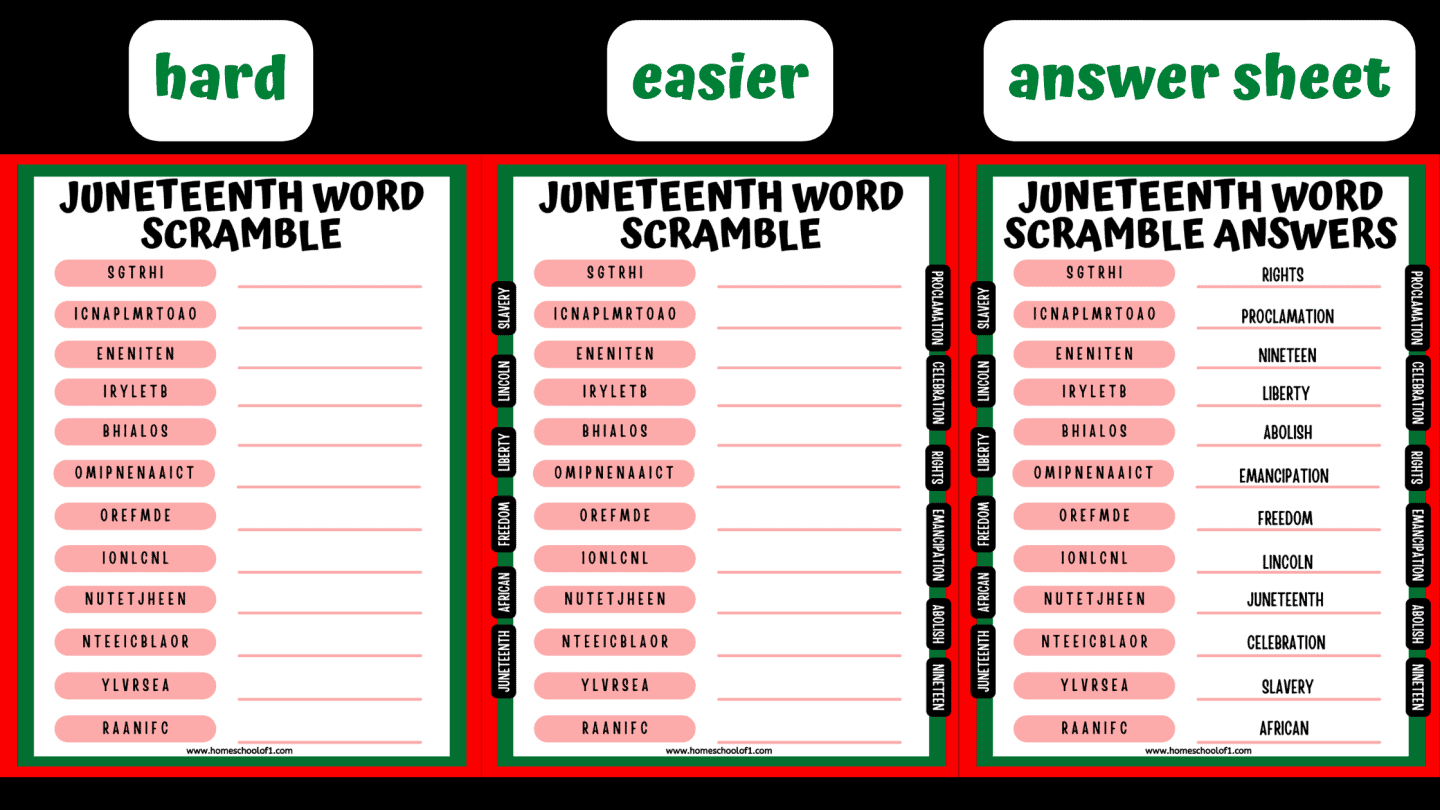 Juneteenth: Our Day of Freedom (Step into Reading)
Juneteenth: A Children's Story Special Edition
Juneteenth: A Picture Book for Kids Celebrating Black
Juneteenth (On My Own Holidays)
Juneteenth (Beautiful Me)
Juneteenth!: A Celebration – 2nd Edition
Other Juneteenth Activities
In addition to the Juneteenth word scramble, there are plenty of other fantastic activities to engage kids and make Juneteenth memorable.
Dive into the world of Juneteenth with captivating children's books that tell the inspiring stories of freedom and resilience.
Let their creativity soar with Juneteenth-themed coloring pages and color-by-number activities, where they can bring vibrant scenes of history to life.
These activities, along with the word scramble, create a dynamic toolkit for families to celebrate Juneteenth together, fostering a love for learning and a deeper understanding of this significant holiday.
Other Black History Printables
Dive into the captivating world of Black History with our free printables! Discover iconic figures, significant moments, and influential events through thought-provoking word searches, challenging word scrambles, and beautifully crafted coloring pages.
Let these free printables spark meaningful conversations, foster understanding, and celebrate the remarkable legacies that have shaped our world.
Tips for downloading the free files
Below is a blue cloud with an arrow pointing downward. Underneath that is a large sign-up box where you need to add your name and email address, and press I NEED THIS NOW!
Within minutes you will be sent the free PDF directly to your email address, so you can print it out and start using it immediately.
Sometimes emails get a little wonky, so if you can't see it, please check your spam folder where I am sure it is hiding.
Print out the free word scramble to play on Juneteenth
Make sure you choose the correct paper size and click on the shrink to fit button. All of our free printables for kids work better when printed on cardstock (this is the one we use and love.)
Last Updated on 2 October 2023 by homeschoolof1