10 Free Kwanzaa Worksheets & Coloring Pages

Welcome to our collection of Kwanzaa worksheets!
Kwanzaa, a vibrant cultural celebration, is the perfect occasion to engage children in meaningful learning experiences. Our worksheets are designed to foster understanding of this important holiday while providing fun and educational activities.
From coloring sheets featuring Kwanzaa symbols like the Kinara and Muhindi to challenging word games that help children match principles with their Swahili names, our worksheets cater to various ages and skill levels. These holiday activities for kids not only reinforce the significance of Kwanzaa but also promote cultural awareness, unity, and creativity among young learners.
As you explore our Kwanzaa worksheets, you'll find opportunities for children to express their creativity, reinforce the principles of Kwanzaa, and deepen their appreciation for this culturally rich holiday.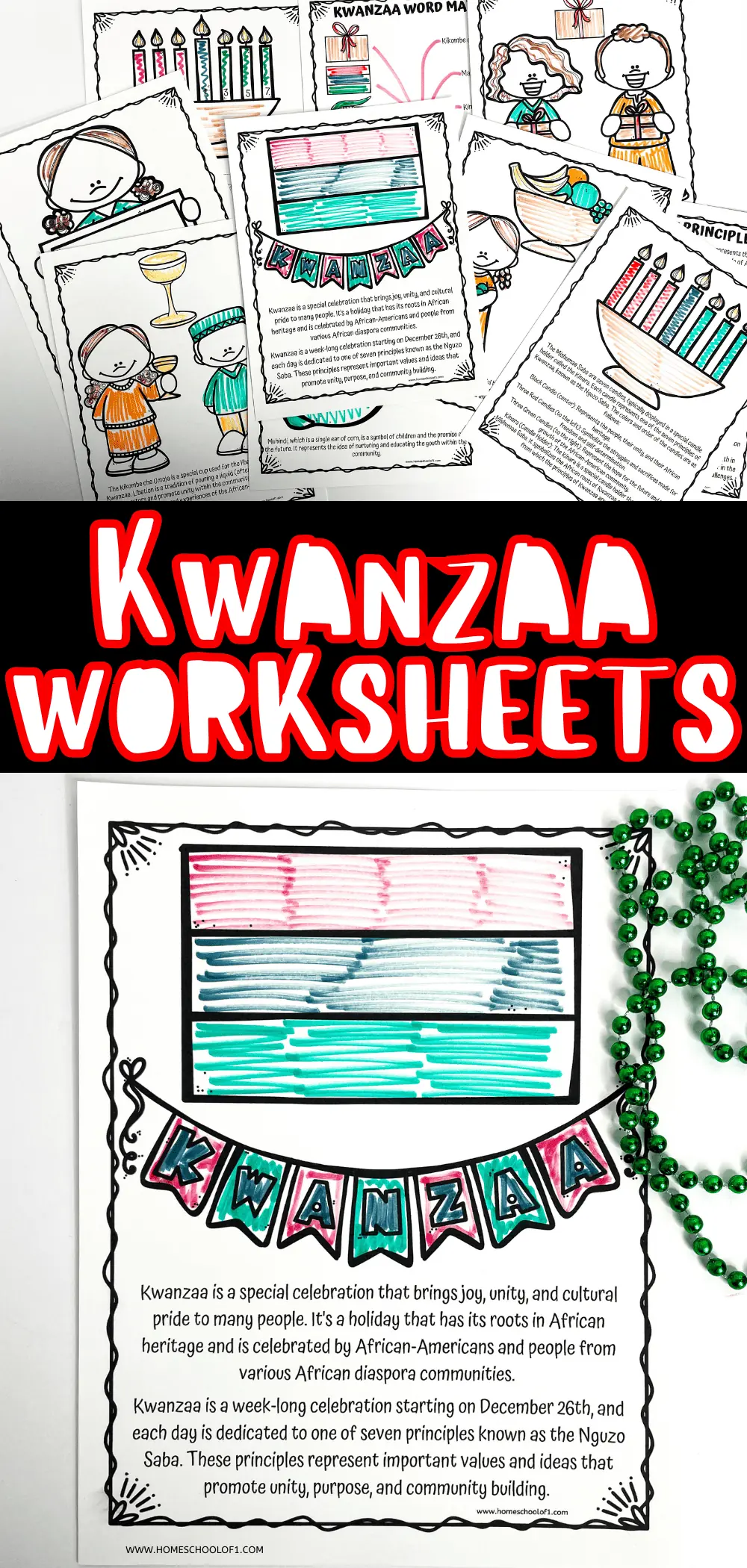 **There may be affiliate links in this post. You can read my full disclosure at the bottom of the page.**
Kwanzaa coloring pages
There are 10 activity pages included in these Kwanzaa worksheets.
What is Kwanzaa?
Kwanzaa is a cultural holiday that was created in the United States in 1966 by Dr. Maulana Karenga, a professor of African studies. As a way to celebrate and promote African heritage and culture.
The holiday is observed from December 26th to January 1st each year, lasting for seven days.
Kwanzaa is not a religious holiday but rather a cultural one. And it is celebrated by people of African descent, primarily in the United States and the African diaspora.
The name "Kwanzaa" is derived from the Swahili phrase "matunda ya kwanza," which means "first fruits of the harvest." It is a time for reflection, community building, and a reconnection to African roots.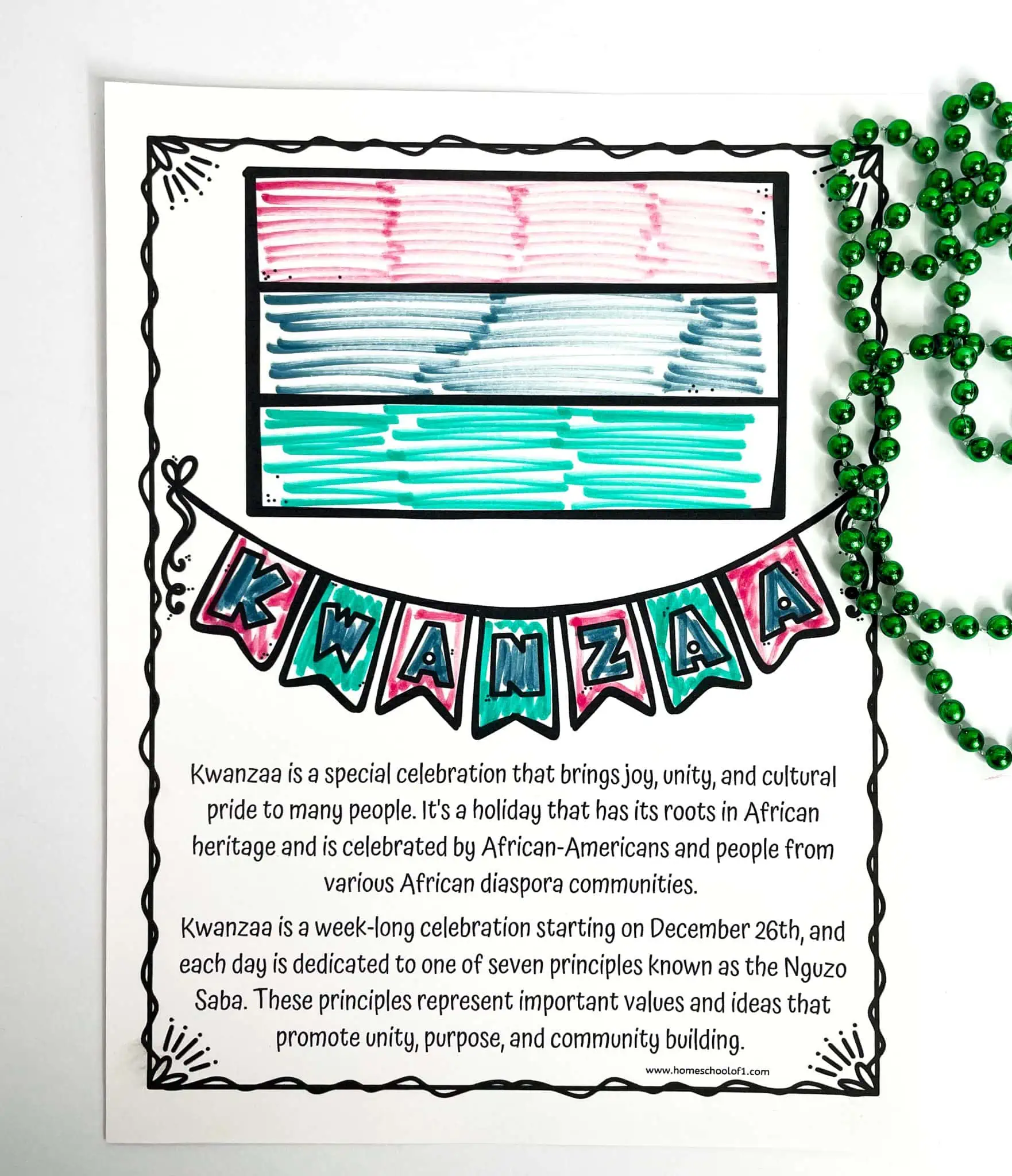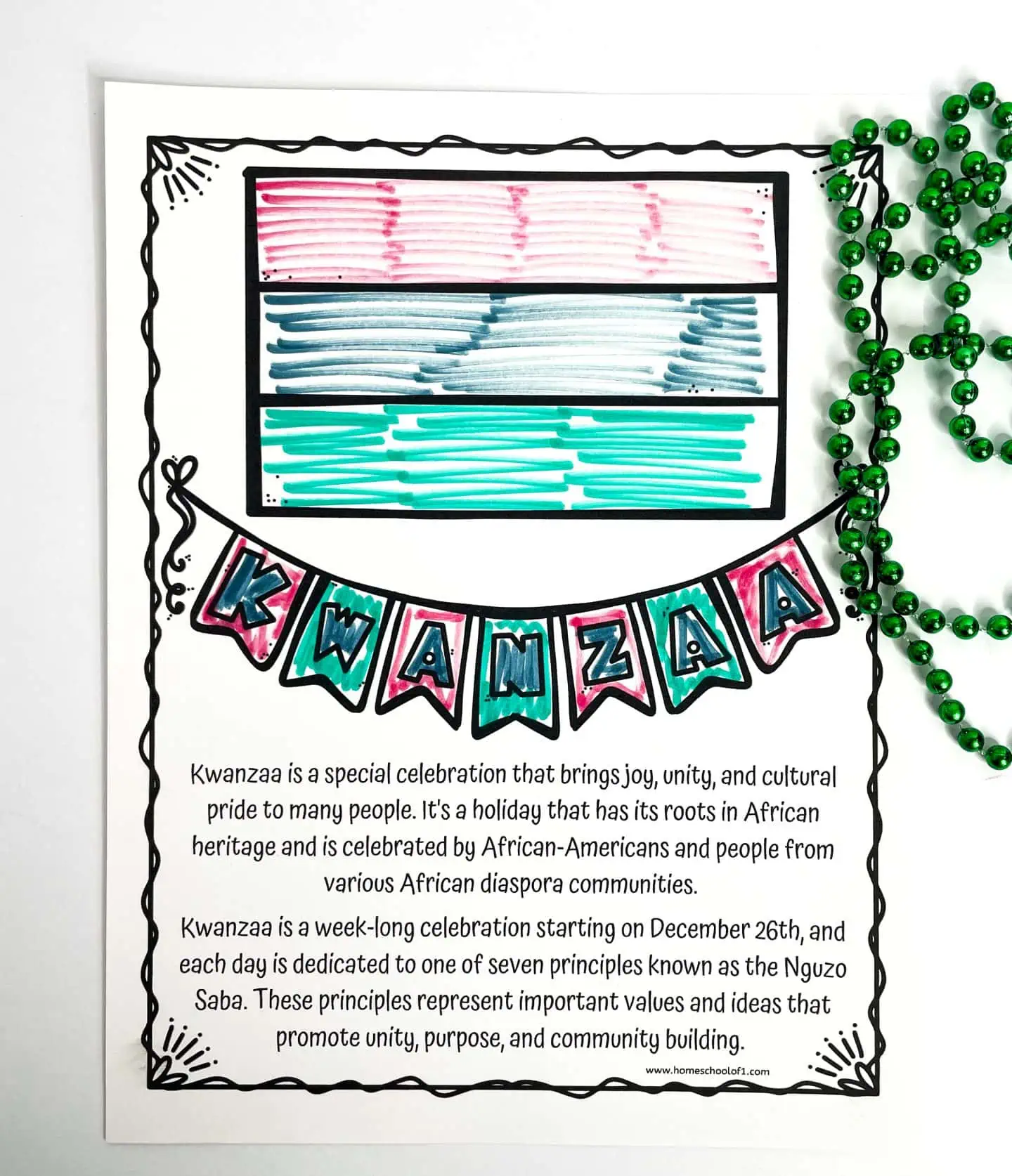 Kwanzaa Seven Principles
Each of the seven days of Kwanzaa is associated with a specific principle. Known as the Nguzo Saba, which represents values and concepts important to African and African American culture. These principles are:
Umoja (Unity). To strive for and maintain unity in the family, community, nation, and race.
Kujichagulia (Self-Determination). To define and name ourselves, as well as to create and speak for ourselves.
Ujima (Collective Work and Responsibility). To build and maintain our community together and make our brothers' and sisters' problems our problems, and solve them together.
Ujamaa (Cooperative Economics). To build and maintain our stores, shops, and other businesses and to profit from them together.
Nia (Purpose). To make our collective vocation the building and developing of our community. In order to restore our people to their traditional greatness.
Kuumba (Creativity). To do always as much as we can, in the way we can, in order to leave our community more beautiful and beneficial than we inherited it.
Imani (Faith). To believe with all our heart in our people, our parents, our teachers, our leaders, and the righteousness and victory of our struggle.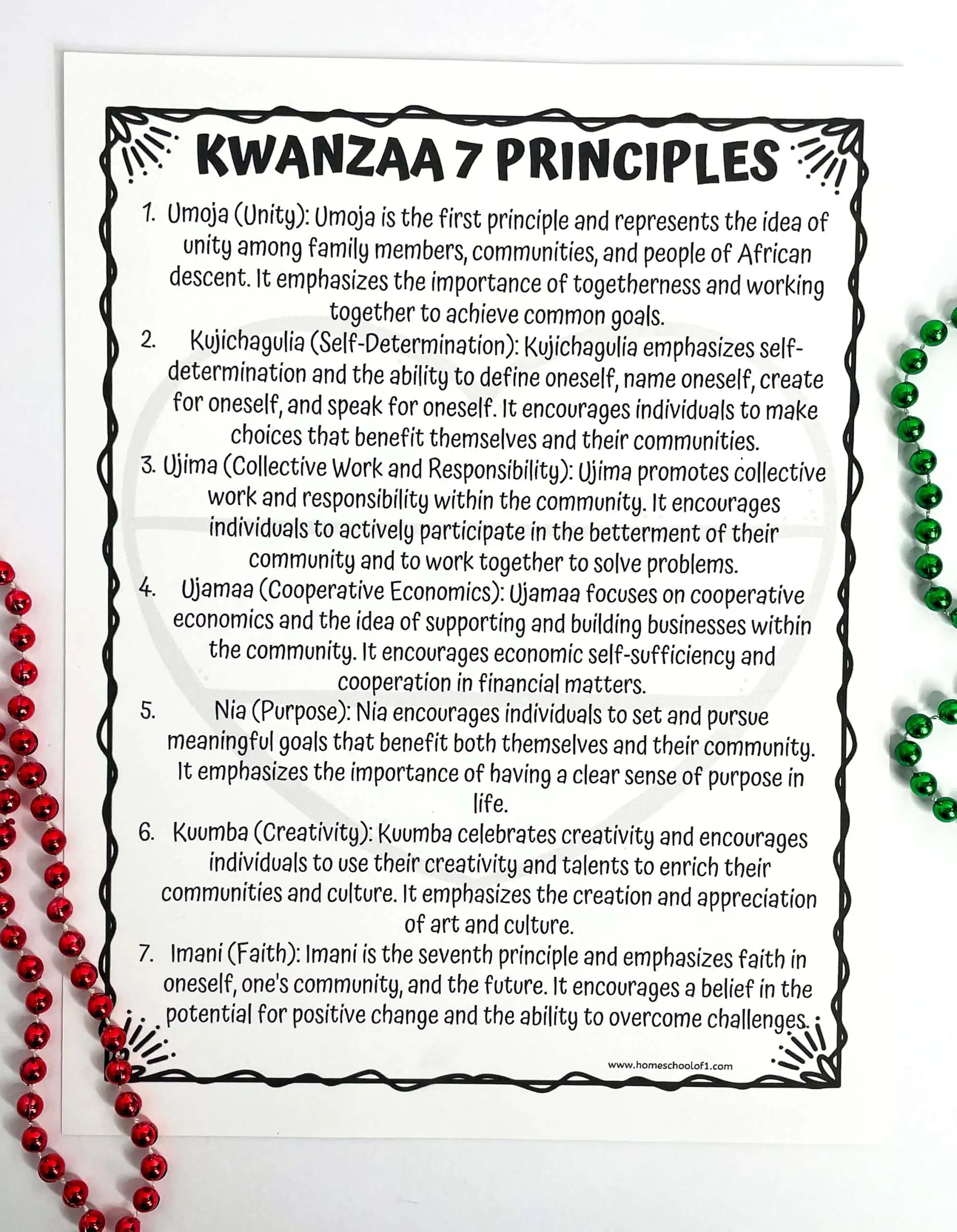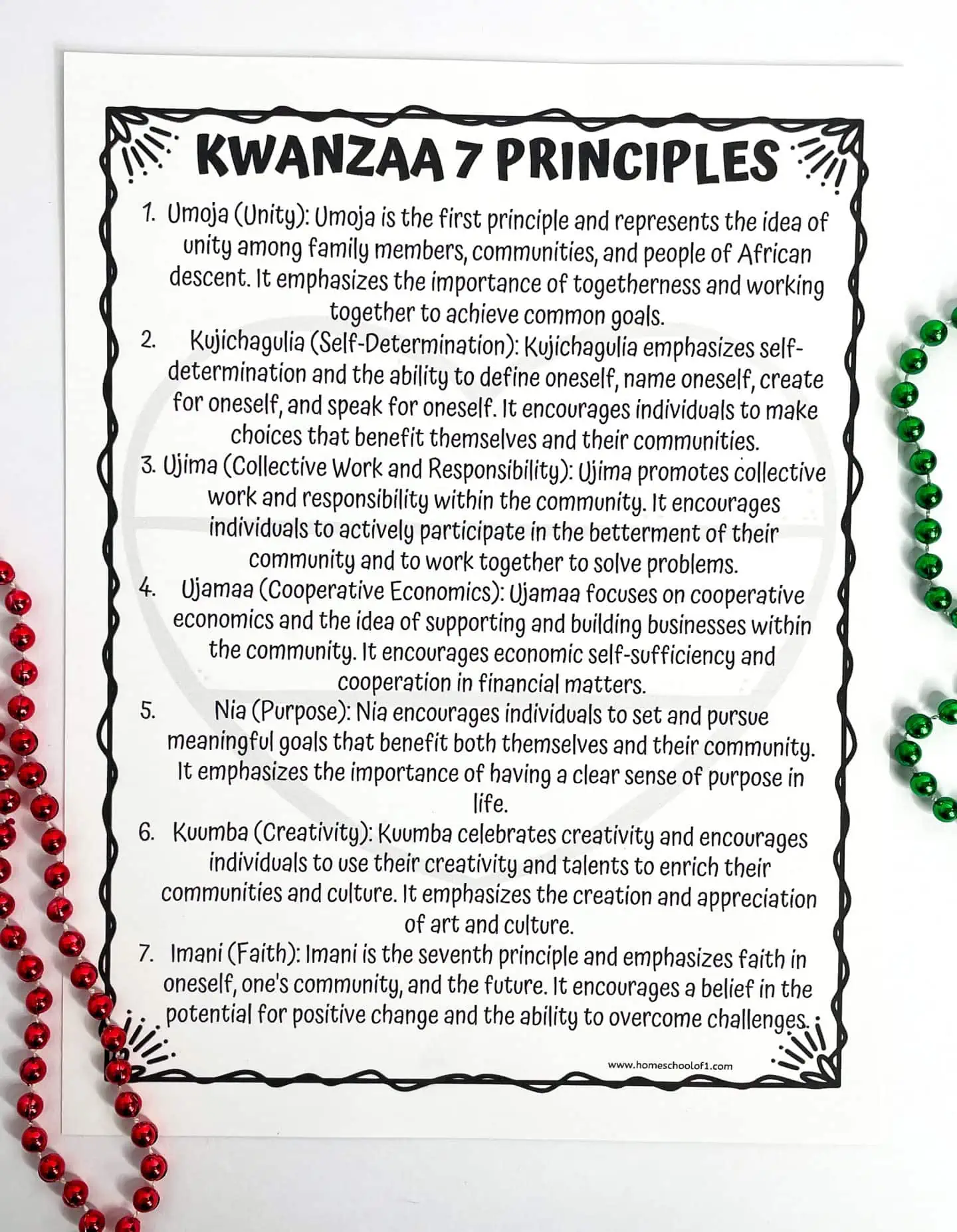 Kinara coloring page
During Kwanzaa, families and communities come together to light a Kinara. A candle holder with seven candles (three red, three green, and one black).
Each candle represents one of the principles mentioned above, and they are lit in a specific order during the week.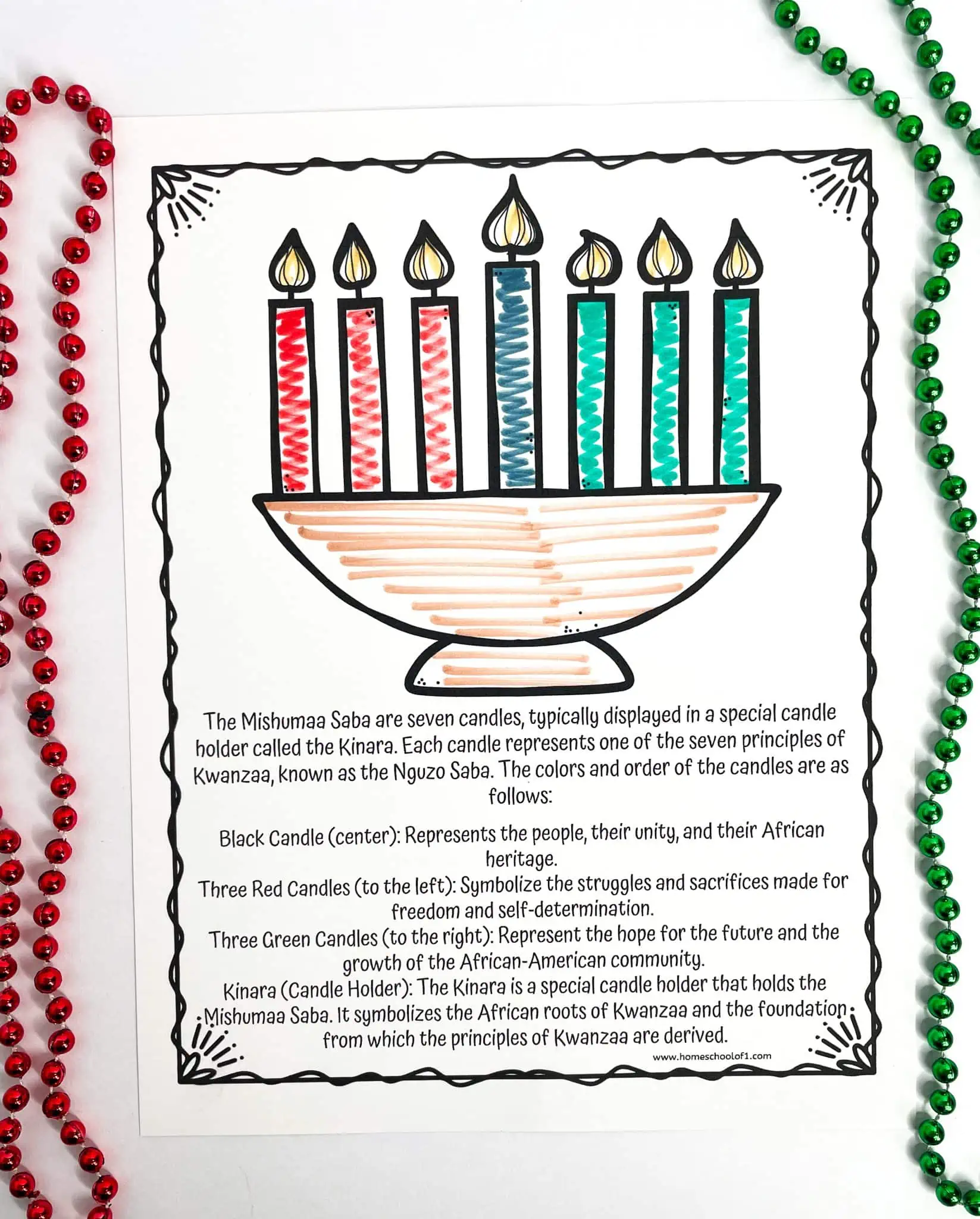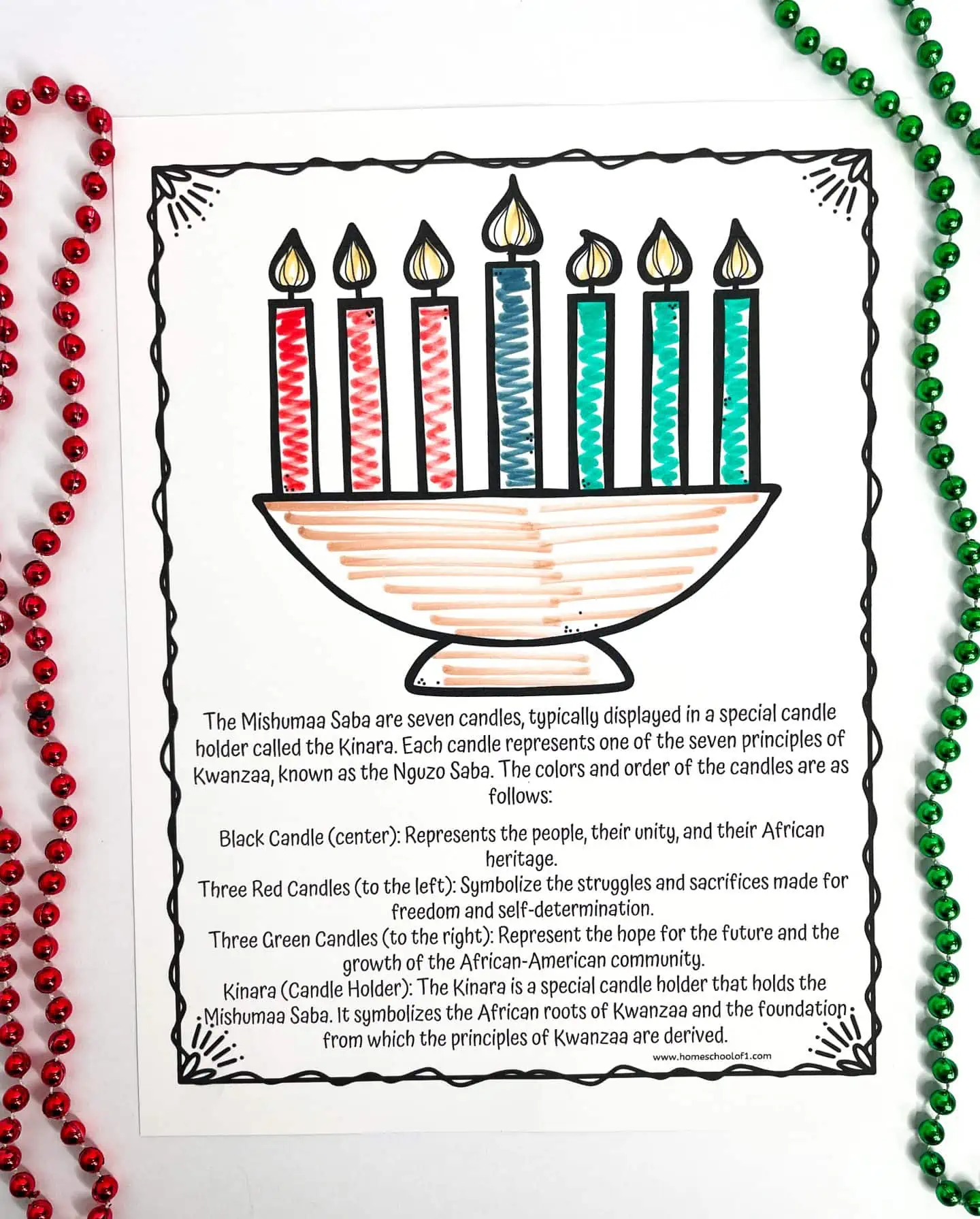 Mkeka coloring page
The Mkeka, is a vibrant mat typically crafted from materials such as straw or fabric. It plays a pivotal role as the cornerstone of Kwanzaa's symbols.
It carries profound symbolism. Representing the rich historical roots, cultural heritage, and the very bedrock upon which the African-American community stands.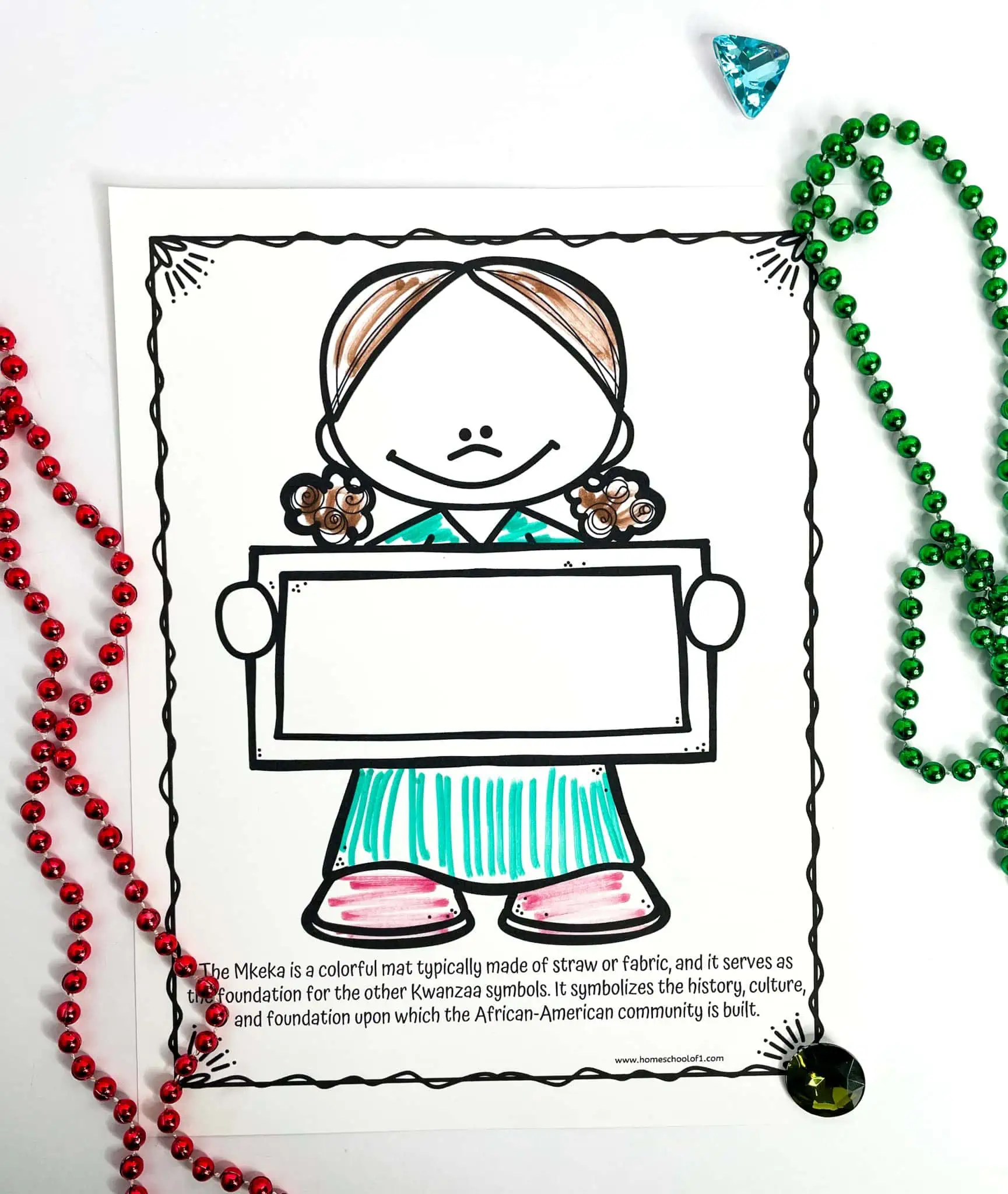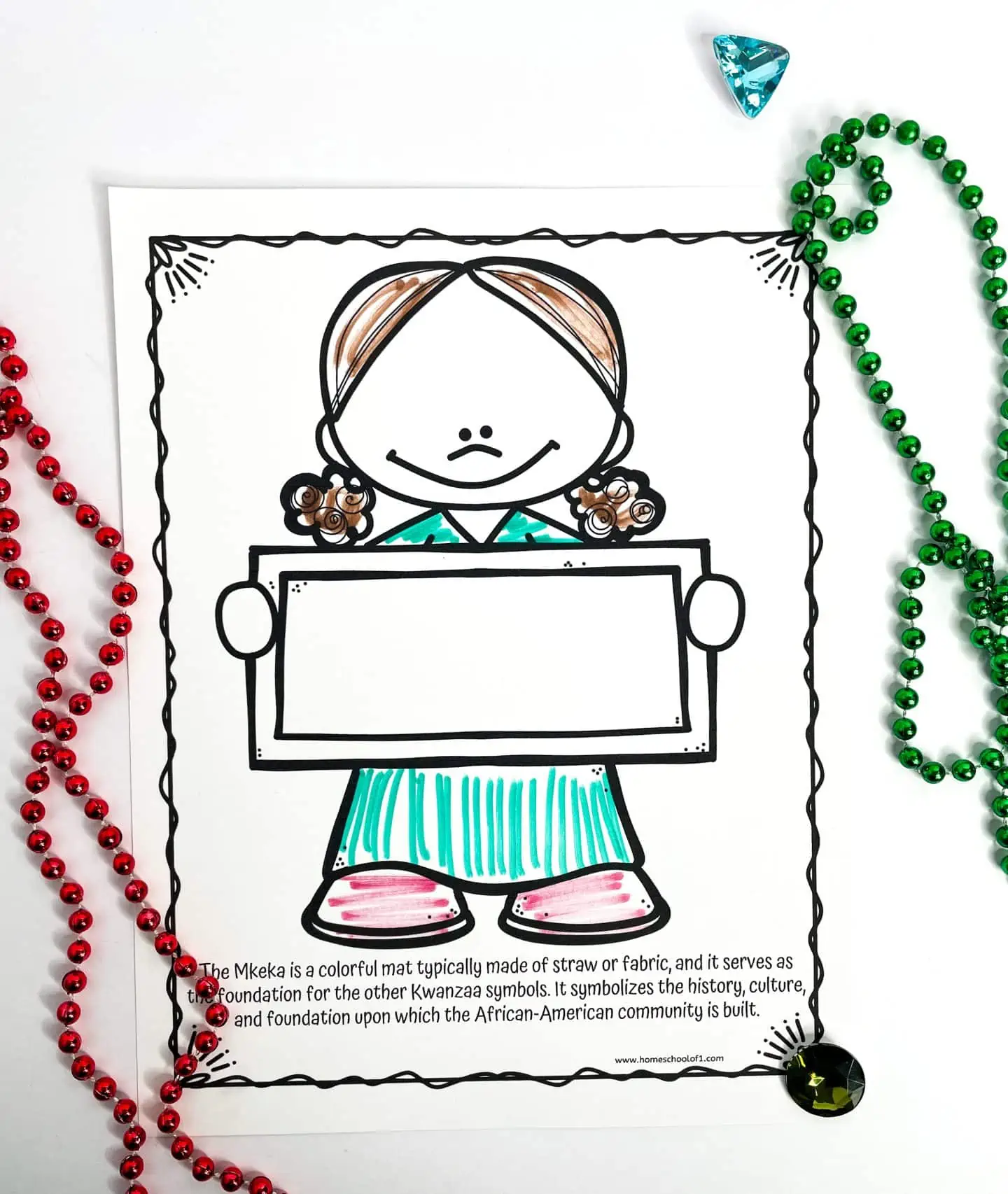 Mazao coloring page
"Mazao" is one of the seven symbols or "Mishumaa Saba" used in the celebration of Kwanzaa. Specifically, Mazao represents the fruits, nuts, and crops that are harvested during the holiday season.
It is a symbol of the bountiful harvest and the rewards of hard work that have been achieved throughout the year.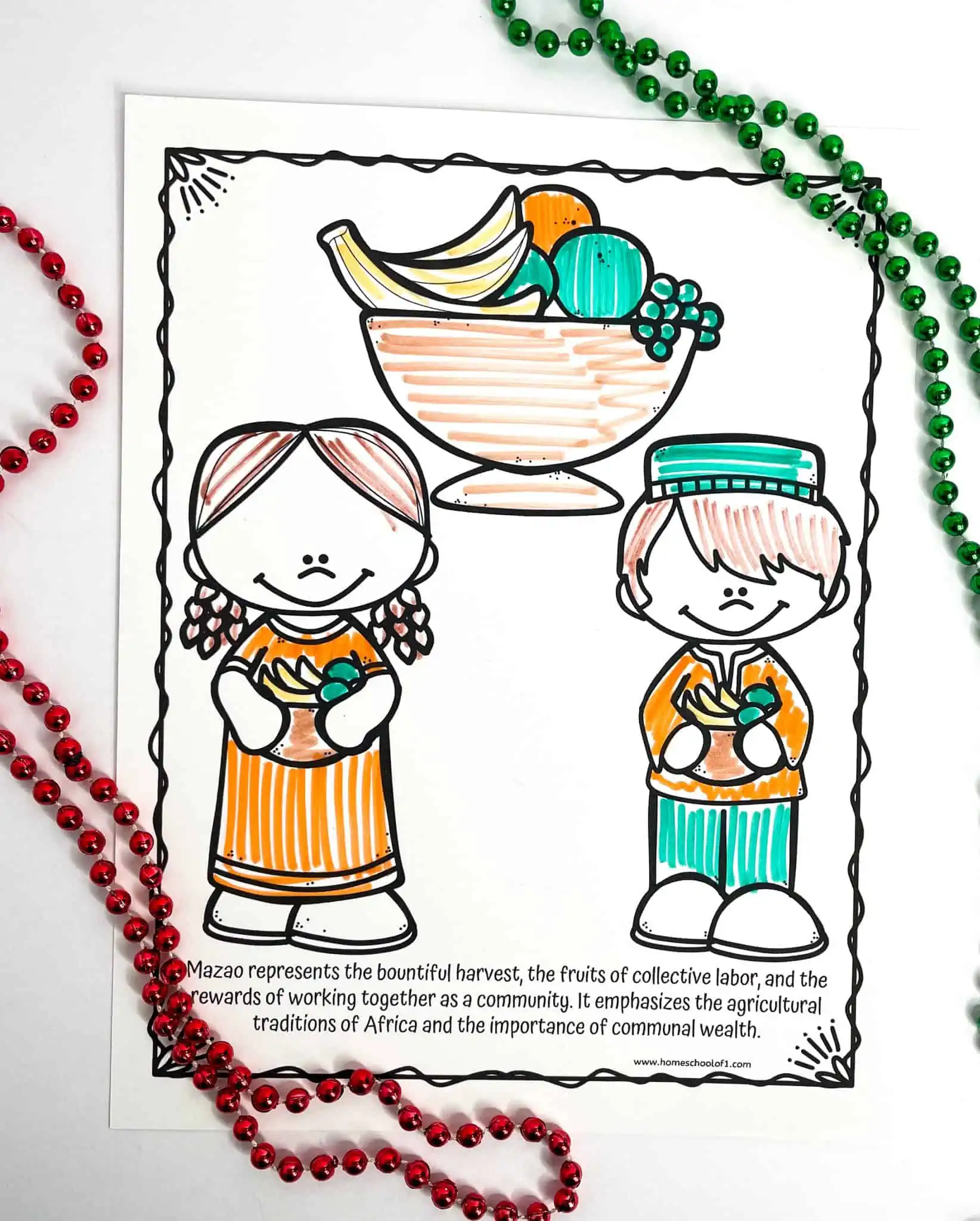 Muhindi coloring page
Muhindi is another symbol in Kwanzaa, representing the corn or maize. The term Muhind" is Swahili, one of the African languages. And it signifies the importance of the staple crop in African culture and agriculture.
The Muhindi is often displayed as a single ear of corn on the Kwanzaa table.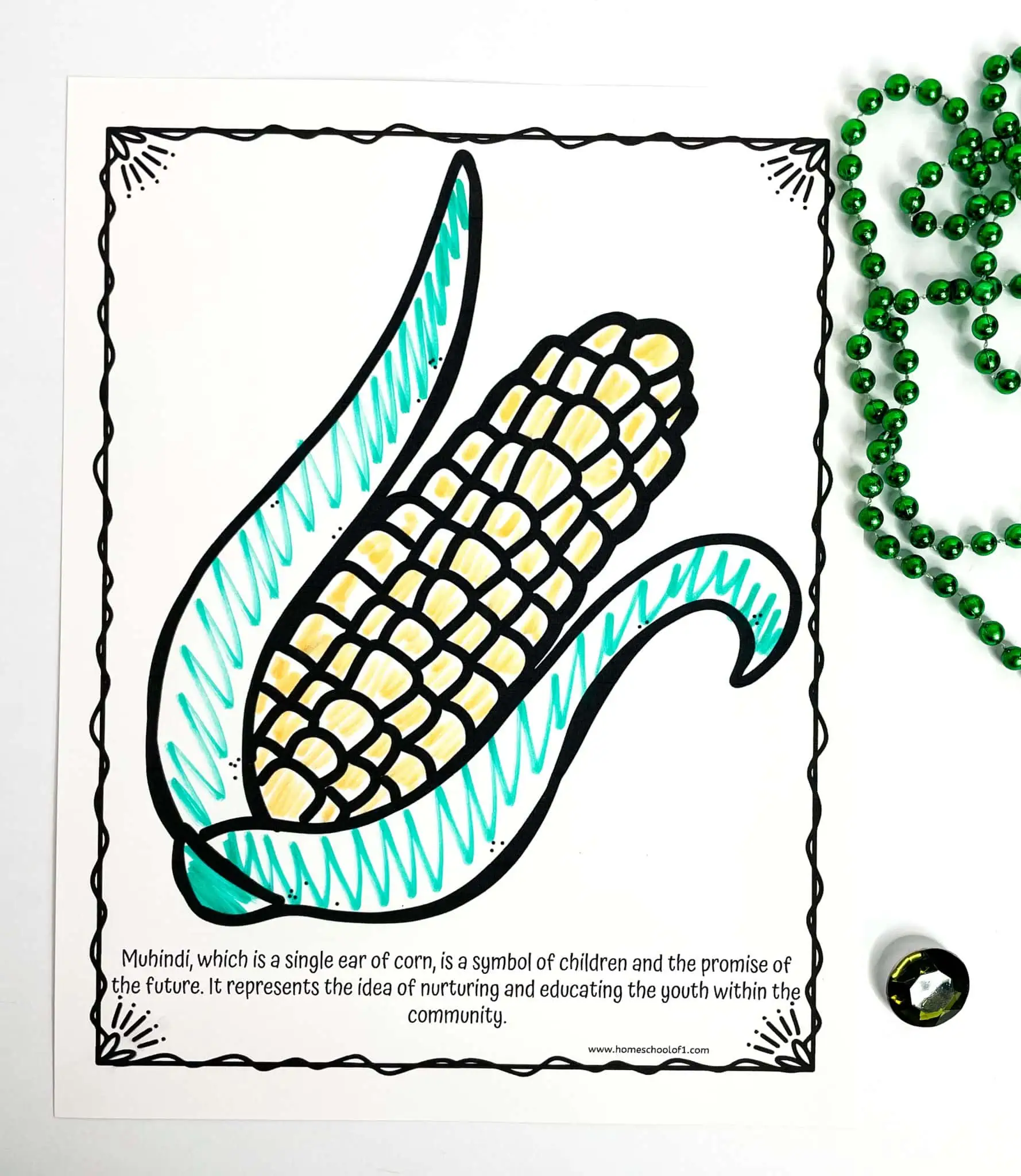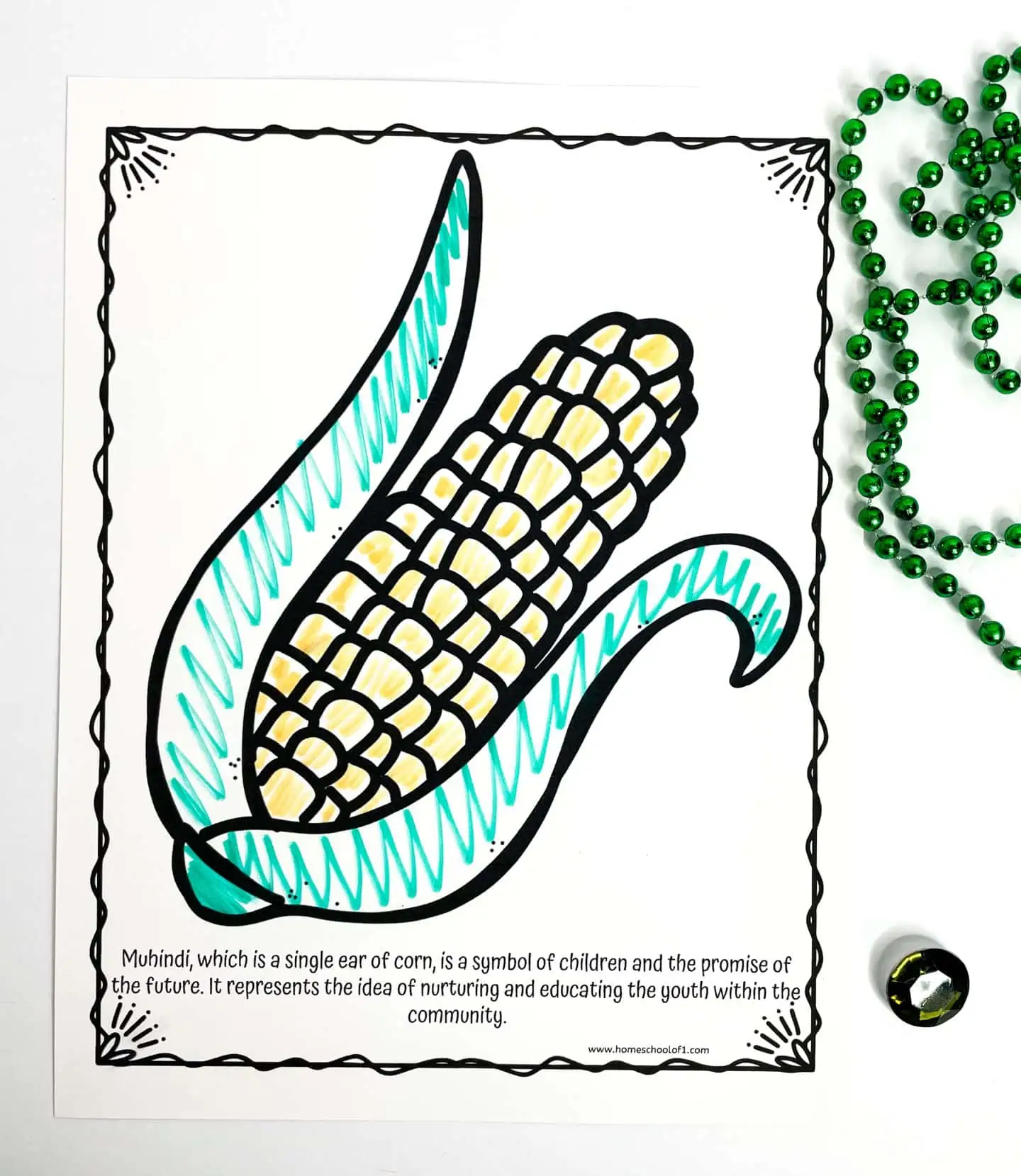 Kikombe cha Umoja coloring page
Kikombe cha Umoja is a Swahili term that translates to "Unity Cup" in English.
It refers to a special cup that is used during Kwanzaa celebrations to emphasize the principle of "Umoja." Which means unity, one of the Nguzo Saba (Seven Principles of Kwanzaa).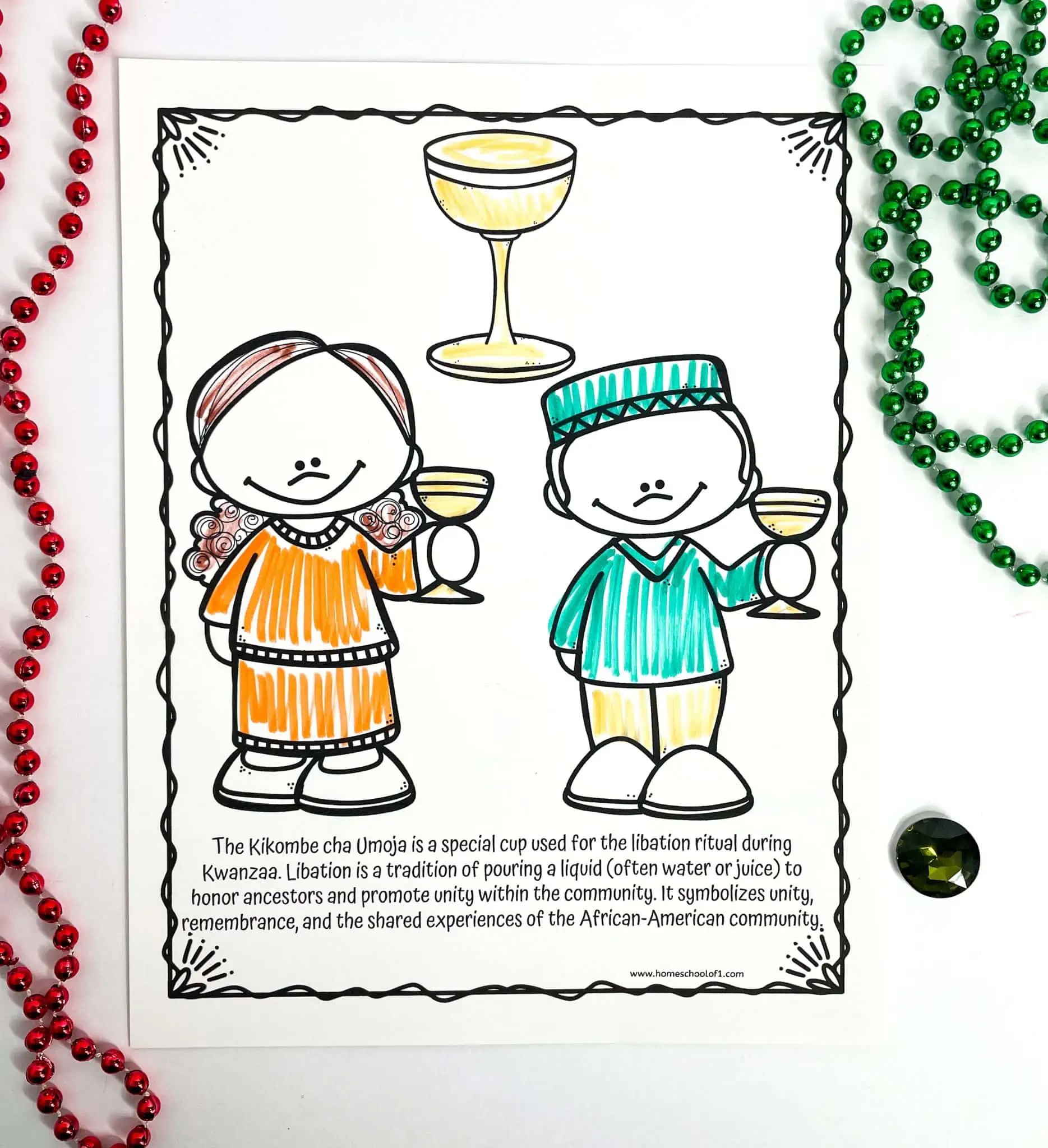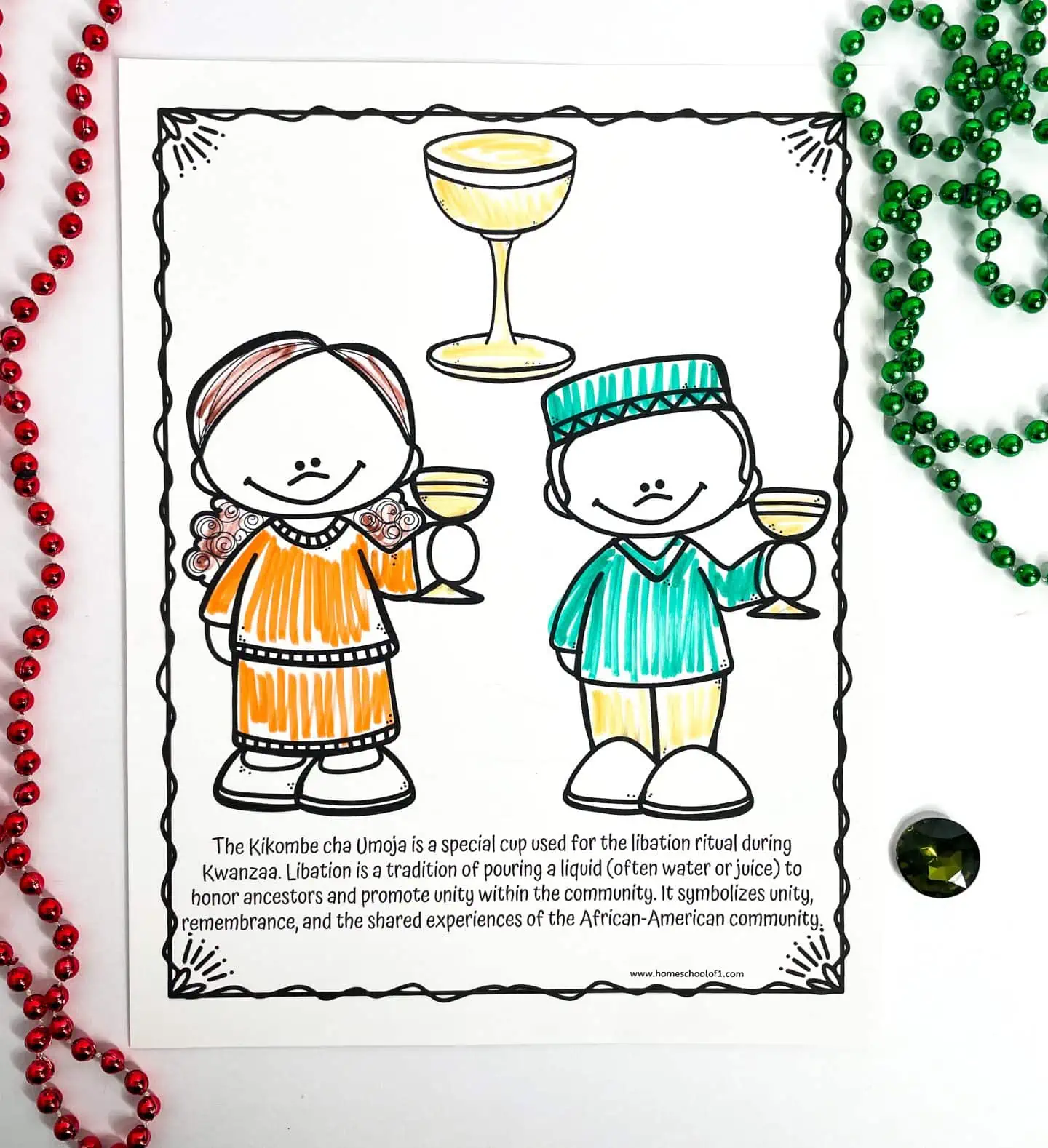 Zawadi coloring page
Zawadi is a Swahili word that means "gifts" in English. It represents the tradition of giving meaningful and educational gifts to family members, especially children, during the holiday celebration.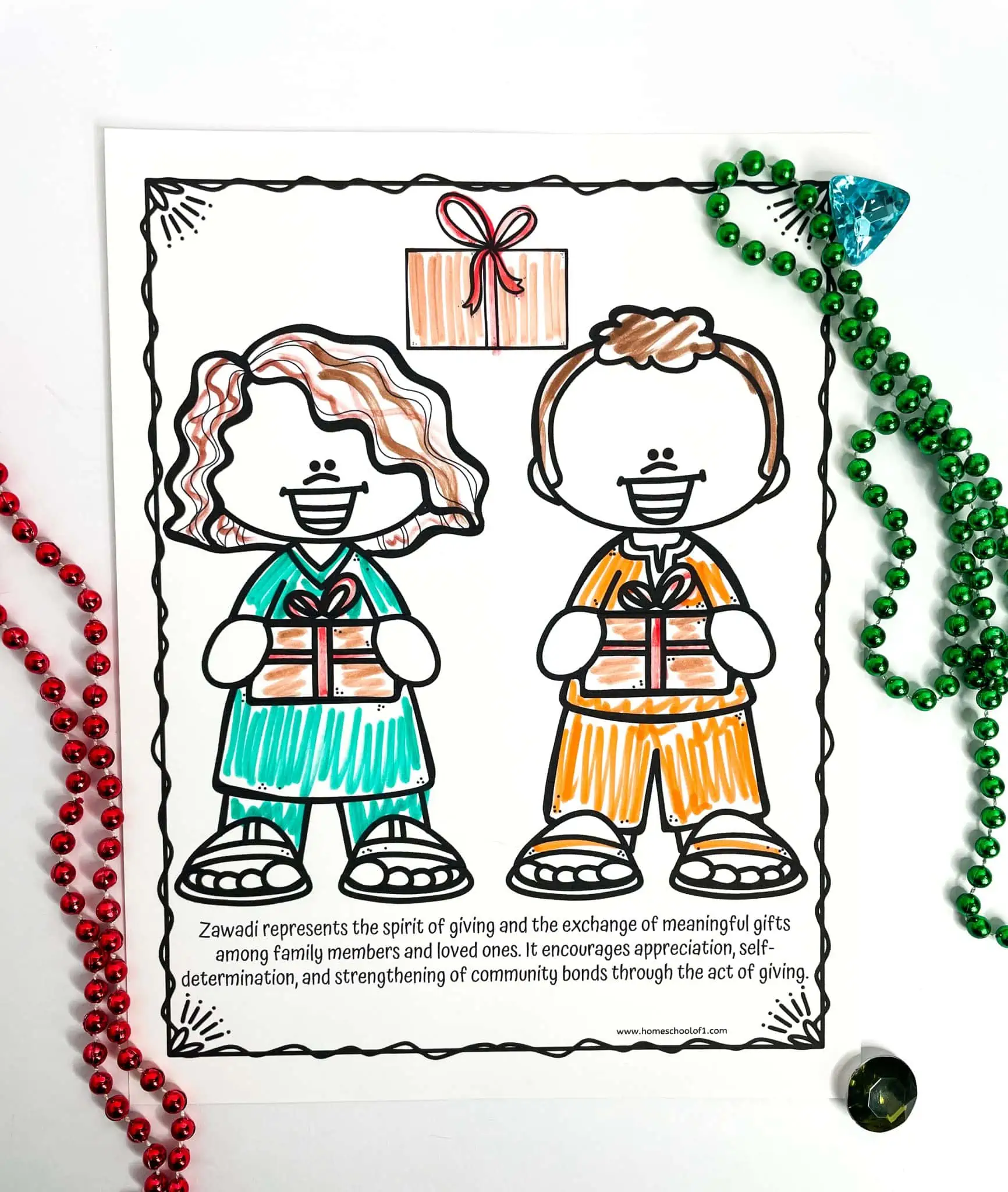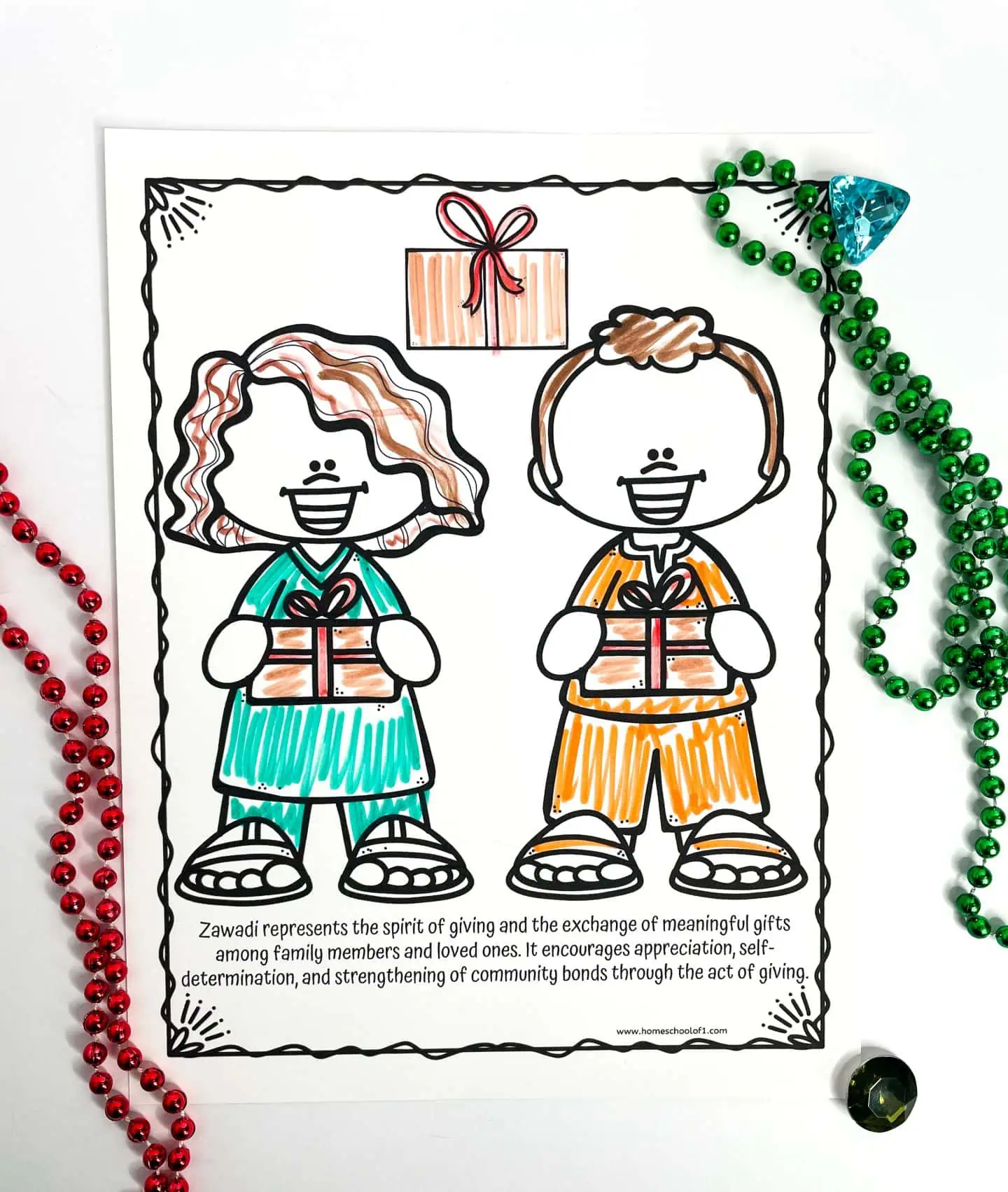 Kwanzaa word match
This fun and educational worksheet for kids combines creativity with learning about Kwanzaa symbols.
Children can color in festive images of Kwanzaa symbols like the Kinara, Bendera (flag), Muhindi (corn), and more.
To make it even more engaging. They'll also enjoy the challenge of matching the words to the correct symbols. Reinforcing their understanding of the holiday's key elements.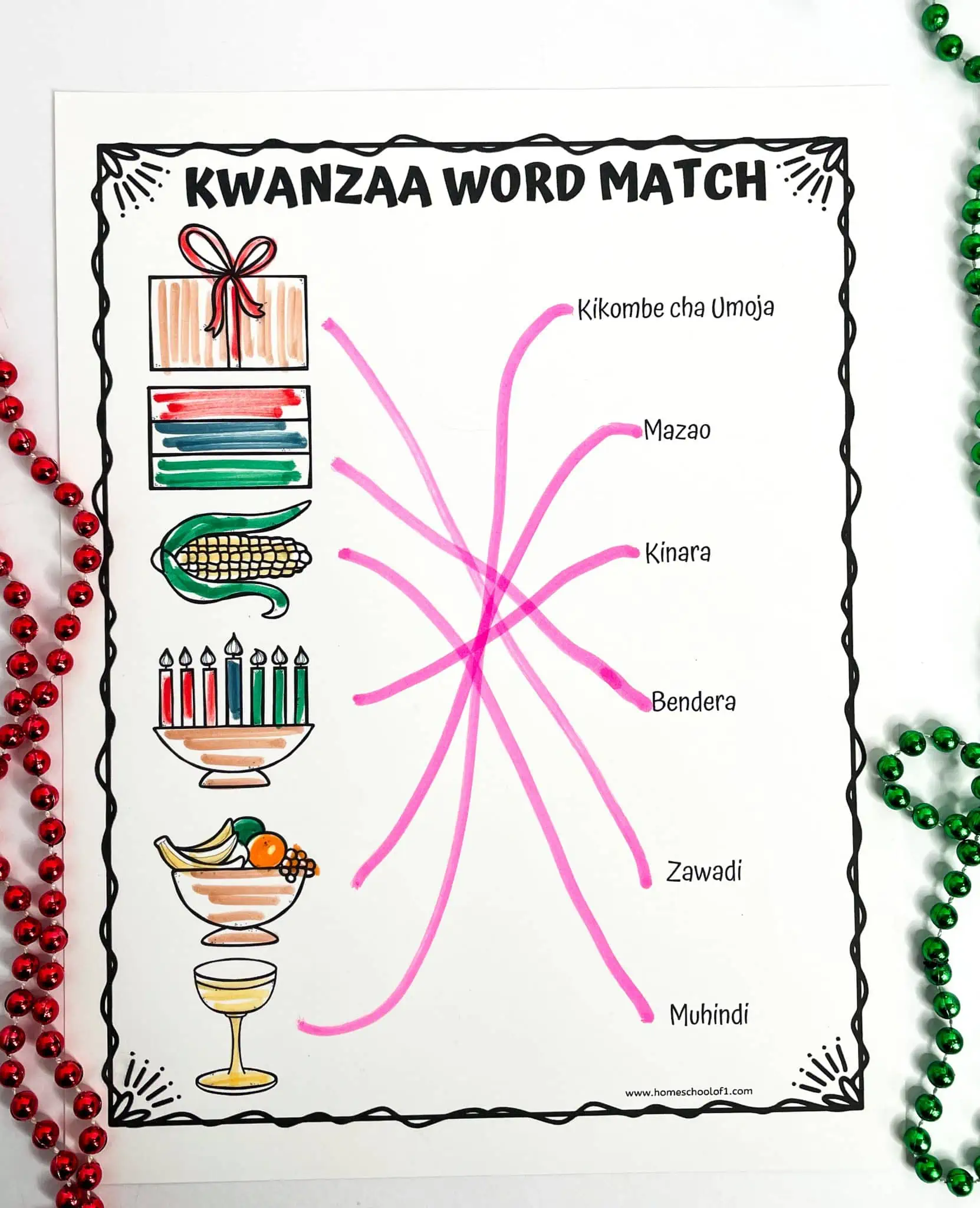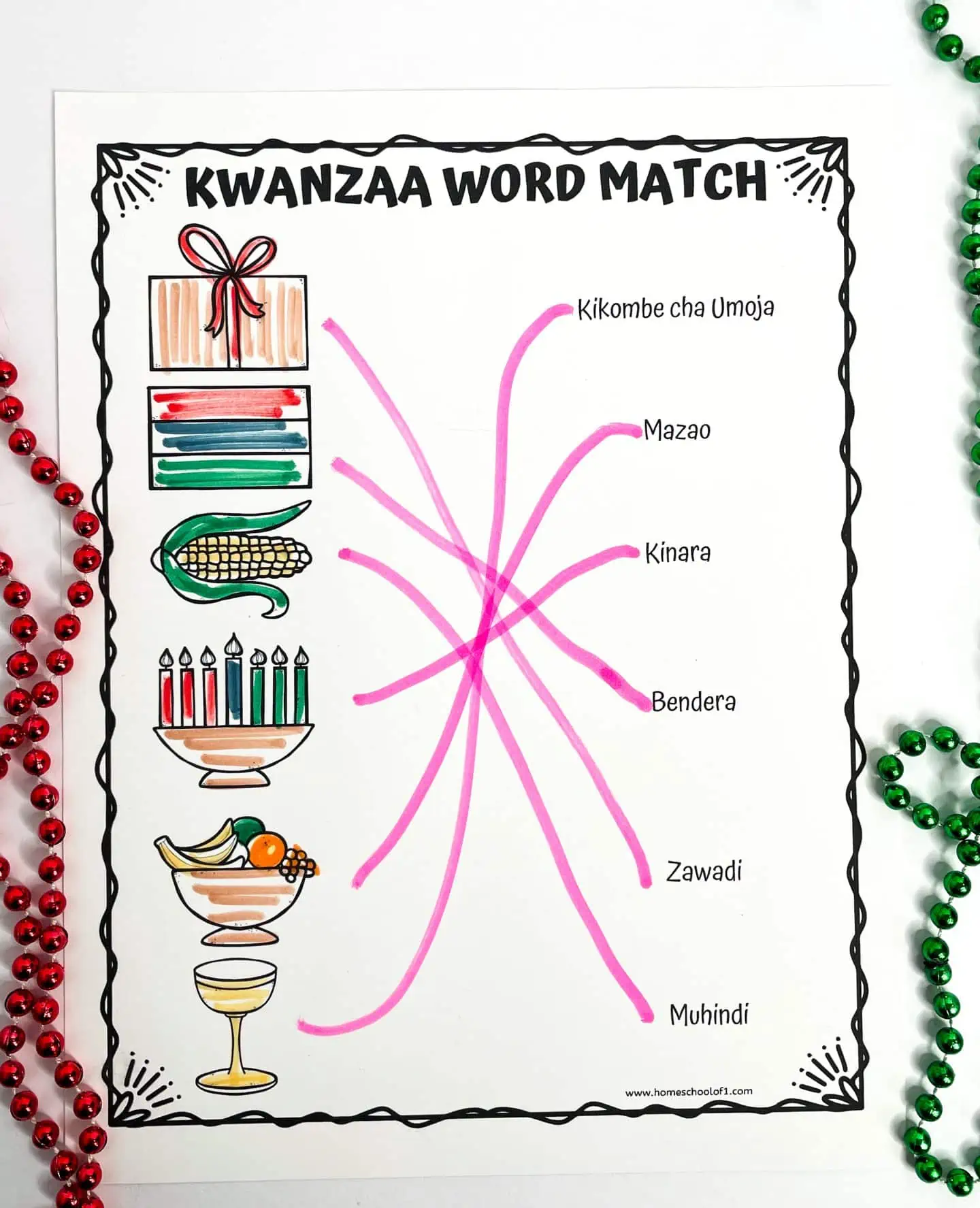 Kinara worksheet
This interactive Kwanzaa worksheet engages children by featuring a picture of the Kinara. The traditional candle holder is used during the holiday.
Each candle is labeled with a number, and below, there are corresponding spaces for the dates and the Kwanzaa principles.
Children can have fun as they match the candle numbers with the correct dates and principles.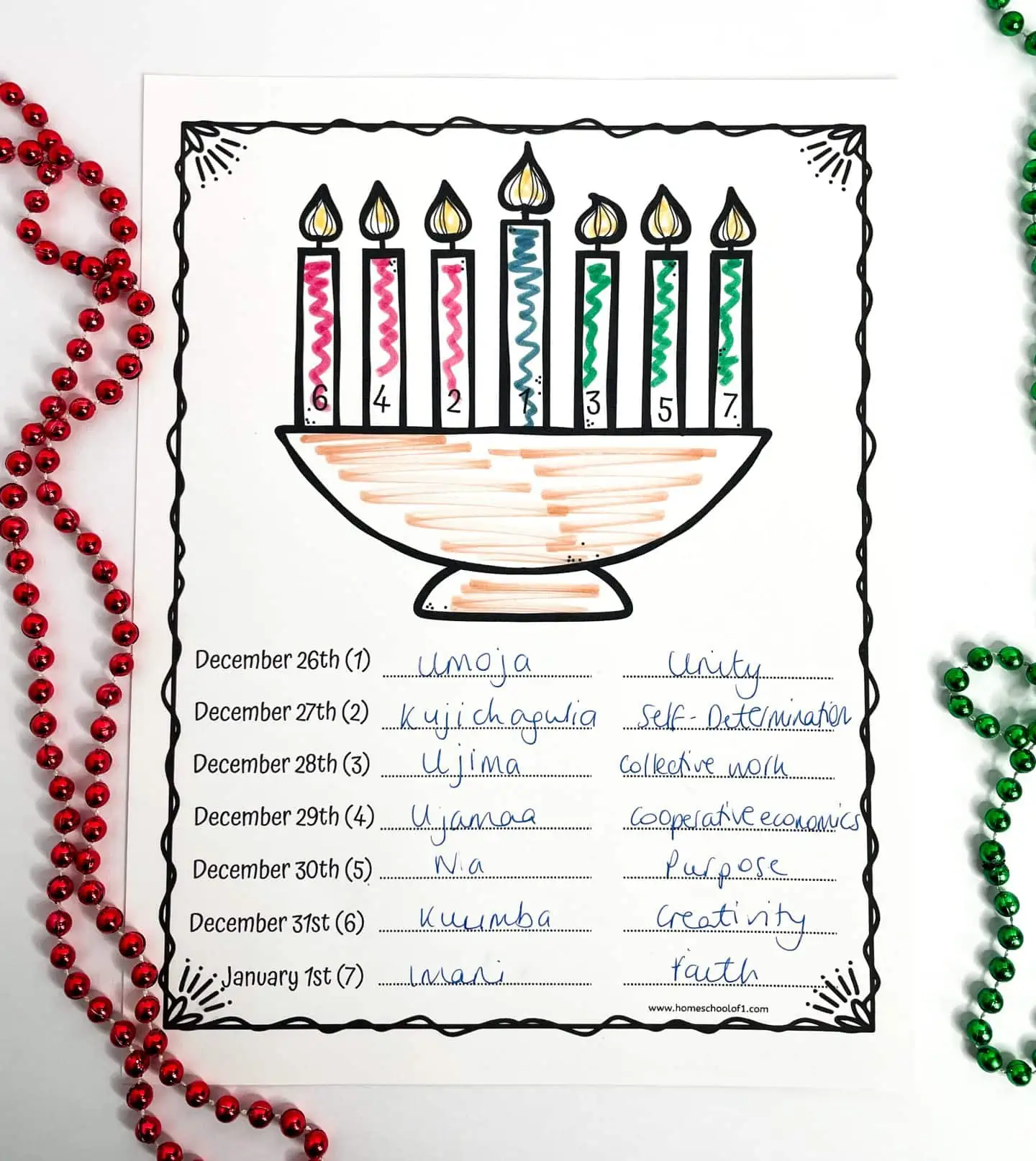 Books about Kwanzaa for kids
Delve into the vibrant world of Kwanzaa with these engaging books for kids.
Together for Kwanzaa. Join Kayla and her family as they prepare for and celebrate Kwanzaa, highlighting the values of unity and community in this heartwarming children's book.
The Story of Kwanzaa. Explore the rich history and cultural significance of Kwanzaa in this informative and beautifully illustrated book that takes young readers on a journey through its origins and traditions.
My Family Celebrates Kwanzaa. Through the eyes of a young girl named Adia, discover the unique and personal ways her family celebrates Kwanzaa, emphasizing the importance of family bonds and heritage in the holiday season.
Tips for downloading the free files
Below you will see a large sign-up box where you need to add your name and email address, and press I NEED THIS NOW!
Within minutes you will be sent the free PDF directly to your email address, so you can print it out and start using it immediately.
Sometimes emails get a little wonky, so if you can't see it, please check your spam folder where I am sure it is hiding.
Download the free Kwanzaa worksheets
These worksheets are free to print but are for personal or classroom use only.
Make sure you choose the correct paper size and click on the shrink to fit button. All of our free printables for kids work better when printed on cardstock (this is the one we use and love.)
Last Updated on 25 November 2023 by homeschoolof1