Life Cycle of a Hedgehog Worksheets (8 free pages)
If you are starting to see baby hedgehogs in the garden, now is the time to use our free life cycle of a hedgehog worksheets.
In these 8-page life cycle worksheets all about our favorite spiny friend the hedgehog you will find a word search, labeling, a bubble map, fill in the information, and more writing activities. These are perfect for 2nd – 4th-grade students.
Children will learn 20 new vocabulary words all about hedgehogs.
This is a no-preparation download, so if you have left it until the last minute (like I normally do!) this will be perfect for the kids at home or school.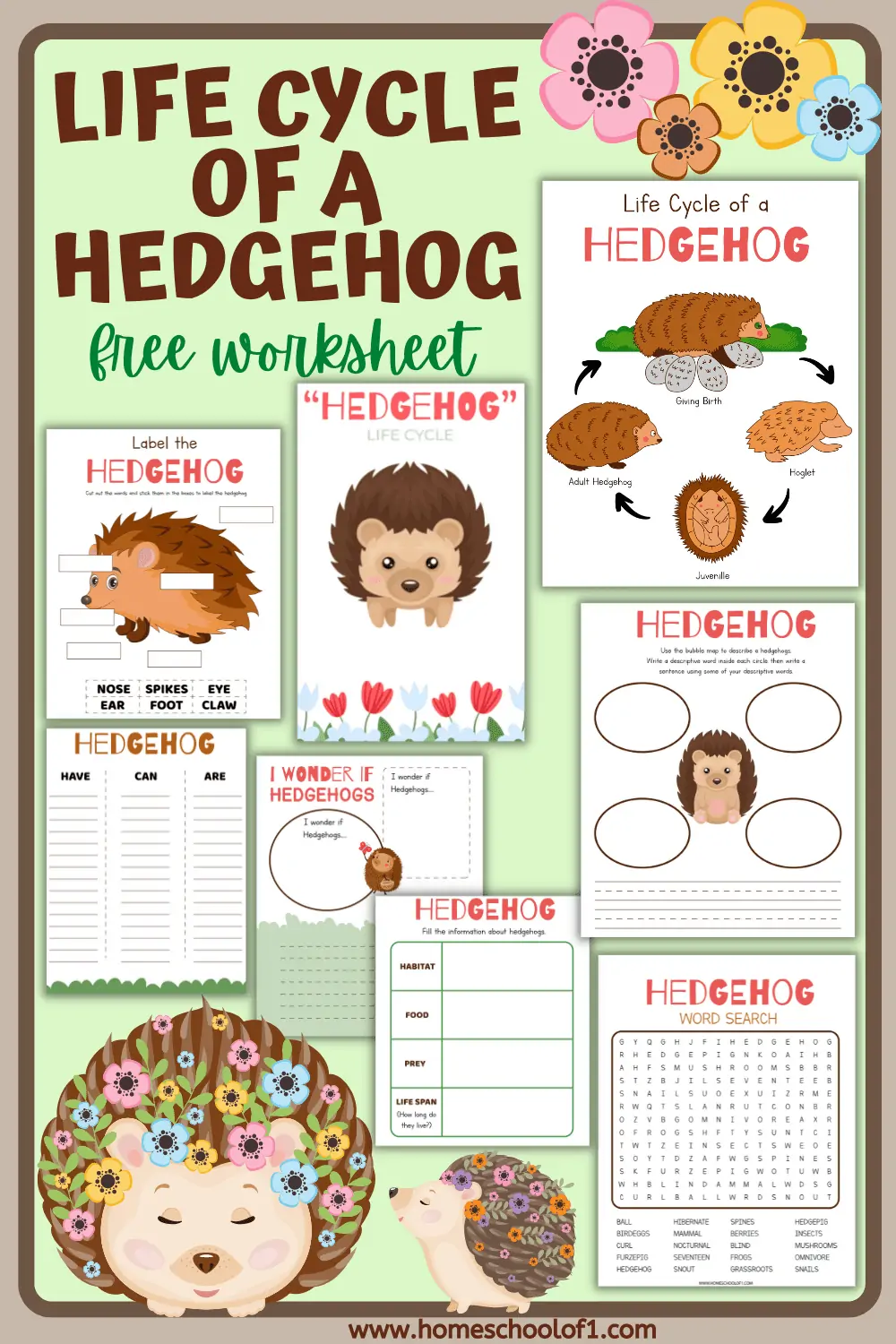 **There may be affiliate links in this post. You can read my full disclosure at the bottom of the page.**
Hedgehog Worksheets
The kids are going to love our free life cycle of a hedgehog worksheet. You will love them as not only are they fun to complete, you will have all of the supplies already!
Supplies Needed:
cardstock (printer paper will also work)
scissors
glue
What's included in the download?
Print out the hedgehog worksheets below, they will print out on 8 full pages. Make sure to check the printer settings.
Hedgehog life cycle front cover.
The life cycle of a hedgehog poster.
Label the parts of a hedgehog.
Describe the hedgehog writing activity.
Research information about the hedgehog.
Have, can, are worksheet.
I wonder if hedgehogs writing activity.
Hedgehogs word search.
The first page to print out is the front cover of the worksheet.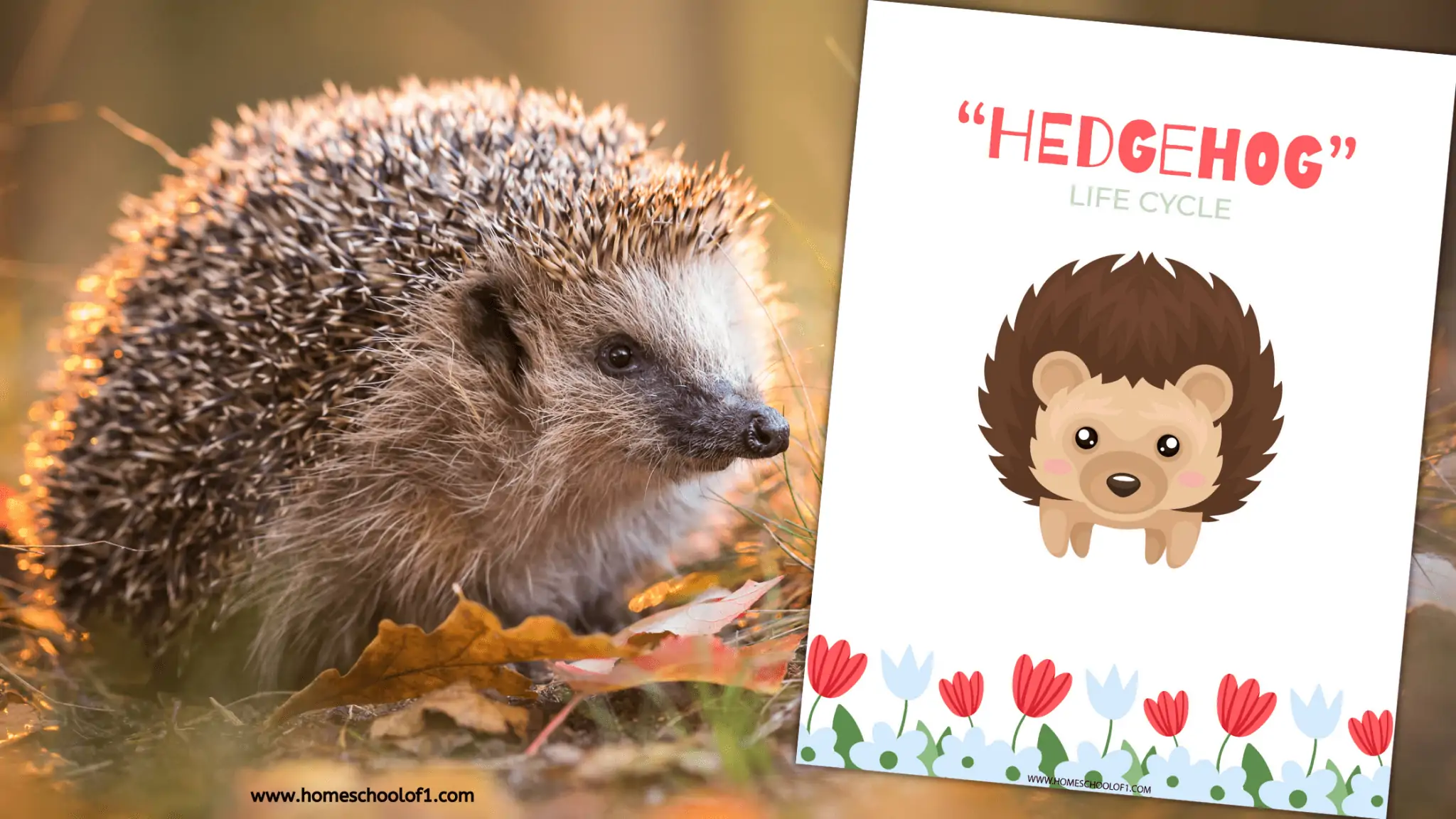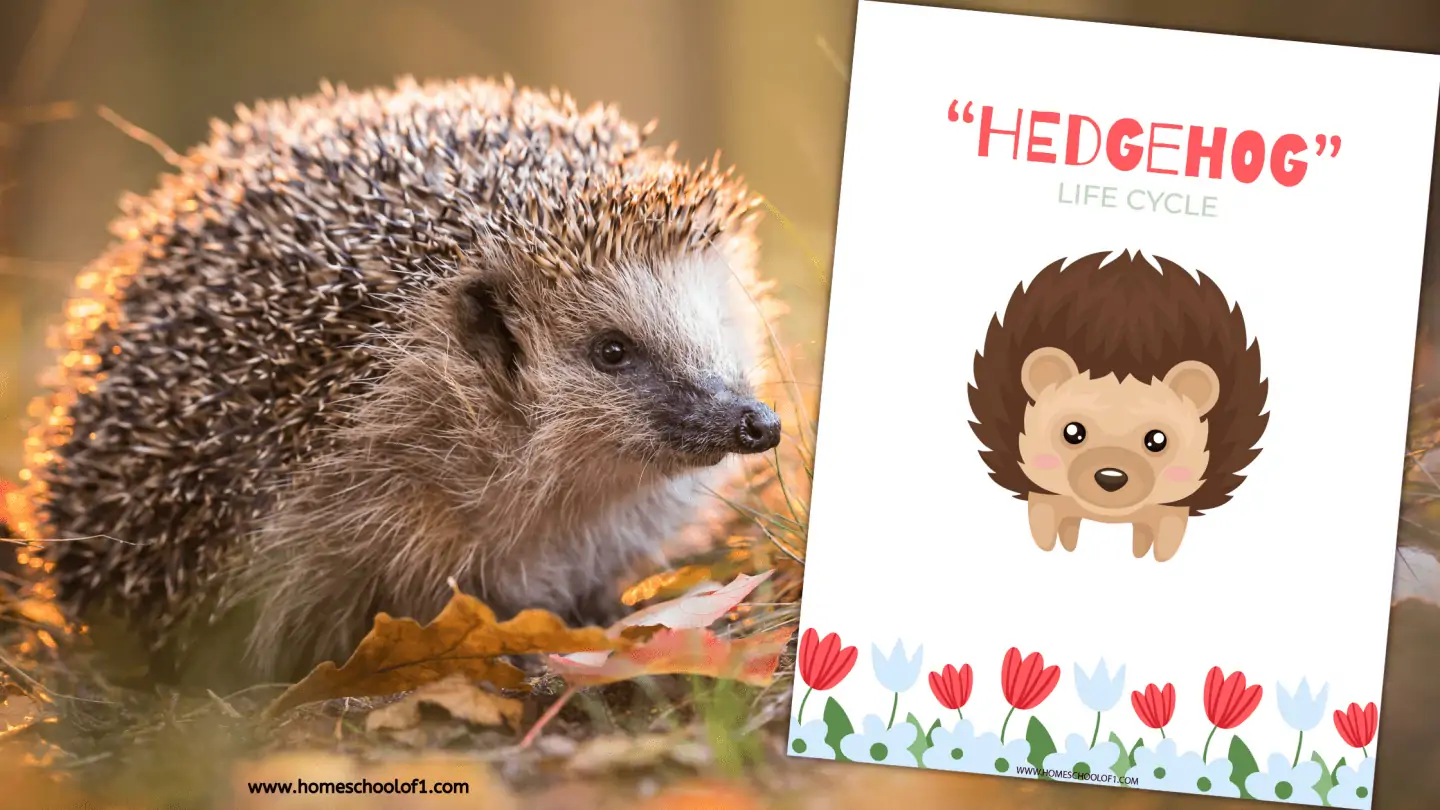 The second page in this set is the actual life cycle of a hedgehog.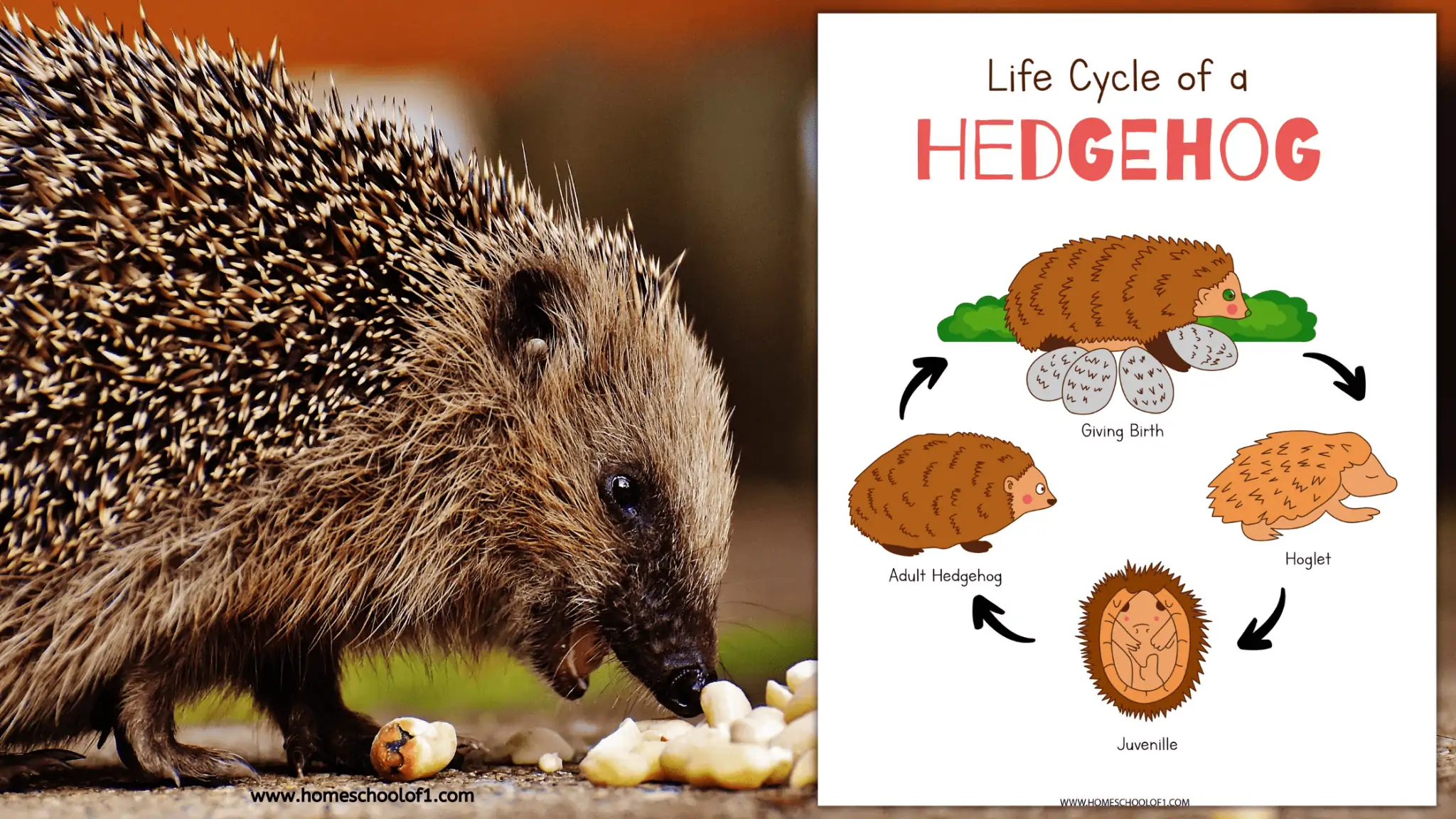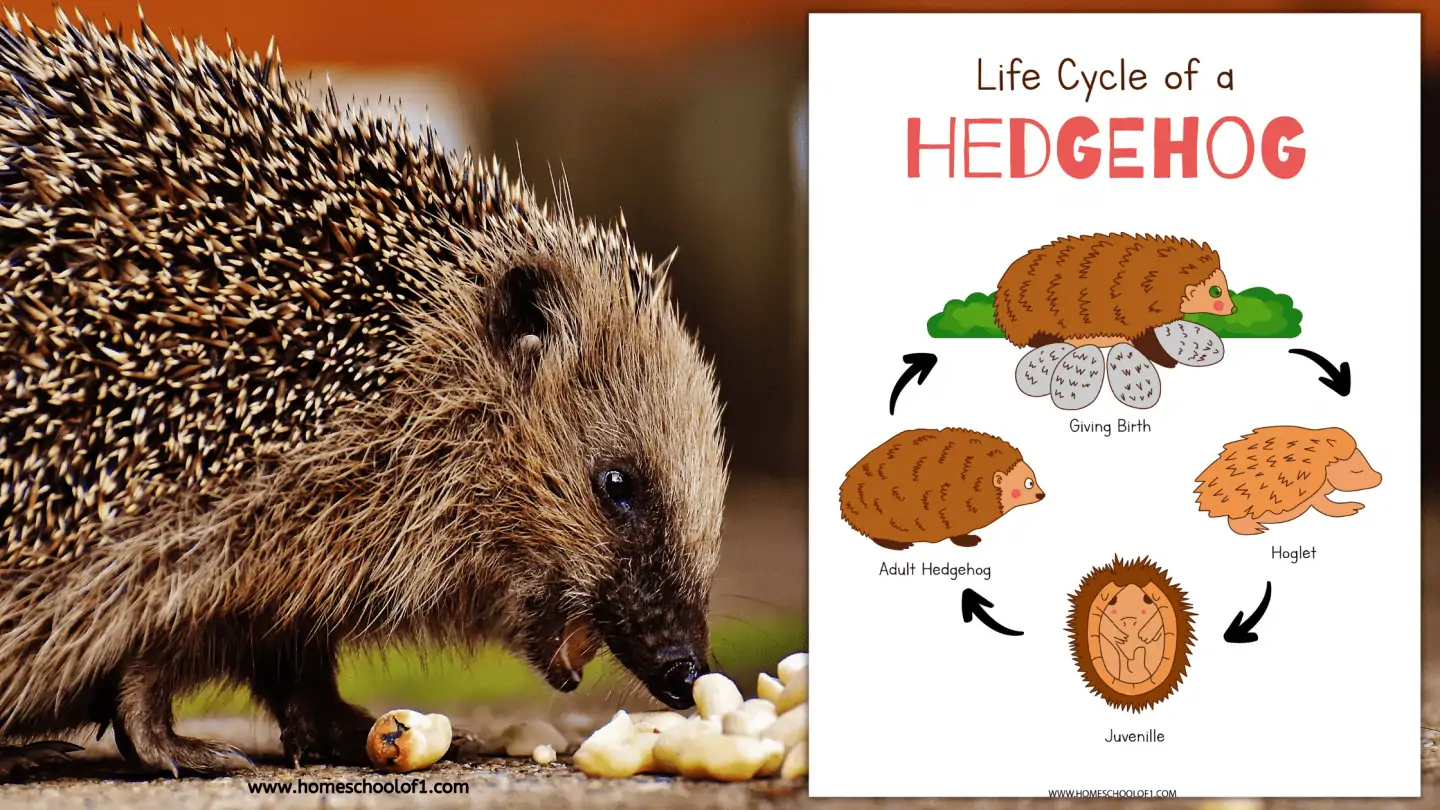 You can label the hedgehog, give the children some glue and scissors and they can label the parts of a hedgehog.
In the next one, the children need to think about descriptive words about a hedgehog and then write a sentence using these words.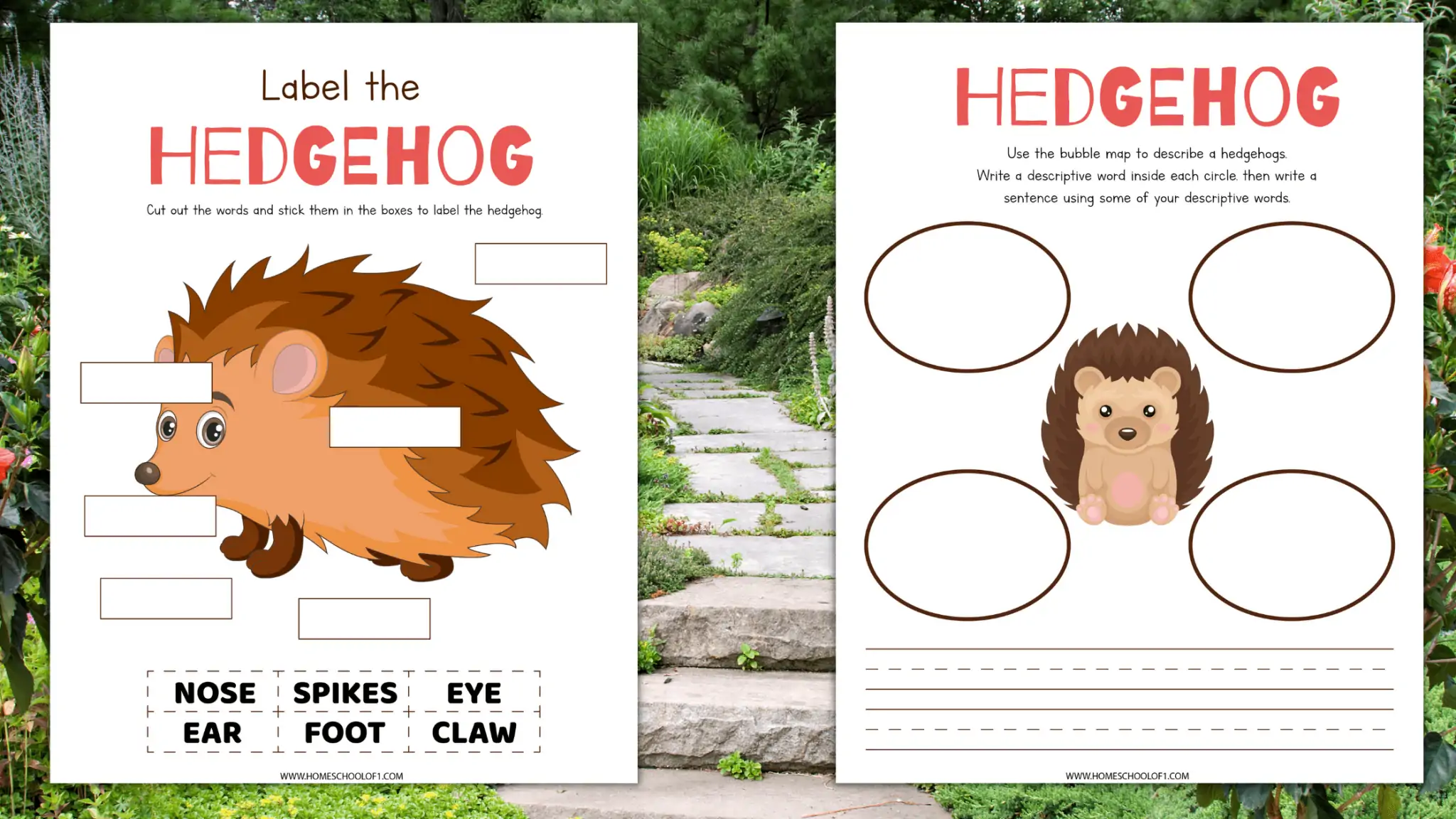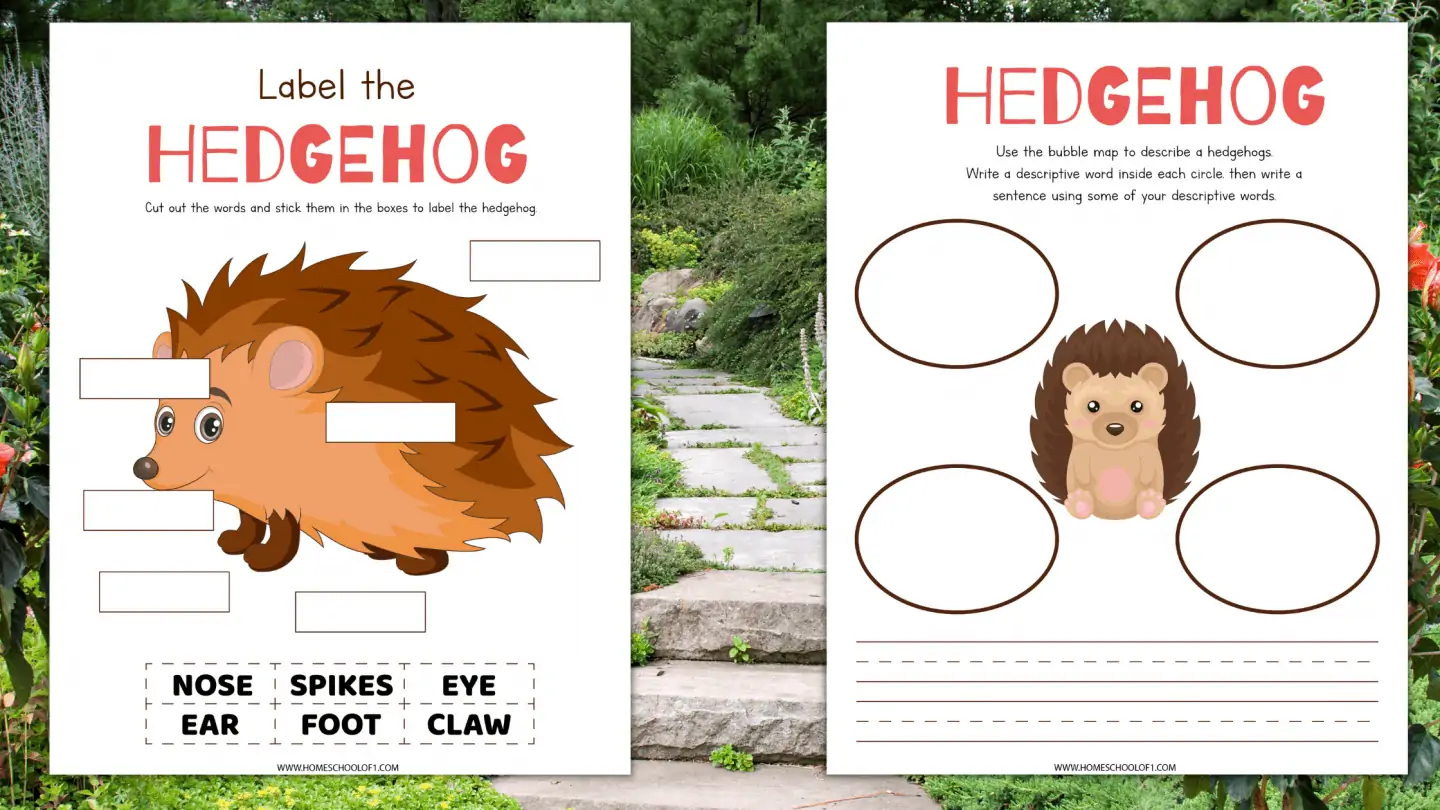 The children will need access to the internet to complete the information about hedgehogs. They need to find the hedgehog's habitat, what food they eat, what their prey is, and how long their life span is.
We also use this book Life Cycles for our studies however, they do not have hedgehogs included. We also love to use this life cycle kit, but again they do not have hedgehogs in. But I still recommend them.
For the next worksheet the children have to write words about hedgehogs in this have, can, and are list.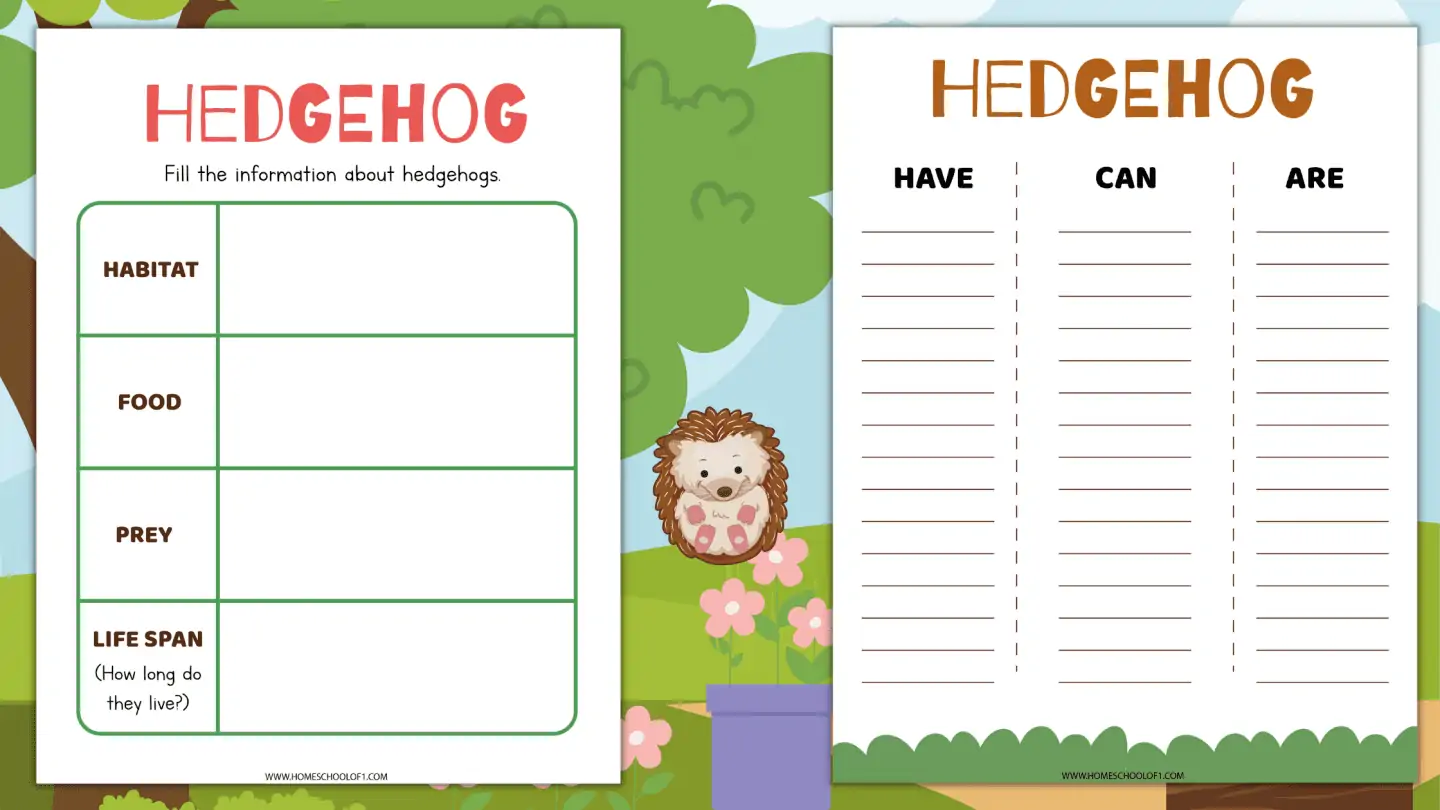 I wonder if hedgehogs is a wonderful opportunity for the kids to get creative and write.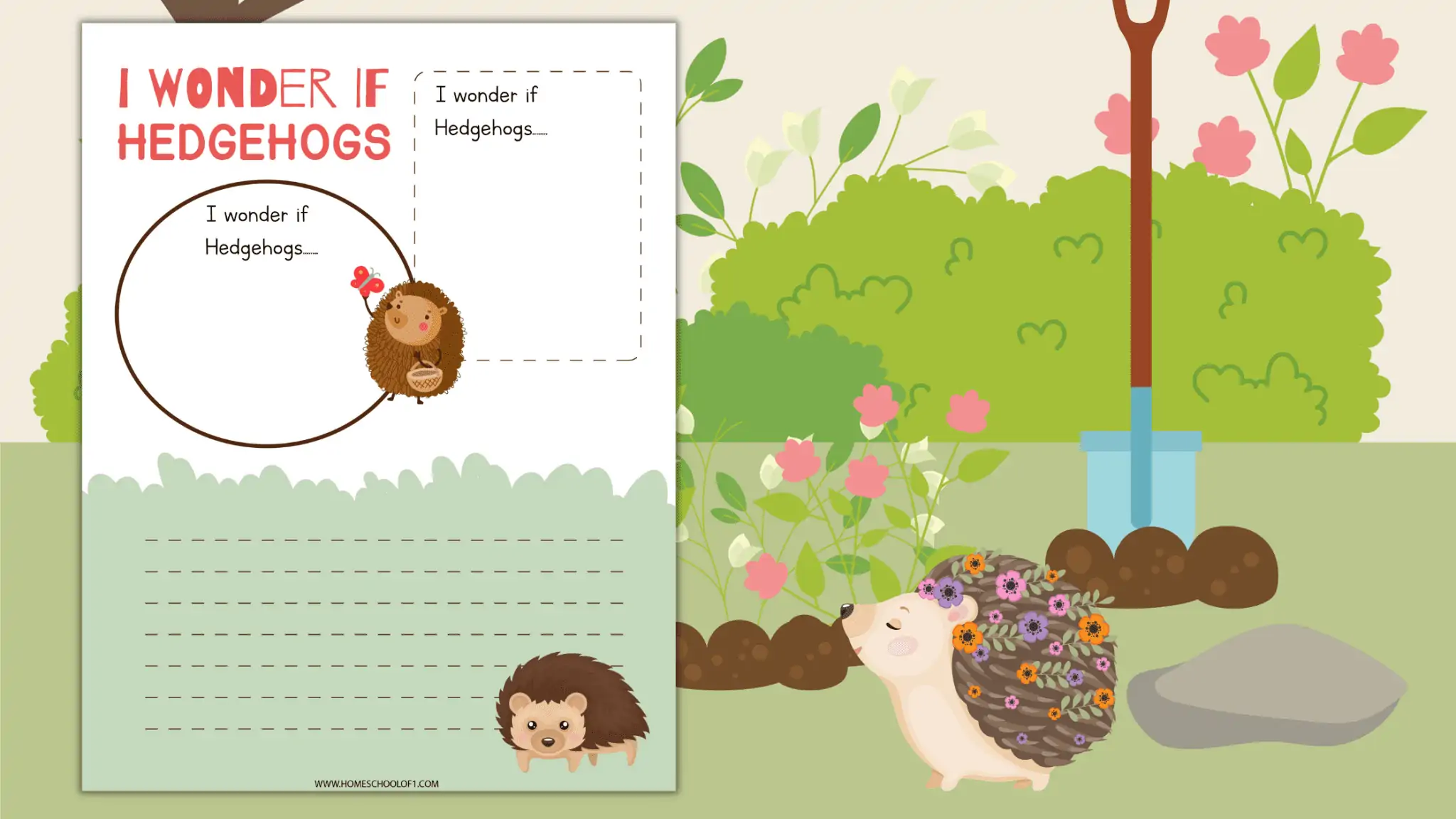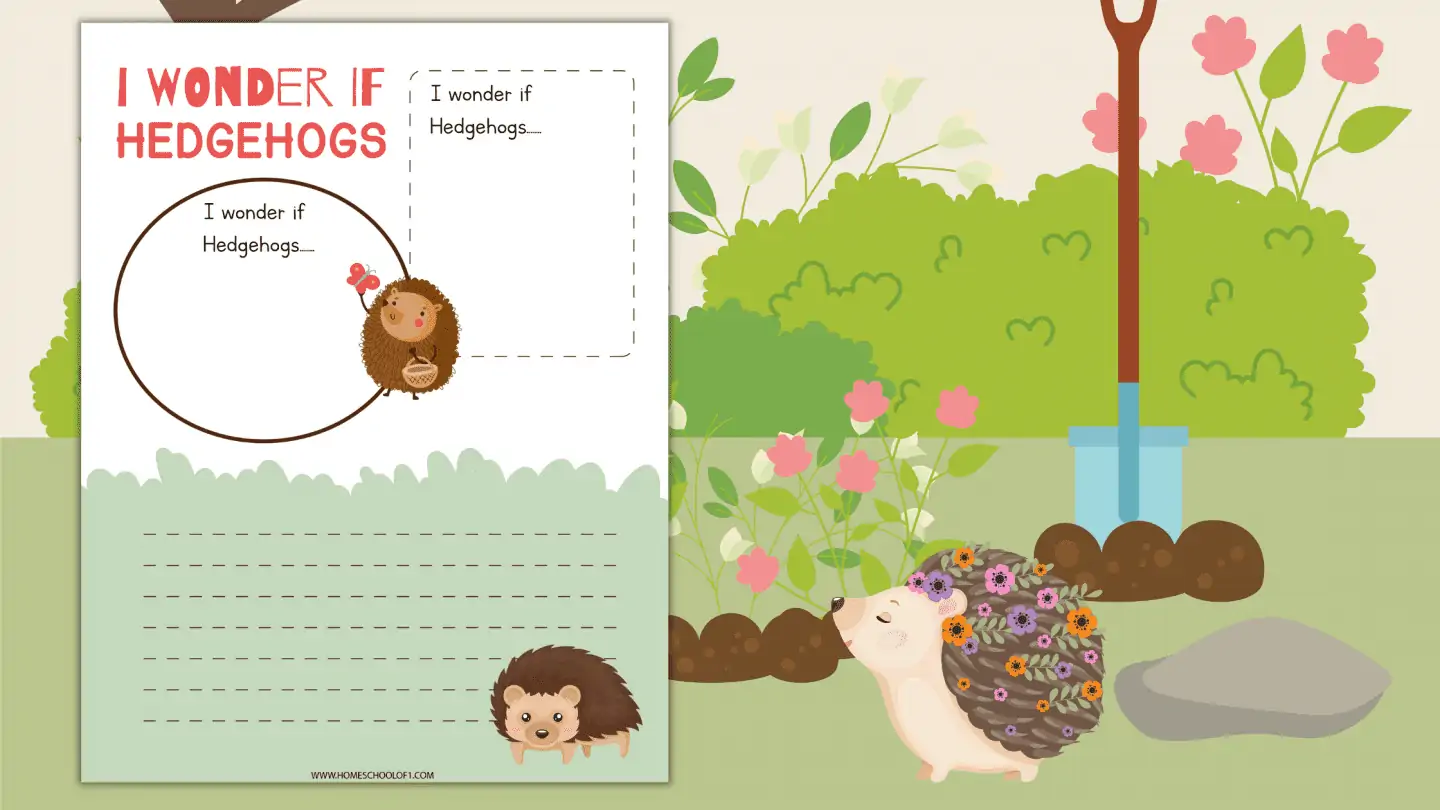 Hedgehog Word Search
The final worksheet is the Halloween word search. We absolutely love word searches as they just add a little fun to each subject.
The hedgehog vocabulary words can be found, horizontally, vertically, frontwards, or backwards! Just to make it that much harder!
Tip: I recommend either using a highlighter pen or circling around the letters. Do not cross the letters out if you have found a word, as it may be used in another word!
There are 20 words included all relating to Hedgehogs:
Ball – as they curl into a ball
Bird eggs – can be their dinner
Curl – as they love to curl up
Furzepig – another name for a hedgehog
Hedgehog
Hibernate – Hedgehogs usually hibernate from October/November through to March/April.
Mammal
Nocturnal – active at night
Seventeen – there are 17 species of hedgehogs
Snout – they have a snout for a nose
Spines – they have prickly spines
Berries – they eat them
Blind – they are born blind
Frogs – food (check out our life cycle of a frog worksheets)
Grass roots – food
Hedgepig – baby hedgehog
Insects – food
Mushrooms – food
Omnivore – an animal who eats both plants and animals
Snails – food
Other free science printables you will enjoy
You will also enjoy some of our other free printable science worksheets:
Download Free Life Cycle of a Hedgehog Printables
If you are running short on time you can download ALL of our 19 life cycles for a small fee here. There are 165 pages over 19 different life cycles, including this one.
Make sure you choose the correct paper size and click on the shrink to fit button. All of our free printables for kids work better when printed on cardstock (this is the one we use and love.)
Last Updated on 12 July 2023 by homeschoolof1