7 Free Mardi Gras Coloring Pages (learn all about the carnival)
Get ready to dive into the awesome celebration of Mardi Gras! We've got some free Mardi Gras coloring pages that will introduce you to the wild and colorful traditions of this fantastic holiday.
Did you know that Mardi Gras is all tangled up with Easter? It happens 47 days before Easter Sunday, so the date changes every year.
Prepare to have your mind blown when you discover that Mardi Gras is also known as Shrove Tuesday or Pancake Day in the UK! In America, it goes by the name Fat Tuesday, reflecting the French meaning of Mardi Gras.
While Mardi Gras is often seen as a festival, it also holds religious significance. It's fascinating to learn that Mardi Gras is more than just a lively celebration!
The biggest and most vibrant celebration of Mardi Gras takes place in New Orleans, where people adorn themselves in the festive colors of purple, green, and gold.
Keep reading to download our free Mardi Gras coloring pages and explore more exciting holiday activities for kids. Let the spirit of Mardi Gras and a world of fun-filled adventures captivate your imagination!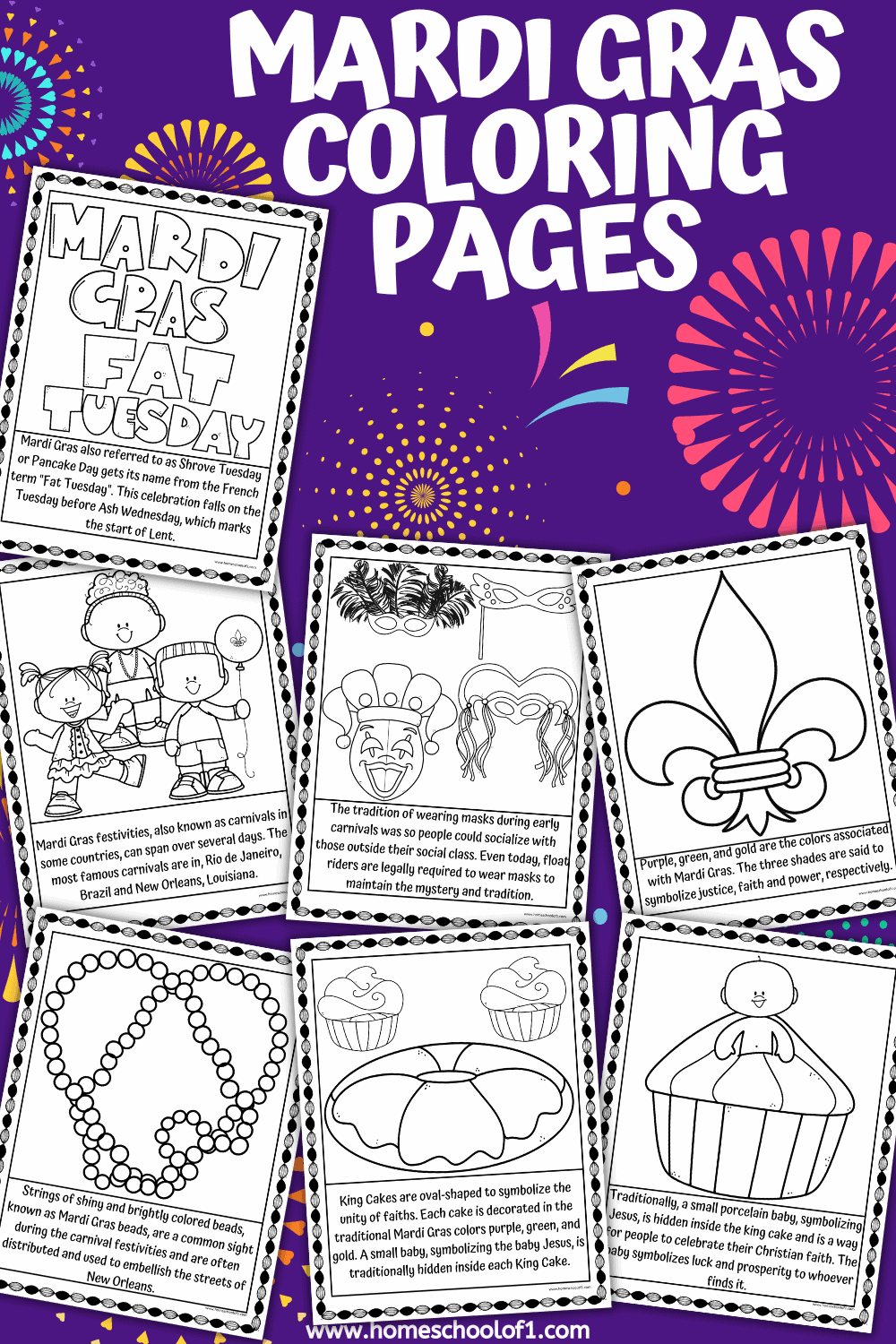 **There may be affiliate links in this post. You can read my full disclosure at the bottom of the page.**
Mardi Gras Coloring Activities for Kids
The kids are going to enjoy coloring in these Mardi Gras images. There are 7 informational worksheets for the kids to learn more about the history of Mardi Gras.
Perfect also for us adults who aren't sure what the holiday is about!
Have fun with the Mardi Gras coloring sheets
Print out the coloring pages below, it will print out on 7 full pages. Make sure to check the printer settings.
These coloring pages for Mardi Gras are free to print but are for personal use and classroom use only. Scroll to the bottom of the post and add your email address to get the pdf file.
You can of course print this on normal printer paper, but with all of our free printables, they always look better on cardstock.
Mardi Gras worksheets
Learn more about Mardi Gras with our free coloring pages they include:
Mardi Gras also referred to as Shrove Tuesday or Pancake Day gets its name from the French term "Fat Tuesday". This celebration falls on the Tuesday before Ash Wednesday, which marks the start of Lent.
Mardi Gras festivities, also known as carnivals in some countries, can span over several days. The most famous carnivals are in, Rio de Janeiro, Brazil, and New Orleans, Louisiana.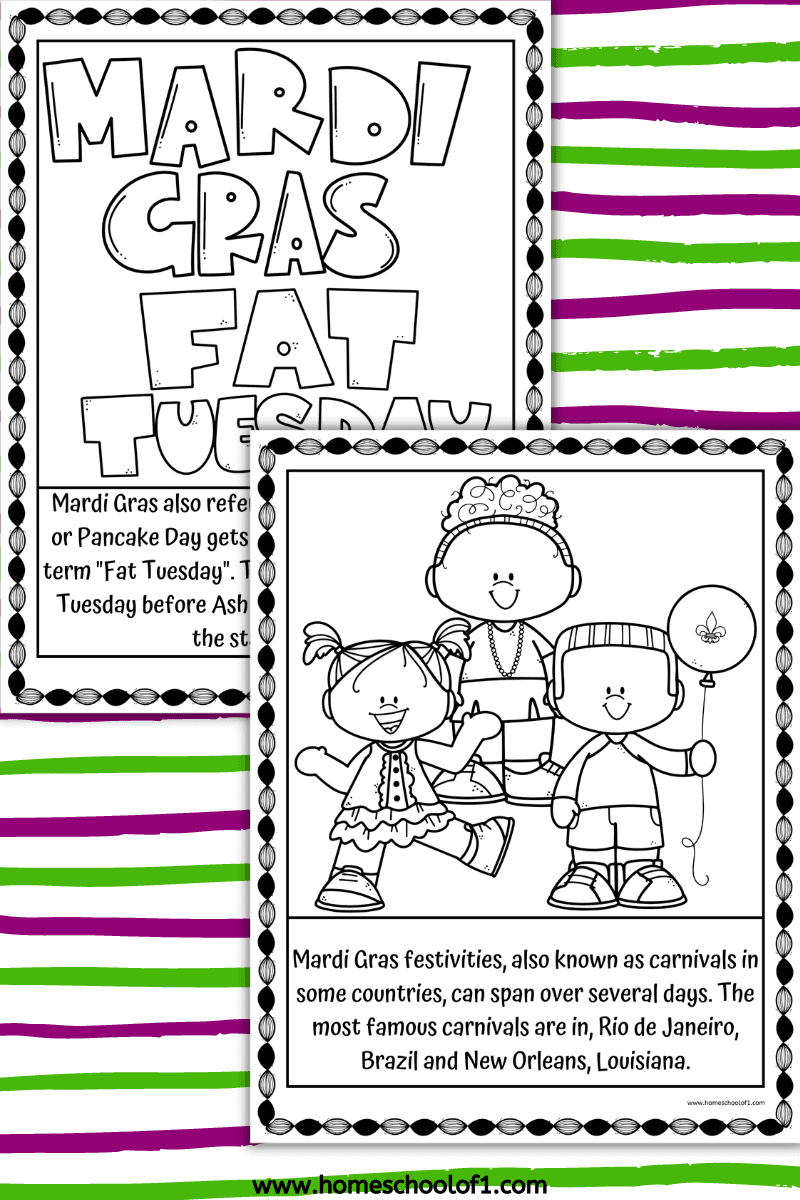 Delphine Denise and the Mardi Gras Prize
12 Days of Mardi Gras
Mimi's First Mardi Gras
What is Mardi Gras? – Mardi Gras History
The tradition of wearing masks during early carnivals was so people could socialize with those outside their social class. Even today, float riders are legally required to wear masks to maintain the mystery and tradition.
Purple, green, and gold are the colors associated with Mardi Gras. The three shades are said to symbolize justice, faith, and power, respectively.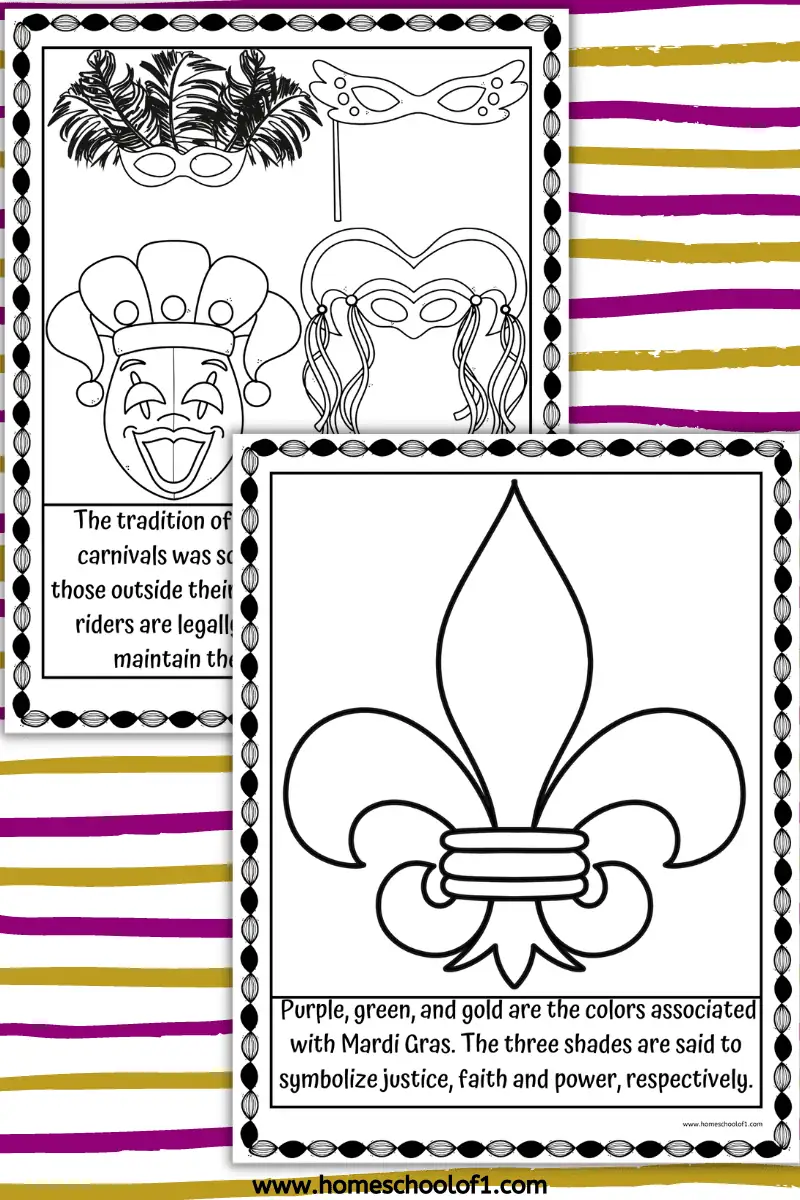 Strings of shiny and brightly colored beads, known as Mardi Gras beads, are a common sight during the carnival festivities and are often distributed and used to embellish the streets of New Orleans.
King Cakes are oval-shaped to symbolize the unity of faiths. Each cake is decorated in the traditional Mardi Gras colors purple, green, and gold. A small baby, symbolizing the baby Jesus, is traditionally hidden inside each King Cake.
Traditionally, a small porcelain baby, symbolizing Jesus, is hidden inside the king cake and is a way for people to celebrate their Christian faith. The baby symbolizes luck and prosperity to whoever finds it.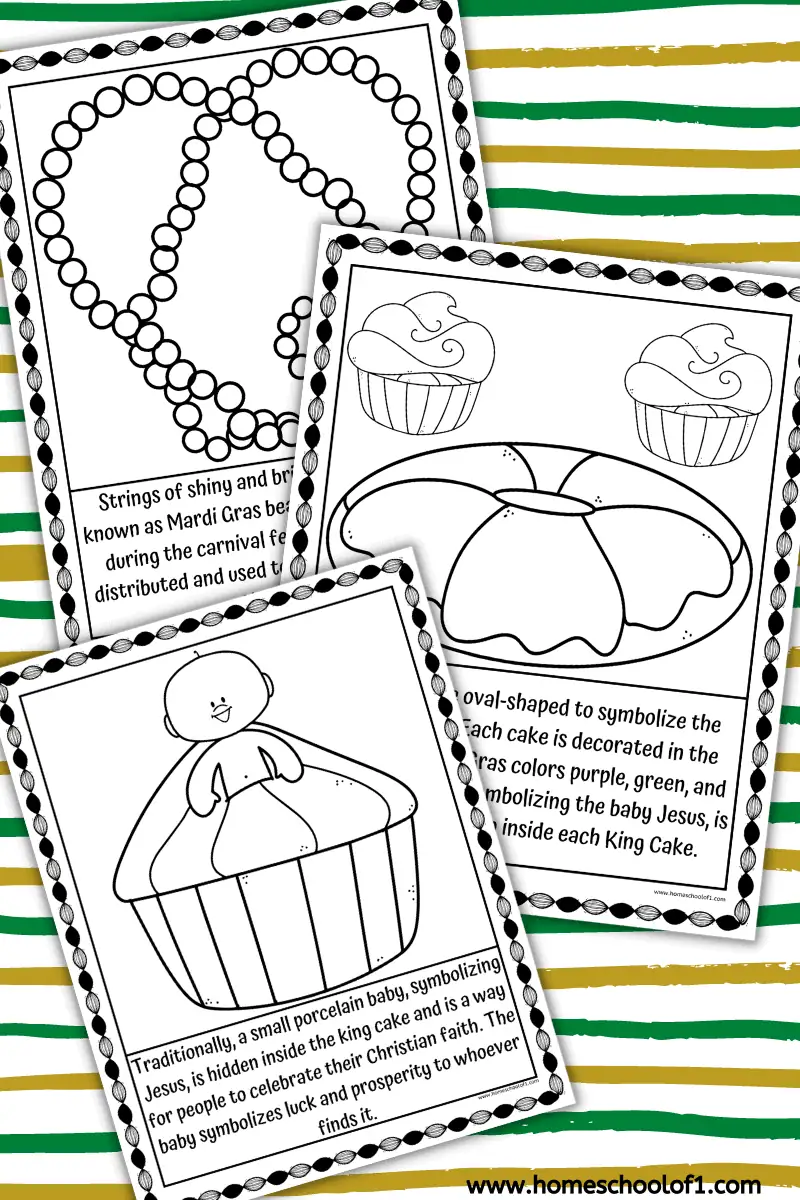 Even more Mardi Gras activities the kids will enjoy
When you have finished with our free Mardi Gras coloring pages you might also enjoy these fun activities.
You can also enjoy our free Mardi Gras word scramble puzzle and our free Mardi Gras word search.
Download the free printable Mardi Gras coloring pages
Make sure you choose the correct paper size and click on the shrink to fit button. All of our free printables for kids work better when printed on cardstock (this is the one we use and love.)
Last Updated on 13 July 2023 by homeschoolof1