Mardi Gras Word Search (free printable)
If you are looking forward to the Mardi Gras celebrations on Tuesday why not enjoy our free Mardi Gras word search puzzle?
There are 14 words to find all relating to Mardi Gras. With words such as Fat Tuesday, New Orleans, and February to find.
Kids of all ages, in fact, everyone will enjoy this fun word search.
This word search is a great way to get 10 minutes of peace! Either as a homeschool mom or a teacher, the kids will be too busy finding the words to disturb you!
**There may be affiliate links in this post. You can read my full disclosure at the bottom of the page.**
Fun Facts about Mardi Gras
The top 10 fun facts about Mardi Gras are:
There are a number of different names given to Mardi Gras, including, Fat Tuesday, Shrove Tuesday, and Pancake Day.
The word Mardi Gras means Fat Tuesday in French
It is a celebration that takes place the day before Ash Wednesday, which marks the beginning of Lent.
Mardi Gras is celebrated in many countries around the world, but it is most famously associated with the city of New Orleans in Louisiana, USA.
The official colors of Mardi Gras are purple, green, and gold. Each color has a specific meaning – purple represents justice, green represents faith, and gold represents power.
The first Mardi Gras parade in New Orleans was held in 1837, and it featured horse-drawn carriages and men wearing masks and costumes.
The term "krewe" is used to describe the organizations that plan and participate in Mardi Gras parades and festivities.
The tradition of throwing beads during Mardi Gras parades began in the late 1800s.
Mardi Gras is famous for its king cakes, which are sweet, ring-shaped pastries decorated with purple, green, and gold frosting.
The largest Mardi Gras celebration outside of the United States takes place in Rio de Janeiro, Brazil, where millions of people participate in the festivities.
Delphine Denise and the Mardi Gras Prize
12 Days of Mardi Gras
Mimi's First Mardi Gras
What is Mardi Gras? – Mardi Gras History
What are the benefits of doing word searches?
Word search printables are an excellent school activity for when the kids just need a break. They are educational, but more importantly, they are fun.
Playing word searches is an enjoyable activity for all ages, and it offers a range of educational advantages. Here are the top 7 benefits of engaging in word games:
Boosts word recognition skills
Enhances the ability to identify patterns
Facilitates learning context clues
Introduces new vocabulary in an entertaining manner
Improves spelling proficiency
Serves as a fun classroom activity
Provides a much-needed break from work or studying.
Word Search for Mardi Gras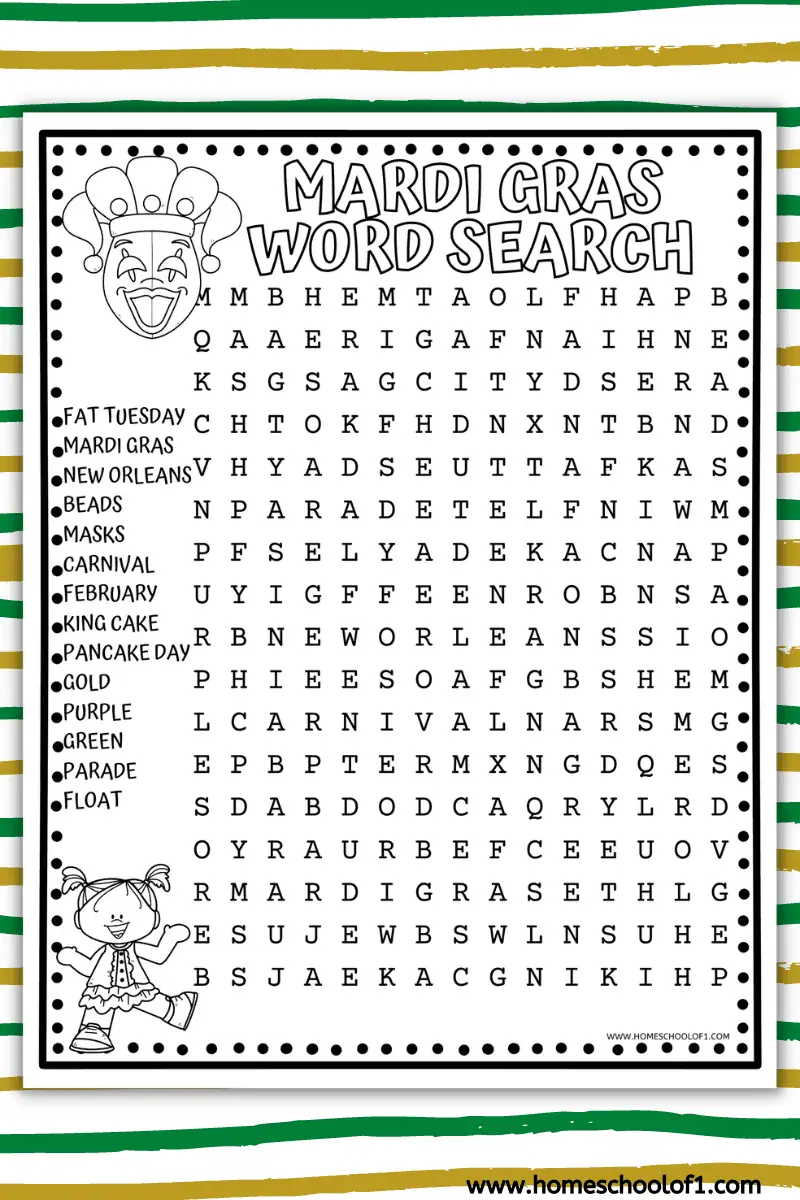 This printable Shrove Tuesday word search is free to print but is for personal or classroom use only. Scroll to the bottom of the page to get the pdf file.
The Fat Tuesday words can be found, horizontally, vertically, diagonally, frontwards, or backward! Just to make it that much more difficult.
I have also added the word search answers, as some of the words are a little tricky to find!
Tip: I recommend either using a highlighter pen or circling around the letters. Do not cross the letters out if you have found a word, as it may be used in another word!
The 14 Mardi Gras words to find are:
Fat Tuesday
Mardi Gras
New Orleans
Beads
Masks
Carnival
February
King cake
Pancake Day
Gold
Purple
Green
Parade
Float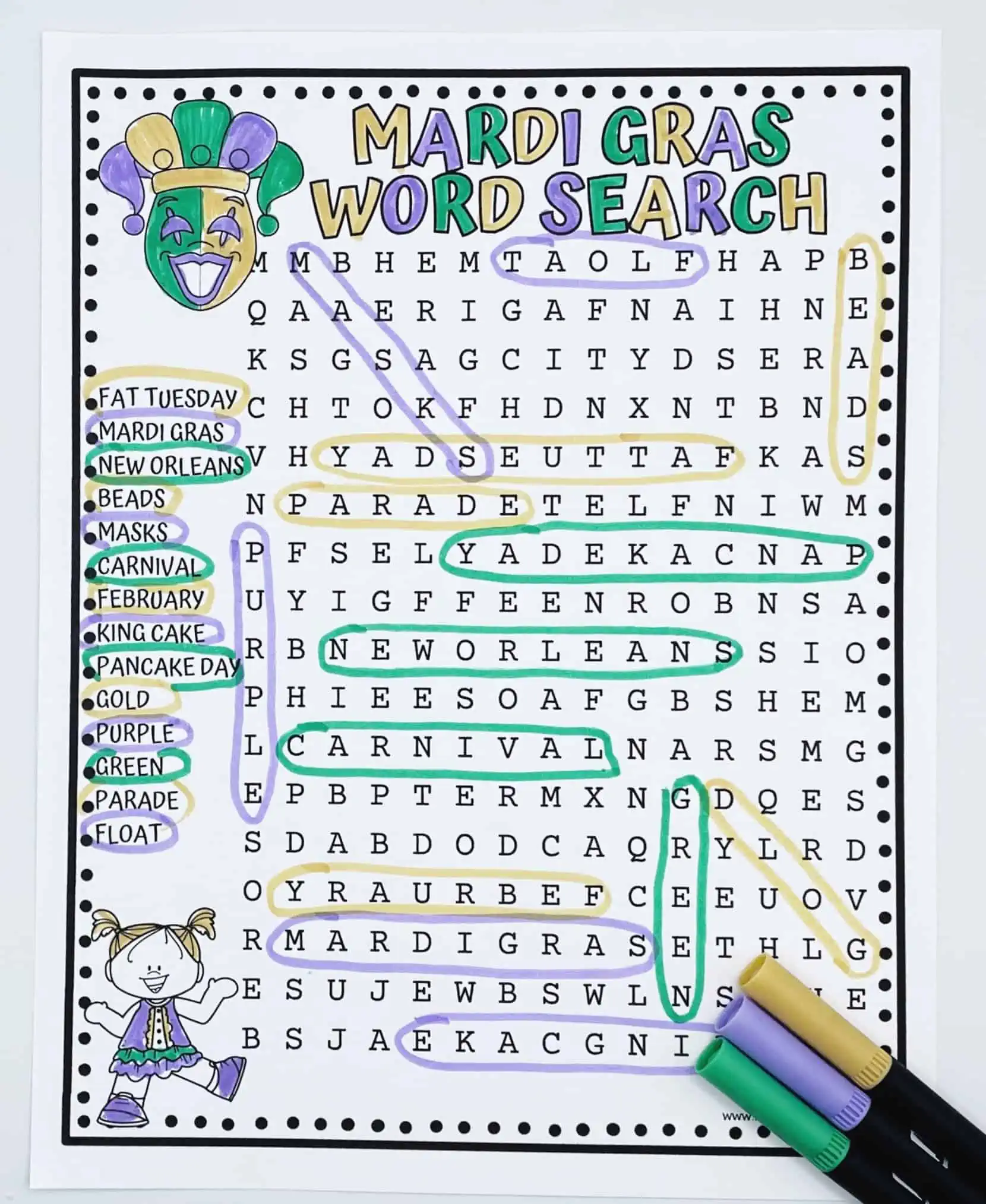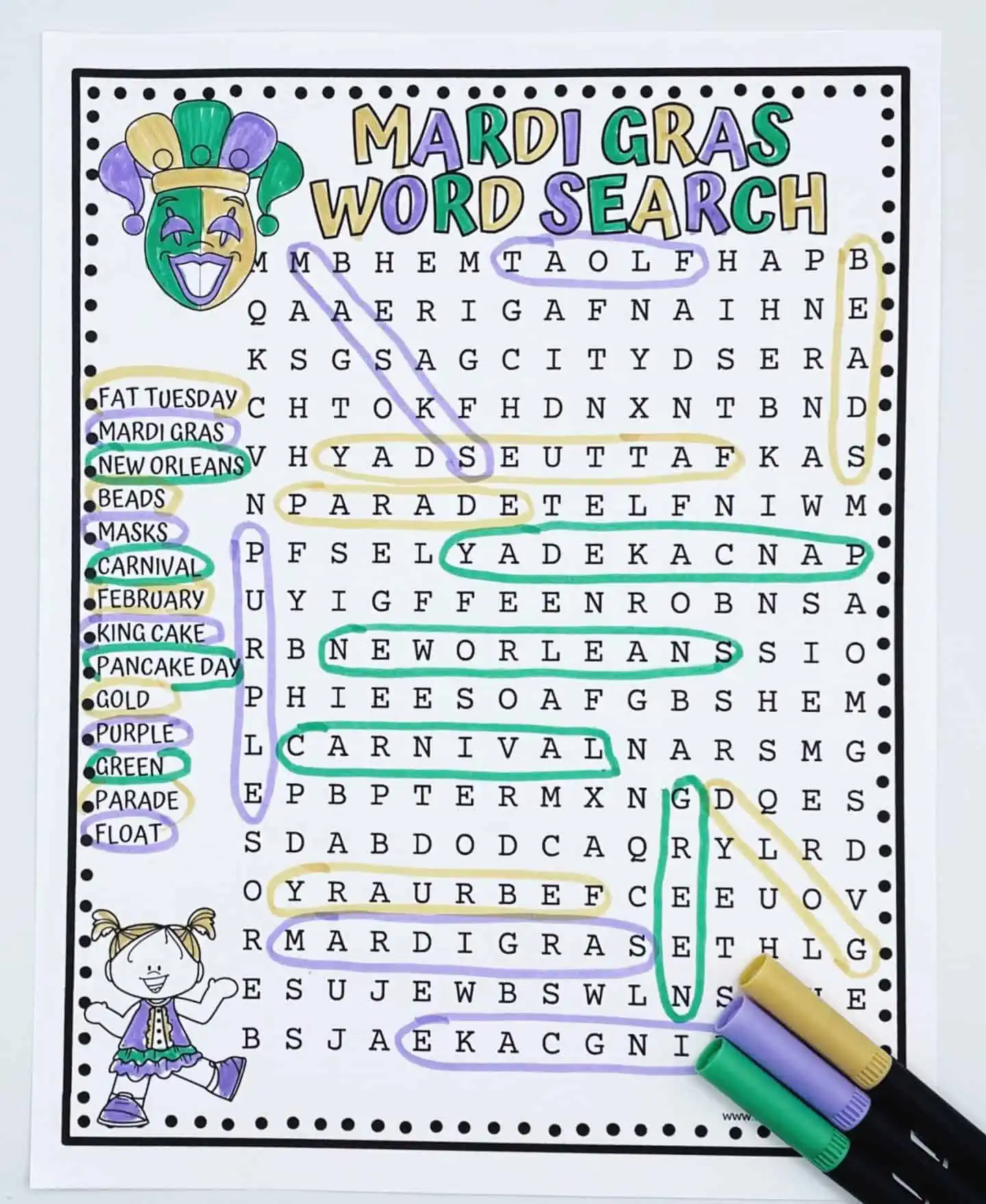 We absolutely love word games for kids and this is a great one to play for Mardi Gras.
Additional Mardi Gras Activities
Learn even more about Mardi Gras with our free Mardi Gras coloring pages.
You will also enjoy our free Mardi Gras word scramble.
Download the Free Mardi Gras Word Search Puzzle
Make sure you choose the correct paper size and click on the shrink to fit button. All of our free printables for kids work better when printed on cardstock (this is the one we use and love.)
Last Updated on 1 September 2023 by homeschoolof1