Free Mother Goose Coloring Pages for Mother Goose Day
With National Mother Goose Day coming up on May 1st I wanted to share our favorite Old Mother Goose activities and our free Mother Goose coloring pages.
Have fun with these 6 free kids coloring pages.
It's a day to celebrate the awesome person who wrote all those fairy tales and nursery rhymes we loved as kids. We're talking about Mother Goose, the OG storyteller!
Mother Goose might be imaginary, but her stories are totally real in our hearts. She gave us classics like Humpty Dumpty, Jack and Jill, Little Red Riding Hood, and Mary Had a Little Lamb.
So on May 1st, let's take a moment to appreciate all the joy and imagination that Mother Goose brought into our lives.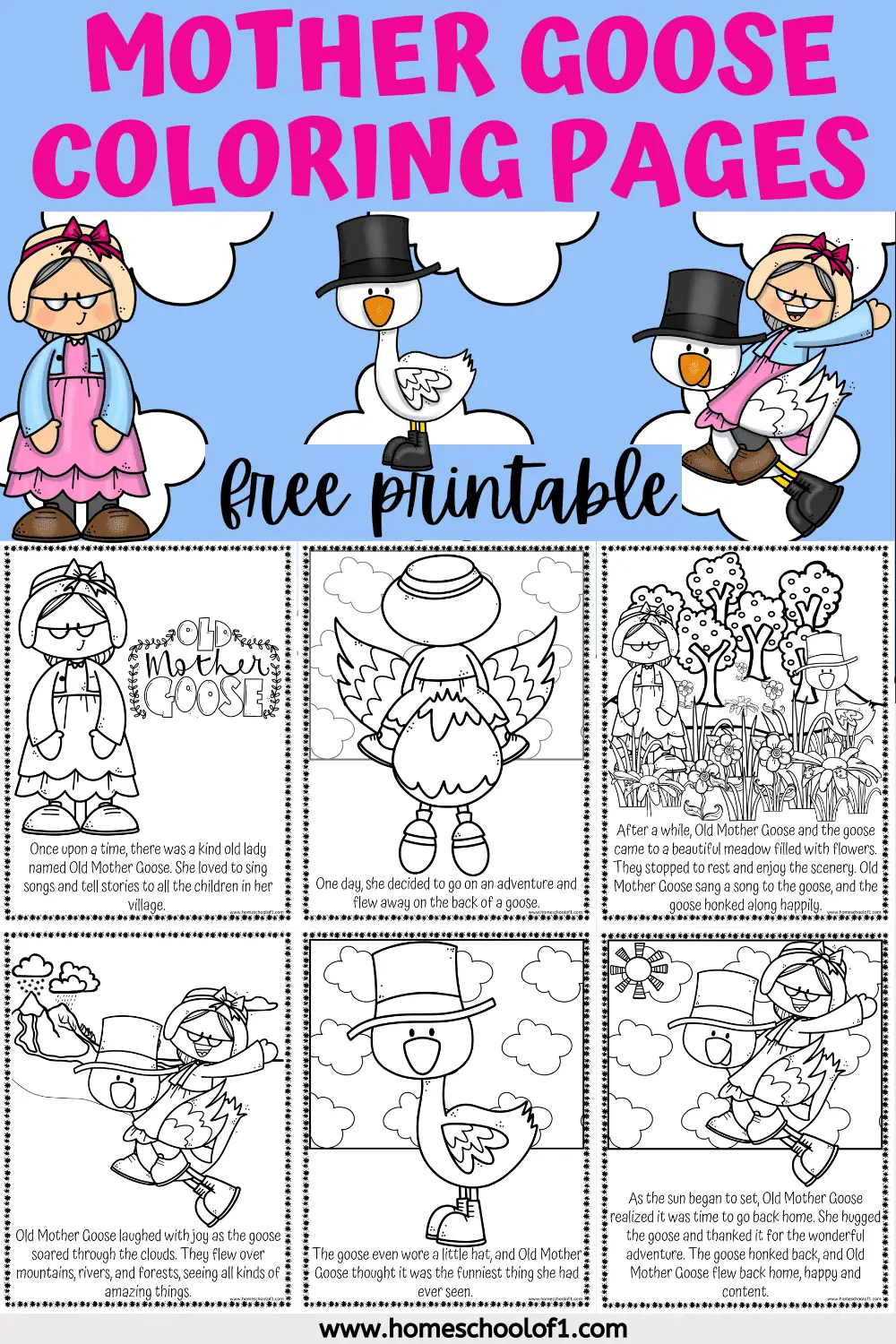 **There may be affiliate links in this post. You can read my full disclosure at the bottom of the page.**
Who was the original Mother Goose?
As it turns out, there wasn't just one Mother Goose.
The name "Mother Goose" was first used in a collection of French fairy tales in the 17th century.
But it wasn't until the 18th century that an English publisher named John Newbery put together a collection of nursery rhymes under the name Mother Goose's Melody.
Since then, Mother Goose has become a beloved figure in children's literature, inspiring countless adaptations and retellings of her classic stories.
So while we may never know exactly who the original Mother Goose was, we can still appreciate the magic and wonder she brought into our lives.
Thanks, Mother Goose, whoever you are!
Mother Goose Coloring Pages
This free printable Old Mother Goose coloring book is free to print but is for personal or classroom use only. Scroll to the bottom of the page to get the pdf file.
There are 6 pages to download and color in.
The children will color in images of:
Old Mother Goose
Goose wearing a hat
Old Mother Goose flying in the sky on the back of the goose
A meadow full of flowers
Use this story in your kindergarten or preschool classroom today.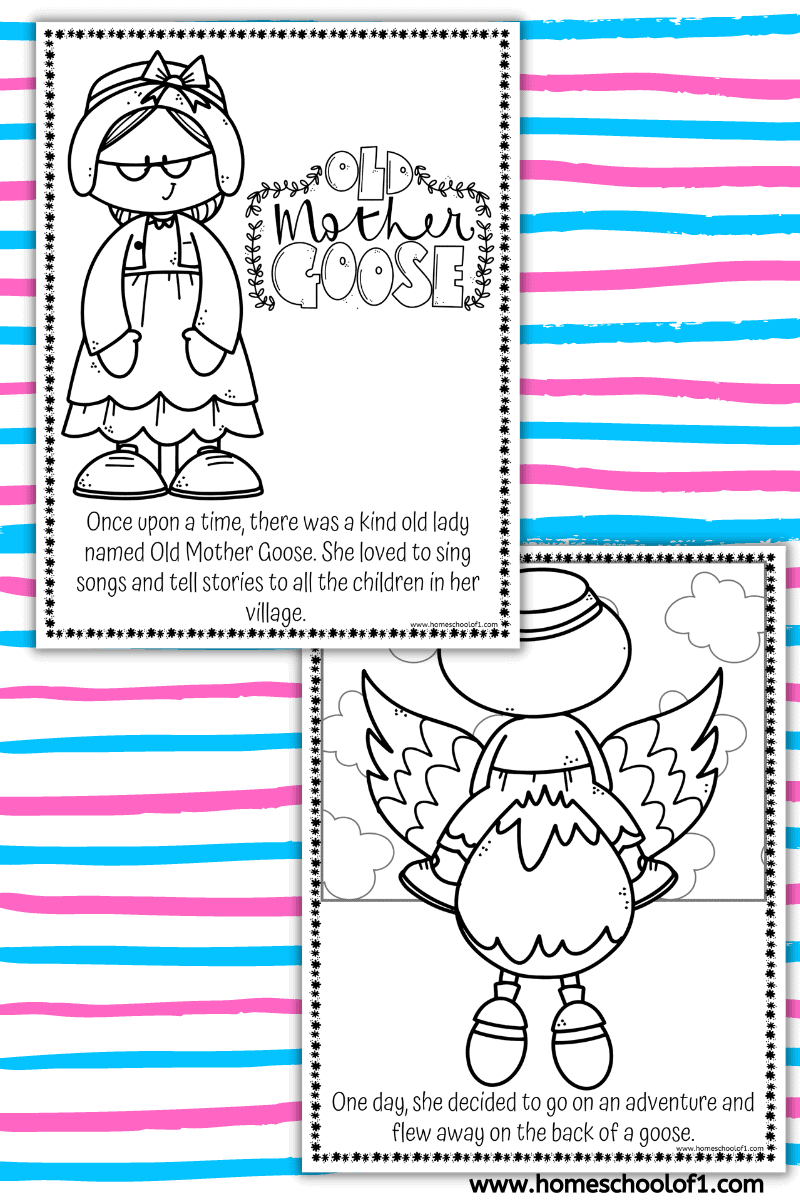 You could read the story to your students and have them color in the pictures.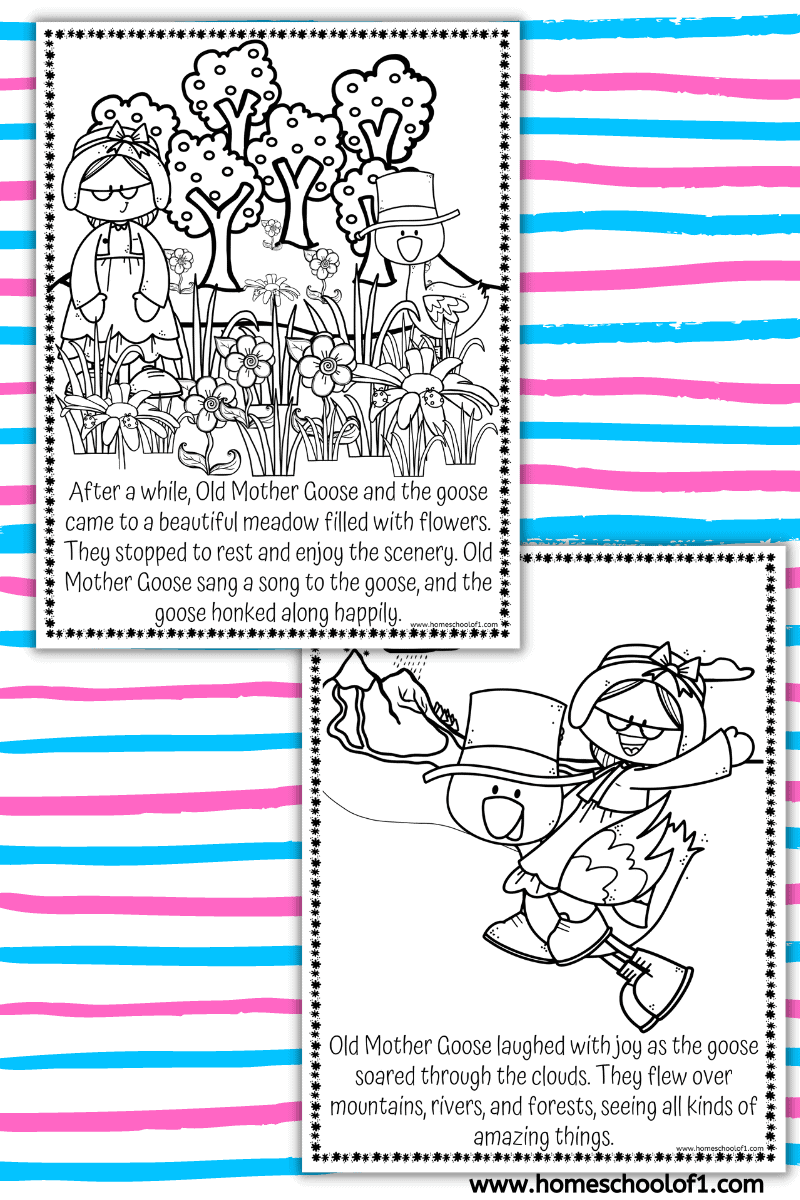 It's a fun way to celebrate Mother Goose and all the joy she's brought into our lives!
This is a great activity for preschoolers and above, and they will not only enjoy coloring in the nursery rhyme they will enjoy the cute story too.
9 Fun Ways to Celebrate Mother Goose Day
If you are looking for even more fun to have on Mother Goose Day you are going to love these ideas.
Have the kids dress up as their favorite Mother Goose characters, such as Little Bo Peep, Humpty Dumpty, or Jack and Jill.
Have the kids take turns telling their favorite Mother Goose rhymes or stories to the class. I have shared our favorites below.
Print out our free coloring pages below and have the kids color them in.
Turn on the iPad and join the Mother Goose Club over on Youtube and watch some fun nursery rhymes.
Serve a platter of grapes, cheese cubes, and pretzel sticks to make cute sheep-shaped snacks for Little Bo Peep.
Make some hard-boiled Humpty Dumpty eggs. Carefully peel off the shell. Then, use a black food coloring gel to draw Humpty Dumpty's face on the egg. You can serve them whole or cut them in half and place them on a platter with other Mother Goose-inspired snacks.
Provide the kids with magazines, construction paper, glue, and scissors to create collages featuring scenes from their favorite nursery rhymes.
Have the kids act out scenes from their favorite nursery rhymes in a game of charades. Divide the kids into teams and take turns acting out nursery rhyme characters and scenes while the other team tries to guess which rhyme it is.
You can make it more challenging by asking the kids to act out the scene without speaking or using props. This game is a great way to get kids moving, using their imaginations, and learning about different nursery rhymes.
Mother Goose Books for Kids
The Real Mother Goose includes over 300 traditional nursery rhymes. Such as Mary Had a Little Lamb, Old Mother Hubbard, and Twinkle, Twinkle, Little Star. It's not only a great resource for teaching language development, but also a wonderful way to introduce children to classic literature and cultural traditions. The rhymes are easy to memorize and recite, making them a fun way for children to practice their memory skills. And with so many rhymes to choose from, there's something for everyone in this timeless collection.
Mary Engelbreit's Mother Goose board book is a charming collection of beloved nursery rhymes that have been beautifully illustrated by Mary Engelbreit. The book features 12 classic rhymes, including Jack and Jill, Little Miss Muffet, and Hey Diddle Diddle. As it is a board book it is perfect for reading with babies and toddlers. The book is a great tool for language development, as it helps children develop phonological awareness through the use of rhyming words. The rhymes are easy to memorize and recite, making them a fun way for children to practice their memory skills.
The Classic Collection of Mother Goose Nursery Rhymes is a timeless book filled with all your favorite nursery rhymes. Including Humpty Dumpty, Jack and Jill, and Little Bo-Peep. Each rhyme is accompanied by beautiful illustrations that bring the stories to life and make them even more enjoyable to read aloud with your students. This book is perfect for teaching rhyming words, sequencing, and language development in young children. It's sure to be a hit in any elementary classroom, and your students will love memorizing and reciting these classic rhymes!
Mother Goose Treasury is a great book filled with all your favorite classic nursery rhymes that your students will love!
Other free Mother Goose printables
Tips for downloading the free files
Below you will see a large sign-up box where you need to add your name and email address, and press I NEED THIS NOW!
Within minutes you will be sent the free PDF directly to your email address, so you can print it out and start using it immediately.
Sometimes emails get a little wonky, so if you can't see it, please check your spam folder where I am sure it is hiding.
Download the free Mother Goose Printable Coloring Pages
Make sure you choose the correct paper size and click on the shrink to fit button. All of our free printables for kids work better when printed on cardstock (this is the one we use and love.)
Last Updated on 2 October 2023 by homeschoolof1