KiwiCo Koala Crate Review: The Best Preschool Subscription Box
If you are looking for something fun for your preschoolers you are going to love our KiwiCo Koala Crate review.
Have fun with your preschoolers as they create, build and explore with these monthly subscription boxes.
The Koala Crate is aimed at children between two and four years old. Each box received comes with absolutely everything you need to create three fun projects.
**Disclosure: I was compensated for my time to write this post. As always, all thoughts and opinions are my own. I only share resources that I would use with my own family and those that I believe other homeschool families will enjoy. There may be affiliate links in this post.**
Carry on reading for our KiwiCo Koala Crate review with an exclusive 50% discount off your first box.
Koala Crate Box from KiwiCo
The KiwiCo Koala Crate is aimed at young kids aged between 2 and 4 years old. Today I am showing you just two of the many boxes they offer, the Koala Camping and Koala Music box.
Camping Subscription Box
Have fun exploring nature with this really fun camping box. Everything you need to create a pretend play campfire, a camping cookout, and a bear backpack is in the box.
Paper squares pack
Campfire topper
Campfire base
Foam rock stickers
Battery-operated tea light
Dowel
7 felt food pieces
Canvas backpack
2 zigzag fabric strips
Felt pocket
10 felt stickers
Instruction sheet
Imagine! magazine with a fun camping story, a river maze, and how to make a chair tent, plus their favorite camping books for preschoolers.
This camping crate is so much fun and the kids can add this to their pretend play when they have finished.
All of the items to make are just right for preschoolers, of course with help from a grownup.
We absolutely loved creating the campfire and roasting hotdogs and marshmallows over the fire. Get the teddy bears out and have a little camping cookout.
When they have finished roasting the kids can then create a hotdog with mustard and ketchup, along with a s'more.
Why not treat the kids to an actual hotdog for dinner when they have finished creating?
If you are actually going camping this year you will also enjoy our free camping scavenger hunt.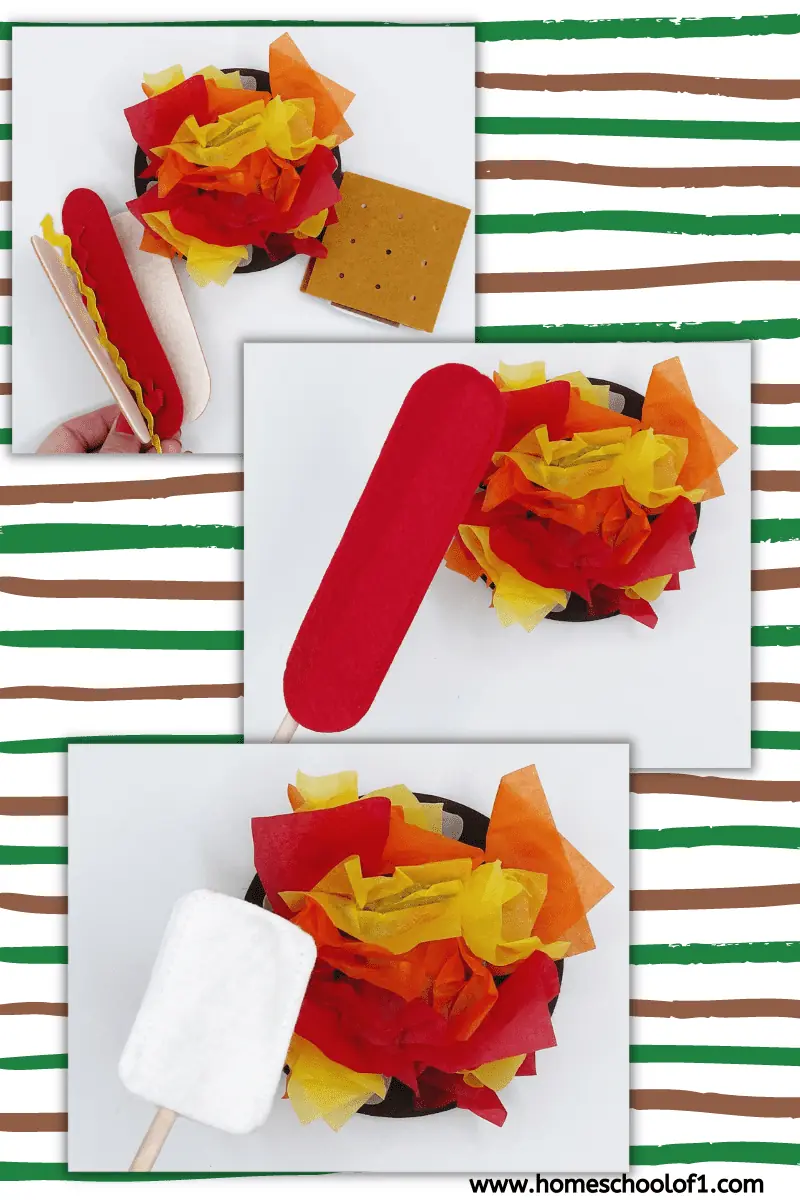 The next activity was creating a bear backpack, which helps practice fine motor skills. This was so much fun and I have to say from a mom point of view the fact that they were pre-glued was a life saver! And even more so they actually stuck on really well to the felt bag, and stayed on!
The bag is big enough to add a book or two, some toys, and even some treats. So a great backpack for when the kids are visiting friends or family, or even as their preschool bag.
There is a handy pocket at the front too where they can keep a flashlight or anything else they may want to add to it.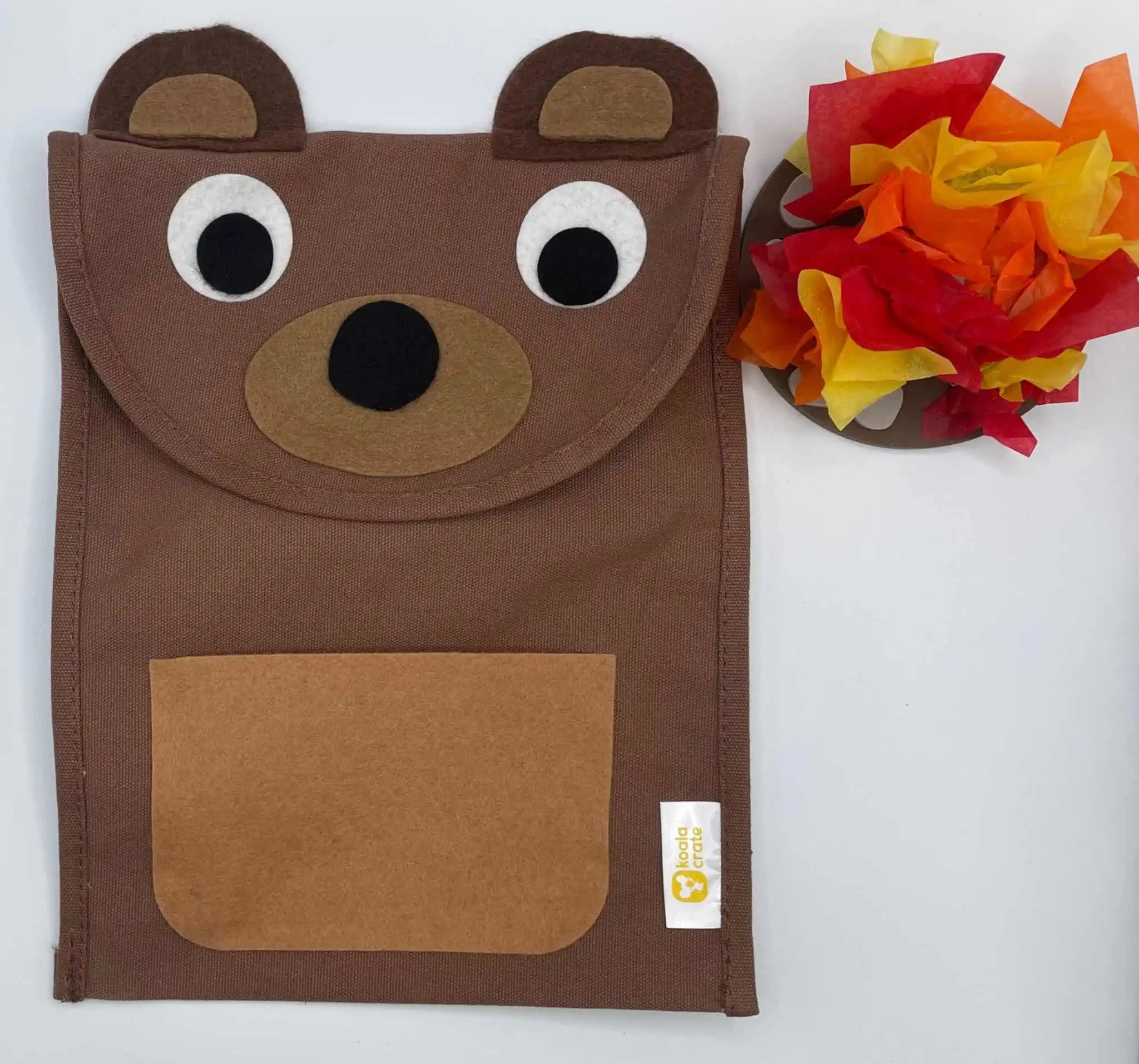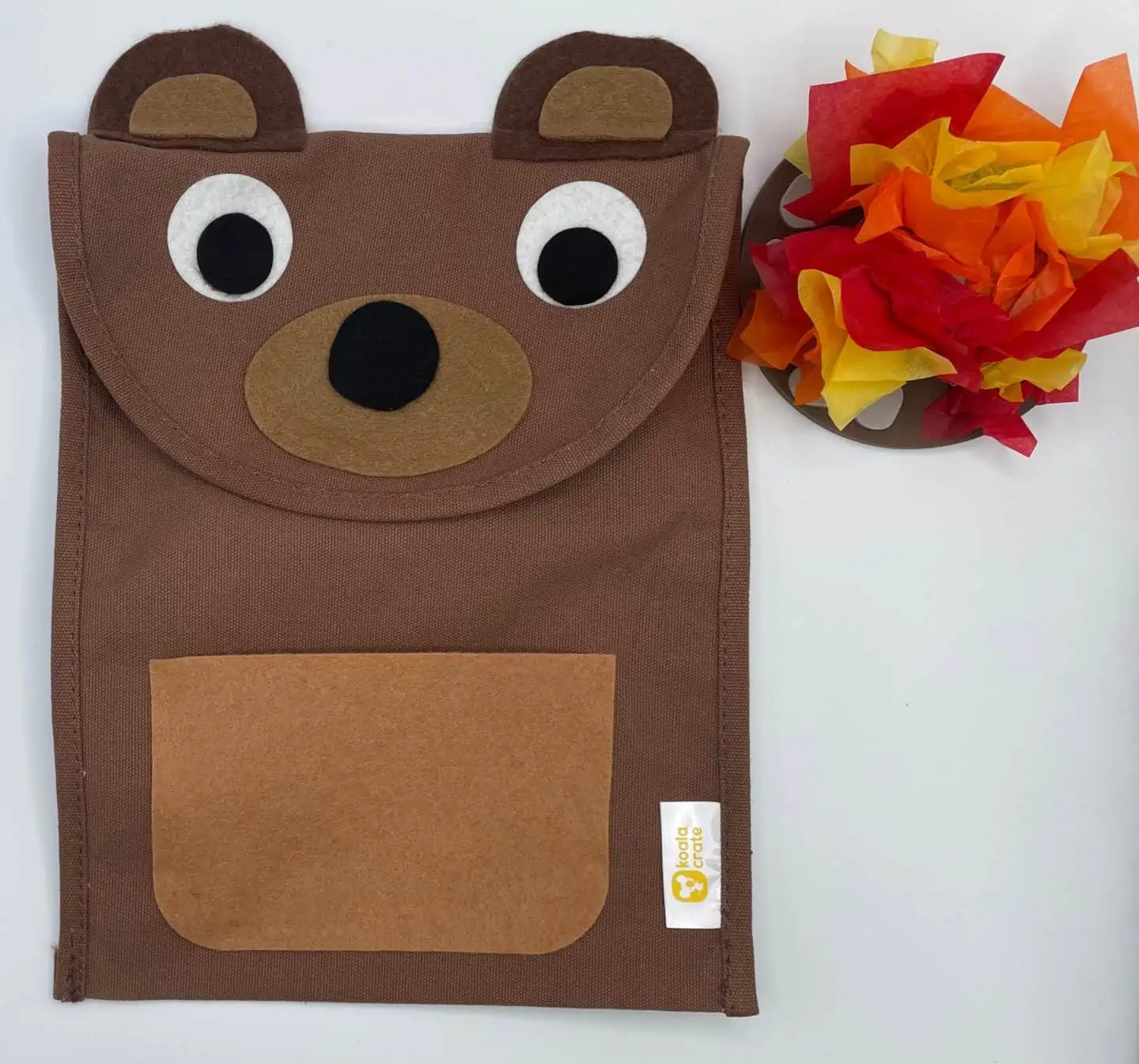 Music Crate
Everything you need to make a xylophone, a tambourine, and a dancing streamer is in the box.
Xylophone box
4 wood xylophone bars
4 dot stamps
2 music sheets
3 wood mallets
6 rubber bands
Wood tambourine frame
4 jingle bells
elastic
Fabric streamer
Foam button
Instruction sheet
Imagine! magazine with a fun musical story, put on your dancing shoes matching game, learn all about musical instruments used in an orchestra, and how to make a musical drum, plus their favorite music books for preschoolers.
Let's get musical and noisy with this next Koala Crate. The music box was so fun.
The first item made was a fun colorful xylophone where the kids use the four vibrant dot stamps to add to each of the xylophone bars.
When they have made the xylophone the kids get to create their own music. There are 2 composer music sheets where they can add the different colored stamps.
The children then hit the matching bar with the color on the sheet to create a tune while learning about matching & patterns.
KiwiCo does tell you to lay down some scrap paper when using these dot markers, and you really need to! I know this as I forgot! Of course, I got it off the kitchen table with the help of Bar Keepers Friend but just make sure you do as the dot markers go through on both the paper and the dancing streamer.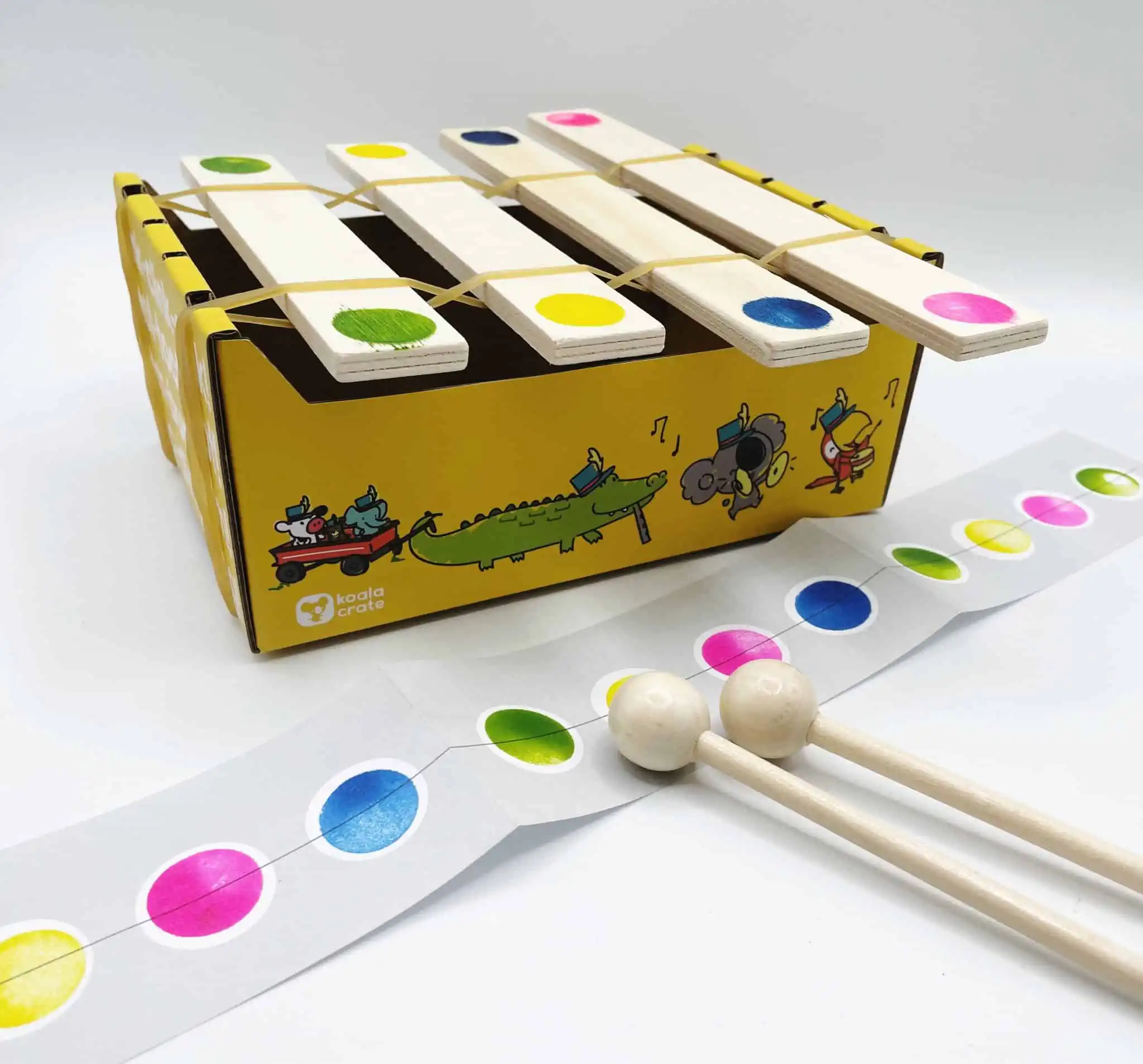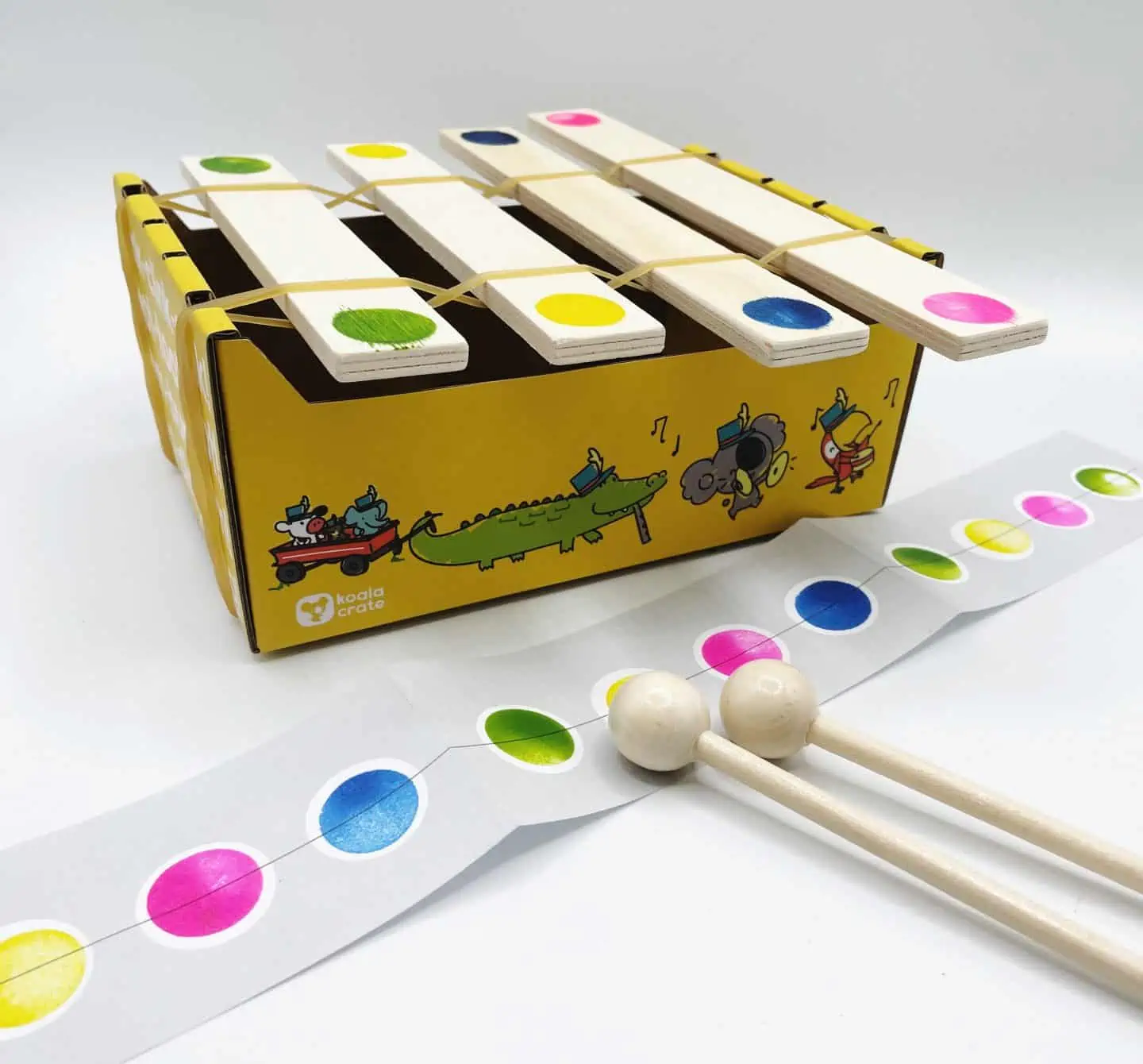 The next instrument to make was the tambourine. The kids will need help stringing the bells to the tambourine frame.
We created a little musical band where one person would play the xylophone and another played the tambourine.
The third project was to make a beautiful colorful dancing streamer. Add dots to the fabric (remember to add scrap paper underneath!) in any order the kids choose.
The kids can then really have fun while playing music and dancing with the streamer. They can learn to create circles, make a rainbow, wiggle it like a snake, or just dance around with it.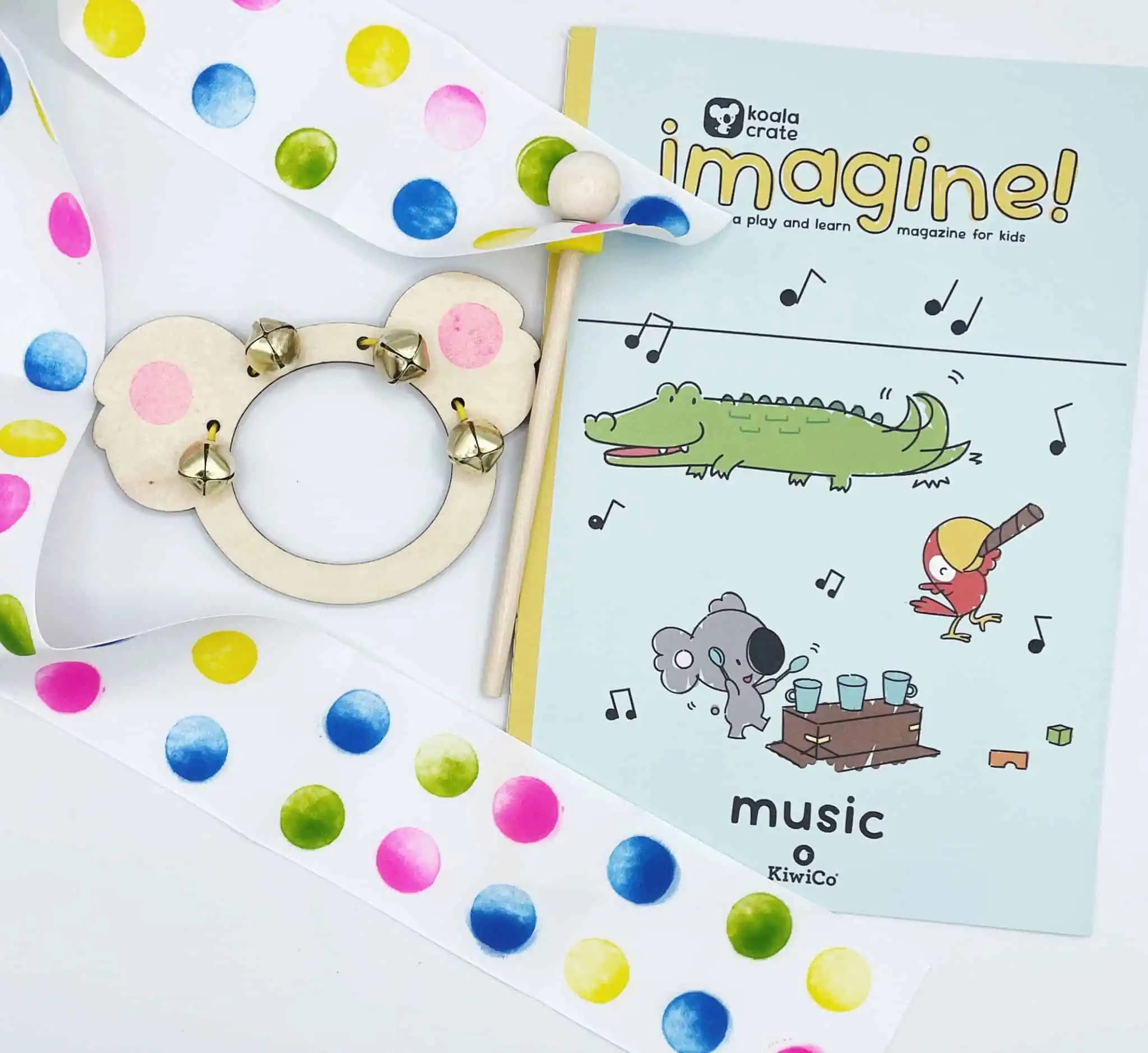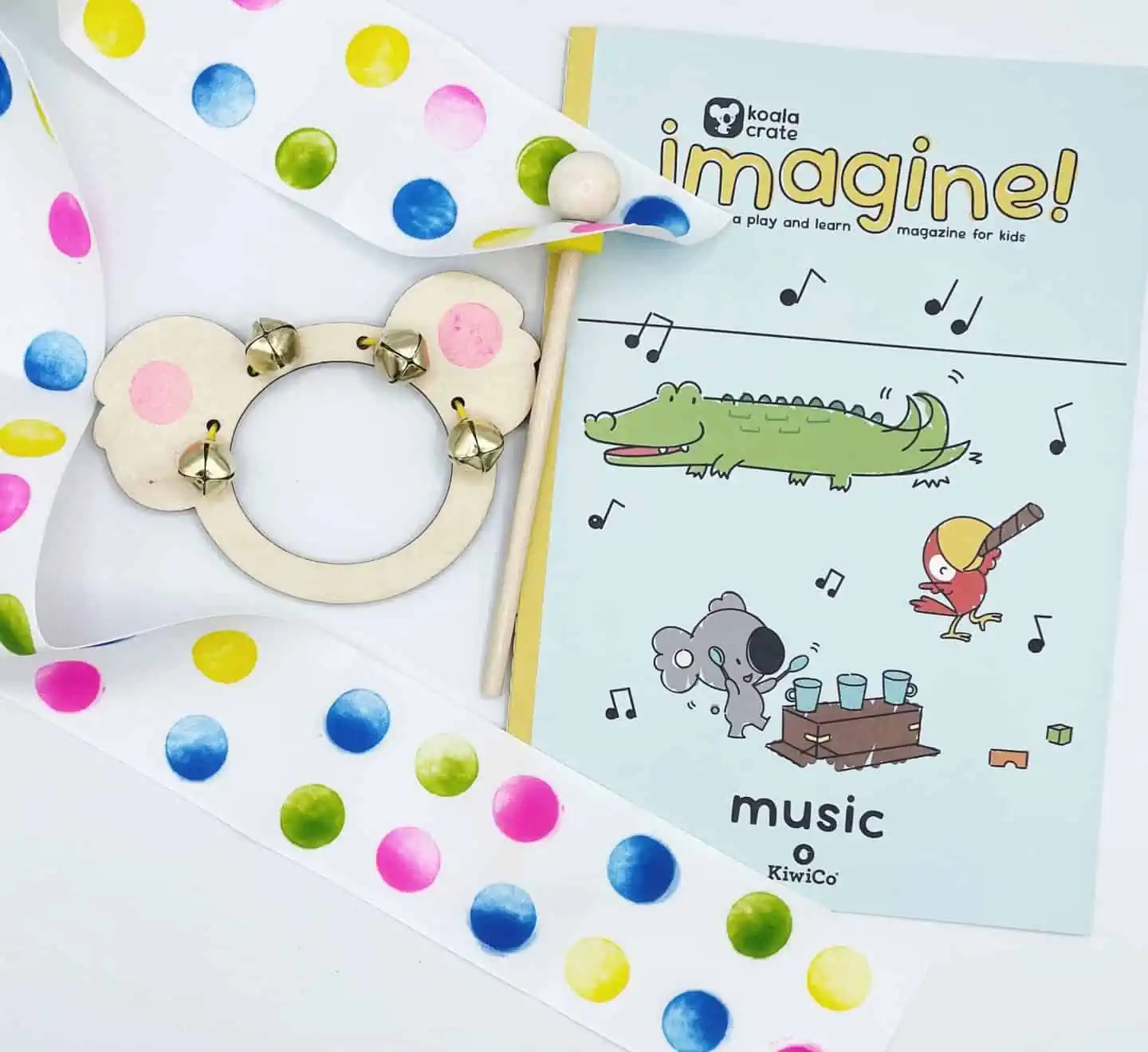 You will also enjoy our free musical instrument matching game.
Why KiwiCo Koala Crate is the best preschool subscription box
KiwiCo's Koala Crate is the best preschool subscription box because:
Every Koala Crate is different, one month it might be pretend play, the next month it could be an art project, and the next month it could be creating a game. It is more varied than any other preschool crate we have come across.
Absolutely everything is included in the box. There is no need to rummage through your junk drawer to find supplies.
The quality of the products is excellent and can be used over and over again.
Each crate, of course, comes with an instruction sheet but for each activity, it has a messiness rating and a grown-up involvement rating! This is super helpful before starting each activity. For example, you have a party to host that afternoon, you don't want to get the house to get too messy!
KiwiCo has DIY activities on its website for you to use in between your monthly crates. You can sort by child age and interest. There are also lots of holiday activity ideas for example for Earth Day there are over 140 different activities.
It is designed specifically for preschool-aged children between 2 and 4 years old. Each crate contains materials and activities that are geared towards developing a child's creativity, cognitive skills, and fine motor skills through play-based learning.
How much is the Koala Crate and is it worth it?
The Koala Crate is as little as $18.50 a month if you order the annual subscription, or if you prefer month to month it is only $23.95. But wait, I have a promo code.
Use code HOMESCHOOL for 50% off your first crate! That's only $11.98 for your first month.
Each Koala Crate we have had, which is nearly all of them, have been of exceptional value and totally worth the cost. Especially if you order over a longer period of time.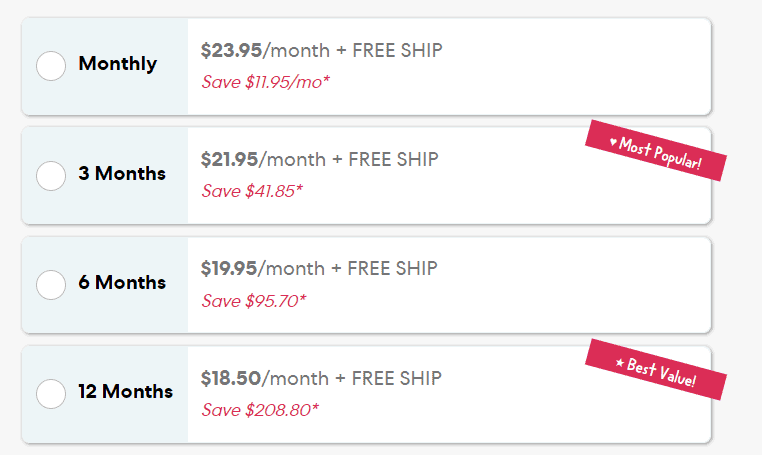 As each subscription box comes with everything you need to create 3 projects with your preschoolers I think the price is excellent.
It will keep the kids busy for hours and not only will they have loads of fun, but they will also be learning while doing it.
What is great is if you order an annual subscription of the Koala Crate, but 8 months in you prefer to have the Kiwi Crate then you can change it!
What is "Boost the Learning" and do I need it?
You have the option of adding a specially-curated book to complement the crate's theme for just $10.95 per crate!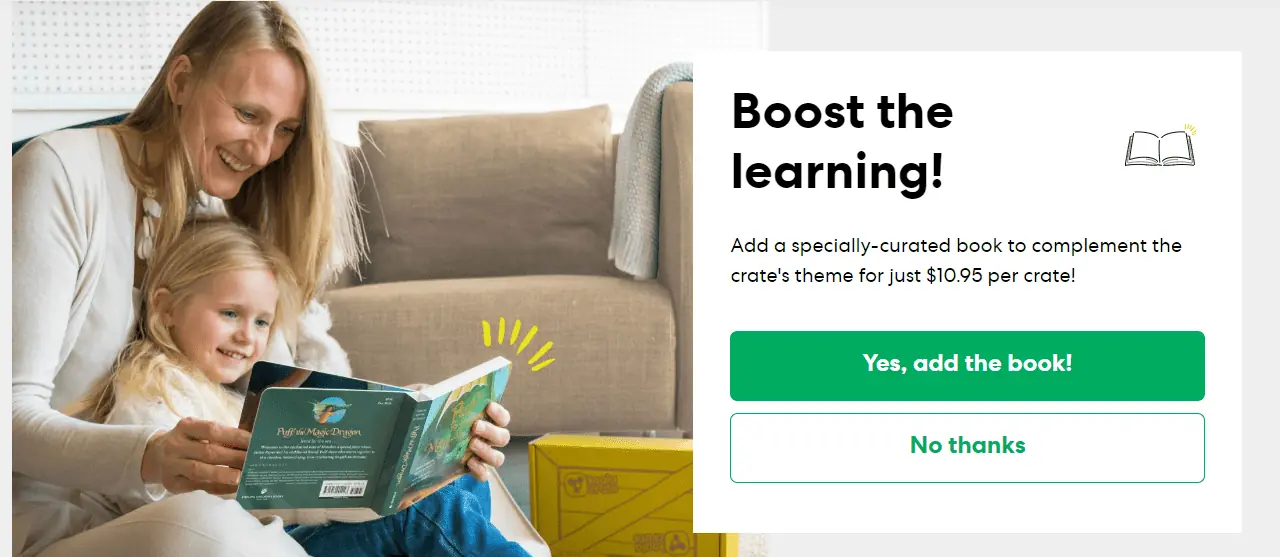 This is totally optional, but if your child loves to read then I highly recommend it. There is a nice little story though included in the free Imagine! magazine which relates to the crate you have received.
What other age ranges does KiwiCo cater for?
Everyone! From babies to adults, KiwiCo has every age group covered!
Use code HOMESCHOOL for 50% off your first crate!
Other KiwiCo Reviews
Ever wondered which KiwiCo Crate to get for your kids when there are so many to choose from? Worry not we have reviewed them all, so take a look for your favorites.
KiwiCo Atlas Crate
The KiwiCo Atlas crate is a monthly geography subscription box that provides children aged 6 to 11 with travel books, STEAM projects, and recipes for traditional dishes from around the world.
The box aims to promote curiosity, exploration, and critical thinking while providing educational value and family time.
The Japan crate, for example, includes a knock-out-the-blocks game, a flying carp windsock, and other activities related to Japanese culture.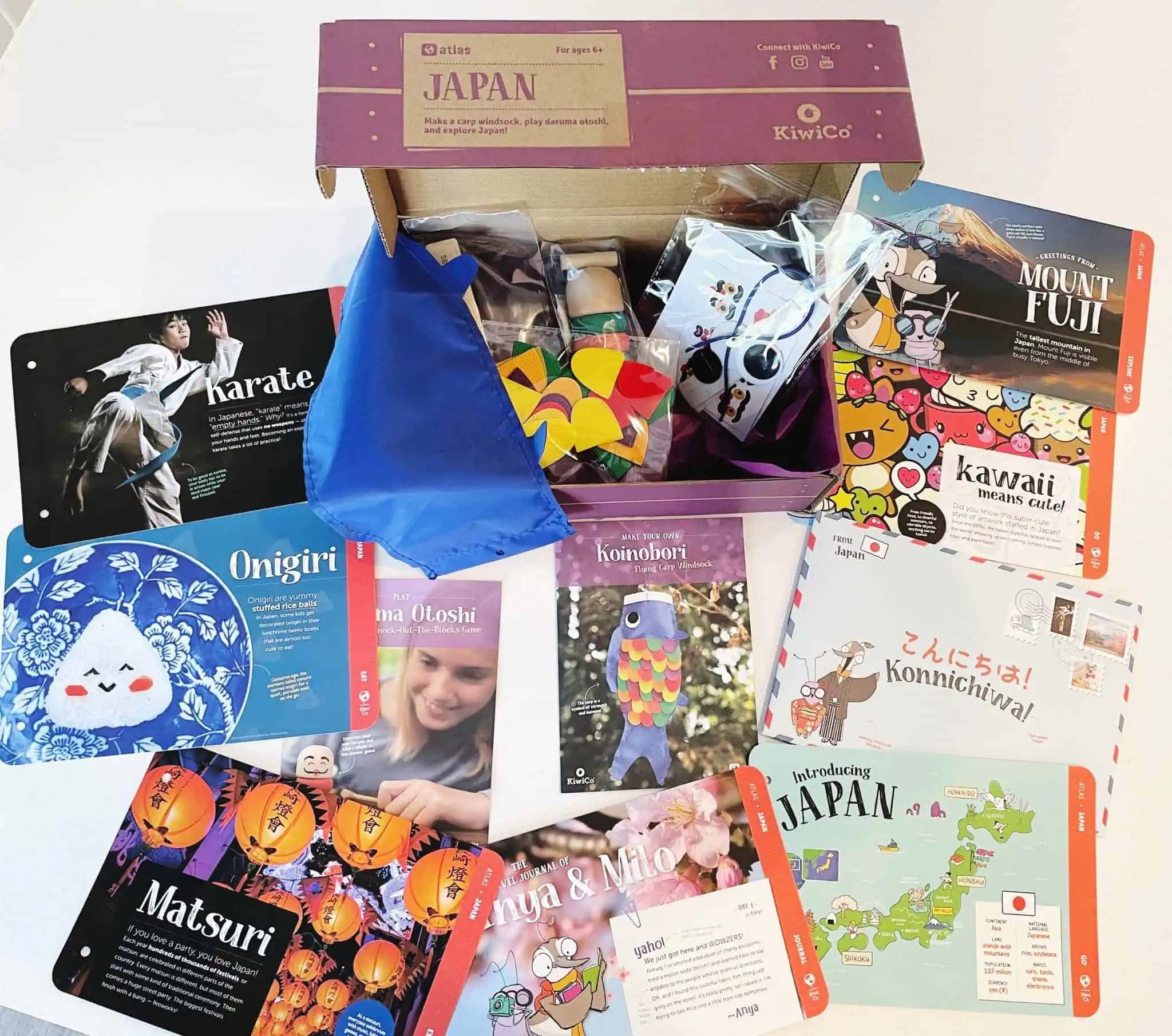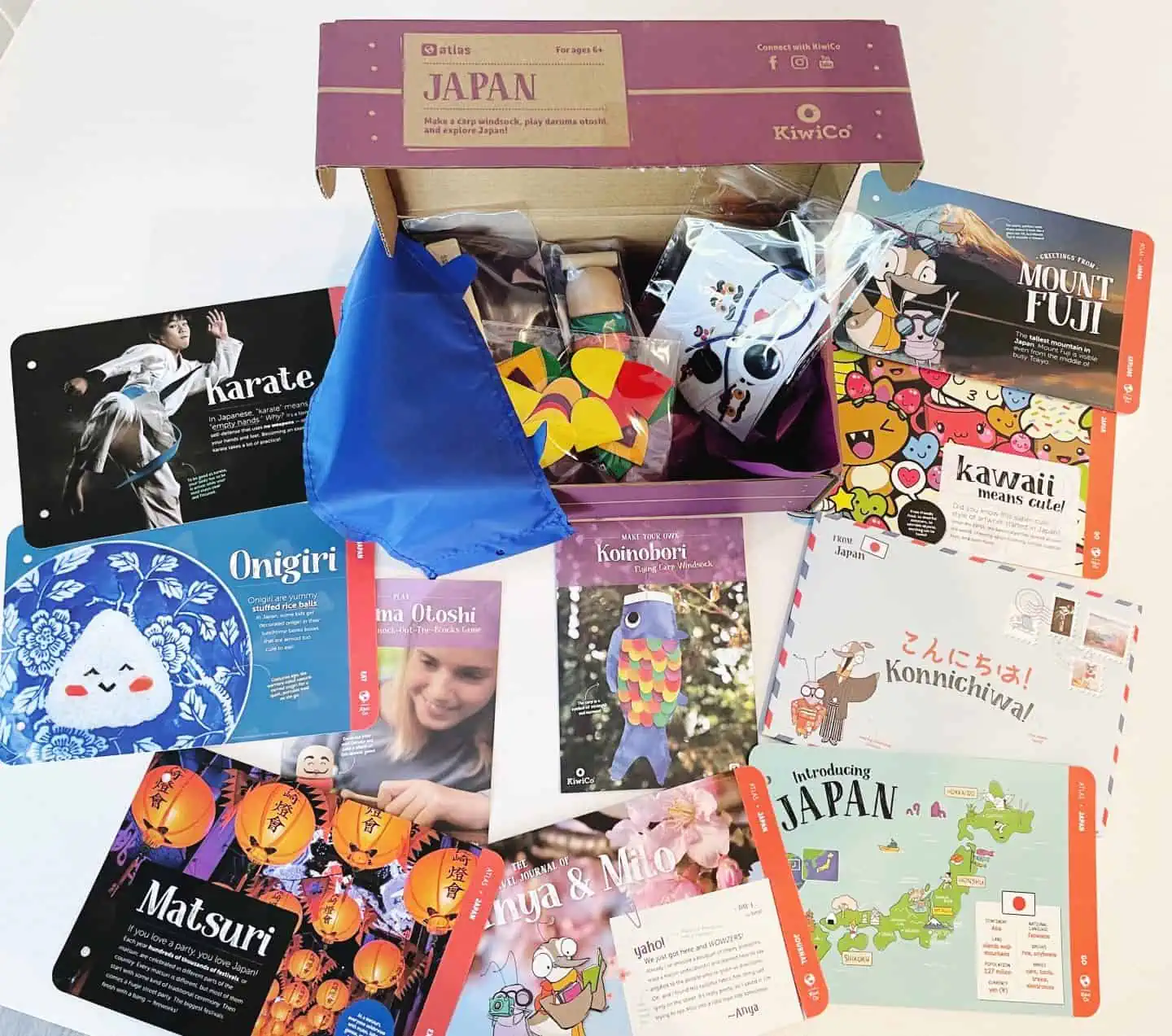 KiwiCo Doodle Crate
The KiwiCo Doodle Crate is a subscription box for tweens and teens that nurtures creativity.
Each crate comes with a 9-page guide, a video tutorial, and a QR code. The maker's guide is easy to understand, and the instructions are detailed, with images for every step.
The Doodle Crate kept my son engaged for at least two hours, and he was proud of the completed project. The box is affordable and of high quality, and gets kids off their electronics for a day. Check out our KiwiCo Doodle Crate review for more details.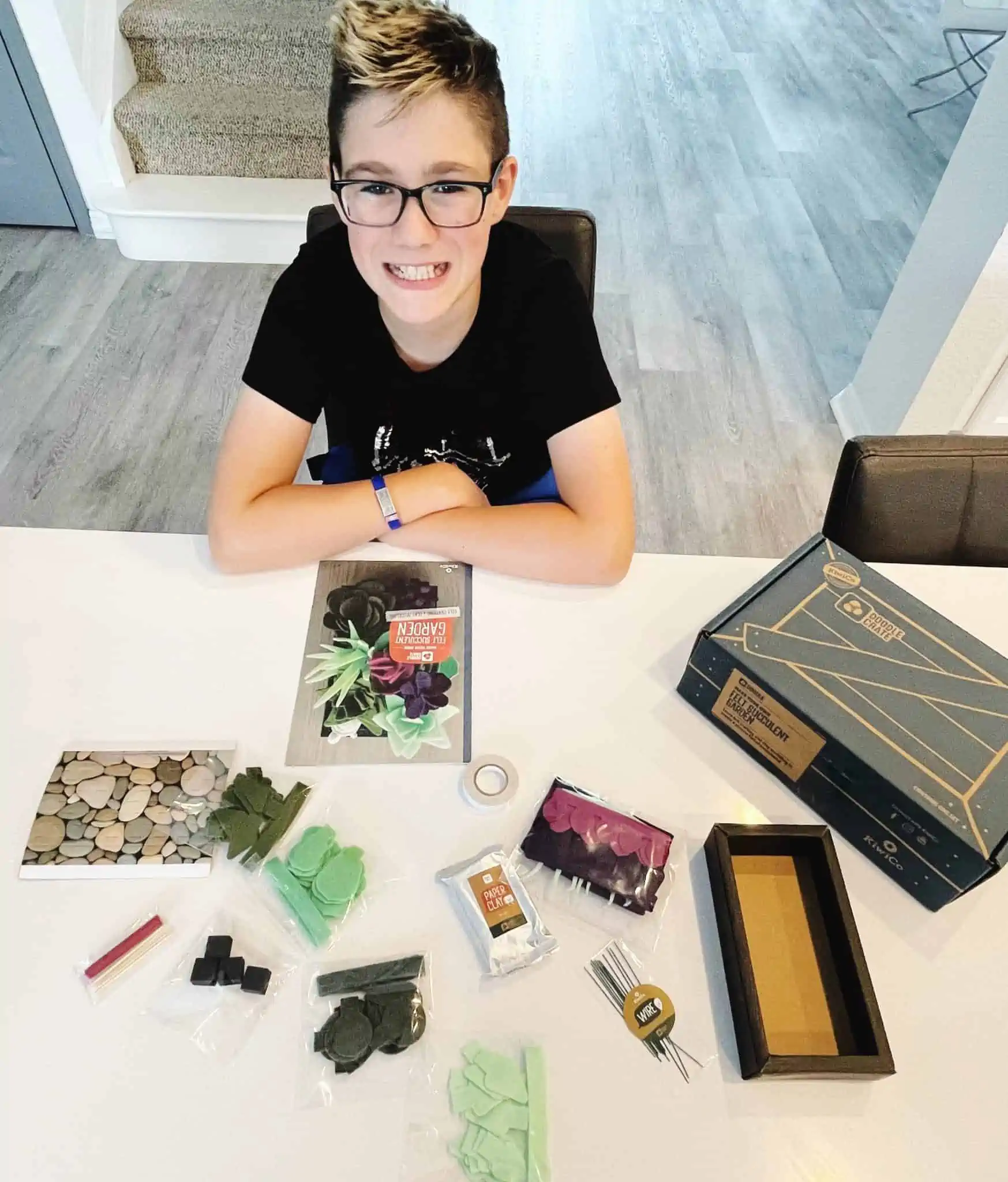 KiwiCo Maker Crate
The KiwiCo Maker Crate is a monthly subscription box that provides all the necessary tools and instructions for teenagers to create a unique and high-quality project from scratch.
Each box focuses on a different art or design medium, such as woodworking or macrame, to challenge and inspire subscribers to try something new.
The materials included in the box are of premium quality and often include specialty items that would be difficult to find on their own.
In addition to the project, the Maker Crate also includes a booklet with tips, techniques, and inspiration for future projects. Check out our KiwiCo Maker Crate review.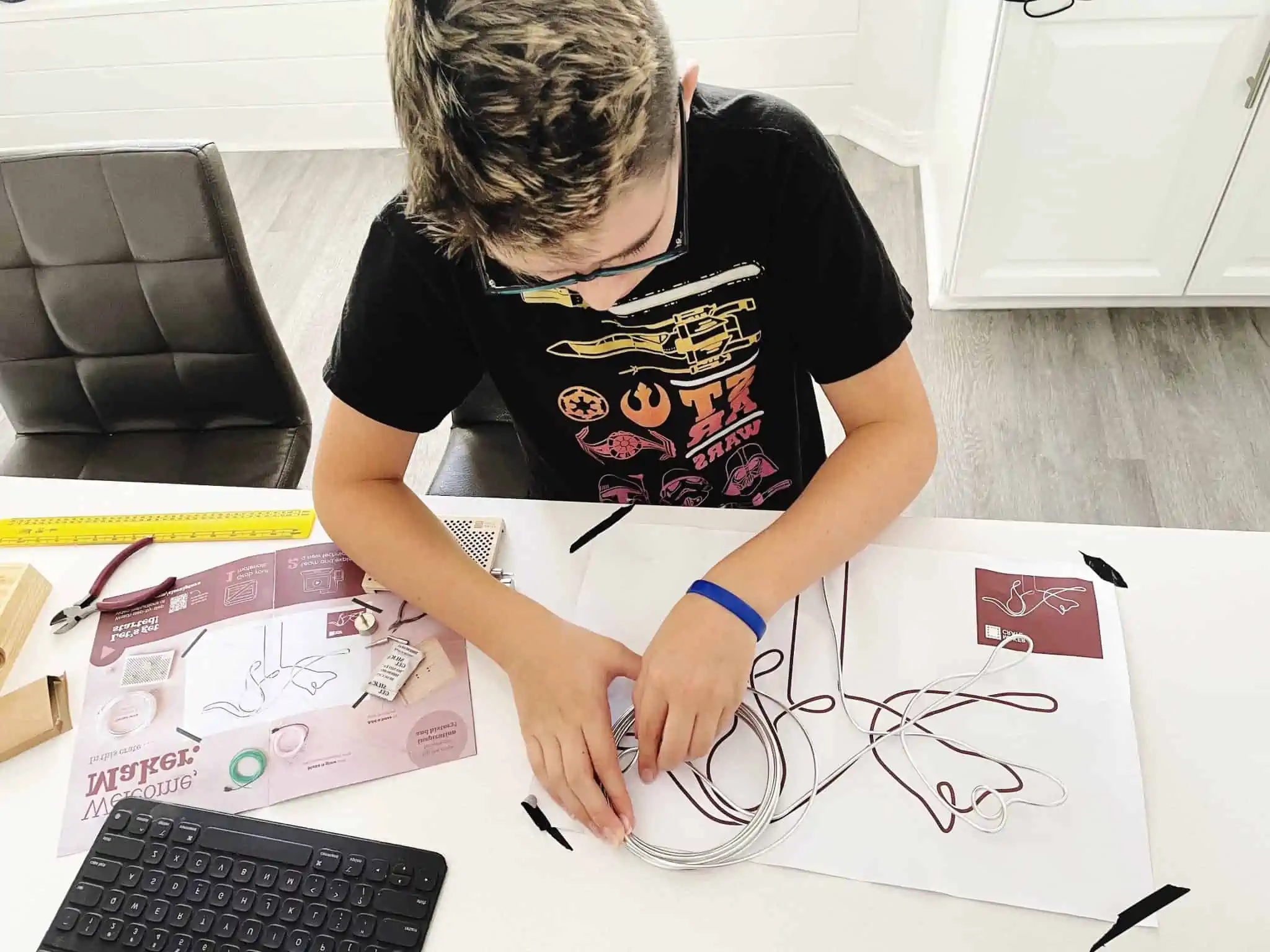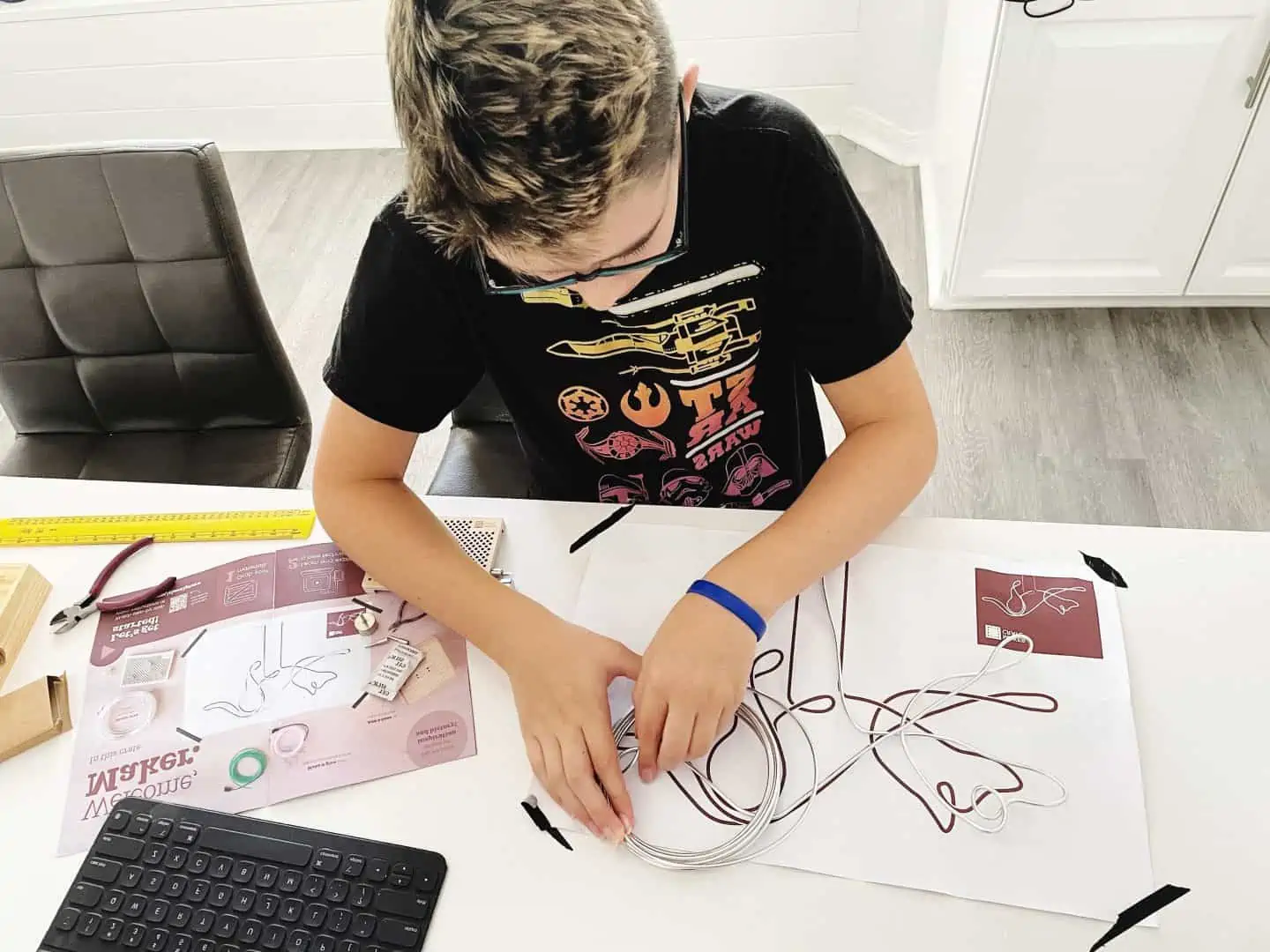 KiwiCo Eureka Crate
The KiwiCo Eureka Crate is designed for teenagers and young adults who are interested in engineering and technology.
Each month, subscribers receive a box filled with materials and instructions for a project that is focused on a specific area of engineering. In addition to the project materials, each box comes with a booklet that provides detailed instructions and information about the science and engineering principles behind the project.
The Eureka Crate is a great way for young adults to explore engineering and technology in a hands-on way and learn new skills. It is also a fun and engaging way to inspire creativity and curiosity in STEM fields. Check out our KiwiCo Eureka Crate review.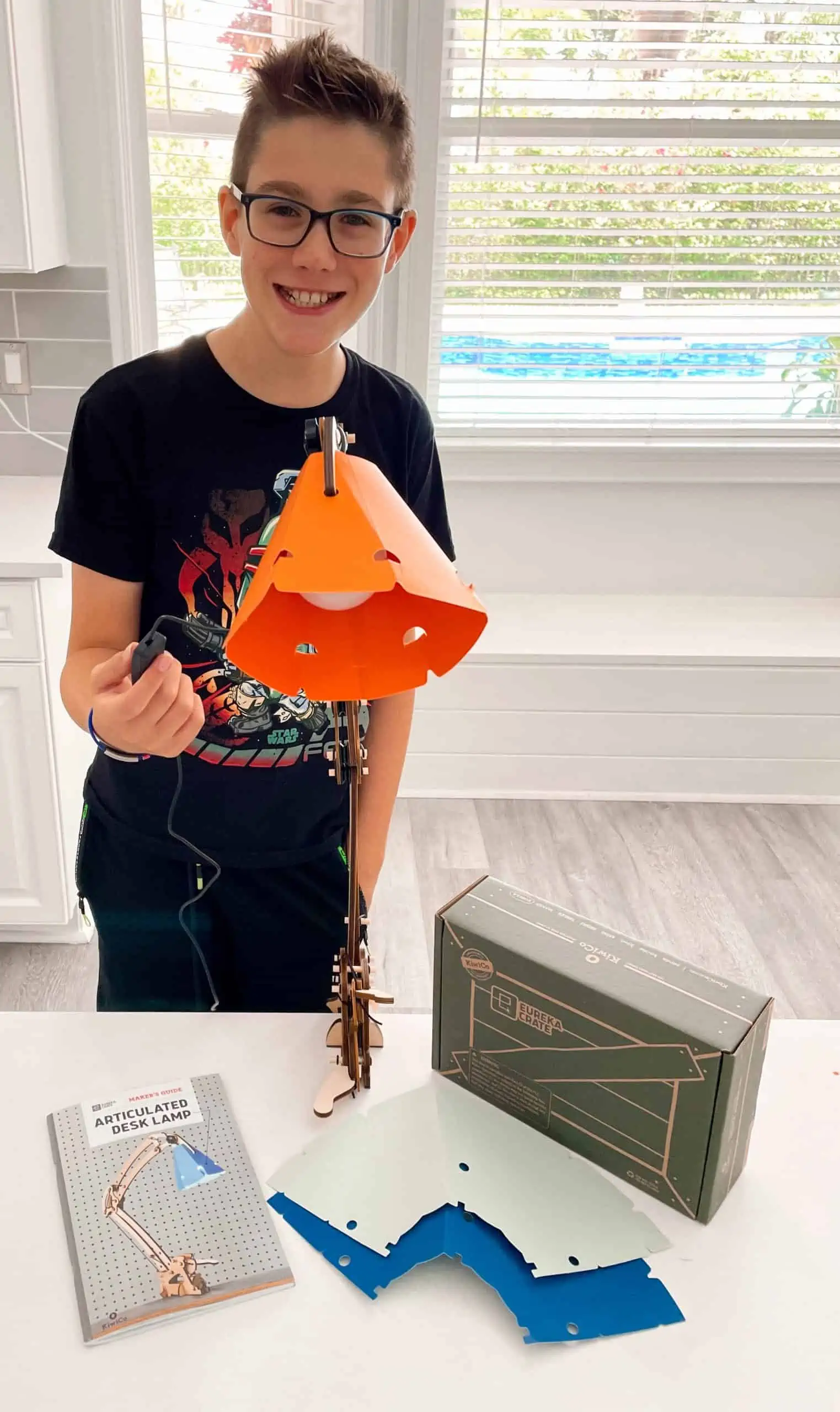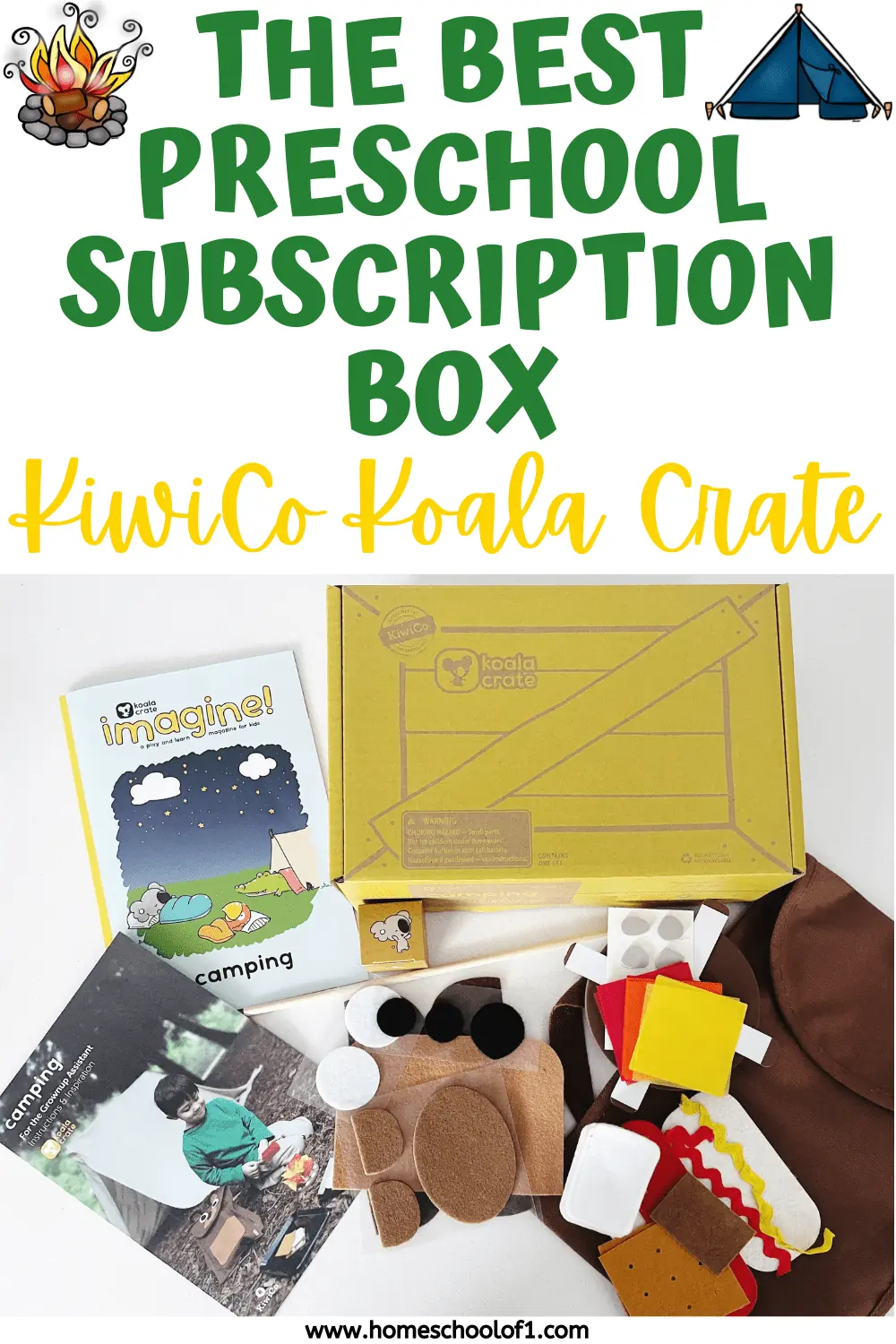 Last Updated on 3 November 2023 by homeschoolof1