7 Free Africa Worksheets for Kids
If you are learning about the continent of Africa with the kids you are going to love our free Africa worksheets.
With this free geography worksheet, you will learn all about the continent of Africa. Including the top 10 biggest countries, the top 10 most spoken languages, and much more.
Included in the Africa worksheets are the following:
2 x map labeling,
an Africa fact sheet,
matching the flag,
learning to say hello in 10 African languages,
Africa word search,
African country word scramble.
I have also included answer sheets for all of the worksheets. These are aimed at kids in upper elementary and middle school but can be used with any age group.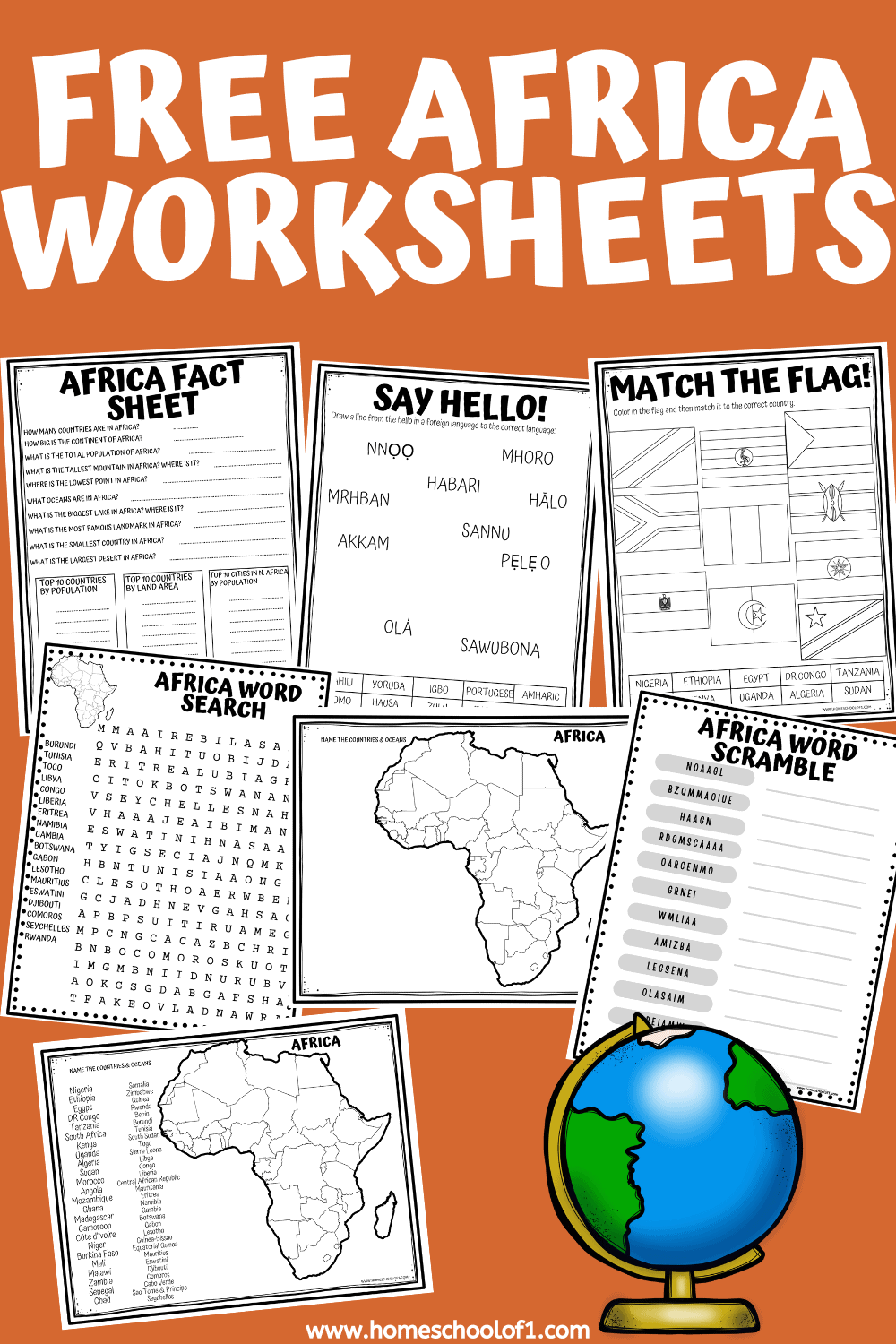 **There may be affiliate links in this post. You can read my full disclosure at the bottom of the page.**
Fun Facts about Africa
Fun and interesting facts about Africa that kids will enjoy:
The African elephant is the largest land animal in the world and can weigh up to 6 tons.
Africa is home to over 1,000 different languages. With Swahili being one of the most widely spoken.
The Baobab tree, found in Africa, can store up to 120,000 liters of water in its trunk.
The African savanna is home to many animals. Including lions, zebras, giraffes, and elephants.
The Maasai people of Kenya and Tanzania are known for their bright red clothing and intricate beaded jewelry.
The Great Pyramid of Giza, is located in Egypt. It is one of the Seven Wonders of the Ancient World and is over 4,500 years old.
Africa has some of the world's largest and most beautiful waterfalls. Including Victoria Falls on the border of Zambia and Zimbabwe.
The African penguin, also known as the jackass penguin because of its braying call, is only found on the southwestern coast of Africa.
The African wild dog, also known as the painted dog. Is one of the most endangered carnivores in the world and is found only in sub-Saharan Africa.
Africa is the only continent to have land in all four hemispheres of the Earth.
Map of Africa worksheet
There are 54 different countries in Africa.
There are 2 different maps of the continent of Africa. One with the countries on the side to make it a little easier, and one with no country names.
The students can either color in the different countries or add the names to the correct country.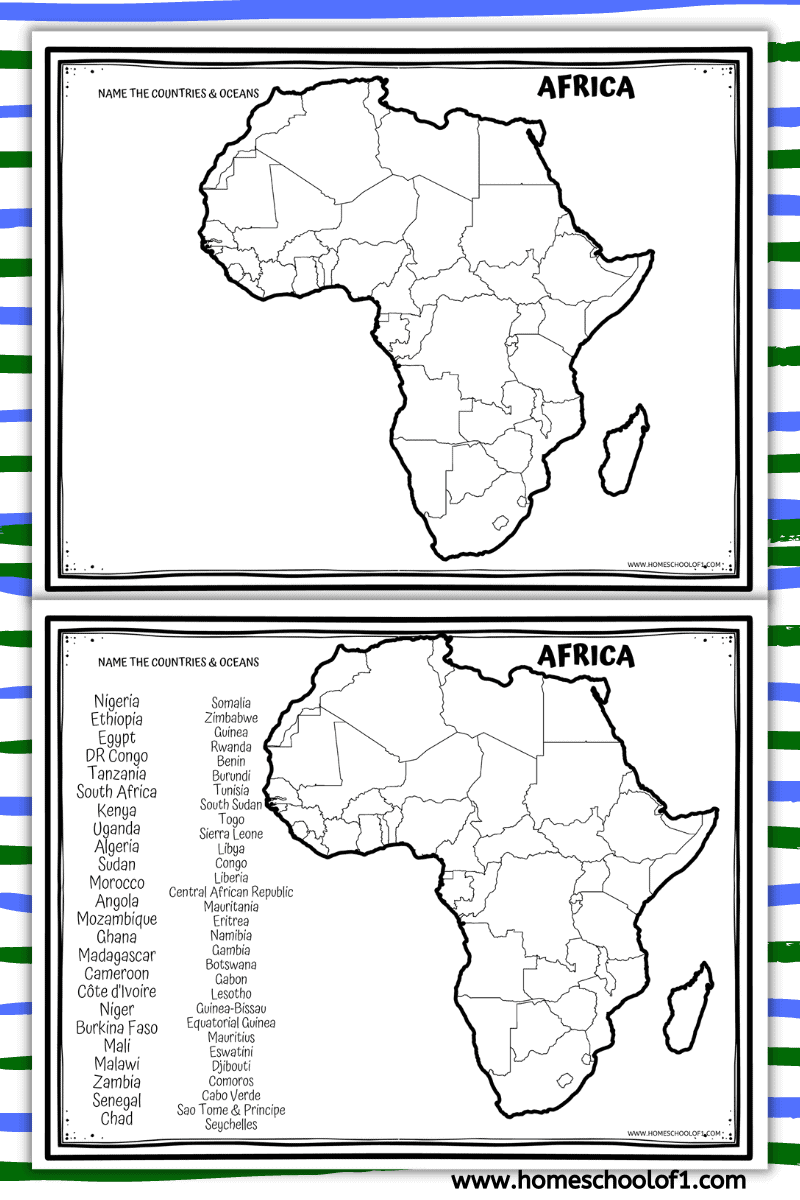 I highly recommend you play the mapology world map game to add to this unit study. This is also included in our favorite geography board games.
Africa Fact Sheet
There are 10 questions about the continent of Africa. Plus the top 10 countries by population, by land area, and the top 10 cities by population in Africa.
How many countries are in Africa? 54
How big is the continent of Africa? 11.73 million mi²
What is the total population of Africa? 1.216 billion
What is the tallest mountain in Africa? Where is it? Mount Kilimanjaro, Tanzania
What is the lowest point in Africa? Where is it? Lake Assal, Djibouti
What oceans are in Africa? Atlantic and Indian Oceans.
What is the biggest river in Africa? Where is it? River Nile, in 11 countries
What is the most famous landmark in Africa? Giza Pyramids, Egpyt
What is the smallest country in Africa? Seychelles.
What is the largest desert in Africa? The Sahara Desert in North Africa.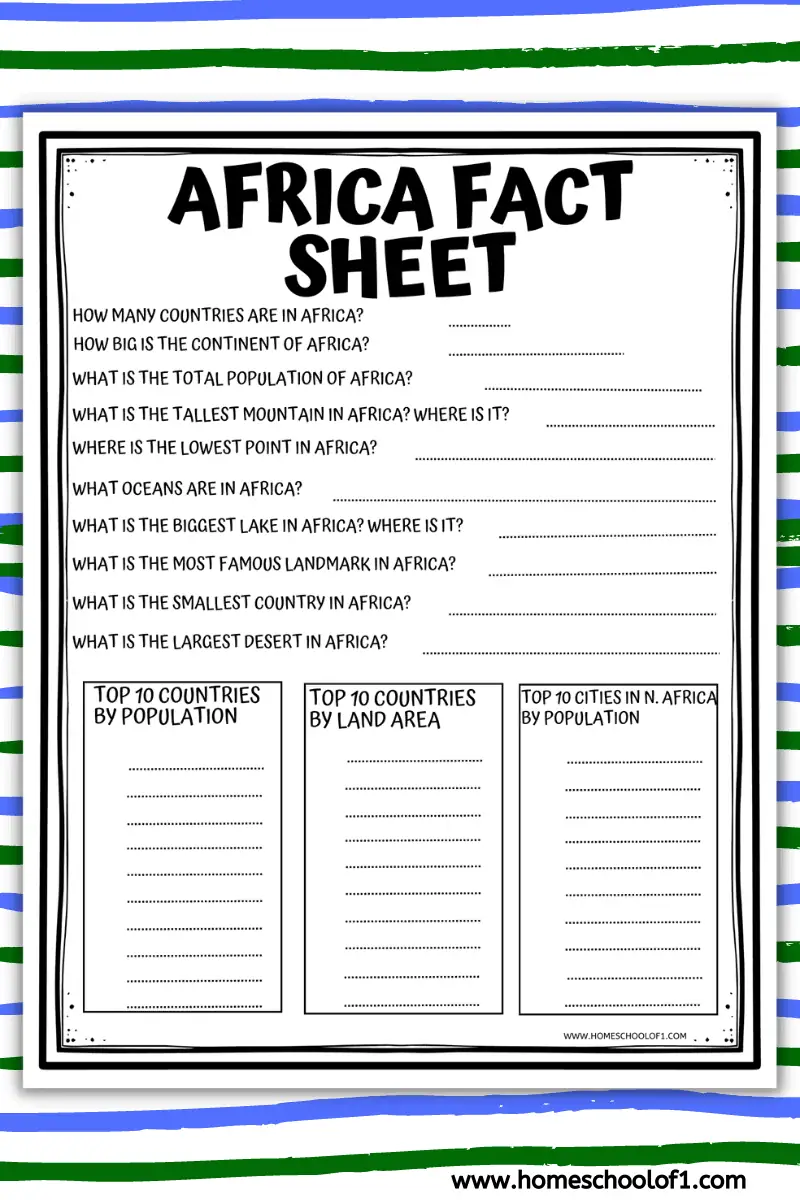 Top 10 Countries by Population in Africa
Nigeria
Ethiopia
Egypt
Democratic Republic of the Congo
Tanzania
South Africa
Kenya
Uganda
Algeria
Sudan
Top 10 countries in Africa by land area
Algeria
Democratic Republic of the Congo
Sudan
Libya
Chad
Niger
Angola
Mali
South Africa
Ethiopia
Top 10 cities in Africa by population
Cairo, Egypt
Kinshasa, Democratic Republic of the Congo
Lagos, Nigeria
Giza, Egypt
Luanda, Angola
Dar es Salaam, Tanzania
Khartoum, Sudan
Johannesburg, South Africa
Abidjan, Côte d'Ivoire
Alexandria, Egypt
For even more fun learning about the world I highly recommend the World card game.
Learn to say hello in 10 African languages
There are 10 ways to say hello in 10 different languages, and the children need to label the correct greeting with the correct language.
Hello in African languages:
Habari – Swahili
Pele o – Yoruba
Nnoo – Igbo
H?lo – Amharic
Akkam – Oromo
Sannu – Hausa
Sawubona – Zulu
Mhoro – Shona
Mrhban – Arabic
Olá – Portuguese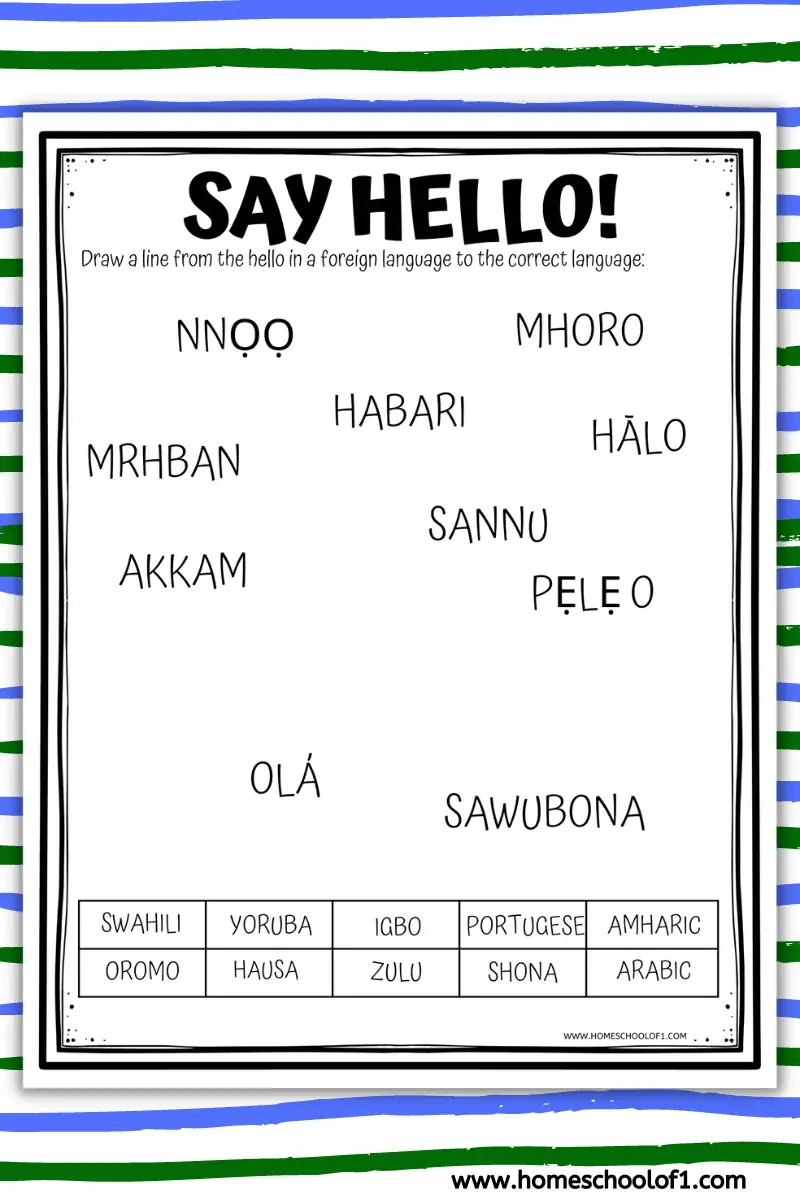 Match the Flag Worksheet
This fun match the flag worksheet is a lot of fun. The children need to research what colors to color in the maps of 10 African countries.
When they have colored them in correctly, they need to add a line to the correct country.
The country flags included are:
Nigeria
Ethiopia
DR Congo
Tanzania
Egypt
Kenya
Sudan
Uganda
South Africa
Algeria
You will also enjoy the 100 pics card game. Can you identify the countries from the flag?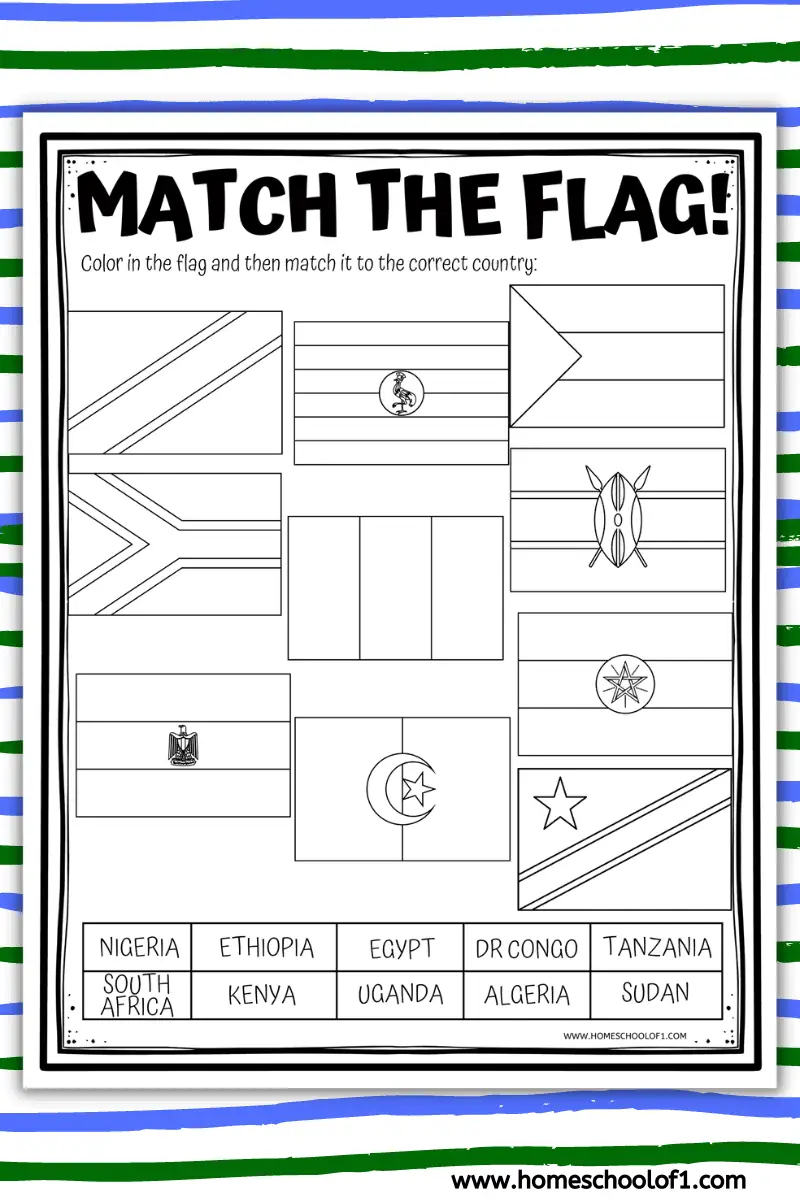 The Ultimate Book of African Animals
Okapi Loves His Zebra Pants (Endangered and Misunderstood Animals)
National Geographic Readers: Roar! 100 Facts About African Animals (L3)
100 PICS Flags of The World Travel Game – Learn 100 Country Flags | Flash Cards with Slide Reveal Case | Geography Card Game, Gift, Stocking Stuffer | for Kids and Adults | Ages 6+
Africa Word Search
The African countries can be found, horizontally, vertically, diagonally, frontwards, or backward! Just to make it that much more difficult.
I have also added the word search answers, as some of the words are a little tricky to find!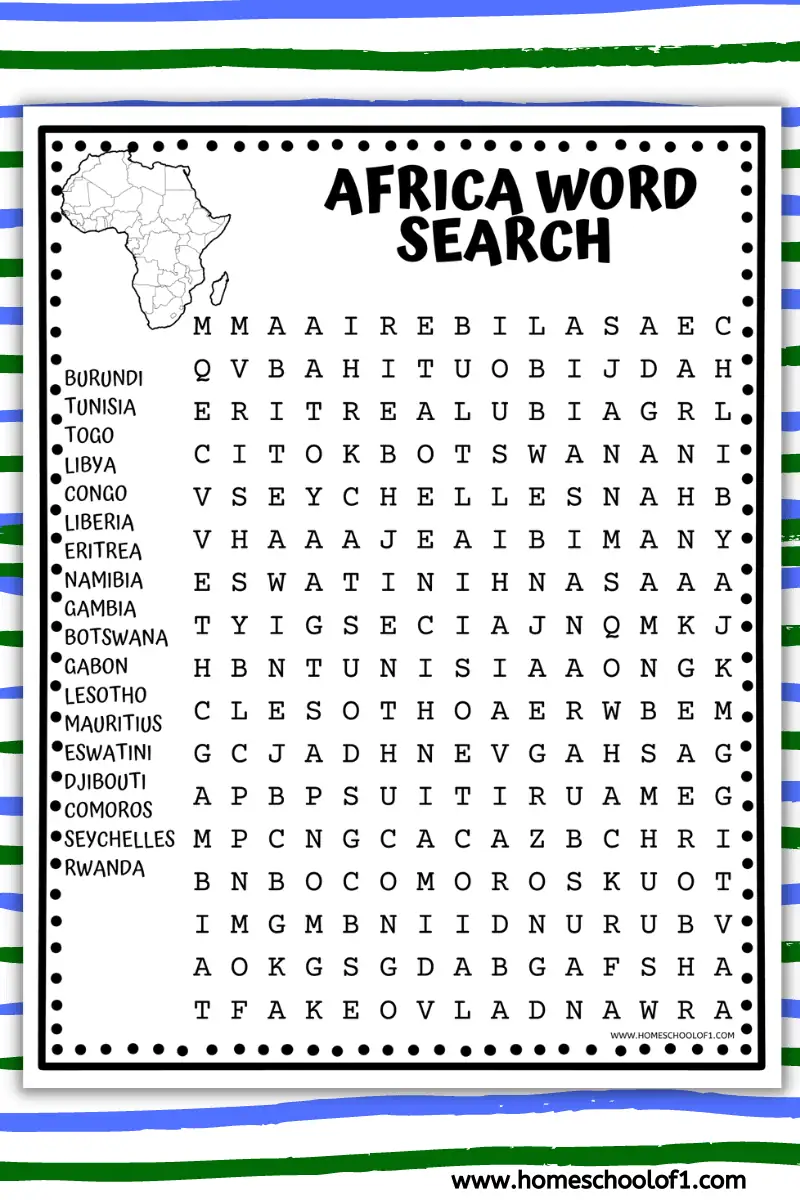 Tip: I recommend either using a highlighter pen or circling around the letters. Do not cross the letters out if you have found a word, as it may be used in another word!
The 18 African countries to find are:
Burundi
Tunisia
Togo
Libya
Congo
Liberia
Eritrea
Namibia
Gambia
Botswana
Gabon
Lesotho
Mauritius
Eswatini
Djibouti
Comoros
Seychelles
Rwanda
Word search printables are an excellent school activity for when the kids just need a break. They are educational, but more importantly, they are fun.
Africa Word Scramble
There are no clues in our free word scramble, other than the 12 countries are all in the continent of Africa.
The 12 African countries to find are: (I have included an answer sheet with the download.)
Angola
Mozambique
Ghana
Madagascar
Cameroon
Niger
Malawi
Zambia
Senegal
Somalia
Zimbabwe
South Sudan
This free word scramble printable is great either for the classroom, the library, or homeschooling.
Books about Africa for kids
These are our favorite geography books for kids:
Other free geography printables
Tips for downloading the free files
Below is a blue cloud with an arrow pointing downward. Underneath that is a large sign-up box where you need to add your name and email address, and press I NEED THIS NOW!
Within minutes you will be sent the free PDF directly to your email address, so you can print it out and start using it immediately.
Sometimes emails get a little wonky, so if you can't see it, please check your spam folder where I am sure it is hiding.
Download the free printable Africa worksheets
This printable Africa worksheet is free to print but is for personal or classroom use only. Scroll to the bottom of the page to get the pdf file.
Make sure you choose the correct paper size and click on the shrink to fit button. All of our free printables for kids work better when printed on cardstock (this is the one we use and love.)
Last Updated on 2 October 2023 by homeschoolof1