14 Christmas Eve Box Ideas For Adults That Are Awesome (2023)
Christmas is our absolute favorite holiday, in fact, the whole month of December is. We have always had a Christmas Eve Box for our son, but why should he get all of the fun? So this year, I have decided to create a Christmas Eve Box for us! I will go through all of my Christmas Eve box ideas for adults in the hope they will inspire you to do the same!
We always wake up to our Christmas Eve box on the breakfast table. So we can enjoy a really festive day before the real fun begins on Christmas Day.
We spend the day playing festive games, baking, and just spending quality time together.
If you are looking for Christmas Eve box fillers for kids check out my recent post.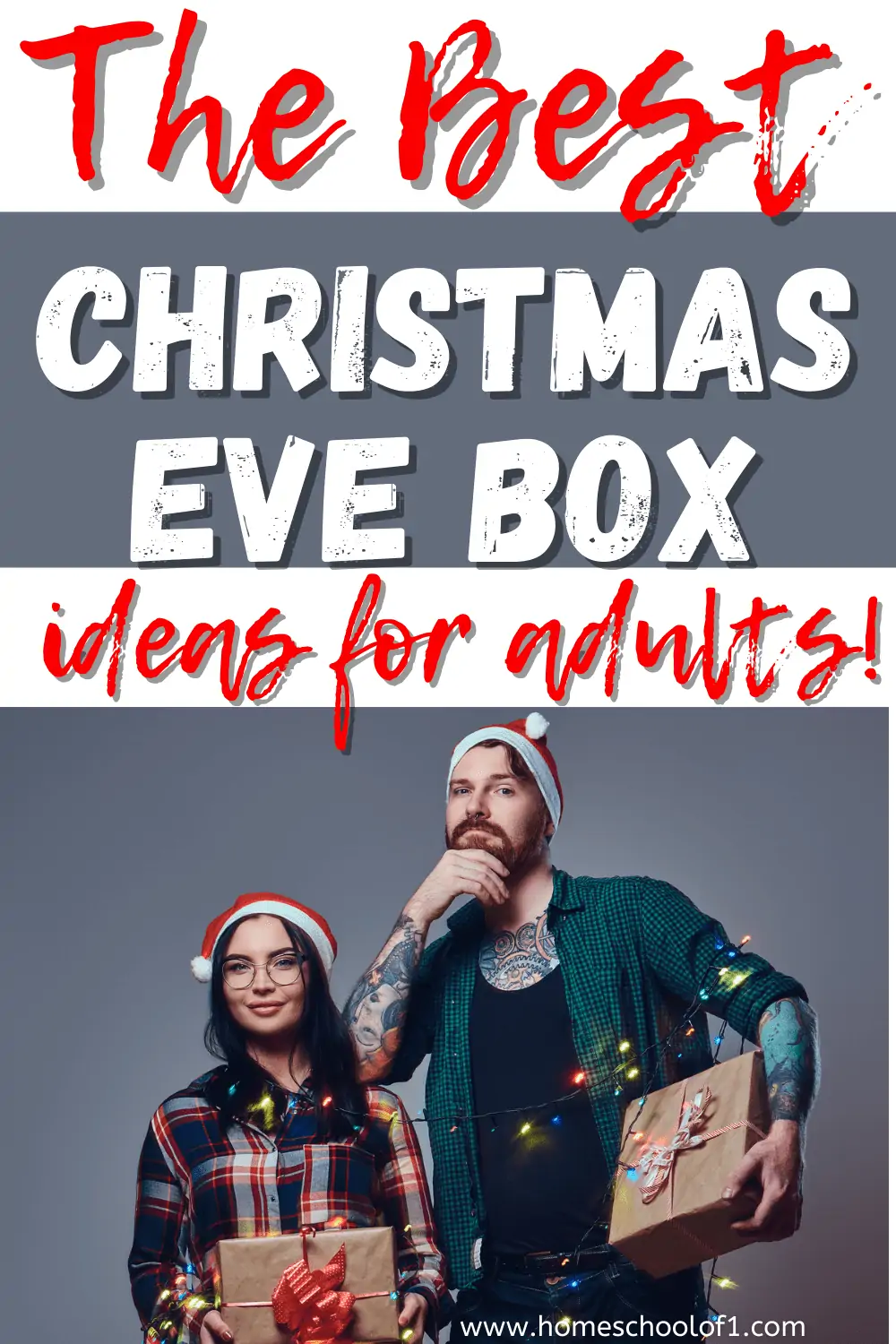 **There may be affiliate links in this post. You can read my full disclosure at the bottom of the page.**
Adult Christmas Eve Box Ideas
If you haven't got a Christmas Eve box why not treat them to a personalized one, we love this one. Or if you already have a nice box, why not get this personalized download and add it to the box with a Cricut machine, or just use transferrable paper?
Christmas Game, if you own Cards Against Humanity why not add this season's greetings expansion pack?
Adult Coloring Book – This adult festive coloring book is perfect as a Christmas Eve gift. It will give you that much-needed downtime before you are chained to the oven on Christmas Day!
Christmas Book – The Christmas Train gets our vote this year. It is a truly warm, and touching story, that will get you in the holiday spirit (or cry, one of the two!!)
Loungewear / Pajamas why not get some cute family matching pajamas! We do this every year, and as cheesy as it is, we love it!
Christmas Movie – my all-time favorite Christmas movies are Elf, Christmas with the Kranks, and The Holiday, luckily for me, Amazon has listed them all together! Almost as if it were created just for me!
Christmas Cook Book I love this Christmas Cookie Cookbook especially as we always make cookies together to leave out for Santa. My all-time favorite Christmas cookbook though is Mary Berry, check out our review of the Mary Berry Christmas Cake.
Christmas Mug is perfect for your snowman soup (ie hot chocolate and marshmallows!!) this festive mug is a great addition to any Christmas Eve box. Download our free snowman soup printable bag toppers.
Slipper Socks these women's festive slipper socks are super cozy (I got them for Christmas last year in my stocking) and they look great too.
Candles my favorite Christmas candles without a doubt are Woodwick, the crackling sounds and the delightful smell are just what I want for Christmas.
Christmas Jumper or Christmas Dress. You just can't beat an ugly Christmas sweater at Christmas. But if you prefer wearing dresses this Christmas dress has you covered.
Electric S'mores Maker I have only seen this while writing this post, but I absolutely love it. In fact, so much I have just ordered it. This will be a perfect treat while watching your Christmas movie, grab your S'mores maker now.
Amazon Voucher if you want to bulk it up a little more, vouchers are always much appreciated by everyone.
A Small Bottle of Alcohol treat them to their favorite tipple.
Favorite Chocolates mine are definitely Ferrero Roche but whatever they love just add that in the Christmas Eve Box too along with a candy cane!
Adult Christmas Gift Ideas
Other adult gift guides I think you will love:
What Christmas Eve box ideas for adults do you have? I would love to hear them, let me know in the comments below.
Last Updated on 13 April 2023 by homeschoolof1