17 Christmas Eve Box Ideas For Adults That Are Awesome (2023)
Christmas is our absolute favorite holiday, in fact, the whole month of December is. We have always had a Christmas Eve Box for our son, but why should he get all of the fun? So this year, I have decided to create a Christmas Eve Box for us! I will go through all of my Christmas Eve box ideas for adults in the hope they will inspire you to do the same!
We always wake up to our Christmas Eve box on the breakfast table. So we can enjoy a really festive day before the real fun begins on Christmas Day.
We spend the day playing festive games, baking, and just spending quality time together.
Check out our gift guide, packed with cozy and festive goodies that will help create a memorable and relaxing evening before the big day.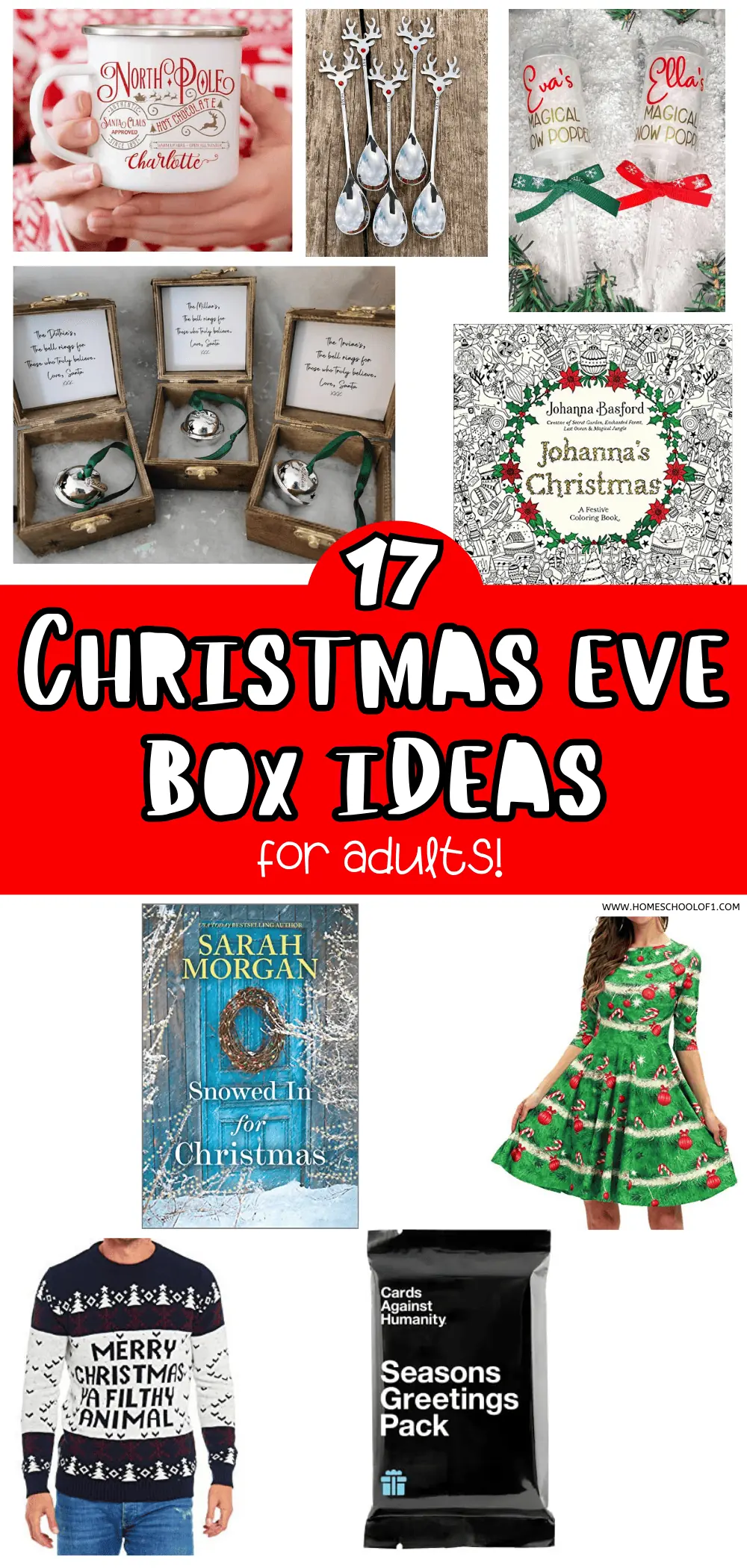 **There may be affiliate links in this post. You can read my full disclosure at the bottom of the page.**
If you are looking for Christmas Eve box fillers for kids check out my recent post.
Adult Christmas Eve Box
As a Christmas Eve box for adults, you have a world of options to choose from. Here are a few ideas:
A classic choice, a beautifully crafted wooden Christmas Eve box can be personalized with names or designs, making it a cherished keepsake.
Repurpose an old suitcase for a touch of nostalgia.
Choose a stylish gift bag that can be reused for other occasions.
A rustic wicker basket exudes charm, especially if lined with Christmas fabric.
A decorative metal tin adds a touch of elegance. Plus you can repurpose it to keep all of your Christmas cookies in.
A personalized tote bag not only serves as a unique Christmas Eve box but can also be used throughout the year.
Find a storage box with a holiday design or pattern. This could be a stylish solution for storing Christmas ornaments and decorations, you can even personalize it with this SVG file.
Choose a set of fabric pouches in festive colors. Fill each pouch with small surprises, creating an element of surprise as they open each one.
Opt for a shimmering metallic gift box for a touch of glam.
A beautifully designed crate with personalized engravings adds an air of sophistication.
Check out all of the best family Christmas Eve box ideas.
Adult Christmas Eve Box Ideas
Adult Christmas Gift Ideas
Other adult gift guides I think you will love:
What Christmas Eve box ideas for adults do you have? I would love to hear them, let me know in the comments below.
Last Updated on 27 November 2023 by homeschoolof1