16 Best Gifts for Mom Who Doesn't Want Anything!
I always struggle with buying Christmas presents for mom, and I absolutely know my husband has no idea what to say when our son asks! So I thought I would take the pain out of it for you! These are the best gifts for a mom who doesn't want anything!
Moms do everything for us, and therefore should be treated this Christmas.
I started putting this list together after one year I received a frying pan from my stepson! Now he was only 13 at the time, so he had gone shopping with my husband! A frying pan! I had about 5 already, and had no desire for a new one!
Keep reading, for Christmas gifts that mom might actually want!
There are so many amazing things to buy this year I have included 16 amazing Christmas gifts for mom that she actually wants, so there is something for everyone.
If you are looking for even more gifts for busy moms check out my favorites.
Why not treat mom to one of our favorite mother and daughter matching outfits.
If you are looking for homeschool mom gifts check out my latest post, the top one is FREE!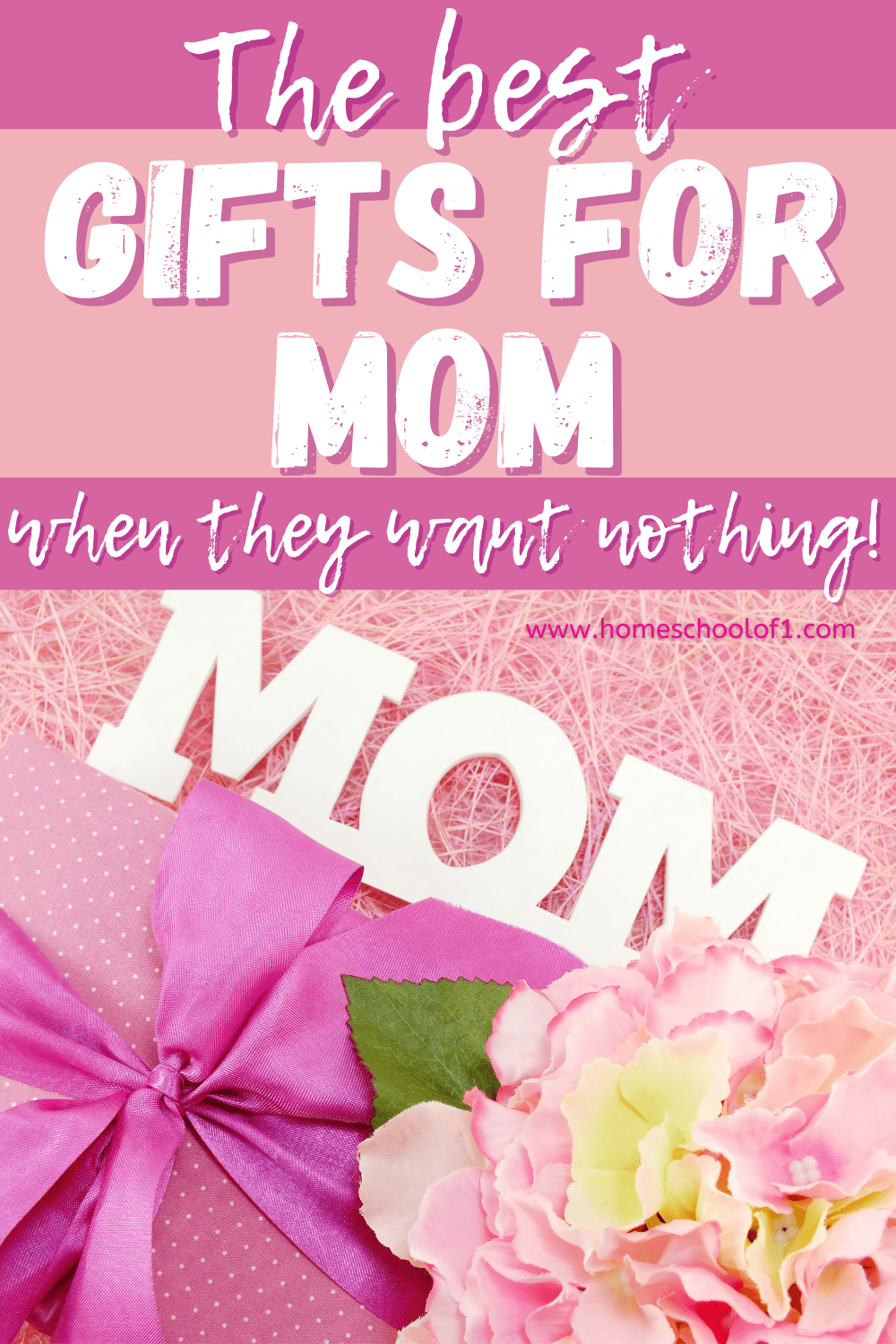 **There may be affiliate links in this post. If you make a purchase (after clicking one of my affiliate links) I'll earn some coffee money, which I promise to drink while supporting your journey. You do not pay a higher price. You can read my full disclosure at the bottom of the page.**
Best Christmas Gifts for Mom
Perfume Viktor and Rolf make the best fragrances. So much so that I have loved all of their female perfumes and my husband wears the men's aftershave.
Mary Berry Cook Book – Now I don't read, I know I should, I just can't ever find the time. However, I absolutely love Mary Berry! In fact, any baking we do is always from one of her amazing cookbooks. Every year we make the Mary Berry Christmas cake as a family, it is our little Christmas tradition.
The reason I like them so much is that they are really easy to read and they have lots of photos!
Family Calendar This is always on my Christmas wish list, although there are only 3 of us, with Stuart working away a lot, and Freddie's social diary this is a must! This one is definitely more my style than the normal kid ones.
Dyson Hairdryer – Now I have really long thick hair, so drying my hair always takes an age. We have a number of Dyson products including the fan, so I know these products are second to none.
Another great benefit of this is it is super quiet! I normally wash my hair at night before I go to bed, as the mornings are fairly hectic. So this is just perfect, the amount of times I have woken Freddie up drying my hair is ridiculous.
Slippers – Now I know I am getting old, but as I work from home slippers are a must! The reason I have included the UGG slippers is that the UGG slippers I already have are amazing. They do need replacing now, but I have had them for over 2 years.
Normally slippers only last me about 6 months (as I wear them every day – pretty much all day long).
Funky Wine glass I was at a friend's house recently and spotted one of these Lolita wine glasses. I have included the one I have which is Mom's Time out wine glass, but there are Christmas ones too.
The detail is fantastic and such a great gift for women, I mean who doesn't like wine!!!
Back Massager Every mom I know should have one of these already, but if not, these would make excellent gifts for a mom who doesn't want anything!
Music Box why not treat the Mom who doesn't want anything to one of these unique music boxes. There are hundreds to choose from including jewelry boxes and snowglobes, and so much more.
Jewelry – What about treating mom to a nice chunky silver ring? I absolutely love them.
Best makeup products for over 40 – Now I absolutely love makeup! However, buying makeup for your mom might get you in trouble, unless you are certain they wear a certain color.
The Best Stocking Filler Ideas for Mom
Bracelet – These Katie Loxton adjustable bracelets are super cute, and every mother I know would get very emotional receiving one of these in their Christmas stocking.
The Ladybird Book How it Works: The Mum I have a number of these adult Ladybird books, including the mom, and I have found them all to be hilarious.
Nail File I have always carried emery boards in my handbag until now. This diamond nail file not only looks really stylish it is so much better for your nail. Also, it lasts much longer than an emery board. A great stocking filler present.
Drink Shimmer These are an absolutely great Christmas stocking filler gift. I make no secret of the fact I like a drink every now and again, and these shimmers just make the drinks pop!
Candle – I absolutely love candles and they would make perfect gifts for mom. My favorite is the Woodwick candles as they make a wonderful sound when they are lit. It really reminds me of a real open fire.
I love you mom book – There is no better gift for mom than a personalized gift. These books are just fantastic and will guarantee tears of joy on Christmas morning.
If you are struggling with gift ideas for the man who has everything check out my gift guide.
What are your best gifts for a mom who doesn't want anything? Let me know in the comments below, I am always looking for more inspiration!
Last Updated on 8 November 2022 by homeschoolof1