10 Best Elf on the Shelf Leaving Ideas (with free printable)
I know you are sad that the elf is going back to the North Pole, not! If you are looking for some Elf on the Shelf leaving ideas that will impress the kids keep reading.
We have had the Elf on the Shelf pay us a visit for over 8 years, and my son despite being a teenager absolutely loves them. I say them, as we have 4!
Saying goodbye to the Elf can be upsetting for younger children, so I have put together our favorite goodbye elf on the shelf ideas.
So finding epic last night Elf on the Shelf activities can be challenging.
But not anymore. I have put together the best elf goodbye ideas.
**There may be affiliate links in this post. You can read my full disclosure at the bottom of the page.**
When does the Elf on the Shelf Leave?
The elf on the shelf's work will be done on Christmas Eve, and Santa will scoop them up on his return to the North Pole after he has delivered all the presents to the boys and girls.
But don't be too sad, they will be back on or around December 1st of next year.
Elf on the Shelf Departure Ideas
You are going to love these elf goodbyes, there are 10 for you to choose from, or go wild and do them all!
I mean you won't need to remember to move them for another 11 months!
These are such a great way to say goodbye to the elf. They have been such a big part of the children's lives for 24 days, so they should be sent off with a bang.
Elf on the Shelf Yearbook
Create your very own Elf on the Shelf yearbook, and add photos of the 24 days of Elf on the Shelf antics as a wonderful reminder for the kids to cherish.
This is super easy to create, download our free elf on the shelf yearbook cover at the end of this post, and add your photos inside. There are 2 covers to download one with a boy elf and one with a girl elf.
The covers say Elf on the Shelf yearbook 2023, and the reverse of the book says see you next year!
Just print off the cover on cardstock and then fold it in half.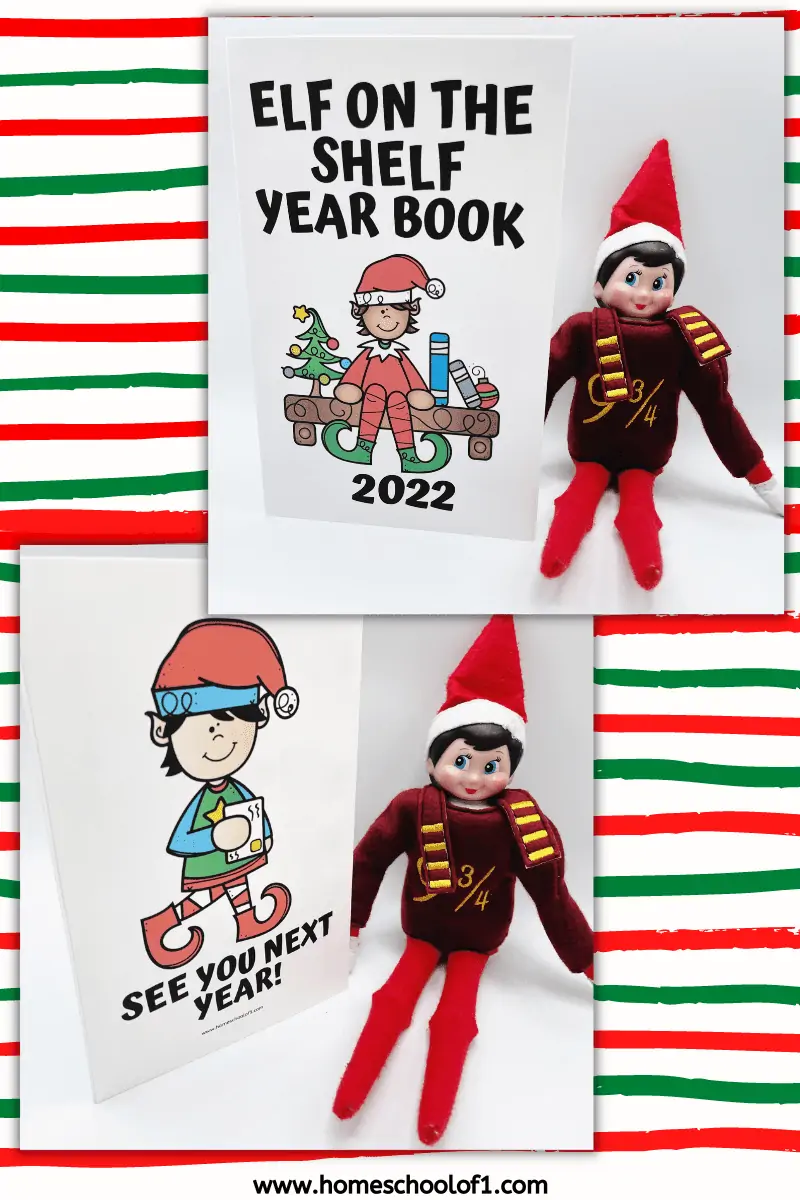 I added 24 photos onto 1 page and folded it in half. However, you could make this a much bigger yearbook with your 24 days of Elf fun on each page.
Please remember though, you will probably be very busy on Christmas Eve already, so you definitely want this to be as easy as possible.
I used glue to add this page to the back of the cover so it looked more professional.
If you forgot to move the elf on any day just add in a silly Christmas photo, check out my husband with his beard ornaments!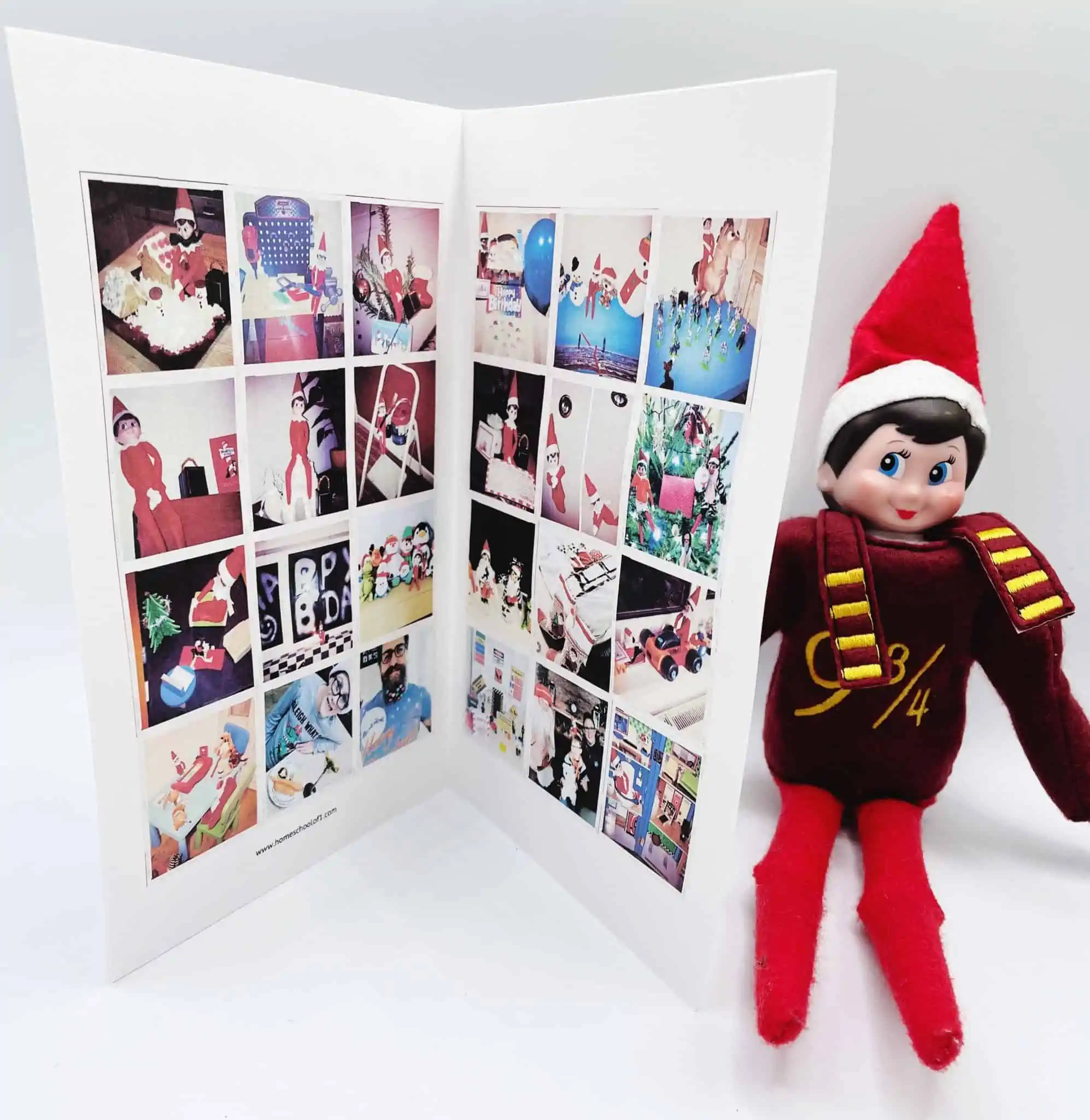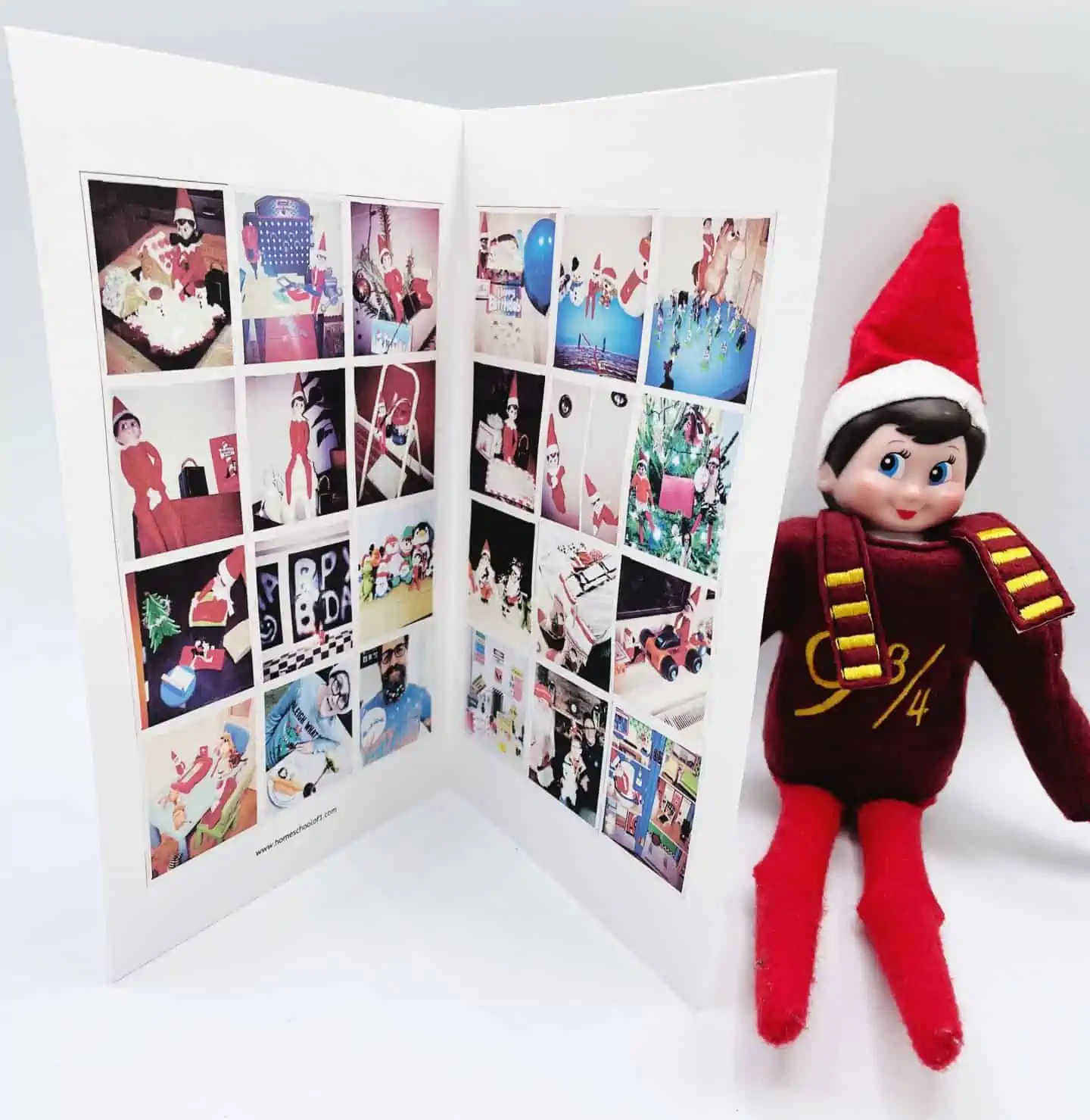 For even more elf on the shelf goodbye ideas check out some of our favorites. We tend to do most of them as we are crazy!
Add a little magic to the last day of the Elf visiting with our free Elf on the Shelf goodbye letters.
There are 2 to choose from, one from just 1 elf, and the second from multiple elves.
As the Elf on the Shelf is leaving with Santa, why not make the last day an Elf on the Shelf treasure hunt with our free clues?
Hide them around the house and leave the Elf with the Christmas Eve box.
Photo Credit: www.etsy.com
If you are looking for a personalized letter that is editable then you are going to love this one from Etsy.
As this is a digital download you can leave this until the very last minute to download.
Photo Credit: www.etsy.com
Make it extra special this year with this personalized Elf on the Shelf goodbye puzzle.
It comes with a canvas bag so you can use this year after year.
Make sure to order before 19th December though for a Christmas Eve delivery.
Photo Credit: www.frugalcouponliving.com
It's almost time for Elf on the Shelf to Go! In this fun idea, the Elf makes a note, "See you next year" from magazine letter cuttings.
Photo Credit: www.frugalcouponliving.com
A really magical idea is to have the elf on the shelf disappear through a mirror or window. This easy idea can be quickly created with shaving cream.
Why not leave this night before Christmas book with the Elf on their final day and read this book to the kids?
This makes a wonderful bedtime story on Christmas Eve.
For our other favorite books about elves check out our recent post.
Photo Credit: www.diywithmyguy.com
FREE Printable Elf on the Shelf donate toys letter to declutter before Christmas!
Before the Elf leaves, have your kids pack up a box of toys to go with him. This is such a perfect way to get ready for the deluge of gifts they will get on Christmas Day.
Photo Credit: www.movienightsathome.com
What about treating the kids to an amazing breakfast on the elves last day and let them go out with a bang?
These pancakes are the perfect final fun for your Elf to leave before heading back to the North Pole!
Tips for downloading the free files
Below you will see a large sign-up box where you need to add your name and email address, and press I NEED THIS NOW!
Within minutes you will be sent the free PDF directly to your email address, so you can print it out and start using it immediately.
Sometimes emails get a little wonky, so if you can't see it, please check your spam folder where I am sure it is hiding.
Download your free Elf on the Shelf year book covers
Make sure you choose the correct paper size and click on the shrink to fit button. All of our free printables for kids work better when printed on cardstock (this is the one we use and love.)
Last Updated on 7 November 2023 by homeschoolof1