Free Elf on the Shelf Goodbye Letter To Print Out
The Elf on the Shelf is leaving to help Santa with his Christmas deliveries! But how do you tell kids? We've got an easy way – print our free Elf on the Shelf goodbye letter below.
We introduce the Elf on the Shelf in November first with our elf construction site, and then they come to stay with the North Pole Breakfast (as close to December as possible.)
When they arrive they leave we have an elf on the shelf arrival letter explaining their visit, so it makes perfect sense to have an Elf on the Shelf goodbye letter when they leave.
Check out all of our Elf on the Shelf leaving ideas, with a free yearbook cover you can print out.
We have created 2 different templates for you to print out and leave for the kids to find on Christmas Eve.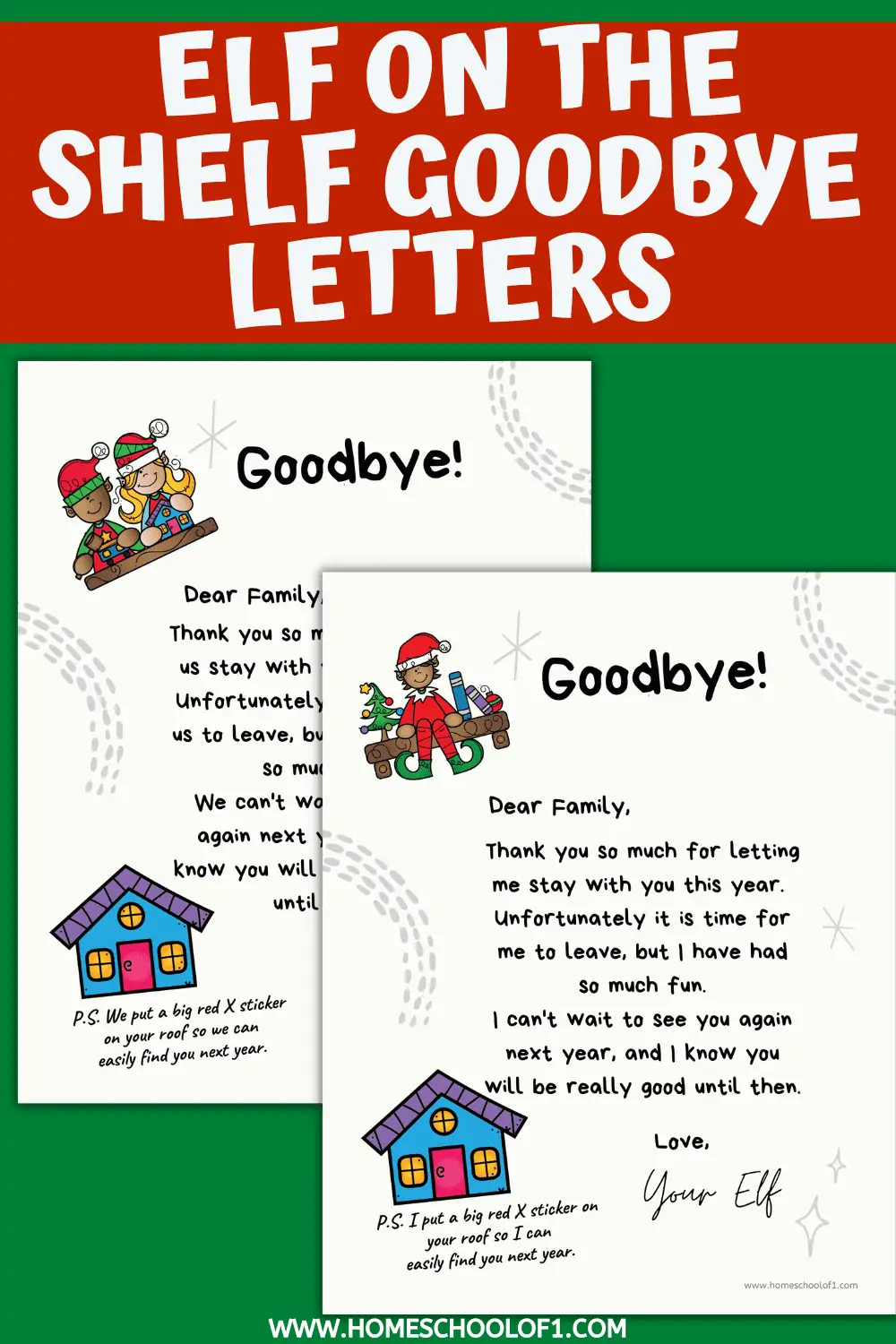 **There may be affiliate links in this post. You can read my full disclosure at the bottom of the page.**
Elf Goodbye Letter
I have included 2 Elf on the Shelf goodbye letters, including one letter from multiple elves. But they have the same message on:
Thank you so much for letting me stay with you this year.
Unfortunately, it is time for me to leave, but I have had so much fun.
I can't wait to see you again next year, and I know you will be really good until then.
We leave this goodbye letter next to the Christmas stocking, to explain what is happening. But please remember, to leave this for Christmas Day morning!
You don't want the children looking around the house for the elves and them not being there.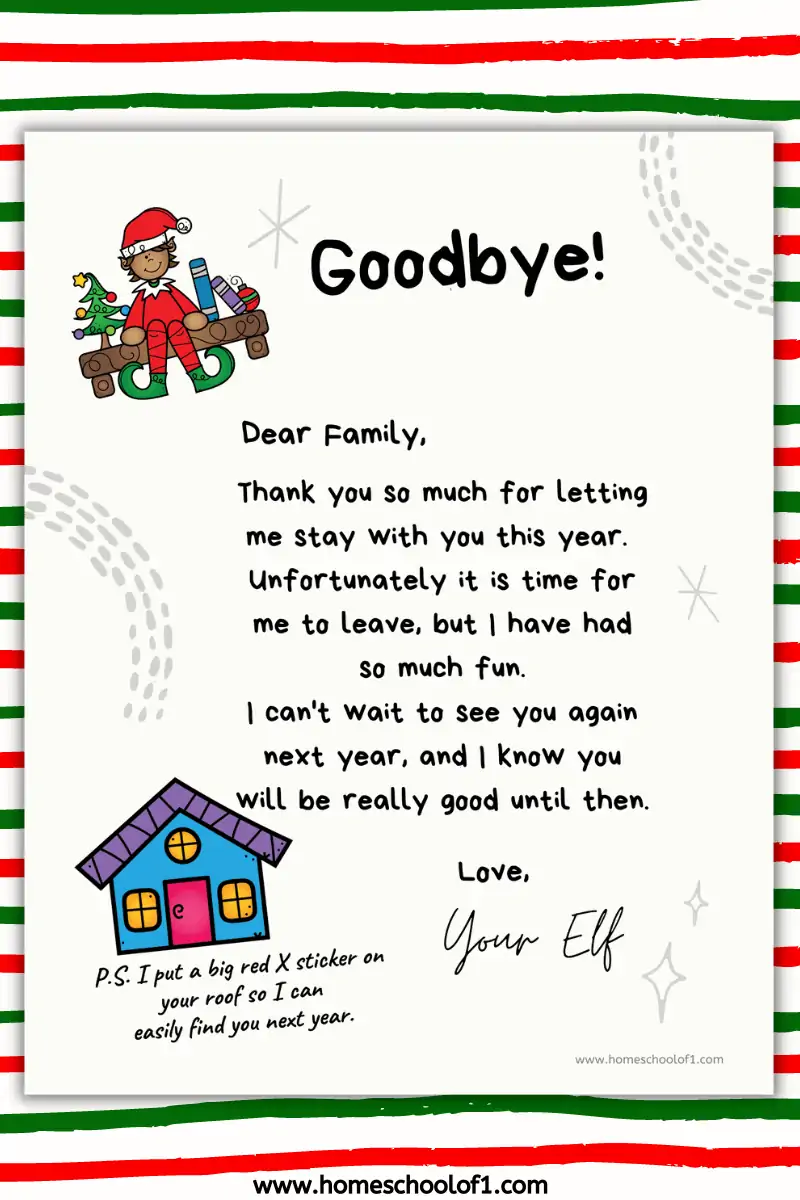 This Elf on the Shelf goodbye letter can be used if like us you have multiple elves. I absolutely love the little P.S on this one that reads:
P.S We put a big red X sticker on your roof so we can easily find you next year.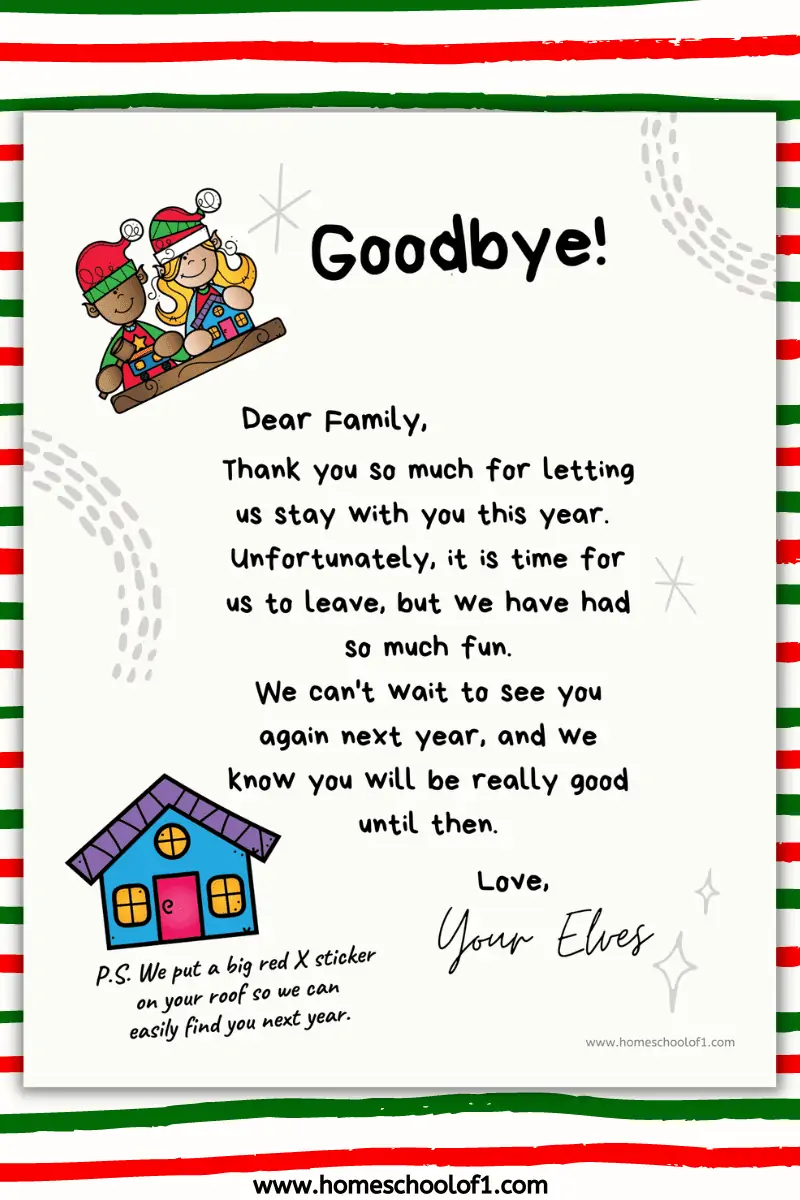 If these free printables are not quite what you are looking for, these personalized download letters from Etsy are super cute.
You will receive all five of these elf goodbye letters so choose which one you prefer.
Even More Elf Printables?
If you are in a rush and are tired of searching for Elf on the Shelf printables you can purchase all of my printables for a small fee here. There are exclusive printables included not found anywhere else, and 41 pages to print!
41 pages are included in this download including:
North Pole Breakfast Menu (2 pages)
Elf construction zone (2 pages)
Snowman soup (exclusive)
Elf Kisses (exclusive)
Elf notes (3 pages)
Elf scavenger hunt (3 pages)
Elf memory game
Elf games
Elf hats
Elf on the Shelf word scramble (3 pages)
Elf names word search (2 pages)
Elf coloring page (8 pages)
Elf arrival letters (5 pages)
Elf goodbye letters (2 pages)
If I were an elf writing activity (1 page)
Elf yearbook cover (2 pages)
Download Free Goodbye Letter from the Elf on the Shelf
Make sure you choose the correct paper size and click on the shrink to fit button. All of our free printables work better when printed on cardstock (this is the one we use and love.)
Last Updated on 4 December 2022 by homeschoolof1