10 Free Fire Safety Worksheets Perfect for Fire Prevention Week
As it is Fire Prevention Week in October I wanted to create some free fire safety worksheets you can use with your elementary-aged kids.
These free printables for kids are perfect for the classroom, and homeschooling. But if you haven't talked to your kids about fire safety, please don't wait until October you can start today.
Included in this fun activity pack are:
4 fire safety posters you can display on the wall (2 in color, and 2 in black and white)
Color in the worksheet and check your child's knowledge
My fire escape is a writing and drawing exercise
4 x firefighter writing prompts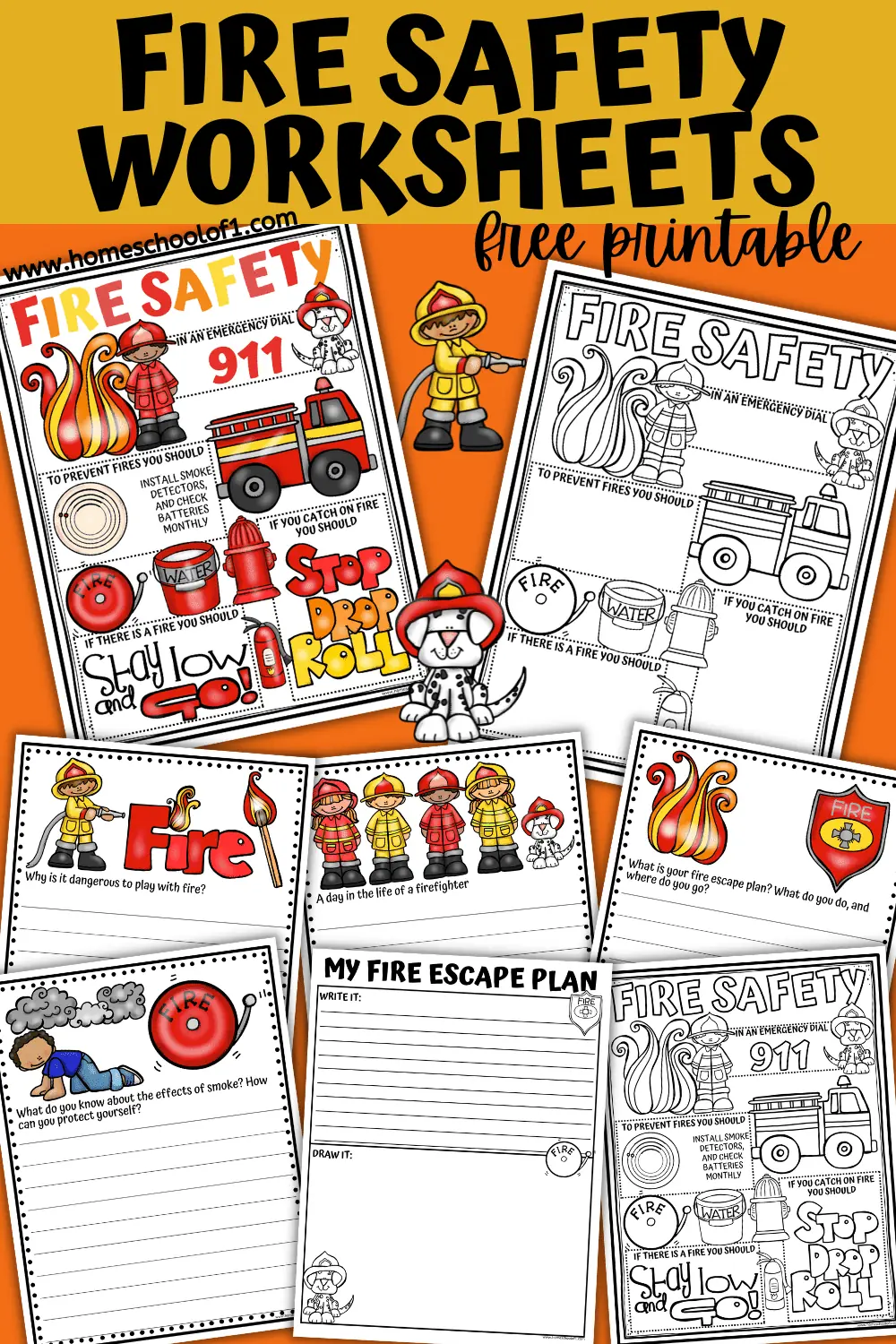 **There may be affiliate links in this post. You can read my full disclosure at the bottom of the page.**
What is Fire Prevention Week
Fire Prevention Week is always during the week including October 9th, to commemorate the Great Chicago Fire. Which began on October 8th, 1871, and caused devastating damage.
In 1925, President Calvin Coolidge proclaimed Fire Prevention Week a national observance. Making it the longest-running public health observance in America.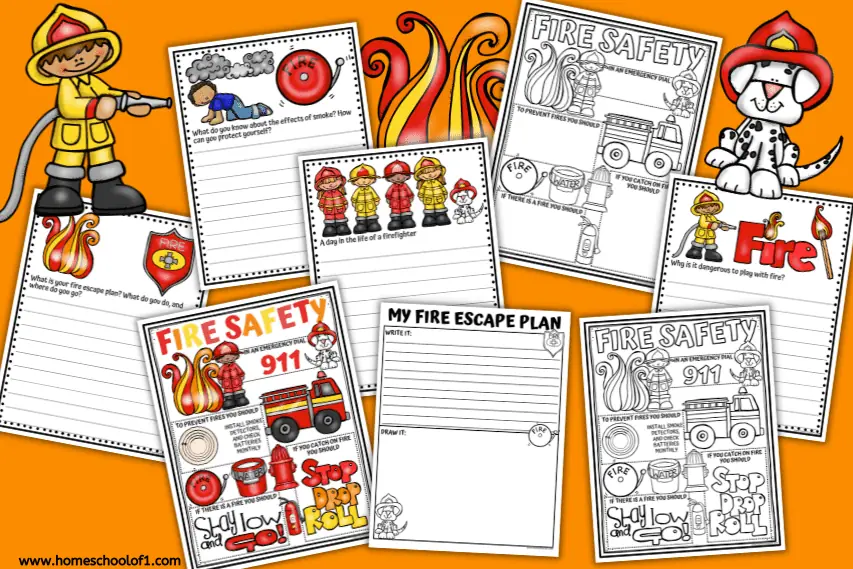 Fire Safety Printables
Download the printable fire safety worksheets below. There are 10 pages, however, you will only need to print 8. Make sure to check the printer settings.
These fire safety worksheets are free to print but are for personal and classroom use only. Scroll to the bottom of the post and add your email address to get the pdf file.
Fire Safety Coloring Page & Poster
In an emergency dial. 911
To prevent fires you should. Install smoke detectors and check batteries monthly.
If you catch on fire you should. Stop, drop, and roll
If there is a fire you should. Stay low and go!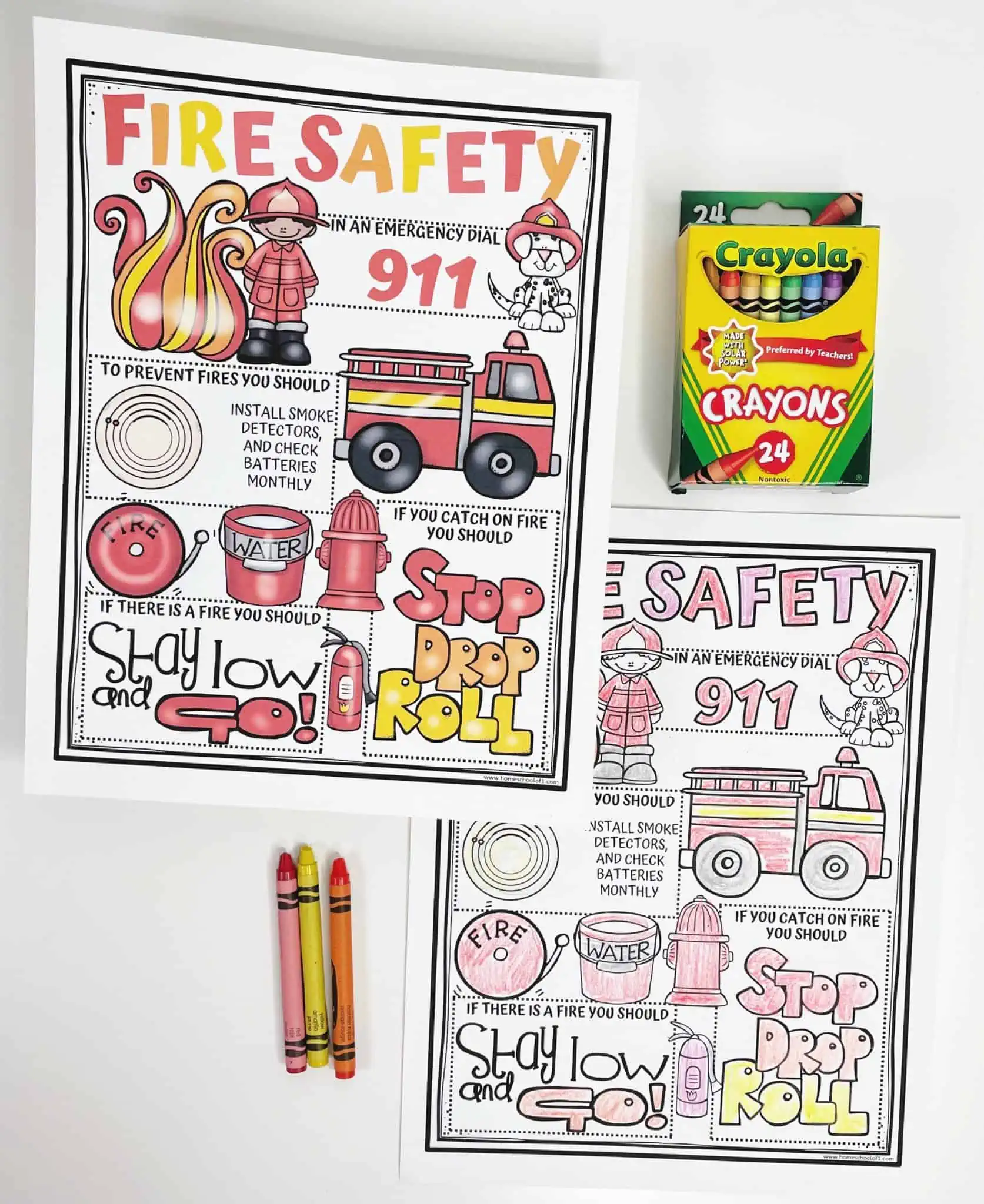 The next 2 fire safety printables are exactly the same as the first two. But, instead of saying stay low and go, there is a picture of a boy crawling under the smoke.
You need to decide which set suits your children best, you don't need to print both sets.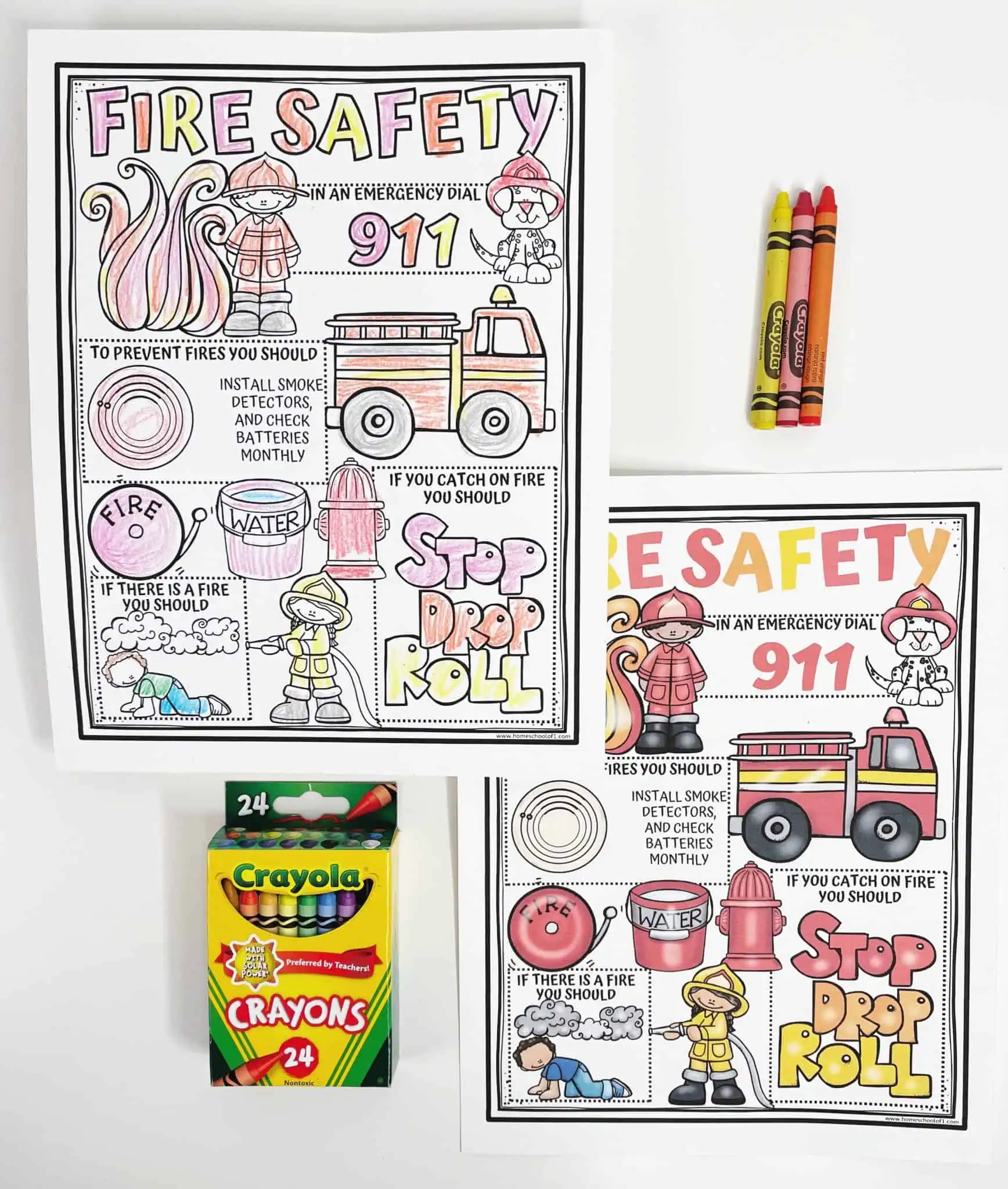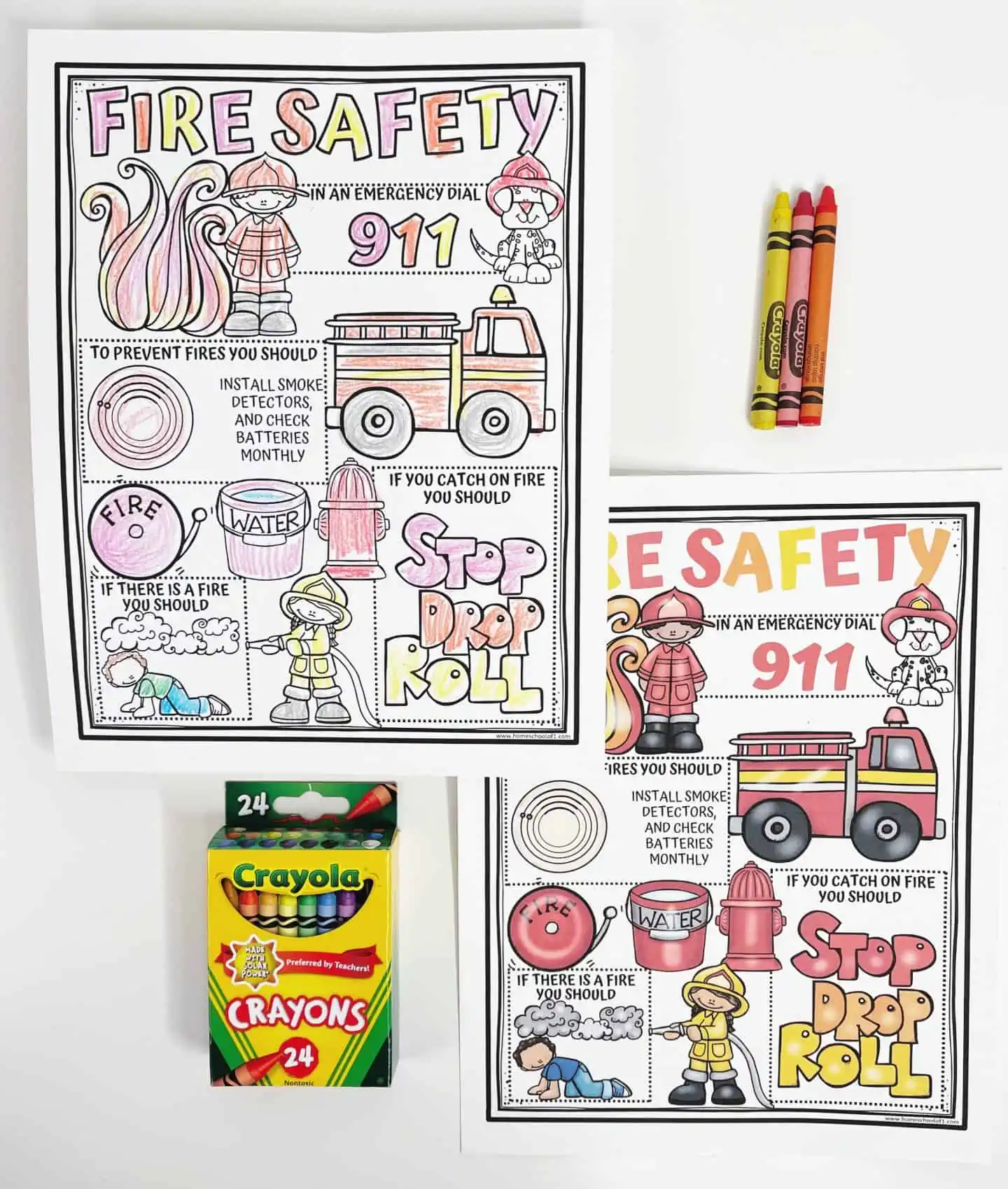 Fire Safety Coloring Page Worksheet
This fire safety coloring worksheet is a great way to check the children's knowledge. It may seem obvious, especially for older children, but do the younger kids know?
In an emergency dial…
To prevent fires you should…
If you catch on fire you should…
If there is a fire you should…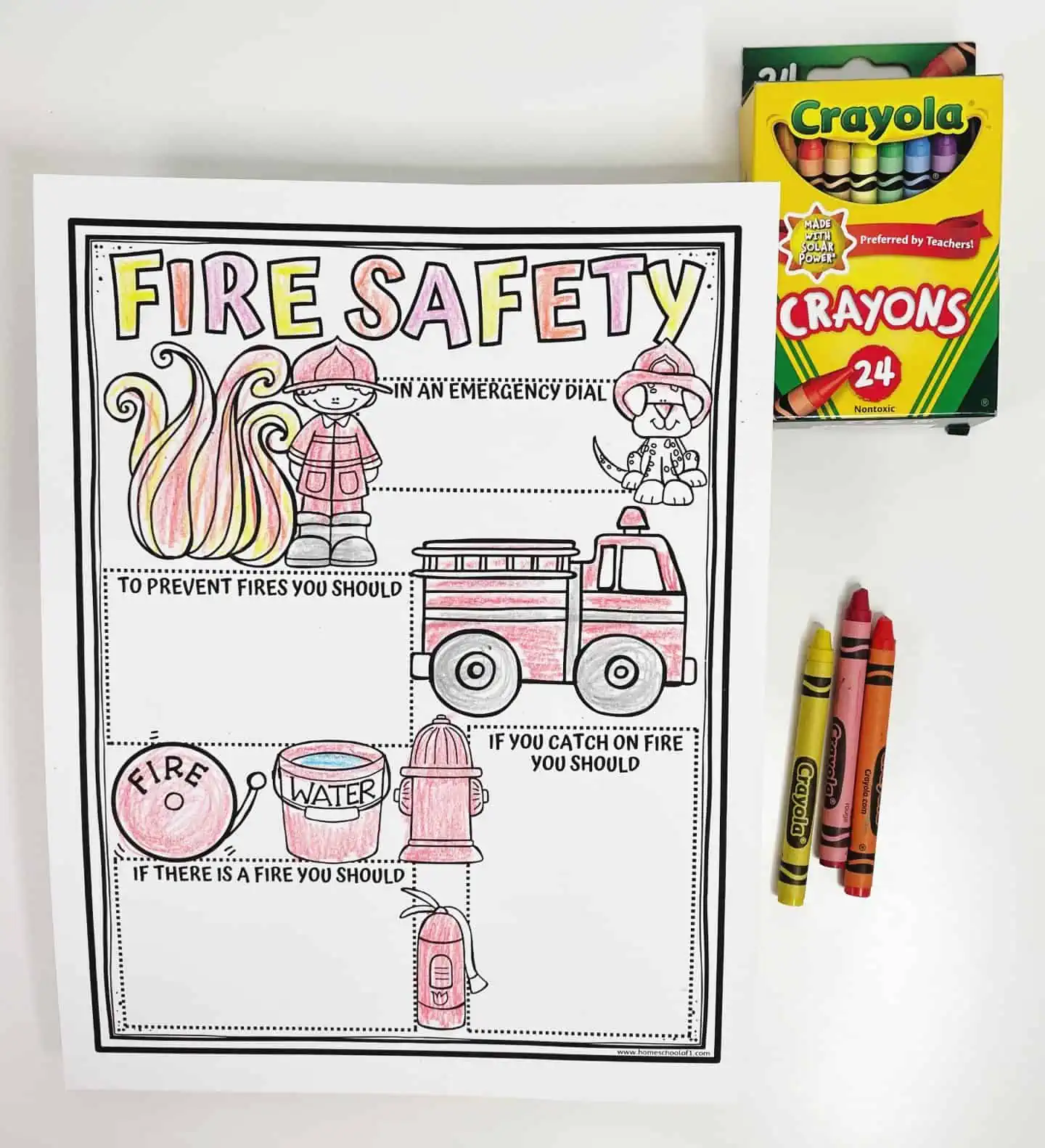 Fire Prevention Week Writing Prompts
We love creating free writing prompts for kids and these 4 are great for fire prevention week in October.
But of course can be used any time you are learning about fire, firefighters, or safety.
A day in the life of a firefighter.
What do you know about the effects of smoke? How can you protect yourself?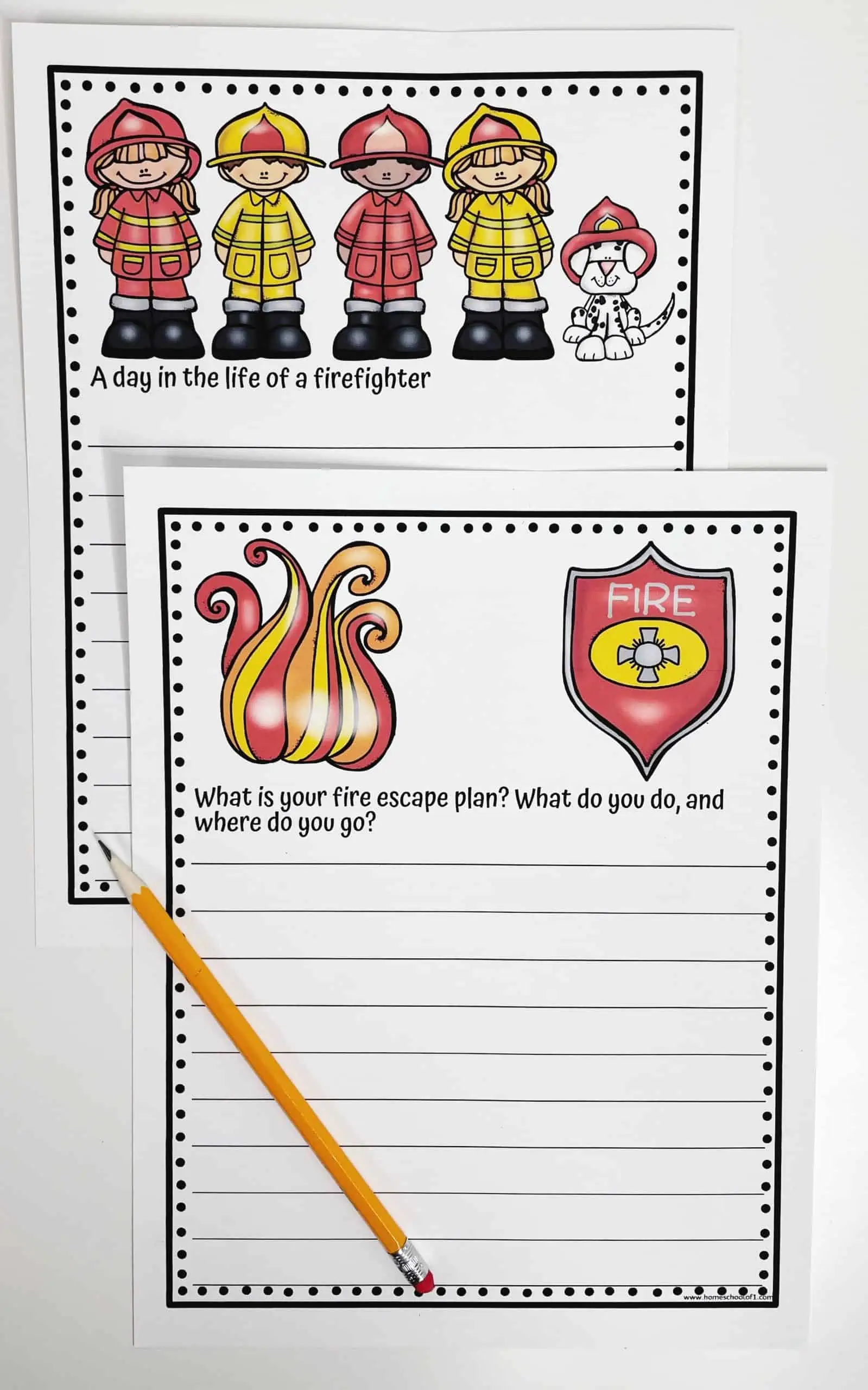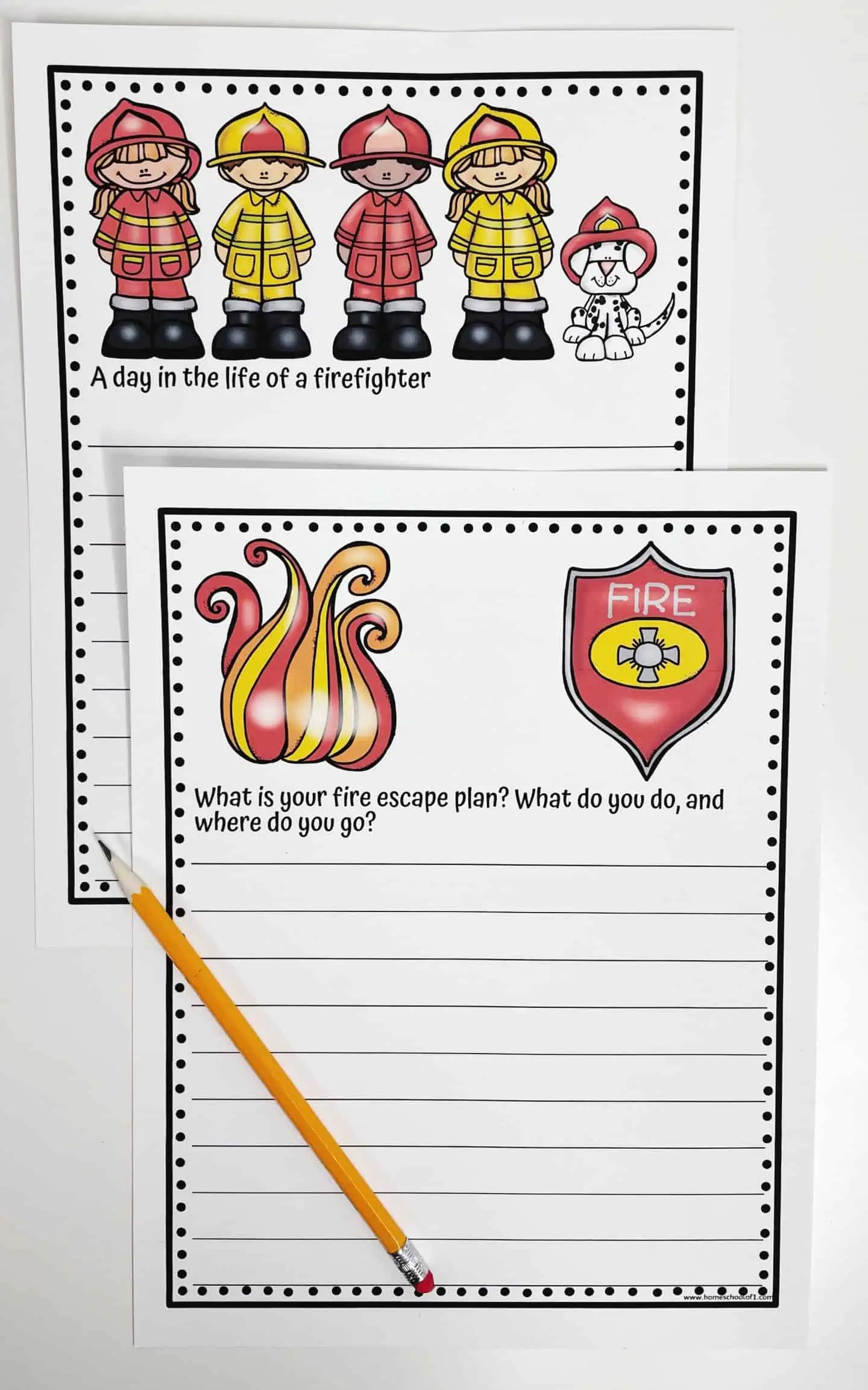 Why is it dangerous to play with fire?
What is your fire escape plan? What do you do, and where do you go?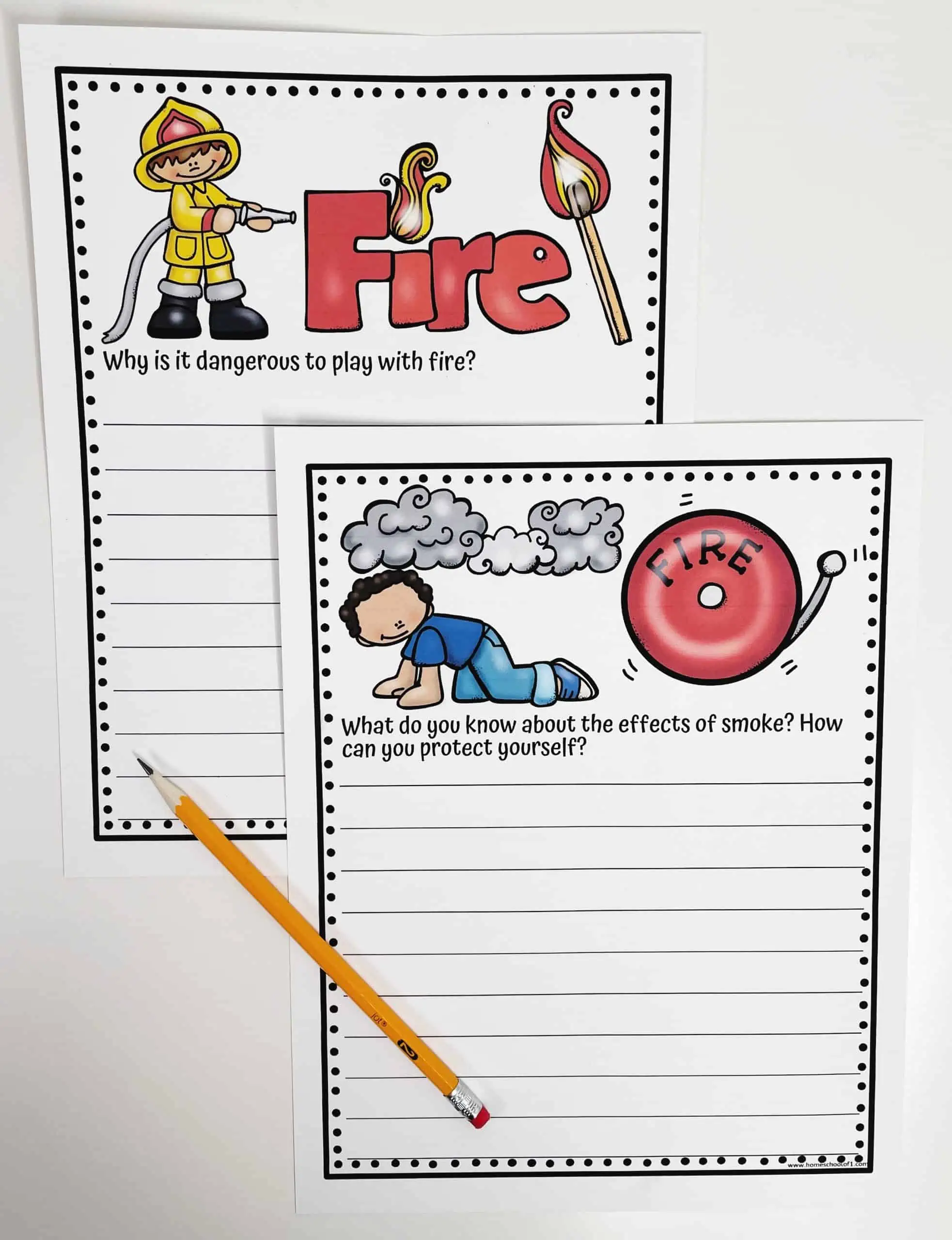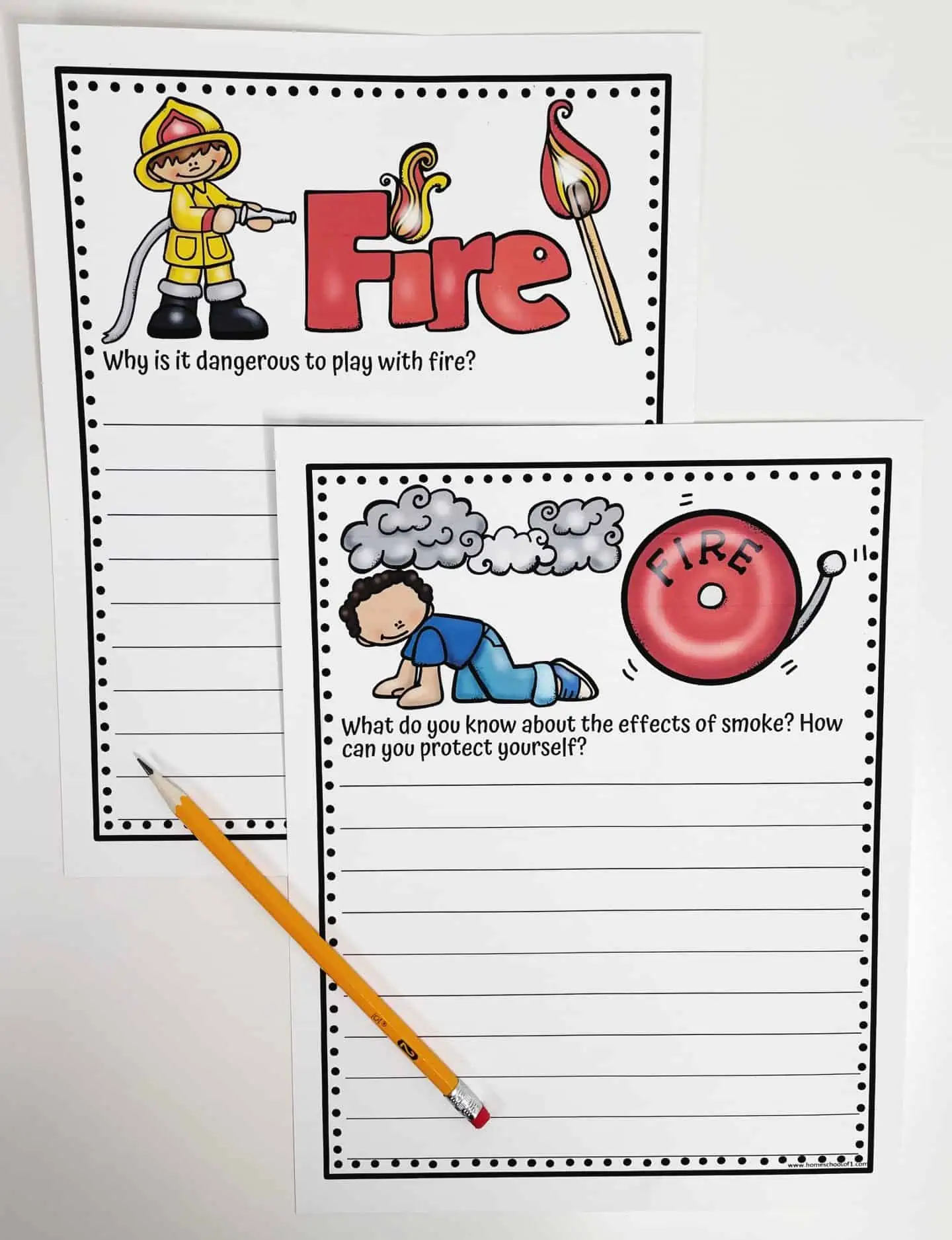 My Fire Escape Plan Worksheet
If you do not have a fire escape plan in place, now is the perfect time to have one. Whether you are at home, or at school, do the children know what to do if there were a fire?
Please don't assume that the older kids know what to do, especially when they are not at school surrounded by teachers instructing them.
We go over our plan every year, even now my son is in middle school. Just so he knows exactly what to do. He is in the house on his own occasionally now he is a teenager.
It is amazing how many of his friends have no idea what to do in an emergency.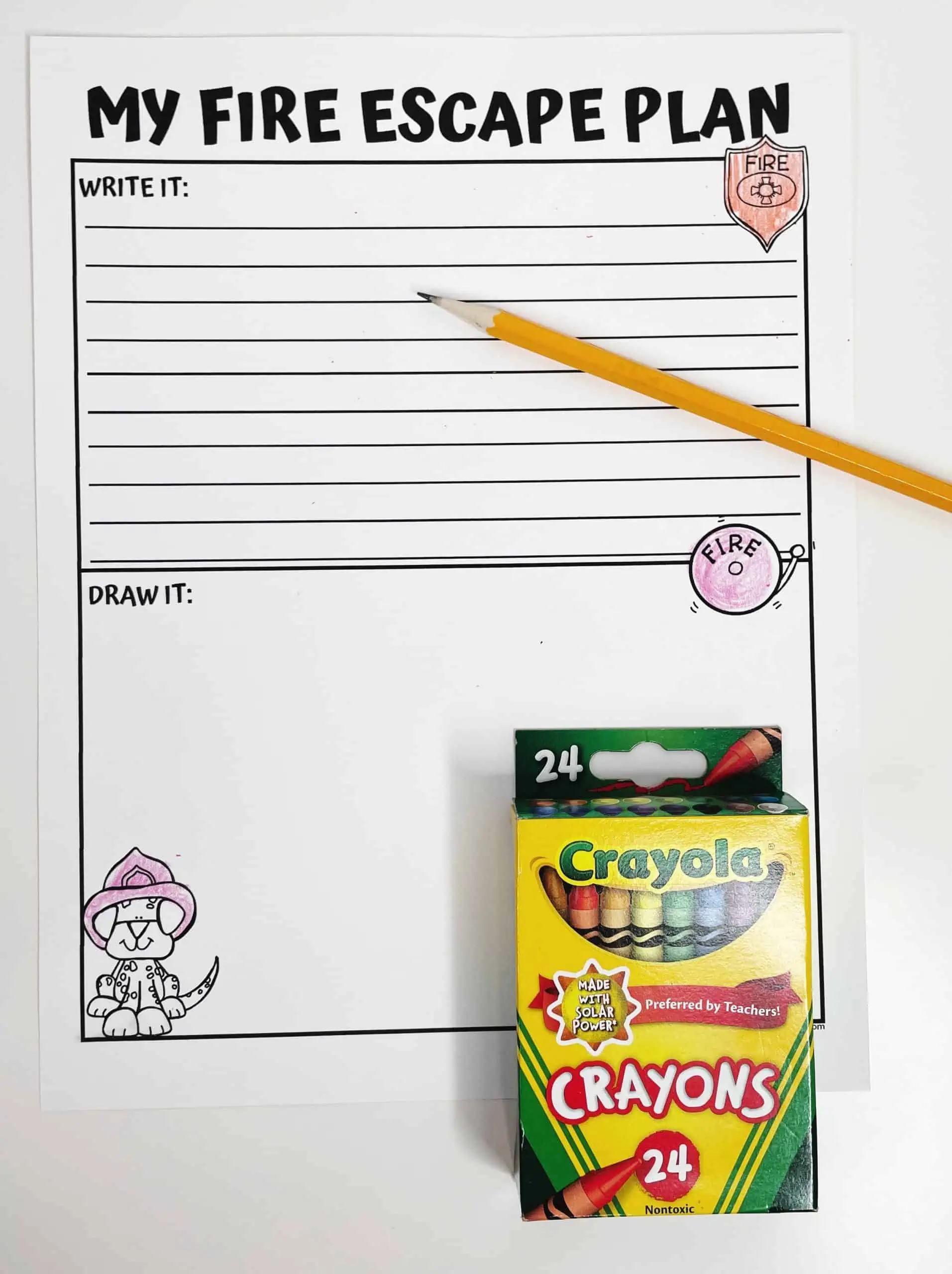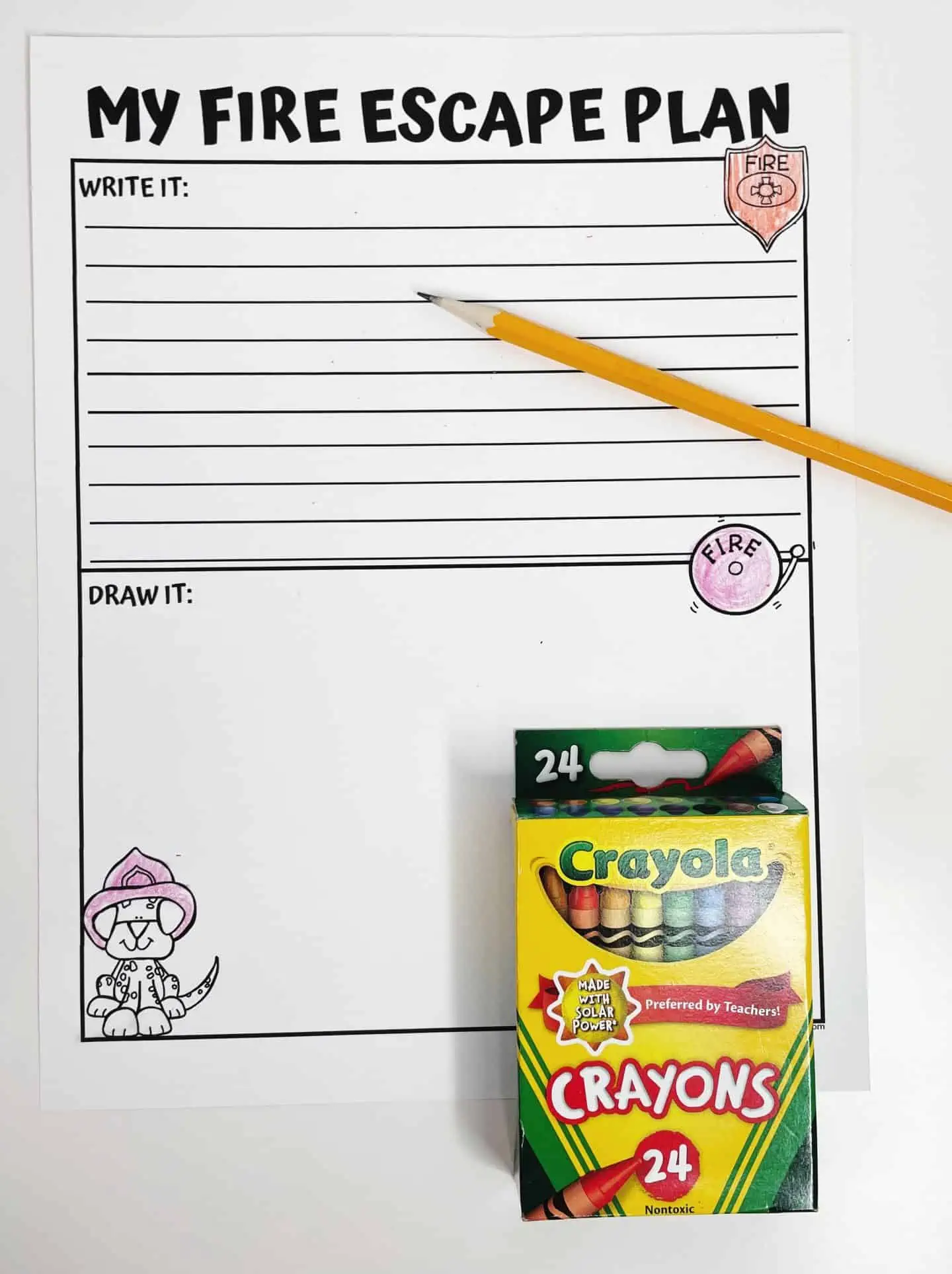 Did you know in the UK they celebrate Bonfire Night on November 5th? Check out all of our Bonfire Night activities that you can enjoy.
Add some math to the lessons with this fun printable firefighter counting game.
Tips for downloading the free files
Below you will see a large sign-up box where you need to add your name and email address, and press I NEED THIS NOW!
Within minutes you will be sent the free PDF directly to your email address, so you can print it out and start using it immediately.
Sometimes emails get a little wonky, so if you can't see it, please check your spam folder where I am sure it is hiding.
Download the free printable fire safety worksheets
Make sure you choose the correct paper size and click on the shrink to fit button. All of our free printables for kids work better when printed on cardstock (this is the one we use and love.)
Last Updated on 25 November 2023 by homeschoolof1