Elf on the Shelf Notes (30 Free Printables)
Level up your holiday game with these awesome free Elf on the Shelf notes, they're all about making the magic happen without breaking a sweat!
The holiday buzz is real as our mischievous Elf on the Shelf crew makes their annual appearance. We've had a blast with these elves for over 10 years now, and collected 5 along the way! And as time's gone on and our kiddo's grown, their magic's only gotten stronger.
Now, in honor of keeping the enchantment alive, I've put together 30 playful Elf on the Shelf notes. These aren't your ordinary notes, they're like the secret sauce that's spicing up our Elf shenanigans this year. Think of them as our tried and true playbook, simple yet super effective.
And let me tell you, these notes. These are one of our favorite Elf on the Shelf activities, and they are super easy.
**There may be affiliate links in this post. You can read my full disclosure at the bottom of the page.**
Tips on how and why to use printable Elf notes
These Elf on the Shelf notes are a great way to add a special something to the holiday season.
I have listed below what is on each of the free printable elf notes and some fun ideas on how you can incorporate holiday fun and free fun holiday activities for kids into each one.
Even if you have grand plans on creating epic Elf antics every day, I highly recommend you print these notes out just in case!
We have had the Elf visit for nearly 10 years now, and at the beginning, we planned lots of Elf on the Shelf antics and we were determined to never forget! Well, I have to tell you, we did! Multiple times.
We just didn't have the time to toilet paper the house, create a candy cane jail, or wrap up the kitchen cupboards every night!
So these notes are great to have even if they are only for an emergency! Print them out and leave them in the kitchen, where you keep your hidden chocolate, so the kids won't find them!
And when you are looking for last-minute ideas, just move the Elf to a new location and leave them with a note.
I have added blank notes too, so if your child has been well-behaved or has done really well in school, leave a note congratulating them on their good behavior.
Let's add a little Christmas magic to this Christmas season.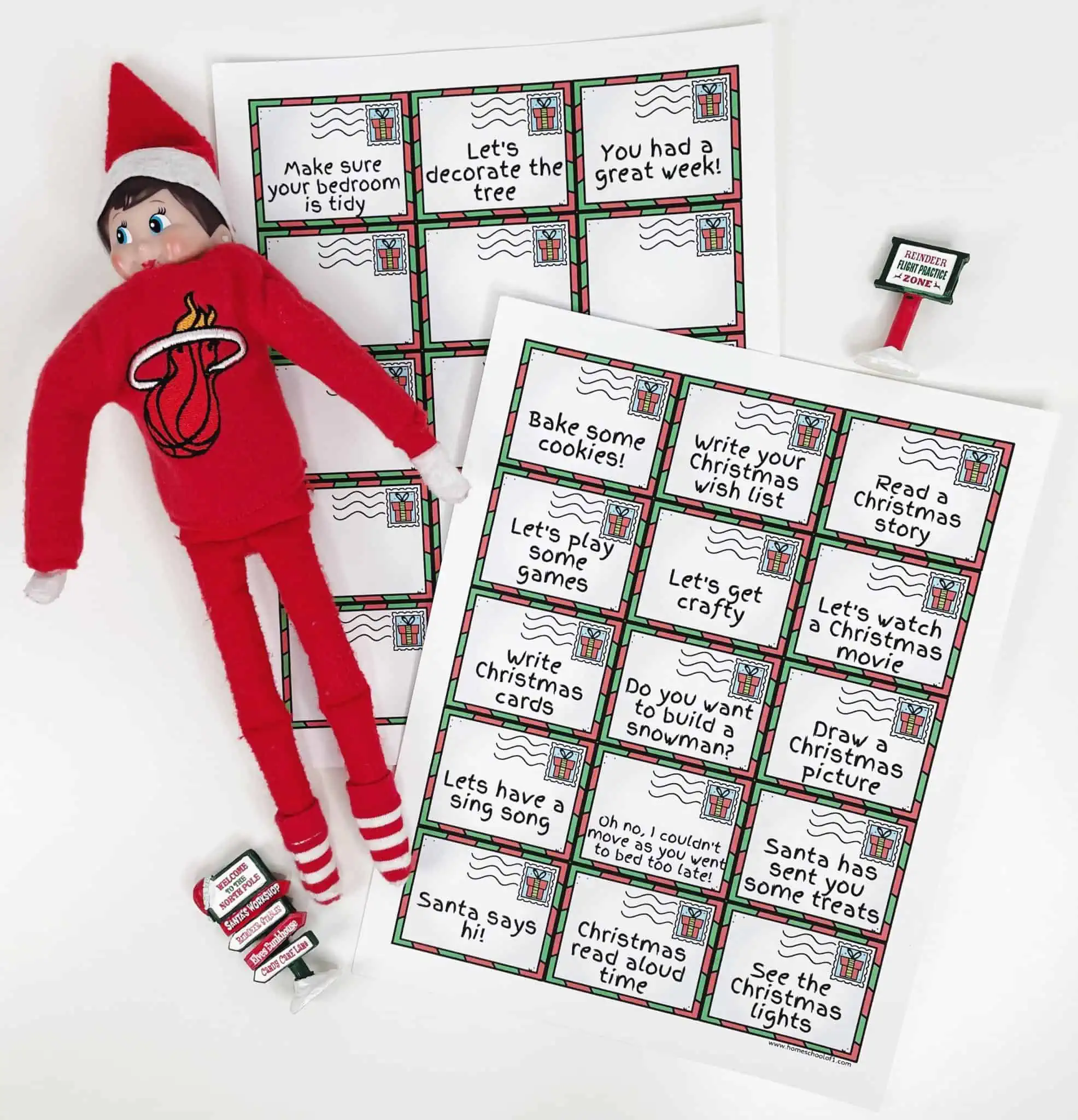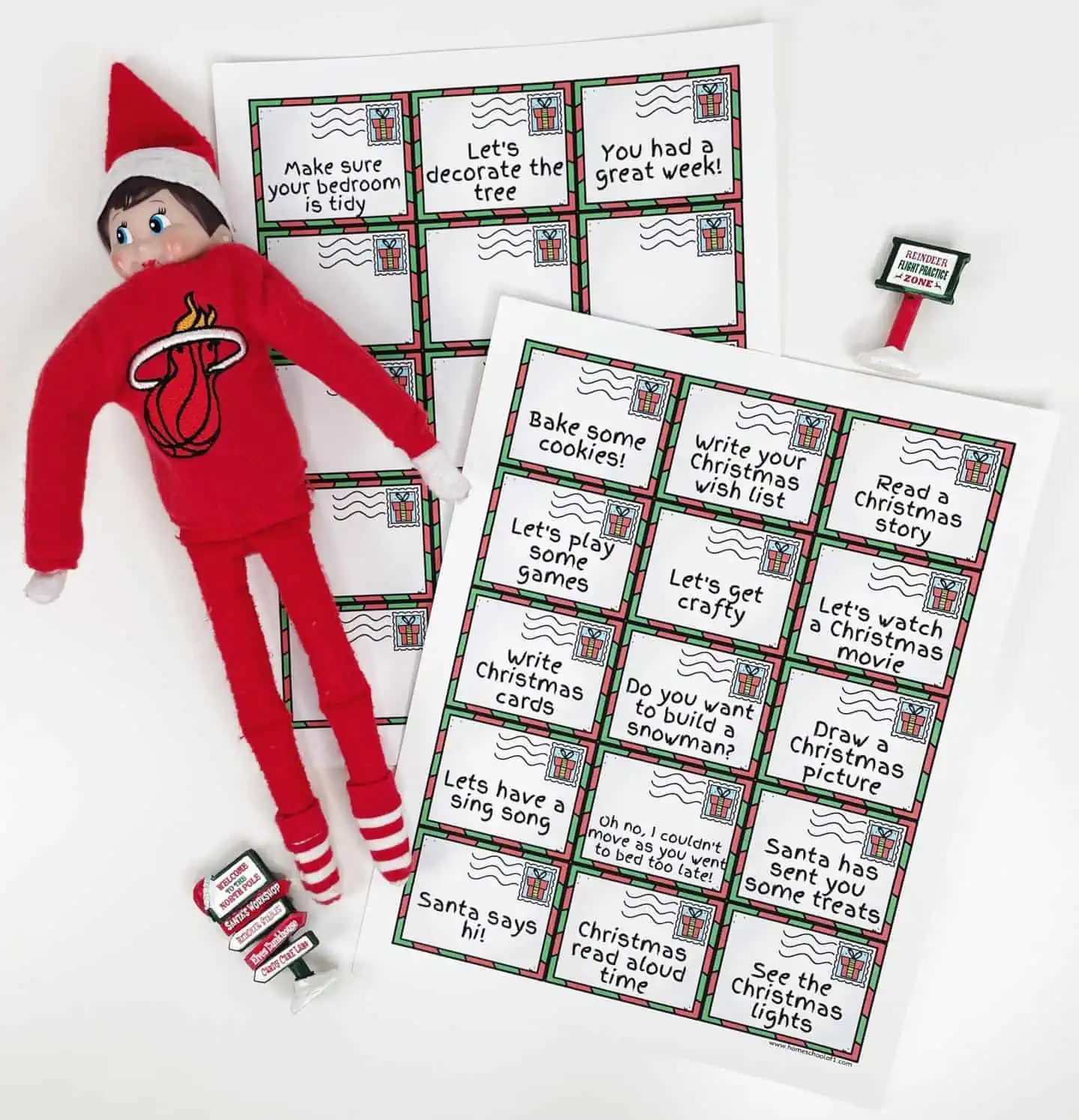 Elf on the Shelf Printable Notes
These free printable cards are free to print but are for personal use only. Scroll to the bottom of this post and add your email address to get the pdf file.
Download the free printable notes below, if the email doesn't come through within 5 minutes please check your junk folder. There are 4 pages included, 2 in color and 2 in black and white.
I have broken these Elf on the Shelf notes into two categories. One that comes with a little more planning, for example, leaving an activity for the child to do in the morning, and two that is just a note.
The Elf on the Shelf Plushee Pals – 17-inch The Elf on the Shelf Scout Elf Plush Toys Blue Eyed Boy- Huggable and Lovable Stuffed Elf Plush
World's Smallest The Elf On The Shelf, Multi
The Elf on the Shelf Search and Find
The Elf on the Shelf Insta-Moment Pop-Ups
The Elf on The Shelf: Letters to Santa – Send Shrinking Christmas Lists to Santa through your Elf- 20 Piece Gift Set Includes Magic X-mas Paper, Mrs Claus' Press, Ribbon Sashes, Markers, and Parchment
The Elf on the Shelf: Meet the Scout Elves (I Can Read Level 1)
To print out all 30 notes scroll to the bottom of the page and they will be emailed directly to you in less than a minute.
There will be 15 Elf on the Shelf notes per page and you will get 2 pages to print out. They of course look better when printed in color, but I have included a black and white version too.
I have also included 12 blank Elf notes that you can use when you have a special occasion coming up. So if you are visiting friends or family, or going to visit Santa Claus the next day, just use these blank ones.
I know what it is like to literally have no time, so those notes are a fun way to make it special.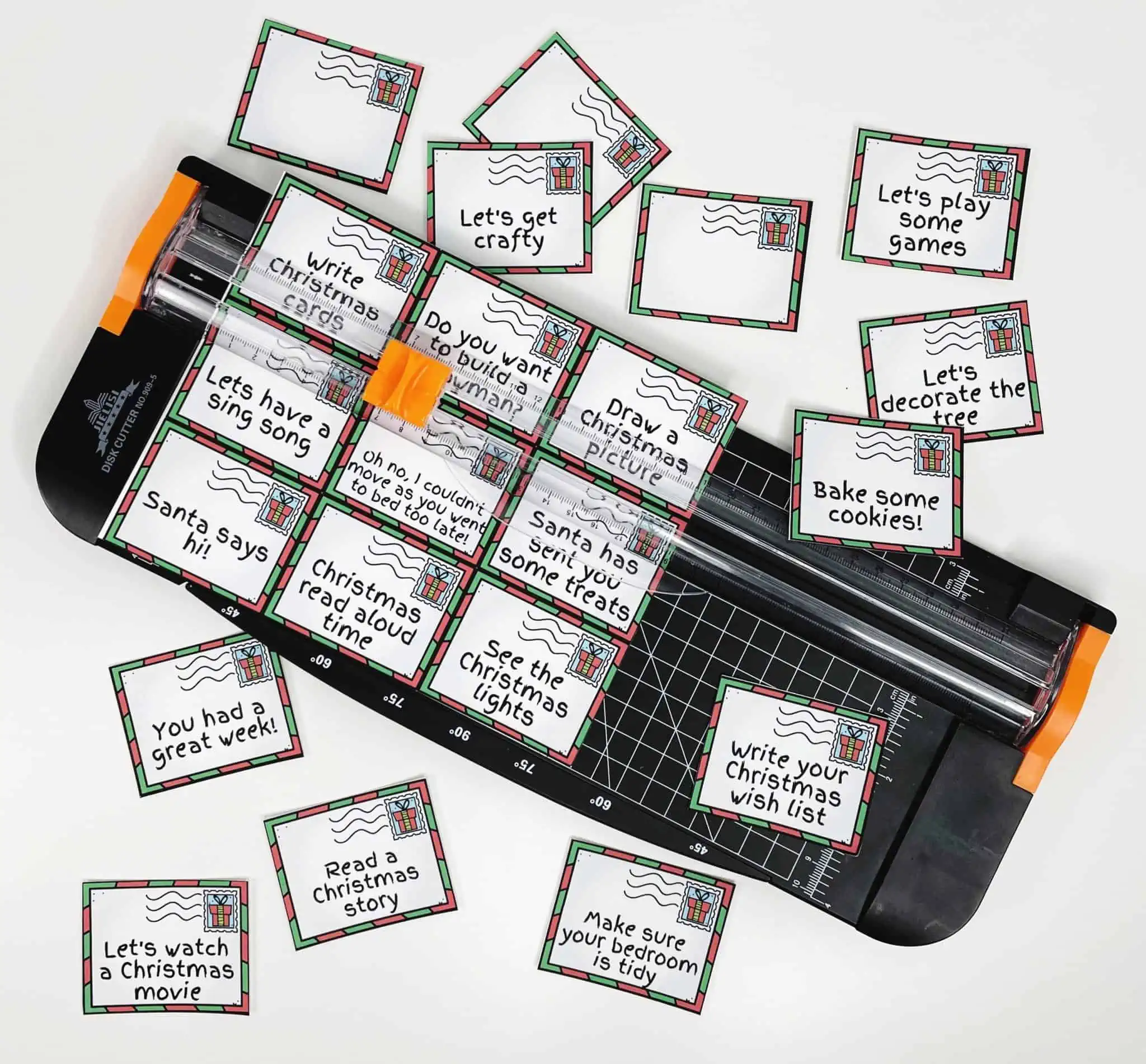 Elf Notes With Christmas Activities
Bake some cookies! This is a great Elf on the Shelf note to leave if you need some help with baking this year. We always as a family bake Christmas cookies for Santa on Christmas Eve at the very least.
Write your Christmas wish list. This is one of the first Elf on the Shelf notes we will leave. Mainly so I know for sure what he actually wants for Christmas! Download our free Santa wish lists today.
You know what the kids are like they change their minds so often.
If you are looking for Christmas gift guides check out the ones we have ( a lot of these are aimed at boys, but not all).
Let's play some games. I have put together a list of our all-time favorite Christmas board games that you can enjoy with the kids. Check out our Elf on the Shelf printable games too! I think you will also enjoy our free printable Elf memory game.
Read a Christmas story. This one is for kids that can read of course. My absolute favorite kid's book though is the Stick Man, in fact, it makes me cry, but it is a lovely picture book.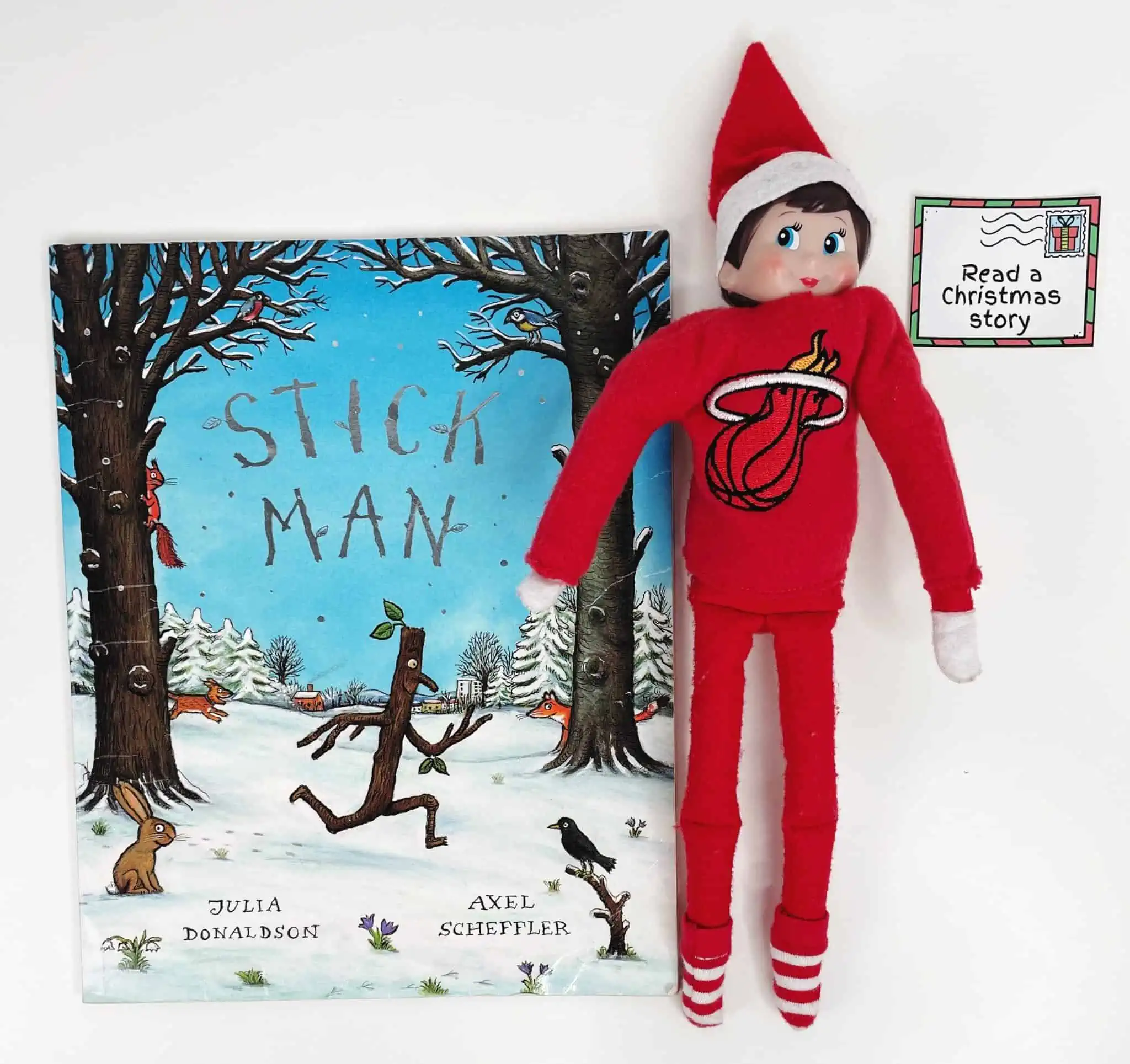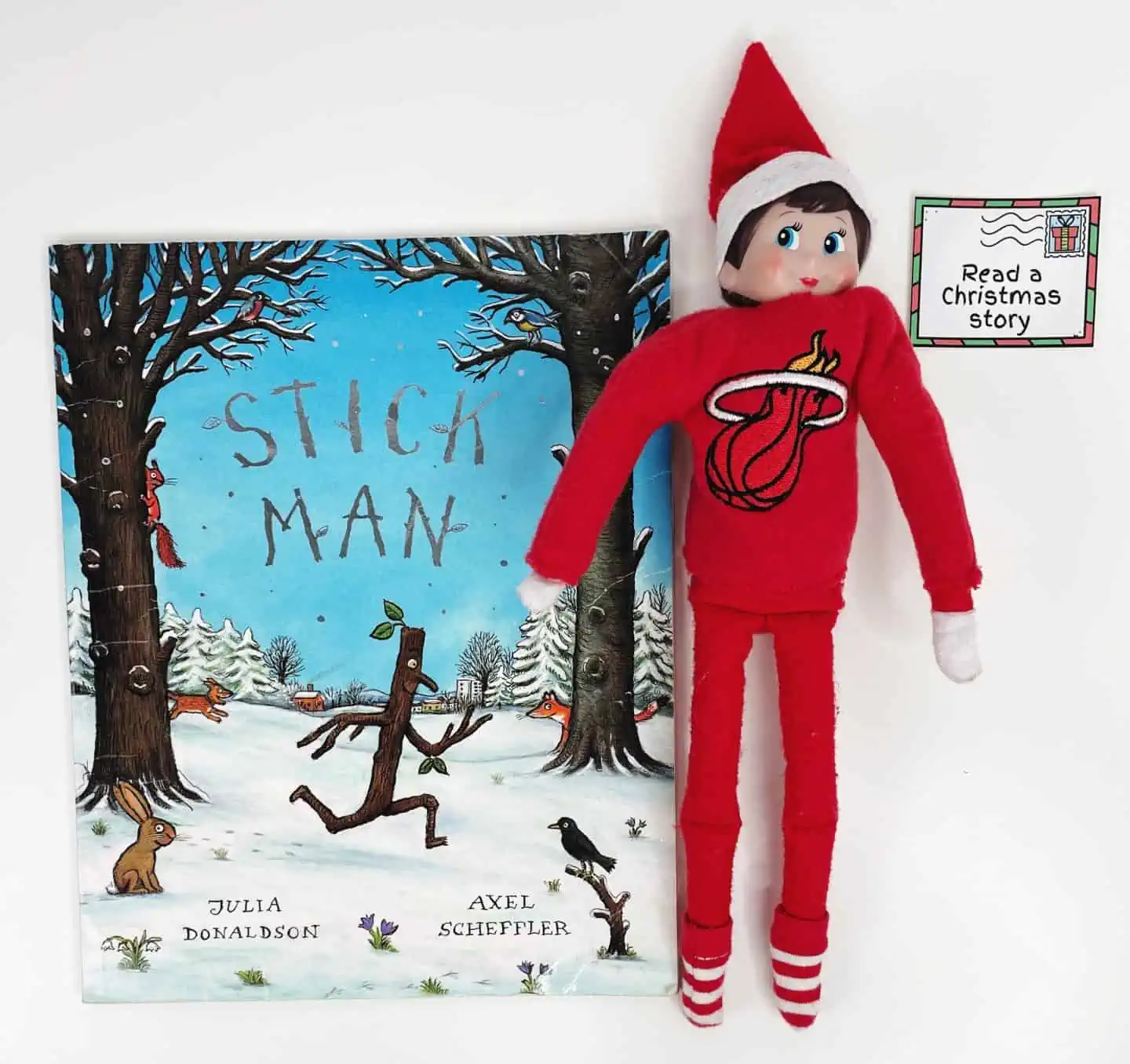 Let's get crafty. I love this one and always make time in December to either make new Christmas decorations or just a nice Christmas scene. We are not a particularly crafty family, however, in the month of December, we definitely do a lot more.
Write Christmas cards. Why not take it one step further and let the kids color in the Christmas cards this year? Download our free Christmas cards for kids to color for a really personalized treat.
Draw a Christmas picture. If the kids are not creative why not download our free printable Christmas coloring pages.
Christmas read-aloud time. Check out our favorite Christmas read alouds for kids of all ages. No matter the kid's age it is so nice to snuggle on the sofa at bedtime with a great Christmas book.
Let's decorate the tree. I would love to say I let my son help me decorate our Christmas tree but I would be lying!
So a few years ago I got a small one for his bedroom and ordered lots of kiddie-themed Christmas ornaments like this Star Wars one and let him decorate that one!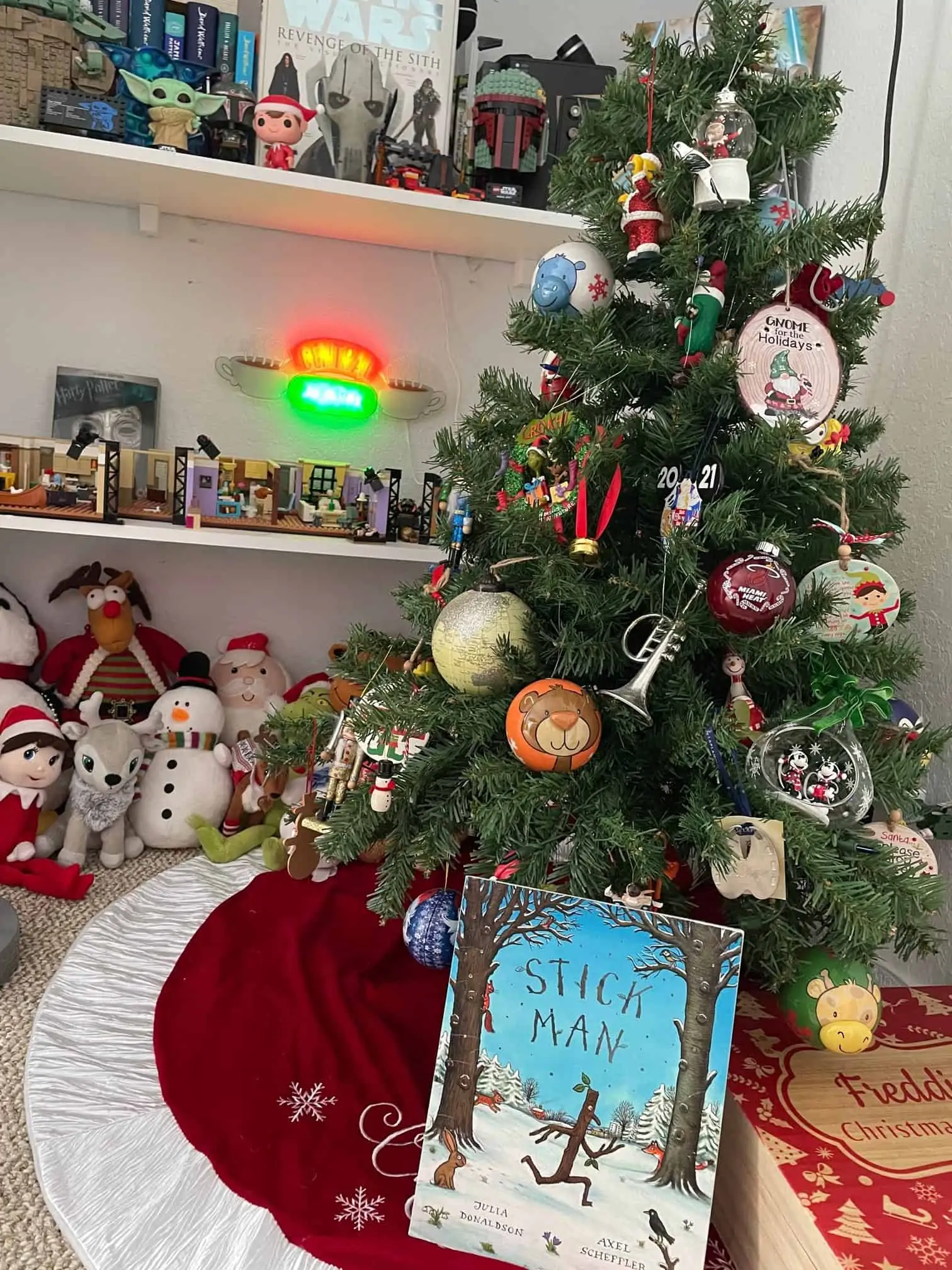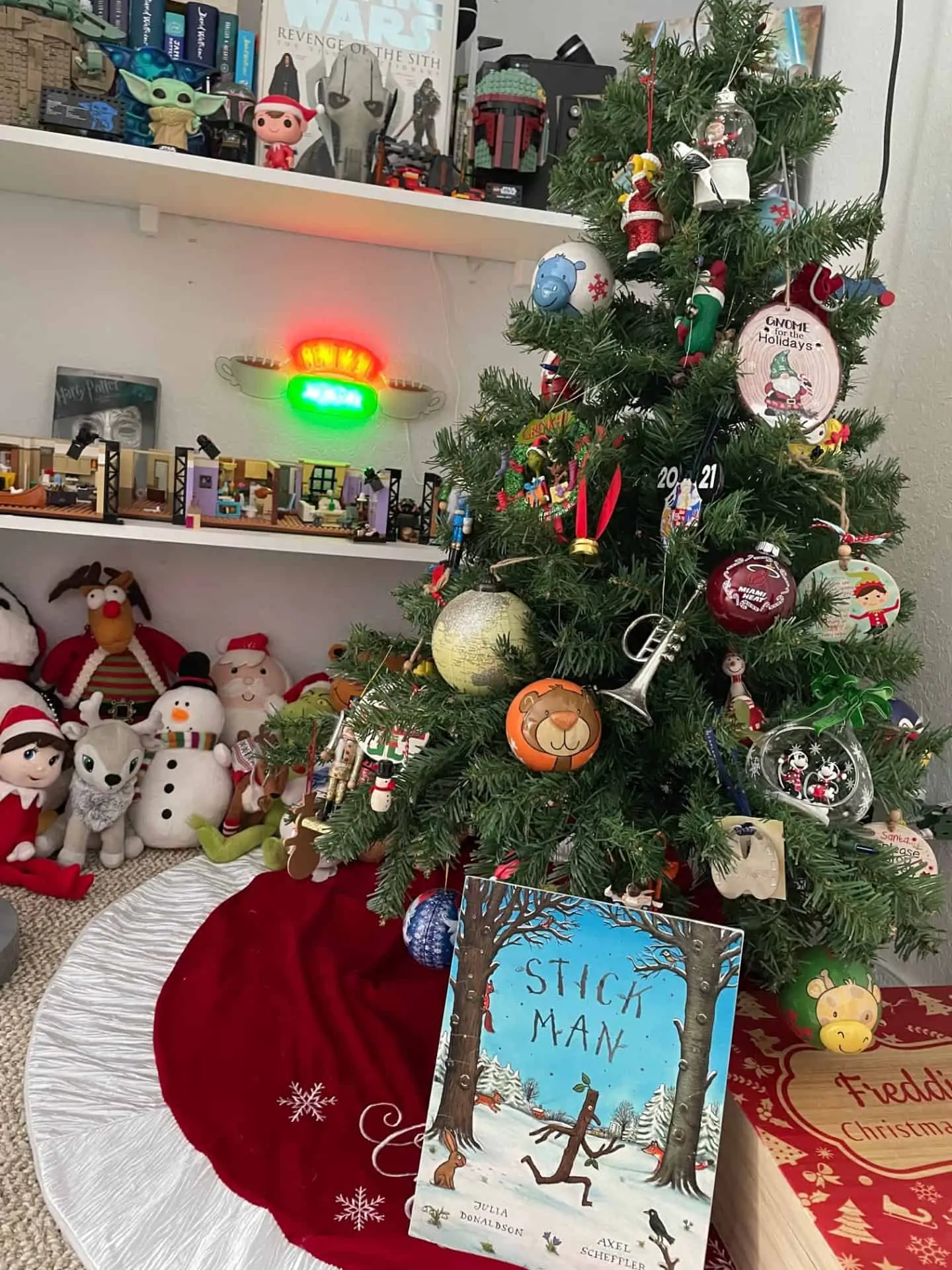 Elf printable notes for when you have no time to plan
Let's watch a Christmas movie. We love them all. My all-time favorite is Christmas with the Kranks, and my son's favorite is Home Alone. (All of them apart from the newest one, Home Sweet Home Alone which was particularly bad. If you have not watched it, don't!)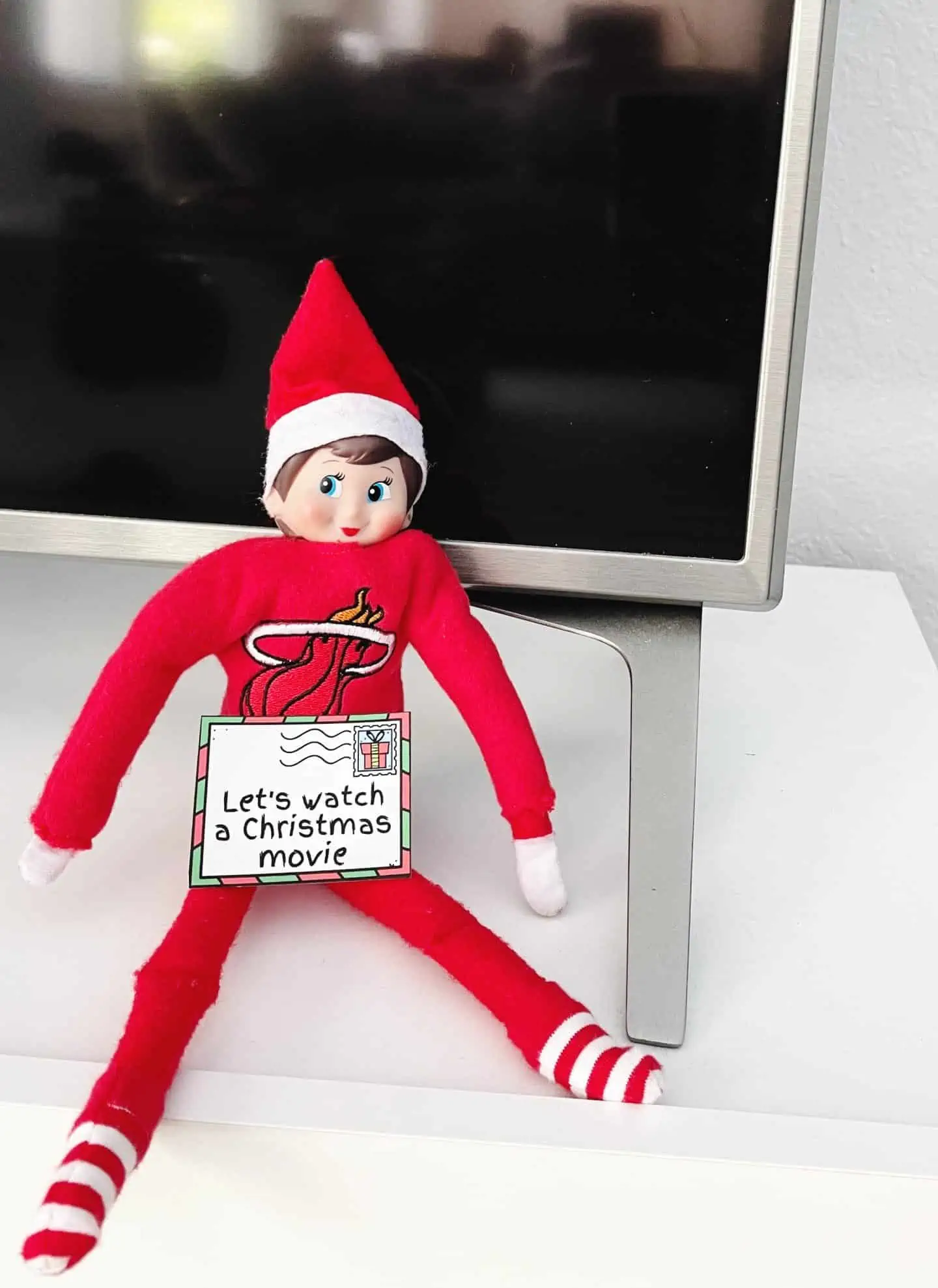 Santa has sent you some treats. A really easy one if you really have no time (I use this one at least 3 times!) Leave some candy canes or a small gift of Christmassy treats with the note and the elf.
Do you want to build a snowman? This I think depends on where you live! We, unfortunately, live in South Florida so there is no chance for us. But if you live where there might be snow this will be a fun Elf on the Shelf note to leave with the elf.
Let's have a sing-song. Well, who doesn't love a good sing-along? Or why not go caroling? As much as I love having carolers come to the house, there is no way I would put that on my neighbors. I sound like a screeching cat!
Oh no, I couldn't move as you went to bed too late. This is a great one if the kids have been a little naughty at bedtime.
See the Christmas lights. Take the kids for a walk, or a drive around the neighborhood when it gets dark to see everyone else's Christmas lights. We of course walk as it is still hot here, but when we lived in England we would get in the car and drive around.
Santa says hi! – another easy one! But it's such a cute one!
Make sure your bedroom is tidy. Santa is coming after all, and Santa can't visit children who have a messy room!!
You had a great week! We love to celebrate the good times. So I would leave this note with a little Elf on the Shelf gift, maybe a new Christmas ornament, or a Christmas book as a special treat.
12 blank Elf on the Shelf notes so you can create your own. Perfect if you are going to visit family, or have a day out.
Other free Elf printables
These are some of our favorite Elf on the Shelf printables
Download the free Elf on a Shelf Notes
Make sure you choose the correct paper size and click on the shrink to fit button. All of our free printables for kids work better when printed on cardstock (this is the one we use and love.)
Last Updated on 5 September 2023 by homeschoolof1