Free Letter V Coloring Page
Are you learning about the letter V? Then you are in the right place. This free letter V coloring page is part of our free printable alphabet coloring pages series.
This fun coloring sheet will have the kids color in the capital letter V plus images of items beginning with V.
I am also going to share our favorite letter V activities and printables that you can enjoy with your preschoolers.
**There may be affiliate links in this post. You can read my full disclosure at the bottom of the page.**
Free Printable Letter V Coloring Page
This is such an easy and fun way to learn the letter V and learn new words beginning with V.
This free letter V coloring page is free to print but is for personal or classroom use only. Scroll to the bottom of the page to get the pdf file.
Included in the uppercase letter V coloring page are the following images all beginning with V:
V is for vulture
V is for Valentine's
V is for vest
V is for vampire
V is for veterans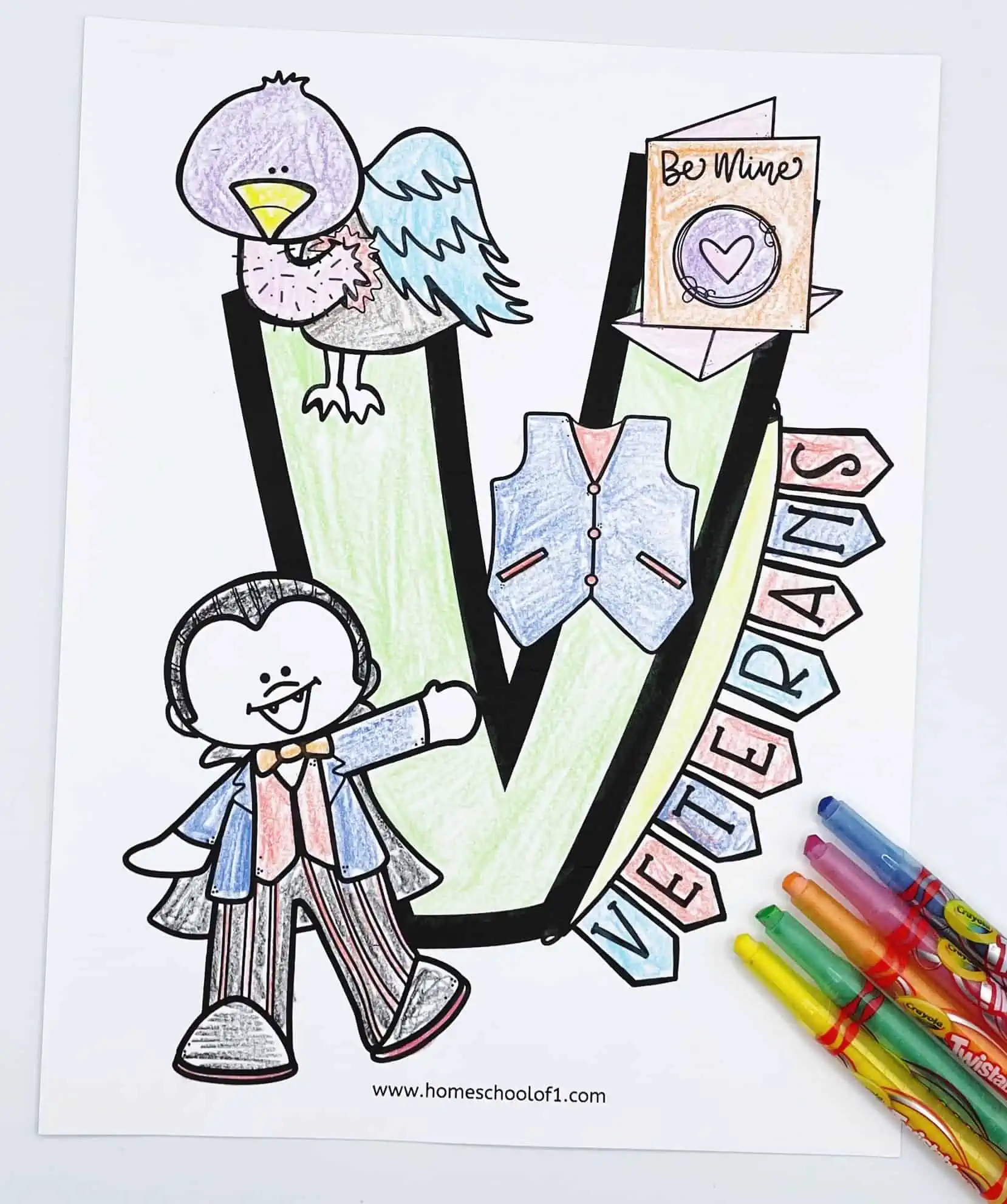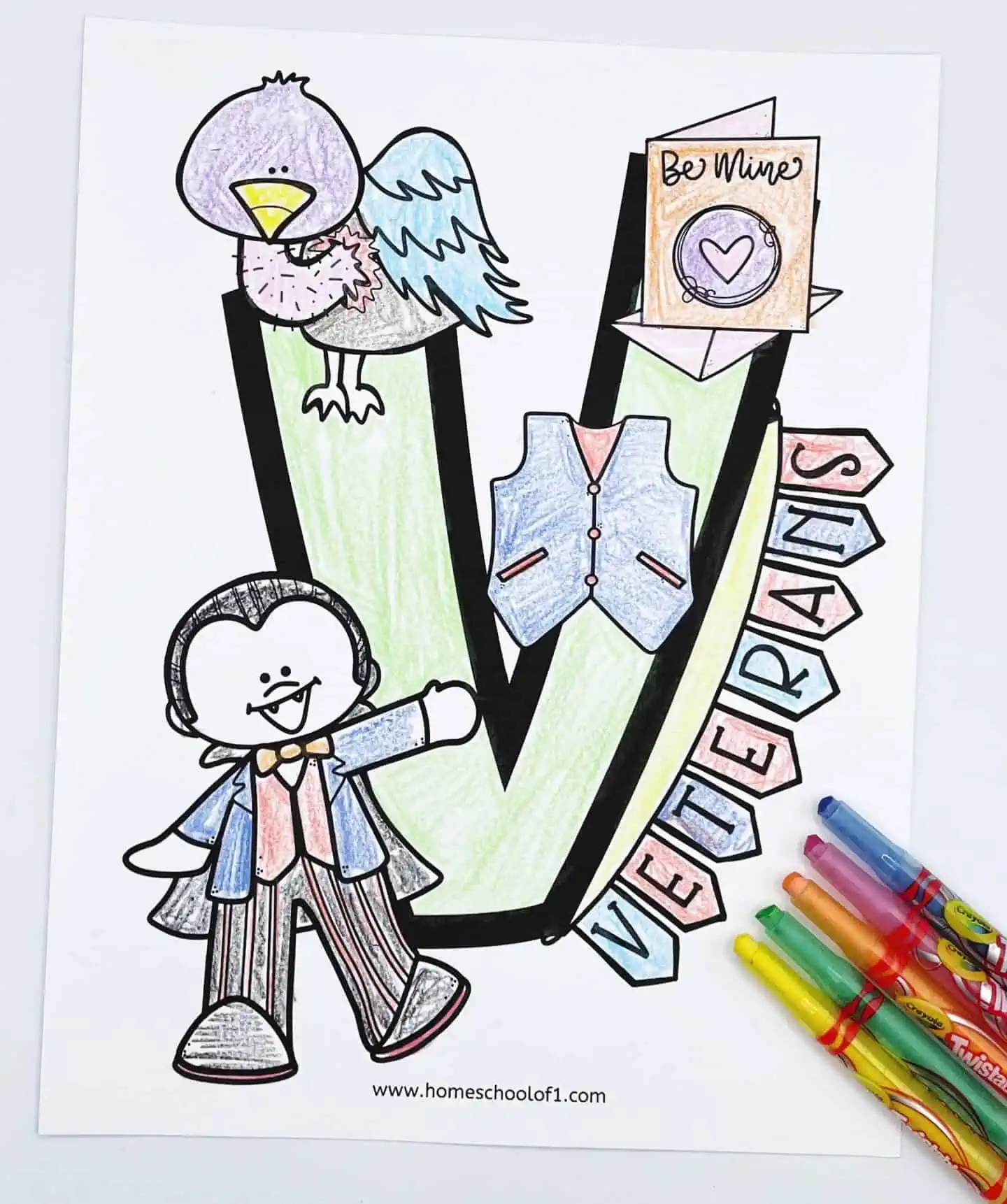 How to use the letter V coloring page
Print out the letter below, it will print out on one full page. Make sure to check the printer settings.
You can of course print this on normal printer paper, but they always look better on cardstock.
As there are so many things to color in try and get the kids to use lots and lots of different colors. It will make it stand out so much more.
When the kids have finished have them display it on their bedroom or classroom wall. This will be a great visual aid when they are learning the alphabet.
The most important thing though is just to have fun!
Why use a letter V coloring page with your preschoolers?
Using a letter V coloring page with your preschoolers has several benefits. It helps them become familiar with the letter V and strengthens their letter recognition skills.
Coloring also enhances their fine motor skills as they hold and manipulate coloring tools. Additionally, it encourages creativity and self-expression as they choose colors and patterns for their letter V.
Incorporating coloring pages into your preschool activities is a fun and interactive way to reinforce letter learning while fostering their artistic development.
Letter V Worksheets & Activities
For even more letter V activities that I know you are going to love: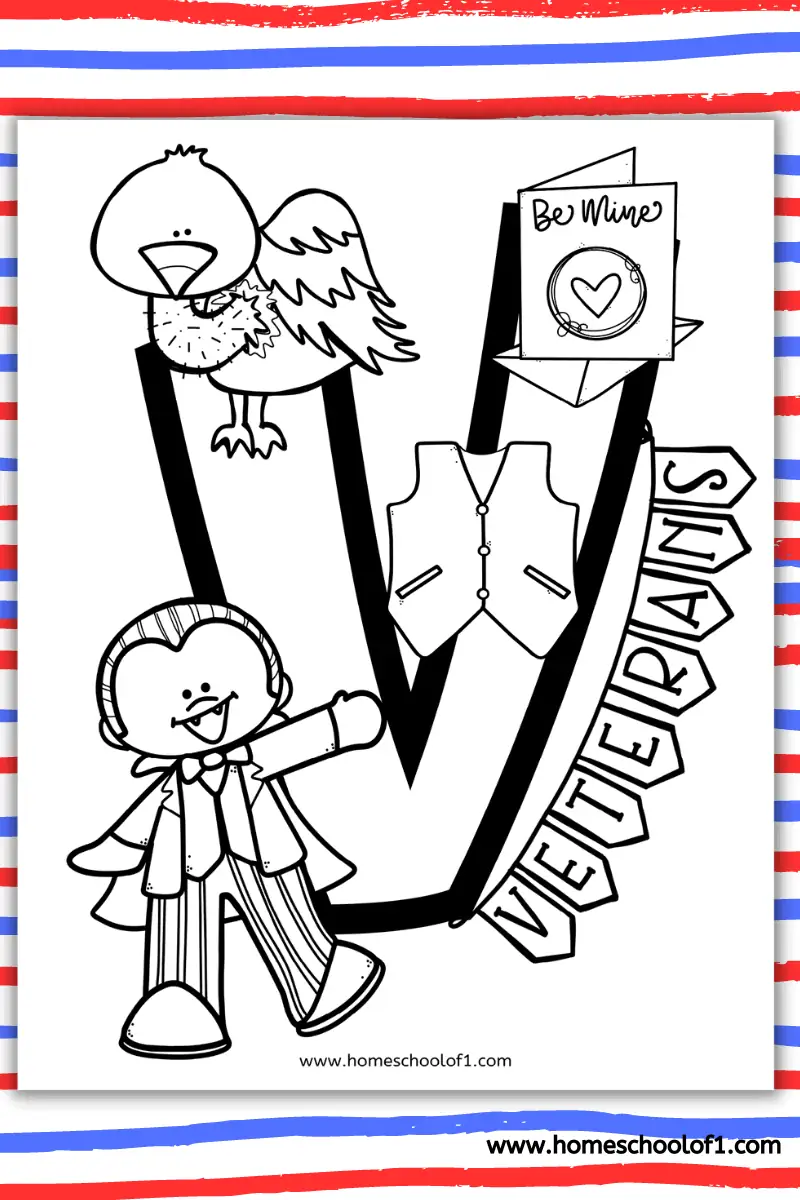 Letter v books for preschoolers
These letter V books captivate young readers with engaging stories, vibrant illustrations, and valuable life lessons.
They promote early literacy skills, expand vocabulary, and spark imagination in preschoolers. Enjoy exploring these books together and watch their love for reading grow!
The Very Hungry Caterpillar: Join a caterpillar on its journey as it eats its way through various foods, eventually transforming into a beautiful butterfly. This classic picture book introduces preschoolers to the concept of growth, counting, and the wonders of nature.
Vegetables in Underwear: Get ready for a giggle-inducing book that explores the world of vegetables and their choice of underwear! With vibrant illustrations and humorous text, this book introduces preschoolers to different vegetables and colors in a playful and entertaining way.
The Velveteen Rabbit: Follow the heartwarming story of a toy rabbit who longs to become real through the love of its owner. This timeless classic introduces preschoolers to themes of friendship, love, and the power of imagination.
Tips for downloading the free files
Below you will see a large sign-up box where you need to add your name and email address, and press I NEED THIS NOW!
Within minutes you will be sent the free PDF directly to your email address, so you can print it out and start using it immediately.
Sometimes emails get a little wonky, so if you can't see it, please check your spam folder where I am sure it is hiding.
Download the free letter v coloring worksheet
If you want to grab all of the letters of the alphabet in one place, you can purchase them here for a small fee. Or for a massively discounted price grab these handprint alphabet printables along with our new alphabet handprints in our 52-page bundle.
Make sure you choose the correct paper size and click on the shrink to fit button. All of our free printables for kids work better when printed on cardstock (this is the one we use and love.)
Last Updated on 29 November 2023 by homeschoolof1