Free New Year's Resolution Printable For Kids in 2024
New Year's Eve is a great time for kids to think about their new year's goals for the year ahead. It's a tradition I've always cherished, and this year, I'm involving my son. We've created a free New Year's resolution printable for kids to inspire them.
It is important to start the year as you mean to go on, and if it is written down to go back to in a couple of weeks it is more likely to be continued.
The New Year's resolutions for kids should not be anything too challenging or unobtainable. You don't want them to fail within the first week!
I've got 4 fantastic New Year's Eve activities for kids in printable format, ready for you to download and enjoy with your children.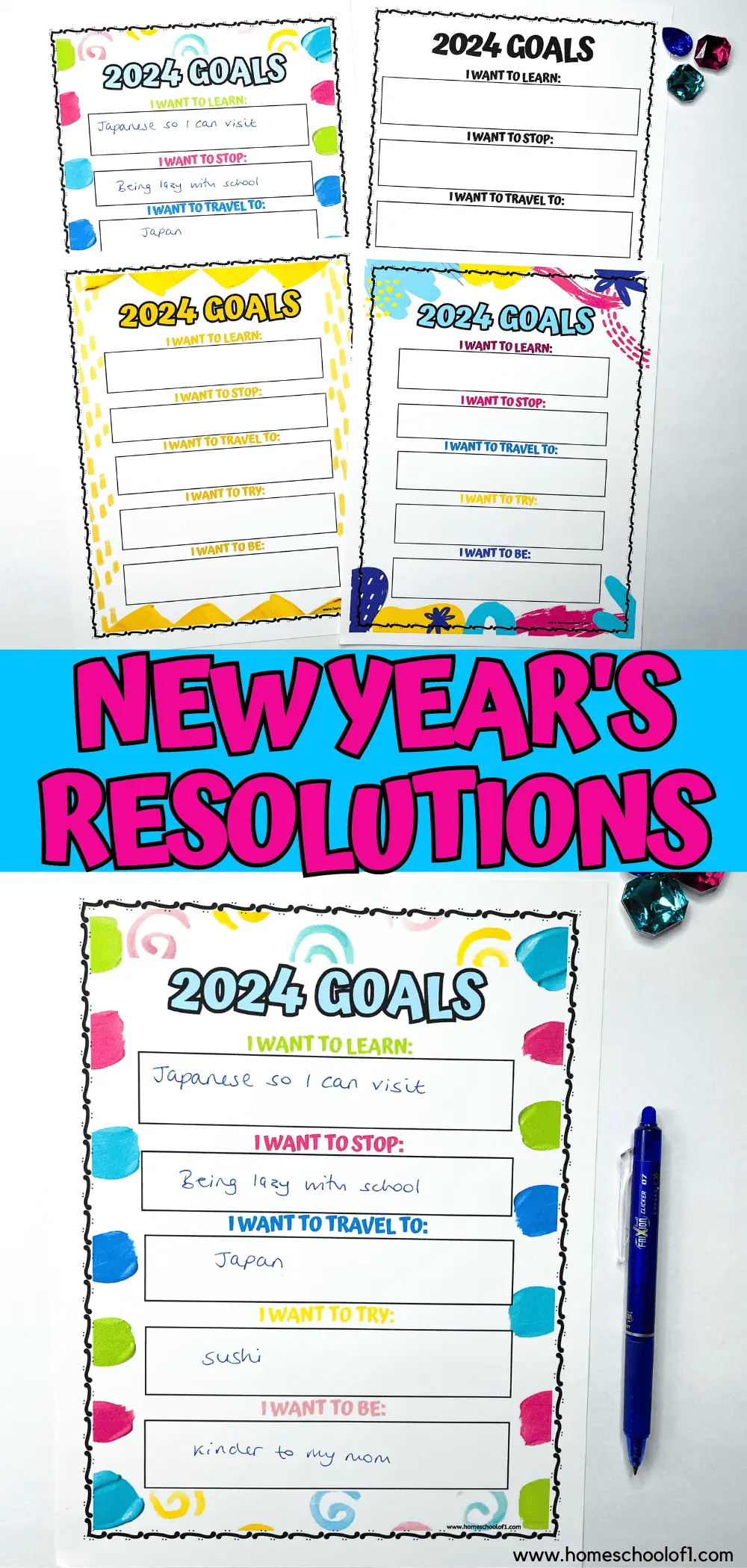 **There may be affiliate links in this post. You can read my full disclosure at the bottom of the page.**
The Importance of Kid Friendly Resolutions
Setting kid-friendly resolutions is a crucial step in nurturing a child's personal growth and development.
By encouraging children to set new goals, we empower them to take control of their aspirations and dreams from an early age.
Goal setting instills a sense of responsibility, boosts self-esteem, and teaches vital life skills such as time management and perseverance.
Plus, it fosters a sense of accomplishment as kids work towards and achieve their aspirations. Instilling confidence in their ability to shape their future.
Top New Year's Resolutions for Kids
These free New Year resolutions are for personal use only, scroll to the bottom of the page to get an instant download to the digital file.
The 4 worksheets are broken down into the following sections. I have also added some kid friendly New Years resolution ideas for each question.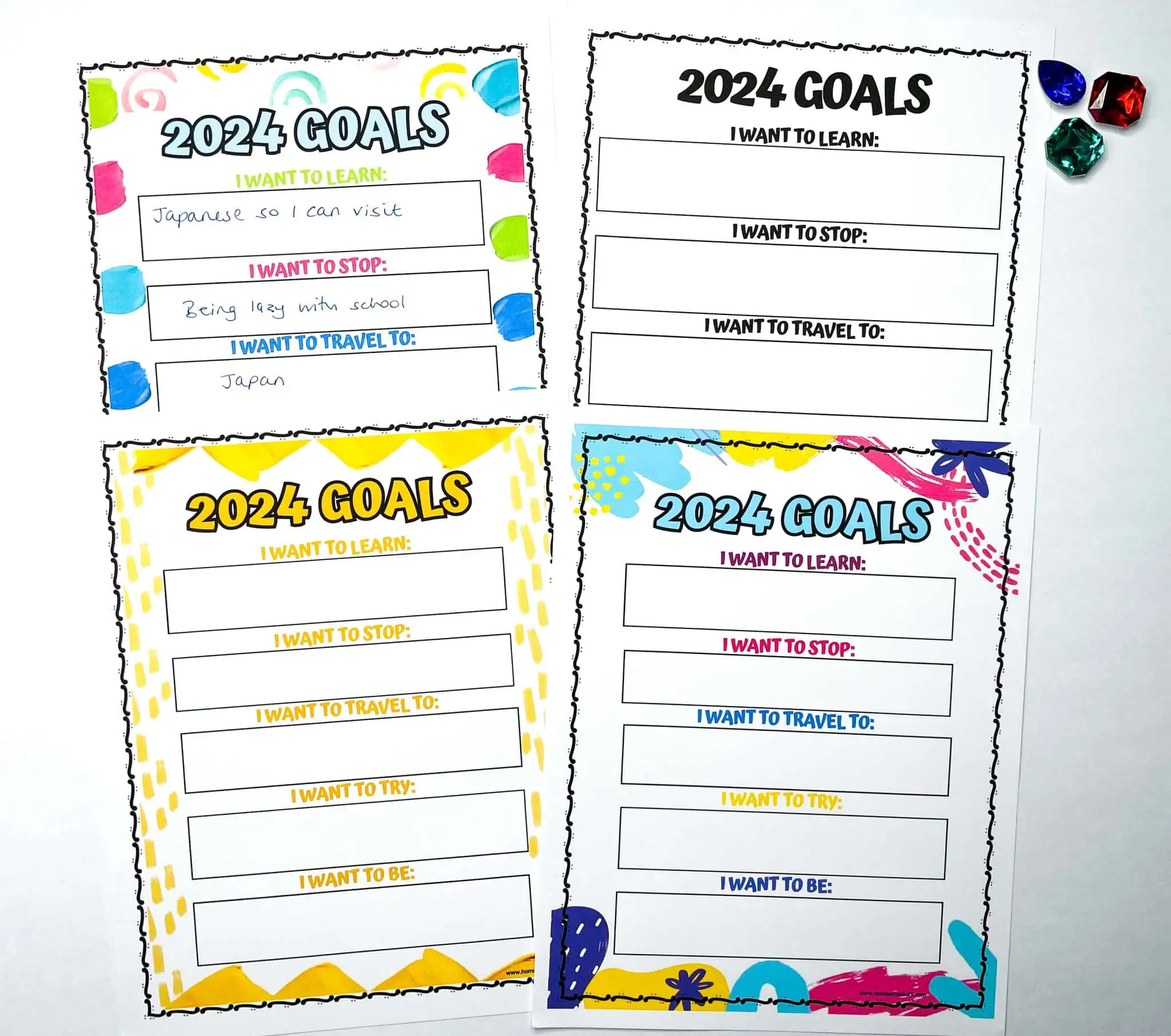 I want to learn
Kids can express what they are eager to learn or explore in the upcoming year.
It encourages them to think about acquiring new skills, knowledge, or interests. Fostering a sense of curiosity and personal growth.
You will also enjoy our New Year's Eve reflection questions
I want to stop
This section invites children to reflect on new habits or behaviors they wish to leave behind in the old year.
It encourages self-awareness and the importance of recognizing areas for improvement.
Arguing with Mom and Dad,
Playing on my Xbox or Playstation too much,
Eating too much candy,
Leaving out toys and books when I have finished with them,
Saying I'm bored (I highly recommend playing the say yes to everything challenge!)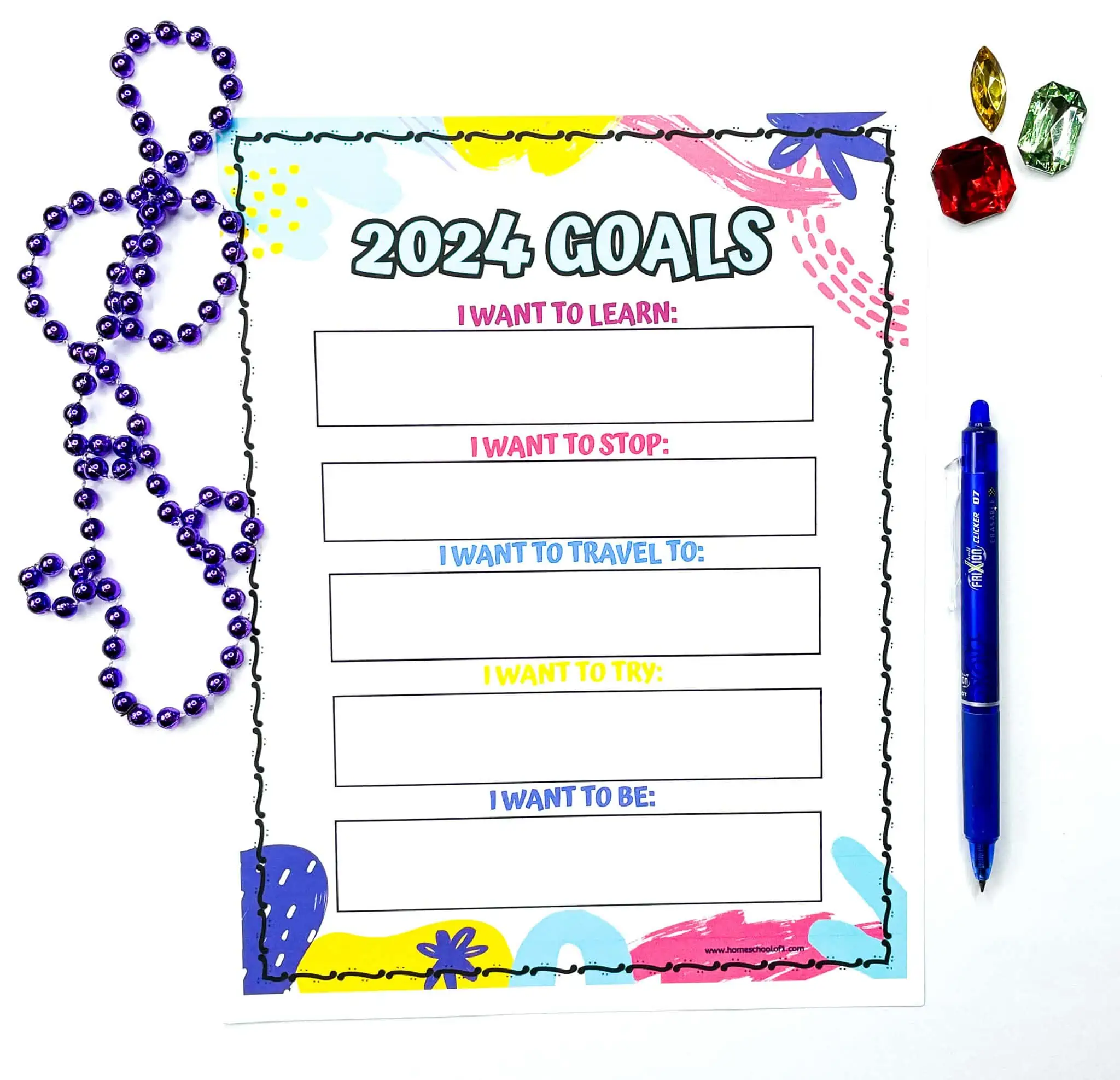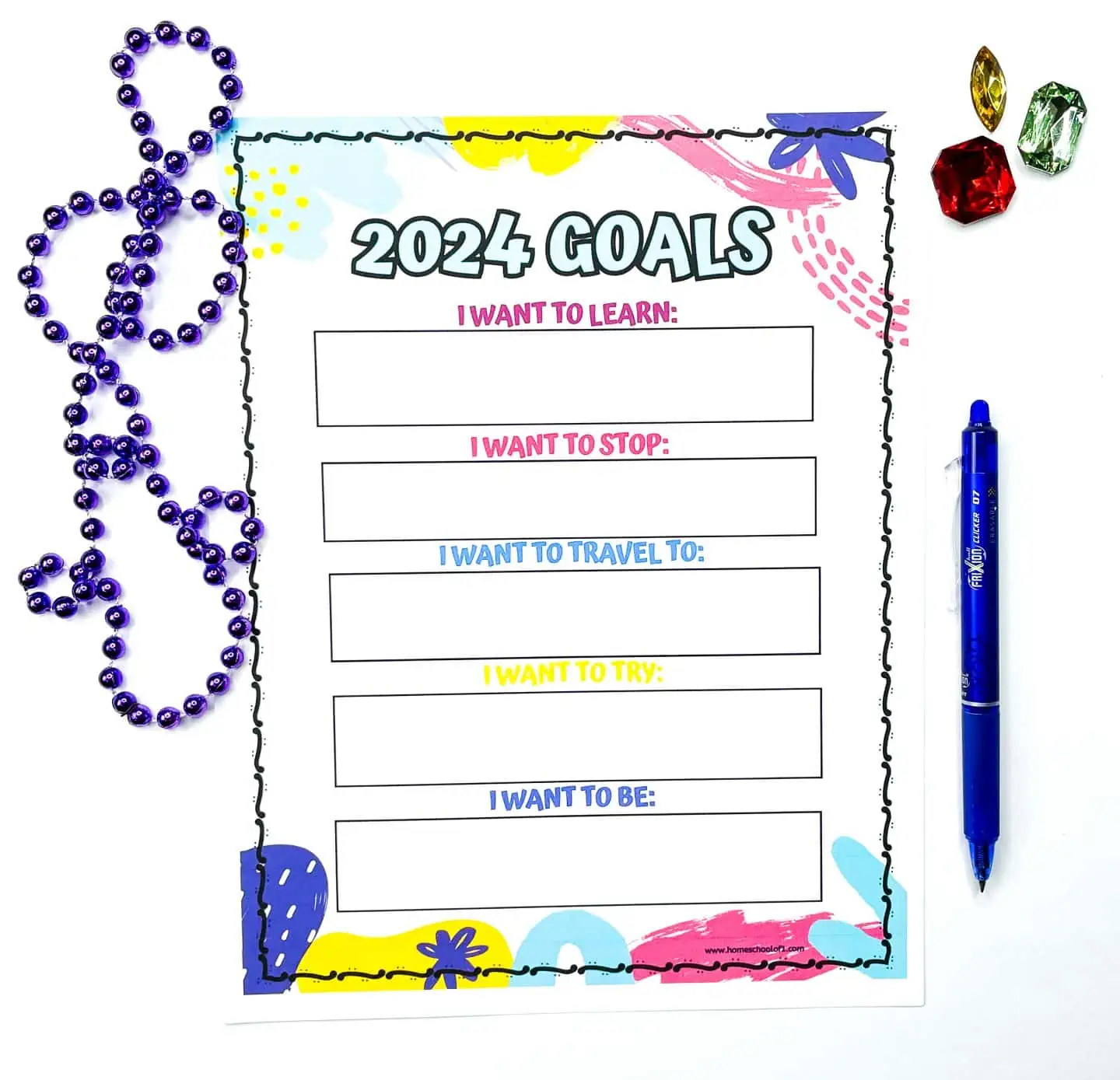 I want to travel to
This question allows children to dream about exciting destinations they would like to visit.
It encourages geographical and cultural exploration. Helping them broaden their horizons and discover the world.
San Diego for Comic Con!
Orlando to go to Disney,
New York to go to the theater,
Atlanta to the Coke Museum,
Miami to see the Miami Heat play.
I want to try
Here, kids can jot down new experiences or activities they want to try for the first time.
This section stimulates creativity and adventurous spirit, promoting a sense of exploration and open-mindedness.
My hardest in homeschool (check out all of the best homeschooling resources)
To keep my bedroom tidy!
To play basketball every day to get fit (check out our top basketball gifts for boys, if you also have a huge basketball fan!)
and be green, by recycling more,
To read a new book every 2 weeks (or day, month, or week depending on the age of your child.)
To do my chores without being asked (download our free printable chore cards.)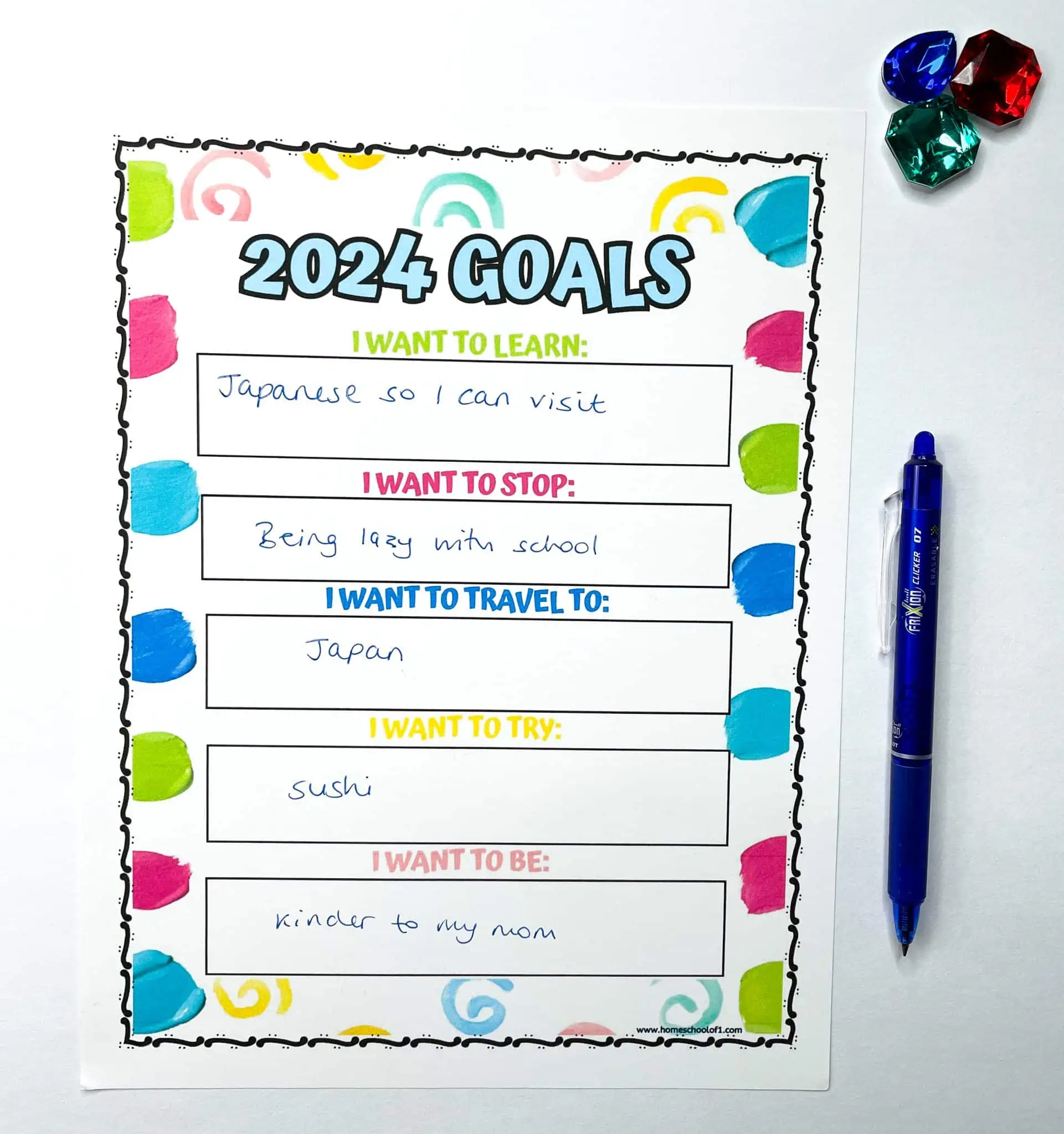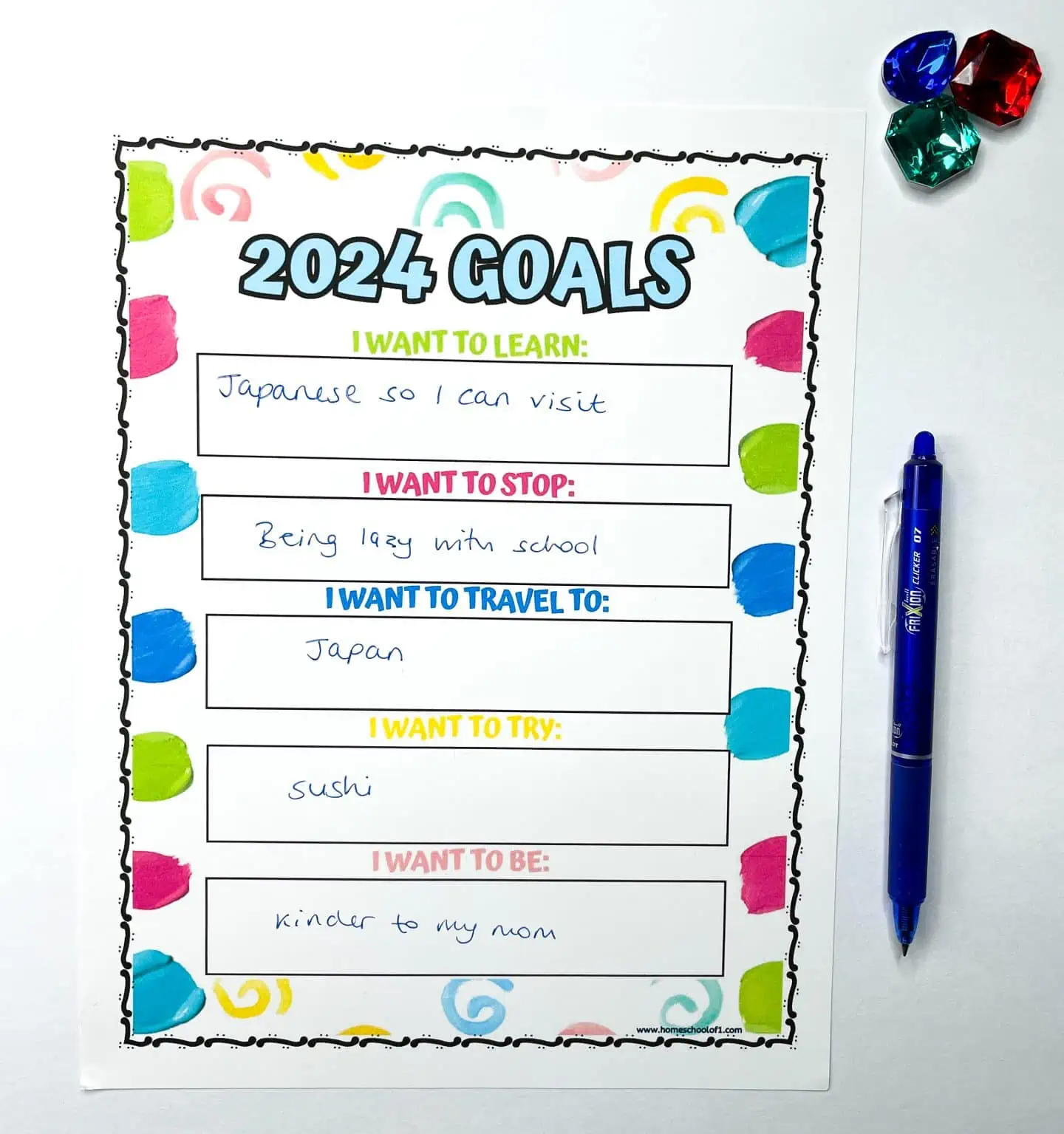 I want to be
This section encourages children to envision the type of person they want to become.
It's an opportunity for them to set character-based goals.
Such as being kind, confident, or resilient, which contributes to their emotional and personal development.
Able to calm down on my own without my Mom giving me activities to do
Nice every day!
Helpful to my Mom and help around the house
Fit and healthy
Financially prepared (check out our favorite financial literacy curriculum, Moneytime)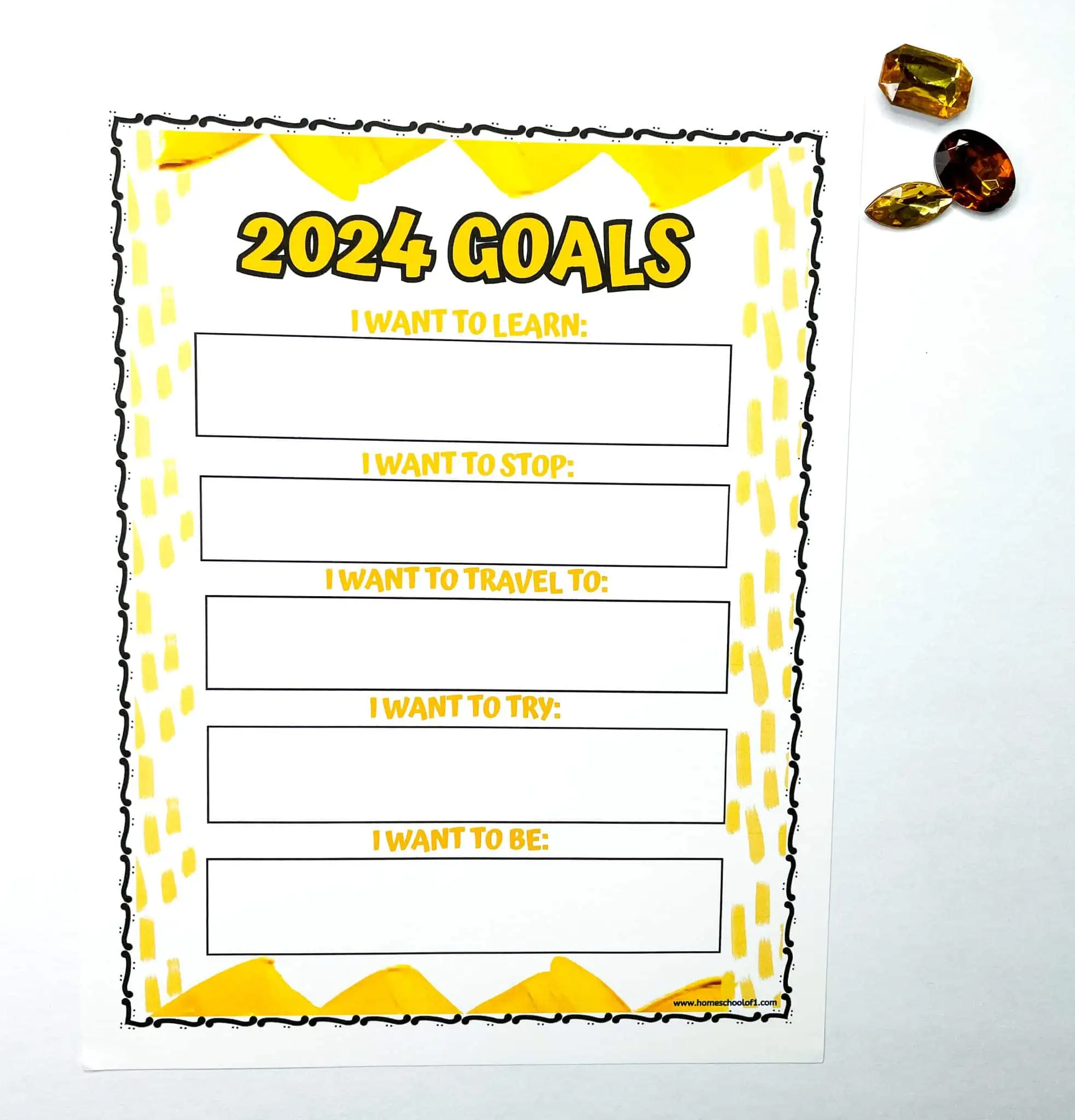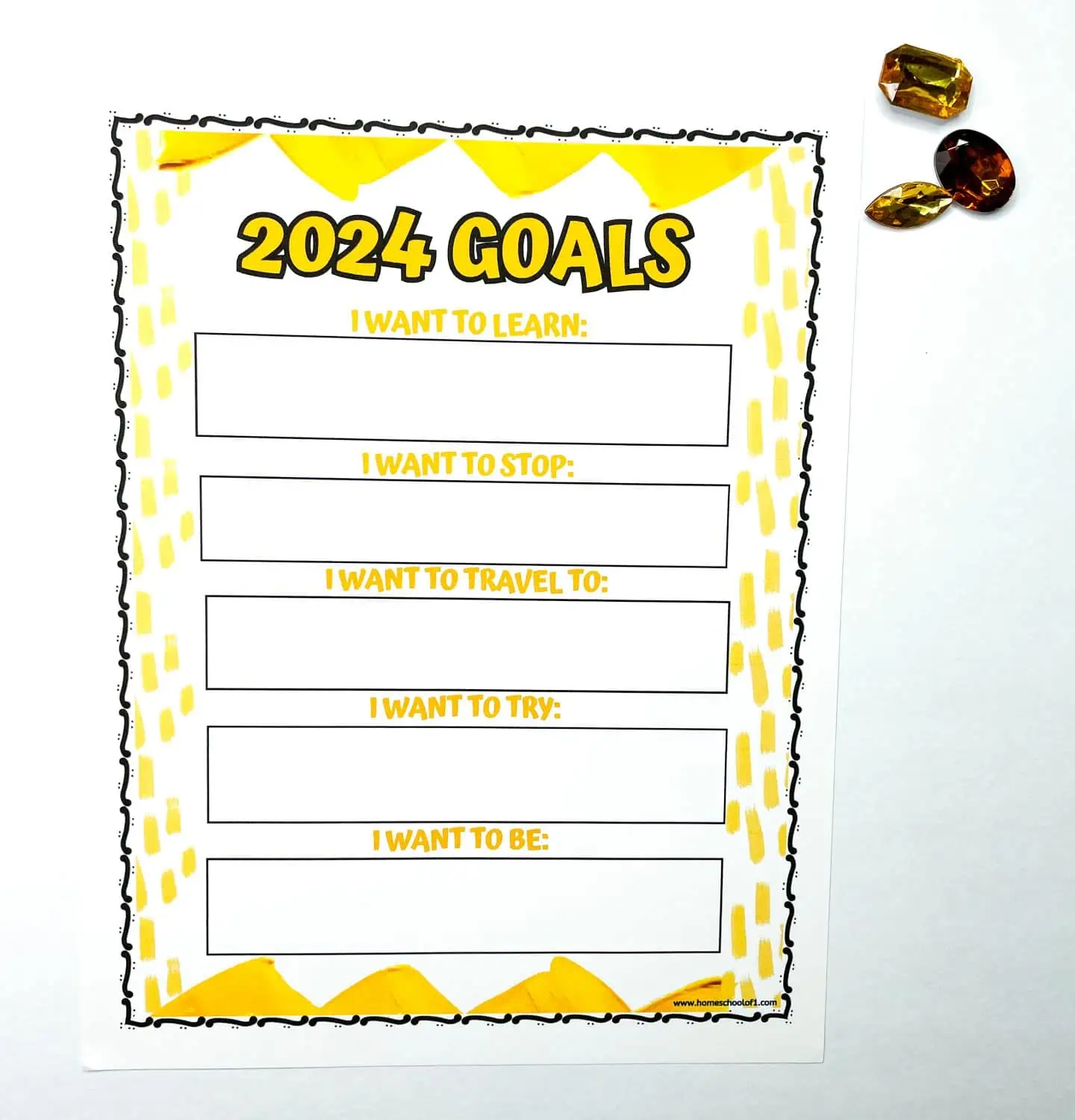 Tips for Guiding Kids Through Resolution Setting
Encourage children to set resolutions with these top tips:
Provide children with a supportive and non-judgmental atmosphere in which to discuss and set their resolutions. Encourage them to express their thoughts, fears, and hopes freely.
Designate a specific time to sit down with your child and discuss resolutions. This shows that you value the process and are willing to invest time in their personal growth.
Tailor your language and explanations to your child's age and comprehension level. Avoid jargon or complex terms that might confuse them.
Instead of dictating resolutions, ask open-ended questions to stimulate their thinking. For example, "What is something new you'd like to learn this year?" or "Is there a habit you'd like to improve?"
While it's important to offer suggestions, avoid dictating resolutions. Encourage children to think independently and choose resolutions that resonate with them.
Help kids reflect on their past experiences, both positive and challenging, to inform their resolutions. Discuss what went well and what they'd like to improve.
Teach children the concept of S.M.A.R.T. goals (Specific, Measurable, Achievable, Relevant, Time-bound). This framework makes resolutions more concrete and attainable.
Emphasize the importance of celebrating even the smallest achievements along the way. Positive reinforcement is motivating and helps maintain enthusiasm.
Discuss the idea that setbacks and failures are a natural part of pursuing bigger goals. Encourage resilience and the ability to learn from mistakes.
Encourage children to write down their resolutions, either on a printable worksheet or in a journal. Having a physical record can serve as a reminder and a source of motivation.
Incorporate creativity and fun into the goal-setting process. Consider creating vision boards, using colorful markers, or even turning it into a family activity.
After the initial goal setting session, establish regular check-ins to review progress, discuss challenges, and provide ongoing support.
Share your own resolutions and progress with your child. Demonstrating your commitment to self improvement sets a powerful example.
Understand that children may change their minds or encounter obstacles along the way. Patience and flexibility are key when guiding them through the resolution process.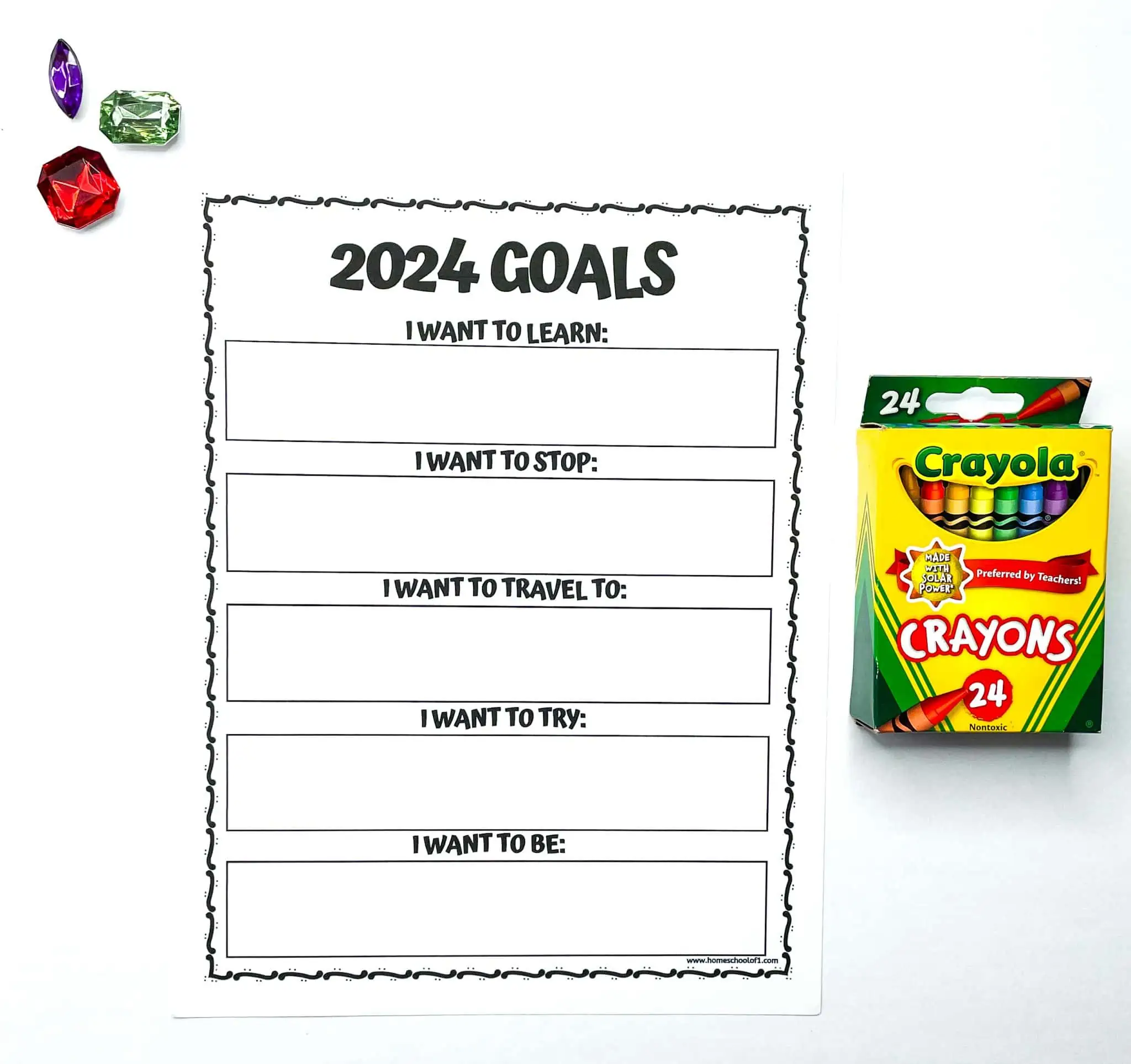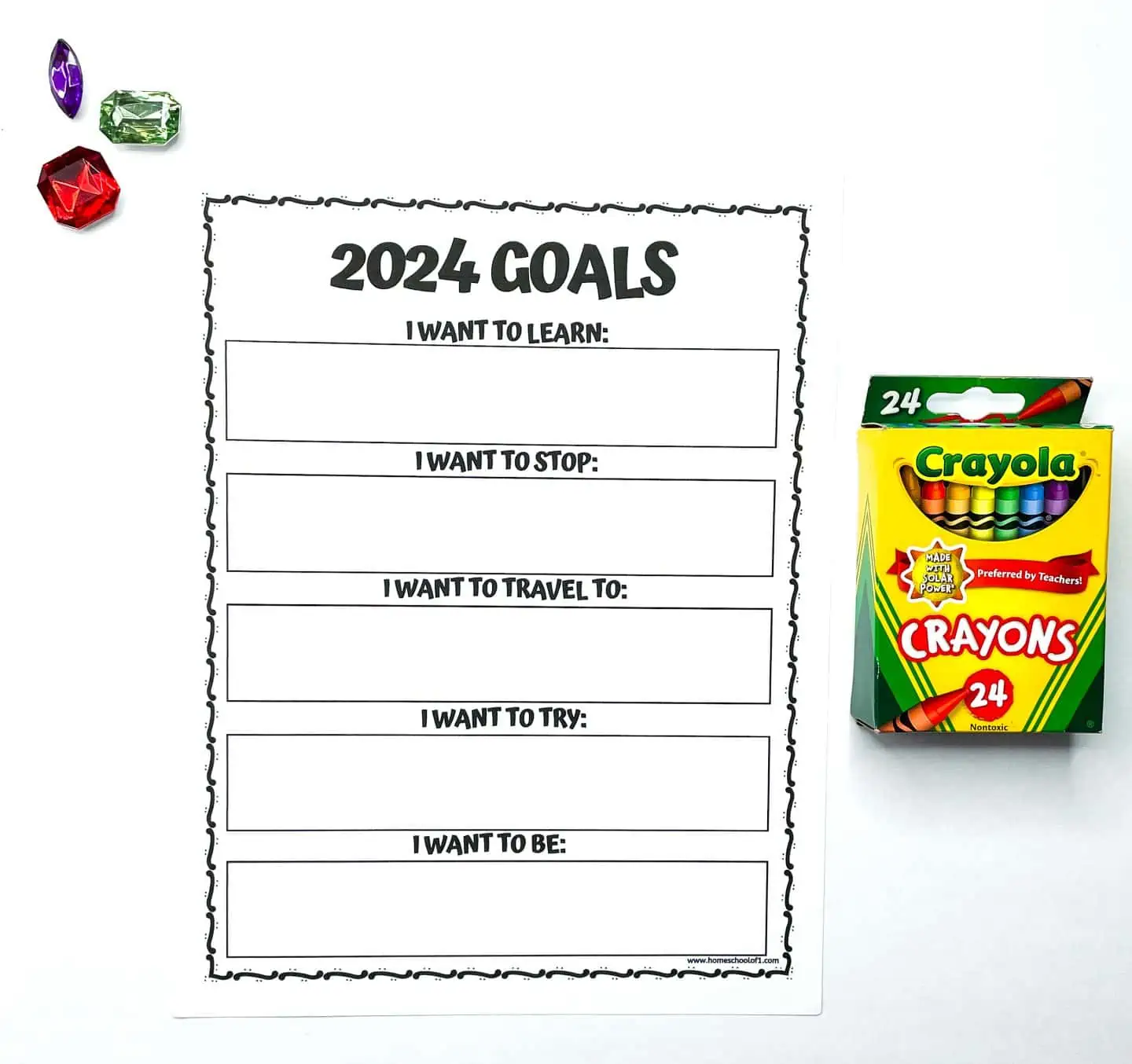 Tracking Progress and Celebrating Achievements
Monitoring and acknowledging success is a pivotal part of helping kids stay motivated and committed to their New Year's resolutions.
To keep them on the path to success, offer practical tips such as using progress charts, journaling, and breaking down goals into manageable milestones.
Emphasize the significance of positive reinforcement. Both from within themselves and through external celebrations. Fostering a sense of self-accomplishment and a can do attitude.
Other New Year activities you will enjoy
Discover more exciting New Year's Eve activities that your kids will enjoy.
Engage in a fun New Year's word search printable, challenge them with a New Year's word scramble, and create memories with questions for a time capsule.
You can also set the stage for the best year yet with a New Year's bucket list.
These activities offer a great way to reflect on the past year, welcome a fresh start, and set positive changes and big goals for the coming months.
Whether you're planning lesson plans or simply having fun as a family, these activities provide a fantastic opportunity to bond and set your own goals in a lighthearted and interactive way.
Get ready to celebrate the end of the year and begin the next with these engaging printables.
Tips for downloading the free files
Below you will see a large sign-up box where you need to add your name and email address, and press I NEED THIS NOW!
Within minutes you will be sent the free PDF directly to your email address, so you can print it out and start using it immediately.
Sometimes emails get a little wonky, so if you can't see it, please check your spam folder where I am sure it is hiding.
Download the free New Year's resolution worksheet 2024
Make sure you choose the correct paper size and click on the shrink to fit button. All of our free printables for kids work better when printed on cardstock (this is the one we use and love.)
What are your New Year's resolutions for kids? Please let me know in the comments below.
Last Updated on 25 November 2023 by homeschoolof1