Questions for a Time Capsule Great For New Years Eve
We love creating memories and as the kids get older we are always trying to find new ways. Long gone are the days we can do some super cute handprint crafts together. So this year we have decided to create a family time capsule.
These interview-style kids' questions for a time capsule are the most important to us. It is great to look back on what their favorite things were, and what they planned to do in the future.
A perfect time to create your family time capsule is on New Year's Eve to mark the end of one year and the start of a new.
Download the free questions for your time capsule below and bury it in your yard and decide on when to open it. We have decided to open it when our son turns 21, but maybe you could do this every New Years' Eve.
These questions are not just related to New Year so these can actually be used any time of the year.
This is such a wonderful thing to do with the kids and they are going to love it.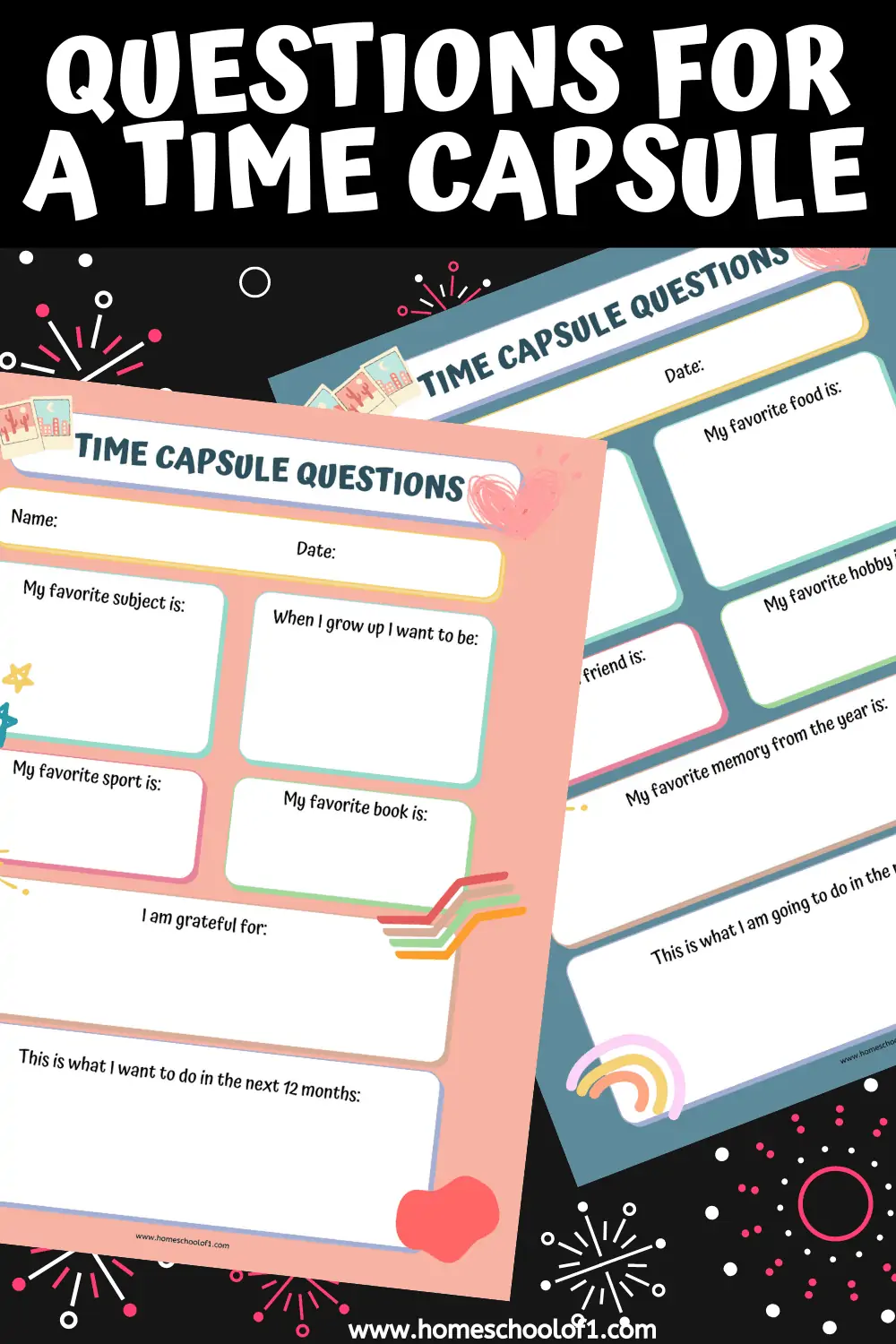 **There may be affiliate links in this post. You can read my full disclosure at the bottom of the page.**
Time Capsule Questionnaire
Creating a family time capsule is something you will all treasure for years to come. But make sure you agree on a time when it should be opened.
Kids want instant gratification, which is a great reason you should bury your time capsule, so they can't see it and be tempted! Opening it when the kids turn 18 or 21 is a great time, or when they graduate college.
Supplies Needed:
cardstock (printer paper will also work)
writing pen or pencil
time capsule or you can just use an old pickle jar (make sure you properly clean it out first!)
ziplock bags, laminator, or sheet protector (to stop the page getting damp)
Instructions:
Print out the questions for a time capsule below, it will print out on 4 full pages, 2 in color and the same 2 in black and white. Make sure to check the printer settings.
The time capsule questions are:
Name and date are on both printables and:
My favorite thing is:
My favorite food is:
My best friend is:
My favorite hobby is:
My favorite memory from the year is:
This is what I am going to do in the new year:
My favorite subject is:
When I grow up I want to be:
My favorite sport is:
My favorite book is:
I am grateful for:
This is what I want to do in the next 12 months: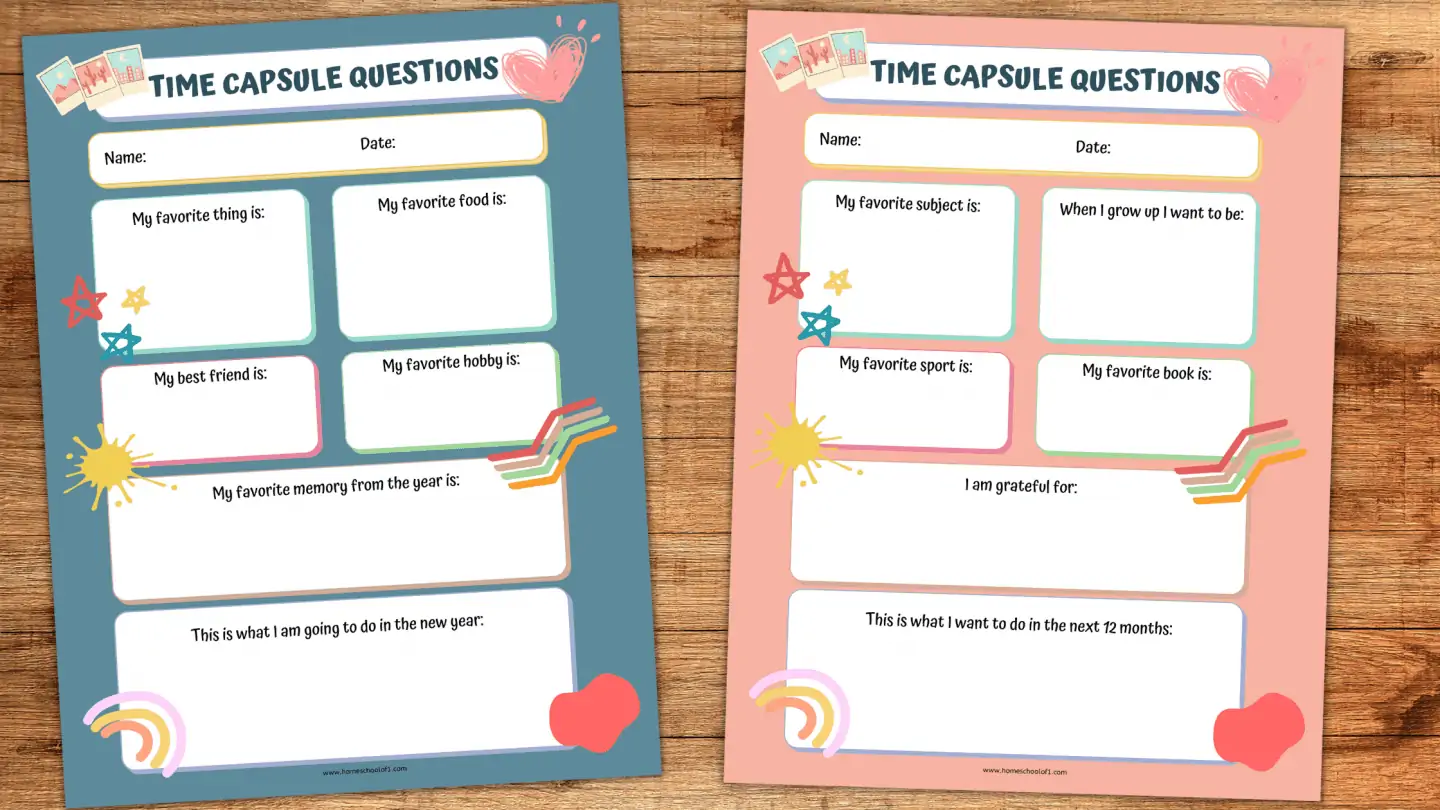 What to Put in a Time Capsule?
So you already have the most important item, the interview questions (download them below). But what else do you put in a time capsule?
Remember whatever you add to your time capsule has to be really small, as you won't have much space. Check out some of our favorite things to add:
Interview questions (download below).
Family photos.
Handprints of the whole family (this is especially great when the kids are younger.) If you are doing this with teens it probably won't be quite as cute!
Newspaper headlines for the day.
Predictions about the future (this is a great one to add to the back of the time capsule questions.)
Coins.
Supermarket receipt so you can see how cheap things were (I know it doesn't feel like it at the moment, but give it 10 years!)
Memory stick of your favorite essay, or school reports.
A drawing you have done this year.
Christmas wish list.
Movie stub.
Packaging from your favorite snack.
Copies of certificates or awards (I personally wouldn't put the originals in.)
Letter from Mom or Dad.
Letter to their future self.
Completing a time capsule for kids is such a wonderful way to capture any memories of the time, and then enjoy opening it up in years to come.
Time Capsule for Kids Printable
Make sure you choose the correct paper size and click on the shrink to fit button. All of our free printables for kids work better when printed on cardstock (this is the one we use and love.)
New Year's Eve activities for kids
Last Updated on 22 May 2023 by homeschoolof1