11 Free Ramadan Coloring Pages For Kids
Enjoy our free Ramadan coloring pages while learning about this important month for Muslims around the world.
These holiday activities for kids are a great way to learn new cultures.
Ramadan is a religious festival celebrated by Muslims and it commemorates the month when the Prophet Mohammed retreated to a cave north of Mecca for spiritual contemplation.
In 2024 it will be celebrated between March 10th, 2024, and ending on April 9th, 2024. However, it changes every year based on the lunar calendar.
Every year, Ramadan begins a month of fasting, prayer, reflection, and community for Muslims around the world.
Carry on reading to download our free Ramadan coloring pages.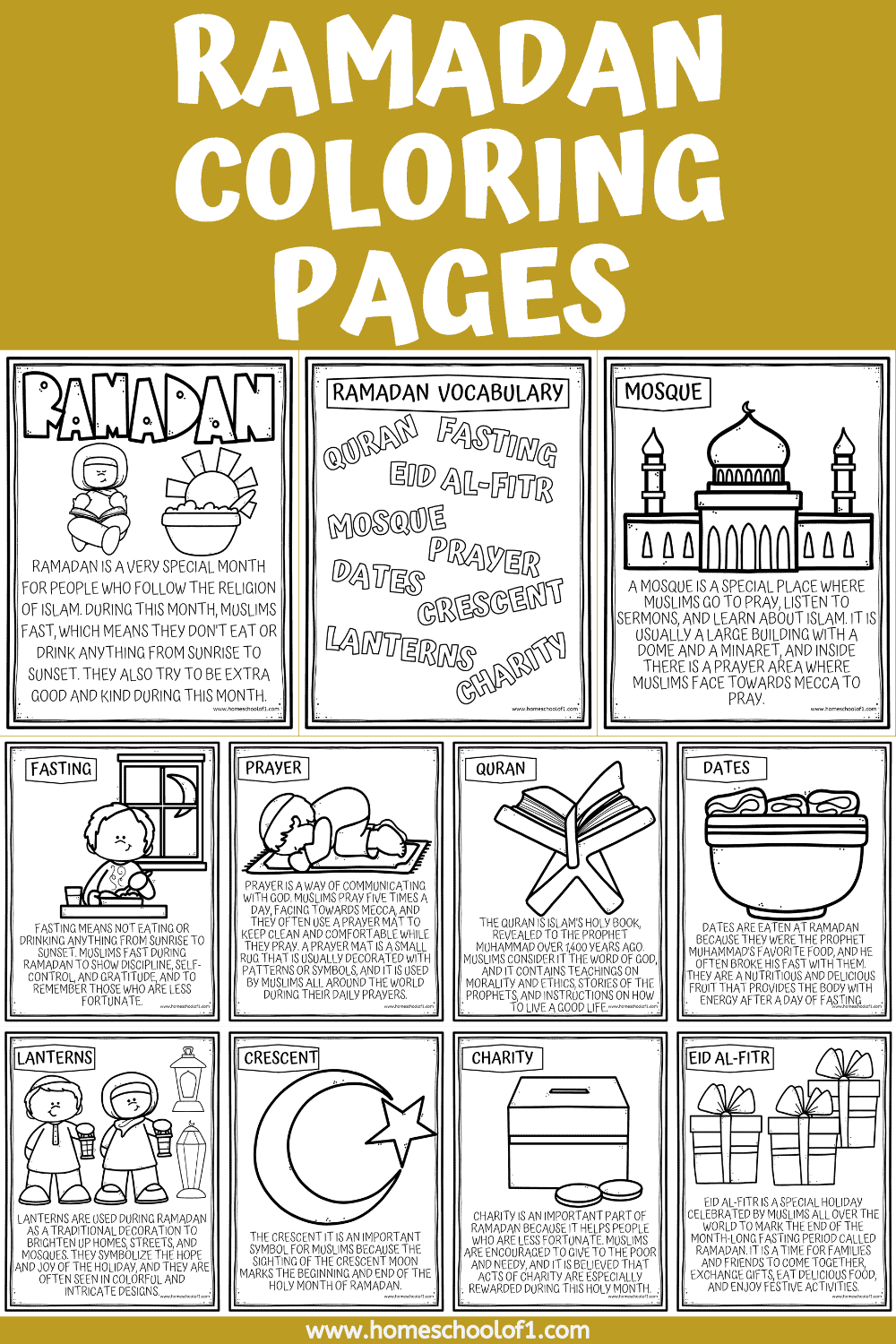 **There may be affiliate links in this post. You can read my full disclosure at the bottom of the page.**
Coloring pages to do during Ramadan
The kids are going to enjoy coloring in these Ramadan images.
Print out the coloring pages below, it will print out on eleven full pages. Make sure to check the printer settings.
These Ramadan coloring worksheets are free to print but are for personal and classroom use only. Scroll to the bottom of the post and add your email address to get the pdf file.
You can of course print this on normal printer paper, but with all of our crafts, they always look better on cardstock.
What is Ramadan?
Ramadan is a very special month for people who follow the religion of Islam.
During this month, Muslims fast, which means they don't eat or drink anything from sunrise to sunset.
They also try to be extra good and kind during this month.
What is a mosque?
A mosque is a special place where Muslims go to pray, listen to sermons, and learn about Islam.
It is usually a large building with a dome and a minaret, and inside there is a prayer area where Muslims face toward Mecca to pray.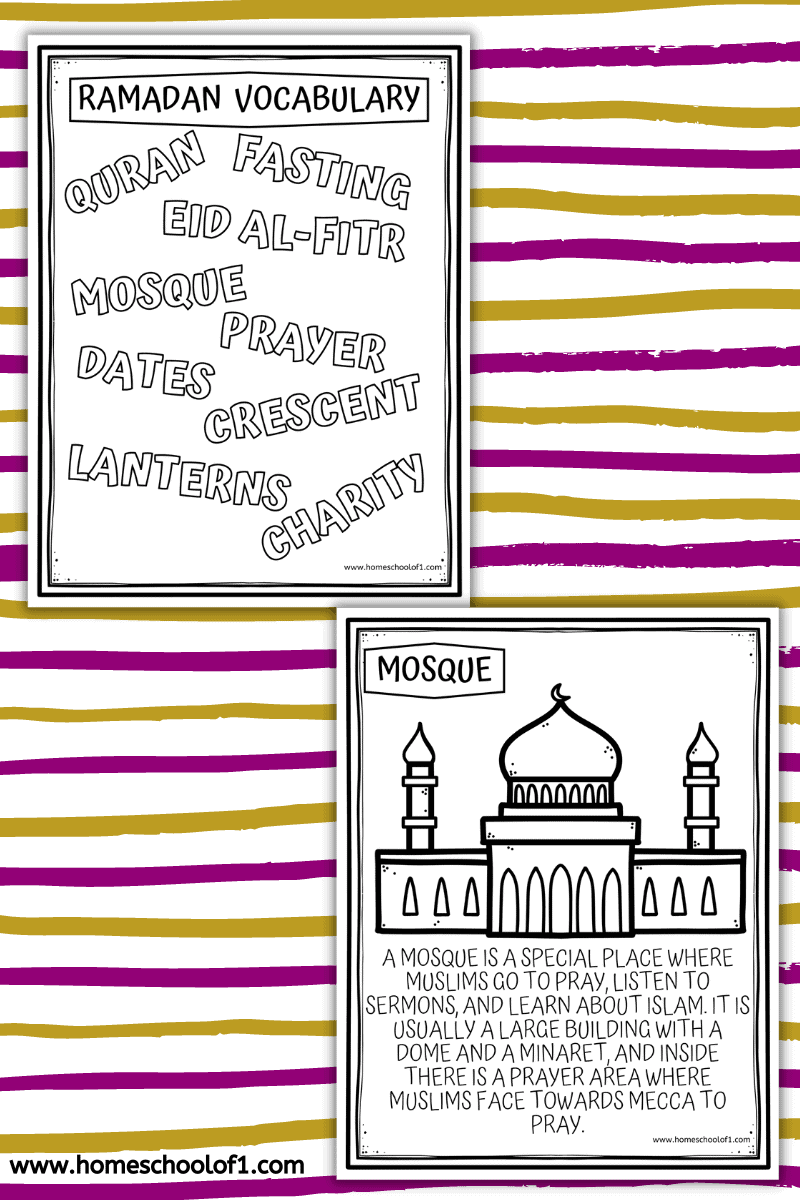 What is the Quran?
The Quran is Islam's holy book, revealed to the Prophet Muhammad over 1,400 years ago.
It is written in Arabic, but it has been translated into English.
Muslims consider it the word of God, and it contains teachings on morality and ethics, stories of the prophets, and instructions on how to live a good life.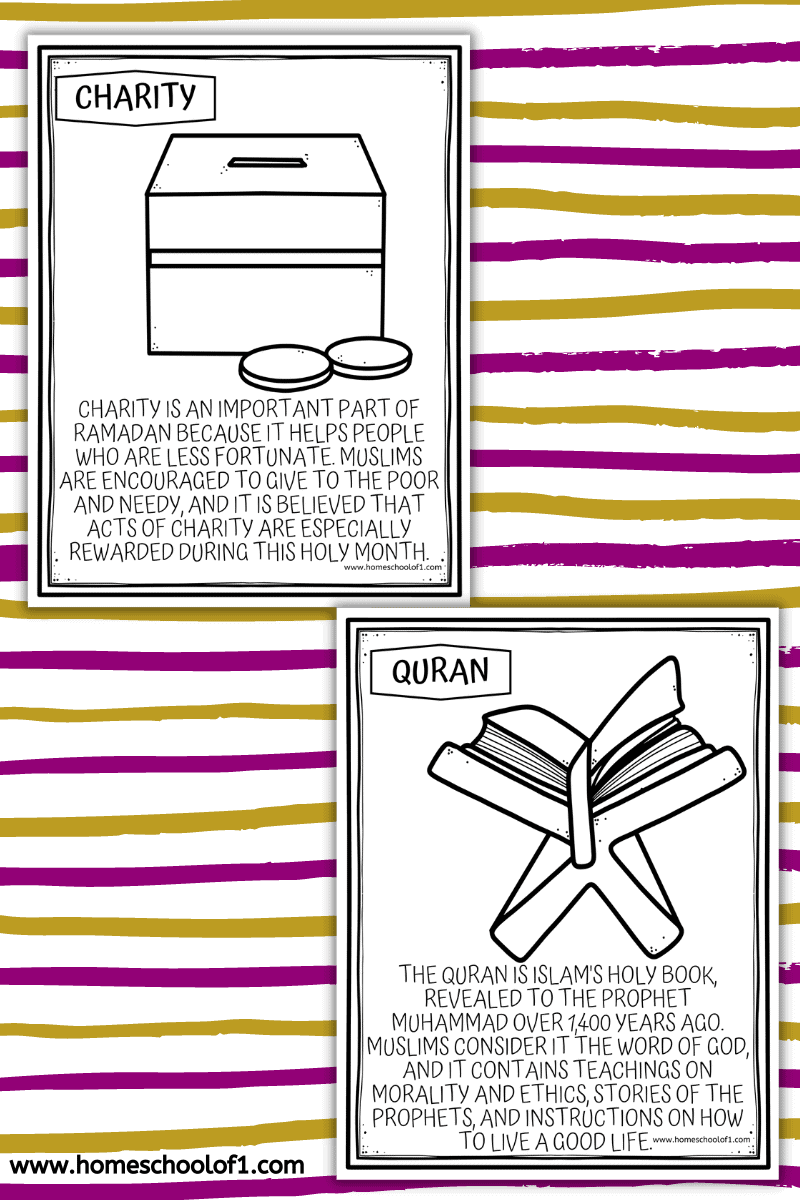 Why is charity an important part of Ramadan?
Charity is an important part of Ramadan because it helps people who are less fortunate.
Muslims are encouraged to give to the poor and needy, and it is believed that acts of charity are especially rewarded during this holy month.
What does fasting mean?
Fasting means not eating or drinking anything from sunrise to sunset.
Muslims fast during Ramadan to show discipline, self-control, and gratitude, and to remember those who are less fortunate.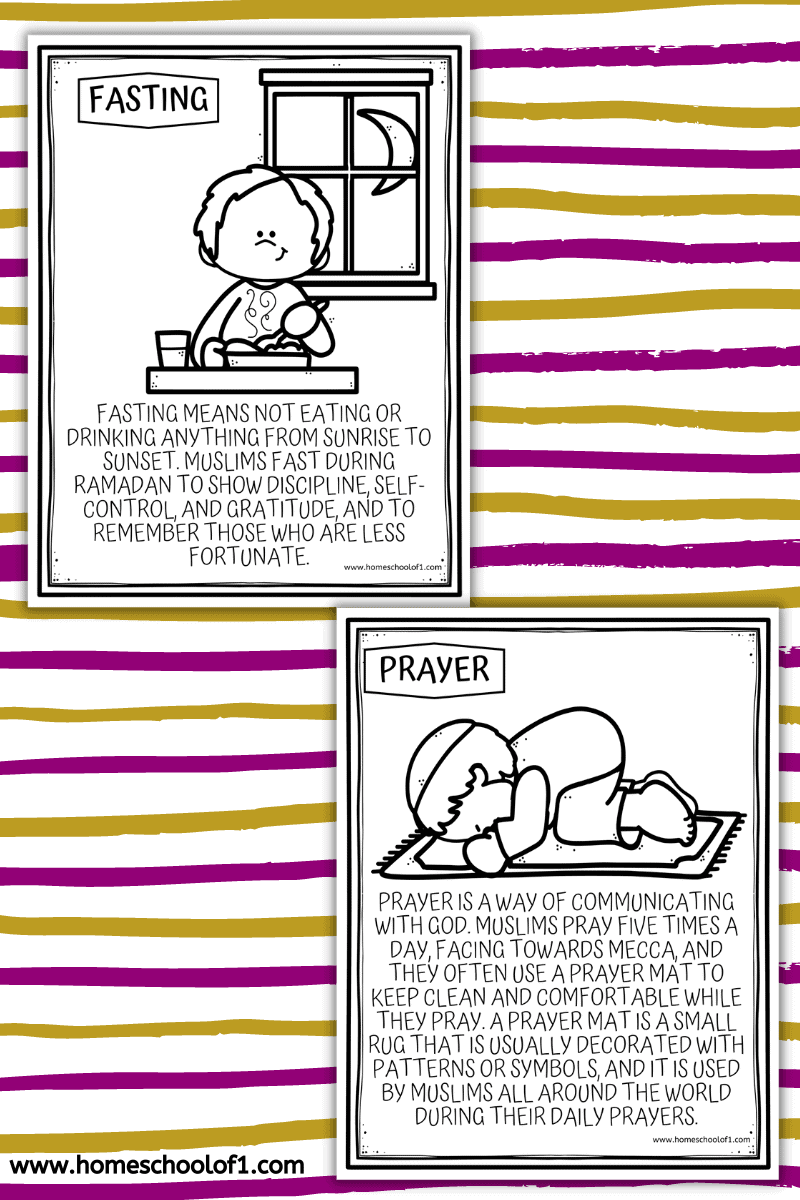 How and why do Muslims pray?
Prayer is a way of communicating with God. Muslims pray five times a day, facing toward Mecca. They often use a prayer mat to keep them clean and comfortable while they pray.
A prayer mat is a small rug that is usually decorated with patterns or symbols, and it is used by Muslims all around the world during their daily prayers.
What have lanterns got to do with Ramadan?
Lanterns are used during Ramadan as a traditional decoration to brighten up homes, streets, and mosques.
They symbolize the hope and joy of the holiday, and they are often seen in colorful and intricate designs.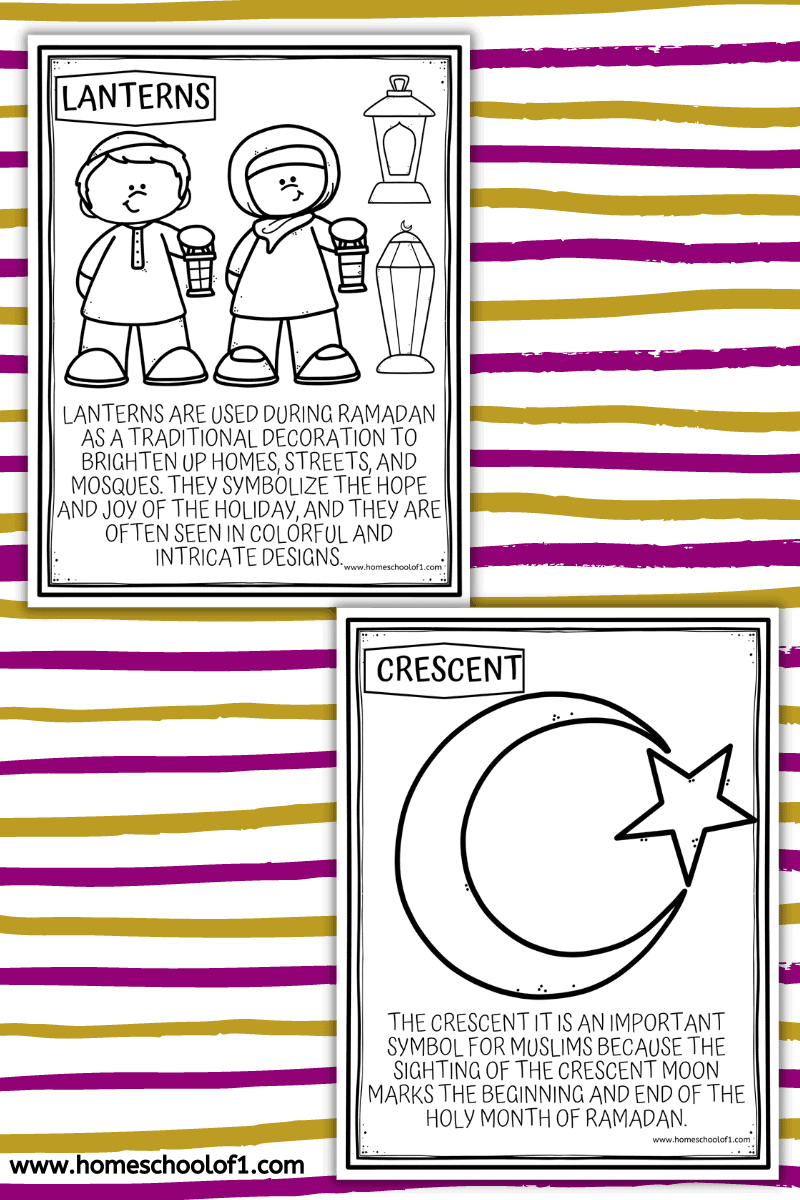 What does the crescent moon have to do with Ramadan?
The crescent is an important symbol for Muslims because the sighting of the crescent moon marks the beginning and end of the holy month of Ramadan.
Why do Muslims eat dates during Ramadan?
Dates are eaten during Ramadan because they were Prophet Muhammad's favorite food. And he often broke his fast with them.
They are a nutritious and delicious fruit that provides the body with energy after a day of fasting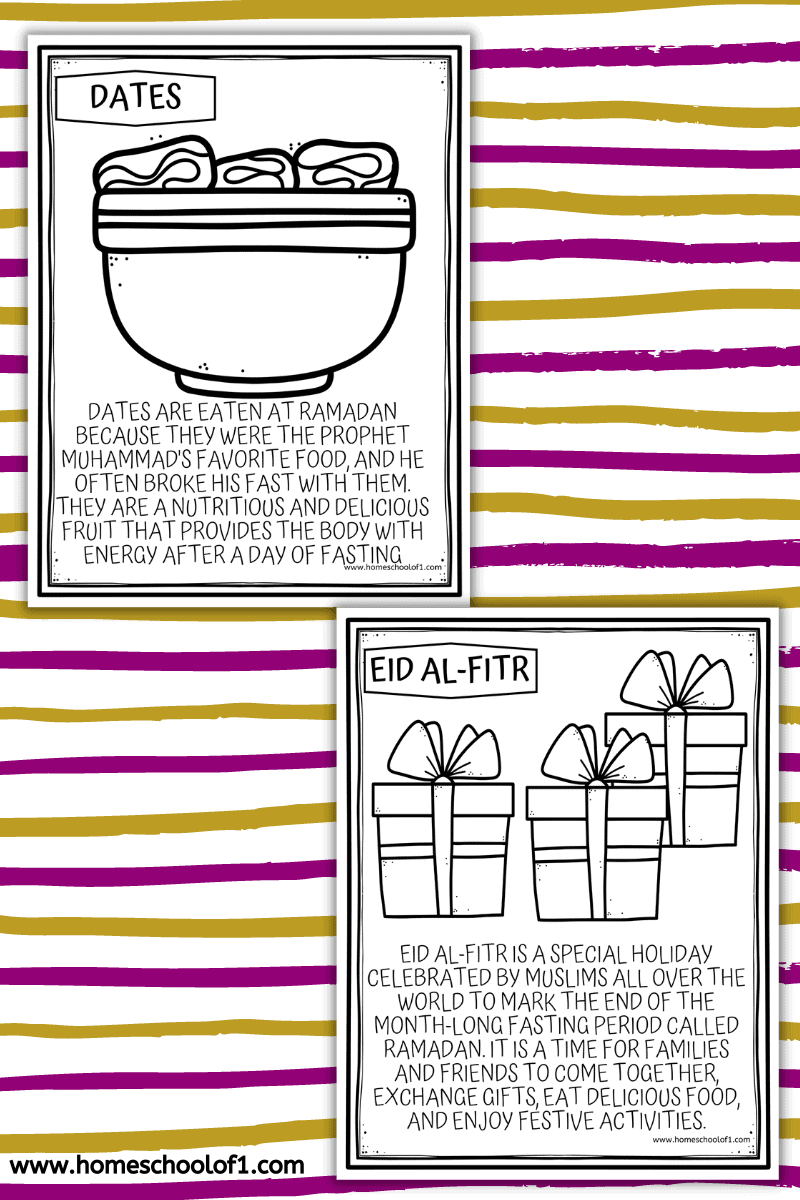 What is Eid Al-Fitr?
Eid al-Fitr is a special holiday celebrated by Muslims all over the world to mark the end of the month-long fasting period called Ramadan.
It is a time for families and friends to come together, exchange gifts, eat delicious food, and enjoy festive activities.
Ramadan Activities for Kids
When the kids have had fun with our free coloring pages, why not spend a bit more time having fun with Ramadan and the Islamic culture?
I have added a mixture of games, books, and worksheets that the kids are going to love.
Photo Credit: www.etsy.com
This is a great activity for children who are learning about Ramadan.
This comes with a new puzzle for each of the 30 days of Ramadan.
Photo Credit: www.etsy.com
Make this Ramadan special for your little ones with these handwritten letters to your child.
Included in your purchase are:- 30 illustrated letters - each with a character trait to focus on and a task to complete- 4 illustrated envelope designs- Instructions on how to use it
Photo Credit: www.etsy.com
It includes 8 mini bundles and one big package of hands-on, Montessori-inspired activities.
Photo Credit: www.etsy.com
Learn about Ramadan while studying the English alphabet. This Montessori activity is great for younger children
A wonderful picture book explaining about the important month of Ramadan.
This picture book is a great book to learn more about Ramadan.
Tips for downloading the free files
Below you will see a large sign-up box where you need to add your name and email address, and press I NEED THIS NOW!
Within minutes you will be sent the free PDF directly to your email address, so you can print it out and start using it immediately.
Sometimes emails get a little wonky, so if you can't see it, please check your spam folder where I am sure it is hiding.
Download the free coloring Ramadan pages
Make sure you choose the correct paper size and click on the shrink to fit button. All of our free printables for kids work better when printed on cardstock (this is the one we use and love.)
Last Updated on 2 October 2023 by homeschoolof1