Free Printable Road Trip Bingo The Kids Will Love
Put away the phones and the screens on your next car journey, and get the kids to play this free printable road trip bingo.
This was designed with children in mind, but there is no reason adults can't play this too! Road trips can be so much fun if you have games to play. No more, "are we nearly there yet?"
You will enjoy looking for different landmarks, stores, cars, scenery, and much more.
This is a great way to also actually see the country we live in. It is truly beautiful, but we often miss it.
You will need to look out of the windows a lot to play these free printable bingo cards.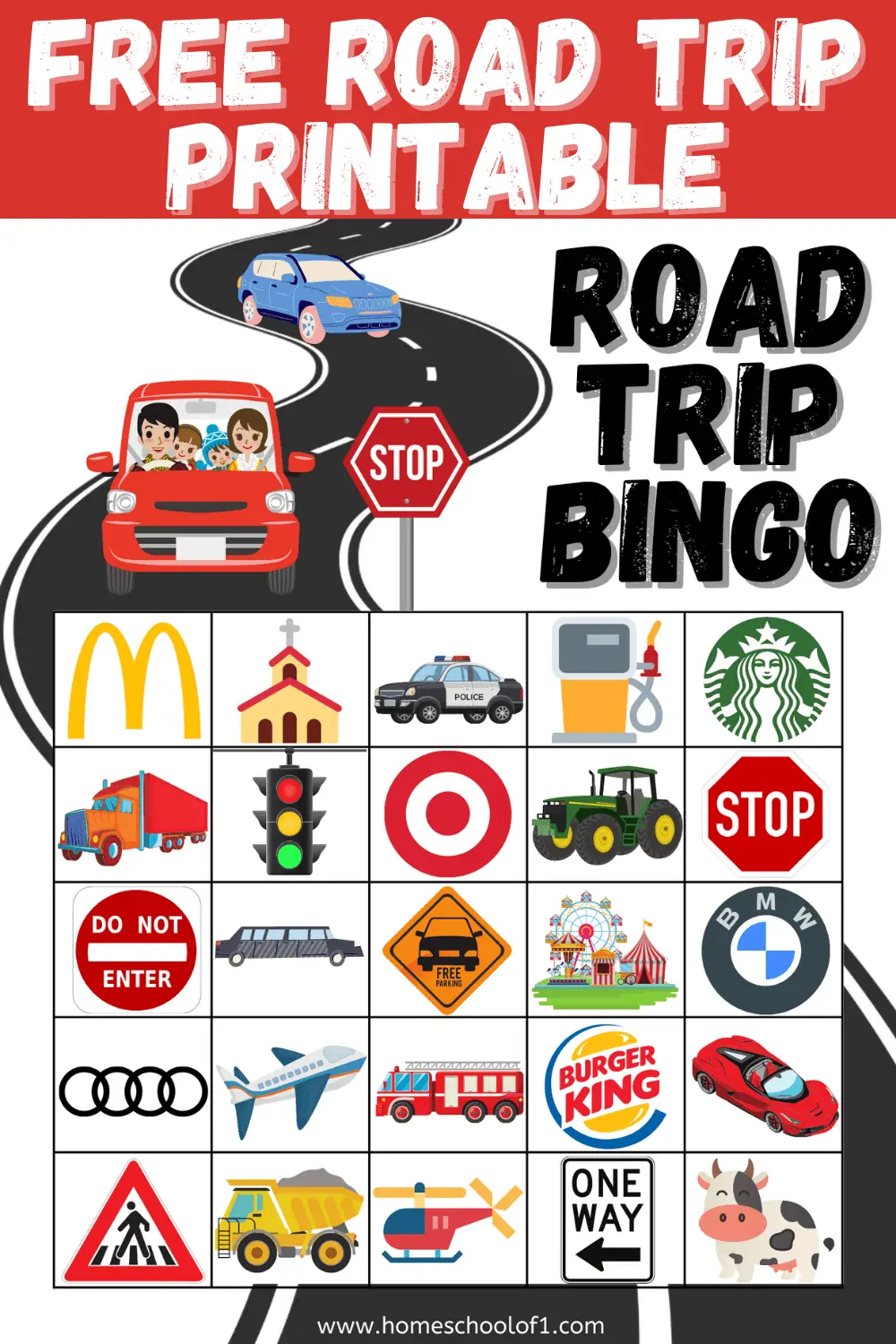 **There may be affiliate links in this post. You can read my full disclosure at the bottom of the page.**
How to get ready to play road trip bingo?
This free printable car bingo printable is super easy to play, and it will make the kids actually look forward to your next car ride.
Download the travel bingo printable game below. There is 1 page included with 24 different landmarks to find plus, of course, a free space (free parking). Make sure to check the printer settings.
Print out the game (either in color, or black and white) we like to use cardstock, but any printer paper will work.
You can either play as a car or individually. Make sure to print off as many bingo cards as you need. But if you are playing competitively make sure to be quiet when you mark one of the landmarks off.
This free printable car bingo game is free to print but is for personal use only. Scroll to the bottom of the page to get the pdf file.
Make sure you get a pen or bingo marker, or even stickers to mark off the landmarks seen.
We keep a clipboard with storage in the car to keep all of our printable games, pens, and fun activities. But a book will do for the kids to lean on.
Although it is not required I recommend laminating this game and keeping it permanently in the car. Just remember to add some dry erase markers with it (these will fit inside the storage clipboard.)
How to play car bingo?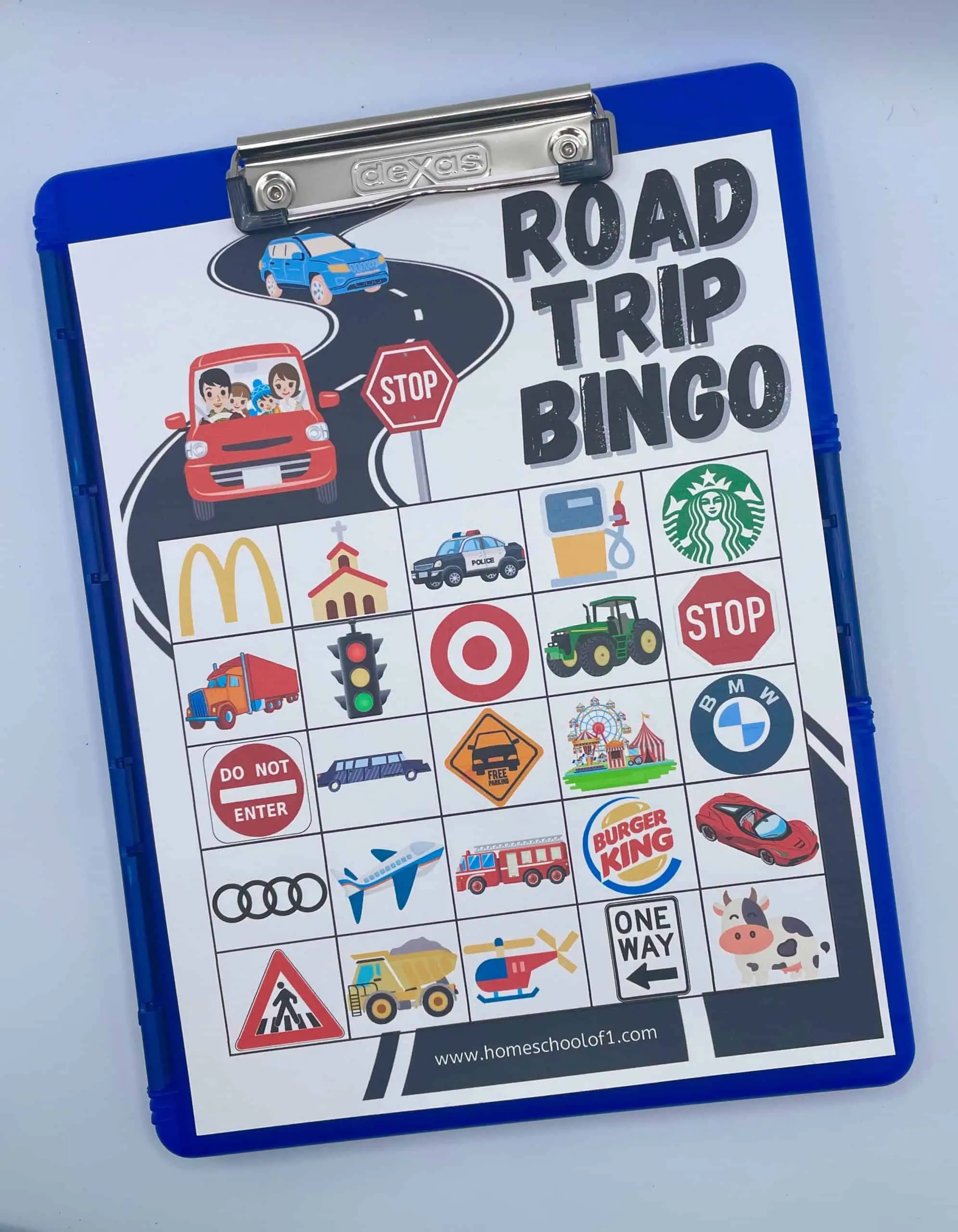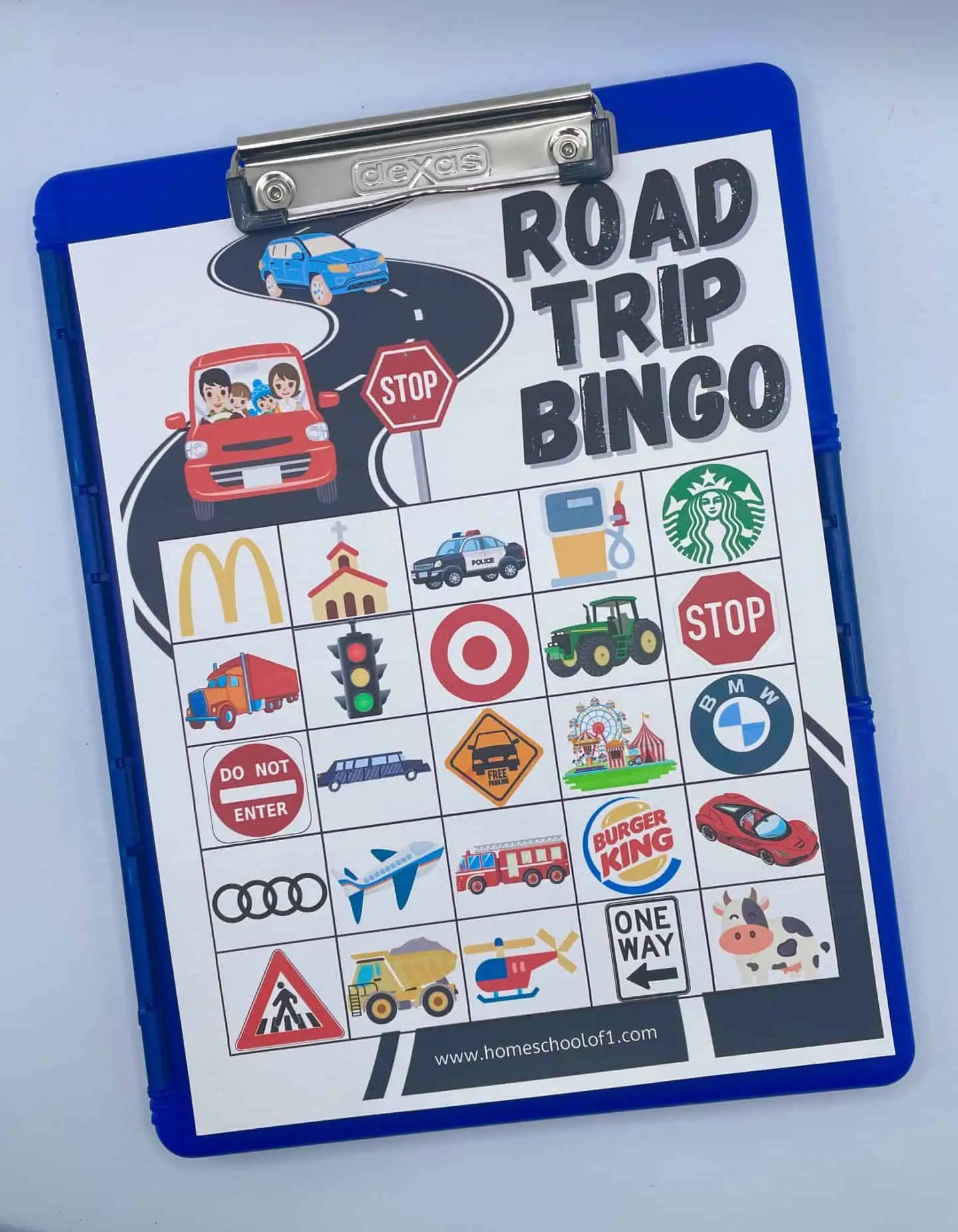 Playing car bingo is super fun.
Keep looking out of the window and when you see one of the images you mark off the square.
The middle space on the board is a free parking space, which is to be used as a FREE space.
The first person to mark a line (down, across, or diagonal) wins the game. Or if you are going on a long road trip why not try to find all of the images?
It is a great way to take in the scenery and notice things you may have not seen before.
You can turn this into a competition by printing it off multiple times and see who can get bingo first!
Why not get some small treats for the winner too?
Most importantly just have fun, the kids will be begging for the next road trip!
You could also play this game as a road trip scavenger hunt instead, and the free parking can be a parking garage.
What will I need to find on the road trip bingo cards?
There are so many different landmarks that could be added to a road trip bingo card. But these are the ones we enjoy looking for:
McDonald's
Church
Police
Gas station
Starbucks
Semi truck
Traffic lights
Target
Tractor
Stop sign
Do not enter sign
Stretched car
Carnival or fair rides
BMW either a car or a showroom
Audi car or showroom
Airplane
Fire truck
Burger King
Convertible car
Pedestrian crossing
Yellow truck or dump truck
Helicopter
One Way sign
Cow
Games to Play In The Car With Kids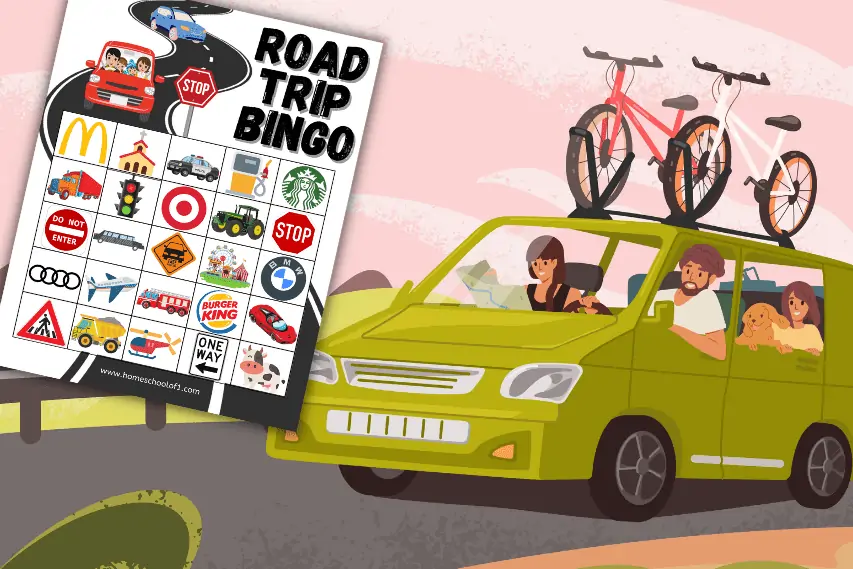 What about adding a few more printable car games to your clipboard with storage?
The are we nearly there yet travel activity pack is excellent. There is everything you need in this pack with 45 pages of car games!
Find It Games are awesome, it is a shaker seek and find game, perfect for road trips. They have a sports version, a beach version, or a glitz and glamour one, and they will keep the kids quiet for ages! Perfect when you are trying to work out where you are going!
Mad Libs on the go! this road trip-themed mad libs is another great game that will fit perfectly in the clipboard.
Other free and fun summer printables:
Have even more fun this summer with these free summer printables:
Download the Free Printable Travel Bingo
Make sure you choose the correct paper size and click on the shrink to fit button. All of our free printables for kids work better when printed on cardstock (this is the one we use and love.)
Last Updated on 29 June 2023 by homeschoolof1