8 Free Printable Father's Day Cards to Color That Dad Will Love
As Father's Day is coming up, on June 18th, 2023, download and print out our free printable Father's Day cards to color.
There are 8 different Father's Day printables to print out and color in.
Nothing quite says I love you more than a handmade card, and Dads are going to love receiving this personal touch.
Carry on reading to download our Father's Day coloring pages the kids will love to color.
**There may be affiliate links in this post. You can read my full disclosure at the bottom of the page.**
Color in Father's Day cards to print out
There are 8 different Father's Day cards to print out and color in. On the back of each of the cards, is either a Happy Father's Day message or a No.1 Dad image.
The inside of the card is left completely blank for the kids to write their own heartfelt messages.
There are 8 different images included:
A picture of Dad
An image of Dad with his daughter
Dad with his son
Father's Day tie: My Dad is kind, loving, strong, patient, awesome, nurturing, funny, and cool.
Best Dad Ever trophy
Best Dad Ever rosette
A child holding my Dad is the best picture
4 smaller images of the best dad rosette, best dad ever trophy, my dad is the best, and the tie with the lovely words about Dad.
If you are looking for some gift inspiration check out our updated cheap Father's Day gifts.
How to Print out the Father's Day Coloring Cards?
Creating heartfelt Father's Day memories is a breeze with our printable coloring cards. Follow these simple steps to bring your artistic expressions to life:
Begin by accessing our collection of free Father's Day cards. These delightful designs are available for download and are ideal for personal or classroom use. Scroll down to the bottom of the page to find the PDF file awaiting you.
Printing is a snap – these cards are thoughtfully sized to fit perfectly on letter-sized paper (11 x 8.5 inches in landscape orientation). If you're using A4 paper, a quick adjustment to 'shrink to fit' ensures flawless printing every time.
While the cards truly shine on cardstock (our favorite choice), regular printer paper works just as well. Opt for cardstock for an extra touch of quality.
Fold the printed cards in half, revealing the 'Happy Father's Day' or 'No.1 Dad' image on the back and the charming illustration on the front. The inside is intentionally left blank, ready for your personal Father's Day message to make its mark.
Equip yourself with coloring pens – we recommend the dual tipped coloring pens variety for a spectrum of creativity. These versatile tools bring your cards to life, making each stroke a true celebration of your artistic spirit.
Craft a heartfelt message inside the blank space of the card. Your words, coupled with your artistic touch, create a treasured keepsake that Dad will cherish.
Slip the completed card into an envelope for that extra touch of anticipation. Choose A9 envelopes to cradle your masterpiece perfectly.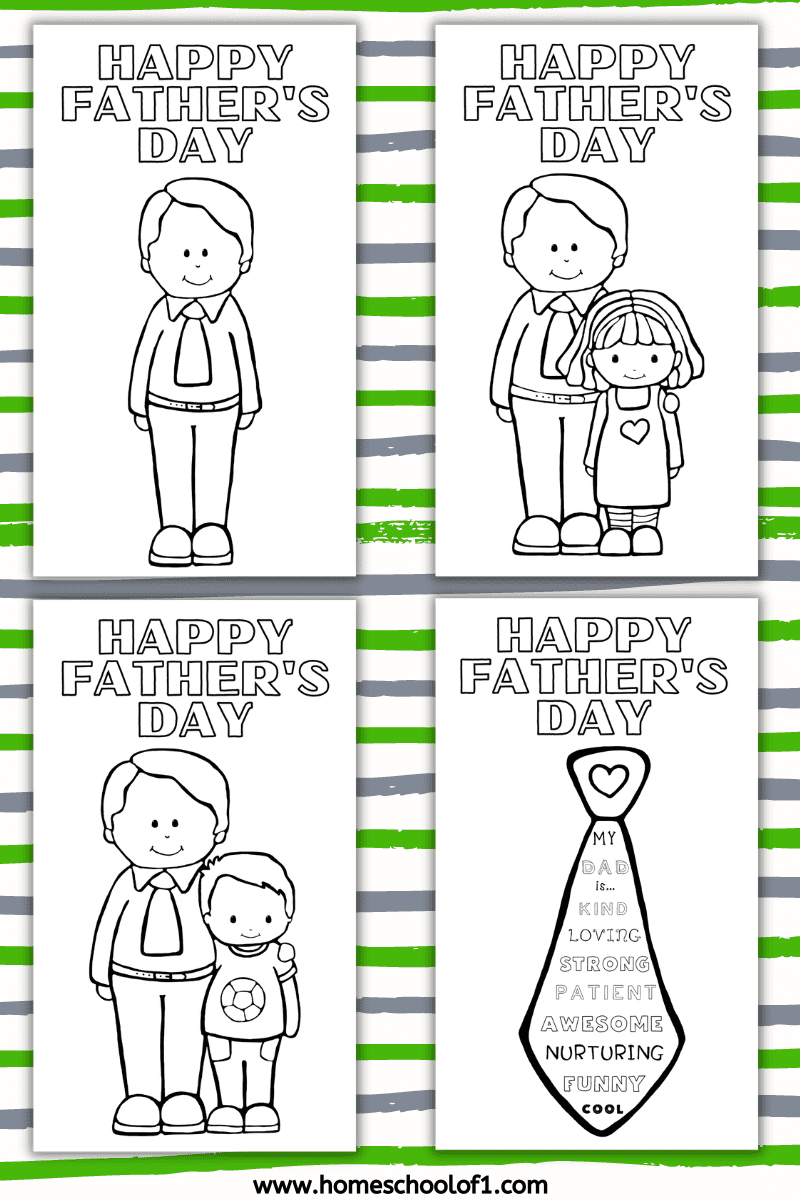 What to write in a Father's Day card?
If you are looking for inspiration as to what the kids can write inside their Father's Day cards, we love these suggestions:
"Hey, Dad! You're like the ultimate superhero, except you don't wear a cape (although that would be awesome!). Thanks for always being there to rescue me from monsters under the bed. Happy Father's Day!"
"Dear Dad, you're not just good at fixing stuff; you're a master inventor! You can turn a cardboard box into a spaceship or a broomstick into a magic wand. Thanks for making everyday life feel like a big adventure. Happy Father's Day!"
"To the best tickle monster ever! You always find a way to make me giggle uncontrollably. Your tickles are magical. Happy Father's Day, Daddy-o!"
"Dad, you're my partner in crime when it comes to dessert! Whether it's sneaking extra scoops of ice cream or making the biggest, messiest milkshakes, we make the best team. Thanks for being my sweet tooth accomplice. Happy Father's Day!"
"Hey pops, you're my all-time favorite playmate! From building epic LEGO creations to having wild dance parties in the living room, you know how to have a blast. Thanks for being the coolest dad around. Happy Father's Day!"
Father's Day activities and printables
For even more fun on Father's Day why not download our free:
Tips for downloading the free files
Below you will see a large sign-up box where you need to add your name and email address, and press I NEED THIS NOW!
Within minutes you will be sent the free PDF directly to your email address, so you can print it out and start using it immediately.
Sometimes emails get a little wonky, so if you can't see it, please check your spam folder where I am sure it is hiding.
Download the free printable Father's Day cards to color
Make sure you choose the correct paper size and click on the shrink to fit button. All of our free printables for kids work better when printed on cardstock (this is the one we use and love.)
Other free printable coloring cards
Last Updated on 8 November 2023 by homeschoolof1