Free Sea Turtle Life Cycle Coloring Page
Get ready for an exciting journey through the sea turtle life cycle coloring page!
This printable life cycle worksheet covers essential skills like fine motor skills, cognitive development, language, and imagination, making it a perfect educational activity for young learners.
This one page coloring page features the main stages of the sea turtles life cycle from egg to adult turtle.
Get ready for an exciting underwater adventure with our captivating sea turtle life cycle coloring page.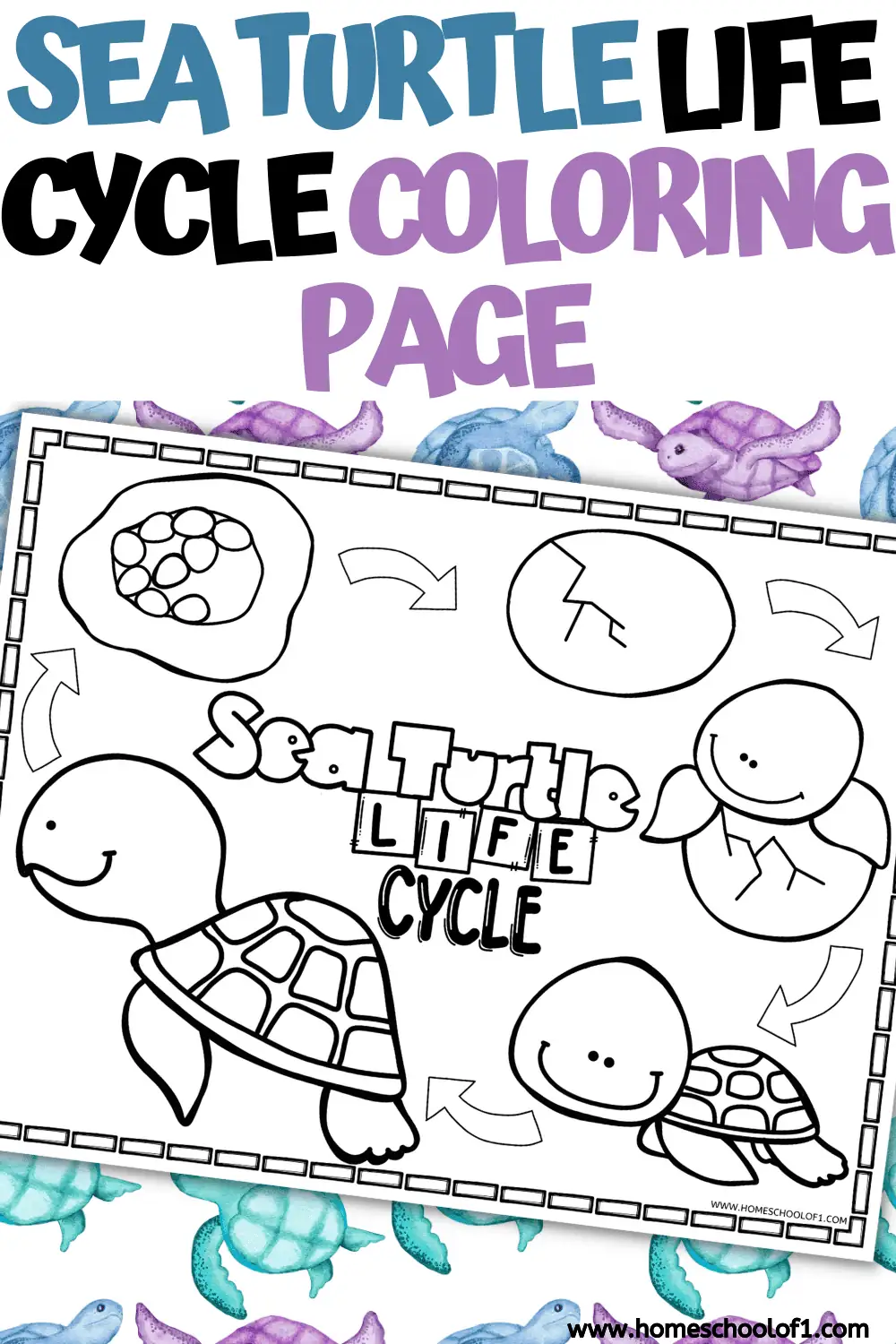 **There may be affiliate links in this post. You can read my full disclosure at the bottom of the page.**
Encourage young students to learn all about turtles with this free life cycle of a sea turtle coloring page.
What is the life cycle of a sea turtle?
The life cycle of a sea turtle is a fascinating journey that takes them through several stages of development. Here are the main stages in the life cycle of a sea turtle:
The life cycle begins when a female sea turtle lays her eggs on sandy beaches during nesting season. She digs a hole in the sand with her flippers and deposits a clutch of eggs (usually around 100, depending on the species). Once she's done laying the eggs, she covers the nest with sand to protect them.
The eggs are left buried in the warm sand to incubate for a period of around 45 to 70 days, depending on the species and environmental conditions. The temperature of the sand plays a crucial role in determining the sex of the hatchlings. Warmer temperatures generally result in more females, while cooler temperatures produce more males.
When it's time to hatch, the baby sea turtles use a special egg tooth to crack open their shells. They emerge from the nest and instinctively head towards the brightest horizon, which is typically the open sea. This is a critical and vulnerable moment for the hatchlings as they are susceptible to predation during their journey to the ocean.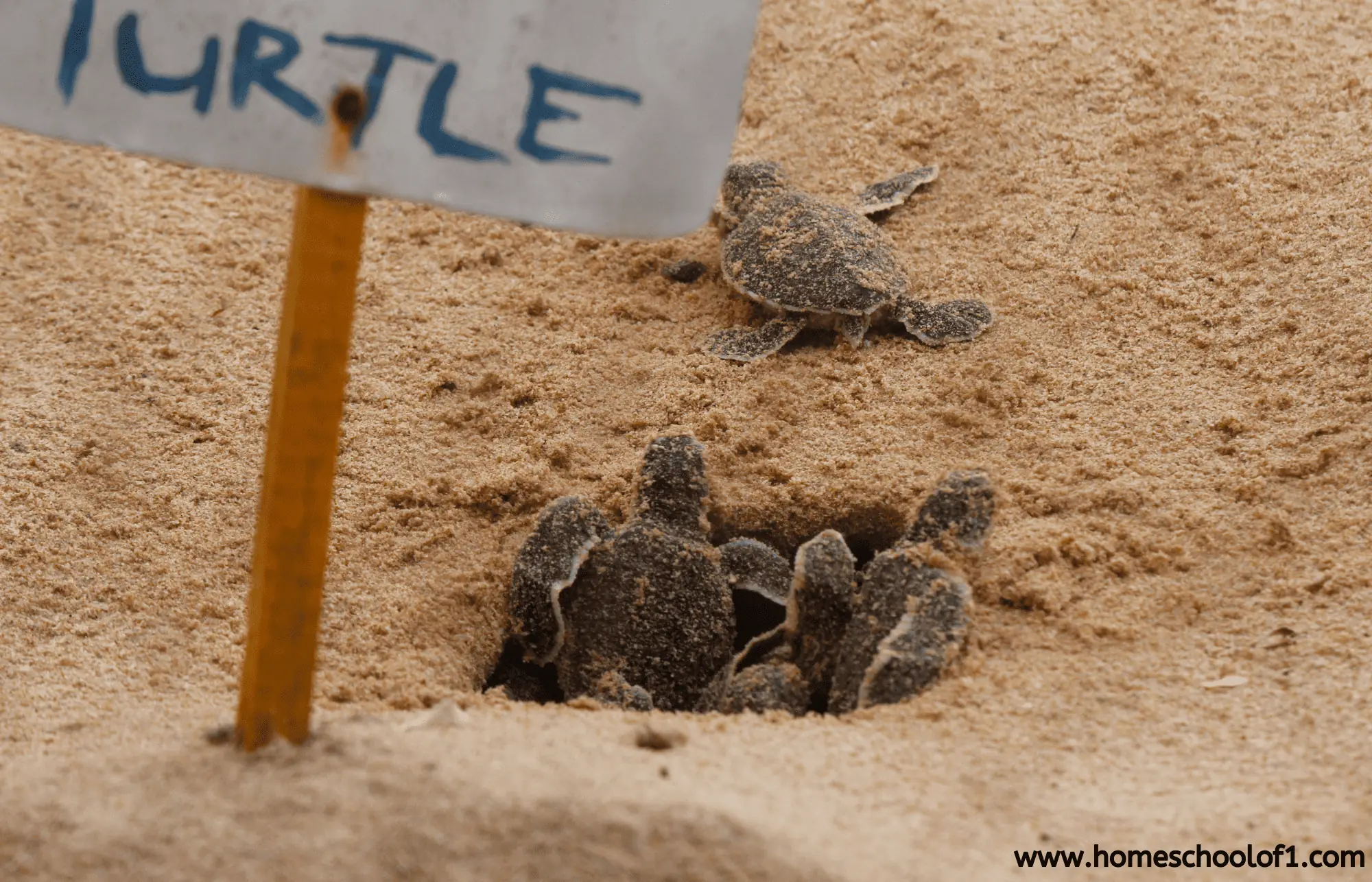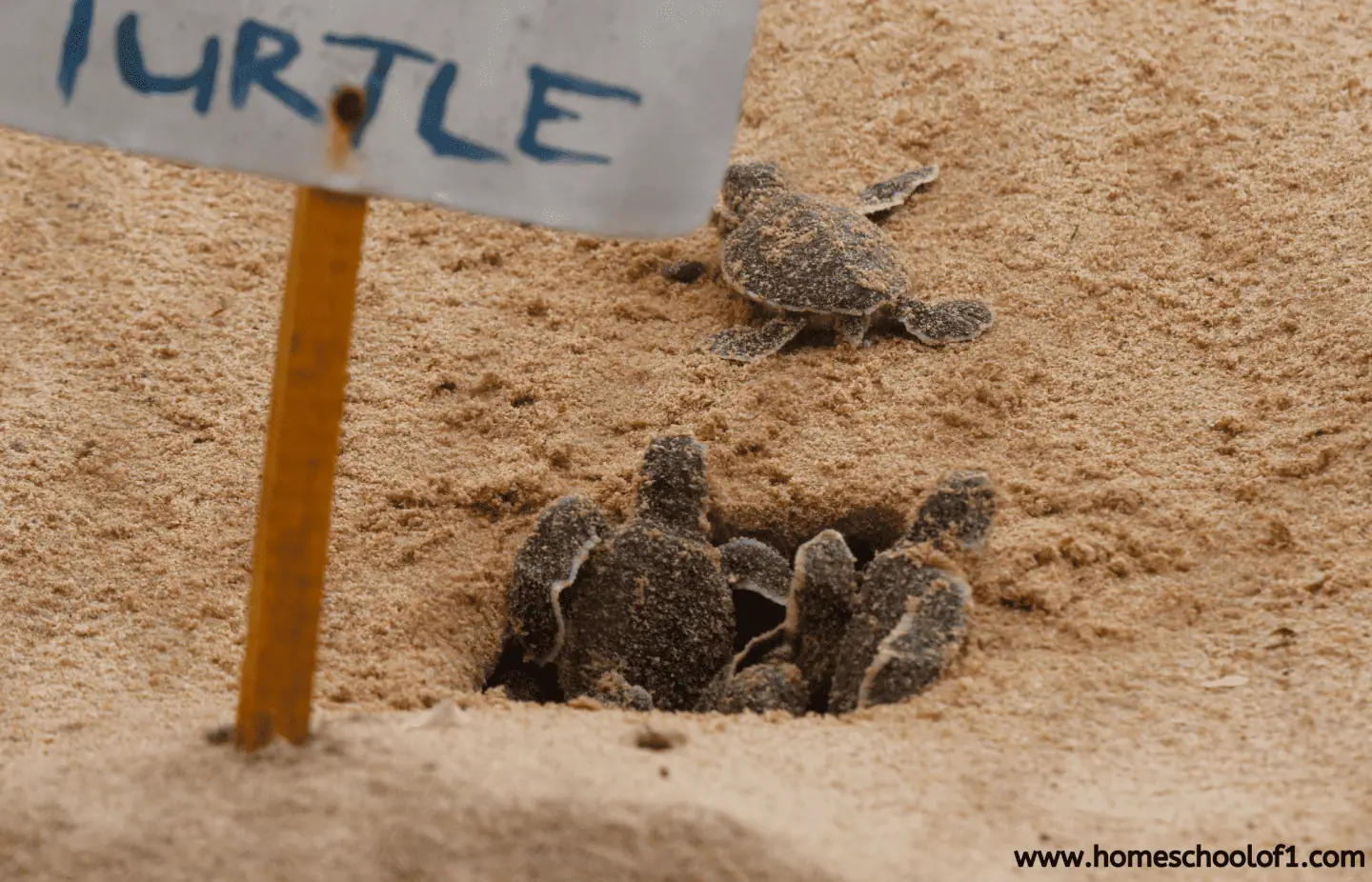 Once in the water, the young sea turtles enter a stage known as the "pelagic phase." During this period, they remain in the open ocean, drifting along with ocean currents. They spend several years in this stage, feeding on small floating organisms and developing their swimming and diving abilities.
After several years of drifting, the young sea turtles start to settle in nearshore habitats, such as seagrass beds and shallow coastal waters. At this point, they have grown significantly in size and continue to feed and grow in these protected areas.
As sea turtles continue to grow and age, they eventually reach sexual maturity. The age at which sea turtles reach maturity varies depending on the species, but it can take anywhere from 10 to 30 years or more.
Once mature, the sea turtles return to the beaches where they were born to mate and nest. Female sea turtles typically return to nest every few years, while male sea turtles spend most of their lives in the ocean.
The life cycle of a sea turtle is a remarkable journey, and it is essential to protect these magnificent creatures and their nesting sites to ensure their survival in the wild. However, sea turtles face numerous threats, such as habitat destruction, pollution, and accidental capture in fishing gear.
Conservation efforts are crucial to preserving these ancient and endangered species for future generations.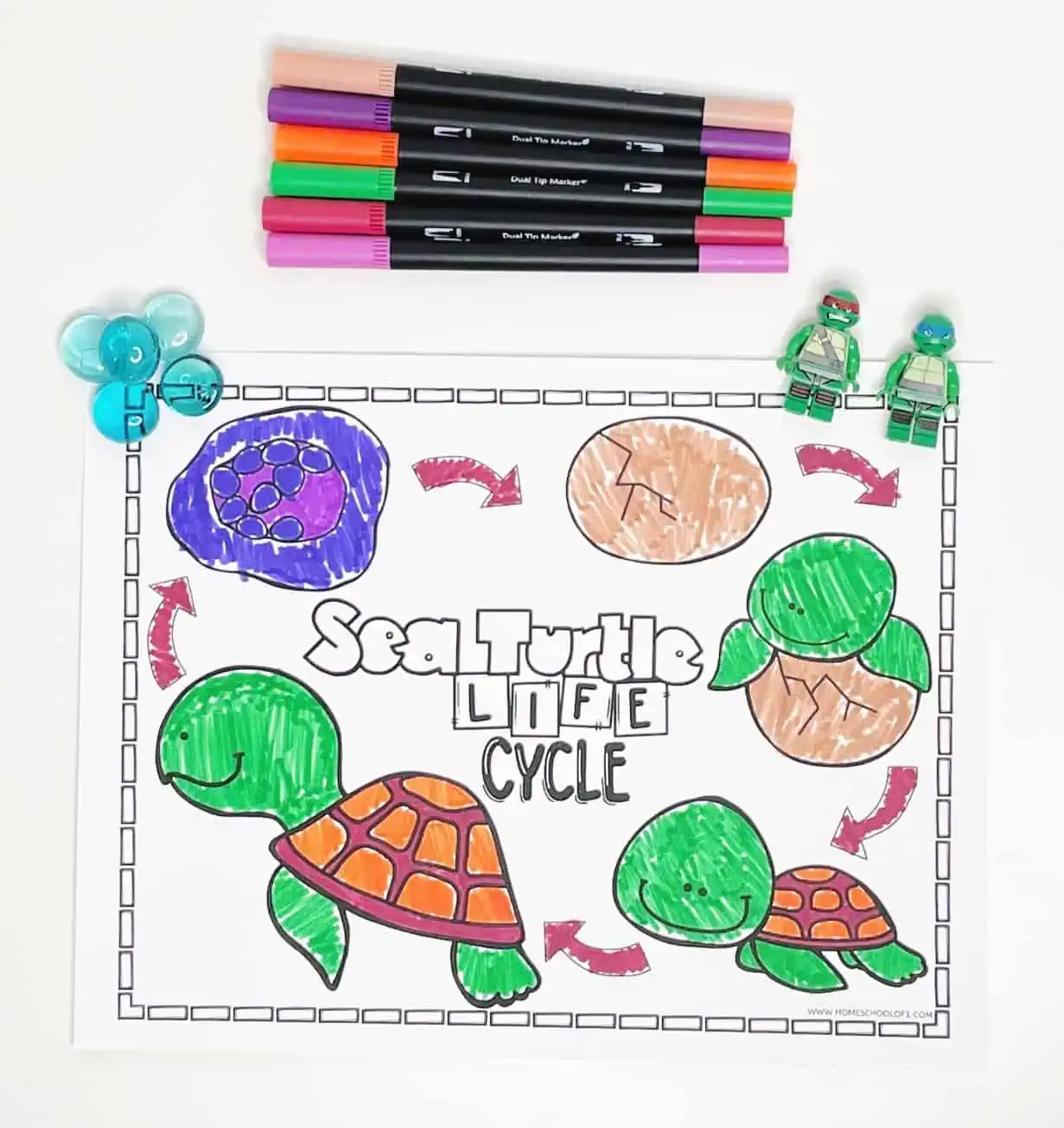 How to use the life cycle of a sea turtle coloring page
Using a life cycle of a sea turtle coloring page can be a fun and educational activity for kids to learn about the various stages in a sea turtle's life. Here's a simple guide on how to use the coloring page effectively:
Start by printing the life cycle of a sea turtle coloring page. Scroll to the end of the page and grab it for free.
Before starting the coloring activity, take a few minutes to introduce the concept of a sea turtle's life cycle to your child. Explain the different stages, such as egg, hatchling, juvenile, and adult. You can use the printed coloring page as a visual aid to walk them through the process.
Encourage your child to color the different stages of the life cycle one by one. As they color each stage, discuss what happens during that particular phase and its significance in a sea turtle's life. You can talk about the challenges they face, their behaviors, and their survival instincts.
While coloring, engage your child with questions about sea turtles. For example, you can ask them why sea turtles lay their eggs on the beach, how baby sea turtles find their way to the ocean, or what threats sea turtles face in their natural habitats. This will promote learning and curiosity.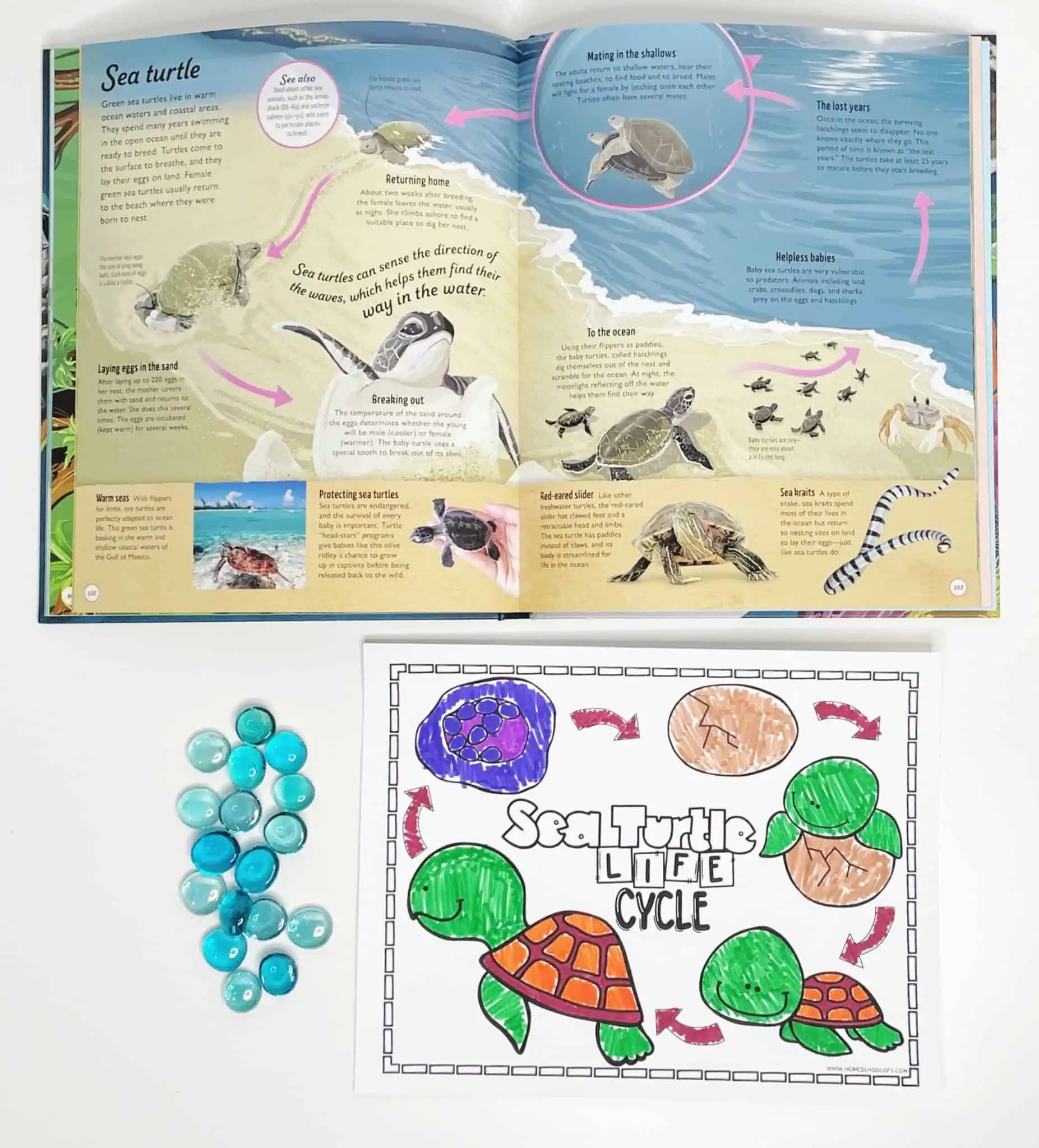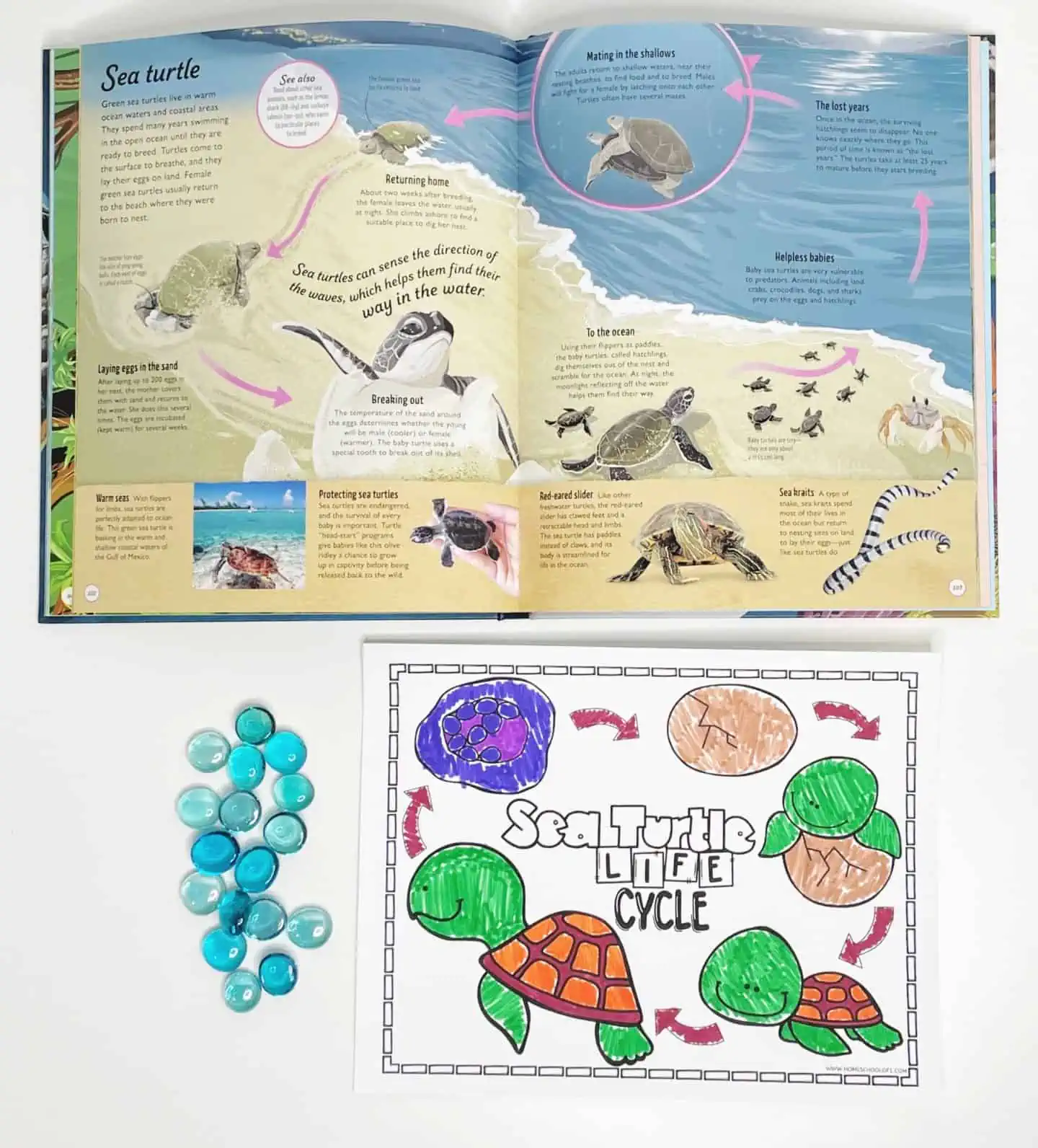 Skills covered with this free turtle coloring page
Engaging with the free turtle coloring page can help children develop and enhance various skills, including:
Coloring within the lines of the turtle and its surroundings helps improve fine motor skills, hand-eye coordination, and dexterity in young children.
The coloring page provides an opportunity for kids to identify and name different colors as they select hues for various parts of the turtle and the background.
Coloring allows children to express their creativity and use their imagination to choose colors and add details to the turtle's features.
Engaging in coloring activities can help improve a child's ability to concentrate and stay focused on a task.
The coloring page introduces kids to the concept of sea turtles and their life cycle, promoting early learning and knowledge about marine life.
As parents or educators discuss the sea turtle's life cycle while coloring, children have the opportunity to expand their vocabulary and language skills.
Talking about sea turtles can raise awareness about the importance of protecting these animals and their habitats, fostering environmental consciousness in children.
Overall, this free turtle coloring page is not just a fun activity but also a valuable educational tool that can support various aspects of a child's development and learning journey.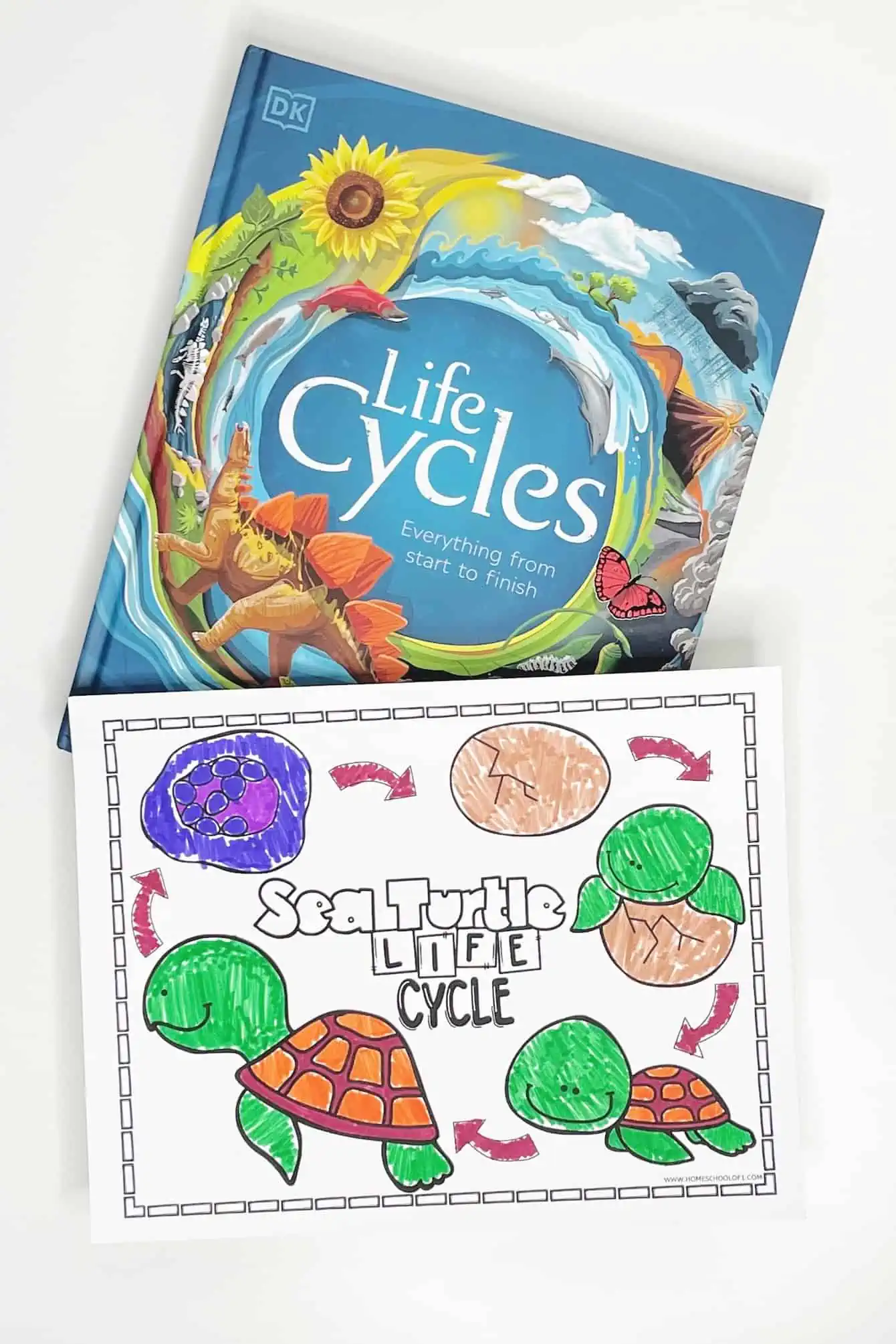 Life cycle of a turtle books
These are our favorite turtle books for preschoolers:
GLINGLONG Life Cycle Kit Toy Montessori – Realistic Figurine Toys, Kids Figure Animal Match Set with Frog, Ladybug, & More – Includes 24-Piece Animals, Educational & Fun Matching Game for Children 3+
Life Cycles: Everything from Start to Finish (DK Life Cycles)
Sea Turtles: Fun Facts About Turtles of The World
Sea Turtles!: A My Incredible World Picture Book for Children (My Incredible World: Nature and Animal Picture Books for Children)
Yoshi, Sea Turtle Genius: A True Story about an Amazing Swimmer
Lessons of a Turtle is a charming and insightful book that draws wisdom from the slow and steady nature of turtles. Through delightful illustrations and heartwarming anecdotes, the book imparts valuable life lessons, teaching readers about patience, perseverance, and appreciating the journey of life.
The Life Cycle of a Sea Turtle is an informative and beautifully illustrated book that takes young readers on a captivating journey through the various stages of a sea turtle's life. From the nesting process on sandy beaches to the hatching of adorable hatchlings and their remarkable oceanic adventures, the book provides a comprehensive and engaging understanding of these incredible marine creatures.
Additional sea turtle resources
Have even more fun with these fun sea turtle activities:
Tips for downloading the free files
Below is a blue cloud with an arrow pointing downward. Underneath that is a large sign-up box where you need to add your name and email address, and press I NEED THIS NOW!
Within minutes you will be sent the free PDF directly to your email address, so you can print it out and start using it immediately.
Sometimes emails get a little wonky, so if you can't see it, please check your spam folder where I am sure it is hiding.
Download the free sea turtle coloring page
If you are running short on time you can download all of our life cycle worksheets. There are 247 pages over 23 different life cycles.
These worksheets are free to print but are for personal or classroom use only.
Make sure you choose the correct paper size and click on the shrink to fit button. All of our free printables for kids work better when printed on cardstock (this is the one we use and love.)
Last Updated on 2 October 2023 by homeschoolof1