Free Snowman Soup Printable Bag Toppers
Keep warm and cozy this December and download our free snowman soup printable. There will be no boring hot chocolate drinks this holiday season!
Add a delightful touch to your Christmas activities for kids with a snowman soup bag topper printable.
This charming printable allows kids to create their own festive treat bags. Filled with hot chocolate and marshmallows, spreading warmth and holiday cheer to all.
These can be handed out to friends and family and will also look great in a Christmas Eve box.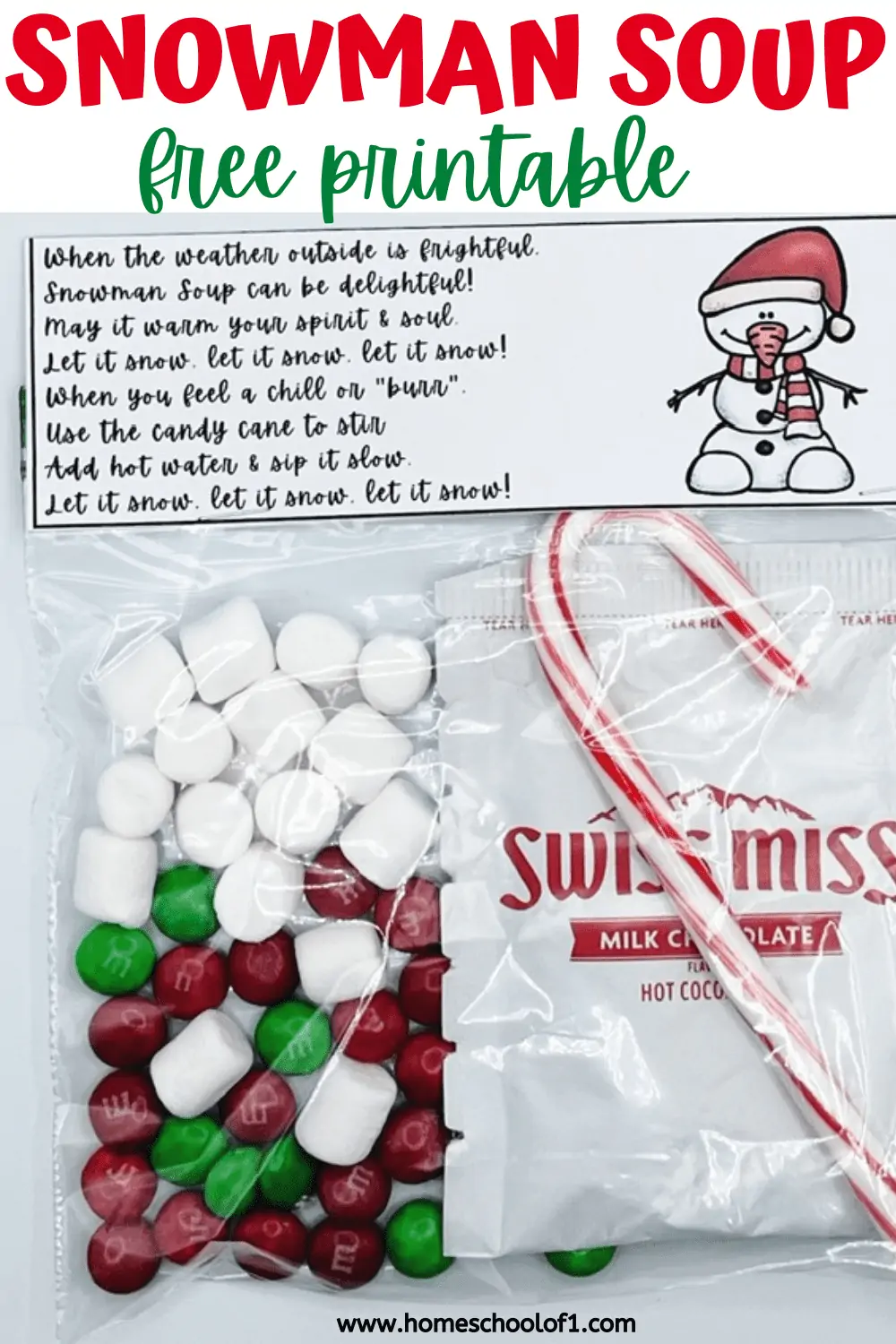 **There may be affiliate links in this post. You can read my full disclosure at the bottom of the page.**
What is snowman soup?
Have you heard people talking about snowman soup, but don't know what they are talking about? Yes, this happened to me a few years ago too. I played along as I always go all out at Christmas, and I was embarrassed that there was something cool I wasn't doing!
Snowman soup is hot chocolate with mini marshmallows and a candy cane to stir it!
That's it! As simple as that! Although you can make it look even more special with our free snowman soup printable and hand them out to friends and family.
How to make snowman soup?
Making snowman soup is super easy, and you probably have everything you need already.
There are a few ways to make it, but I am showing the easiest (and less messy) version today.
Ingredients needed for the snowman soup recipe:
Hot chocolate cocoa mix in individual packets
Mini marshmallows
Mini candy canes
Red and green M&Ms
Sandwich or snack zip-top bags (6.5 x 5.78 inches or 6.5 x 3.25 inches)
Fun Express – Snowman Roll Stickers(100pc) for Winter
Snowman Soup Hot Chocolate or Hot Cocoa Sticker
Candy Cane Peppermint Spoons – 1 doz –
Mr. Christmas 16 oz Snowman Mug
Add to a sandwich or snack ziplock bag and carry on reading for how to download our free snowman soup printable.
Free printable snowman soup poem
This wonderful poem will certainly add a little magic to your December:
When the weather outside is frightful,
Snowman soup can be delightful!
May it warm your spirit & soul,
Let it snow, let it snow, let it snow!
When you feel a chill or "burr",
Use the candy cane to stir,
Add hot water & sip it slow,
Let it snow, let it snow, let it snow!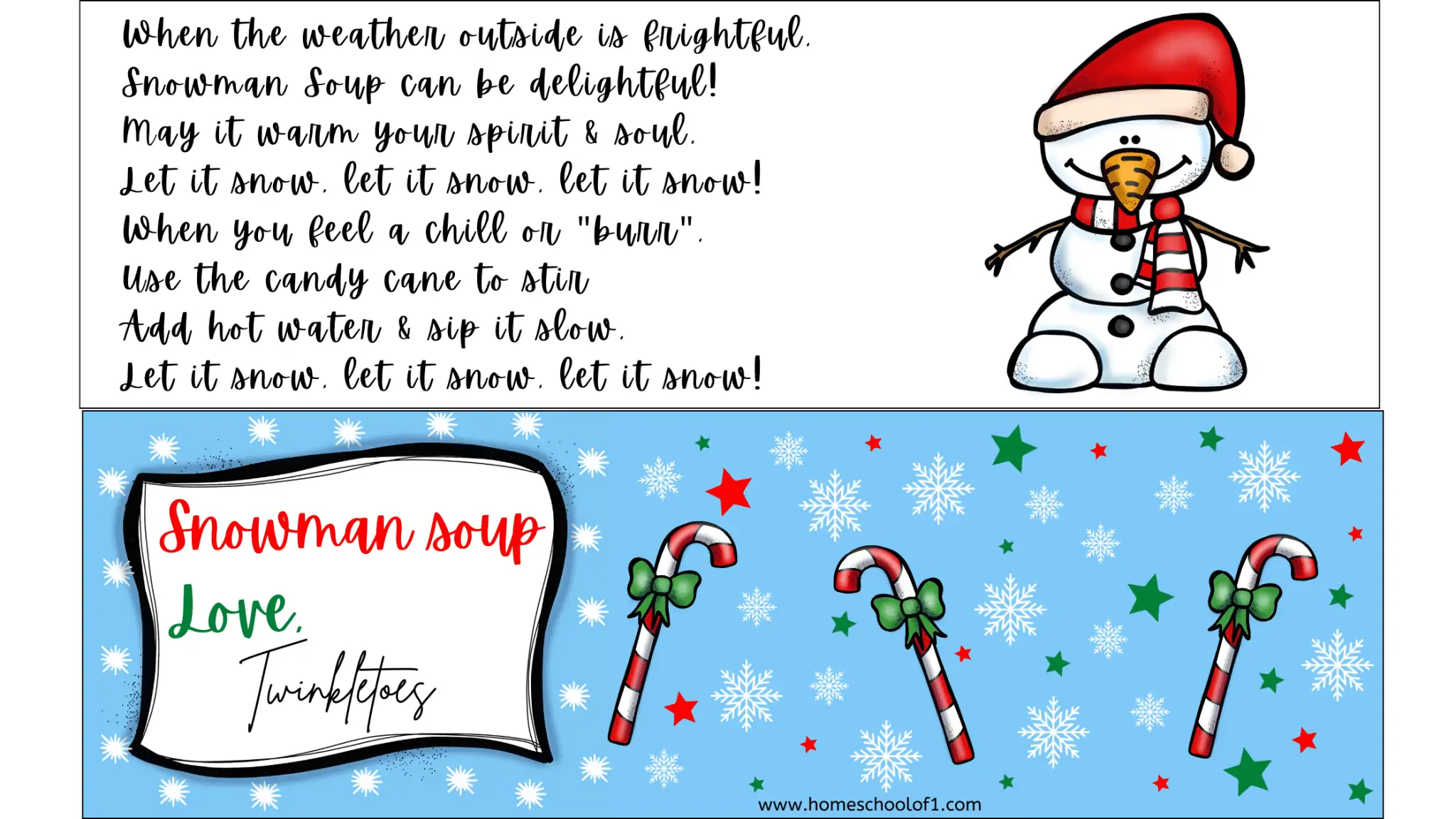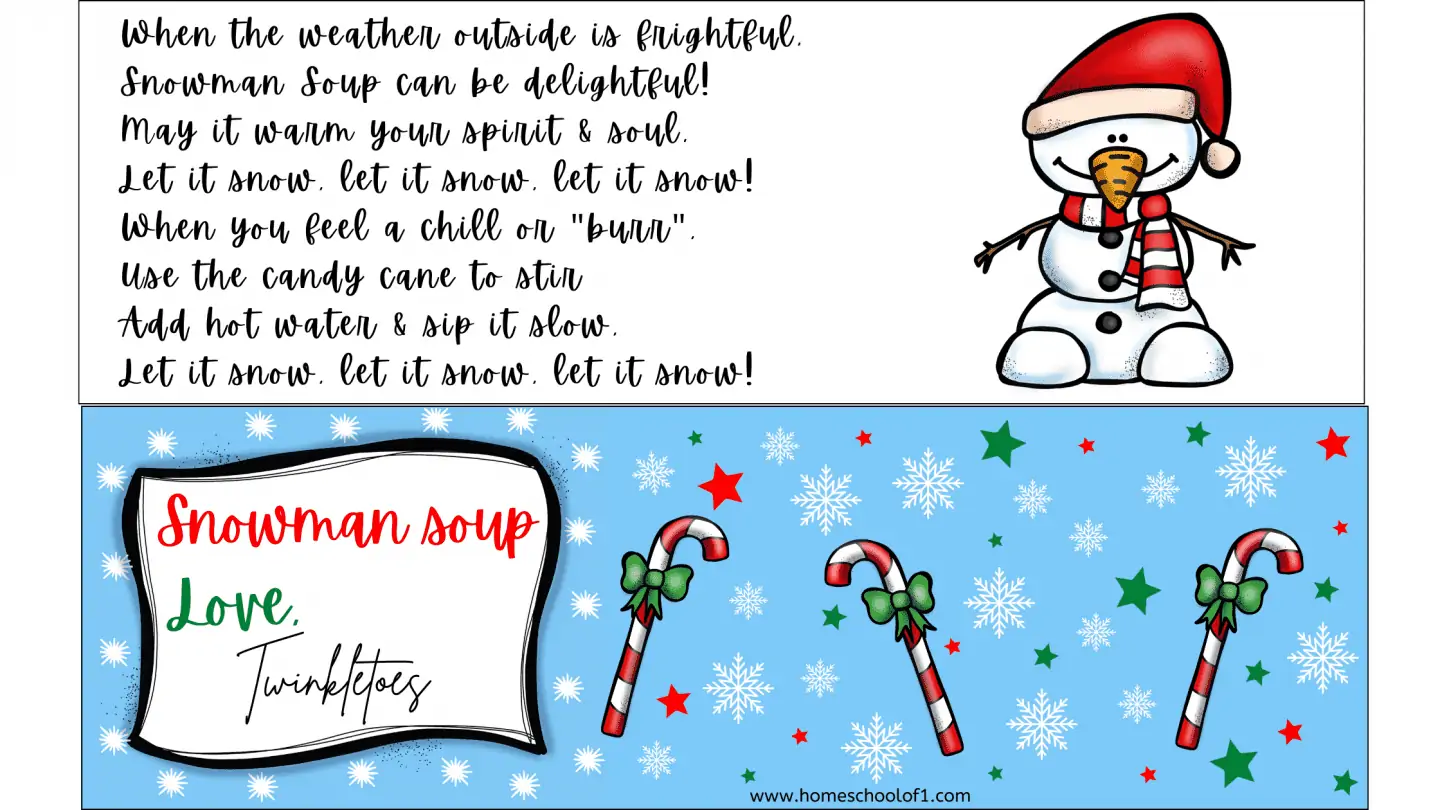 Snowman Soup Christmas Bag Topper
Supplies needed:
Download the Christmas bag topper below, there are 2 per page.
Directions
Cut the 2 bag toppers out, and then fold each one in half.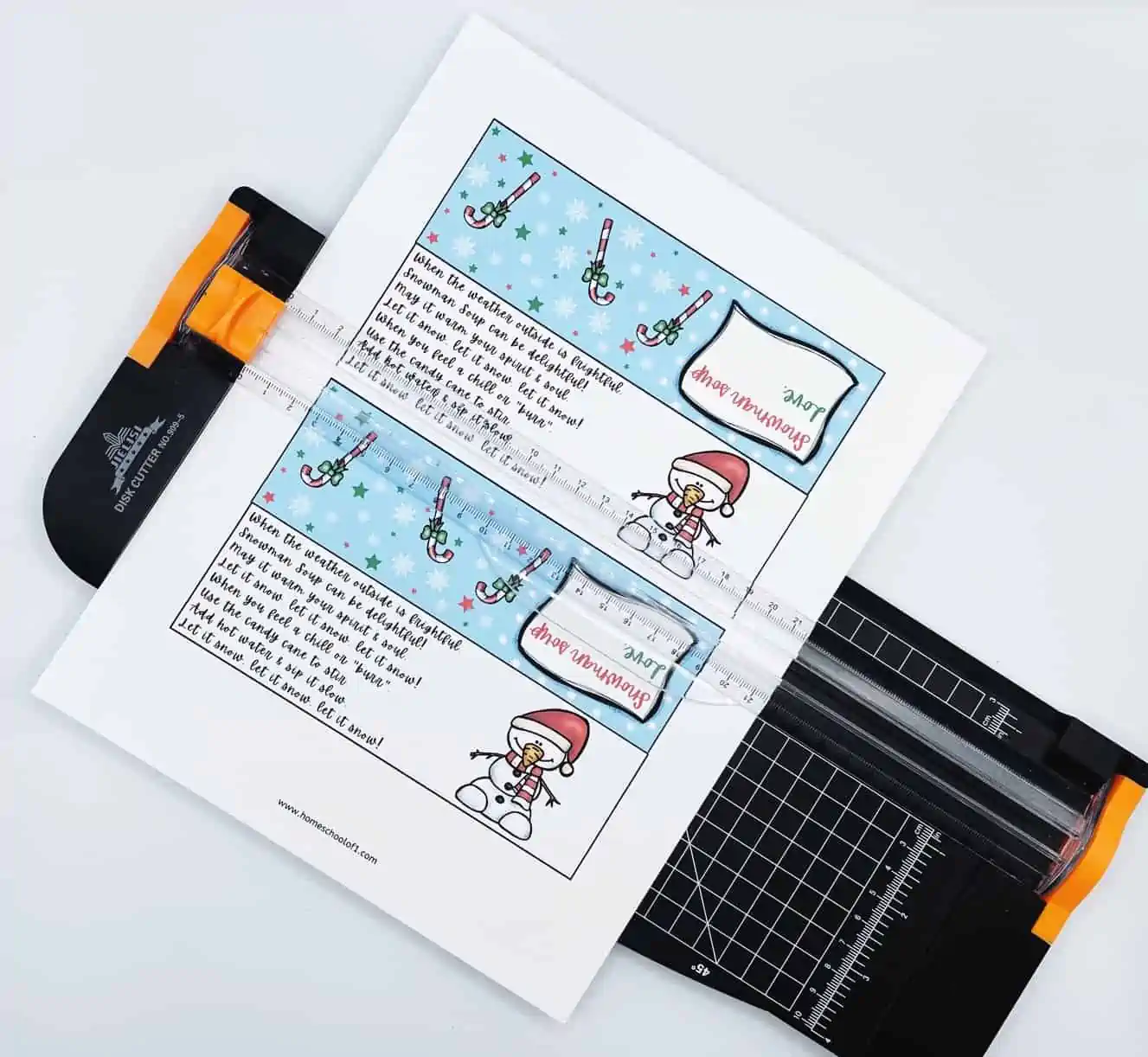 You can probably make this a week or two before Christmas, I make ours the night before Christmas Eve so I can add it to the Christmas Eve box.
Write who the snowman soup is from, I always say it is from our elf, Twinkletoes.
Grab the stapler and add 2 staples on either side of the bag.
Hey, presto! Your snowman soup gift is done! Why not also treat the kids to a new personalized Christmas mug to drink it in too?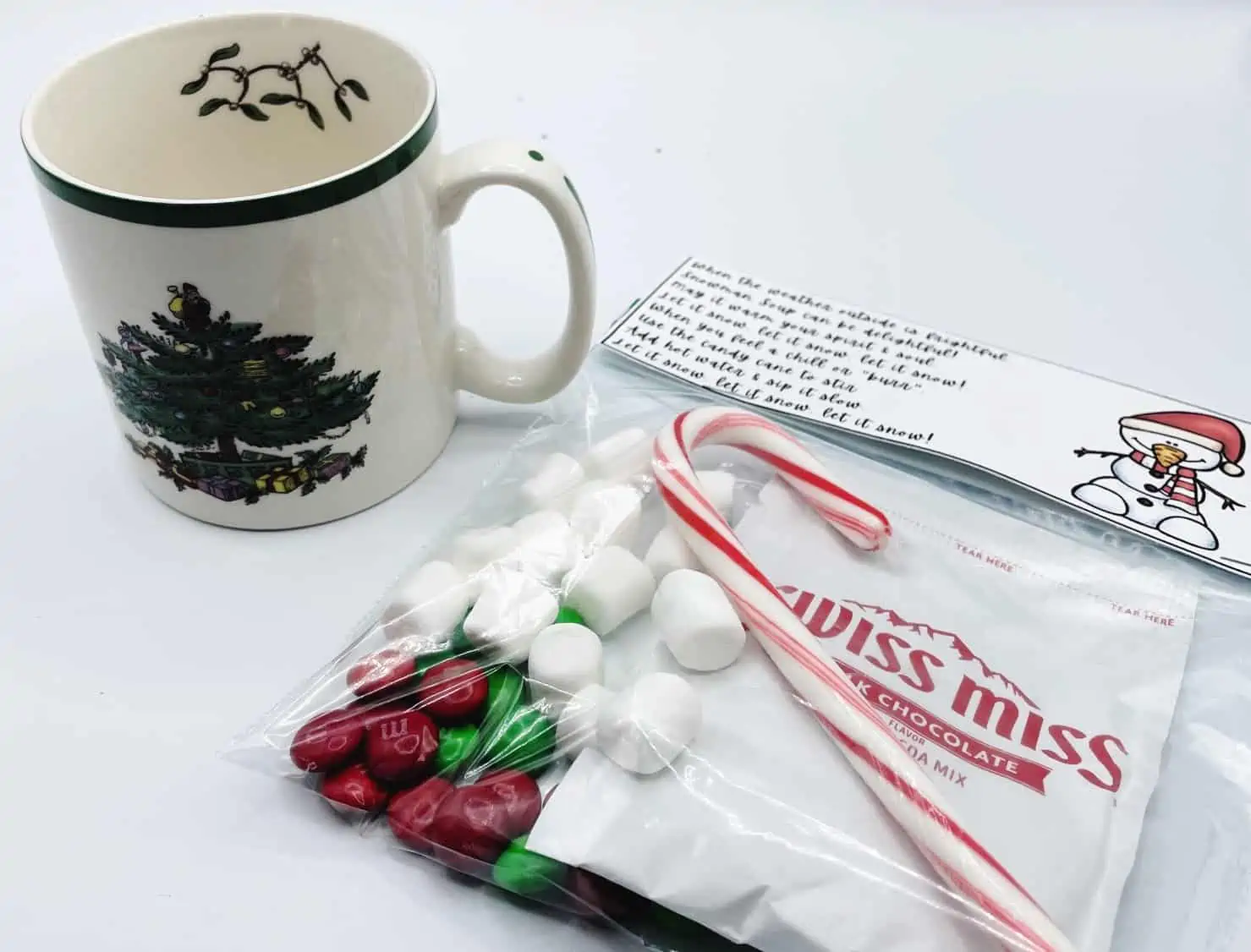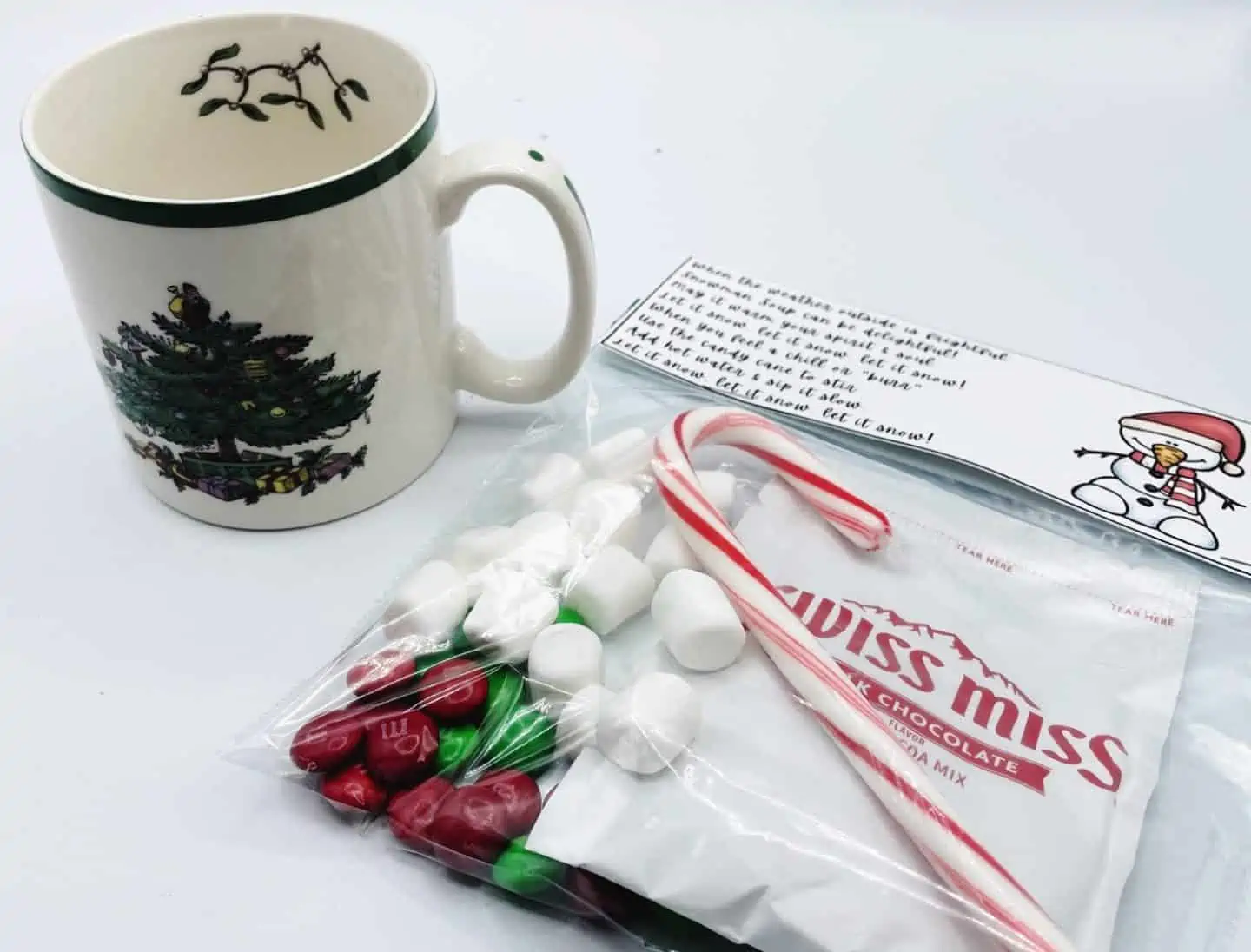 Other Christmas activities you will enjoy:
Why not create printable Polar Express tickets and make this Christmas even more special?
Download the free printable snowman soup poem
Make sure you choose the correct paper size and click on the shrink to fit button. All of our free printables for kids work better when printed on cardstock (this is the one we use and love.)
Last Updated on 17 July 2023 by homeschoolof1